The following article may include affiliate links, meaning that I may receive affiliate compensation at no cost to you if you decide to purchase. Read more in my
Affiliate Disclosure.
So for the first time this summer, I finally decided to visit Lake Garda in the Brescia area of Italy. Lake Garda has been at the top of my list in terms of holiday destinations in Italy for years.
Having been in the country several times a year since I was 8 years old, it is a bit embarrassing that I haven't gone there sooner. You always down prioritize being a tourist in your "own" country right?
Nonetheless, I finally managed to go and I am stoked that I did so. Lake Garde is an absolutely BEAUTIFUL part of Italy that is definitely worth a visit.
Sitting amongst these amazing soft mountains you have the emerald lake stretching as far as you can see. I say soft mountains cause they are incredibly smooth and curvy, giving the whole thing a very inviting look.
Unfortunately, I only had about 24 hours in this amazing place. Even though Lake Garde in Italy has a lot to offer, and you can easily spend more time there, we ended up having a very good time and managed to experience a lot.
Here is what we did and what I would advise you to do. These are the bare minimums and if you have more time, you can easily add more things to your activity list for Lake Garda.
PIN THIS POST FOR LATER
WHERE TO STAY IN LAKE GARDA
Lake Garda is not the cheapest part of Italy, but neither the most expensive. You can manage to find some pretty good options at a decent price.
My biggest priority was the location though. Not so much the exact city, but mostly I wanted to be close to the water. AKA walking distance to the nearby city and a nice swim in the fresh lake.
After doing a bit of research I ended up in a Hotel called Lake Garde Hostel. They call it a hostel and I am sure you can book dorms, but we booked a private room and really… it was a hotel. I would really recommend this place because of several things.
It was very cheap and you got A LOT of value for that money
The placement was great
The breakfast was good for Italian (cheaper) hotel standards
The room + bathroom was completely fine and clean
The staff was super friendly
Overall, we had 2 very good nights at this place and managed to get around perfectly from there. The hotel is in the town of Salò which is the biggest city in the southern part of Lake Garde.
Salò is not number 1 in terms of cities around Lake Garde, but it is still a very charming little city in Italy.
There is a nice waterfront, boardwalk, a port, several restaurants, shops, bars, and cafes. So finally it was a perfect place to spend an evening and walk around.
I always get the Lonely Planet Travel Guide books when I go visit a new place. They provide so much information and inspiration! Italy has so much to offer and the guidebook is great.
TAKE A HIKE IN GARDA LAKE ITALY
I wouldn't exactly call myself a hiking enthusiast, but I do enjoy a nice hike in the beautiful scenery. 
Lake Garde is a beautiful and famous hiking destination in Italy. Therefore, I advise you to start your day by doing a nice trek. This will be a beautiful lookout over the area and be good exercise and fun. Make sure you have travel insurance that will cover in case you have any minor accidents. Some parts can be steep.
There are several trails and hikes to take around the lake and depending on how long you have and what you want to do you can choose. We found this website which had some information and it was very helpful. Bring water, smart clothes, and other basic hiking essentials.
Don't worry so much about looping around and ending up in the same place, you are going by boat later and will find your way home this way if needed.
ENJOY LUNCH IN LAKE GARDA ITALY
Now after all your hard work, walking, and picture-taking, you deserve a good lunch.
Depending on where you ended up you have to scout the place. But the great thing about Lake Garda is that everywhere is filled with restaurants and bars.
Try not to get too trapped in tourist traps though. The bigger cities tend to have these all placed by the very water.
Look for a Trattoria or Osteria that looks small and local. These are usually really good options.
We ended up by small coincidence in a charming port called Porto Dusano. It was nice, small, and quiet and had both a bar and a restaurant right by the boats. Both are great options if you happen to be there.
If you are not by car then beware that the boat comes at 12:23 pm and then not again until late that afternoon!
Of course, I did not know this and after several unsuccessful tries getting a lift with the local boat owners, we hitchhiked to get going.
Luckily it worked and we were fortunate enough to get picked up by a very nice Italian couple who could take us to the next place.
Even though it was a fun experience, it was a bit of a hassle and also cost us a fair bit of time.
My advice to you; plan a little bit better than this dumbass did (meaning myself) and optimize your time in terms of boats…
TAKE A BOAT TRIP ON LAKE GARDA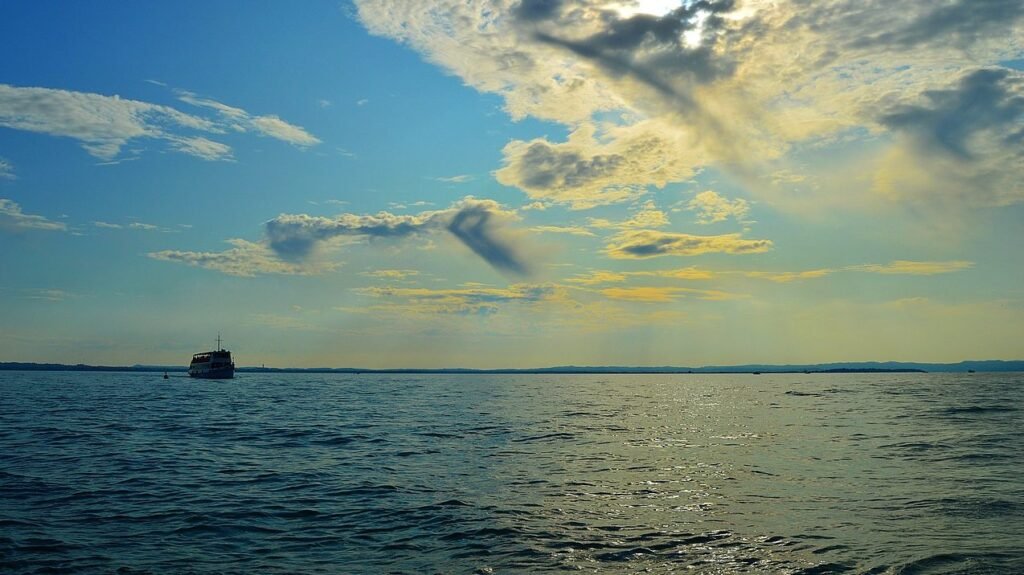 You really want to prioritize taking at least one boat ride on this beautiful lake. It is a little bit expensive but also worth it. Not only is it a nice view, but it will also save you a lot of time. Lake Garde is a very big lake in Italy and driving around it would take a long time.
Getting a boat will cross across and allow you to see more things more easily. This way you can visit a bunch of cute towns around the lakeside.
We visited 2 places but I could have gone for many more if I had time.
SIRMIONE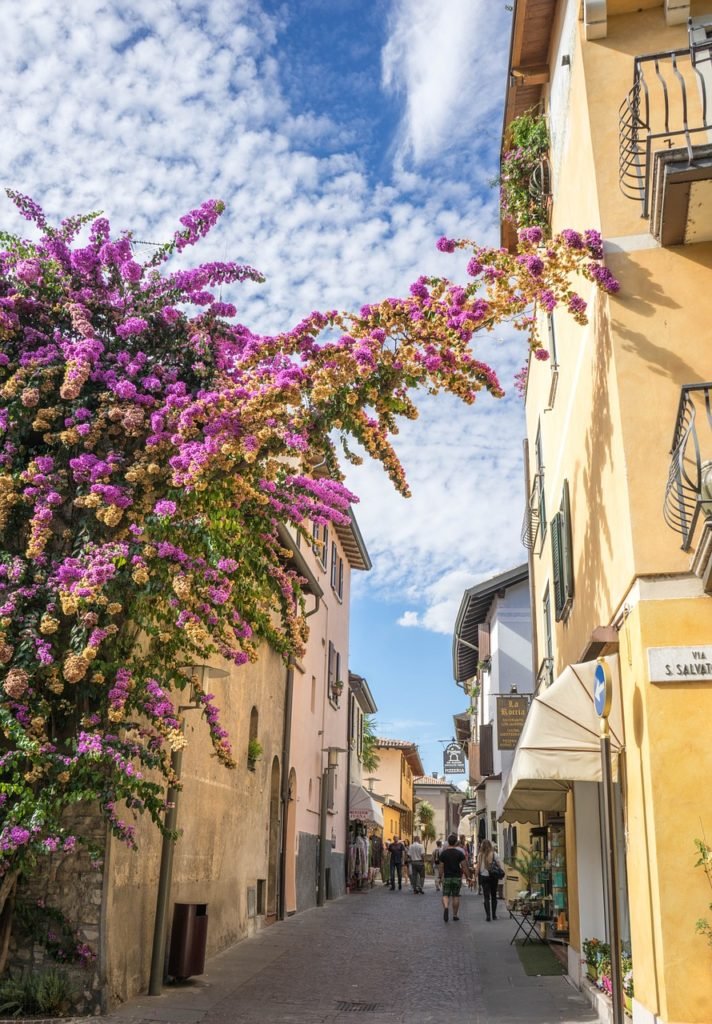 Sirmione is a famous city in Lake Garda and probably also the most touristy one. We went here and it is quite charming but also a little too touristy for me…
There is a nice castle to see and as the city sits on a peninsula you have stunning water on both sides.
Furthermore, you have some caves all the way up the tip, that you can go check out if you want.
I advise you to visit Sirmione either earlier or later in the day to avoid it being completely packed.
DESENZANO DEL GARDA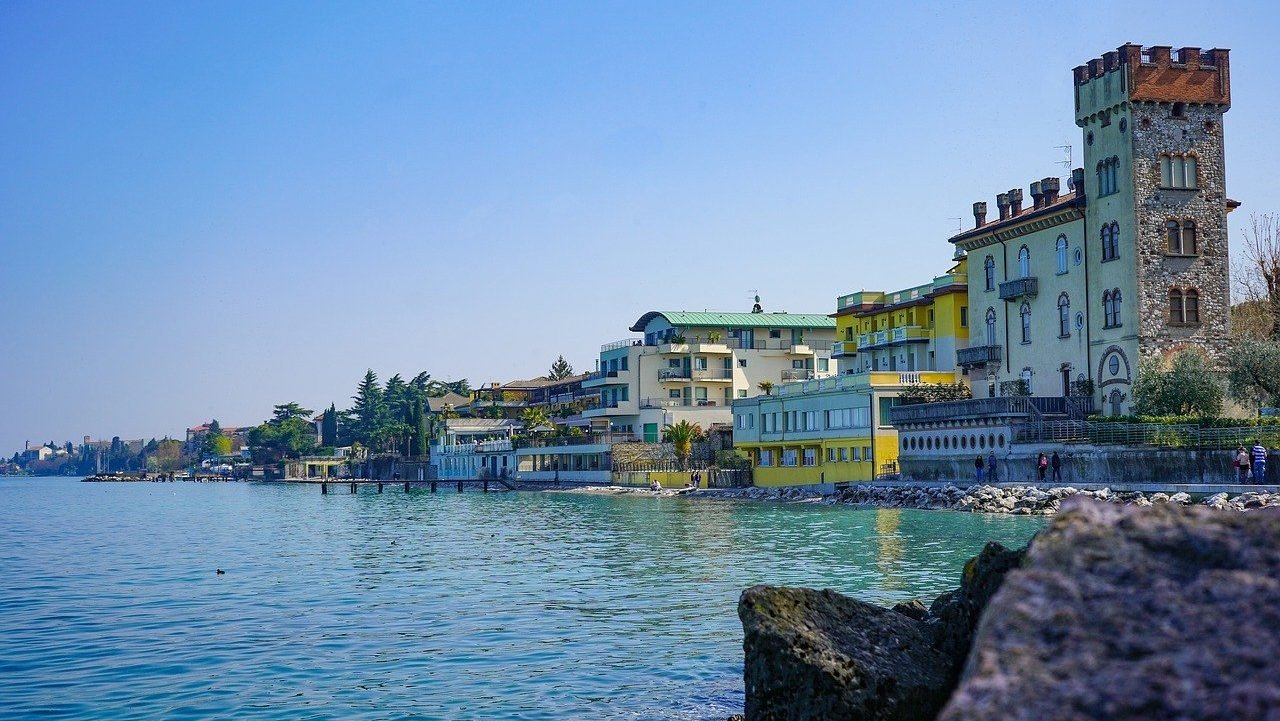 This is a quite large city that is also very charming and has great things to offer.
It is both a beautiful place and you have many options in terms of restaurants, cafes, bars, and shops.
Walk down the little streets and just spend some time here.
This would also be a great spot for lunch, ice cream, coffee, or an afternoon aperitivo (my favorite Italian afternoon drink activity).
OTHER PLACES TO VISIT IN LAKE GARDA, ITALY
Besides the two places I mentioned above, I would recommend the following cities to see:
(Keep in mind that I did not visit these places myself but I researched and spoke to people, and they will be my prioritize when I return).
ENJOY A EVENING IN LAKE GARDA
I grabbed the last boat leaving around 6:30 pm and returned to Salò.
Here we walked around and grabbed a glass of wine right by the water.
Finally, we had dinner at a great place called Osteria dell'Orologio. Very nice and local place that was very well visited. If you want to be sure to get a spot, then you should probably make a reservation.
I hope you have a great time in Lake Garda in Italy. We enjoyed our time there tremendously and I do think it is completely worth a visit. The northern cities and parts of Italy are great travel destinations and have a ton of things to offer.
As always feel free to leave a comment below.
//Josephine
BEST TRAVEL RESSOURCES
BOOK YOUR FLIGHT: Not sure how to get the best and cheapest flights? I always use Momondo for the best deals. The best tip is to be flexible with dates and destinations if you want the cheapest options!
BOOK GREAT ACCOMMODATION: Booking great accommodation is not difficult but it sucks paying too much. Use Hotels.com for the greatest hotel deals and Hostelworld for amazing hostel stays. Alternatively, you can sign up for Worldpackers to get FREE accommodation in exchange for you working.
BEST TRAVEL INSURANCE: Traveling without insurance is a mistake that you don't want to make - trust me I've tried. I'd suggest SafetyWing as they offer great and flexible policies - especially if you are traveling for a long time or a digital nomad. World Nomads is another great insurance with extensive coverage.
NEED HELP WITH YOUR VISA? Figuring out how and when you need a visa can be a bit of a jungle. iVisa is a very handy and userfriendly service.
HAD YOUR EU FLIGHT DISRUPTED? Use AirHelp as a service to get flight compensation on your European flights in case your flight was delayed, canceled, or disrupted in other ways. More often than not you are actually entitled to compensation.
Affiliate Disclaimer: This post may include affiliate links. I may receive a small commission at no extra cost to you if you click on them and purchase.