Planning your travel itinerary can seem hard and overwhelming.
Honestly, it is probably the number one excuse I hear from people who end up skipping out on their traveling dreams. They simply don't know where to start and how to go about it.
Sounds like something that you can relate to?
Don't worry I've got you covered.
Over the years I've taken so many trips abroad, big and small and I have found the magic steps to make it all manageable for the brain – or at least my own. My mantra is that less is always more, and I find that this has secured me some great trips.
Whether you are planning a road trip, a small vacation, want to visit french cities, or a 6-month round world tour, you can start planning your itinerary with some easy small steps.
Here I will break down step by step how I plan my perfect itinerary.
PIN THIS POST FOR LATER
HOW TO PLAN A GREAT TRAVEL ITINERARY?
Pick Your Travel Itinerary Destination
Now the first place to start is picking your destination. This is the first step in order to create your own travel itinerary template.
This can for some be a hard step, as you probably have a lot of places that you dream of visiting.
Just remember that picking one place now won't exclude any other in the future.
Think about the trip that you want. Does it have a specific purpose like the beach, sports activities, or a certain main attraction that you desperately want to see?
For instance, if you would love to try out diving then think in those terms. Maybe do a little research as to where the best diving destinations might be. You might be surprised to find that you have great diving spots in Europe.
In terms of travel itineraries, you also want to think about your budget and timeframe. If you don't have much time or a large budget then scale your trip down. Travel planning is always going to be about prioritizing and knowing what is a realistic starting point.
Check Visa Rules and Other Requirements
Trip planning requires checking up on visa requirements and all other necessary requirements.
In some places, you might need certain vaccinations or a passport valid for at least 6 months. If you plan on renting a car you might need an international driver's license. I forgot this once and got it at the embassy in the country I was in. While doable, it also cost me 5 times more than it would have from home.
Just do a quick ground check to make sure that forgetting something tiny won't jeopardize your entire trip.
Funny story: One time I was doing a trip to first Cuba and later heading to Mexico. Since I usually plan my trips one country at a time, I had only completed this step for Cuba (which was a bit of a hassle) and completely forgot about Mexico. I realized this waiting in line at immigration in Cancun airport – I had simply never checked if I needed a visa to get into the country. Thankfully Denmark has an agreement with Mexico, and I went straight through it. The privilege of a Scandinavian passport I guess.
Pick Dates For Your Travel Itinerary 
Now that you have decided on your perfect destination it's time to pick a date. You might already know when you have time off but if you can be a little flexible it could be helpful because of 2 reasons:
1 . You can make sure you visit your destination at the best time (seasonal or financially)
2. You can save money on your flight by searching for more open dates
Don't give this too much thought though. When you have landed on a date simply decide on it and then you can plan everything else around it.
Buy Good Travel Insurance
The next step, which is very important, is buying proper travel insurance. You don't want your travel plans jeopardized and you never know what might happen. I always travel with good insurance, and it's saved me a bunch of times while on the road. I would advise you to get your travel insurance before you start booking anything, as the insurance will cover everything related to your trip this way. Getting good travel insurance is one of the best travel tips you can get from anyone. Lastly, a good idea is to travel with an anti-theft travel bag. This will keep your stuff extra safe from thieves and pickpockets.
Book Your Flight
Now you want to seal the deal by booking your flight (or other forms of transportation). Yes, I am telling you to book your flight before you start booking or researching anything else. The only thing you might want to think about is high seasons, national holidays, or times when there are extreme weather conditions that might compromise you. Other than that, just choose any date. This is a very underrated and powerful tool as it does something mentally. Now you know that you are going and you know when. Things start falling into place from here and you can start getting excited.
I always use skyscanner.com for the best deals.
Again here it helps if you can be flexible with especially your dates.
If you are super rowdy then you can even hit the tab "explore" and set the destination and time to "anywhere" at "any time". I have never had the liberty to do this but aim to do so one day. This both saves you money and is a really fun game. Maybe you end up finding a new favorite travel destination.
Extra tip:
A great way to book flights that help with your travel itinerary is to book to one destination and then head home from another. This way you can end up seeing more of your destination as you don't have to spend time looping back. Also, these travel plans give you a very free travel schedule that will let you shape your trip along the way. You simply know that you need to be in a certain place on a certain date. Other than that, it's free to play.
Not all destinations are suited for it and sometimes the price of flights doesn't equal the time saved. Do the math as it might make your travel itinerary better and easier. For instance, I flew to Hanoi in Vietnam and back from Ho Chi Minh which was a great priority as I would not have had time to go all the way south otherwise.
A final note is to always book straight with the airline and not through a booking company. That way you will have the best rights and customer service in case of flight delays or cancellations.
Research and Choose Your Travel Itinerary 
Now you have already taken the necessary steps and from now on you can look into the fun parts of your trip. I try not to over-research as it can become overwhelming, but it's great to get an overall idea of what you want to see.
Usually, I simply Google around to get an idea of what options my destination provides.
If I am going on a larger trip I always get the Lonely Planet guidebook for my destination. It might be a little old school but I find them very helpful. Have a read beforehand and it will tell you some great main attractions that might pique your interest. Second, the Lonely Planet guidebook is great for looking up things on the way. I usually read about the next city or place I'm visiting while being transported. This way you don't have to plan too far ahead and you can get more ideas on the go. Lastly, a book is not depending on WIFI and that is pretty damn handy at times!
Get a good idea about what options you have at your destination. Make a list and also map them out if you need to. You want to spend your time well and not jump in opposite directions. Bundle them up in areas and set aside the time you think you might need. Here my best advice is never to pack too much into a schedule. Remember that less is more!
Try to plan things around your destination either in a circle looping back if you need to or throughout the country if you are leaving from another spot.
Use maps, notebooks, and whatever you might need to visualize your trip. Make a trip planner where you have mapped out the main attractions, cities, and activities. It is not always possible to memorize everything you want to do so having it written down can be very helpful. Try to set some dates on your travel planner and provide yourself with a good time buffer. This way you can manage your time and have an overview. You might realize you need to speed up or down and prioritize some things along the way. If you end up having more time than you thought, you can even squeeze in some extra things, or simply enjoy the extra days.
Book Your First Night of Accommodation
This is not a must but depending on how far you are planning to go and how experienced you are as a traveler, it might be nice to have your first night of accommodation booked.
After having traveled for hours you might be tired and not in the mood to handle the stress of finding a place to stay.
I always use Booking.com or hostelworld.com for good options at great prices. If I want to find last-minute offers on hotels or even car hire, I use Hotwire. Lastly, if you are looking for a different and budget-friendly experience, then there are a lot of great hotel alternatives for adventurous travelers.
Book the Bare Necessities for your Travel Itinerary
Now that you have discovered where you want to go and what you want to do, book what you need to. The rest – don't bother.
You want as much flexibility and freedom to let your trip shape itself. You always end up getting great advice from someone you meet along the way or the weather might shift the exact day you were depending on it. The unknown and the surprises of traveling sometimes provide the most amazing experiences.
There are, however, some things that you need to book ahead to be sure to have a spot. These can be larger things such as hiking Kilimanjaro or Island hopping in the Galapagos. If you are heading to a destination for a famous activity, make sure to research and book ahead. I've heard of people traveling to Peru to hike Macchu Picchu, and then everything was sold out. Of course, they could visit by train, but it's a shame to miss out on something because it was full.
Other than those main things that might slip in between your fingers, I say "wing it". This way you will have more flexibility and fun, and also save a good amount of money.
Have Fun and Take one Day at a Time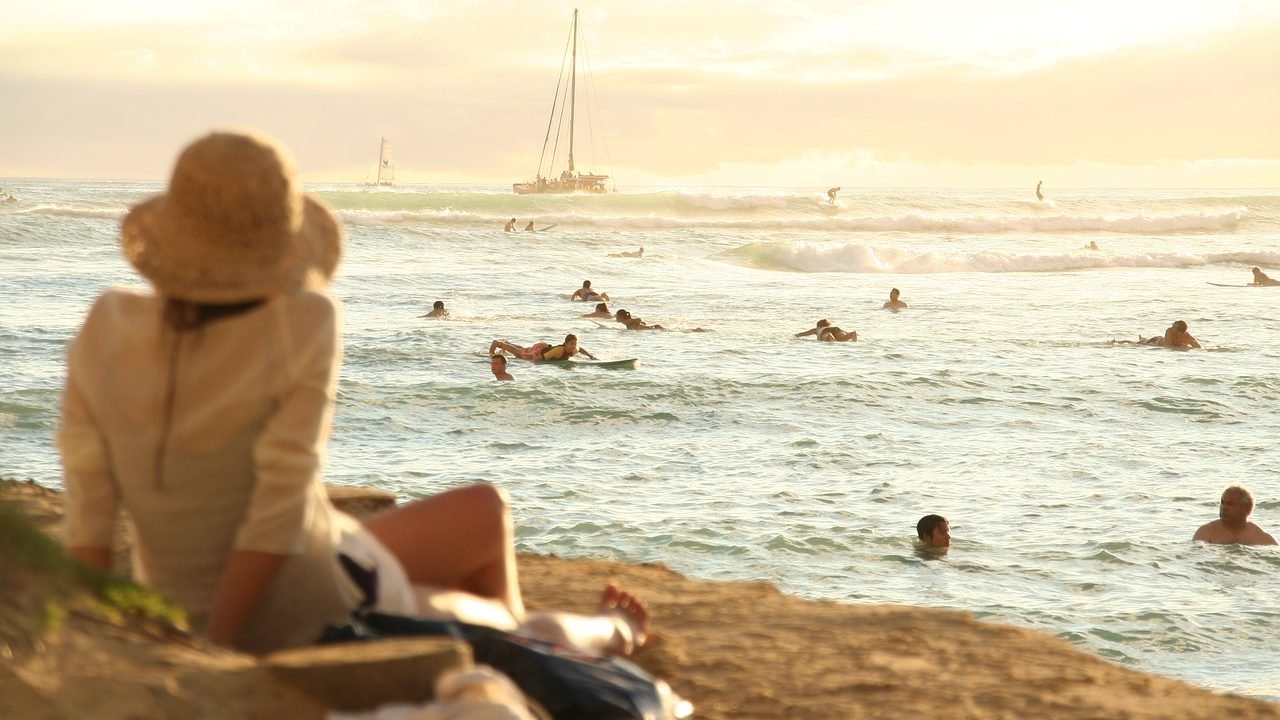 The steps above are truly what I do in order to make perfect travel plans.
Instead of thinking that you need to have everything figured out beforehand, know that you can figure things out on the go – and even easier so. As soon as you are in a destination it is much easier to get a feel of the place and ask the right people for help. There are always other travelers happy to share advice, helpful people at your accommodation, and information centers at stations as well as tourist attractions.
Just relax and have fun and I promise the winging part will come naturally.
My last tip is to know that your trip is supposed to be enjoyable. You don't have to do anything for the sake of it or experience everything. Visit the places you are dying to see, seize opportunities that sound fun along the way, and enjoy every bit of your trip.
The first time I went traveling, I was too focused on sticking with my plans and travel itinerary. I was in South America for 4 full months and did not learn these lessons until the end of my trip. Don't make that mistake and travel freely and have fun. There is no right or wrong way to travel. Do it exactly as you want. plan trip tripit
That is all for now and I hope this helped you plan a travel itinerary for your next amazing adventure.
Thank you for reading and as always feel free to leave a comment below.
//Josephine
The article may include affiliate links, meaning that I may receive affiliate compensation at no cost to you if you decide to purchase. Read more in my
Affiliate Disclosure.
BEST TRAVEL RESOURCES
BOOK YOUR FLIGHT: Not sure how to get the best and cheapest flights? I always use Skyscanner for the best deals. The best tip is to be flexible with dates and destinations if you want the cheapest options.
Alternatively, for frequent travelers, get a membership with Wayaway and receive a cashback on cheap flights and hotels every time you book! Via the link, you even get a 10% discount on your membership.
BOOK GREAT ACCOMMODATION: Booking great accommodation is not difficult but it sucks paying too much. Use Booking.com for the greatest hotel deals and Hostelworld for amazing hostel stays. Alternatively, you can sign up for Worldpackers to get FREE accommodation in exchange for your work.
BEST TRAVEL INSURANCE: Traveling without insurance is a mistake that you don't want to make - trust me I've tried. I'd suggest SafetyWing as they offer great and flexible policies - especially if you are traveling for a long time or a digital nomad. World Nomads is another great insurance with extensive coverage.
NEED HELP WITH YOUR VISA? Figuring out how and when you need a visa can be a bit of a jungle. iVisa is a very handy and user-friendly service.
HAS YOUR EU FLIGHT BEEN DISRUPTED? Use AirHelp as a service to get flight compensation on your European flights in case your flight was delayed, canceled, or disrupted in other ways. More often than not you are actually entitled to compensation.