Travelling has been my biggest priority and favorite activity for the past century. After I finished school I had no idea what I wanted to do or what my plans were. I only knew that I wanted to take more than one trip around the world and experience it for myself.
I quickly got a job as a flight attendant, which allowed me to turn my passion for traveling and adventure into a full-time profession.
Traveling makes me happy, it stimulates my brain, and going on adventures brings me fulfillment. Even though I have seen so much, there are still a ton of amazing places that I wish to visit, and I was planning on doing so as soon as I finished my university degree.
But then came COVID and my 2020 plan on learning Spanish, hiking the Himalayas, and learning how to surf was not possible anymore.
I lost my job as a flight attendant and started living my life "on the ground" for the first time in 7 years!
Don't get me wrong I have been completely fine, but I have, however, been in some sort of standby mode for the past 18 months. As many of you can probably relate to?
It feels like we have all been sitting around, waiting, and looking forward to things going back to normal.
I am not sure things will go back to normal for a very long time, but the world is slowly opening up and people are slowly getting vaccinated worldwide.
After these past months of waiting, I feel like the time has come to move.
If you are like me and your feet are itching with travel anticipation but you are wondering whether or not it is possible, I can tell you that it is possible.
You simply need to take a few extra things into account before you head off. Also, you might have to modify and adjust the plan you had in mind, to be in line with the current situation.
In this blog post, I will share my best tips and practices for traveling around the world during the pandemic, and let you in on what has to be considered, before you start planning your travel itinerary.
Okay, let's get to it so you can bring some adventure back into your life after these past paralyzing months…
PIN THIS POST FOR LATER: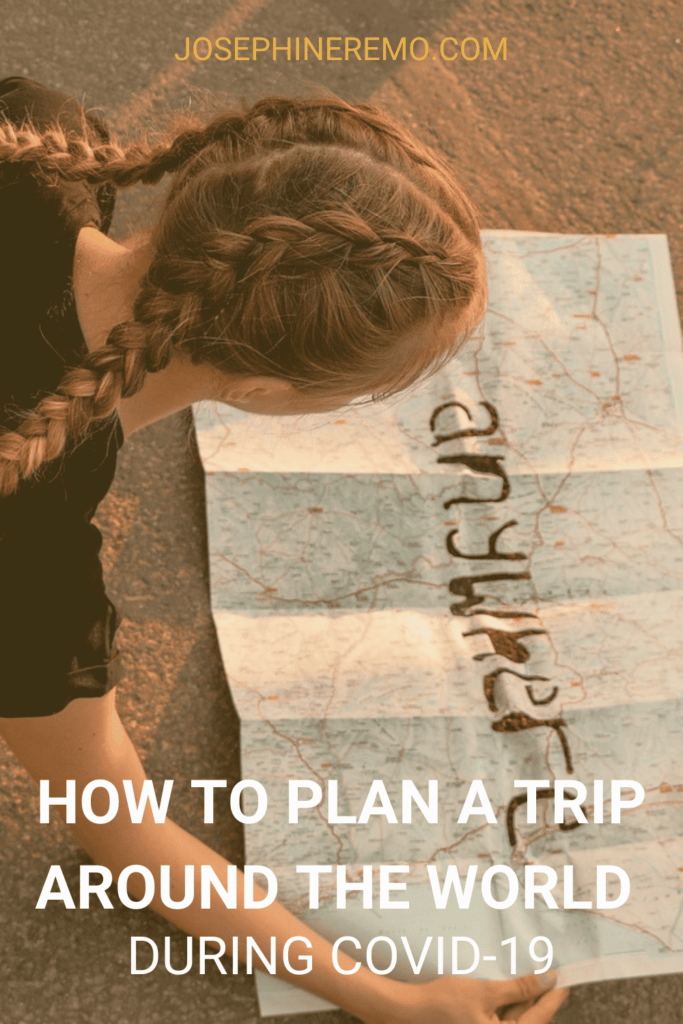 HOW TO TAKE A TRIP AROUND THE WORLD DURING COVID?
PICK YOUR DESTINATIONS WITH CARE
Picking your destination with care is the most important thing before you start taking trips around the world again.
Restrictions and closed borders can make it extremely hard to get to specific destinations, but I am not saying that not almost anything is possible.
Heck, my sister and her boyfriend managed to move to Australia last year. A place that didn't even allow its own citizens into the country at the time. It did take them more than 6 months of constant struggle and frustration though.
Picking your destination is not only going to make your travel life a lot easier, but it is also going to have a huge impact on the trip around the world you are taking.
Going to a country where the borders are more or less closed is probably possible, but is it really worth it?
Not only is it going to require a huge amount of effort and persistence, but also keep in mind that borders are closed for a reason.
Next, you want to think about the current state of the place you wish to visit. If it is all about hiking and being outdoors, then no problem. You might be a bit disappointed, however, if all the sights you wish to see are closed or the city has a curfew.
Try to choose a travel destination that is not too complex in terms of restrictions, and has manageable regulations that won't ruin your trip. We will get to how you can check up on travel restrictions a little further below.
Furthermore, if you want to do a big trip around the world or even an RTW trip (round the world), I would say that this is not the best time to do it. Jumping around countries is not a great idea in terms of spreading viruses and also regulations might change before you reach your next destination. You might want to postpone that world trip a little further into the future and see how everything goes.
If you insist, then know that RTW travel is expensive and you should always make a travel budget. The world is a little less flexible at the moment and there might not be the same opportunities around as before. Also, the prices have been bumped up, so that businesses can make up for some of the losses they've had.
Make sure to have a realistic travel budget and calculate everything per person with a good buffer.
Expensive countries are obviously going to cost more, but now also think financially in terms of what COVID might have done to your destination. Whether your dream is to go to central America, Southeast Asia, New Zealand, South America, or Eastern Europe, make sure you can cover all your expenses and only rely on yourself.
Finally, I want to add, that a great travel destination might be closer than you think. A neighboring country, or even your own, could have some amazing places for you to go and check out.
CHECK UP ON TRAVEL RESTRICTIONS
This is almost a given, but please make sure to check up on travel restrictions before you book anything.
I know it can be a huge jungle! Sometimes official pages will link around and around until you have lost your sanity. The restrictions in each country are constantly changing and therefore it can be almost impossible to figure out.
However, there are a few useful sites around that can help you.
There are a few travel bloggers out there who put a lot of effort into updating travel restrictions worldwide. Both The Points Guy and Travel off Path are great sources of information.
Check out the map from the International Air Transport Association. It's not the easiest map to read in the world, but have a little patience. The map shows which countries allow flights.
You might want to download the "App In The Air" app. This app is, amongst other great things, updating travel information in terms of restrictions and also on airline practices. Quite handy and pretty dope!
Official government pages might be a jungle but they do have updated travel information. Just Google COVID restrictions + the country, and it will be one of the first results.
Lastly, if in doubt, ask someone!
I messaged different embassies around to be absolutely sure about what I was reading.
You are going to hate yourself if you can't get somewhere because you are missing a small piece of paper.
READ UP ON THE CURRENT SITUATION
In line with what I wrote above, put some effort into researching the current situation on a more local level.
Find some local newspaper sites, read some stats, and even check up hashtags on Instagram. Maybe you can find a Facebook travel group where you can link up with people who are already there. If you know anyone in the country, shoot them a message and ask around.
You might end up getting some great travel tips and recommendations in the process.
TAKE YOUR TRIP AROUND THE WORLD WITH GOOD TRAVEL INSURANCE
Travel insurance is always a must before you take your trip around the world, but now even more so. Whether you are planning long or short term travel, you need travel insurance.
Nowadays, a lot of countries actually demand that you have travel insurance that covers a pandemic on arrival.
On top of being a requirement, this is also in your own best interest. You need insurance that covers in case anything COVID-related happens while you are abroad. It can end up costing a lot of time and money, so make sure you have good coverage.
The best travel insurances I recommend with COVID coverage are Safety Wing, World Nomads, and Medjet.
FLY WITH GOOD AIRLINES
I always advise people to spend a little extra and fly with better airlines.
Not only are you doing better for the environment, but you are also supporting better working conditions, you'll get a better flight experience and proper customer service.
Customer service is the one most relevant in terms of traveling the world during COVID.
If your flight is canceled or anything changes due to COVID, you want to have access to proper customer service and help with your chosen airline.
Better airlines pride themselves on taking care of their customers when their trips are jeopardized.
Also, these airlines are usually members of different partnership programs and therefore collaborate with each other. Meaning, that if one flight is canceled, the customer service can help you out by getting you to your destination with a partnering airline instead.
When you plan to take a trip around the world note that some companies sell round tickets or RTW tickets. Here I advise you to double-check the world itinerary and also think twice before booking a whole big world travel package.
On top, avoid booking with booking companies and try booking directly with the specific airline. I know that sometimes you can get great deals and save a lot of money, but it doesn't come for free. You lose some of your rights and services in this process and can end up compromising yourself.
I would classify myself as a pretty insightful traveler in terms of flying and I just managed to make this mistake. I booked my flight with a booking company, and then it was canceled. Now, I had the option of a refund, a voucher, or I could rebook my flight for another day. With the latter option, maybe I would have to pay the price difference of the new ticket.
Obviously, I still wanted to go and asked to be rebooked. The price difference was more than €2000. Originally I paid €400 euros for the flight so I was obviously not going to pay that. I asked for my money refunded and booked a new flight myself with someone else that was more affordable.
If I had booked directly with the airline, the airline would have had to rebook me for another flight at no extra cost. This is because European airlines are under the EU 261 regulation, protecting us as customers. Not only does the airline have to assist their passengers, amongst other things, with rebooking but passengers are also entitled to compensation. Because I booked through a booking company I lost some of these rights in the fine prints.
Finally, better airlines have better resources and have their own COVID practices to keep passengers safe while flying.
TRIP AROUND THE WORLD WITH CAUTION
COVID is very real and is still tormenting at different stages at different destinations worldwide.
When you start traveling you will want to be cautious and respect the situation and country that you are in.
Vaccinated or not, COVID is mutating and you do not want to put yourself or anyone else at risk.
Always respect the rules in each place. Whether they make sense to you or not, they are implemented for your and others' well-being. By not following the rules you are disrespecting the place you are visiting and that is never charming behavior.
Travel with caution and implement some good practices yourself. My advice would be to:
Always travel with a negative test so you know you are not bringing anything into the county
Wear a face mask
Remember good hand hygiene
Keep social distance
Stay away from large gatherings
While many people feel that it's irresponsible to travel at all, I disagree. I listen to experts and doctors when they say that COVID is not going to go away. We have to figure out a way to live with it.
We need to push past our fear and try to step back into the world in a respectful way. Not every destination is a good choice and some places are experiencing new waves, but other places are extremely fine and safe to travel to.
Also, a lot of countries and people rely heavily on tourism and they want people to start visiting again.
Travel safe, smart, and with caution, and traveling is past being 100% irresponsible.
BE FLEXIBLE
Things tend to not always go as planned, and traveling around the world during a pandemic is sure to bring something unexpected.
However frustrating it can be, remember that it can bring some great new experiences that you otherwise would have missed out on. It all depends on how you handle it.
Don't be too hung up on your plans and be ready to evaluate and make changes along the way.
Did the borders close to Brazil just before you were going?
Let's go to Mexico instead!
If there are other countries around, there will be other options than your first choice…
Maybe the original destination just takes a few extra days to get to, you need to wait for a negative test result, or have to enter the country through a different route than planned. 
As long as you research travel restrictions, have good travel insurance, book with good airlines, and in general cover yourself in case of changes, you are completely fine.
Be a little flexible and creative and don't let changing plans psyche you out completely. If you want to take a trip around the world now, you need to tell yourself that it probably won't be as easy to travel as it was before the pandemic.
KNOW THAT YOUR TRIP MIGHT NOT BE EXACTLY AS YOU IMAGINED
Lastly, the best thing you can do is erase your mind of any expectations.
All those travel videos or pictures might not be the exact reality when you get there yourself.
There is a chance that the place you go to has changed over these past 18 months. A lot of businesses have struggled and many places relied on tourism as their main income. A few places you were planning to go visit might not be around anymore.
You are not going to be disappointed If you go with a clear and open mind. You might even experience that not all changes are for the worse.
I went to Venice this summer and I was able to walk the little streets without being shuffled around. Tourism has dropped tremendously around Europe (and everywhere else), where there are mainly European travelers around at the moment. Without the whole of the east and the west all trying to get a gondola ride, it was actually possible to truly experience Venice and see how beautiful it is.
Even if you weren't originally planning on wearing a facemask around, or if you expected to be clubbing with other backpackers every evening, you can still have an amazing trip around the world. And isn't that what traveling is all about?
All it takes is a little bit of pre-planning, patience, flexibility, and an open mind.
That was all for this one. I hope you feel empowered to take that bucket list trip around the world you always dreamed of. Even with the changes that COVID has brought.
As always feel free to leave a comment below.
//Josephine
The article may include affiliate links, meaning that I may receive affiliate compensation at no cost to you if you decide to purchase. Read more in my
Affiliate Disclosure.
BEST TRAVEL RESOURCES
BOOK YOUR FLIGHT: Not sure how to get the best and cheapest flights? I always use Skyscanner for the best deals. The best tip is to be flexible with dates and destinations if you want the cheapest options.
Alternatively, for frequent travelers, get a membership with Wayaway and receive a cashback on cheap flights and hotels every time you book! Via the link, you even get a 10% discount on your membership.
BOOK GREAT ACCOMMODATION: Booking great accommodation is not difficult but it sucks paying too much. Use Booking.com for the greatest hotel deals and Hostelworld for amazing hostel stays. Alternatively, you can sign up for Worldpackers to get FREE accommodation in exchange for your work.
BEST TRAVEL INSURANCE: Traveling without insurance is a mistake that you don't want to make - trust me I've tried. I'd suggest SafetyWing as they offer great and flexible policies - especially if you are traveling for a long time or a digital nomad. World Nomads is another great insurance with extensive coverage.
NEED HELP WITH YOUR VISA? Figuring out how and when you need a visa can be a bit of a jungle. iVisa is a very handy and user-friendly service.
HAS YOUR EU FLIGHT BEEN DISRUPTED? Use AirHelp as a service to get flight compensation on your European flights in case your flight was delayed, canceled, or disrupted in other ways. More often than not you are actually entitled to compensation.