Okay, so first of all I am not a professional travel photographer and I am "just" a passionate hobby photographer and vlogger… BUT I don't think many people have put as many hours into finding the best travel vlog and photography equipment as me!
When I first started this travel blog, I also decided to quit my day job and pursue my passion for travel vlogging, blogging, and photography.
Crazy?
A little, and honestly let's see how all that works out.
But you need good gear, right?
Honestly, what I discovered is that, yes you should get good travel vlog gear if you want to get serious about making travel videos, but it's less than what I thought and does not have to cost a fortune.
Note that you can get one thing at a time, and then make upgrades as you go.
The 3 main factors that I focussed on in my research was; quality, price, and convenience.
Price and quality sort of go hand in hand together. More than anything it's about getting the most value, without breaking the bank. I wanted the equipment that was going to provide me the quality I wanted, but as a hobby photographer and vlogger, I need to prioritize my money.
In terms of convenience, I know myself quite well, and I know that if the equipment is too heavy or too complicated to use, then I will end up just taking my iPhone to shoot whatever I need – a big waste of money and good equipment.
So finally, after all my research and hours spent in front of the computer watching YouTube videos, this is the travel vlog equipment I ended up getting, and what I am extremely satisfied with.
PIN THIS POST FOR LATER: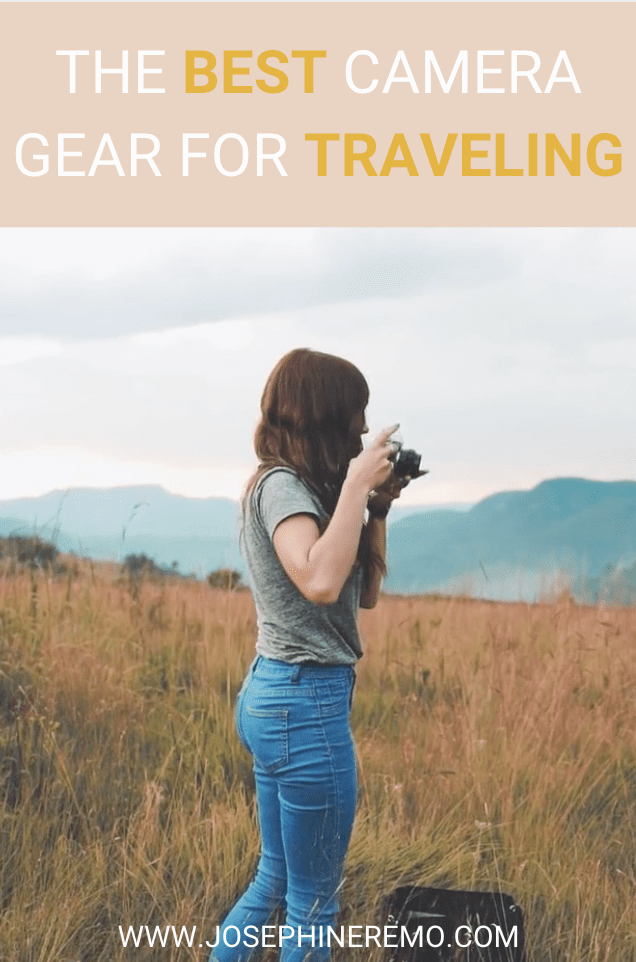 WHAT IS THE BEST TRAVEL VLOG EQUIPMENT?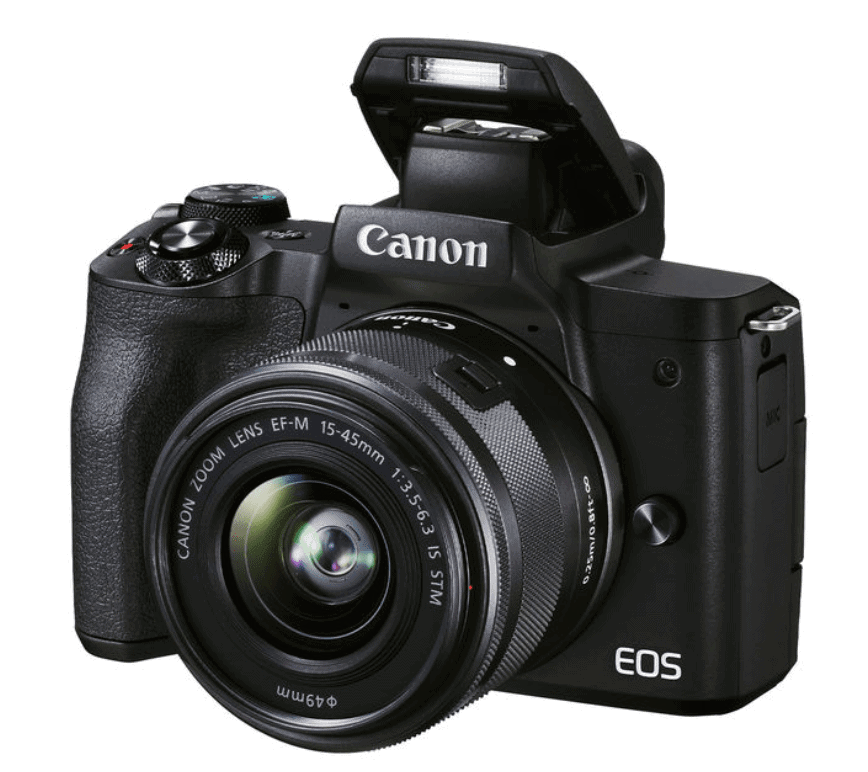 Your first question is probably: "What camera do I choose?"
The Canon EOS M50 received a huge amount of attention when first launched, and for good reason.
After I finally decided for the Canon M50 EOS Mark ii to be the main provider of my travel photography and vlogs, I quickly discovered why the camera has won the "best travel vlogging camera" award. Really I could babble on for hours about how much I love my camera and how it's perfect for filming a travel video.
The camera is extremely easy to use, even though it offers a bunch of high-tech features.
It weighs almost nothing, and I can keep it in my handbag, or wear it cross-bodies without ANY discomfort.
Finally, the price is decent compared to other brands, and even though it isn't free, you get so much value with the money you spend.
Also, I should mention, that in terms of YouTubing and making a travel vlog, the flip-out screen on the Canon M50 is just an absolute, and insanely convenient, dream.
If you are debating whether to get the Canon EOS M50 or the Canon EOS M50 Mark ii, I would say "go with the upgrade". The price difference is minimal and you get a bunch of upgraded features. The most important for me is the vertical video shooting (great for creating Instagram content) and the improved autofocus.
There are of course limitations with this camera compared to high-end professional equipment, but this is easily fixed with a few upgrades.
The Canon M50 Mark ii comes with a basic 15-45mm kit lens, which does a good job, but getting a few extra lenses, will truly boost your travel vlogs and photography in general.
Here you can check out the Canon EOS M50 Mark ii
The first upgrade I purchased was this zoom lens that goes perfectly with the Canon M50 camera. Honestly, I am amazed by the zoom quality I am getting and the shots I can do.
Just check out this photo I was able to shoot of the moon, and it will speak for itself.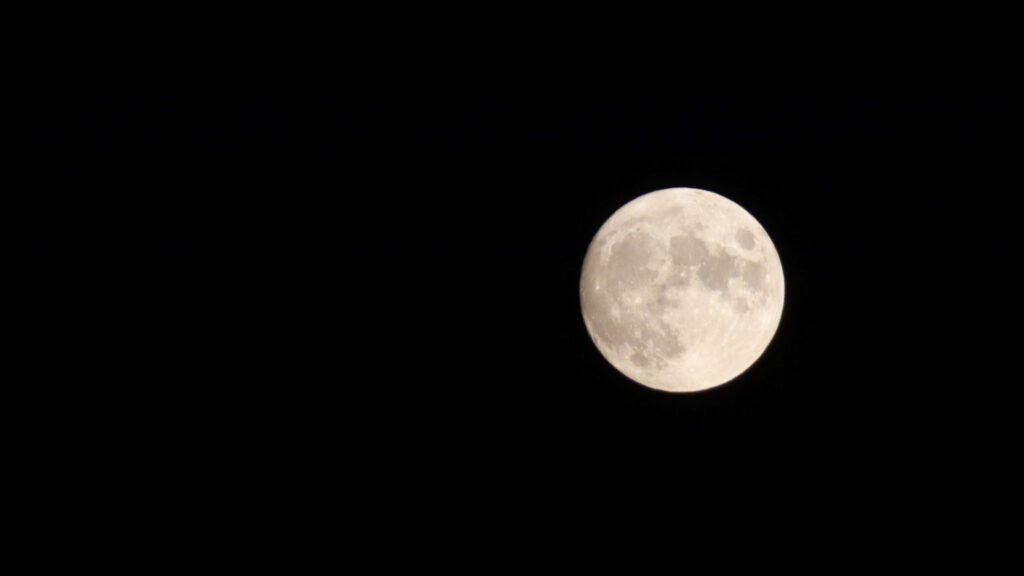 Mic drop.
Check out the Canon EF-M 55-200mm F4.5-6.3 IS STM here.
Good lenses are not exactly cheap, and that also applies to this wide-angled lens, but the price is decent given the high-quality specs and capabilities.
It performs great in low-light conditions, and always delivers crisp, clear images.
Also, a downside to the Canon EOS M50 Mark ii, is that it crops the image quite dramatically when shooting in 4K. A shame really since the 4K feature is a great asset when choosing travel vlog gear. However, this wide-angled lens will provide good compensation for the image crop.
Here you can find the Canon EF-M 32mm F1.4 STM
As I mentioned a bit earlier, the Canon EOS M50 Mark ii comes with a standard kit lens, that does a fine, but not a magnificent job.
This lens is referred to as a "pancake lens" due to its flat size and it is the best choice for upgrading the standard kit lens that the Canon EOS M50 Mark ii comes with.
You can go with the standard kit lens, to begin with, but if you are already ready for the upgrade, then this is a great choice.
Find the CANON EF-M 22MM F2 STM and upgrade your Canon EOS M50 Mark ii for good.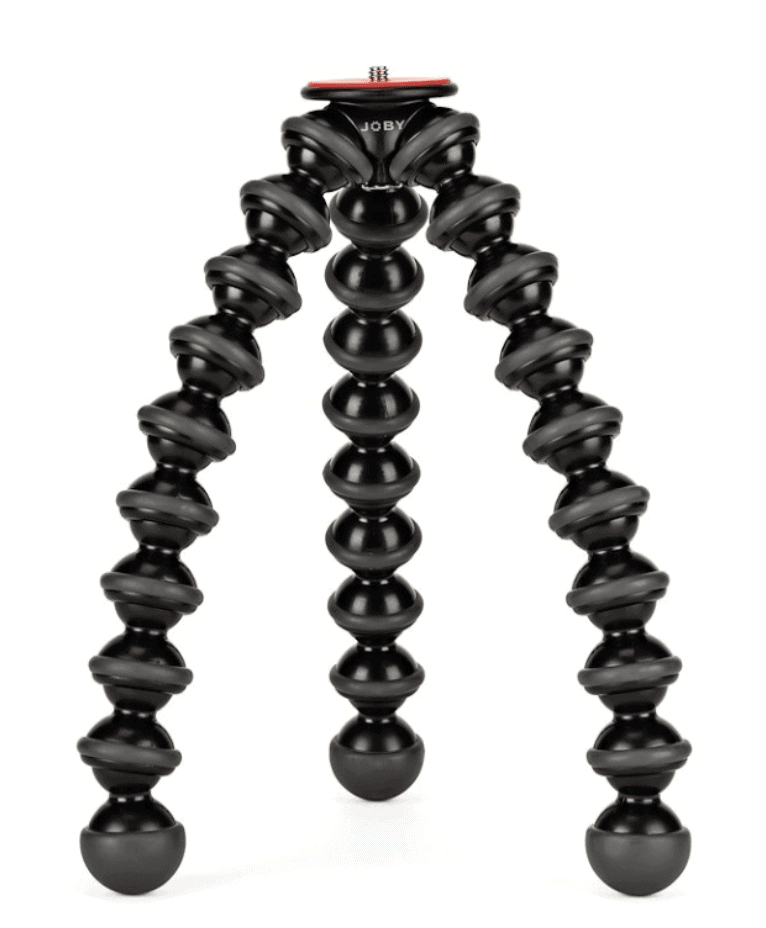 I have a few different tripods, and here I think there are a lot of great options on the market. All differing in size, weight, and price.
The one I will recommend though is the extremely popular and convenient Gorillapod by Joby.
These tripods weigh almost nothing, take very little space, and are flexible – meaning you can place your camera (almost) anywhere. For instance, I have hung mine on balcony edges and even ridden with my camera mounted on the front of my bike – gets you some great images for your travel vlog!
Finally, they absorb some bounce so your footage won't shake as much.
A great priority when shooting a travel vlog is to upgrade your sound. This really makes a difference and provides that extra professional touch to your videos.
Rode or "Røde" provides some of the best small microphones on the market and is extremely popular amongst top travel vloggers because of the quality and price.
The Rode Videomic Pro+ provides great sound, mounts perfectly on top of the Canon EOS M50 Mark ii, and is very easy to use.
A short YouTube video to learn the features and you are ready to go!
Extra fun fact: because of the ø in "Røde", I was sure that the brand was danish. It's actually Australian. Now you can take that bit of highly unuseful information with you. You are welcome.
Check out the Rode Videomic Pro+ for price and specs.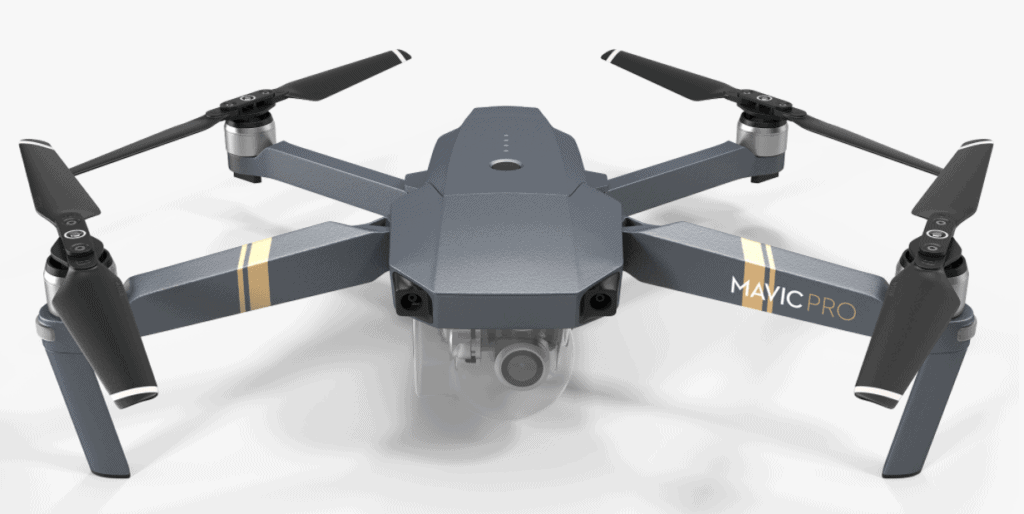 In my opinion, aerial footage provides those top-dollar shots that really bring in that "wow"-effect.
Here is probably where I spend 80% of my research hours, and finally, I decided to go with the DJI Mavic Pro.
A purchase that I am still extremely happy with and would recommend to anyone who is interesting in drones and the travel footage they provide.
The Mavic Pro provides top-notch footage and features, for way less compared to the standard market price within the quality range.
On top of that, the Mavic Pro is both foldable and light, meaning it takes up very little space and isn't a pain to carry around.
In terms of flying the drone, the Mavic Pro is extremely easy to maneuver. I had never flown a drone before so this was both a focus and a concern before purchase. Already with the first flight of the Mavic Pro, I managed quite well. It is extremely user-friendly, connects perfectly to your smartphone, and provides both great footage and fun.
This is the drone used by some of the top travel YouTubers and digital nomads in the world, such as LostLeblanc and Sorelle Amore. YouTubers with a massive YouTube channel and a full-time profession in sharing travel content, travel tips, and travel experiences.
If you want to get serious about your YouTube travel channel or just make great travel vlogs, check out the DJI Mavic Pro and fly away, my friend!
ADOBE CREATIVE CLOUD EDITING SOFTWARE
You need some editing software for creating a travel vlog. Here the hands-down best and most affordable options are provided by Adobe Creative Cloud.
While Premiere Pro is the best option, that provides the most complex and professional features, it is also the priciest. A more affordable and easier tool is the Premiere Rush. While not offering as many pro features, it is more user-friendly and, depending on your level, is a good starting point.
If you already know something about editing videos and want the full pro option from the start, go with Premiere Pro.
Editing your videos and doing a bit of color grading is truly what gives the final professional touch. I worked in TV production for years and post-production (here editing, sound, color grading, etc.) is just as crucial a step as shooting your footage. All the best footage and material will never stand out without a proper priority of post-production. It is the final step, and one of the most important things, in order to make your videos look pro to your audience.
Now with all your amazing footage, you will notice that it takes up an insane amount of storage space. You will need to get at least one external hard drive at some point. Here I think the absolute best, is provided by Lacie.
Even when I worked in TV production on a large scale, we would use these little babies.
They never fail, the price is manageable, the size is perfect, and the rugged surface protects your precious footage from harm. The last is especially handy if you like going on less fancy and more adventurous trips. In addition, make sure you have good travel insurance with additional tech coverage for all your equipment and carry your things safely in an anti-theft travel bag.
I recommend you get the 4TB to start. The price is better in terms of storage space compared to the 2TB. You will be amazed at how fast 2TB fills up and you will need to get a second hard drive.
Check out the Lacie Rugged Thunderbolt hard drives and decide for yourself.
THE MOST INSPIRING TRAVEL VLOG CREATORS AND YOUTUBERS
Since you are interested in travel vloggers and creating content yourself, you must have been inspired by some amazing content creators already – just like me.
Travel vloggers and YouTubers do an amazing job of showing people the most fascinating and remote corners of the world. It is a great way of showing new destinations, new ways to travel, and also provides great entertainment to the viewers.
Travel vloggers have inspired me to get up and head for adventures for years. Whether it is solo female travelers, food lovers, or extreme adventure seekers, travel vloggers have managed to inspire and push me out my front door to numerous locations.
Here's a list of some of the, in my opinion, greatest and most inspiring YouTubers out there.
EVA ZU BECH
This woman has been mentioned and admired many times all over the internet, but she is still one of my favorite travel vloggers out there.
Eva Zu Bech creates documentary-style travel videos and heads off to untraditional travel destinations to explore. She is a true inspiration that shows real travel life and the people she meets along the way. If any woman is doubting whether they can head off and explore the world alone, binge-watch Eva Zu Bech's YouTube channel to feel empowered.
FEARLESS AND FAR
The Canadian behind Fearless and Far, Mike Corey, is all about adventure travel. Mike takes his audience on extreme experiences as he is pushing edges and aims to conquer fear.
His YouTube channel has a high-quality and professional feel that sweeps you right into an episode on Nat Geo Wild.
I love Fearless and Far for inspiring adventurous trips and providing great entertainment and fun with every travel vlog.
GOT2GO
Lea Rieck, the woman behind the Got2Go Youtube channel, is a badass female who travels the world on a motorbike.
This female biker travels to remote destinations in places like Africa, Europe, and anywhere in between. Her aim is to visit destinations where most tourists don't go and share them with her audience.
So far Lea Rieck has traveled over 90,000km on her Triumph Tiger 800 and is still going strong.
MARK WIENS
Mark Wiens is my all-time favorite food vlogger who I have been following for years. His charismatic way of interacting with his audience, as well as the people staring in his videos, is a pure delight to see.
His passion for food, traveling, and exploring new cultures, shines through the screen and makes you wish you were right there with him, trying something that looks mouth-watering good.
Mark Wiens is all about traveling for food and has grown a huge social media audience because of his passion and charismatic being.
RONNIE & BARTY
Ronnie and Barty are a filmmaker duo that lives in the town of Manali. Their beautiful videos are mainly situated in the Himalayas where they show unexplored travel destinations, sounds, and sensations.
These travel vlogs are beautiful pieces of art combining images, music, and people. Creating something unique and true while showing the Himalayas.
WHEELS TO WANDER
Eric and Maudi make the couple behind the YouTube Channel Wheels To Wander.
This couple travels around to fascinating locations by bike and shares their experiences with their audience. Whether it is cycling around Europe or staying with the nomads in Tajikistan, Wheels To Wander shares beautiful landscapes and experiences.
This channel makes you want to pack your bag and head out on adventures – preferably even by bike.
MARI JOHNSON
Mari Johnson is a female traveler, who inspires women to head off on solo trips to hike all day long. She shares great videos showing her travels in the great outdoors and is a charismatic inspiration to any traveler.
Her aim is to inspire and help other people explore and lives an adventurous life in New Zealand that makes your feet itch with travel anticipation.
ELINA OSBORNE
Elina Osborne brings her personality to the table in her less traditional YouTube videos. This charismatic YouTuber does things her own way and through her own calming tone of voice.
Elina has turned hiking into a lifestyle and shares great videos from various hiking trails, mountains, and countries. One of her greatest trails was walking from Mexico to Canada on the Pacific Crest Trail – pretty cool!
Elina is all about walking great distances and shares her wonderful walks with her audience through her down-to-earth travel vlogs.
Because of the pandemic situation, Elina was forced to stay in her home country of New Zealand. However, this did not stop this female traveler, who explored a 3000km distance from the top to the bottom of New Zealand. Sharing mountain ranges, great roads, fields, and farms along the way.
These were some of my favorite YouTubers and travel vlog creators out there. I am always curious to find more, so please feel free to share any comments or additional travelers in the comments or reach out via my email address.
BEST TIPS FOR CREATING A TRAVEL VLOG
BE YOURSELF
This is the most important thing in terms of creating great travel vlogs. Be yourself and don't compare yourself with others.
While grabbing inspiration from others is a great way to come up with video ideas, don't be afraid to do your own thing. You are you and that is your biggest strength and competitive advantage.
There are niches and people for everything and no right or wrong way to do a travel vlog.
FIND A CONSISTENT AND RIGHT TONE IN YOUR TRAVEL VLOGS
Be nice, friendly, and relaxed. Use your body and be energetic in your videos. No one wants to watch someone who is not charismatic or sounds like they are reading from a script.
Write out the key points of what you want to share before you start filming your video. Watch yourself and evaluate, then refilm.
Find the tone of voice that you are comfortable with and that comes from a person that you would like to follow on YouTube. Embrace this person and stick with them in your videos.
EDIT OUT FLUFF IN YOUR VIDEOS
Be your own critic and filter out the fluff in your videos. If you are doubting whether or not it is relevant or if you start to get bored – filter it out.
Show people the most exciting and fun parts and leave out the rest. You want to keep your audience entertained and want them to watch your full video as often as possible.
USE MUSIC ACTIVELY
Music is one of the most powerful tools when it comes to video creation. Use music as an active choice in setting certain moods or generating certain emotions with your audience.
Try not to only use music as a background filler. Instead, look through your footage, visualize your video and try to find the right music first. This will make a huge difference in the final outcome of your vlog.
STORYTELL
Create stories that people can relate to and include other people in your travel vlogs. You want to bring your audience with you on your trip and sharing people and emotions will make your video feel real.
Don't be afraid to personally reflect or tell the story behind what you are doing.
The great thing about YouTube is that you can tell real stories and show real people.
CREATE A COMMUNITY
Connect with your audience and speak to them. Ask them to comment and bring insights into the subject you are touching on in your videos.
Not only will this create a stronger and more trusting audience, but will also provide you with a deep understanding of what your audience wants to see.
Finally, it should make the whole vlogging experience more enjoyable for you, as you will have a whole group of cheerleaders behind you.
USE THE RIGHT EQUIPMENT
Make your travel vlogs enjoyable and fun to watch by using the right equipment. Upscale slowly and progress your skills without overdoing anything before you are ready.
Choose the equipment that you think is fun and that you are interested in learning about and using. Never compare yourself to people who have created content for years and trust the process. Also, knowing about your camera's settings, such as phase detection and contrast detection, is crucial for getting good material.
FINAL COMMENTS ON CREATING A TRAVEL VLOG
Creating travel vlogs is a great way to share travel experiences, connect with people, and grow your audience. It allows you to bring your viewers with you on your trip and show the real side of traveling in a great and enjoyable way.
While there are many successful travel YouTubers out there, they all have one thing in common:
They bring their own personal touch to their videos.
The last point I want to make before you head off to become the next big Hey Nadine or Ben Brown is to find and embrace your own uniqueness.
All the top travel vloggers out there all say the same thing and claim that creating travel vlogs is not about the equipment, it's about the people.
While expensive equipment does make it easier to create amazing-looking footage, it is not always the main concern of the viewers. Some of the most successful YouTubers, create home-style videos and barely edit their footage. Depending on what you aspire to do with your travel vlogs, you don't have to have expensive equipment to be successful. More than anything it's about making something that feels real and personal, and that allows you to connect with your audience.
That was it for this one and I only wish you great luck in your creators' journey and travels to come.
As always feel free to leave a comment below.
//Josephine
The article may include affiliate links, meaning that I may receive affiliate compensation at no cost to you if you decide to purchase. Read more in my
Affiliate Disclosure.
BEST TRAVEL RESOURCES
BOOK YOUR FLIGHT: Not sure how to get the best and cheapest flights? I always use Skyscanner for the best deals. The best tip is to be flexible with dates and destinations if you want the cheapest options.
Alternatively, for frequent travelers, get a membership with Wayaway and receive a cashback on cheap flights and hotels every time you book! Via the link, you even get a 10% discount on your membership.
BOOK GREAT ACCOMMODATION: Booking great accommodation is not difficult but it sucks paying too much. Use Booking.com for the greatest hotel deals and Hostelworld for amazing hostel stays. Alternatively, you can sign up for Worldpackers to get FREE accommodation in exchange for your work.
BEST TRAVEL INSURANCE: Traveling without insurance is a mistake that you don't want to make - trust me I've tried. I'd suggest SafetyWing as they offer great and flexible policies - especially if you are traveling for a long time or a digital nomad. World Nomads is another great insurance with extensive coverage.
NEED HELP WITH YOUR VISA? Figuring out how and when you need a visa can be a bit of a jungle. iVisa is a very handy and user-friendly service.
HAS YOUR EU FLIGHT BEEN DISRUPTED? Use AirHelp as a service to get flight compensation on your European flights in case your flight was delayed, canceled, or disrupted in other ways. More often than not you are actually entitled to compensation.