Since I was very young I have always been fascinated by Venice. Such a beautiful city, full of history, headed for the bottom of the ocean… tragic, dramatic, and romantic.
Every little street is like a hidden passage, every bridge a little different, and the canals endless. Venice is extremely famous and popular, which I completely understand, but that always brings a downside – tourists…
I have visited the city once before and I remember it being extremely beautiful and interesting, but also completely packed.
I desperately wanted to see it again but knew I didn't want to spend too much time in the crowds.
In my opinion, 24 hours in Venice is the perfect amount of time and just enough to see everything without losing your mind! But what to do when in Venice? How to prioritize time well so you get to see everything?
I got the answer to your questions and if you want to know how to spend 24 amazing hours in Venice, just keep reading below.
In addition, joining some tours in Venice can save you time and let you experience more during your short visit. Try to research what is available and what you are interested in doing.
PIN THIS POST FOR LATER:
How To Get To Venice
I am not going to lie to you, and I have to start out by being honest. Getting to Venice is a bit of a hassle and a pain in the butt.
We arrived by car and therefore I can only share this way with you.
You want to drive to Tronchetto parking and leave your car there. It is the cheapest place and it is close to the ferry. The price for 24-hours is 24€ BUT if you stay longer you have to pay for a full extra day…
After you have left your car you head out from the car park, around the parking garage, and towards the water. You will see signs and also find a place along the way to buy a ticket for the ferry.
The ferry cost 7,50€ pr. person and has several stops on the way into the city.
Depending on where you stay you might want to check your stop, but otherwise, it goes all the way to San Marco – the very center of the city.
I always get the Lonely Planet Travel Guide books when I go visit a new place. They provide so much information and inspiration! Italy has so much to offer and the guidebook is great.
Where To Stay in Venice
There are endless possibilities of where to stay in the city, and the price, as well as standards, ranges on a broad scale.
We stayed at an Airbnb which was completely fine and there were a bunch of very central options.
If you want to stay at a hotel then check out Booking.com for the best options at good prices.
I always prioritize location in terms of where I am staying and since you only have 24 hours and won't be spending much time in your room anyway, I would advise you to do the same.
Be aware that the GPS doesn't function very well in Venice and that some streets are called the same which is not exactly handy. You can end up at the wrong "calle-di-something" and easily get lost. ​​
Double-check your map and be sure of where to go before you start walking as carrying your bag up and down bridges is only fun and charming the first time around.
What To Do When In Venice?
Now that you are all settled in and hopefully found your accommodation with ease, you are ready to go out and explore the wonders of this beautiful place.
A great thing about the city is that it is quite small, so what to do when in Venice, is fairly easy and manageable. In general, you are simply required to walk around and enjoy yourself.
There are, however, a few activities that you have to complete, and they are as follows.
Travel tip: download the Wanderlog app onto your phone (works for both android and iOs) and keep a plan for your trip. It's completely free and allows you to add everything you need such as important things scheduled, places you want to eat, reservations, and where you are staying!
Below I made a map and included my recommendations for you:
Visit San Marco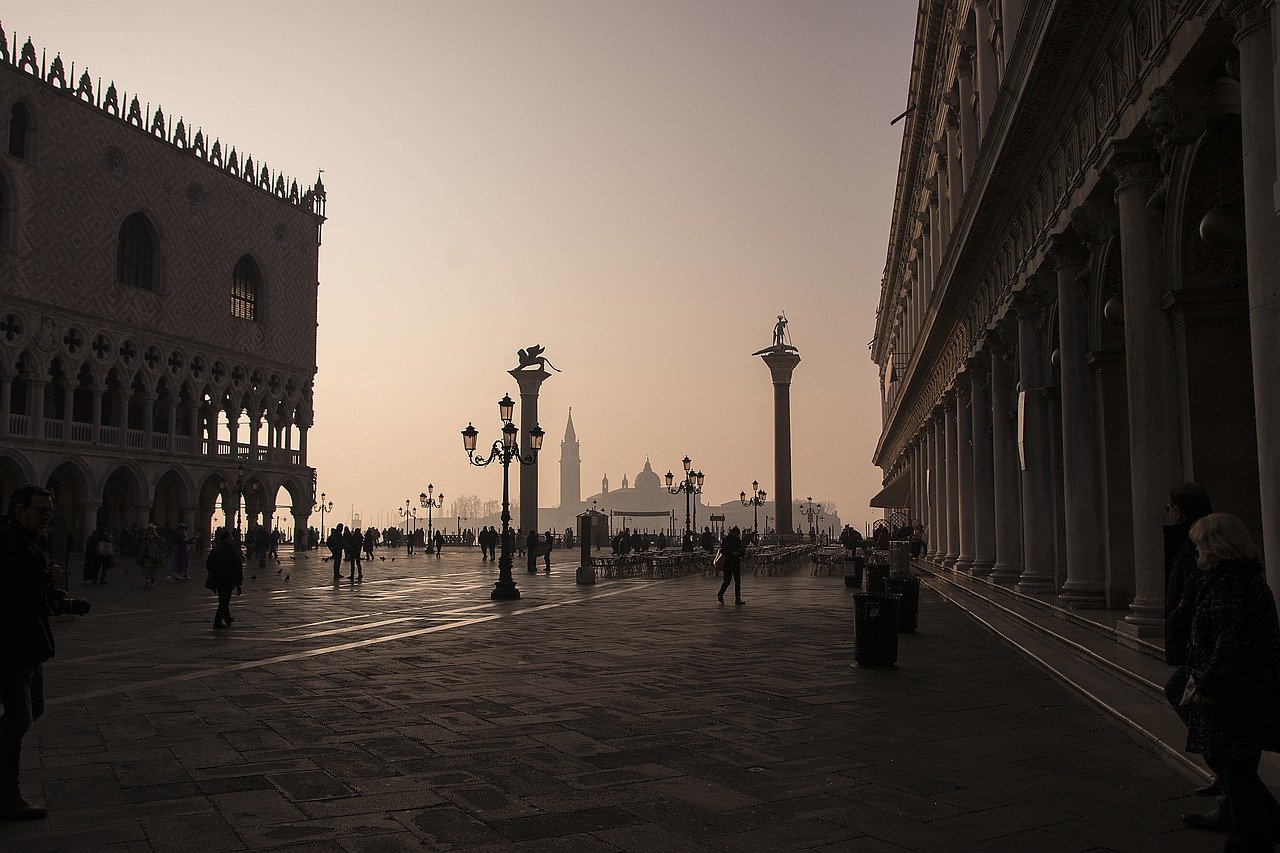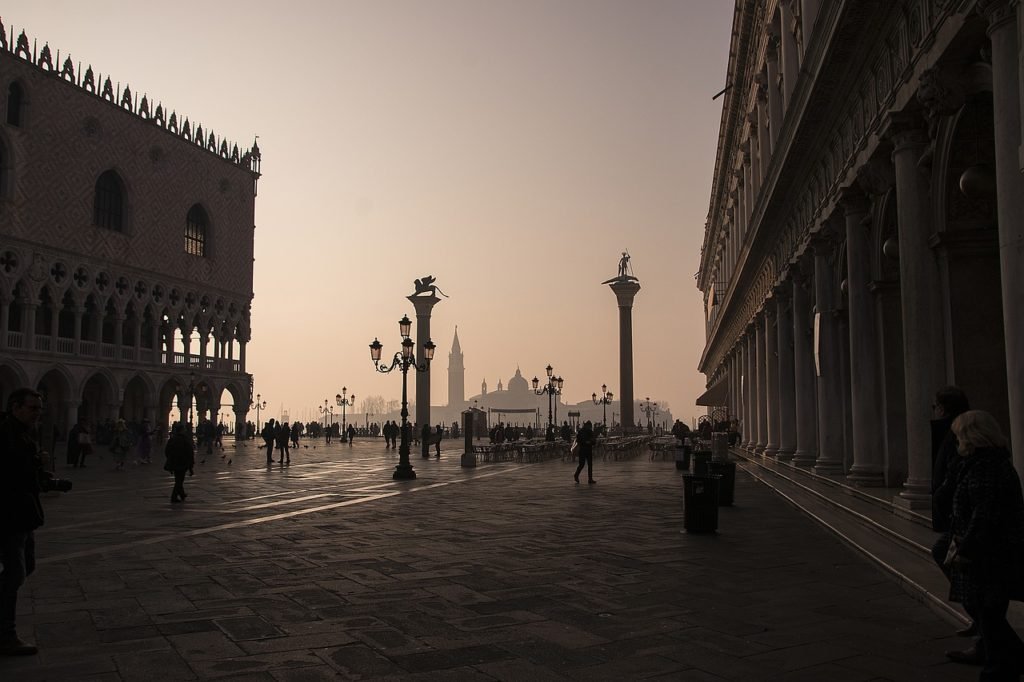 This is probably the most famous and biggest tourist attraction in Venice. The Basilica of San Marco is a beautiful church and something you have to get out of your system while there.
The square in front is a beautiful spot that is also very packed with other tourists and a herd of pigeons.
Take your pictures and get going, and note that nothing served on this square is worth your time or money.
See Doge's Palace Venice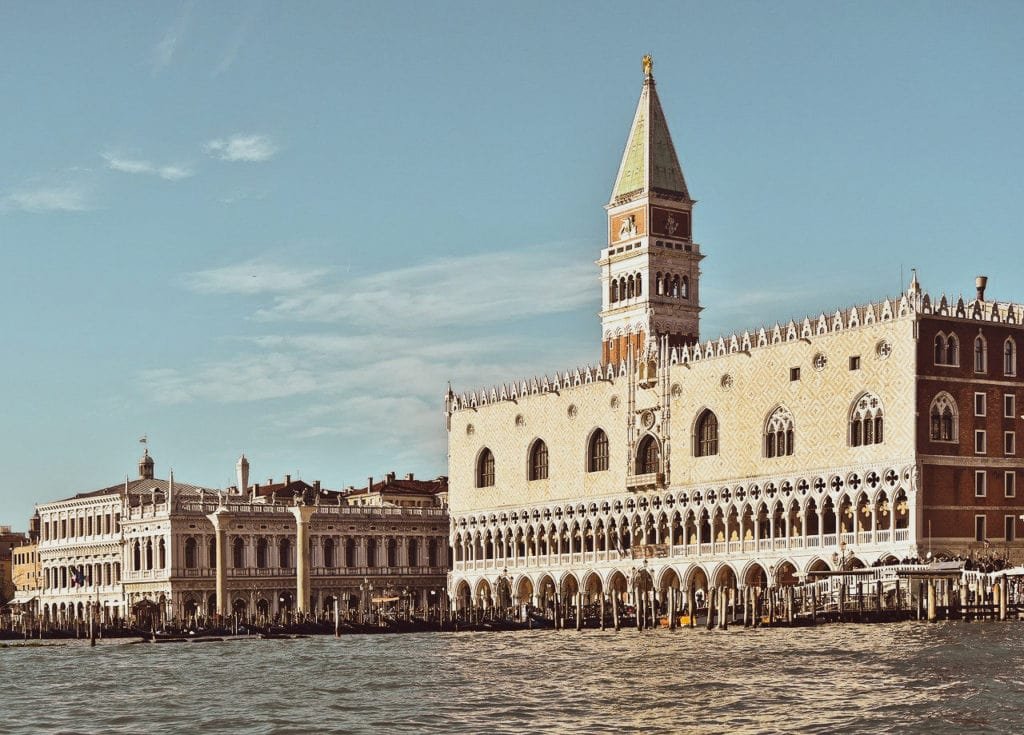 Good news! This palace is right next to the San Marco church and you can see it in the same breath. It is a massive white palace facing the canal to the right of the church, and really you can't miss it unless you are blind…
Take your pretty picture and tick it right off your list.
Walk Across Ponte Di Rialto
When you are walking around you will cross hundreds of bridges around the city. Apparently, there are approximately 600 bridges all over the city and I believe we crossed around 200 of them without thinking.
We did not really walk around for any specific ones cause I think they are all picturesque and beautiful, but you should head for the biggest and most famous one; Ponte Di Rialto.
This bridge is both beautiful and crosses the main canal.
Other than this, I would just walk around and explore myself.
Have Lunch in a Local Place
And here I am your friend cause I have to tell you, finding non-touristy places in Venice is an accomplishment in itself!
The city is filled with poor restaurants and bars, with some guy out front trying to pull you in. Even offering you a free aperitivo or something to make up for the horrible standard of what they serve – No Grazie for me!
I frantically started researching local lunch places when the time was ripe, cause no way I would allow on out of three meals in Venice to be a failure!
And it worked.
We ended up finding a very local, fun, and charming osteria called "Osteria Al Portego". This place was located in a tiny alley, with tables randomly placed outside.
The place specialized in the famous cichetti concept with small bites. On top of that, they also had a couple of daily specials that all looked great.
The restaurant was buzzing with locals trying different things. On top of being extremely fun, it was also dirt cheap.
I can really recommend this place and for sure I would come back.
If you prefer something else, then have a read of this post I found, with great local and interesting options.
Get Lost in Venice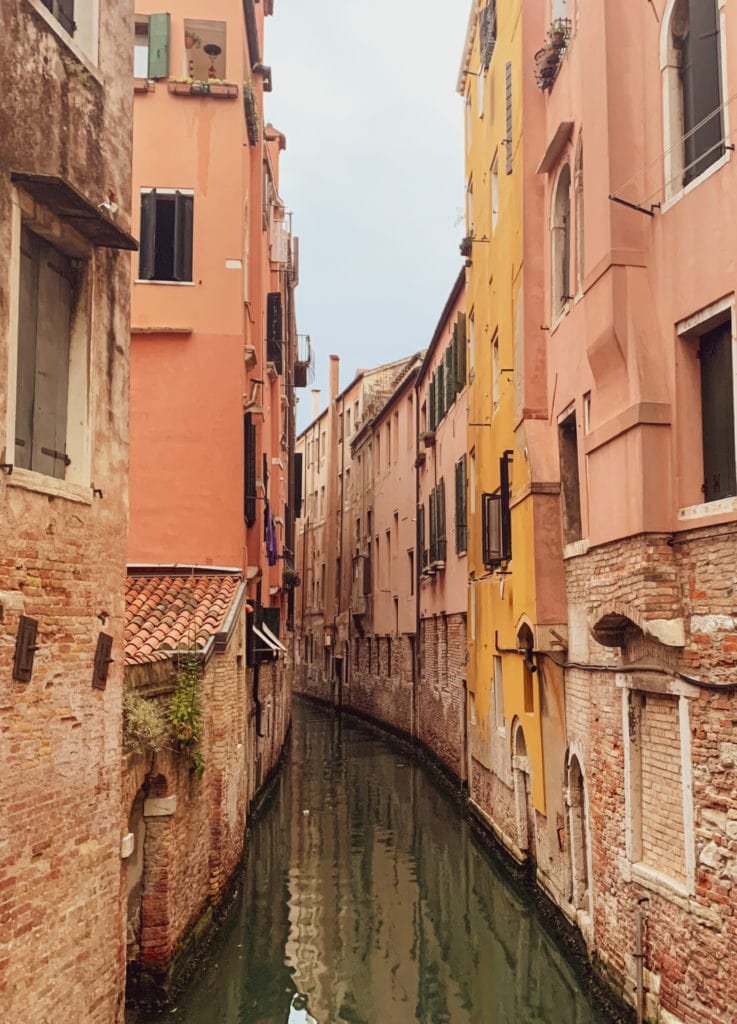 This is probably one of my favorite things about Venice because it goes so well hand-in-hand with the way I like to travel.
You are truly meant to just walk around and get lost.
Enjoy all the little streets.
Enjoy all the little bridges.
Have a scout around some different shops.
Get gelato from a place that looks good.
Take a million pictures.
Really, that is all there is to it.
If you want you can grab a gondola and sail around. The price is a minimum of 80€ though, and this is a standard price set by the commune. If you are 6 people then the price is 100€ for everyone.
Definitely pricy but then again, you are only in Venice once, right?
Enjoy the Famous Venizian Apperitivo
A few years back this drink seemed to EXPLODE everywhere I went and I didn't know it was Venzian before I went there again.
Are you ready to hear what it is?
Da ta da dah!!! The Aperol spritz is a Venizian invention and it is served all over the city.
If you like Aperol spritz, then what better place to enjoy one?
If you have never tried Aperol spritz, then what better place to try your first?
They serve the orange aperitivo everywhere and it is easy to find.
Have Dinner Venizian Style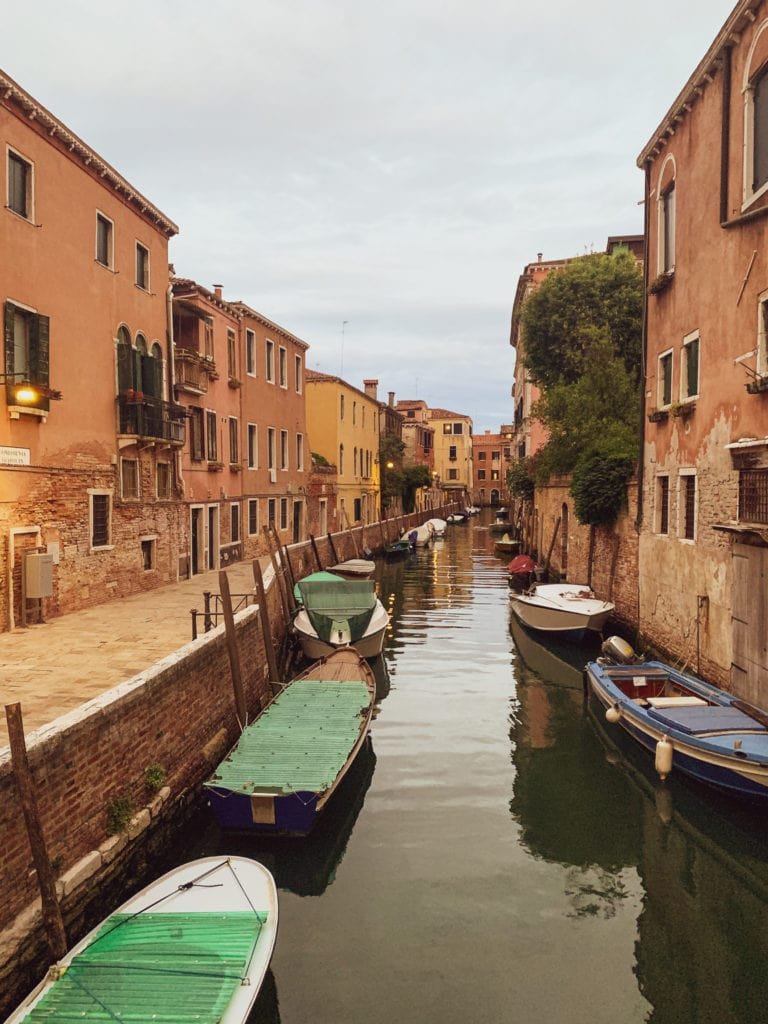 In terms of what to do when in Venice, I have two favorite activities.
The first is walking around and getting lost.
The second is eating cichetti at different places.
Head to "Fondementa Della Misericordia" – a long narrow street right by the canal full of cichetti places, bars, people, and a great vibe.
You absolutely must visit "Vino Vero". An amazing cichetti and wine bar that was my all-time favorite place.
Discover Venice's Secret
Venice at night is great, and this is a tip that I got from a guy from Venice and it was in his opinion the true hidden treasure. 
The one thing you absolutely should do is walk around late evening or at night.
Here the beauty of the city really stands out.
Without the stress, the hassle, and the people, the city is just magic.
For the first time, I noticed just how old and unique Venice truly is.
It is completely safe to walk around Venice at night, but I always take precautions and make sure I have travel insurance that will cover any accidents. Venice is a very busy and packed city. For this, it's important to look out for thieves and pickpockets. A good idea is to travel with a good anti-theft travel purse or bag to keep your belongings safe.
Where to have Breakfast in Venice
Unless you want to head out early morning, you have time for a final walk around.
It seems as if the city wakes up pretty late, and walking around in the morning is quite nice and peaceful.
Not a lot of places are open, but we did find a very nice place to grab breakfast.
"Farini" is a bakery, cafe, and bar that has two locations around.
Say Your Goodbyes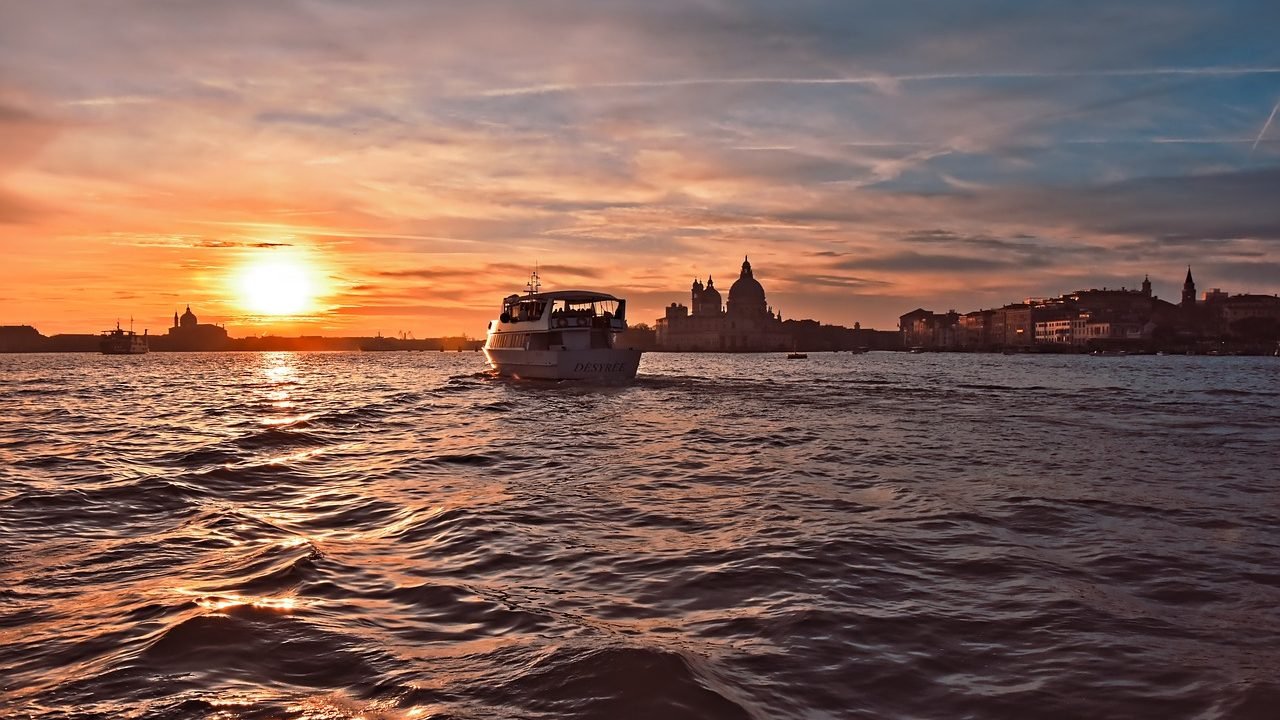 Now it is time to say your goodbyes and head back the way you came.
Grab a ferry back to Tronchetto station and leave Venice just before it becomes too intense.
Head for other beautiful places in Italy such as Garda Lake, only a few hours' drive away.
That is all for this one and for Venice. I hope you have a beautiful time there.
As always feel free to leave a comment below.
//Josephine
The article may include affiliate links, meaning that I may receive affiliate compensation at no cost to you if you decide to purchase. Read more in my
Affiliate Disclosure.
BEST TRAVEL RESOURCES
BOOK YOUR FLIGHT: Not sure how to get the best and cheapest flights? I always use Skyscanner for the best deals. The best tip is to be flexible with dates and destinations if you want the cheapest options.
Alternatively, for frequent travelers, get a membership with Wayaway and receive a cashback on cheap flights and hotels every time you book! Via the link, you even get a 10% discount on your membership.
BOOK GREAT ACCOMMODATION: Booking great accommodation is not difficult but it sucks paying too much. Use Booking.com for the greatest hotel deals and Hostelworld for amazing hostel stays. Alternatively, you can sign up for Worldpackers to get FREE accommodation in exchange for your work.
BEST TRAVEL INSURANCE: Traveling without insurance is a mistake that you don't want to make - trust me I've tried. I'd suggest SafetyWing as they offer great and flexible policies - especially if you are traveling for a long time or a digital nomad. World Nomads is another great insurance with extensive coverage.
NEED HELP WITH YOUR VISA? Figuring out how and when you need a visa can be a bit of a jungle. iVisa is a very handy and user-friendly service.
HAS YOUR EU FLIGHT BEEN DISRUPTED? Use AirHelp as a service to get flight compensation on your European flights in case your flight was delayed, canceled, or disrupted in other ways. More often than not you are actually entitled to compensation.