A romantic getaway in New Mexico, rightly dubbed the Land of Enchantment, provides a refreshing change of pace where you may let your worries drift away with the breeze.
The sceneries here are huge and infinite, with high desert terrain brimming with romance and adventure opportunities. While Santa Fe is usually a popular trip for couples, there are other options in New Mexico if you're searching for spa treatments, hot springs, opulent accommodations, and organic food.
Furthermore, New Mexico is a southern state with a rich history that spans several ethnicities, including Native American and Mexican Indian cultures.
New Mexico has a semiarid climate, which implies that summers are long and hot, and winters are warm and pleasant in the deserts, but colder in the mountains.
Couples looking for a romantic getaway in New Mexico will discover that the whole state is full of breathtaking scenery and fascinating culture and history to discover and share.
Hideaway cottages in the mountains and lovely bed and breakfasts in the desert are available for a romantic getaway in New Mexico.
This lovely state in the southwest has a fascinating cultural past and a stunningly diversified terrain. Here vacationers can visit the Rio Grande, Ojo Caliente Hot Springs, stunning national forest, breathtaking mountain views, and so much more.
Whatever you're looking for, there will undoubtedly be romantic getaways and vacation rentals to satisfy your most passionate needs.
For a weekend vacation, check out this list of 12 different weekend getaways in New Mexico from the most romantic spots that are selected for you:
WHAT IS THE BEST ROMANTIC GETAWAY IN NEW MEXICO?
You find The Parador in Santa Fe's historic downtown sector, which is both gorgeous and historic. Couples have an intimate experience, close enough to all the downtown action while still having a private retreat to come to at the end of the day.
There are fifteen separate rooms in total at the inn, including two suites. All of the rooms are decorated and furnished in an authentic and unique New Mexico style.
The Parador serves a cooked breakfast to guests every morning. Furthermore, there are other dining options within easy walking distance of the property for lunch and dinner. The Plaza, where guests may enjoy art museums and shopping, is only a ten-minute walk from the Inn.
The Pueblo Bonito is a great mix of lovely and old. Loaded with valuable New Mexican culture and is located in the picturesque, historic region of downtown Santa Fe.
Couples seeking a peaceful and authentic vacation will appreciate any of Pueblo Bonito's 14 rooms. Each with its own distinctive décor and breathtaking, authentic New Mexican flair.
On top, Pueblo Bonito is also a restaurant in downtown Santa Fe. They offer both a romantic supper and a more casual eating experience.
Couples have the option of staying in a peaceful and exclusive little B&B, venturing into Santa Fe's retail center, or scheduling a guided tour of the New Mexico countryside.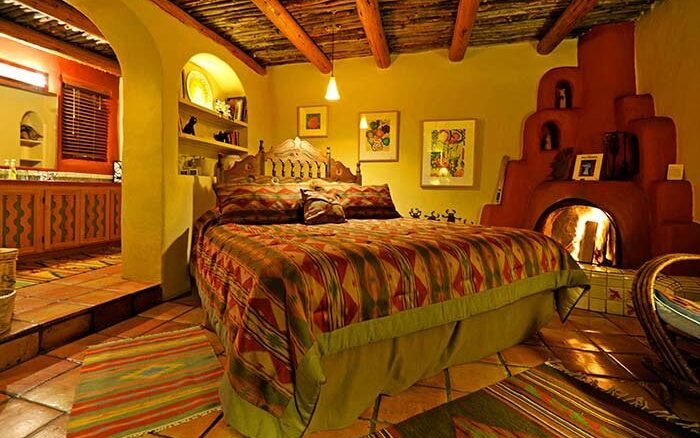 The Hacienda del Sol is a family-owned and operated bed & breakfast in Taos, New Mexico, that is ideal for couples. The rooms are furnished in a traditional New Mexican style, with each room having its own personality.
Couples can stay in any of the 12 guest rooms, which feature handmade furniture as well as quilts and rugs made by local artists. It's the ideal location for immersing yourself in the real New Mexico experience.
Every morning, between 7:00 and 9:00 a.m., couples can experience a breakfast buffet. In addition, a variety of afternoon refreshments are available, including tea, cookies, and fruits.
Guests staying at Hacienda del Sol will be in the perfect location to take advantage of all that Taos has to offer. These include art galleries, tours of the New Mexico countryside, cultural events, and canoeing.
4. Desert Harbor
This is one of those New Mexico romantic resorts, where couples can go for a peaceful and quiet vacation. This eco-friendly hideaway is running entirely on solar energy. Since there is only one guest cottage at Desert Harbor, this is for couples who wish to be completely alone.
The beautiful cottage is located at the base of sandstone cliffs, making it a very scenic stay. This is the perfect setting for couples seeking the quietest and most secluded vacation possible. You find Desert Harbor between Santa Fe and Albuquerque, surrounded by 34 acres of New Mexico desert. From here, you can do a day trip for some fun activities in Alamogordo.
Guests receive an organic breakfast delivered to their cottage each morning, and dinners are priced per person. Dishes are ordered a la carte and prepared only with organic and local ingredients.
Residents can either take a day trip to Santa Fe or enjoy the peacefulness of the area. This includes a meditation labyrinth and a lookout deck dangling from a cliff. On top of this, life coaching and massage services are also available to guests staying at the resort.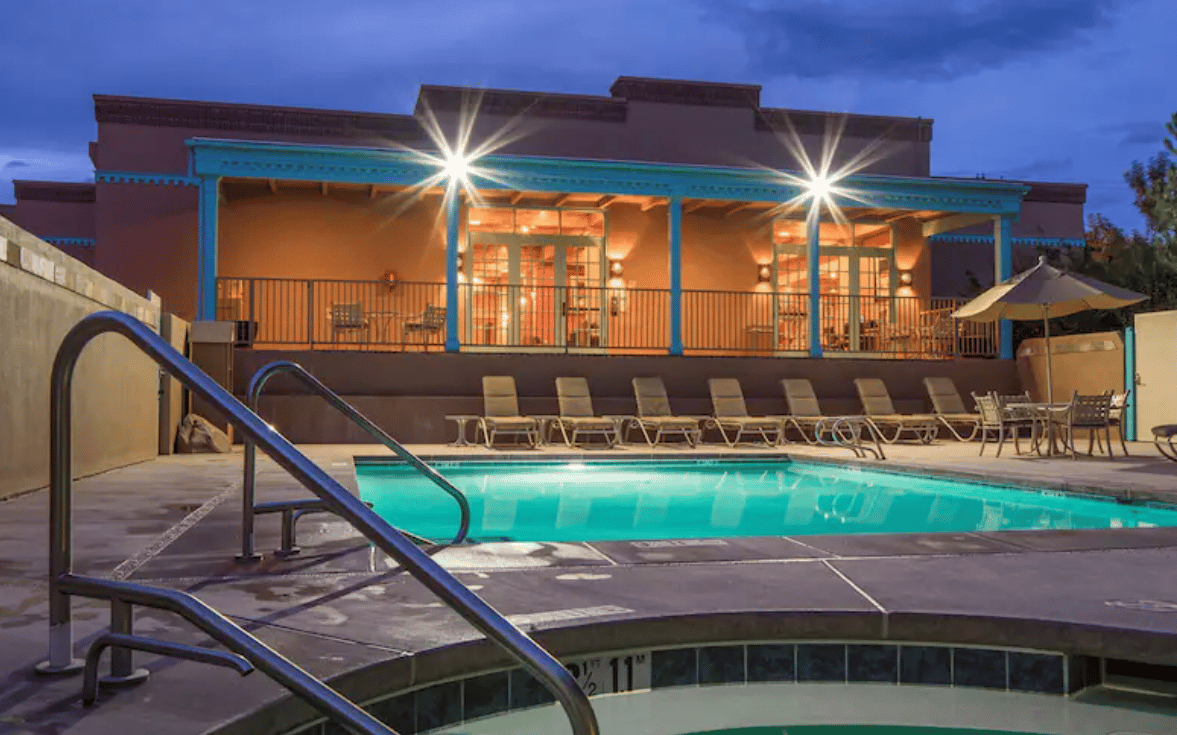 Villas de Santa Fe is indeed a luxurious resort ideal for couples who enjoy the opulence of a hotel stay. The rooms are all villa-style, with one- or two-bedroom options available, as well as premium rooms.
Likewise, each villa has a homey feel, with all the conveniences and luxury amenities of a resort hotel.
The Gas Grills, located on-site at Villas de Santa Fe, serves a superb barbeque. Each villa also has a kitchenette, and there are BBQ sites throughout the resort for visitors who choose to do their own cooking.
For the more adventurous couples, Villas de Santa Fe is close to a variety of top Santa Fe attractions. These include golf, horseback riding, hiking, and even river rafting.
6. Downtown Historic Bed and Breakfast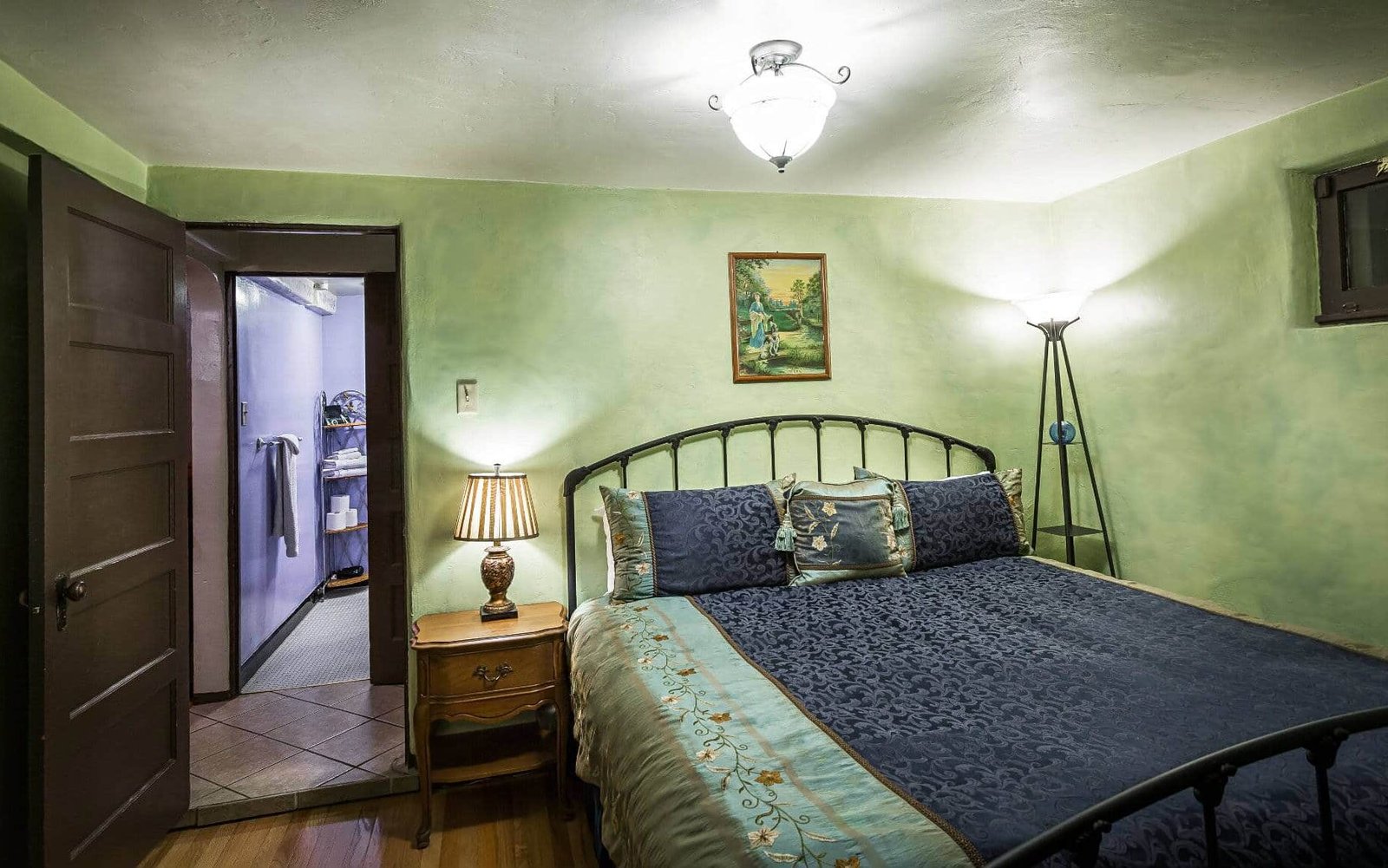 The Downtown Historic Bed & Breakfast, located in downtown Albuquerque's historic downtown neighborhood, offers both luxury apartments as well as a link to Albuquerque's history and culture.
Couples can select from ten guest rooms split across three major residences. There are also private guest houses available for couples seeking a bit of additional privacy during their visit.
Each morning, the Downtown Historic Bed & Breakfast serves a complete breakfast with local favorites. These include green chile and fresh eggs from a nearby farm.
Couples can spend much of their time relaxing on the grounds and exploring the neighboring hiking trails in the Sandia Mountains. Besides this, there is also the option of playing some golf, thanks to its central location in downtown Albuquerque.
7. Chocolate Turtle Bed and Breakfast
This charming New Mexico bed and breakfast is located in the village of Corrales. Chocolate Turtle is a one-and-a-half-acre property with a unique and beautiful southwestern-style design.
For couples, there are four distinct hotel rooms to choose from. Both will appreciate the intimate feel of the Chocolate Turtle when being surrounded again by the New Mexico countryside, which is ideal for couples seeking a true vacation.
Every morning, Chocolate Turtle serves a delectable meal of eggs, pancakes, french toast, or breakfast meats. All of these are prepared with regional, New Mexican flair.
Guests can relax in the tranquility of the nearby Village of Corrales or go out to the nearby Albuquerque area. The latter, bustling with outdoor activities and cultural festivals.
8. Casa Escondida Bed and Breakfast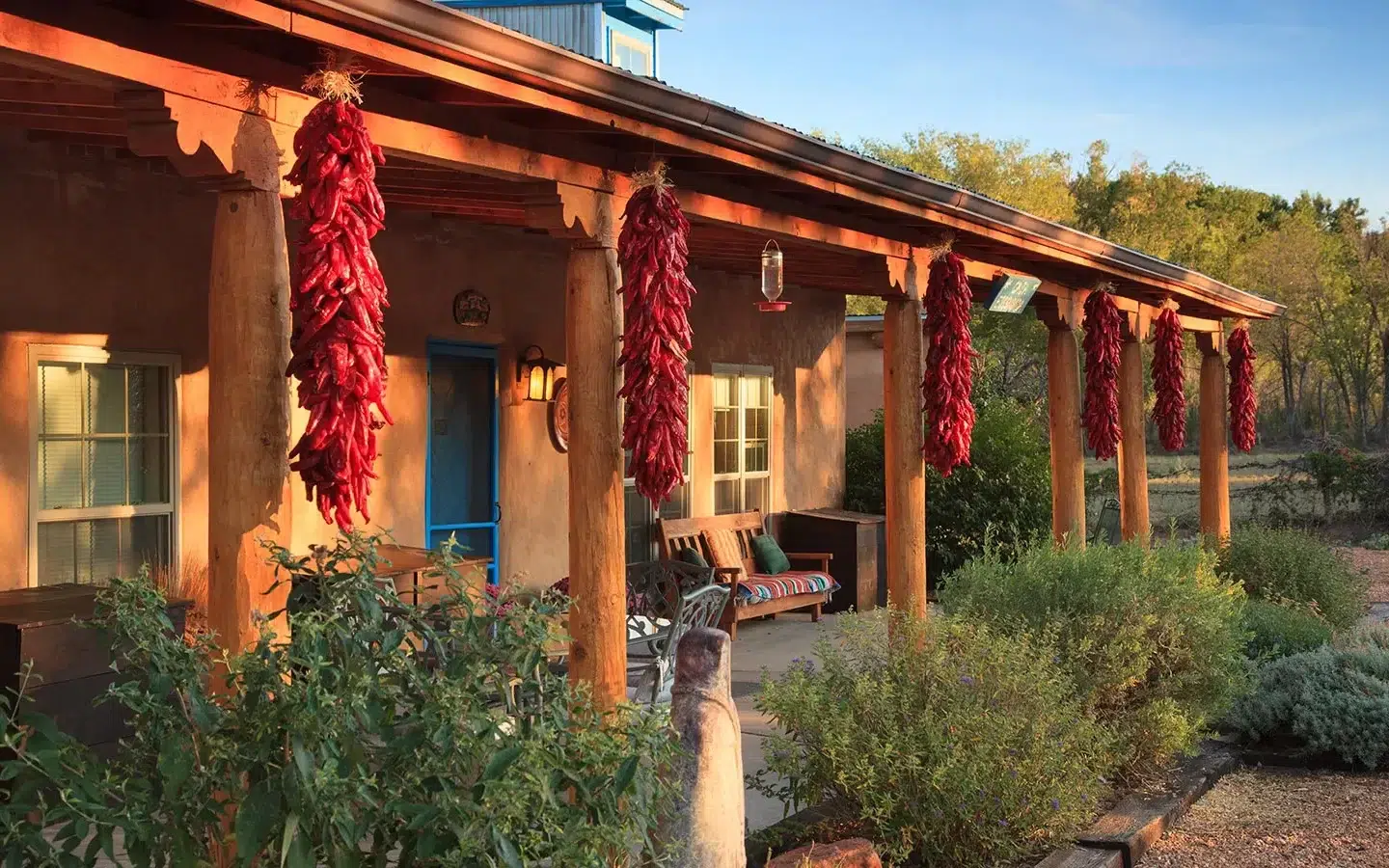 The Casa Escondida Bed and Breakfast, located 35 minutes outside of Santa Fe in Chimayo, welcomes couples looking for the "best of both worlds". As a countryside property with easy access to Santa Fe and Taos, The Casa Escondida has it all.
The Casa Escondida is made up of nine different rooms, each with its own theme and design. These are all packed with real and traditional New Mexican style that is perfect for the surrounding area and vibe.
Every morning, visitors are served a hot and delectable three-course breakfast. In addition, this can be customized to meet specific dietary requirements.
The Chimayo location of Casa Escondida is full of stunning scenery and amazement, and couples may enjoy a relaxing holiday visiting the city's festivals and festivities. Couples can also take a day excursion to Santa Fe or Taos, both of which are close by.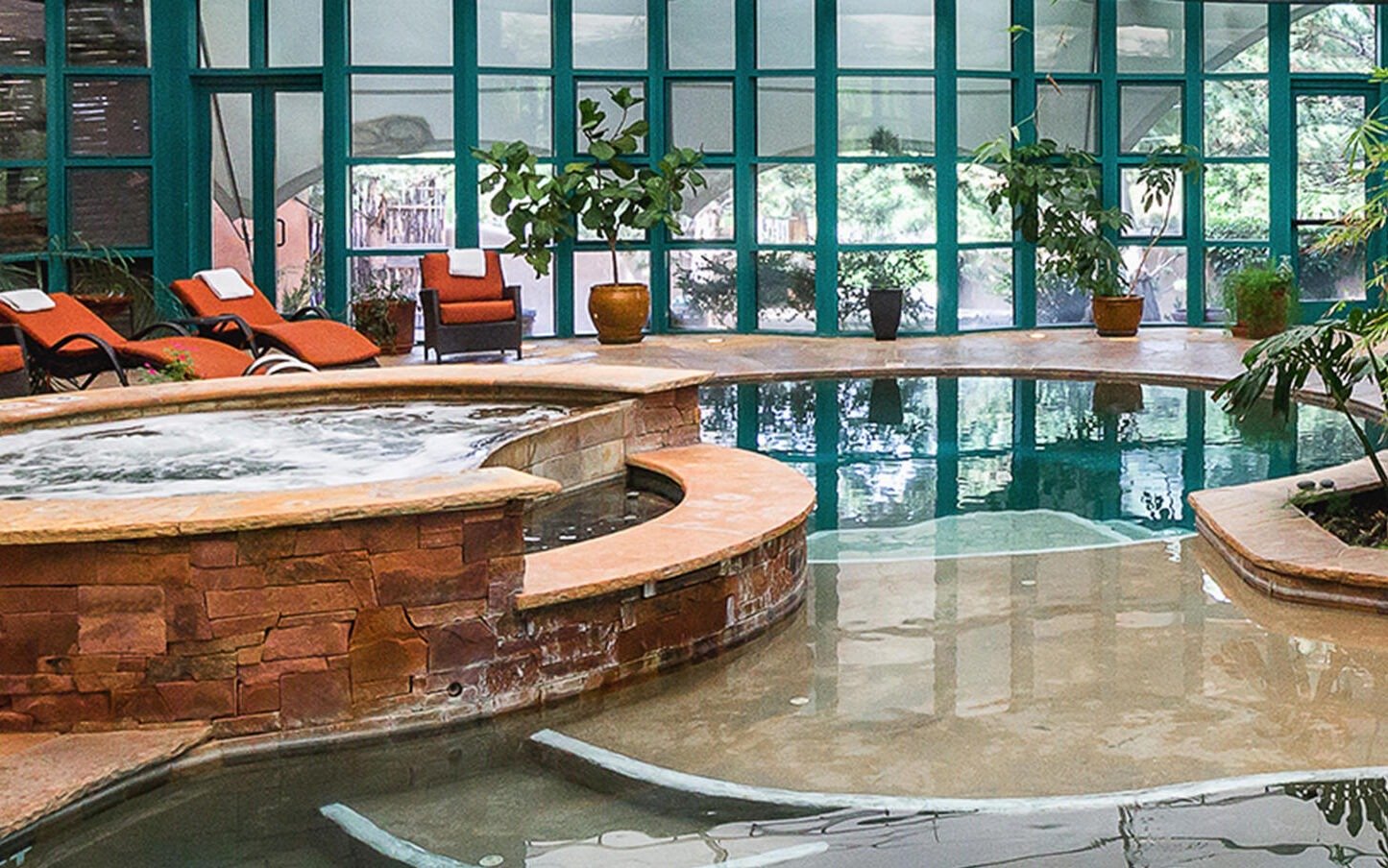 El Monte Sagrado in Taos is a resort that claims privacy for tourists looking for the ultimate retreat, and it's only a three-block stroll from the Taos Plaza.
Couples will be surrounded by the beautiful splendor of the New Mexico desert and mountains when staying in one of El Monte Sagrado's deluxe guest rooms or suites. The Mountain Room, for instance, features a private balcony with views of the garden below and a few mountains.
De la Tierra Restaurant serves breakfast, lunch, and dinner to guests, with a menu brimming with regional favorites and flavors.
Lastly, The Living Spa, onsite at El Monte Sagrado, is an eco-friendly and world-class spa resort. This provides a vacation in an atmosphere that is excellent for both body and mind.
Eldorado Hotel and Spa in Santa Fe offers award-winning luxury to its visitors. This stately hotel is conveniently located nearby the Plaza, and couples seeking a more resort-style holiday will like the 219 guest rooms and suites available. These include rooms with spectacular panoramic views of Santa Fe or the adjacent mountain ranges surrounding the area.
The Old House Restaurant, located on the premises of the Eldorado Hotel, serves international cuisine. In addition, servings are always prepared with local and organic products.
Couples who want to unwind for the day will also appreciate a visit to the Nidah Spa. Here massage therapies combine traditional and modern practices to relieve tension from daily life. Furthermore, downtown Santa Fe is easy to experience from the Eldorado Hotel's convenient location after a spa visit.
11. Bottger Mansion of Old Town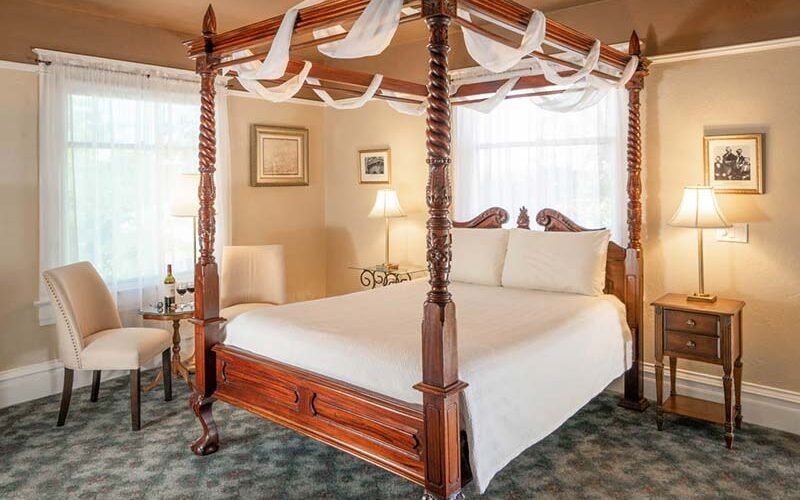 The Bottger Mansion, located in the heart of Albuquerque's Old Town, is a charming bed and breakfast that provides couples with a more intimate connection than a larger old-town hotel.
At the Bottger Mansion, couples can choose from seven different guest rooms. Each with its own distinct but lavishly modern style and decor. To mention some, Route 66 with vintage photographs on the walls to Bernard Shandon Rodey with brass headboards are just a few of the guest room themes.
Likewise other stays, Bottger Mansion offers a two-course breakfast every morning, with daily changing menus, pay-per-order meals, and accommodations for special dietary.
Bottger Mansion is also accessible to all kinds of intriguing events for guests to discover. These include live concerts, festivals, and galleries, thanks to its location in the heart of Old Town.
The Four Kachinas Inn is a bed and breakfast in Santa Fe that is perfect for couples looking for a quiet romantic getaway in New Mexico. It is located on a quiet street just a few blocks from the Plaza.
Couples will have a unique experience here, as there are only six rooms available. Each room is individually furnished and brimming with true New Mexican style.
Breakfast is served every day at Four Kachinas Inn, and guests also have 24-hour access to the lounge. In the lounge, fresh snacks are constantly available.
Four Kachinas Inn is located just a block from the Plaza in Santa Fe which is an ideal location. Here you also find top restaurants nearby, private lunch set-ups, and perfect spots for more casual occasions. The inn will also assist you in planning your holiday so that you and your partner can enjoy outdoor activities or surrounding attractions.
FINAL THOUGHTS ON A ROMANTIC GETAWAY IN NEW MEXICO
Life gets in the way. It's no surprise that, with family, work, and daily commitments to consider, we sometimes neglect to manage our relationships.
However, one of the keys to a good romantic relationship is spending quality time together. A way to do so is by spending a romantic getaway in New Mexico together.
These New Mexico resorts provide a one-of-a-kind setting for couples to rejuvenate their body, minds, and souls. The famous springs, massages, and body treatment wraps are all available at this hidden hideaway.
New Mexico offers one of the most romantic getaways in America and is another retreat with breathtaking natural scenery and a rich and lively culture.
With so many resorts to choose from, New Mexico guarantees some of the most romantic weekend getaways.
WRITTEN BY ADESOLA ADEWUMI:
Adesola Adewumi is the founder and CEO of Travelpediaonline, an online travel and adventure encyclopedia blog loaded with real-life travel experiences from all around the world, ranging from travel tips, cheaper travel ways, secure & calm travel, and wonderful tourists' destinations. Adesola is a purpose-driven man, critical thinker, problem solver, inner peace seeker, nature addict, writer, and a good listener. As a content writer, he has written several published articles, as well as life-changing masterpieces on various social media platforms and websites. You can find follow Adesola and Travelpediaonline on their Facebook.
The article may include affiliate links, meaning that I may receive affiliate compensation at no cost to you if you decide to purchase. Read more in my
Affiliate Disclosure.
BEST TRAVEL RESOURCES
BOOK YOUR FLIGHT: Not sure how to get the best and cheapest flights? I always use Skyscanner for the best deals. The best tip is to be flexible with dates and destinations if you want the cheapest options.
Alternatively, for frequent travelers, get a membership with Wayaway and receive a cashback on cheap flights and hotels every time you book! Via the link, you even get a 10% discount on your membership.
BOOK GREAT ACCOMMODATION: Booking great accommodation is not difficult but it sucks paying too much. Use Booking.com for the greatest hotel deals and Hostelworld for amazing hostel stays. Alternatively, you can sign up for Worldpackers to get FREE accommodation in exchange for your work.
BEST TRAVEL INSURANCE: Traveling without insurance is a mistake that you don't want to make - trust me I've tried. I'd suggest SafetyWing as they offer great and flexible policies - especially if you are traveling for a long time or a digital nomad. World Nomads is another great insurance with extensive coverage.
NEED HELP WITH YOUR VISA? Figuring out how and when you need a visa can be a bit of a jungle. iVisa is a very handy and user-friendly service.
HAS YOUR EU FLIGHT BEEN DISRUPTED? Use AirHelp as a service to get flight compensation on your European flights in case your flight was delayed, canceled, or disrupted in other ways. More often than not you are actually entitled to compensation.