Camping is a great way to get outside and enjoy nature. It can also be a fun, affordable vacation option. If you're new to camping, have just completed your own van conversion, or if you're looking for ways to make your camping experience even better, read on!
This blog post will include some of the essential campervan accessories to buy and provide a list of the best choices for you to take, hopefully, great inspiration.
These van accessories will make camping easy and enjoyable!
PIN THIS POST FOR LATER:
WHAT ARE THE BEST ACCESSORIES FOR YOUR CAMPERVAN?
Safety should always come first and one of the most important van camping accessories to buy for your campervan is a carbon monoxide alarm. Carbon monoxide is an odorless, colorless gas that can be deadly. A carbon monoxide alarm will alert you if there are high levels of carbon monoxide in your campervan and keep you safe during your traveling in your campervan.
In terms of campervan accessories, always give extra thought to safety. You should always have a first aid kit with you when you travel, and this is especially true when you're camping. A first aid kit will come in handy if you get injured while camping. Be sure to include bandages, antiseptic wipes, pain relievers, and anything else you might need in your first aid kit.
If you're going to be camping in an area with uneven ground, leveling blocks are a must-have accessory. Levelling blocks help to level out your campervan so that it's stable and comfortable. You want to be able to always sleep straight and never be afraid of your campervan tipping over in the middle of the night!
What you really want when living out your perfect van life, is the ability to enjoy nature as much as possible. A camping table is a great way to have a place to eat or work while camping. Camping tables come in different sizes, so be sure to choose one that will fit your campervan. Look for something that is both light in weight, easy to set up, and doesn't take up too much living space.
Living on the road is always more fun and convenient with the right campervan gadgets. Camping chairs are a great way to relax at your campsite and are a great asset to have on the road. You can use them around the campfire, or just to sit and enjoy the view. Be sure to get camping chairs that are comfortable and durable. You want to be able to use them for years to come!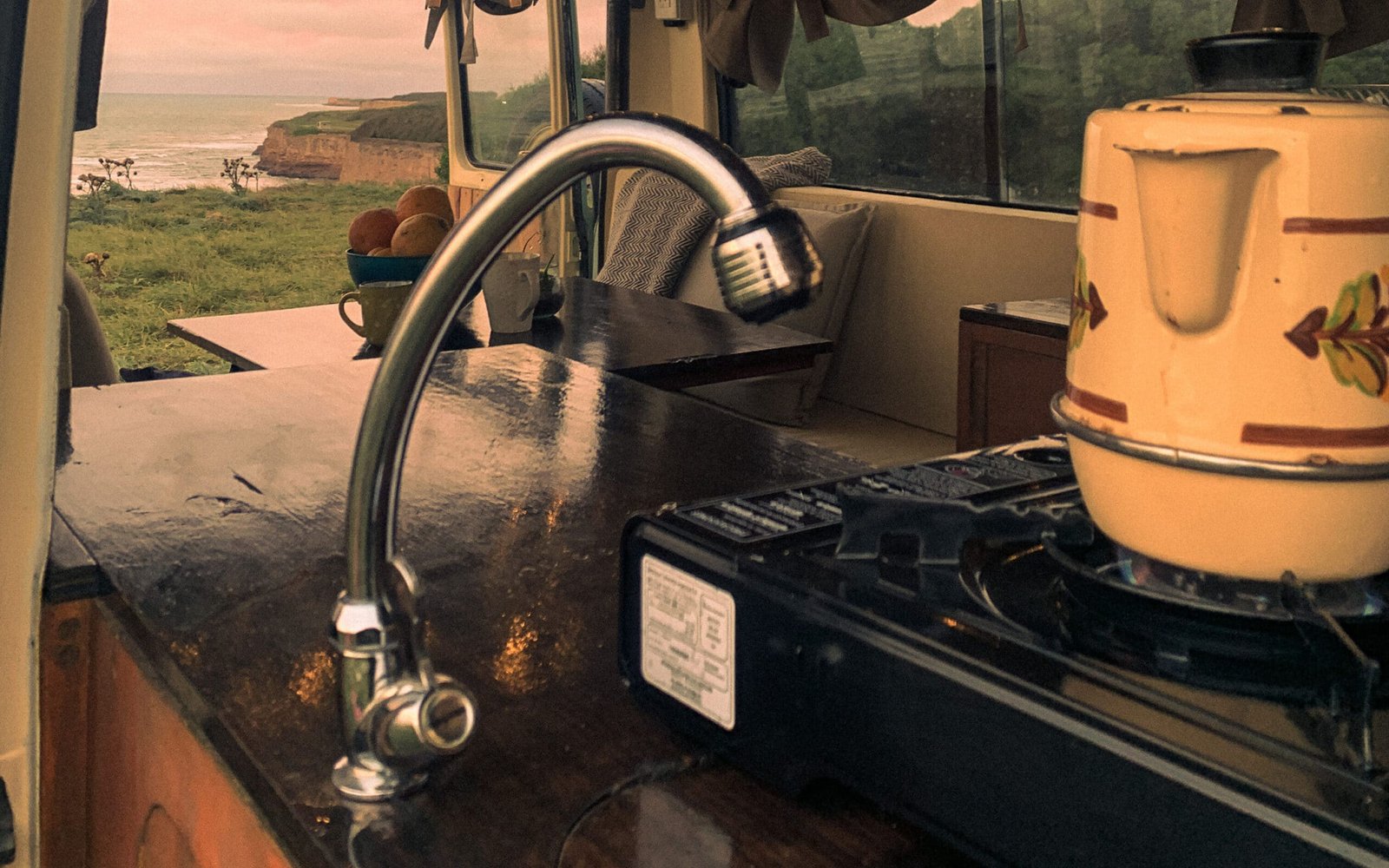 If you're planning on doing any cooking while camping, a campervan kitchen stove is a must-have accessory. A campervan kitchen stove is small and compact, so it doesn't take up much space. This is especially great for small vans. It's also easy to use, so you can cook your meals with ease both inside and outside. Finally, they are portable if you wish to cook while on a hike or camp somewhere in a tent away from your campervan.
Get a cute and lightweight water boiler, or camping kettle, to use with your camping stove or over an open fire. Camping is nothing without warming drinks to go with cozy nights and mornings. A well-covered boiler will also be your best friend for boiling water fast and use for cooking. Not only do you have to wait for less, it will also save you using up all your gas for your stove super quickly.
SOLAR PANELS
If you're looking for a way to power your campervan without using a generator, solar panels are the way to go. Solar panels are an environmentally-friendly option that will help you save money on your camping trips. They can be used to power lights, refrigerators, and other small appliances in your campervan.
An auxiliary battery is a great way to store power while camping. If you have solar panels, you can use your auxiliary battery to store power during the day so that you can use it at night. This is a great way to make sure you always have power available to you, even if there is no sun. Be sure to get a good quality auxiliary battery that won't burn out and break. There are many different types and you need to get the perfect ones for your type of solar panel. Don't lower the quality when buying both solar panels and partnering batteries. If they are low in quality they will break quickly and you will have to buy and install new ones. Finally, it won't be cheap at all. Being cheap can, unfortunately, end up being expensive with some things.
Another important van accessory to buy is a portable toilet
. When you're camping, there are often no bathrooms nearby and you want to have your human needs covered. A portable toilet allows you to go to the bathroom without having to leave your campsite. Portable toilets come in different sizes and styles, so be sure to choose one that will fit your campervan and meet your needs.
A water hose is an essential accessory for any campervan. You need to be able to fill up your water tank and have a way to rinse off your dishes. A water hose will also come in handy if you need to take a shower. Be sure to get a good quality water hose that is durable and won't leak.
Alternatively, you can go for a proper camping shower which is another great way to stay clean while camping. You can use it to take a shower, wash your dishes, or even rinse off your camping gear. Be sure to get a good quality camping shower that is durable and easy to use.
To have a water system in your campervan you need a water pump while camping. You can use it to fill up your water tank or simply to have a supply of fresh water for cooking and cleaning. Be sure to get a good quality water pump that is durable and easy to use.
A water purifier is a great way to make sure you always have clean drinking water. Depending on where you travel to, you might not always have purified water available to you. The last thing you want on your travels in to get sick, and making sure you only drink clean water is a great way to prevent this. You can use your water purifier to fill up your water tank, fill up your water bottle, or simply have a supply of fresh water for cooking and cleaning.
A fan is a great way to keep cool while camping. If you don't have air conditioning in your campervan, a fan will help to circulate the air and keep you cool. Be sure to get a fan that is durable and can withstand the elements.
Sometimes you might find yourself camping at high altitudes or simply somewhere cold. An electrical heater will help to keep you warm during those times. Be sure to get an electrical heater that is safe to use in your campervan and will not start a fire.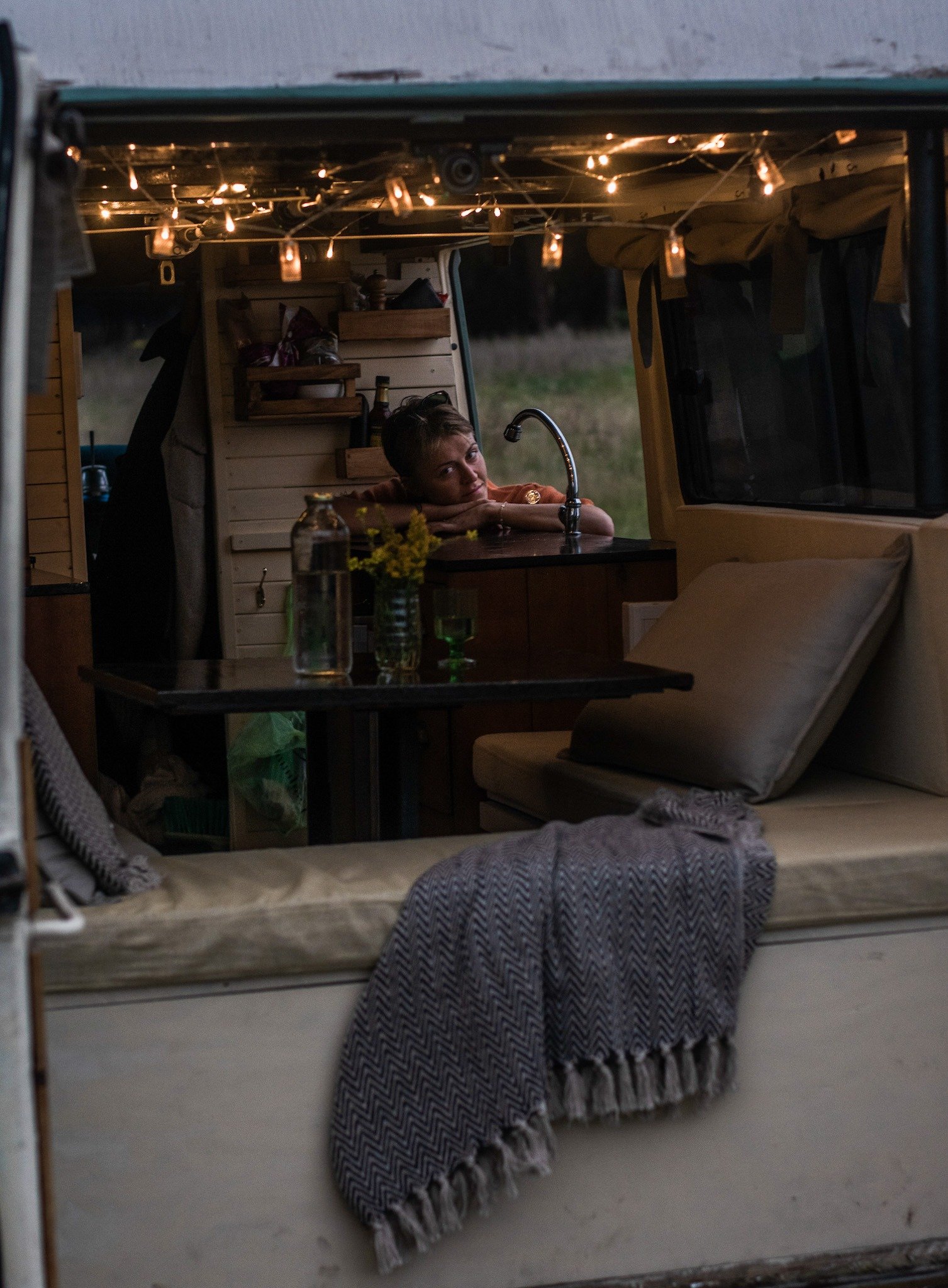 In terms of van life essentials, you won't find anything more important as fairy lights. When you think of nights in your campervan you are probably seeing beautiful Pinterest pins and dreamy nights. Fairy lights are a great way to make your space feel warm and inviting. They are great for creating a perfect atmosphere and are handy since you can place them wherever you need to. If you plan to use them outside be sure to get some that are both durable and possibly waterproof.
Blankets are a must-have for any campervan, and preferably even camping style. They will keep you warm at night and can be used as a makeshift bed during the day. Be sure to get blankets that are durable and easy to clean. You want to be able to use them for years to come!
Pillows are another essential for any campervan. They will help you sleep comfortably at night and can be used during the day for lounging. Be sure to get some that you are not afraid to get dirty or use outside. The great part about living the van life is the ability to go and enjoy nature at all times. Get pillows, covers, and blankets that you can take outside to create a wonderful lounge or perfect sunset set-up.
Hammocks are a great way to relax while camping. They are also a great way to take in the scenery and enjoy the outdoors. A hammock creates the ultimate camping vibe and relaxing setup that you dream of when living on the road. A road trip is great but a perfect road trip is even greater.
A drying rack, or clothing line, is a great way to dry your clothes while camping. If you are planning on doing any laundry while on the road, a drying rack is essential. Be sure to get one that is easy to set up and take down, as well as durable. You want to be able to use it for a long time without it rotting or your clothes constantly falling down on the ground.
A dish drying rack is a great way to dry your dishes while camping. If you are planning on doing any cooking while on the road, a dish-drying rack is essential. Get a light plastic version that is easy to dry and store in some storage cupboard in your campervan.
A tent is a great way to have some privacy while camping or staying somewhere remote. Also, if you are planning on doing camping with friends or family, a large tent is essential. A tent provides perfect shelter if you wish to lose yourself in the wilderness for one or more nights. Make sure to get a good quality one that will keep you both warm and dry!
A car satellite GPS is a great way to stay on track while camping. If you are planning on doing any driving while on the road, a car satellite GPS is essential. A car satellite GPS will help you find your way if you get lost, as well as help you avoid getting lost in the first place! Be sure to get a good quality one that has a strong signal so you will find your way around e everywhere you go. Do some research on each item to make sure you are getting the perfect accessory for your needs.
Make sure to bring a portable air compressor with you on your camping trip. Though you might not think it, this might be the most important thing of all the accessories for your campervan. An air compressor will allow you to take the air out and fill air back into your tires. This means you can go more off-road and get yourself out in case you get stuck. Want to go to the beach with your campervan? Take some air out of your tires and you are covered! Not only can you have greater experiences with your campervan with an air compressor, but it will possibly also save you some money since you won't need to call anyone to pull you out of the sand dunes.
CAMPERVAN INSURANCE
Make sure you have the right converted van insurance or camper van insurance when you travel around with your campervan on top of your travel insurance. Having proper insurance is extremely important since you want your amazing home on wheels to be covered. Finding insurance that covers you properly is actually a challenge. Spend some good time researching and reading the fine print!
WHAT TO KNOW ABOUT ACCESSORIES FOR A CAMPERVAN AND TRAVELING IN A VAN
Traveling in a van is becoming a more and more popular activity since it provides cheap travel and freedom to move around.
While buying accessories for your camping trip will make life easier it can not prevent or cover you for anything. Be prepared to get lost and experience some challenges along the way. But that is all part of the beauty of traveling, you never know what will happen.
WHAT IS VAN LIFE?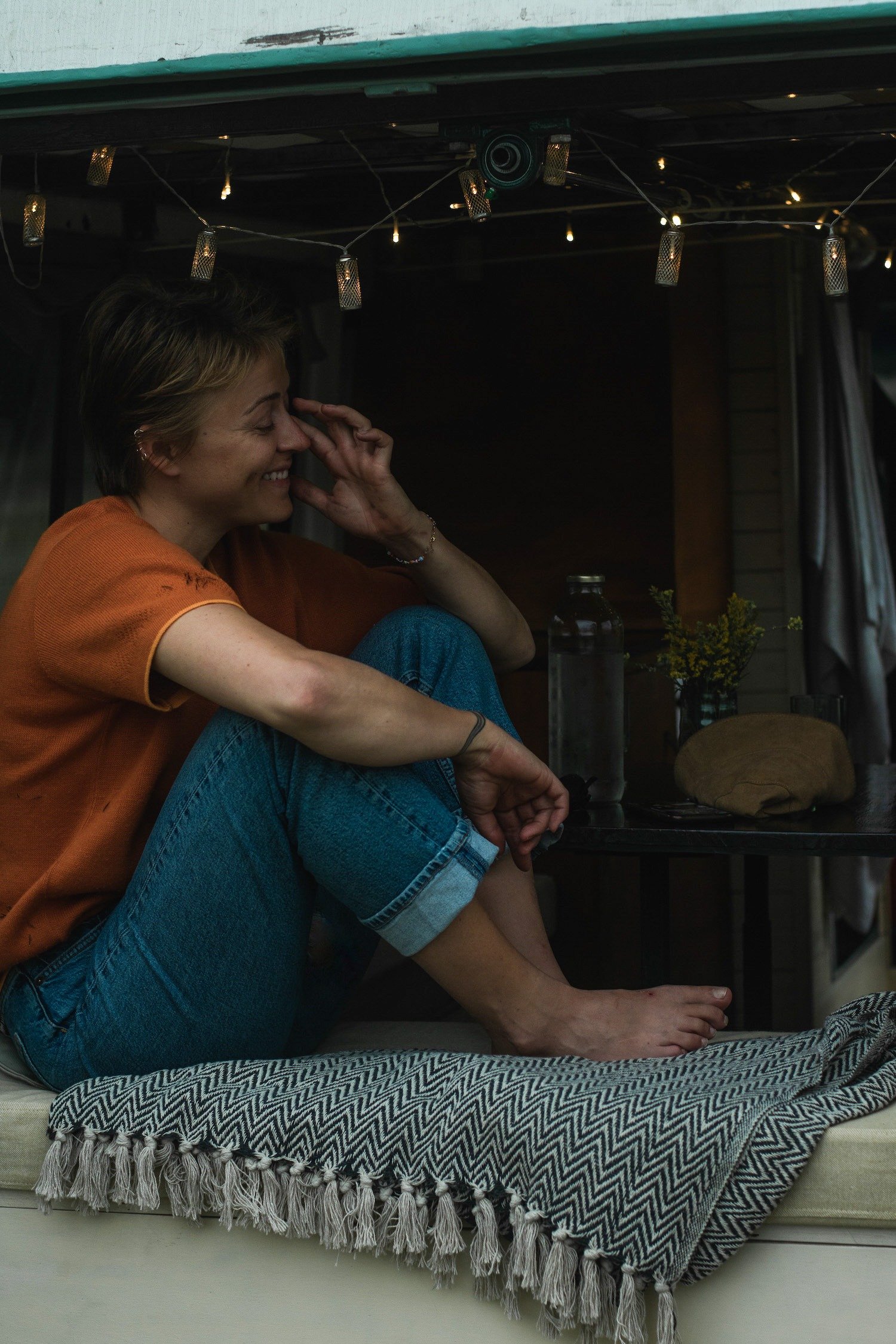 Van life has become a popular term on the internet but what is it exactly?
In short, van life is the act of living in or traveling with a van. This can be either a converted van or an RV.
People who choose this lifestyle usually do so for one or more of the following reasons:
– In order to save money on accommodation and travel costs
– Because they wish to have the freedom to travel where they want and when they want
– To live a simpler life with less stuff
– To be closer to nature
HOW TO START VAN LIFE?
The best way to start your van life journey is by doing your research. There are many helpful websites, YouTube channels, and books that can help you get started.
Once you have an idea of what you need, it's time to start looking for your dream van. This can be done either by buying one or converting one yourself.
If you decide to buy a van, make sure to do your research to find the best deal. Many great websites and forums can help you with this.
If you decide to convert a van, there are also many great resources available to help you with this process. YouTube channels such as Van Conversion 101 and Exploring Alternatives are a great place to start.
Make your design and make a budget to try to predict how much it will cost you to convert your van.
After that, it's as simple as heading off on your trip. We started by doing a road trip in Argentina, your adventure could look completely different.
LIVING IN A VAN WITH OR WITHOUT ACCESSORIES FOR YOUR CAMPERVAN
Once you have your van, it's time to hit the road! But before you do, there are a few things you should know about living in a van.
The most important thing is to be prepared for anything. This means having a plan for where you are going to sleep, what you are going to eat, and how you are going to stay clean.
Sleeping in a van can be done in a few different ways. The most popular way is to sleep in a sleeping bag on the floor of the van. However, if you want more comfort, you can also look into camping mattresses or even convert your van into a campervan with a bed and other amenities.
When it comes to food, there are many great options available. You can either cook your own meals or buy ready-made meals that just need to be heated up. If you decide to cook your own meals, make sure to bring along all the necessary cooking equipment.
Finally, staying clean while living in a van can be a challenge. The best way to do this is by regularly washing yourself and your clothes. Many great portable showers and toilets can make this process much easier.
The number of accessories you have for your campervan sort of determines your limitations on luxury, convenience, and comfort. Think about the kind of camping trip you would like to have a pick from this list of accessories to cover your needs. Know that there is a difference depending on where you go. Camping in New Zealand requires different needs compared to camping in Spain. Use your common sense and try to think about the weather and different activities you might face,
DO I NEED ACCESSORIES FOR MY CAMPERVAN TO GO CAMPING?
When camping you don't need to spend a fortune on camping gear and depending on where you go you might not need that much. However, there are a few essentials that you will want to bring along with you to be safe, warm, and clean. On top, maybe you want to bring some stuff for making camping games to have more fun. With the list of great campervan accessories above you should be covered in terms of the most common camping situations and needs. If you want more specific camping accessories needed for vans then read my latest post. There I touch base on camping gear with a smaller focus on the van systems.
Above are just a few of the essential accessories you'll need for your camper van to have the most amazing time. Be sure to get everything you need before hitting the road as shopping options might be limited later. With these accessories, you'll be sure to have a great time camping and make some amazing memories!
Do you have any other campervan accessories for camping? Let me know in the comments below!
All the best
//Josephine
The article may include affiliate links, meaning that I may receive affiliate compensation at no cost to you if you decide to purchase. Read more in my
Affiliate Disclosure.
BEST TRAVEL RESOURCES
BOOK YOUR FLIGHT: Not sure how to get the best and cheapest flights? I always use Skyscanner for the best deals. The best tip is to be flexible with dates and destinations if you want the cheapest options.
Alternatively, for frequent travelers, get a membership with Wayaway and receive a cashback on cheap flights and hotels every time you book! Via the link, you even get a 10% discount on your membership.
BOOK GREAT ACCOMMODATION: Booking great accommodation is not difficult but it sucks paying too much. Use Booking.com for the greatest hotel deals and Hostelworld for amazing hostel stays. Alternatively, you can sign up for Worldpackers to get FREE accommodation in exchange for your work.
BEST TRAVEL INSURANCE: Traveling without insurance is a mistake that you don't want to make - trust me I've tried. I'd suggest SafetyWing as they offer great and flexible policies - especially if you are traveling for a long time or a digital nomad. World Nomads is another great insurance with extensive coverage.
NEED HELP WITH YOUR VISA? Figuring out how and when you need a visa can be a bit of a jungle. iVisa is a very handy and user-friendly service.
HAS YOUR EU FLIGHT BEEN DISRUPTED? Use AirHelp as a service to get flight compensation on your European flights in case your flight was delayed, canceled, or disrupted in other ways. More often than not you are actually entitled to compensation.