Traveling by van and camping in the wild has gotten crazy popular. The idea of being free and enjoying van life in a stunning national park is easy to sell and provides cheap and wonderful travel experiences. However, the experience quickly becomes problematic without the right camping accessories for vans. 
But fear not!
As a person who bought a van in South America, converted it, and traveled all over Argentina, I am here to help you. 
Traveling through Patagonia during raging winter and experiencing severe heat along the beaches of the Argentina West Coast, taught me exactly what essentials you need when camping in a van.
In this blog post, I will go through a list of the essentials, kitchen, comfort, convenience, organization, and practical accessories that you want to take with you on your trip. All so you can pick and collect exactly what you need.
Which are the best camping accessories for vans and van life?
Having the right accessories with you in your van when camping is essential. It will make your trip much easier and more enjoyable to have the right setup and tools.
Go through the list and tailor it to your needs and your desired setup.
Essential Camping Accessories for Vans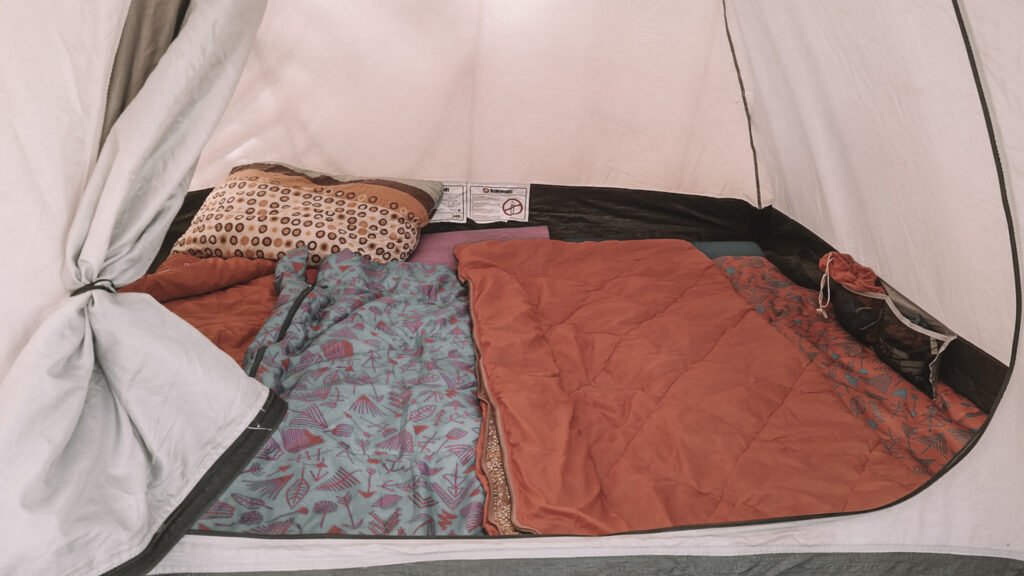 You can't go camping without a sleeping bag and maybe even a sleeping pad.
The sleeping bag will keep you warm and comfortable in any setup and are a must. Pick one that supports your needs in terms of temperature and material. I always advise getting one that can be zipped open and used as a blanket.
Get a sleeping pad if you don't have a bed or a mattress in your van. A sleeping pad can be easily rolled up and put away and saves you a lot of living space. For extra luxury get an inflatable mattress.
No matter your setup, a portable stove is one of your best van camping accessories. The great thing about a portable stove is that you can bring it and place it wherever you need it. It allows you to cook at some beautiful and alternative places.
You might think "I'll just make a bonfire".
But trust me.
When the wind is raging and you don't have a lot of time, your portable cooking stove will be your best friend. Make sure to get some extra gas cans for the road trip.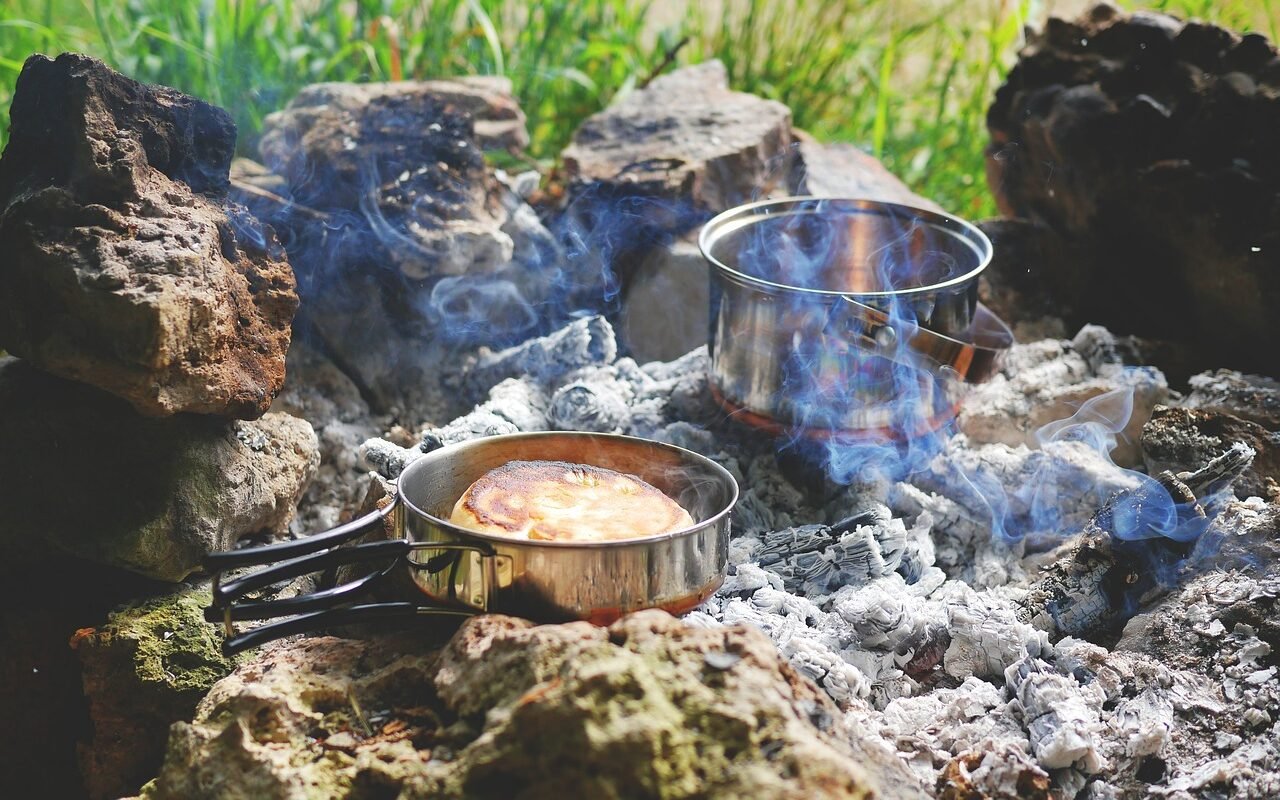 Along with your cooking stove, you need to get some camping cookware.
There are all sorts of camping accessories that you can bring with you in your van, and you simply have to make a pick.
The good part about camping cookware is that it is stainless, lightweight, and packs up incredibly easily.
When camping you learn that water is your biggest concern. Therefore, get good water storage to bring with you.
If you don't have a bathroom available, remember that you need water for all your meals, drinking, brushing your teeth, and washing up.
Truly, you can't have enough.
A water filtration system is a great camping accessory to get when you are traveling by van. This will give you the ease of mind and easy access to clean drinking water.
Another great option is to get a water bottle with a filtration system inside.
Now, I do not know the van trip you are planning but getting some sort of camping toilet might be the most important accessory for you.
There are many different options available. Get the one you feel the most comfortable with and the one you need.
Let's leave it at that.
I would advise you to get some good camping chairs and a table. This will make your whole experience much easier and more fun.
Buy a camping table and chairs that won't break and that fold up nicely.
You will learn that everything is about space and organization when living van life.
Light is something people often don't think about because we are so used to having it available.
However, when camping away from civilization, it gets very dark.
Some standard LED camping lights will do.
Solar lights are another great option great because they charge themselves and provide free energy. In addition, a torch is an absolute must!
Power Source and Portable Solar Panels
Just like water, energy is essential not to be overlooked.
Thankfully, there are a lot of great portable power sources and accessories you can bring with you when camping in your van. Look into the different options in terms of a portable power station and get one that fits your needs.
Potable solar panels are your cheapest and easiest setup. Simply put them outside facing the sun on a nice day and there you go – free and clean energy ready to charge your battery.
When camping you want to make yourself comfortable and weather conditions have a great impact.
That's the downside to the coolness of living with nature!
However, getting some options for either insulation or ventilation can save you from most of it. Sometimes it's as easy as bringing a van or some insulation pads for your windows.
Kitchen Camping Accessories
Different vans need different accessories for camping. Depending on your setup you need to decide on a small refrigerator and cooler.
While the refrigerator will keep your stuff colder for longer, it requires power to work. Unless you have a large power system, avoid anything with a freezer.
An old-school cooler is easy and will cover some needs. It's super easy to put some ice inside to make sure your food does not go off.
Having morning coffee is, for me, the best part about van life.
Get yourself a coffee maker that is portable and can be used on a stove or over a fire.
Stock up on a few utensils, plates, bowls, etc. when camping by van.
Avoid anything expensive or heavy because things tend to break when you drive.
Only get what you need and don't go overboard.
Get camping cutting boards and utilities set so that you can cook comfortably. It is the most rewarding feeling to cook outside and enjoy a beautiful view with a great cooking setup.
Dishwashing Solutions
I always go for natural soaps and dishwashing solutions when camping and living in a van.
This will help you leave a low impact on the environment and you won't have to worry about throwing dirty water.
Spice and Condiment Organizers
While you might think that this sounds unnecessary but trust me on this. Any accessory that helps with the organization in vans when camping is gold.
Get some kitchen organizers and separators that will let you find and pack what you need more quickly.
Comfort and Convenience Accessories for Camping
Bringing a portable shower and privacy tent with you when camping can provide you with a lot of comfort.
There are many different options in terms of camping showers but the easiest is the one that attaches to a normal tap. Alternatively, a solar shower is an incredible invention that charges itself very easily.
The privacy tent provides you with privacy that can be difficult to find. This is a great camping accessory for you to have in a popular location full of other vans.
As mentioned earlier, weather can harm your camping experience.
A portable fan will be your best friend for warm nights or days in the van. Especially if your van does not have aircon or ventilation (mine didn't) this can truly make a difference.
An electrical heater can be a lifesaver. They don't cost a lot and quickly heat small spaces.
Quick Dry Towel
Getting at least a quick dry towel is a great idea for camping. They are generally easier to clean and will dry much more quickly than the standard ones people tend to have at home. Finally, they take up less space when you put them away – win!
Stock up on repellent and maybe even mosquito nets before you head off on your camping adventure.
While nature is great and all, I do prefer not being eaten alive.
Get natural repellent that smells nice. It's better for your beautiful surroundings and also healthier for you to breathe in a closed space.
Having a hammock in your camp is great. Get a practical one that is easy to hang up anywhere.
On calm nights you can even sleep in it and stargaze.
Since I am from Scandinavia I am all about making a space cozy.
The one thing you want to buy for your van when camping is cozy warm lights.
Trust me on this one.
Setting up camp at night is much more enjoyable when you create a nice space that you want to be in. I love hanging ones, but you can purchase whichever you prefer.
Blankets and Pillows
Get a few good blankets and pillows to bring with you when camping. Buy ones that are comfortable, durable, and easy to wash.
These will be perfect for creating a comfortable and inviting space.
Most vans come with some safety equipment, but it's good to add this to your accessories list for camping.
Get a first aid kit in case you have an accident and make sure to have some emergency equipment. This includes at least a fire extinguisher, a radio, and a rope.
Storage and Organization Accessories
Rooftop Cargo Boxes
You would be surprised at how fast you can fill a space with what feels like very little stuff. Having some rooftop cargo boxes are a great solution to that problem.
Get whatever fits your need and your van, fill them up with camping gear you use less, and enjoy the extra space and playroom.
Bike Racks
When I traveled by van I was dying to move around whenever I wasn't driving. Driving long stretches often really makes you stiff and frustrated.
The best way to get around when camping is, for me, going by bike.
If you can, bring a bike with you in your van for camping. It will make running to the store or seeing a new location much easier. Plus instead of packing up your van and moving everything you can just lock up and go.
A bike rack is the best way to bring a bike with you.
Cargo Nets and Tie-Down Straps
For storing your personal belongings on the roof or your bike on a bike rack, you will need to securely tie them down.
I once lost my wetsuit because it flew off the roof while driving.
Luckily some other van lifers grabbed it and found me later to return it – phew!
Make sure to get enough straps and necessary ropes to keep your things, and other drivers, safe.
DIY Van Conversion Accessories
Tools and Materials for DIY Van Projects
When traveling and camping by van, stuff breaks. In this situation, it is great to be able to fix it and keep enjoying the trip.
Get a handy toolbox containing the van life essentials.
Maybe you have extra time on your hands a get a good idea to upgrade something or make something cool.
Some tools and materials should be an accessory priority for camping in all vans.
Jump Starter
Having a jump starter is a given. It will save you when you are out of battery and in trouble.
Camping Accessories for Vans FAQs
You should have a good understanding and inspirational base for the best camping accessories for vans. However, let's answer a few FAQs on the topic below.
What are the must-haves in a camper van?
Top 10 Camping Accessories for Vans
1. Mattress or sleeping pad
2. Comfortable cover
3. Portable shower
4. Portable kitchen stove
5. Coffee maker
6. Fold-out camping furniture
7. Portable lighting
8. A hammock
9. Leveling blocks
10. Air compressor
How to decorate a camper van?
Top 10 Camper Van Decoration Tips
1. Build enough storage space
2. Organize the space 
3. Use all available space
4. Have a good seating area
5. Use fairy lights for coziness
6. For a homey feel, use pillows and blankets 
7. Make your home functional
8. Secure everything for driving
9. Prioritize how you will sleep
10. Ensure easy access to your essentials
How do you make a van cozy?
Top 10 Camper Van Tips for Cozy Decorations
1. Warm lights
2. Put soft blankets
3. Have large pillows
4. Use warm wood
5. Put a doormat or floor carpet
6. Fairy lights in the ceiling
7. Use textiles in warm colors
8. Install a mirror
9. Hang pictures or postcards
10. Hang plants
Are vans good for camping?
Vans are great for camping. The main benefit of having a van instead of an RV, is locations are much more accessible with a van. Many of the best lookouts, most stunning national parks, secret camping spots, or official campgrounds are located in difficult places for RV's or travel trailers to reach. Not to mention city driving which becomes almost impossible with anything bigger than a van.  
Final Thoughts on Camping and Van Life
Camping in a van is one of the best ways to explore and travel. However, the trip becomes much more enjoyable with a few good camping accessories for vans. The most crucial van life gear are items like a portable stove, a good sleeping setup, a coffee maker, and a portable shower.
If you are looking to do a proper van conversion or restoration, have a look at the best camper van accessories. This list goes much more into detail on the inside and the systems you want in a restored van.
Finally, remember that you will need good van conversion insurance to insure you and your luggage.
I hope you have a great camping trip in your van. If you enjoyed this post, please share it with fellow van campers.
As usual, feel free to comment with questions, additions, and everything in between below.
//Josephine
The article may include affiliate links, meaning that I may receive affiliate compensation at no cost to you if you decide to purchase. Read more in my
Affiliate Disclosure.
BEST TRAVEL RESOURCES
BOOK YOUR FLIGHT: Not sure how to get the best and cheapest flights? I always use Skyscanner for the best deals. The best tip is to be flexible with dates and destinations if you want the cheapest options.
Alternatively, for frequent travelers, get a membership with Wayaway and receive a cashback on cheap flights and hotels every time you book! Via the link, you even get a 10% discount on your membership.
BOOK GREAT ACCOMMODATION: Booking great accommodation is not difficult but it sucks paying too much. Use Booking.com for the greatest hotel deals and Hostelworld for amazing hostel stays. Alternatively, you can sign up for Worldpackers to get FREE accommodation in exchange for your work.
BEST TRAVEL INSURANCE: Traveling without insurance is a mistake that you don't want to make - trust me I've tried. I'd suggest SafetyWing as they offer great and flexible policies - especially if you are traveling for a long time or a digital nomad. World Nomads is another great insurance with extensive coverage.
NEED HELP WITH YOUR VISA? Figuring out how and when you need a visa can be a bit of a jungle. iVisa is a very handy and user-friendly service.
HAS YOUR EU FLIGHT BEEN DISRUPTED? Use AirHelp as a service to get flight compensation on your European flights in case your flight was delayed, canceled, or disrupted in other ways. More often than not you are actually entitled to compensation.