Packing light saves time and means carrying around fewer things on your vacation. However, mastering the art of how to pack for a week in a carry-on is a challenge.
During my many years as a flight attendant, I learned how to pack light and efficiently.
And today, I will share those insights with you.
Honestly, I hate packing, but more than anything, I hate overpacking. Less is more and more only means more items to worry about. 
While on vacation or out on a new adventure, worry is the exact opposite of what you want. Additionally, you don't want to waste unnecessary time at the airport or have your checked bag lost.
So today, I will teach you how to pack for a full week in a carry-on like a pro. This post is for you whether you are an experienced traveler or heading flying for the first time. Leave the extra pairs of shoes, gadgets, and make-up at home and travel with only what you need and the essentials. 
Let's get to it!
How to pack for a week in a carry-on?
Packing for a week in a carry-on can seem challenging and impossible. It requires thinking ahead and a lot of self-discipline.
Below I will go through the steps to not overpack and still have everything you need with you on your trip.
Plan Your Wardrobe
The first part of packing for your trip is to do a little preparation and mental work. Keep your travel itinerary in mind, the activities you would like to attend, any day trip planned, and the weather you might face.
Will you need to pack for hiking?
Are you visiting areas with shifting weather?
Does your location have shops, or do you need to bring everything from home?
Depending on what activities and weather you will be facing, pick up some favorite items. Make sure you have something casual, sporty (if needed), everyday, and formal.
The best tip is to pack things that can be mixed and matched in multiple ways. I always eliminate anything that can only be used one way as it takes up space and won't be very useful while I am away.
Try to plan some outfits where you know you can use the shirt, jacket, pants, or all, in different scenarios.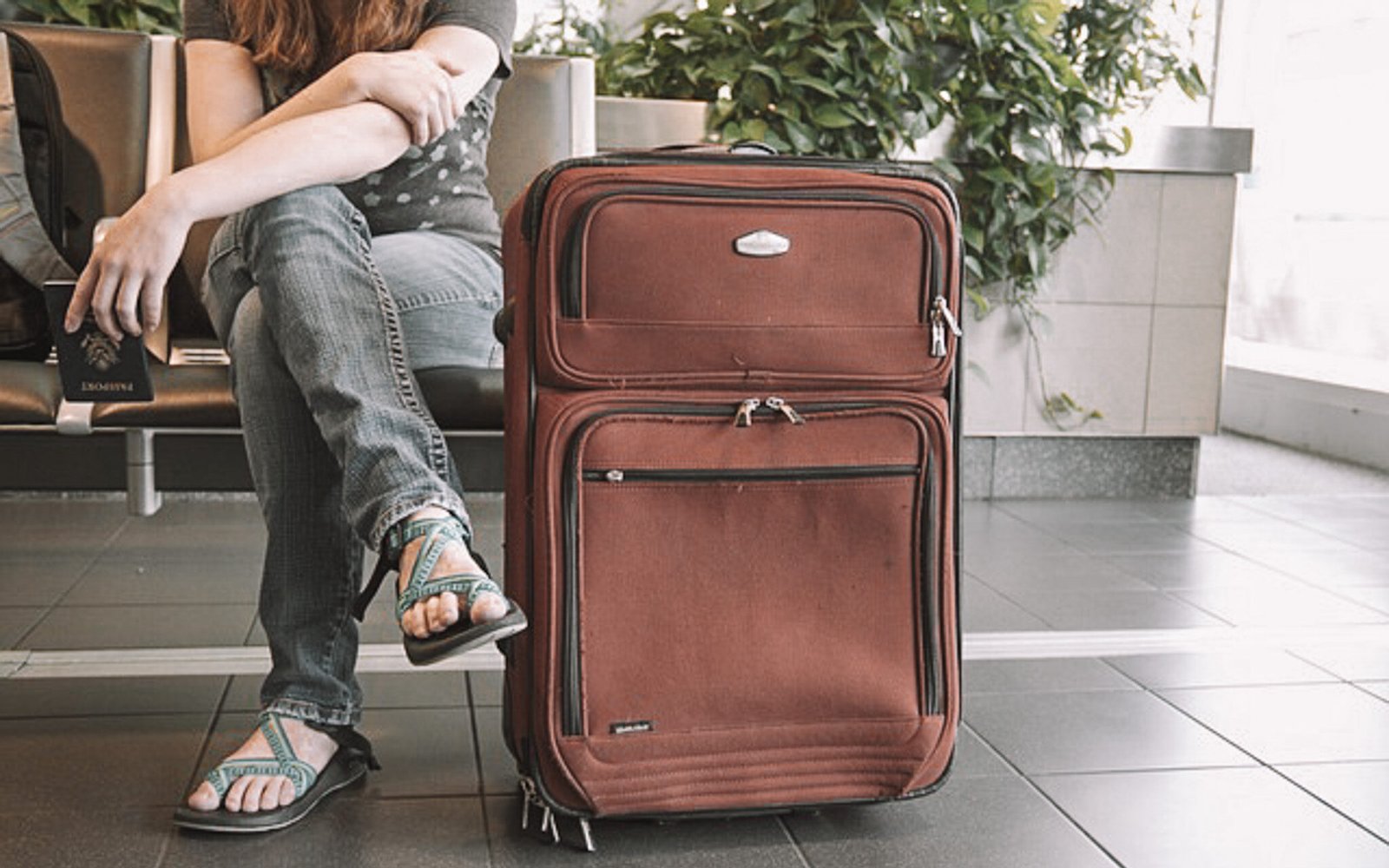 Next, you want to choose a carry-on bag that meets your needs but also stays within the airline's requirements. The bag needs to fit under the seat in front of you or the overhead bin. I advise you to double-check the size of the allowed luggage because, believe it or not, many budget airlines have smaller or odd-sized luggage requirements for carry-ons.
Pretty annoying, I know.
In general, this is because airlines have an issue with the amount of luggage people bring on board, and it is a way for them to make extra money.
Google the size you can bring on board and look for something as spacious as possible.
My favorite is a hard case where the shoes can fit in the slits at the bottom and where there is a sleeve for me to separate underwear, socks, and other smaller items. Additionally, I always travel with a safe travel purse to keep my valuables secure. This is something I can recommend, as it allows you to have more peace of mind and be less likely to have bad experiences.
And yes, the sleeve for smaller items remains a true game-changer. No more digging through your bag like a treasure hunter searching for that elusive pair of socks. And oh, the peace of mind that comes with the hard shell! Worries about rain-soaked pavements or a clumsy traveler accidentally spilling their drink will not keep you busy anymore. These are some of the main reasons hard case luggage with wheels has become a popular choice for travelers.
Finally, know that not only do airlines have dimensions restrictions, but also weight. Avoid bringing something exceptionally heavy or wear it when you are flying.
This packing tip is great because packing cubes are your best friend when packing in a carry-on for one week.
Packing cubes are small, rectangular-shaped bags that are designed specifically to help you pack and organize your clothes for packing.
Want to know what else?
Packing cubes come in different sizes and shapes to fit each travel need. Furthermore, they are made from lightweight, durable materials such as nylon or polyester that will also keep your clothes from wrinkling.
While packing cubes help you maximize the space in your luggage, they also allow you to stack and compress any personal item.
An additional tip is to vacuum the air out of your packing cubes to compress it as much as possible.
Try to categorize your items into different packing cubes. You can use different shapes or colors. This will also make it much easier to find what you need when you are away.
On top of this, having your things categorized will make it much easier to unpack at your locations since everything is already organized and can be placed directly into a drawer or on a shelf.
Pack Efficiently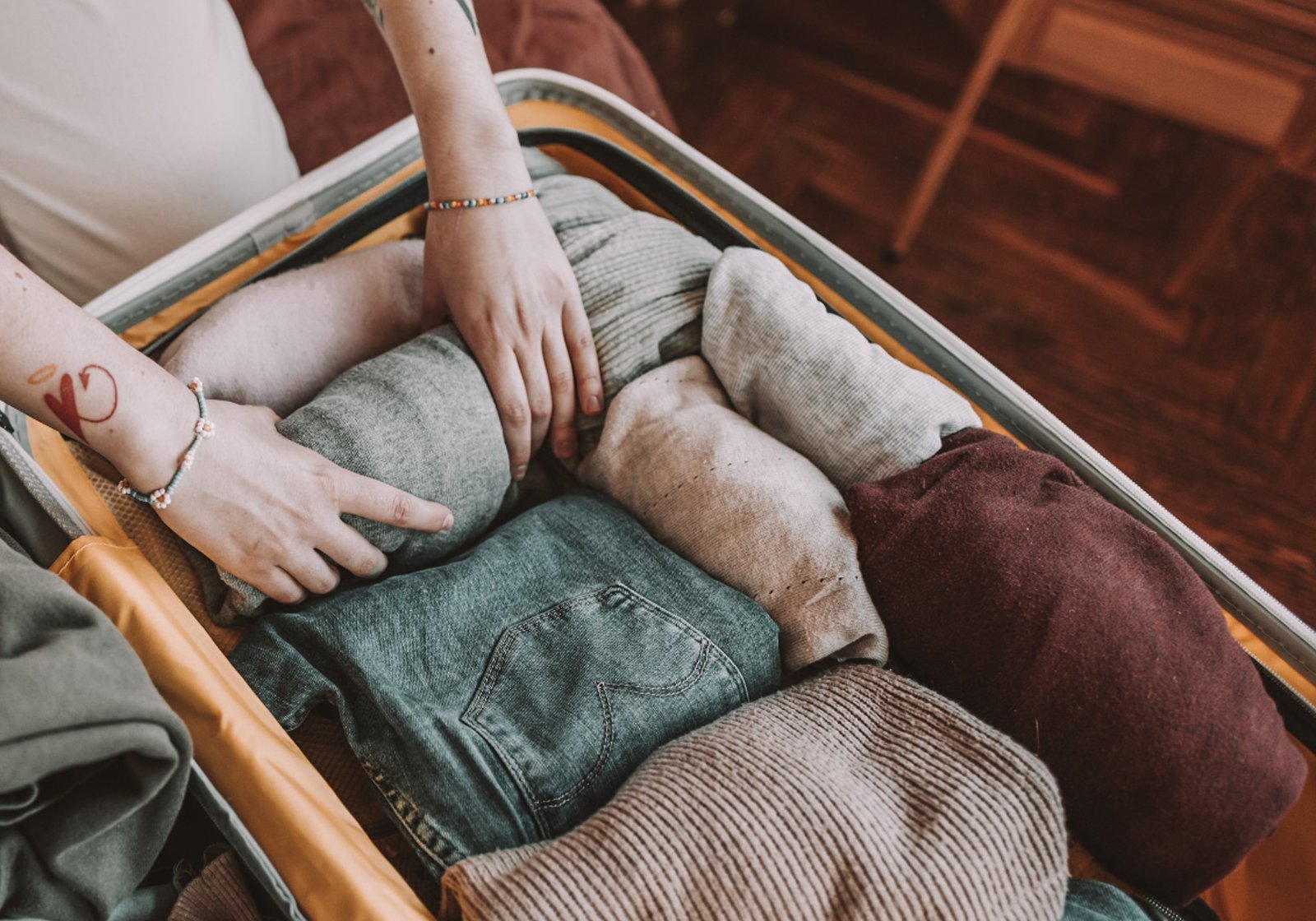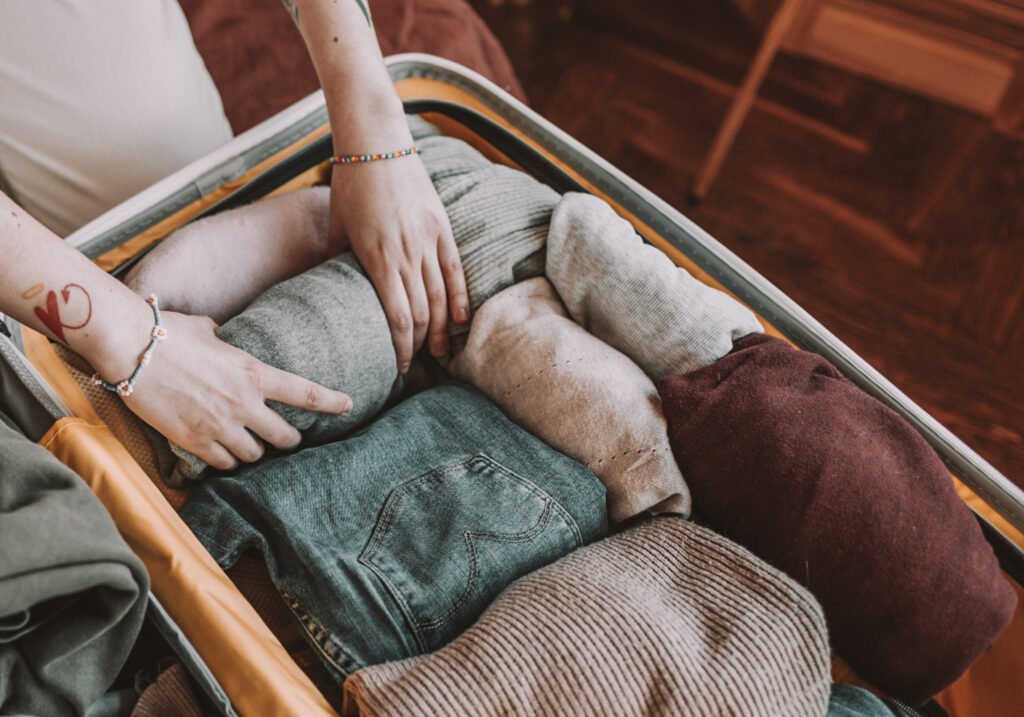 The next almost sounds like a given. However, when it comes to travel packing for a week in a carry-on for your upcoming location, there are a few tricks to the art.
First, if you are not using packing cubes for all your stuff, try to roll your clothes instead of folding them. Believe it or not but this will save you a ton of space.
But here is the catch.
Not all types of clothes are suitable for rolling, while others are great.
T-shirts, light pants, shorts, and everything fairly light are great for rolling. Jackets, sweatshirts, and any heavier stuff are not.
Play around a bit and see what you feel works best.
Secondly, use space-saving techniques like stuffing socks into your shoes. Furthermore, try using a container that you can flatten for your toiletries so you don't end up with a space-eating brick. The trick here is to be creative and maximize the space available.
Thirdly, plan to wear your heaviest stuff and whatever takes up the most space while traveling. It might look stupid wearing your hiking boots on the plane, but if it's necessary there's no way around it.
If you are still exceeding your available space, we will have to move into the next phase.
The elimination phase.
Organize your picked items into the following three piles: essentials, nice to have, and maybes.
Go through the maybes pile and half it.
If you still don't have space, repeat the process. You might have to move some of your nice-to-have items into the maybes pile to force yourself to cut further into the bone.
While it might seem like a difficult process, it is necessary.
And believe me when I say that most of the items in your maybes pile won't be missed or even used when you are away.
How to pack for a week in a carry-on for winter
Traveling to a cold location does not mean that packing in a carry-on is impossible.
Since I am from the cold, I know what I am talking about.
However, you need to make sure that you do not overpack or use unnecessary space.
Make sure you travel with your thickest sweater, biggest jacket, and largest boots on the plane. Pack your lightweight warm things that are high in quality. These are items such as thin woolen turtlenecks or jumpers that you can wear underneath your clothes.
Instead of packing 3 x pairs of woolen socks, pack one. Wear them on top of your normal socks and you will be perfect.
Again, remember to pack things for multiple purposes.
For instance, pack pants or jeans that you can easily dress up for a night out as well as a daytime outfit.
How to pack for a week in a carry-on at the beach
Of course, it is easier to pack for a week in a carry-on if your destination is warm.
However, many people tend to upscale their glamour level when heading somewhere warm or beachy.
Pack 1-2 bikinis for the week and a pair of shorts that you love. You pair these with different tops, t-shirts, and shirts.
Throw in 2 dresses and you should be good to go. Especially if the dresses can be used for an evening out.
Instead of packing a heavy towel, look for a sarong.
These are great for the beach or to wrap around yourself like an easy dress or skirt while hardly taking up any luggage space.
What to avoid when packing for a week in a carry-on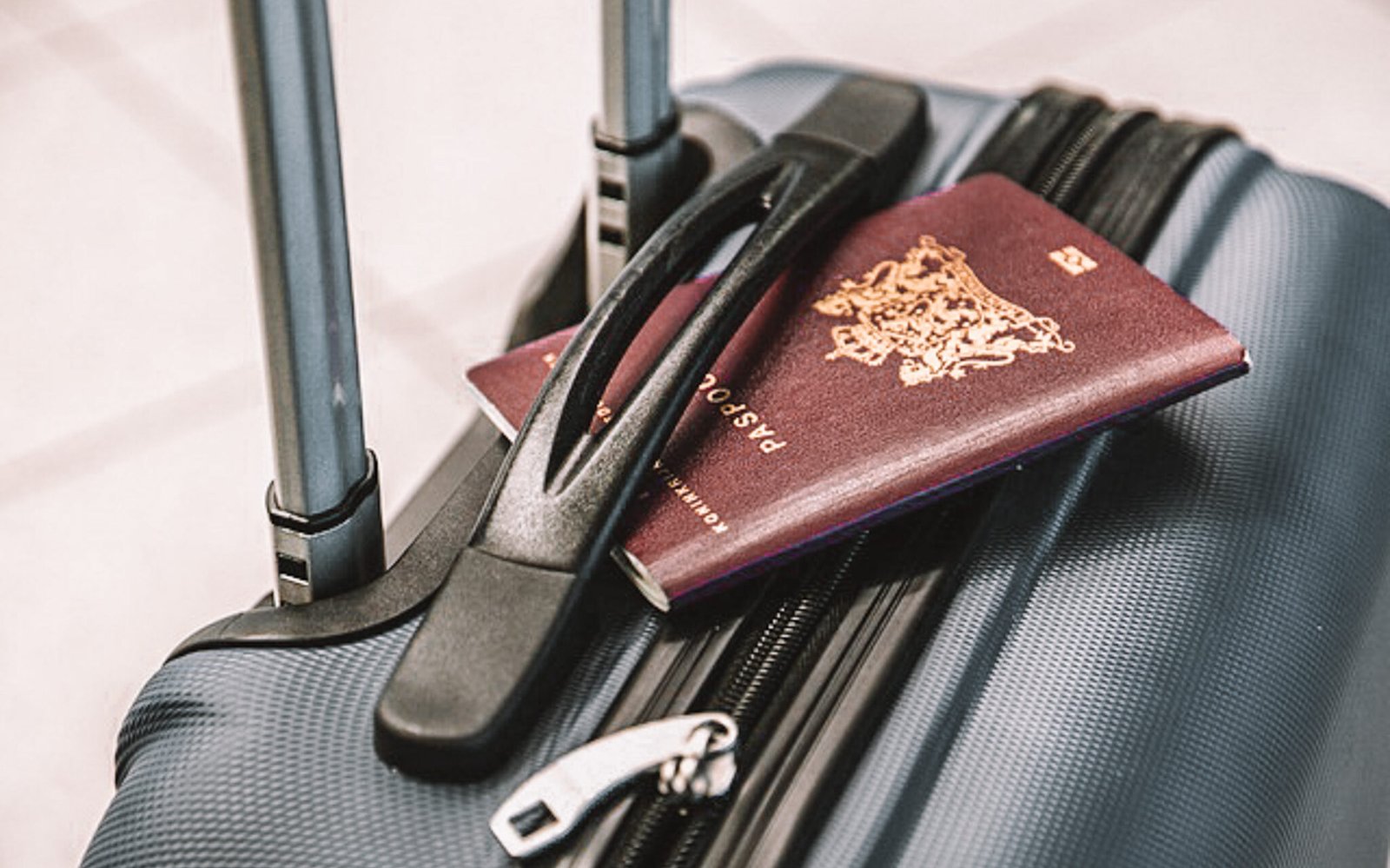 When trying to pack for a week in a carry-on, there are some common mistakes you should avoid making.
Most commonly, I see people bringing way too many toiletries. When you are on vacation, you need about a third of what you want to bring. Take only what you know you will use and leave the rest at home. The body scrub, full eyeshadow pallet, and cute nail polish can wait until you get home.
Remember that you can buy most things on location and there is no need to pack shampoo, conditioner, body lotion, and sunscreen.
In addition, your toiletries can't exceed 100ml per container and should fit in one airport zip-lock bag to pass through airport security.
Furthermore, as mentioned earlier, you should avoid packing anything with only one purpose or way to be worn.
Substitute those items with something you can mix and match in several styles.
Lastly, don't pack anything you have never worn before. I know you might be thinking that this is the chance for you to wear it. However, I can almost guarantee you that you won't end up using it. Most certainly, you will end up wearing something you love and already use.
Packing list for the week in your carry-on
Below I am including a packing list that you can use for inspiration when packing for your trip.
Feel free to change and shape it to fit your needs.
Six pairs of underwear
Two pieces of swimwear (if needed)
Six pairs of socks (if needed)
Five shirts (these includes tops, t-shirt, and shirts)
1-2 pairs of multi-usage long pants
1-2 pairs of shorts or skirts (if needed)
1-2 dresses (pick something that can be dressed up)
One sweatshirt or comfy jumper
A jacket or one piece of outdoor wear
One pair of sneakers or good walking shoes
One pair of sandals or dressy shoes
One pair of flip-flops (if needed)
One athletic outfit
A few accessories (used to dress up your outfits)
Toiletries (the bare minimum)
Electronics (depending on what you need)
Remember to plan out your outfits in your head and bring items that you can use in several ways.
In addition, wear your biggest and heaviest items when you travel.
Packing in a carry-on FAQs
By now, you should be a packing pro.
However, let's answer a few FAQs below.
Is it possible to pack for a week in a carry-on?
It is possible to pack for a week in a carry-on. All it requires is a little bit of thinking and smart planning. Pack items that have multiple purposes. Plan your outfits. Travel while wearing your most space-consuming items. Packing cubes are great for organizing and fitting more items in your carry-on. 
How many outfits should I pack for a 7-day trip?
The number of outfits you should pack for a 7-day trip depends on how many activities you have planned. If you have a lot of formal events and sports activities, you will generally have to pack more outfits. However, pack between 5-7 outfits that consist of items you can mix and match in different ways. There is no need to pack 7 of everything. Be smart and be creative with the way you style your outfits. 
How do I fit 5 days of clothes, or more, in a carry-on?
Make sure you are packing items with multiple purposes that you can wear in different ways.  Don't overpack and remember that you can buy many toiletries on location. Using packing cubes is a great way to save space and fit more. 
Final notes on how you can pack for a week in a carry-on
When it comes to packing, less is always more. More fun, easier, and more efficient.
Packing and traveling only with a carry-on will save you time and hassle and allow you to enjoy your trip with less stuff to worry about.
Embrace that you won't have as many options available as back home. Your outfit does not have to be boring and it is completely fine to reuse some of the things you brought.
At the end of your trip, you will remember the experiences that make the whole thing special, and not what you did or did not pack in your suitcase.
If you liked this post and found these packing tips useful I would encourage you to sign up for my newsletter. There I share some more valuable travel tips along with an exclusive packing list.
As usual, feel free to comment or add insights down below.
//Josephine
The article may include affiliate links, meaning that I may receive affiliate compensation at no cost to you if you decide to purchase. Read more in my
Affiliate Disclosure.
BEST TRAVEL RESOURCES
BOOK YOUR FLIGHT: Not sure how to get the best and cheapest flights? I always use Skyscanner for the best deals. The best tip is to be flexible with dates and destinations if you want the cheapest options.
Alternatively, for frequent travelers, get a membership with Wayaway and receive a cashback on cheap flights and hotels every time you book! Via the link, you even get a 10% discount on your membership.
BOOK GREAT ACCOMMODATION: Booking great accommodation is not difficult but it sucks paying too much. Use Booking.com for the greatest hotel deals and Hostelworld for amazing hostel stays. Alternatively, you can sign up for Worldpackers to get FREE accommodation in exchange for your work.
BEST TRAVEL INSURANCE: Traveling without insurance is a mistake that you don't want to make - trust me I've tried. I'd suggest SafetyWing as they offer great and flexible policies - especially if you are traveling for a long time or a digital nomad. World Nomads is another great insurance with extensive coverage.
NEED HELP WITH YOUR VISA? Figuring out how and when you need a visa can be a bit of a jungle. iVisa is a very handy and user-friendly service.
HAS YOUR EU FLIGHT BEEN DISRUPTED? Use AirHelp as a service to get flight compensation on your European flights in case your flight was delayed, canceled, or disrupted in other ways. More often than not you are actually entitled to compensation.