Hiking, trekking, or just going for a walk. To be honest, I'm not sure what the right term is, but I must say that hiking has grown on me over the years of traveling. When you start with no experience or equipment you are sure to learn what to bring on a hike, the hard way.
I have done many different hikes, ranking from day hikes taking a few hours to 4 days heading to Machu Picchu, flat or steep as hell, and all of them require a few things. It just makes the whole experience are little more enjoyable when you are a tiny bit prepared.
I am a strong believer that less is more and I am not one to carefully plan my treks or go with a ton of day hiking gear, but there are a few hiking essentials that you should always bring with you. A few day-hiking essentials can end up being a lifesaver when taking a day hiking.
Whether you are hiking the national parks of the East Coast of North America, Tongariro in New Zealand, or anything in between, follow this packing list and you should be covered for any basic day hikes or trails you want to take.
PIN THIS POST FOR LATER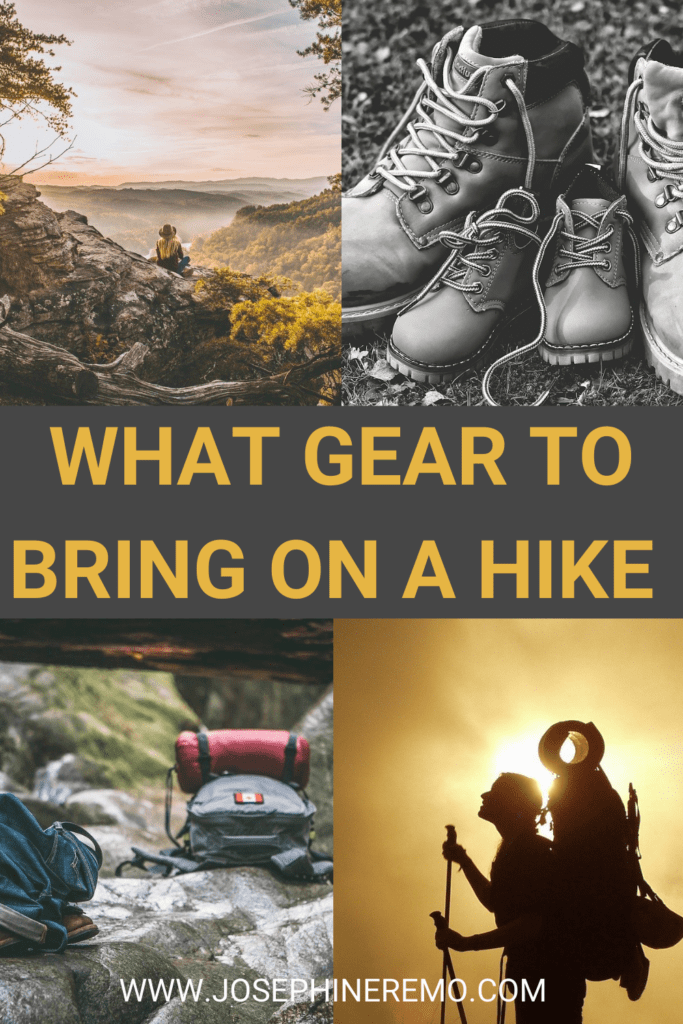 What to bring on a hike?
1. Water
The first on the hiking essentials list is water, and you want to make sure you bring enough.
It is no fun being dehydrated in blazing sunlight somewhere. At the same time remember that you have to carry it around all day so don't overdo it.
Having a refillable water bottle with you should do the trick.
2. Food and Snacks
Next, after water, food and snacks are the most important day hiking essentials.
Going on a hike can be extremely challenging at times and the LAST thing you want is for your blood sugar to drop extremely.
There is a long way back up or down if your knees are shaking and you are cold and sweating.
I always pack something especially delicious and nutritious for lunch for hiking and then bring extra snacks. Here bring some biscuits, chocolate, muesli bars are fruit. Basically, anything that will provide some nutrition and kickstart your blood sugar right back up.
It is so much easier to pack what you need to bring for your hike in a backpack. Also, you will even out the weight and not end up with one side of your neck or shoulder being extremely stiff. I made the mistake of going for four full days to Machu Picchu and it took almost a week to recover – not fun!
I always aim to buy a good hiking daypack from the best brands that will serve me for a long time. don't usually use specific backpacking gear when I go hiking. At least, go for a good standard-sized waterproof backpack that is big enough to contain your daypack necessities such as food, sunscreen, toilet paper, etc. Be sure to get a good one that won't dig into your shoulder or have the weight completely out of balance.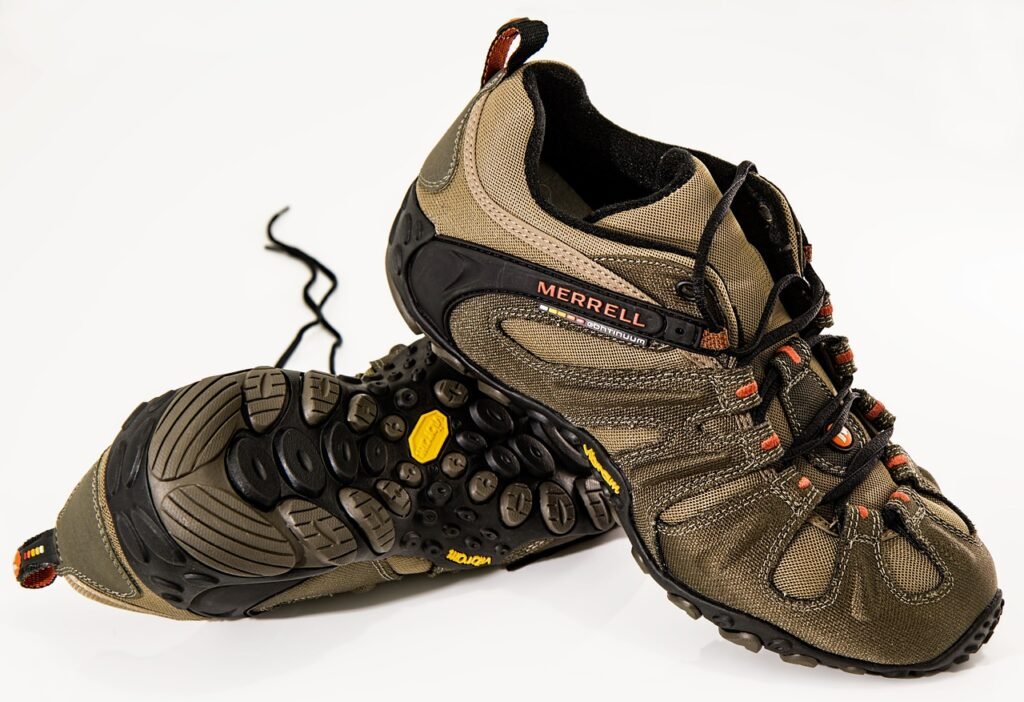 I am not saying that you have to spend hundreds of dollars on proper hiking boots but you need good hiking shoes.
Pack the ones that you know you can walk ALL day in without getting blisters. On top of that think about bounciness in terms of helping your knees.
A plus is if you have any that will cover and support your ankles. It is very easy to twist an ankle, especially when walking on uneven ground (which is the case 9,9 out of 10 times).
If you don't have any that you think will do then you can have a look for some options online. My personal favorites are the ones from Salomon and they come for both men and women. They provide perfect support, are quite trendy at the moment, and the quality is unquestionably one of the best.
Furthermore, I never go hiking without knowing I have good travel insurance. Getting it after the accident has happened doesn't work, unfortunately.
It is always a good idea to bring sunblock when hiking. Even if your skin is used to the sun or if it is overcast.
Depending on the hike you do, the weather can change during the day.
Also, you are sure to sweat which both reflects the sunlight, makes your skin more exposed, and washes off some of the sun protection you might have applied earlier.
Be sure to bring a pair of sunglasses when you go on a hike. As mentioned above the weather can change and personally, I get a big headache if my eyes are overexposed for several hours.
Don't bring your fancy expensive ones as they might get scratched, dropped, or stepped on (yes I have done this twice) along the trail. A good pair of sports sunglasses can be a lifesaver.
Make sure to bring a hat with you to keep the sun out of your eyes and protect you from getting sunburned.
A good hiking hat is also a must for keeping your head cool.
Go for one in a light material that allows air to flow through.
Walking poles are great to keep you stabilized and safe from most accidents and twisted ankles.
They are especially handy on more rocky hikes like the Tiger Leaping Gorge in China or Bukhansan Mountain in Korea.
Pick ones that are lightweight and adjustable in height!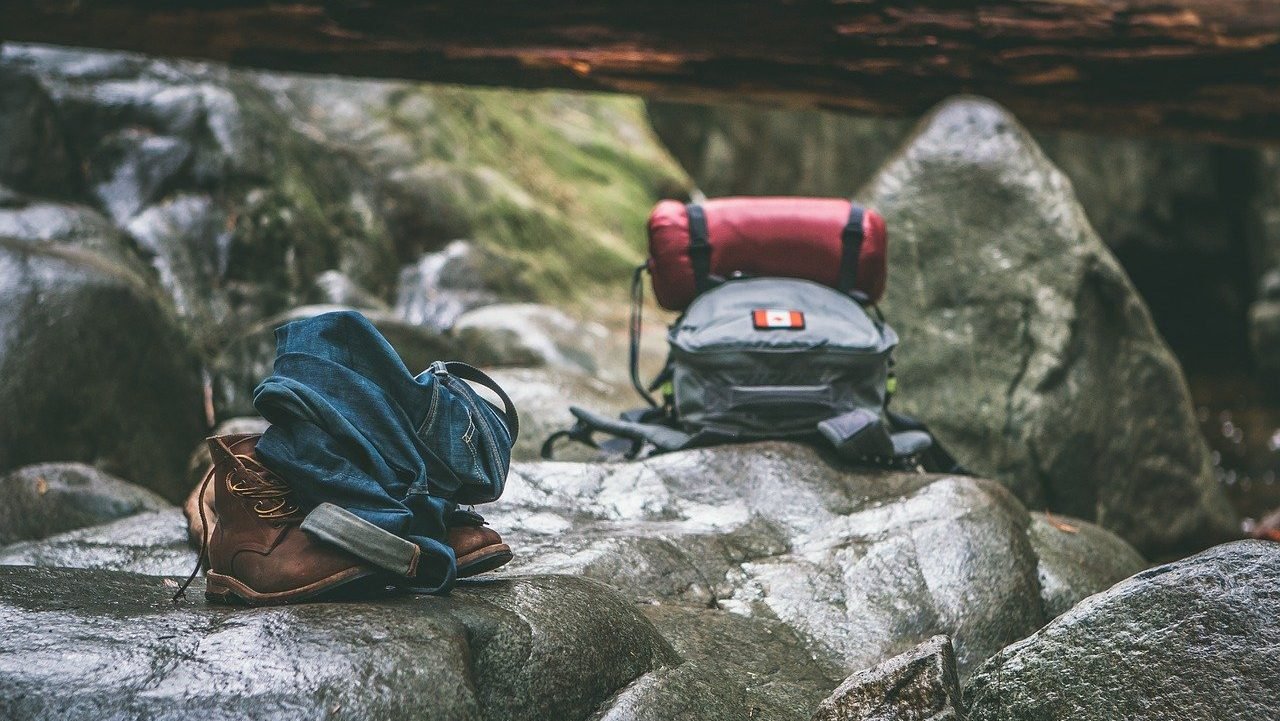 Be smart about what you wear for your hike and pack some extra smart clothes as well. This of course depends on your destination but put some thought into exactly what you might need. Coming back to the fact that the weather might change so use your imagination.
Depending on where you are going you might want hiking pants, a rain jacket, trekking poles, or windproof clothes. In general, think waterproof, windproof, sweat-efficient, and lightweight when packing.
A 6-hour hike in New Zealand screwed me over halfway in. It was 25 degrees Celcius when we started but 3 hours later the rain came and the wind picked up.
I was completely drenched and had to walk three more hours freezing before we reached the end.
Again, it would have been more enjoyable if I had brought a waterproof jacket.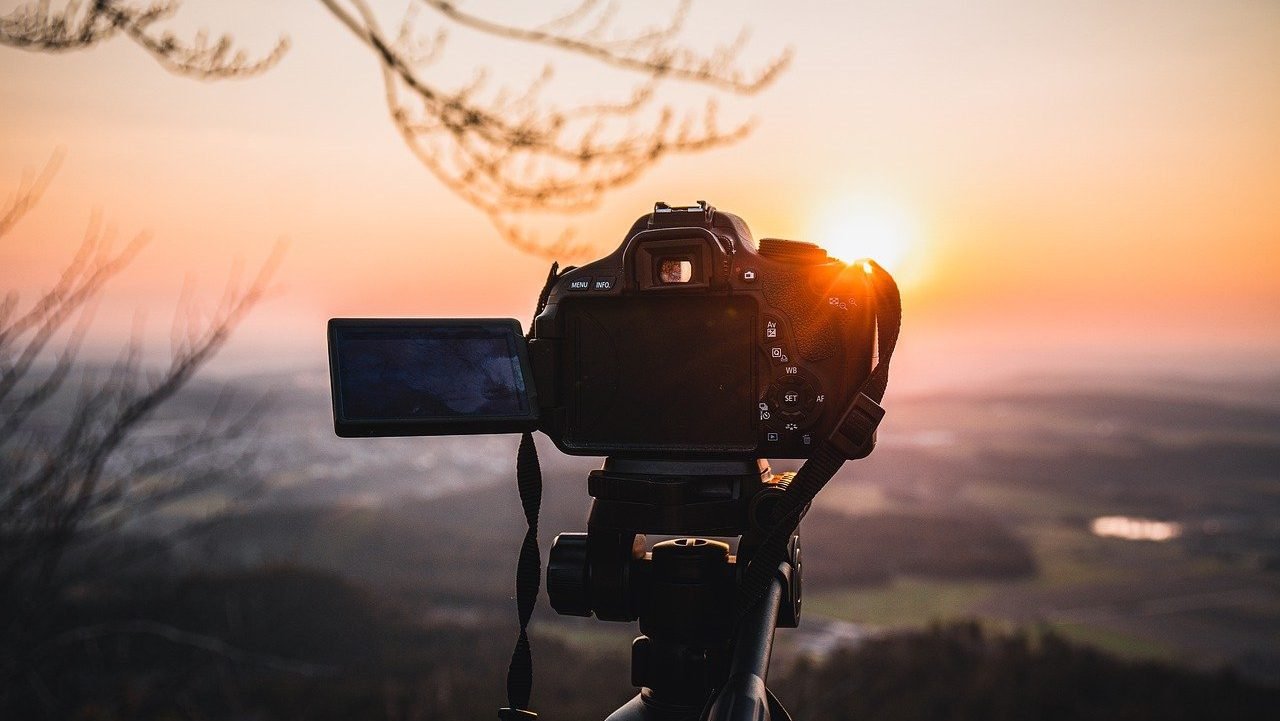 Now that you have all the other things in place, you want to save the memory. Sometimes hiking can provide some stunning scenery and really beautiful experiences that you want to document. You will regret not bringing any form of photography gear on your hiking trip.
I always travel with my Canon EOS M50 Mark ii. It is known to be the best camera for traveling and it's very light and user-friendly.
Just in case someone falls, needs hand sanitizer, or gets a papercut it's handy to have a first aid kit.
Having just a few things like a bandage or some painkillers might come in handy.
No need to overdo it though. Unless you do crazy mountain climbing (and with that, you have my respect), then you won't need much.
12. Navigation
Lastly, you might want to bring some navigational aid.
The places I went were all pretty popular and well-walked by other hikers, so I could just pick up a map in a tourist office or information center.
This can also be nice if you have several options to return.
If you plan on heading into prober wilderness then bringing a compass is a good idea.
I hope this was helpful to any new or skilled hikers out there.
Remember that you can choose exactly how big and complex you want your hike to be. If you are just getting into hiking, start with something pretty but easy.
All in all, it should be a fun and good way to spend a day that will provide fresh air, and exercise as the sweet cherry on top. Hiking has been a great addition to my normal travel activities and has provided some amazing travel experiences.
That was it for the hiking packing list. I hope you feel ready and know what to bring on your future hike.
As always, feel free to leave a comment below
//Josephine
The article may include affiliate links, meaning that I may receive affiliate compensation at no cost to you if you decide to purchase. Read more in my
Affiliate Disclosure.
BEST TRAVEL RESOURCES
BOOK YOUR FLIGHT: Not sure how to get the best and cheapest flights? I always use Skyscanner for the best deals. The best tip is to be flexible with dates and destinations if you want the cheapest options.
Alternatively, for frequent travelers, get a membership with Wayaway and receive a cashback on cheap flights and hotels every time you book! Via the link, you even get a 10% discount on your membership.
BOOK GREAT ACCOMMODATION: Booking great accommodation is not difficult but it sucks paying too much. Use Booking.com for the greatest hotel deals and Hostelworld for amazing hostel stays. Alternatively, you can sign up for Worldpackers to get FREE accommodation in exchange for your work.
BEST TRAVEL INSURANCE: Traveling without insurance is a mistake that you don't want to make - trust me I've tried. I'd suggest SafetyWing as they offer great and flexible policies - especially if you are traveling for a long time or a digital nomad. World Nomads is another great insurance with extensive coverage.
NEED HELP WITH YOUR VISA? Figuring out how and when you need a visa can be a bit of a jungle. iVisa is a very handy and user-friendly service.
HAS YOUR EU FLIGHT BEEN DISRUPTED? Use AirHelp as a service to get flight compensation on your European flights in case your flight was delayed, canceled, or disrupted in other ways. More often than not you are actually entitled to compensation.