New Zealand was at the top of my bucket list for years. Nature looked absolutely breathtakingly beautiful and it being so far away, only made it seem even more exotic. Traveling in New Zealand is, in my opinion, best done combined with camping and the freedom of living in a campervan.
Endless empty roads, the camping experience, combined with scenery so stunning and everchanging that I sometimes could not grasp that is way real – all added to New Zealand being the best holiday I have taken so far.
If you love nature, camping, or just want to try something amazing, then you NEED to go camping in New Zealand and taking the road trip of your life.
If interested, keep reading below. Here I will share exactly how to do it, the itinerary, and everything you need to know to have the best trip.
PIN THIS POST FOR LATER
Finding Your Campervan
So, first of all, you have to find your home for the trip. Even though I always make sure to get good travel insurance before I take a trip, camping by campervan in New Zealand is extremely organized and safe.
There are several companies that you can book through and we chose Happy Campers. They seemed to be the best value-for-money option and I can highly recommend them. Also, their customer service was great and the staff super friendly – I was a Happy Camper (dad joke I know, and sorry).
The only thing was that we got a Japanese campervan which meant that the radio was impossible to figure out (sorry Happy Campers but I don't read Japanese). We survived by talking, but having music would have been nice…
Maybe check that when you get your car and have the staff help you out before you start your road trip.
The campervan has everything you need in terms of bedding, kitchen equipment, and so on.
If you don't wish to get a campervan then public transportation is also an option. Usually, people are traveling New Zealand by bus if not their own car.
The roads in New Zealand are both perfectly maintained, safe, and provide some breathtakingly beautiful scenery. Take your time while driving around to take some pictures and take turns driving to enjoy the view.
If you want to make your camping experience in New Zealand even better, check that you bring some van life accessories to make it easier and more fun!
Finding Campgrounds For Camping in New Zealand
There are camping grounds all over New Zealand whether you choose to go to the North Island, or South Island, or both. Some of them are free and some you have to pay a little for. Usually, you will find only paid-for options closer to more touristy locations – fair enough!
A handy app is Ranger Camping NZ. We used this for our entire trip and found some super amazing camping options in New Zealand. Sometimes searching a little and driving to the next campground a little further out, is worth it as you will find beautiful secret solitary spots! The app provides an overview of options for both freedom camping and holiday parks where you can filter out what you are interested in. On top, the app shows dump stations, hiking trails, supermarkets, and petrol stations. visitor centers, and much more.
Choosing a holiday park provides a few perks like proper toilet facilities, dump centers, or information centers. In addition, stack up some van camping items to have yourself fully covered.
We mostly did freedom camping around New Zealand and never experienced any uncovered needs. There are parks, public toilets, and whatever you might need in most cities throughout New Zealand.
The Best Itinerary For Camping in New Zeland
New Zealand is quite large and you want to experience as much of it as possible. Therefore a good travel itinerary is key.
We did ours in 3 weeks, but a month would have been great! If you have less time, then I advise you to stick to the South Island of the country. This is both more beautiful and there are more natural sights you should prioritize visiting.
On the other side, you have the biggest cities, Hobbiton, and also Tongariro National Park on the North Island. Depending on what you really wish to see, you can choose yourself.
Travel tip: download the Wanderlog app onto your phone (works for both android and iOs) and keep a plan for your trip. It's completely free and allows you to add everything you need such as important things scheduled, places you want to eat, reservations, and where you are staying!
Below I made a map and included my recommendations for you:
I always get the Lonely Planet Travel Guide books when I go visit a new place. They provide so much information and inspiration and the one on New Zealand was great!
Where To Go Camping in New Zealand?
Christchurch
We flew to Christchurch and here we picked up our campervan for camping in New Zealand.
You can spend a day in Christchurch and explore the city. It has some cute and charming parts but is not worth more than a day of your time. Stock up on some groceries and head off.
Lake Tekapo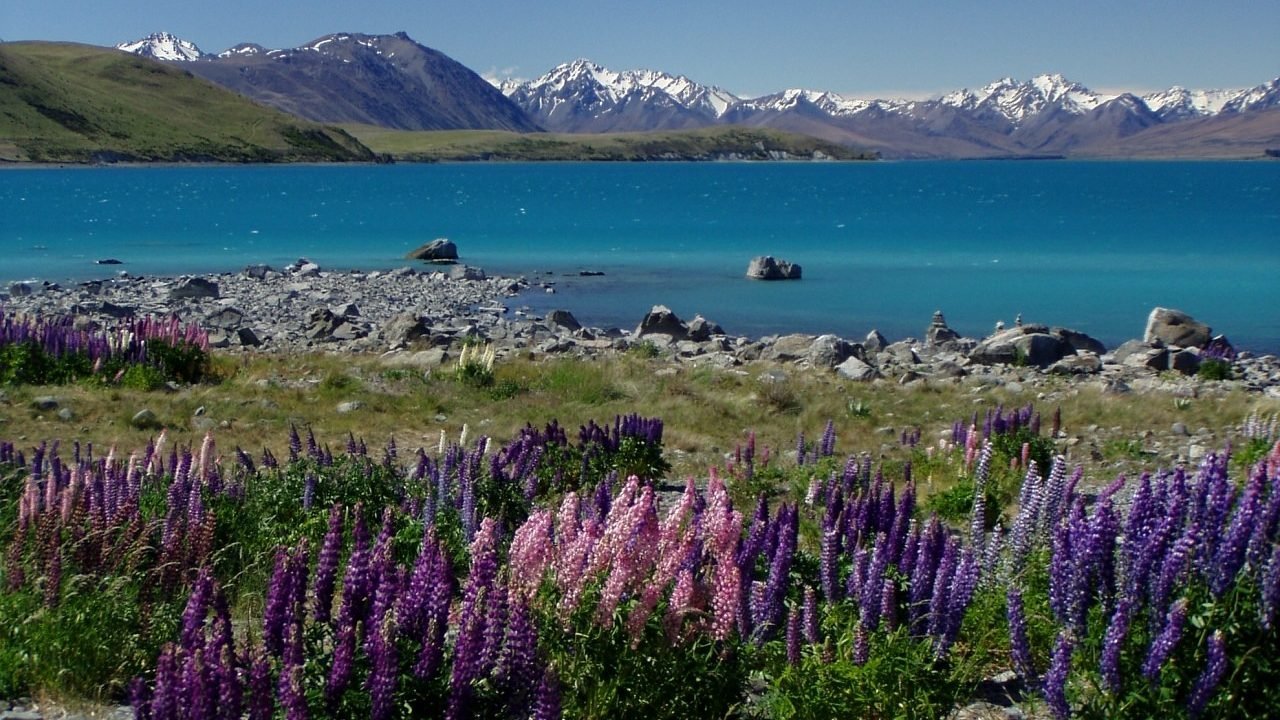 About a 4-hour drive from Christchurch, you find the beautiful Lake Tekapo. The water is crystal clear and completely turquoise. How a walk around and soak up the views.
Lake Pukaki
Less than a 1-hour drive from Lake Tekapo you find Lake Pukaki. Another beautiful lake set between mountain ranges and edging up to Mount Cook. If possible, then I highly recommend you stay here. Use your new amazing app to find the free spot the furthest out along the edge of the lake. If you are lucky you will be the only ones there. This spot is also amazing for star gazing and swimming in the freshwater lake.
Queenstown
Drive for 2 hours and you end up in the spectacular and picturesque town of Queenstown. This place is famous for being stunningly beautiful but also for being the number 1 extreme sport destination on the South Island of New Zealand. We did not have the time, but if you do and want to challenge your inner daredevil, then there are plenty of options to go bungy jumping, mountain biking, and river rafting. Honestly, I can't imagine a better place to do it and I actually regret not prioritizing trying at least something.
Furthermore, Queenstown is just a cute town to chill around in. There are several different bars and nightlife options. Also, there are nice markets on Saturdays.
You absolutely MUST try the famous Fergburger while in Queenstown. Probably the best burger I ever had!
Pro tip: call ahead and order to avoid waiting in a very long line.
In terms of camping in New Zealand, Queenstown is not the cheapest option but there are some grounds around, and Queenstown is worth your time. To be honest (and I aspire to always be) we went out and had our campervan parked on a side street. Not exactly legal, but it did the trick and was an easy option.
Te Anau
The drive from Queenstown to Te Anau is the most beautiful I have ever experienced. So much that my sister and I were discussing who would drive and who could just sit back and enjoy it.
In Te Anau enjoy the pretty riverside. There are no free camping options here, but you can stay at several different places along the water.
Just 20 minutes from Te Anau you also have Manapouri – an even prettier lake and spot to see.
Milford Sound
When traveling and camping around in New Zealand you want to prioritize going to Milford Sound. It is a little out of the way but totally worth a visit. Truly, it was one of our most memorable New Zealand travel experiences.
We stayed at the campsite closest to Milford Sound to be ready for the next morning. You have to pay for it but it sits in between mountains and next to a waterfall – take my money!
The next day we made the 45-minute drive that is like driving through the rabbit hole in Alice in Wonderland. You come out the other side of a narrow tunnel and see pure paradise.
Book a kayaking tour in advance. We took the early morning tour and were lucky enough to see a ton of bottlenose dolphins and sometimes you can see whales!
We booked through Roscos Kayaks and they were great.
Wanaka
Head to Wanaka to camp after your Milford Sound experience. Wanaka is a smaller version of Queenstown but it is just as pretty and offers many great activities. 
You definitely want to do at least one small trek. We chose to take the 1.5-hour Mount Iron loop track. It takes you up a steep hill and provides amazing views of the area. 
Kaikoura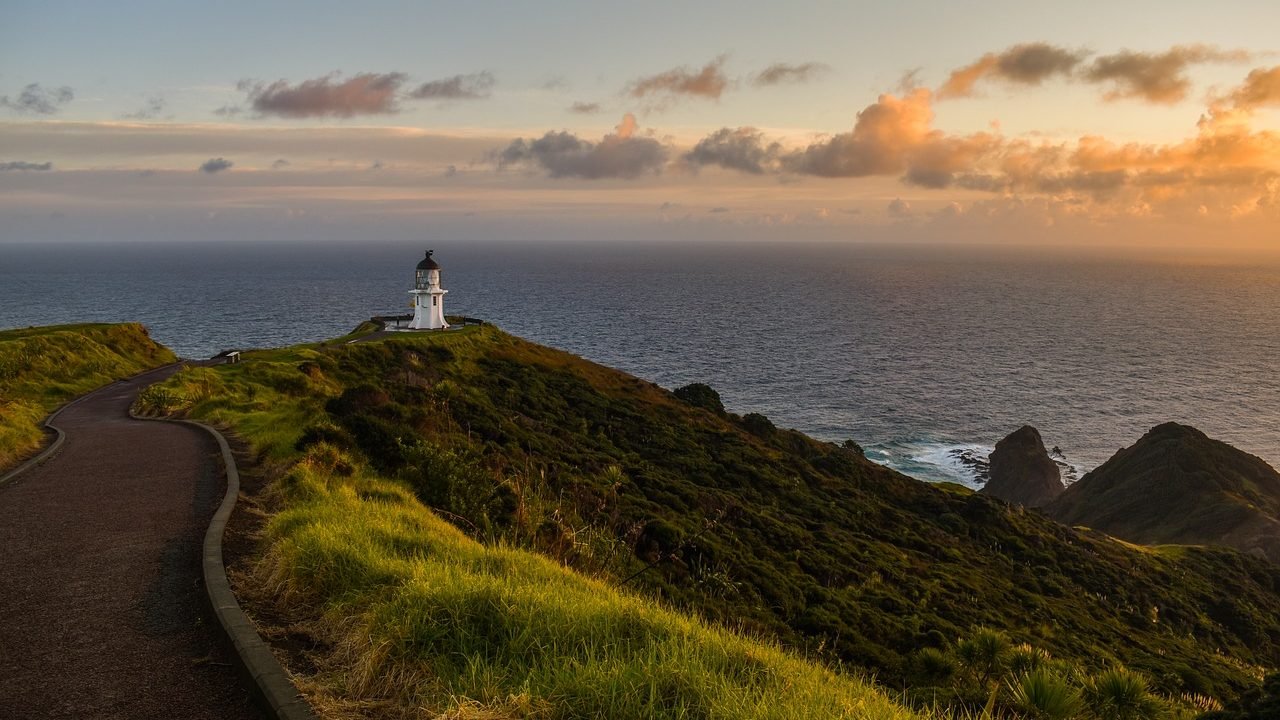 Kaikoura is a bit of a drive and we stopped for a night on the way. The small beach town is charming and offers a few sights that you don't want to miss while camping in New Zealand.
We stayed at a small campsite about 12 km away from Kaikoura. It was free, close to where we wanted to be, and sat by the beach – all fine with me.
In Kaikoura, there are 2 things that you absolutely must do:
The first is heading down to Point Kean and looking at the massive seal colony. Even the walk up and above the hillside is worth the effort.
The second is a unique food experience; "The Original World Famous, Kaikoura Seafood BBQ" is a roadside food truck and it is AMAZING.
Kaikoura is also famous for whale tours and if interested then you have to book a tour in advance. We did not and unfortunately missed out on this /opportunity as the tours sell out.
Havelock
A 2.5-hour drive away you find the extremely charming town of Havelock. The drive here is stunning and on the way, you can stop at the different beaches and see all types of penguins.
Havelock is also the mussel capital of the world (or so the sign says) and is a great spot for treating yourself to a nice dinner.
If you have time to head further up the coastline, another must is to visit Abel Tasman National park. A destination we had to skip on our camping New Zealand adventure because of limited time.
Wellington
Getting from the South to the North Island of New Zealand requires a ferry. You take it from Picton and 3.5 hours later you arrive at Wellington. Make sure to book your ferry in advance.
There is a free camping spot with limited spaces 30 mins walk to the city center (or 10 minutes by bus) but make sure your vehicle is certified as self-contained. Rangers come and check twice a day.
Honestly, we were not super impressed by Wellington even though it is the capital. We did find a few cool places though. Both Cuba Street and Courtenay Place are great for cafes and bars and especially Cuba street has a cool vibe.
Kaimanawa Forest Park
The drive to Kaimanawa Forest Park takes about 4 hours. Feel free to stop in one of the many beach towns on the way.
You can find several free camping sites in Kaimanawa Forest park which is just 20 minutes from Tongariro National Park – the main reason why you stop here.
There are also some small treks to do here if you are interested.
Tongariro Alpine Crossing
Head for Tongariro National Park and do one of the most amazing treks in the world. Here you walk through several volcanos on a 6-hour hike through the UNESCO World Heritage Site. This is also the setting where several scenes from The Lord of The Rings were filmed.
If you like hiking, nature, or the movies then you don't want to miss this experience. It is ranked as one of the 10 best treks in the world for a reason!
Make sure to bring loads of water, snacks, smart clothes, and your other basic hiking essentials.
Waitomo
Waitomo holds something different and extra special – glowworms. A phenomenon that I had never heard of or experienced before, and basically Waitomo is home to the largest groups in the world.
I highly recommend booking with Kiwi Cave Rafting. They do a great job at combining cave climbing, tubing, and glowworm observing. Make sure to book a tour in advance as they are very popular.
I promise you will not regret going into one of these caves as weird as it may sound going to see worms… But while in an amazing cave, the glowworms create an underground night sky, which is absolutely wondrous to see!
Taupo
From Waitomo head to Taipo for the night. Taupo is home to the beautiful and colorful Huka Waterfall. On top of being pretty, the waterfall is also easy to tick off the box, as it sits right next to where you park. Lastly, this is the spot to head off to experience the Maori Rock Carvings.
Matamata
You can camp here at Moana Roa Reserve – a pretty camping spot in New Zealand right next to stunning Lake Karapiro.
Matamata is also where you want to go to visit Hobbiton. The famous and magical movie site, which I think is worth a visit if you have any knowledge of the movies.
The price is 79 NZ dollars for a 2-hour guided tour and you finish off with a complimentary beer at The Green Dragon In. Super nerdy, super popular, super touristy – be sure to book ahead.
I usually hate touristy things like this but I'm a massive nerd and I really enjoyed it.
Auckland
This was actually by far my favorite bigger city in New Zealand and I was bummed that we only had a day here.
Shop in Queen Street and head down the harbor/port area for dinner. We went to Amano which was great and the streets around are filled with super cool restaurants, cafes, and bars!
In Auckland, you can hand in your Happy Camper campervan and this unfortunately also means that your camping trip in New Zealand has come to an end.
General About Camping in New Zealand
Camping in New Zealand, and driving around yourself, is the most efficient and fun way to experience the country. This way of traveling will allow you to have absolute freedom over your time, destination, and priorities.
Many travelers come to New Zealand exclusively to take a road trip and therefore there are great facilities and options all throughout the country. You have camping grounds, parking, facilities, maps, and information accessible to you almost anywhere you go.
Camping in New Zealand is both safe and can be done very conveniently as roads a perfectly maintained and camping grounds are extremely clean. The United States.
You find public toilets in every little city you visit and many more facilities at the different holiday parks around. Even during the high season in December through March, you can camp in New Zealand. There are many options for freedom camping and there are usually quite a few holiday parks within the same area. If you are doubting, use the Ranger Camping NZ app and scout your camping site beforehand. Most places will allow you to book ahead.
Depending on how long you have, and how much you wish to experience, about 1 month is a good amount of time to have to go camping in New Zealand. If you have less than 2 weeks, I would highly recommend you prioritize either the South or North Island.
Both Islands are great, but I personally favored the South Island. In general, I found the nature in this part of the country to be more beautiful and changing. Also, you have the option to go whale watching and experience almost any type of penguin imaginable.
The North Island of New Zealand is home to Wellington (not so impressive) and Auckland which is a great city to visit. In the middle of the Island, you also have Tongariro National Park which provides one of the 10 best hikes on a worldwide basis.
In my experience, there was nothing not worth visiting in this beautiful country and I would be happy to visit every single bit of it again.
What to Budget for Camping in New Zealand
New Zealand is not the cheapest travel destination in the world, but having your own campervan to cook, travel, and sleep in sure helps. While you can find many free camping sites around, traveling is still a bit pricy. Fuel, food, and tours quickly add up and you want to experience all of it while you are there.
A rule of thumb is to budget about NZ$185 (approximately $125) per day for each person and you should be covered with a nice buffer.
Thank you for reading, I hope you found the information and inspiration that you needed. As always feel free to leave a comment below.
//Josephine
The article may include affiliate links, meaning that I may receive affiliate compensation at no cost to you if you decide to purchase. Read more in my
Affiliate Disclosure.
BEST TRAVEL RESOURCES
BOOK YOUR FLIGHT: Not sure how to get the best and cheapest flights? I always use Skyscanner for the best deals. The best tip is to be flexible with dates and destinations if you want the cheapest options.
Alternatively, for frequent travelers, get a membership with Wayaway and receive a cashback on cheap flights and hotels every time you book! Via the link, you even get a 10% discount on your membership.
BOOK GREAT ACCOMMODATION: Booking great accommodation is not difficult but it sucks paying too much. Use Booking.com for the greatest hotel deals and Hostelworld for amazing hostel stays. Alternatively, you can sign up for Worldpackers to get FREE accommodation in exchange for your work.
BEST TRAVEL INSURANCE: Traveling without insurance is a mistake that you don't want to make - trust me I've tried. I'd suggest SafetyWing as they offer great and flexible policies - especially if you are traveling for a long time or a digital nomad. World Nomads is another great insurance with extensive coverage.
NEED HELP WITH YOUR VISA? Figuring out how and when you need a visa can be a bit of a jungle. iVisa is a very handy and user-friendly service.
HAS YOUR EU FLIGHT BEEN DISRUPTED? Use AirHelp as a service to get flight compensation on your European flights in case your flight was delayed, canceled, or disrupted in other ways. More often than not you are actually entitled to compensation.