The following article may include affiliate links, meaning that I may receive affiliate compensation at no cost to you if you decide to purchase. Read more in my
Affiliate Disclosure.
Tongariro National Park is a world-famous hiking destination because of the absolutely stunning scenery, but also because of the location's function as "The Land of Mordor" in the trilogy of The Lord of The Rings. On top of that, it is the oldest national park in New Zealand and a UNESCO World Heritage Site.
Tongariro National Park, or also referred to as the Tongariro Alpine Crossing, is a beautiful but challenging trek through active volcanos and an ever-changing landscape. Besides providing stunning volcanic scenery, you also have great views of Lake Taupo.
Is it worth it?
ABSOLUTELY.
It is probably the most stunning and interesting trek I have done in my life. In general, New Zealand is an insane natural phenomenon that keeps on giving. Truly, it is a paradise for all nature lovers out there and one of the best travel destinations I've ever visited.
If you are into hiking (or The Lord of The Rings), then hiking in Tongariro National Park should be at the top of your bucket list!
It truly is no joke that the one-day trek in Tongariro National Park is ranked as the best in New Zealand, and is among the top ten best single-day treks worldwide.
Be sure to have good international travel insurance before you head off to hike the Tongariro Alpine Crossing. The trek gets quite steep and challenging at times, and you want to make sure you are covered in case of any accidents.
PIN THIS POST FOR LATER
HOW TO HIKE IN TONGARIRO NATIONAL PARK?
HOW TO GET THERE
Ok, first of all, let's get this out of the way. You find the park on the North Island of New Zealand and getting to Tongariro National Park needs a little bit of planning.
The issue is that the Tongariro Alpine Crossing does not start and stop in the same spot. This always requires a little extra preparation, in my opinion. On the other side, it does make sense since you are crossing over volcanos so…
You want to get to Ketetahi car park as this will be your ending point. Here you leave your car and take a shuttle bus. The last one leaves at 9:30 am so you want to get there early.
I advise you to get there early nonetheless. This gives you more time and also fewer people – aka better views.
The shuttle will take you to your starting point of Mangatepopo car park and costs 35NZD.
Some travelers have been known to link up and leave a vehicle at each end, to avoid the shuttle fee. If you are so fortunate to meet someone on your way, planning to do the trek in Tongariro National Park, then this could be an efficient and fun way to save a little money.
I always get the Lonely Planet Travel Guide books when I go visit a new place. They provide so much information and inspiration and the one on New Zealand was great!
HOW LONG IT TAKES
Make sure you set aside a whole day as the trek takes about 6 hours in total.
It is a breathtakingly beautiful, steep, and rugged 20 km walk. Therefore, you want to make sure you have enough time to enjoy it.
You probably won't be a Tongariro National Park visitor again so make the most of it!
WHAT TO BRING TO TONGARIRO NATIONAL PARK
A good lunch and plenty of water for a start. There are no options to buy fuel along the way and you don't want your blood sugar to drop halfway through. Bring a backpack with you containing your basic hiking essentials.
Also, bring smart clothes. By this I mean try to plan for any type of weather as it changes a lot.
In one day we tried blazing sunlight, rain, and hail. New Zealand tends to surprise you weather vice but apparently the volcanic landscape in Tongariro National Park makes for an exceptionally moody forecast.
Three hours into the trek we were drenched and since I did not have anything waterproof, the last three hours were a little less enjoyable.
THE TREK IN TONGARIRO NATIONAL PARK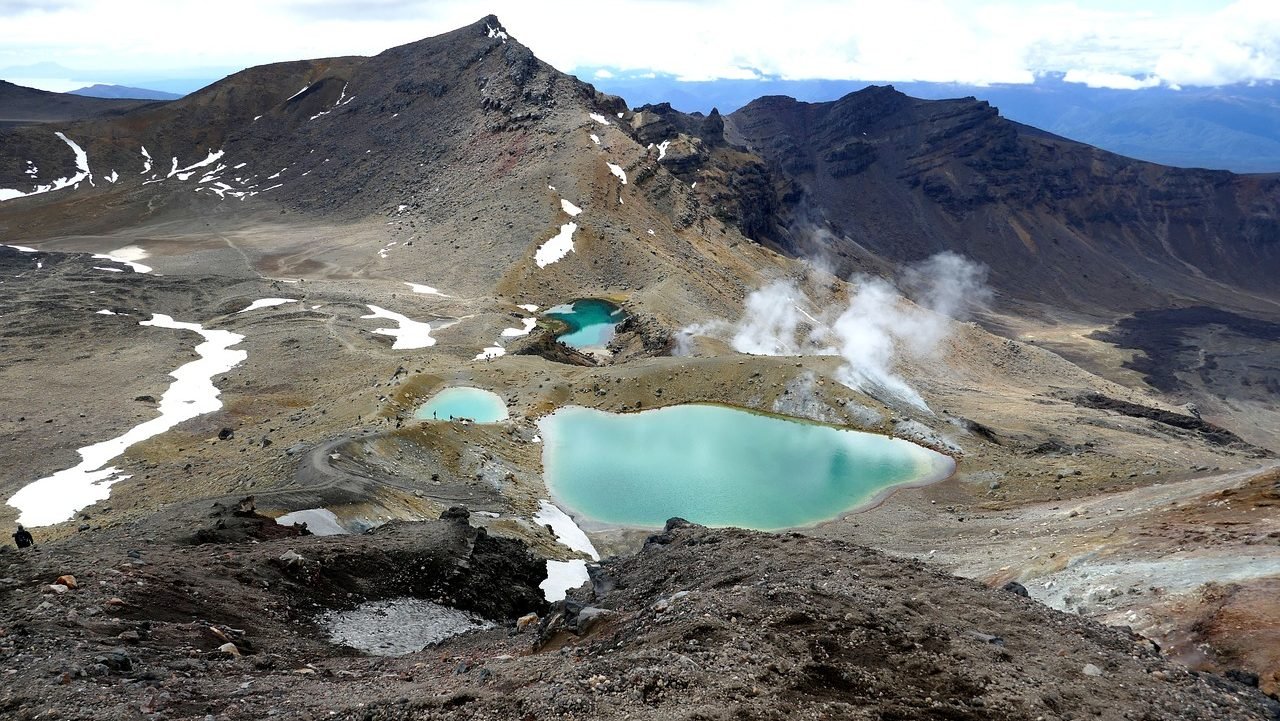 The actual trek is quite challenging but if you are fairly fit then you can do it. Some parts are very steep, some fairly easy, and at times completely flat. The Tongariro Alpine Crossing is worth every bit of effort and sweat.
The crossing is an incredible walk, taking you through amazing ever-changing scenery and providing picturesque views.
You will walk through two active volcanos which are quite diverse and both awesome. Here you are walking in the actual crater of the volcano. It is a completely flat, kind of eerie setting, that looks exactly like Mordor. If you have seen the movies you can only think of Frodo and Sam making their way to The Fires of Mount Doom. (Mt Ngauruhoe is in fact the volcano that played a significant role in the Lord of The Rings as it served as Mount Doom).
I'm a huge fan and also a complete nerd. I apologize for the excitement, BUT it is pretty damn cool…
Besides the volcanos themself, you will be led to several stunning volcanic lakes. I had never seen this phenomenon before and it absolutely blew my mind.
Something about the volcanic soil gives the lakes the most insane colors. You have to see it with your own eyes as pictures simply do not do it justice!
GETTING BACK
Is very simple as you will now reappear at the Ketetahi car park where you started.
I advise you not to have a big drive planned for yourself. The trek in Tongariro National Park is quite challenging and long. Also, if you were challenged with the weather changing then hiking the alpine crossing is quite exhausting.
GENERAL ABOUT TONGARIRO NATIONAL PARK
Tongariro National Park became the first national park in New Zealand in 1887 and was awarded a double UNESCO World Heritage Status. This was because of the cultural significance to the Māori people and also the natural features of the park. The area is now under conservation and is therefore protected.
The park is home to 7 different towns that can be visited around the borders. Those are: Waiouru, Horopito, Ohakune, Pokaka, Whakapapa Village, Erua, National Park Village, and Turangi. Some of these towns also have a ski field or even several ski fields to enjoy.
Tongariro National Park stretches around the area with the three volcanoes Mount Ruapehu, Mount Ngauruhoe, and Mount Tongariro. The Pihanga Scenic Reserve, which includes Lake Rotopounamu, Mount Pihanga, and Mount Kakaramea, and the outside of the main park area, is part of the park.

On the outside of the park boundaries, lie the small villages 'National Park Village' and Ohakune. Further afield are Turangi, Waiouru, and Raetihi. Within the boundaries of the park are the only dwellings, the tourist-based villages of Whakapapa and 'Iwikau Village', which are located in a nearby ski area and consist exclusively of ski huts.
Tongariro National Park is surrounded by well-preserved roads, which roughly follow the park's boundaries and provide easy access. To the west passes 'State Highway 4' 'National Park Village' and to the east runs 'State Highway 1', which on this stretch is known as 'Dessert Road', parallel to 'Tongariro River'. 'State Highway 47' connects these two roads to the north. The southern link is 'State Highway 49'. The North Island 'Main Trunk' railway, which runs from Auckland to Wellington passes the 'National Park Village'.

THE ACTIVITIES IN TONGARIRO NATIONAL PARK
The main activities are hiking and climbing in the summer, as well as skiing and snowboarding in the winter. There are also opportunities for hunting, fishing, mountain biking, horseback riding, rafting, and flights over the countryside.
The most popular hike in Tongariro National Park is Tongariro Alpine Crossing. Most of the trip is part of the Tongariro Northern Circuit, a two- to a four-day trip that is one of New Zealand's nine Great Walks. Trips to the peaks of Mt. Tongariro and Mt. Ngauruhoe are possible on these trips. Another route is the three to six-day tour 'Round the Mountain Track' around Mt. Ruapehu.
In addition to these, there are several shorter trips, suitable for day trips. With these hikes, three campsites, two emergency shelters, nine public, and four private cabins as well as the facilities of Whakapapa, the park is well developed for tourism. These hikes also serve as winter routes, and as a trail to the top of Mt. Ruapehu. Mountain climbing is also an option.
The snow season is from July to early November. The largest ski area, and called Whakapapa, is located on the western slope of Mt. Ruapehu. It has 15 lifts and covers an area of ​​55 km². Right next to the ski area are 47 ski club cabins, most of which also house non-club members. The next dwelling is at the bottom of Whakapapa. A slightly smaller ski area, called Turoa, is located on the southwest slope. Although it only has 9 lifts, and a ski area of ​​50 km², it is almost as big as Whakapapas. However, there is no habitation by the trail, the nearest town is Ohakune.
new zealand tongariro park new united states facebook
I hope you have the most amazing and beautiful day at Tongariro National Park. As always feel free to comment below.
//Josephine
BEST TRAVEL RESSOURCES
BOOK YOUR FLIGHT: Not sure how to get the best and cheapest flights? I always use Momondo for the best deals. The best tip is to be flexible with dates and destinations if you want the cheapest options!
BOOK GREAT ACCOMMODATION: Booking great accommodation is not difficult but it sucks paying too much. Use Hotels.com for the greatest hotel deals and Hostelworld for amazing hostel stays. Alternatively, you can sign up for Worldpackers to get FREE accommodation in exchange for you working.
BEST TRAVEL INSURANCE: Traveling without insurance is a mistake that you don't want to make - trust me I've tried. I'd suggest SafetyWing as they offer great and flexible policies - especially if you are traveling for a long time or a digital nomad. World Nomads is another great insurance with extensive coverage.
NEED HELP WITH YOUR VISA? Figuring out how and when you need a visa can be a bit of a jungle. iVisa is a very handy and userfriendly service.
HAD YOUR EU FLIGHT DISRUPTED? Use AirHelp as a service to get flight compensation on your European flights in case your flight was delayed, canceled, or disrupted in other ways. More often than not you are actually entitled to compensation.
Affiliate Disclaimer: This post may include affiliate links. I may receive a small commission at no extra cost to you if you click on them and purchase.