The area around the East Coast of North America is home to some of the world's most famous and stunning national parks. With thousands of kilometers between the northern and southern ends, the landscape varies from dramatic mountains to stunning shorelines.
Whether you enjoy hiking, adventurous kayaking, or a stunning lookout over the Caribbean sea, the East Coast of The United States offers plenty of dreamy scenery. If you are a hiking enthusiast, make sure to bring some good hiking essentials and pack a nutritious hiking lunch to bring.
In this blog post, I will share the list of the 11 best East Coast national parks in North America.
PIN THIS POST FOR LATER:
Which are the best national parks on the East Coast of North America?
Cuyahoga Valley National Park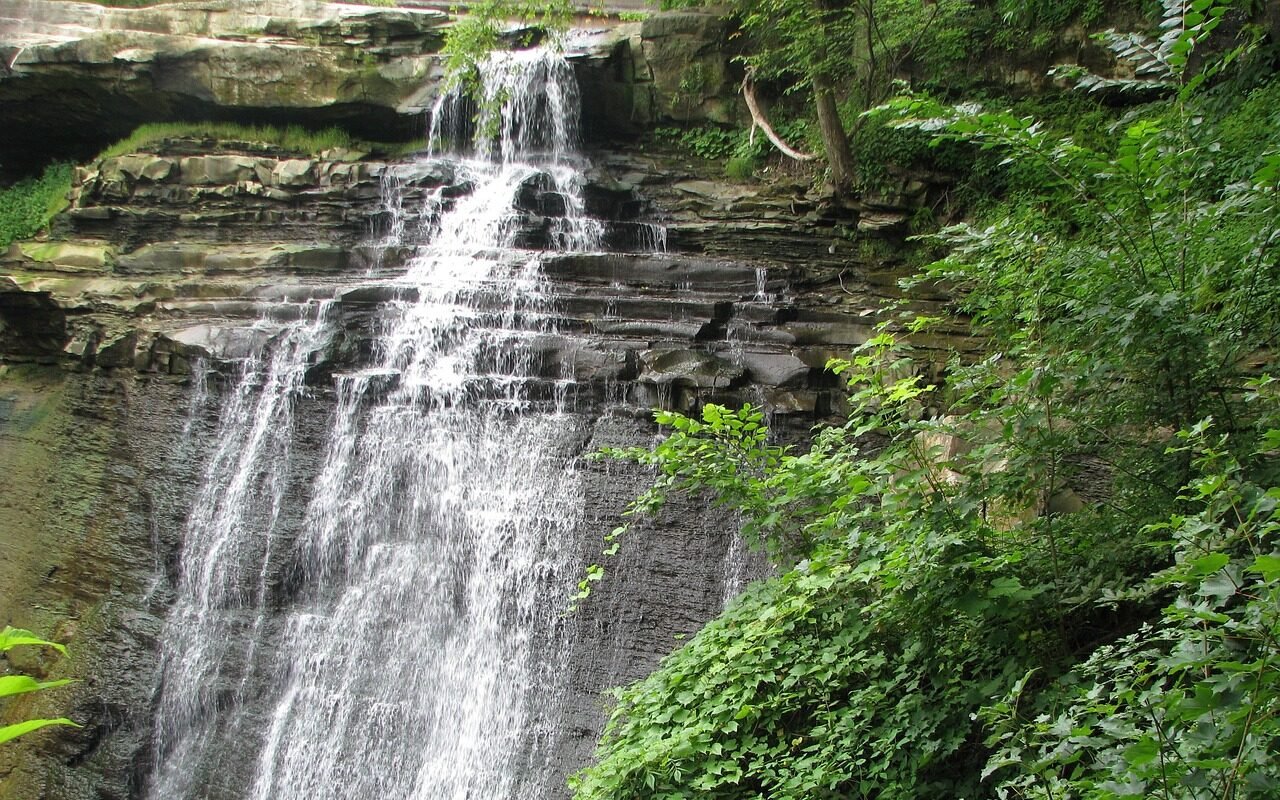 While there are other parks in Ohio, Cuyahoga Valley National Park is the only national one and one of the best national parks on the East Coast. It runs along the Cuyahoga River between the cities of Cleveland and Akron. Although it is one of the nation's smallest national parks, visiting Cuyahoga Valley National Park should be done over a long weekend. This is because it contains many miles of hiking trails to explore.
The most notable trail is the historic Towpath Trail. This runs along the bank of what used to be the Ohio & Erie Canal. In the early 1800s, the old trail was used by mules to tow the boats along the canal. The boats were filled with goods destined to traverse the Ohio River. Today the Towpath Trail is a 19-mile flat and easy trail. This is frequently enjoyed by hikers and bikers in all seasons.
The park boasts the Cuyahoga Valley Scenic Railroad that runs throughout the park, providing not only transportation between the boarding stations at different areas of the park but educational and historical programming too.
The best time to visit the Cuyahoga Valley National Park is when it is all decked out for the winter holidays. The scenery looks very festive when the white fluffy snow decorates the trees. The added perk during the holidays is that the Cuyahoga Valley Scenic Railroad turns into the Polar Express. The Express has a destination and final stop at the north pole to visit Santa Claus himself. If going during winter, make sure to pack and prepare for the winter hike.
Wriiten by Michelle from Moyermemoirs
Everglades National Park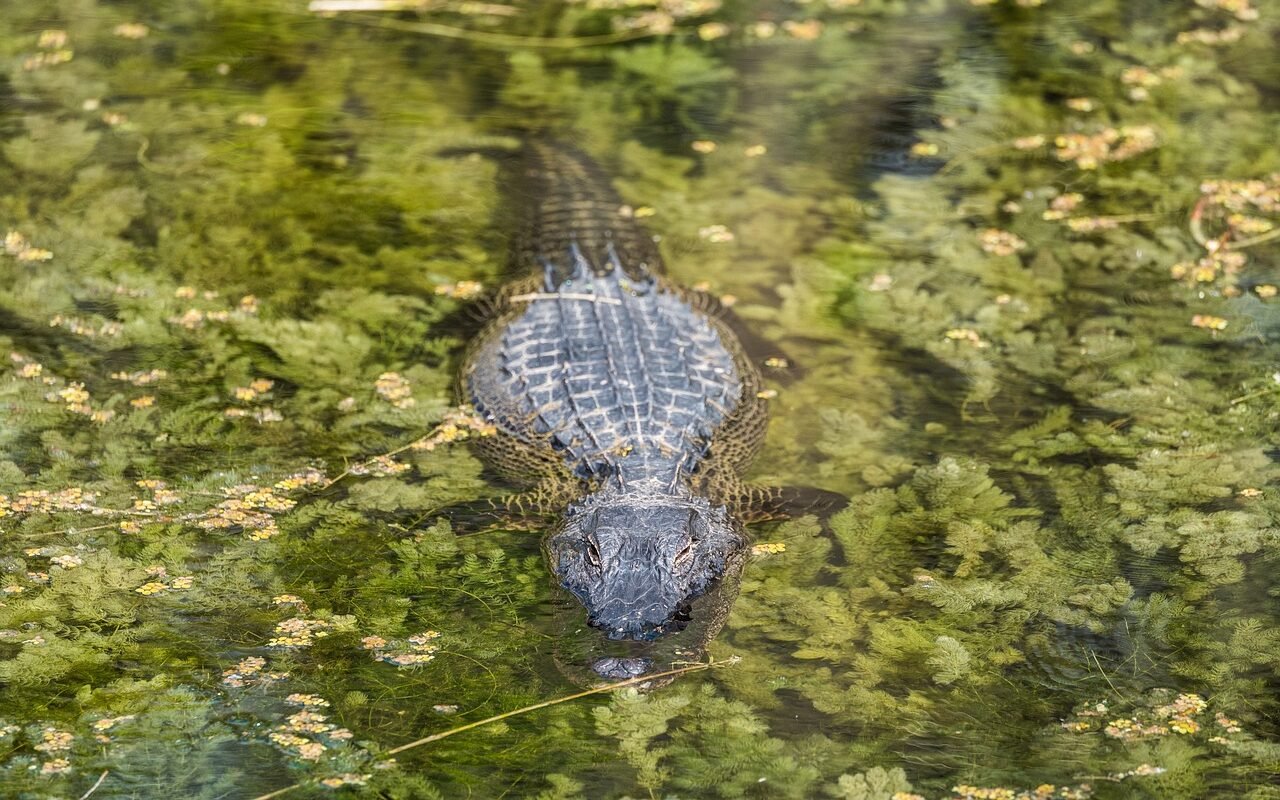 As one of America's largest national parks, the Everglades in southern Florida is a popular East Coast national park.
Please note that the park has a dry season from December to April and a wet season from May to November. In contrast to many spots in the US, the season from December to November is the most popular time to visit the Everglades. This is to avoid a lot of rain and mosquitoes and to get the most out of your trip.
The park has three entrances. To reach the Homestead Entrance from Miami, be sure to take the Florida Turnpike all the way to where it merges with U.S. 1. You can also reach the Miami Entrance via the Florida Turnpike and exit 25A or 25. Finally, to reach the Everglades City Entrance, take exit 80 and continue for 20 miles into Everglades City.
It's possible to visit the park as a day trip from Miami but to see, even more, three to five days is ideal. While in the Everglades, it's definitely recommended that you try a ranger-led tour to go on some of the best adventures while kayaking, boating, or biking through the wetlands. You can try options like walking in the moonlight or kayaking along water trails. When you kayak or go on boat tours, you might be able to see some dolphins, crocodiles, or manatees.
A popular trail is the Gumbo Lumbo Trail, known for its special trees and a short 0.4-mile trail. While here, you can also visit the Anhinga Trail, the 65-foot observation tower in Shark Valley for gorgeous views, and watch the sunset in Flamingo.
Written by Megan Starr
It's possible to book tours in advance online here:
Acadia National Park
The Acadia National Park is the easternmost national park in the United States. On top, it's part of Mount Desert Island, which is located on the scenic coast of Maine. Acadia is famous for its amazing autumn colors. For this, October is one of the best months to visit and see fall leaf colors.
You can get to Acadia by flying to Portland, Maine, or Boston, Massachusetts. From there you drive to the park. It's a 3-hour drive from Portland. However, there are lots of lighthouses and other nice things you can see along the way. Three days is enough time to see the highlights of Acadia, although more time is even better.
There are good Acadia National Park trails for all types and ages. Most of the Acadia trails are family-friendly and easy. Some of the cliff hikes may be challenging. For a short and flat hike, you can circle Jordan Pond. Here you also have nice autumn colors, especially on the northern side of the pond.
Two of the best Acadia hikes to do in the fall season are the Beehive Trail and the Precipice Trail. Both are known for being thrilling and a bit scary, so they're only recommended for people who are comfortable with heights. These hikes have amazing foliage in the fall season, but they're not recommended in winter because they may be slippery.
At the Beehive mountain summit, the views are spectacular. It's probably one of the best autumn foliage views you can enjoy in any U.S. national park, and the hike to the top is a thrill in itself.
Contributed by David & Intan of The World Travel Guy
You can book tours and get inspiration for Acadia National Park below:
Congaree National Park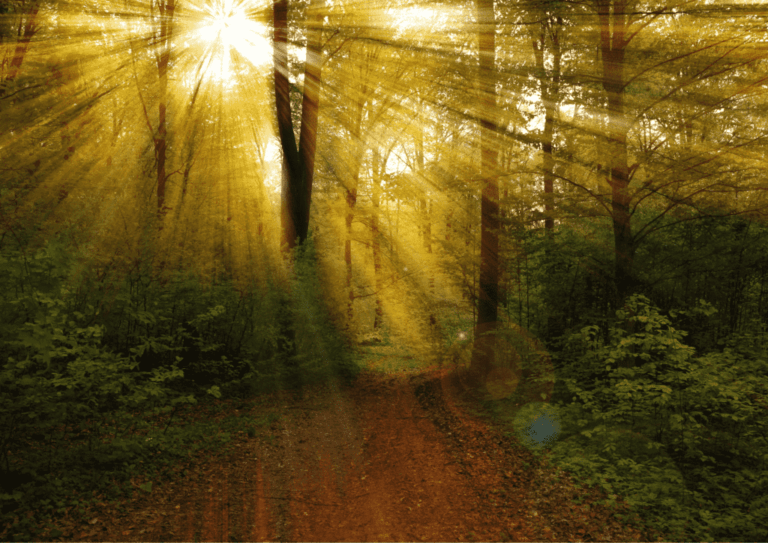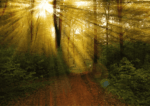 Congaree is one of the most underrated but best national parks on the East Coast. Located only 30 minutes from Columbia, the capital of South Carolina, Congaree National Park is one of the last remaining old-growth bottomland hardwood forests left in the United States today.
This unique biosphere can be explored through hiking trails, kayaks, canoes, and camping. The park contains more than 20,000 acres of protected land, and there are many backcountry trails for hikers to enjoy. One of the lesser-traveled trails is the Bates Ferry Trail on the park's eastern side. This leads to an oxbow lake from the Congaree River.
The most popular trail, though, is the Boardwalk Trail. This easy 2.4-mile trail starts at the Visitor's Center and meanders through the bottomlands. It is also great for families and is wheelchair accessible. Pick up a Jr. Ranger activity book (perfect for kids and kids-at-heart) to learn about the history, culture, and nature of the park. In addition, there are plenty of other options in terms of doing a day trip to Congaree National Park with kids.
Although the park is accessible year-round, springtime and fall are the best times to visit the park. This is because temperatures are mild, and mosquitos are not ravaging visitors just yet.
The most spectacular event that takes place in Congaree NP is the synchronous firefly mating season. This event takes place in May-June and is very popular. Therefore, plan to book tickets when the lottery opens at the end of March. The mesmerizing dance of the fireflies is a special natural phenomenon that is worth a trip to Congaree National Park.
Written by Kyleen Bontrager
If camping and traveling in a campervan, make sure to get some accessories and gear to make your trip unforgettable.
Blue Ridge Parkway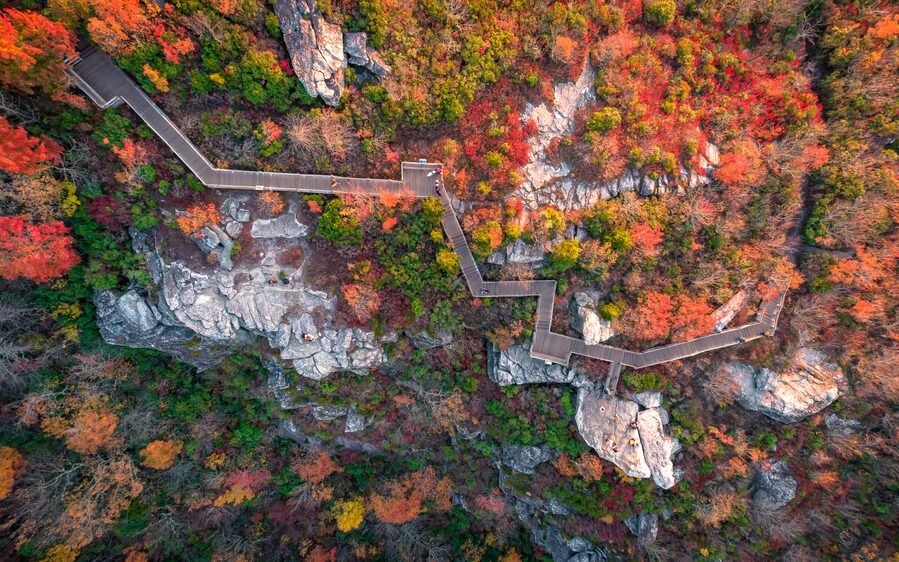 If you're looking for one of the best national parks on the East Coast of the USA then you cannot beat the Blue Ridge Parkway.
After all, this great scenic byway will take you on a stunning, 469-mile journey from Charlottesville in Northern Virginia all the way to Asheville in North Carolina. Therefore, along the way, you'll pass through the stunning Blue Ridge Mountains and enjoy some of the most sweeping panoramas in the country.
If you can, try and time your visit from mid-October. This is when local fall foliage is at its best and most vibrant. Additionally, try and spend at least four days here since the speed limit is 45 mph. Do this and you'll have plenty of time to enjoy Humpback Gap, Natural Bridge State Park, Craggy Gardens, and much more.
And if you love wine, be sure to grab a glass, or two, at Peaks of Otter Winery in Bedford, Virginia at milepost 86, and at Chateau Morrisette Winery in Floyd, Virginia at milepost 171.5. Both are fantastic local wineries that make for perfect pit stops during your trip.
Whatever you do, do not miss Rough Ridge Overlook since it is home to one of the best Blue Ridge Parkway overlooks. It's also a perfect spot from which to do the hike to Linville Falls at milepost 316.4.
Finally, you'll end your trip to Asheville where you can explore the Biltmore Estate before. Visiting the North Carolina Arboretum and grabbing an amazing craft beer from the New Belgium Brewing Company.
Written by Victoria of Florida Trippers
For good routes and inspiration, have a look below:
If traveling by campervan, make sure to have campervan insurance that will help you in case of any accidents.
Biscayne National Park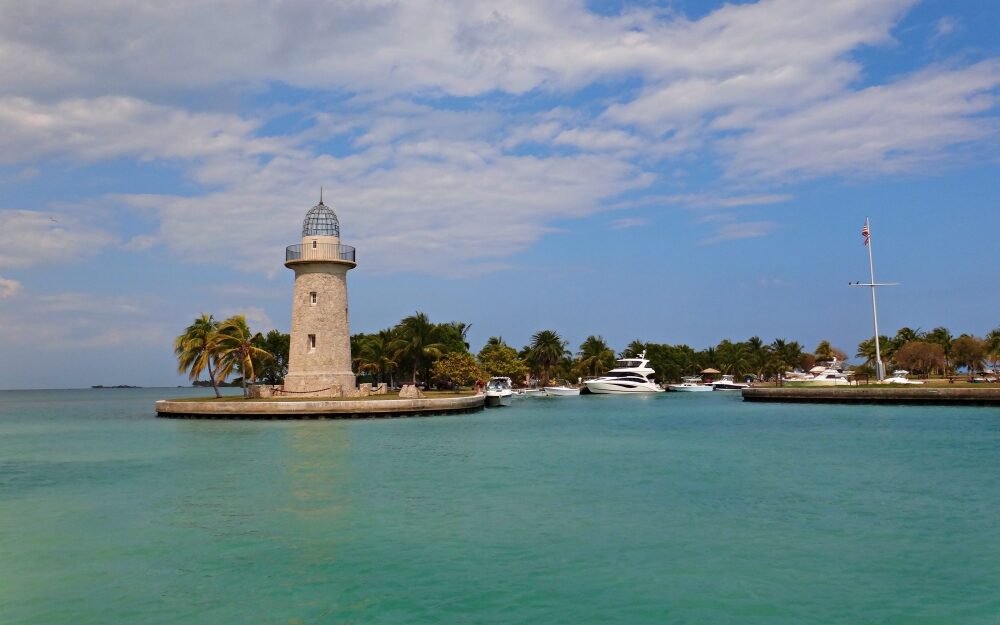 Biscayne National Park sits at the northern tip of the Florida reef. Although it includes several low-lying islands, the national park is 95% water. For this, it is a perfect place to enjoy the ocean's wonders.
The main access to the park is from the boat harbor at Convoy Point. Here you will also find the Dante Fascell Visitor Center. The harbor is about an hour's drive south of Miami, near Homestead. Stop in at the Visitor Center before or after your boat trip to learn more about the history and geology of the area.
Most people visit on a boat cruise. There are several available, including informative cruises around Elliott Key and Boca Chita Key, where the picturesque Boca Chita Lighthouse is a popular draw.
Most people, however, go to Biscayne to snorkel or dive. There are schools of tropical fish and reefs of colorful coral, as well as fun wrecks to dive around. A day is generally sufficient to see the highlights, though there are a couple of campgrounds and you can easily spend longer, relaxing on the islands.
You can also kayak around the mangroves and seagrass meadows. 1.5-hour guided trips take you to the highlights. There is even a hiking trail on Elliott Key where you may see birds and perhaps even manatees offshore.
Winter is the best time to visit when there are fewer bugs and temperatures are pleasant. This is also when there's the least chance of storms blowing in and upsetting your travel plans.
Written by James Ian from Parks Collecting
If you are spending time in Miami then have a look at what the area has to offer:
Mammoth Cave National Park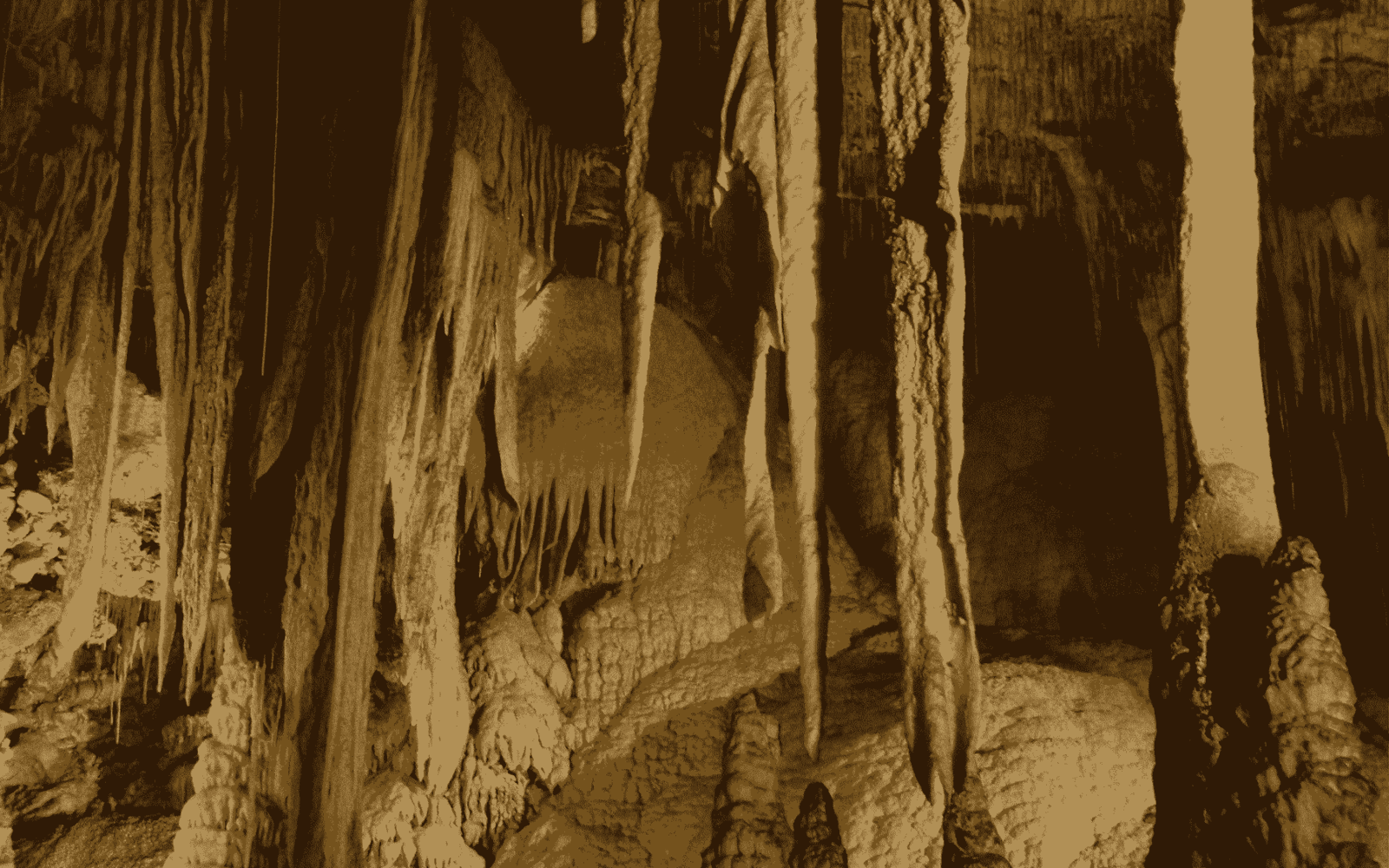 Mammoth Cave National Park is located near Brownsville, Kentucky, and is the longest-known cave in the world, spanning three counties. The national park service offers a variety of tours of the cave all varying in level of difficulty. There is even a tour for wheelchair users and people with limited mobility in which the cave is accessed via an elevator rather than the numerous steps that are located at the main entrance to the cave. It is highly recommended that you reserve your cave tour ahead of time as they do sell out well in advance.
In addition to cave tours, visitors can also enjoy ranger-led programs and hikes throughout the park. Some of the backcountry hikes will take you to historic churches and a cemetery which depict what life was like for a small community before the area became a national park. Depending on how many activities you would like to take part in, you could easily spend one to two days here.
If you plan to fly and rent a car (there is no public transportation to the park) to access the park, the closest airports are in either Louisville, Kentucky (about 89 miles away) or Nashville, Tennessee (about 99 miles away). On the other hand, if you plan to visit the area as part of a road trip, you can also visit nearby Bowling Green, Kentucky where the corvette museum is located.
Written by Kristin Secor from World on Wheels Blog
Great Smoky Mountains National Park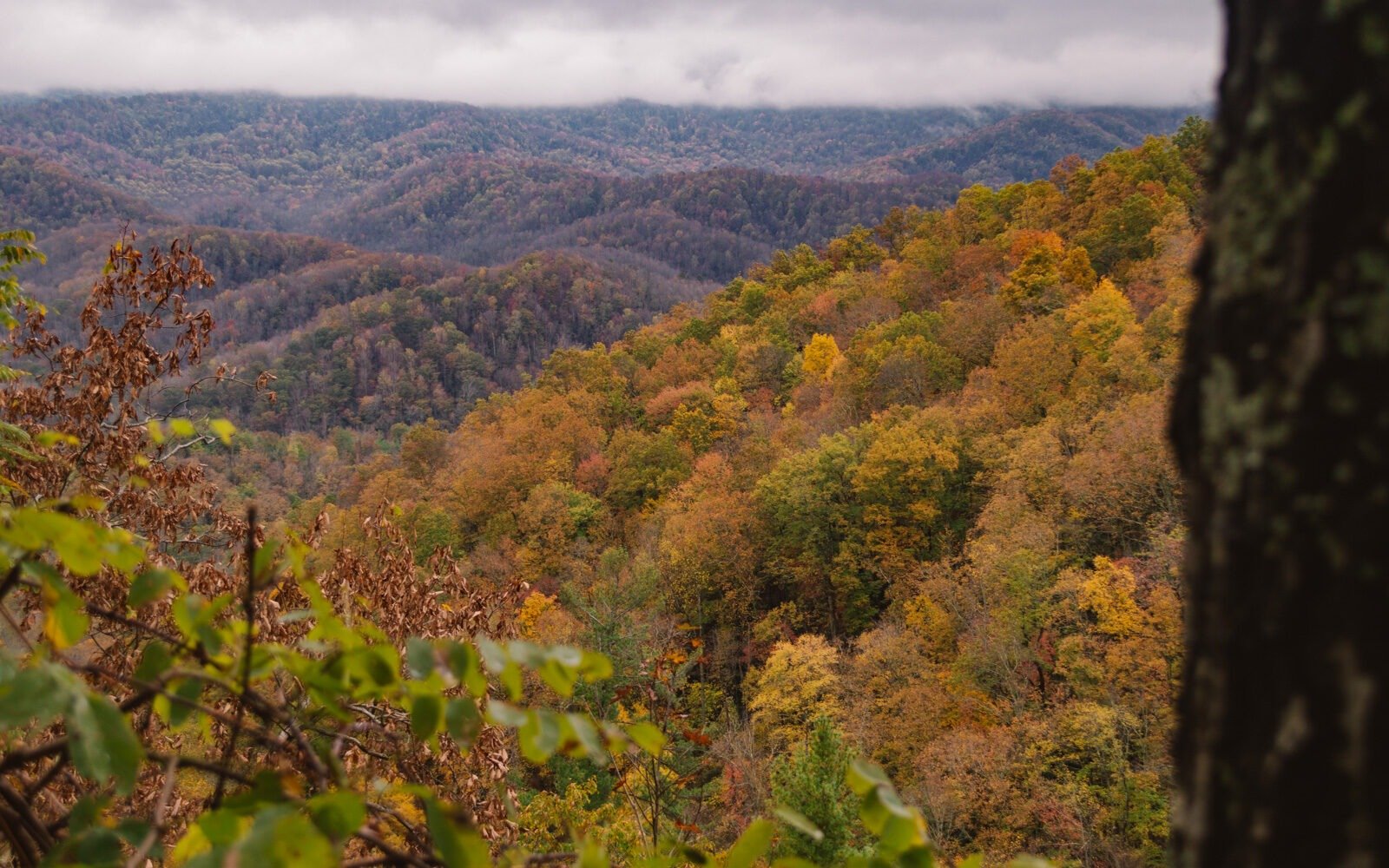 The most popular National Park in North America is the Great Smoky Mountains National Park and for good reason. While all seasons are beautiful, fall in the Smokies is truly spectacular. The leaves change colors magnificently and can be seen for weeks, due to the elevation changes within the park.
To get to Great Smoky Mountains National Park, you can fly into the Knoxville, Tennessee airport (TYS). From here the drive is an hour and a half or so south to the park entrance by Gatlinburg.
The highlights of the Great Smokies can be covered in a day, but for a longer experience, a weekend trip is recommended. You can also combine a visit to the Great Smoky Mountains with a drive along the Blue Ridge Parkway for an epic fall road trip.
You'll want to visit Clingman's Dome, which is a manmade viewing platform that provides 360-degree mountain views. The route is only a ¼-mile hike up a highly inclined road to the platform.
Great Smoky Mountains National Park also has great waterfalls, especially Laurel Falls. You'll want to arrive early if visiting during fall because this is one of the park's most popular trails.
Don't miss Cades Cove, a peaceful drive through a valley on the northwest end of the park. There's lots of wildlife to spot, including horses and bears, and historic structures where you can learn about Appalachian settlers.
While the park is free to visit, be sure to check road closure information. Certain areas of the park close for winter as early as November 1.
Written by Alanna from Periodic Adventures
For a bit of inspiration see below:
Shenandoah National Park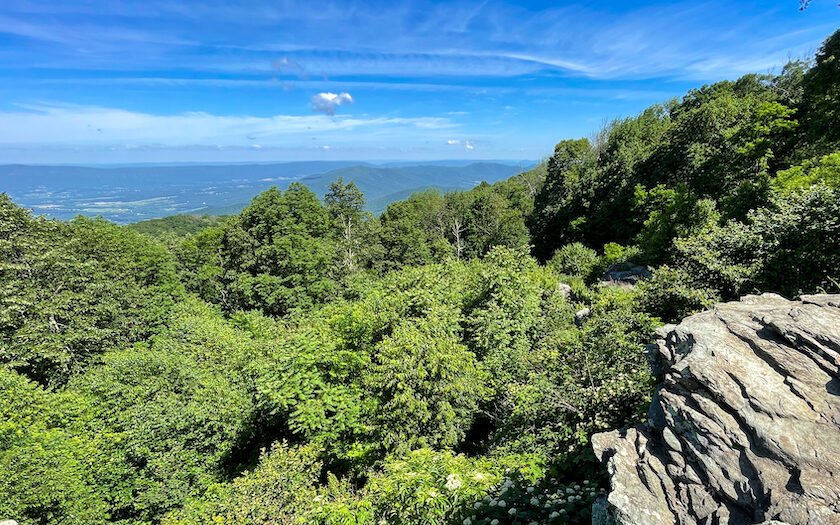 Located close to Washington, D.C., Shenandoah National Park is a popular spot for those who wish to travel through the area in the summer and fall.
You can reach Shenandoah National Park via Skyline Drive, which crosses through the park, allowing you to check out its beauty via the overlooks and nature walks. It is 105 miles and the perfect way to see the beauty the park has to offer in a short period of time. If you're traveling from D.C., you can travel via Interstate 66 in a straight shot.
For those who love hiking, Dark Hollow Falls is one of the most popular trails in the Shenandoah National Park. It is around 1.4 miles round-trip and will take up to 2 hours. In the end, you will be able to see a stunning waterfall. Another popular trail is Bearfence Mountain, which is even suitable for younger children. The trail is 1.1 miles round-trip and provides stunning 360-degree views at the top.
You can certainly visit Shenandoah any time of the year, but April to October is the most popular time, with April-May being known for the stunning trees in bloom and October being the perfect time to see the fall foliage. If you want to visit during the summer, be sure to expect crowds on the weekends and wear light hiking gear. Shenandoah in winter doesn't see as many visitors, but you can expect cold weather and frozen waterfalls.
The park is open 24 hours a day, 365 days a year, and the entrance fee is $30 per vehicle. You can also check out the lodges and campgrounds within the park if you wish to stay.
It's definitely possible to do the trip in one day and still see many spectacular sites. However, if you stay 3 days, you can see almost everything and hike the short trails.
Written by Megan Starr
It is possible to organize and plan a little in advance:
Dry Tortugas National Park
Easily one of the best national parks on the East Coast of the United States, Dry Tortugas National Park is an amazing place that covers a 100-square-mile area.
It also includes seven unique islands that are home to some of the best coral reefs in the world.
However, because the park sits 70 miles west of Key West, it is only accessible by boat. Therefore, you'll need to board the Yankee Freedom III ferry from Key West and take that to the park. In total, the trip will take around 2 hours and costs around $190 per adult. But, both breakfast and lunch and included with the cost of your ticket. So, you won't have to worry about bringing a ton of food to the park with you.
Also, because the park is so secluded and only receives around 60,000 visitors annually, you'll basically have the place to yourself. Therefore, you'll be able to enjoy local highlights like Fort Jefferson, a local defensive outpost that dates back to the 19th century.
You can also go for a swim while you're here at South Swim Beach since the waves are small and the water is extremely clear.
Afterward, try snorkeling near the Moat Wall and around the coaling docks ruins of Garden Key. If you're lucky you'll be able to spot local sea turtles while you're in the water.
And if you're into birding, try and time your visit for the spring migration. Here many birds routinely stop in the area while heading to either North or South America.
Written by Victoria of Florida Trippers
Virgin Islands National Park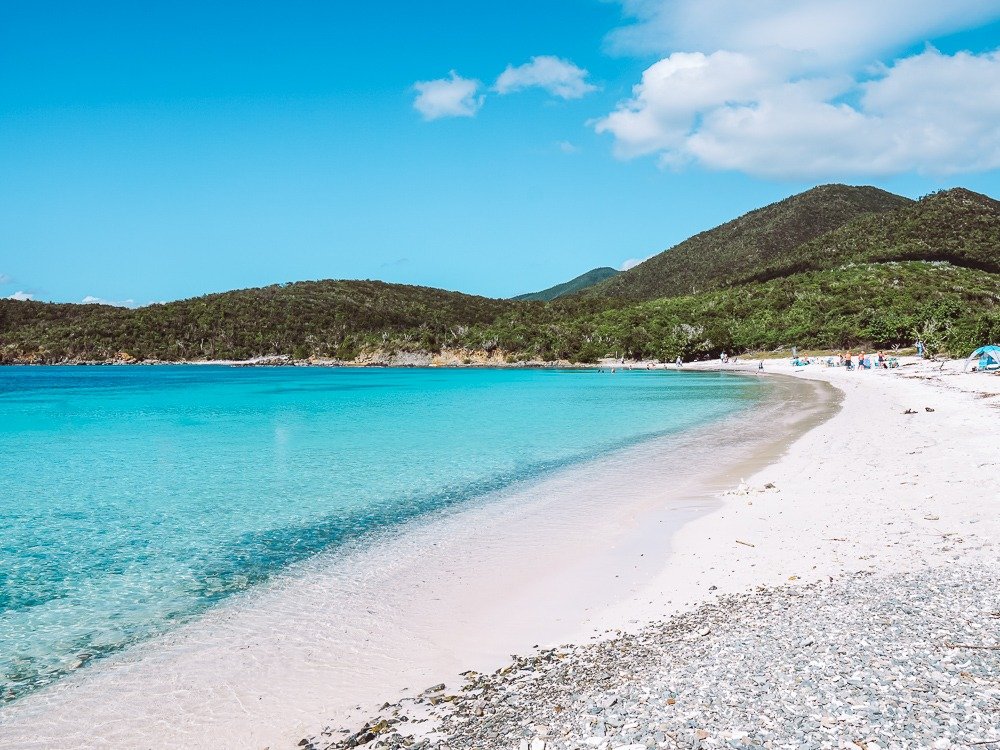 Virgin Islands National Park is one of the most unique and interesting US National Parks accessible from America's east coast. Located on St. John in the US Virgin Islands, this tropical national park boasts glittering Caribbean beaches, scenic hikes, and gorgeous snorkel spots. As the island is a US territory, American citizens do not need a passport for travel.
To reach Virgin Islands National Park, fly into Cyril E. King International Airport on St. Thomas in the US Virgin Islands. Cities like Miami, Charlotte, and Newark offer daily flights. From St. Thomas, take the ferry from either Charlotte Amalie or Red Hook to St. John's Cruz Bay.
The biggest reason to visit Virgin Islands National Park is to marvel at its stunning beaches along North Shore Road. This route is lined with one white sand beach after another, all with crystal clear, bright turquoise waters. Every beach offers something different for travelers. For instance, Maho offers sea turtles and waveless water, and Trunk Bay's lengthiness and Kool-Aid-colored sea.
You can easily combine beach time with scenic hikes for all abilities at Virgin Islands National Park. Those who don't mind a climb will be rewarded with gorgeous views from the tops of the American Hill (1.2 miles) and Peace Hill (0.2 miles) trails. The Ram Head Trail (2.3 miles) is another gorgeous hike on the dry south side of the island, which has a milder incline, small cactuses, and constant sea views along the trail.
It's best to spend one week exploring the Virgin Islands National Park to make the most of your visit. The island is gorgeous with temperatures hovering around 80 F year-round, although peak hurricane season from late August through early October brings storms. While taxis are available, renting a car is the easiest and most efficient way to get around.
Written by Theresa McKinney from Fueled By Wanderlust
Note that there are better times to visit the Caribbean than others. Depending on what you are looking for, you should plan around this in order to have your dream trip.
For great tours and activities have a look below:
A final note on the best national parks on the East Coast of North America
The East Coast of America is home to some of the most beautiful national parks in the world. Worth mentioning is also the New River Gorge National Park if you have the time or pass by West Virginia.
No matter your preferences. Whether it is national historic sites or incredible hiking trails, there is something for you in this vast part of the world. Always remember to take care of yourself and travel with good travel insurance everywhere you go.
As usual, feel free to comment with any additions or questions down below.
//Josephine
The article may include affiliate links, meaning that I may receive affiliate compensation at no cost to you if you decide to purchase. Read more in my
Affiliate Disclosure.
BEST TRAVEL RESOURCES
BOOK YOUR FLIGHT: Not sure how to get the best and cheapest flights? I always use Skyscanner for the best deals. The best tip is to be flexible with dates and destinations if you want the cheapest options.
Alternatively, for frequent travelers, get a membership with Wayaway and receive a cashback on cheap flights and hotels every time you book! Via the link, you even get a 10% discount on your membership.
BOOK GREAT ACCOMMODATION: Booking great accommodation is not difficult but it sucks paying too much. Use Booking.com for the greatest hotel deals and Hostelworld for amazing hostel stays. Alternatively, you can sign up for Worldpackers to get FREE accommodation in exchange for your work.
BEST TRAVEL INSURANCE: Traveling without insurance is a mistake that you don't want to make - trust me I've tried. I'd suggest SafetyWing as they offer great and flexible policies - especially if you are traveling for a long time or a digital nomad. World Nomads is another great insurance with extensive coverage.
NEED HELP WITH YOUR VISA? Figuring out how and when you need a visa can be a bit of a jungle. iVisa is a very handy and user-friendly service.
HAS YOUR EU FLIGHT BEEN DISRUPTED? Use AirHelp as a service to get flight compensation on your European flights in case your flight was delayed, canceled, or disrupted in other ways. More often than not you are actually entitled to compensation.