The best purse for traveling can be difficult to find. What to look for, what the price should be, brand, style, and so on, all come into play when choosing your perfect bag.
Over the many years I've traveled I've had many different bags that I've brought with me only when traveling. While it might not be something I would use back home, I realized that the perfect bag needs to meet some other criteria. It needs to be handy, fit all your stuff, last, and most, importantly, let you enjoy your time without having to worry about losing your things.
When I talk about traveling and picking a purse for this purpose, I'm referring to the more adventurous trips where you have specific needs. I'm not talking about stylish designer bags to bring on a weekend trip to Paris. Those trips are a little different. For exploring you want a purse that's different and doesn't necessarily stand out. For this reason, expensive and nice designer bags fit poorly. This is because these bags are exceptionally attractive to thieves and tend to break easily. In terms of the best vacation purse, I try to aim for something weatherproof, thief secure, stylish, and long-lasting and comes in a color I can pair with almost anything.
With experience, I've gotten pretty good at spotting what will be a great travel bag and what to look for. In this post, I will share my 11 best picks in terms of the best traveling purse for you to bring. A few different ones are depending on the style and size that you prefer. Hopefully, making it easier to pick one that you like and can be sure will serve you well for many trips to come.
The list is completed by including personal experiences, recommendations from people I know, and from studying the best reviews online.
I've included a quick overview of the category winners at the beginning of the post. More options, detail, and information are included further below.
| CATEGORY | WINNER | VISUAL | COLORS | FIND HERE |
| --- | --- | --- | --- | --- |
| Best Overall Travel Purse | Baggallini Everywhere Bag | | 15 different colors | |
| Best Mini Travel Purse | Travelon Anti Theft Classic Mini Shoulder Bag | | 5 different colors | |
| Best Unisex Travel Bag | Baggallini Avenue Tote Top Handle Bag | | 13 different colors | |
| Best Convertible Backpack | Pincnel Backpack Purse | | 8 different colors | |
| Best Travel Purse For Staying Organised | Lewis N. Clark Secure Anti-Theft Shoulder Bag | | Black only | |
| Best Belt Bag | Lululemon Everywhere Belt Bag | | Many different depending on style | |
PIN THIS POST FOR LATER: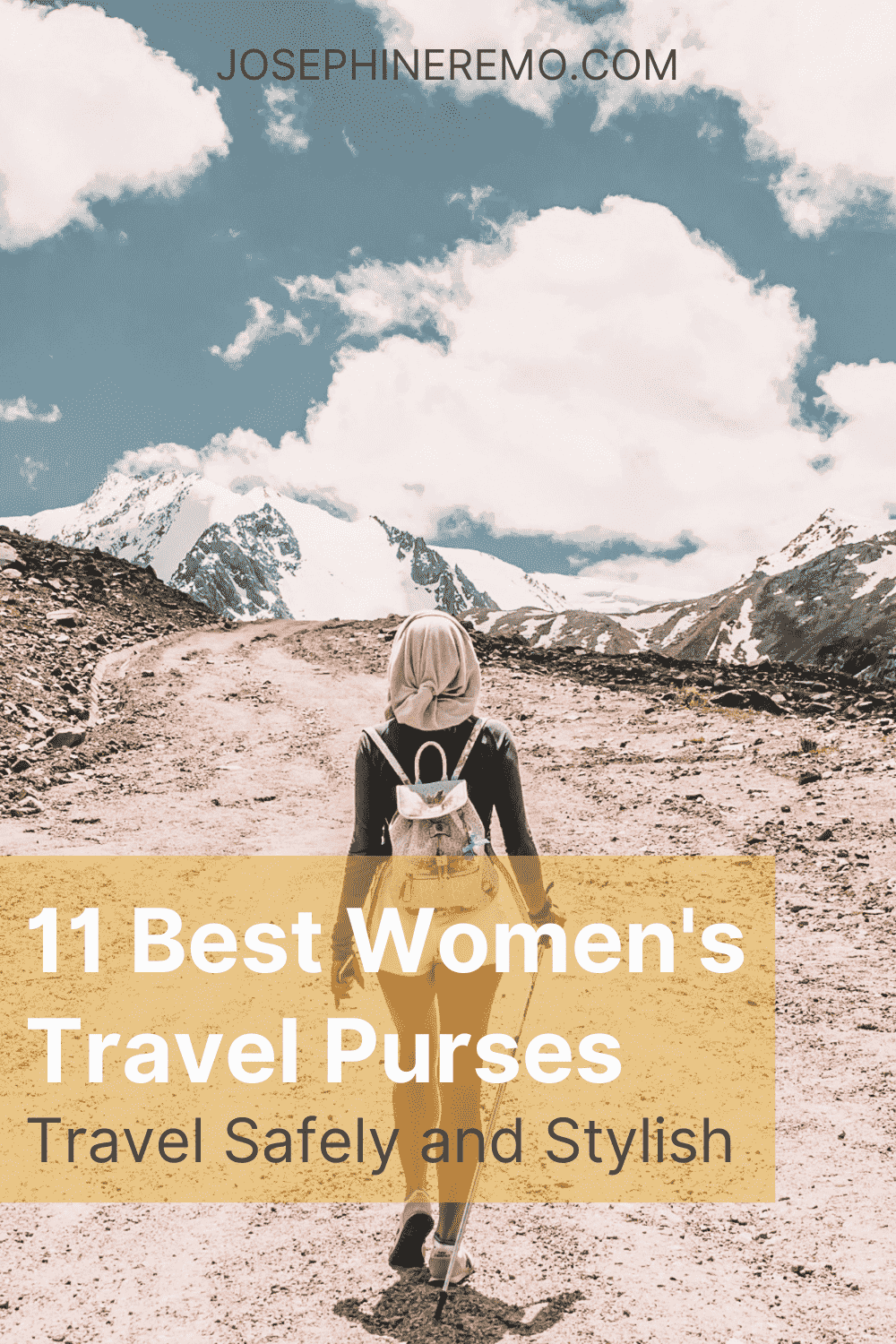 Which is the best purse for traveling?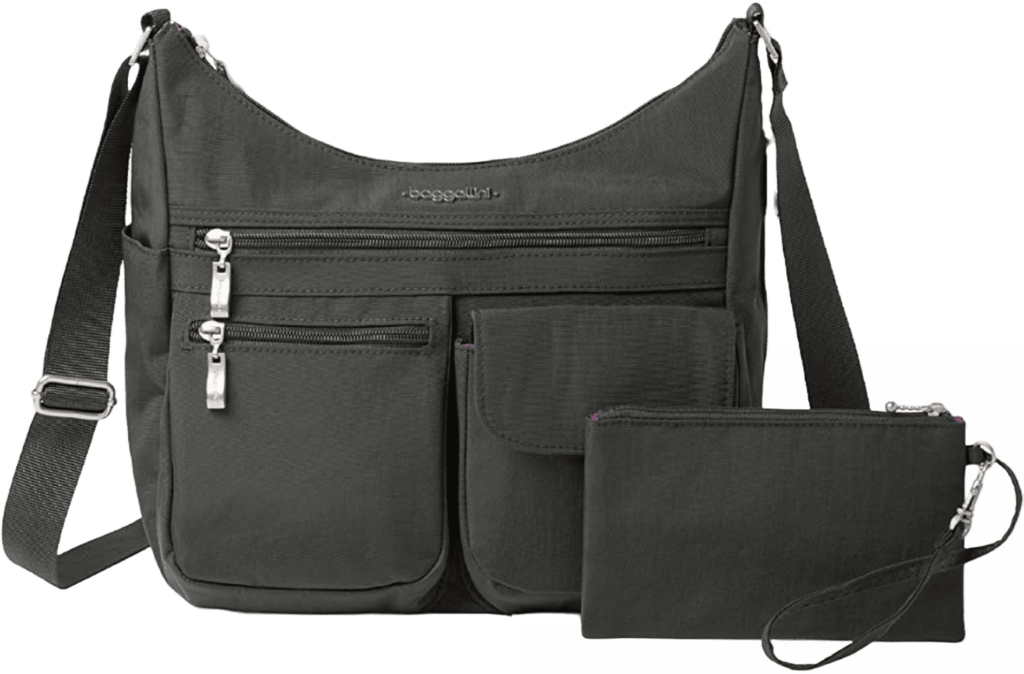 Dimensions: 36 x 9.5 x 12 inches
The Baggallini Everywhere Bag is the best overall purse for traveling on this list and a popular choice amongst many travelers. This bag is lightweight, stylish, and practical, and comes in 15 colors. On top, it's an anti theft travel purse that works as a crossbody bag. This allows you to have your hands free. The water-resistant material makes it great for protecting your electronics from changing weather.
With the zip closure up the top and crossbody style, it's a great choice in terms of safety. In addition, the RFID blocking feature keeps your cards and information safe while you walk around with your purse.
Another great aspect of this bag is its many pockets for easily organizing your things and finding what you need. The main compartment is large enough to hold something like a raincoat or light sweater, an iPad, and many other things. There is even a side pocket to fit a water bottle or an umbrella so it's wont to be bulky and bothersome to carry. Lastly, the bag fits onto a luggage handle with its sleeve in the back.
The Baggalline Everywhere purse is a bit wider with its 12 inches instead of the more common 9. This makes a perfect and stylish travel purse that is both spacious and handy.
Dimensions: 10 x 10 inches
Travelon is known as one of the best brands in terms of travel handbags. This is because they make quality handbags for traveling with a big focus on the traveler who is going to use them. Therefore, the Travelon Anti-Theft Classic Essential Messenger Bag is one of the best choices you can make when picking your travel purse.
This purse can be categorized as an anti-theft crossbody purse because of its slash-proof adjustable strap, lock feature, and RFID card and passport slots. The slash-proof strap is a classic feature with the Travelon purses. This is especially handy when you are walking around in crowded places where thieves can cut the straps of bags and run off. In addition, the strap has a safety clip so you can wrap your bag around a table or your chair. Again, this is a great aspect that allows you to stay relaxed while enjoying something sitting at a cafe, bar, or restaurant. On top, the RFID blocker protects your electronic cards and personal data. Lastly, the outside pockets have locking zippers which keep you safe from pickpockets. Making it a great purse for traveling on the market.
The design is stylish and simple, making it usable and pairable with most things. In addition, that purse holds a lot of pockets in useful places, which also allowed it to contain a lot without looking bulky. The strap is wide and comfortable to wear even when the bag is full. Unfortunately, the bag only comes in black.
The Theft Classic Messenger bag is divided into great pockets. The inner main pocket is spacious with extra pockets for organizing. The pocket in the back has slots for credit cards and travel documents like your passport. The two side pockets are great for carrying a water bottle, small umbrella, or anything you might want to be separated.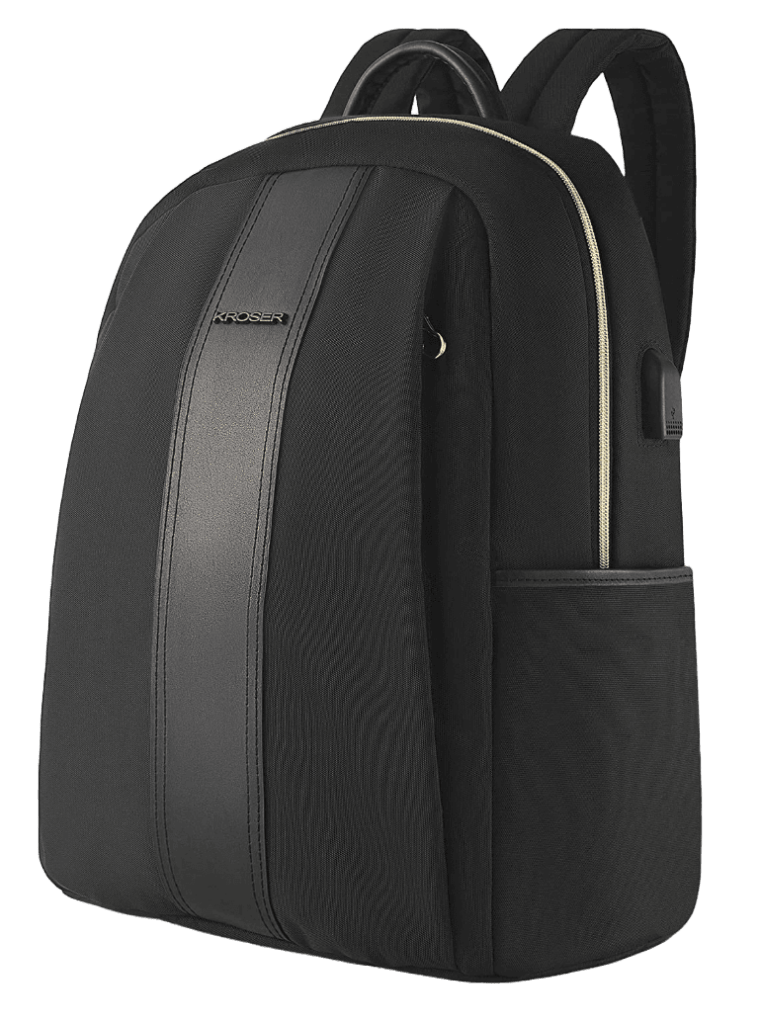 Dimensions: 16.2 x 13.9 x 7.1 inches
This Kroser Laptop Backpack is for anyone looking for a durable, high-quality, travel backpack that is also good for carrying your travel laptop around. On top, the price is fair and the design nice and simple. Making it one of the best and long-lasting choices in terms of a travel purse.
The bag has spacious compartments, and high-quality zippers, and is made of water-resistant material. The pockets provide a separate space for your stuff. Keeping things like your laptop, kindle, iPad, keys, clothes, and so on, separate and safe to carry around. You have smaller zippered pockets in the front for smaller items as well as side pockets for an umbrella or water bottle.
Overall the Kroser Laptop Backpack is a practical yet stylish purse that is both lightweight, durable, and safe to travel with. All aspects make it one of the best travel handbags to choose for any trip.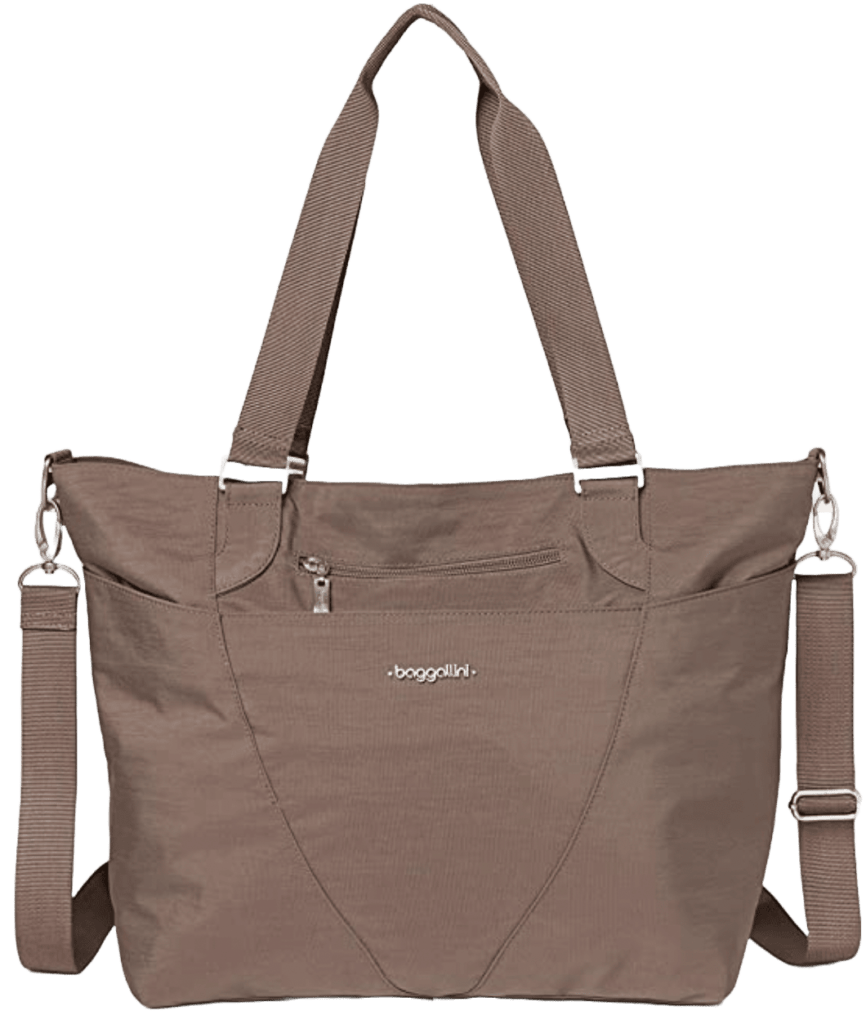 Dimension 12 x 18 x 5.5 inches
Here is another great and popular option from Baggallini. The Baggallini Avenue Tote Top Handle Bag wins the award as the best unisex travel bag because of its functionality, style, and overall great performance.
This travel bag is a bit larger than some of the others on the list and will fit all your stuff inside, even a laptop. The pockets are divided into useful sections so you won't have any trouble finding your wallet, keys, passport, phone, etc. You even have outside space for an umbrella or water bottle, and a front pocket for easy access.
The style is simple and matches pretty much anything, and comes in a variety of colors for you to choose from.
The material is water-resistant to keep your stuff safe and for easy maintenance. On top, you have a zip-locking system to make it difficult for pickpockets and a secret pocket in the back for your valuables. The long strap is great for carrying the bag crossbody for comfort and safety, and the detectable feature is perfect for securing it around a cafe table or chair. Lastly, the bag slides onto a suitcase handle so you can have your hands free.
Dimension 8.5 x 8.5 x 2 inches
Here is another anti theft travel bag from Travelon that deserves a spot on the list and even the price as the best mini purse for traveling. If you want an anti-theft purse that is stylish and stays so for a while, then the Travelon Anti Theft Classic Mini Shoulder Bag is for you. It even comes in several different colors so you can pick whatever suits you best.
Just like the Travelon shoulder bag above, this shoulder bag includes a slash-proof construction as well as a slash-proof adjustable shoulder strap. Here you also can attach your bag safely to a table or chair with its safety clip. Likewise, it also features the same RFID blocking system in its electronic card and passport slots. Lastly, the zipper to the main compartment also has the same locking feature as above.
As the mini in the name might indicate, this is a small travel purse with only 10 ounces. However, this little purse stills contains a lot without getting uncomfortable to carry around. Even though the purse is not large, it's still spacious and can fit things like a kindle, a small iPad, keys, passports, sunglasses, and all other essentials you might need. Lastly, the bright interior makes it easier to find your stuff inside the bag. Again, Travelon is good at thinking about what the user might need – thank you!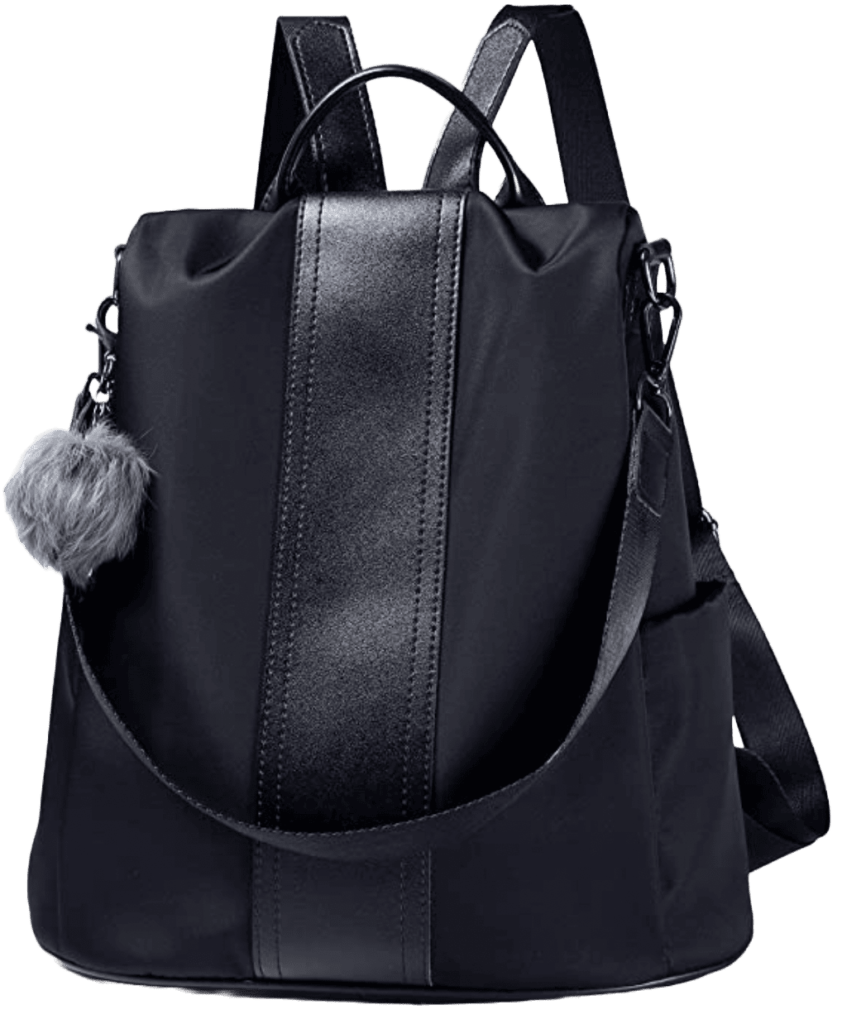 Dimensions: 12.99 x 5.90 x 13.28 inches
This two-in-one convertible bag from Pincnel wins the price as the best within its category. The Pincnel Backpack Purse is an anti-theft bag with multiple ways to use it. With its convertible feature, it can be used as a backpack, shoulder bag, or crossbody bag. This makes it exceptionally useful and, therefore, puts it on the list as one of the greatest purses for traveling.
The bag stays comfortable no matter which way you choose to use it and even when it's full. This makes it easy to use the bag for longer and for any occasion. The nylon material is both durable and waterproof and the leather material also makes it a sturdy choice. Lastly, the bag includes a hidden anti theft pocket in the bag that protects your most valuable items.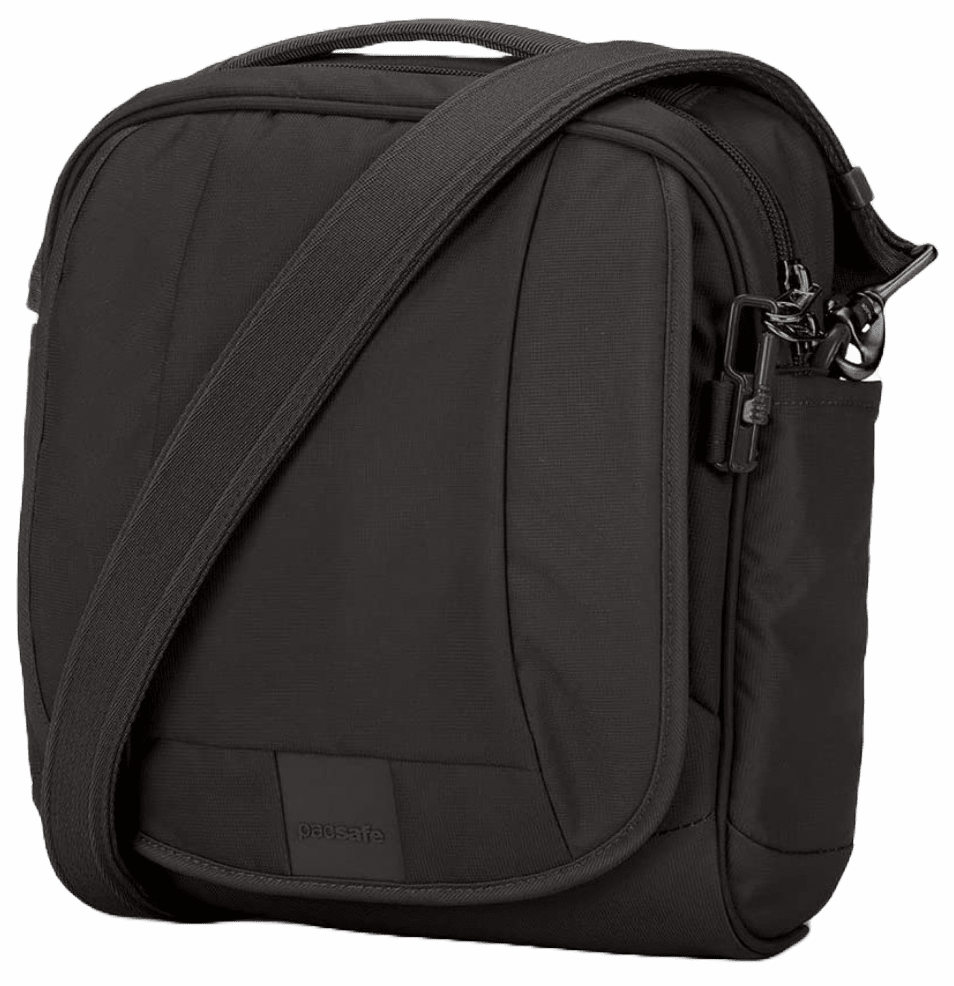 Dimensions: 23.5 x 7 x 29 cm
Pacsafe is another brand with a great reputation in terms of creating great travel bags. The Pacsafe 7 Liter Crossbody Bag is another purse that is a great choice.
The purse is spacious with two lockable zipper compartments, a pocket protected with an RFID blocker, and a suspended padded pocket for a tablet or kindle. The reason it's suspended is in case you drop your bag. This was the electronic device that still shouldn't get damaged. Another very smart and thoughtful feature of the purse. Lastly, you also have two extra side pockets for either a water bottle or an umbrella. Even though the bag is not exceptionally big, it's still extremely spacious and will hold anything you might need for your trip.
The straps are comfortable so you can walk around for a long without discomfort. On top, the Pacsafe 7 Liter Crossbody Bag is also convertible. This means that you can pull the straps through the handle on the top and create shoulder straps to be used like a backpack. An extremely handy feature if you have a full bag and a day full of walking in front of you.
Dimensions: 8.5 x 8.5 x 1.5 inches
The Lewis N. Clark Secure Anti-Theft Shoulder Bag is the best travel bag for anyone who wishes to stay exceptionally organized. If you are the type of person who dislikes throwing everything into one big compartment, then this bag is for you. With its many handy compartments, it has never been easier to keep your items organized and find what you need.
The bag includes five credit card slots, a padded soft side pocket for your phone, and front pockets for things you wish to separate like keys or make-up.
The bag is so smartly designed that even though it holds everything you might need, it still looks slim and stylish to carry around when full. On top, its adjustable strap makes it possible to use a shoulder bag or as a crossbody for more safety and comfort.
In terms of safety, the bag is a great choice with its adjustable strap, locking zippers, and safety clip for attaching to a chair or table, and it also includes an RFID blocker to keep your electronic cards and information safe.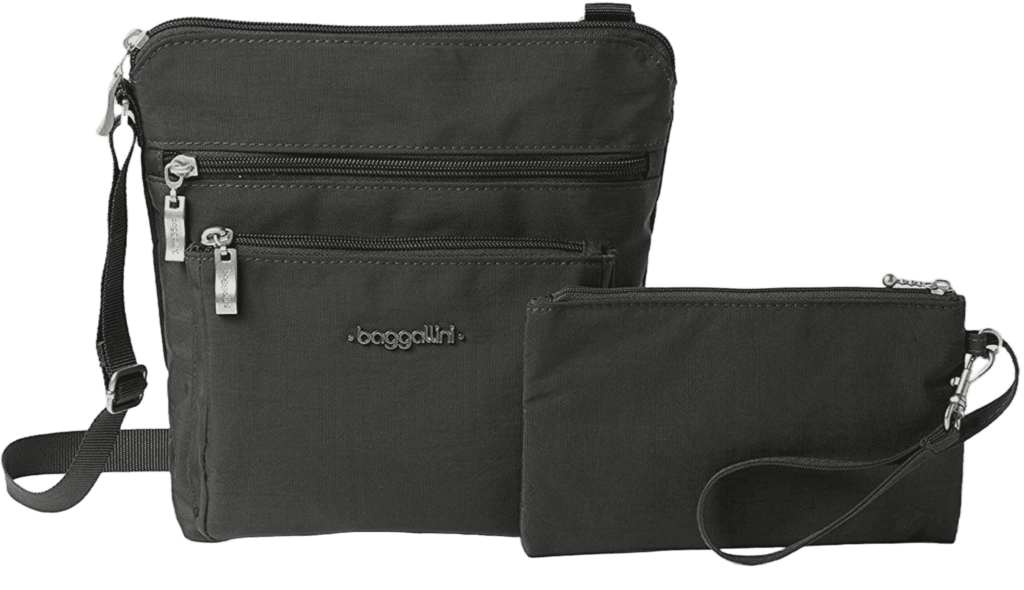 Dimensions: 8.5 x 8.5 inches
In terms of finding a smaller bag, this is another great choice. The Baggallini Pocket Crossbody Bag is for the traveler who travels light and smart. It will fit something like a kindle but is too small for a tablet or jacket.
However, the Baggalline Pocket Crossbody Bag is a great choice with its zippered interior pocket, credit card slots for keeping your items organized, and three exterior pockets for extra storage space. On top, the purse includes a removable RFID wallet that allows you to carry or move your cards if you wish.
In addition, the purse is lightweight and stylish, making it a great choice for anyone looking for something small and handy. It even comes in five different colors depending on what you like.
The strap is adjustable so you can wear it as a shoulder or crossbody bag, or whichever way you find most comfortable. The strap is not the sturdiest which makes it uncomfortable if you carry something heavy. On top, this also means you need to pay extra attention in certain situations.
Dimensions: 10.5 x 8 x 2.5 inches
Even though the name indicates otherwise, this is one of the larger travel purses on the list. With 10.5 inches wide and almost the same in height, there is plenty of space for anything you might need. Even a kindle, tablet, book, or light jacket will fit inside.
The Travelon Anti-Theft-Class Small East/West Crossbody Bag comes with all the great safety features of the Travelon brand. The inside pockets are all covered with RFID-blocking material securing your electronic cards and personal information. The bag includes locking compartments and has a slash-resistant construction and strap. The strap is also adjustable for comfort and has a safety clipping feature to make sure no one runs off while hanging off a chair.
The bag has great compartments including the top zipped compartment, the zippered front pocket, and a zip compartment in the back. On the inside, you have slots for your credit cards and a space for your phone. All in all, creating a spacious bag that makes it easy to keep your things organized. If you are looking for one of the best or a great crossbody bag, then this could be your choice.
Dimensions: 7.5 x 2 x 5 inches
We can't talk about travel purses without also talking about belt bags or fanny packs as they are also commonly called. Here, the best in the category is the Everywhere Belt Bag by Lululemon. This belt back comes in many different colors and with a classic design.
The material is durable, easy to clean, and water-resistant. The main big pocket is zippered for safety and you have interior pockets to organize your stuff. In addition, there is a zip pocket on the back of the belt bag to keep your most valuable things.
A belt bag is not the biggest purse you can use for traveling but it is one of the best. The adjustable strap gives it multiple ways of usage and you get to decide what is most comfortable for you. In addition, the one from Lululemon comes with a detachable strap so you can wrap it around something for safety. Finally, a belt bag is easy to keep very close to your body or even hide underneath your clothes.
Dimensions: 9 x 10.5 x 1 inch
Another great choice from the trustworthy Travelon brand for anyone looking for a stylish travel purse with a slim and sporty look. Again you have all the best safety features of Travelon. These include the slash-resistant material, locking zip system, adjustable and detachable crossbody strap, and RFID-blocking pockets for your credit cards and passport. On top, the bag is water-resistant and comes in six different colors.
The Travelon Anti-Theft Classic Slim Ddl Zip Crossbody Bag has two pockets in the front to keep anything separate or easily accessible. The main compartment inside is spacious and you have an interior credit card and passport slots, as well as a space to keep your phone. The Bag holds its slim shape at all times and fits a tablet, kindle, book, and so on.
What to look for in a purse for traveling
Safety
Safety is, unfortunately, a big concern when traveling and carrying your valuables around. Thieves and pickpockets are trained in identifying vulnerable tourists and snatching their things in split seconds. You are especially exposed if you walk around flashing a lot of expensive things, look lost, or even just distracted. The most common places to lose your things are in crowded main areas where a lot is going on. These can be squares, crowded buses or metros, famous attractions, busy cafes, or restaurants. Losing your things is never fun and I always advise anyone to travel with good travel insurance.
Thankfully, a good travel purse can help you a long way and should include the following features:
RFID blocking
RFID stands for radio frequency identification and this is exactly what your bag should block. Basically, it is a data scanning method used by thieves. Here they electronically gather your data from your passport or credit cards. Nowadays, it is even possible to scan from inside a pocket and through the material of a normal purse. This way you won't even have the chance to realize that your information has been collected. The RFID blocking card function in a purse is done by using a material surrounding the credit card and passport slots that blocks the signal. Even if you travel with a normal purse it is possible to get a wallet or a credit card holder that includes this feature.
Zip Locking Mechanism
Having an extra step to opening your bag can make the whole difference for a thief. They won't have time to fiddle with your bag while you carry it around and, therefore, this can save your valuables from being lost. These locking features can be a little tiresome to use especially if you go in and out of your bag a lot. I'd advise anyone to use them if they carry extra money or their passport around. Alternatively, it's always better to keep things like that safe where you are staying.
Slash Resistant Construction
The absolute easiest and most common tactic amongst thieves often includes cutting the purse. This is either done by cutting a hole in it and easily accessing the valuables inside, or cutting a fragile strap to then run off with the whole bag. For this, most travel purses are made in a material that is difficult to cut open. Here a brand like Travelon is known for adding stainless steel into the material to make it harder for anyone to slash your purse.
Convenience
The best option is something that is convenient to use. This means that it is comfortable, durable, weatherproof, and easy to clean and you can find everything you need. This applies to any trip whether you are looking for the best travel purse for Europe or any other location.
Depending on how organized you are, a few useful pockets can make your life a lot easier on the road. While you might not need a pocket for a water bottle back home, it could be great to have while walking for eight hours in a hot city.
Though you might want something small, stylish, and cute, this type of purse isn't necessarily your best choice for a travel purse. Here size, storage, and functionality come before appearance. Boring, I know, but I guarantee that you will not use your purse for very long if it is not practical. Think about what you wish to carry around with you and what different scenarios you want to bring your purse with you. Walking for a few hours in a city is much different than walking a few hours to attractions in a jungle. Depending on what you like to bring and the trips you like to do, you might need a different type of purse.
Comfort
Comfort is not usually of much concern when buying a purse for private use back home, but when it comes to picking a travel purse, it becomes essential.
When you travel you tend to walk much further and more than you would back home or even notice. Sightseeing in a European city is exciting and it's best done on foot. The last thing you need is to be in discomfort for days because your purse is bothering you. Thin straps tend to dig into your shoulder even when your bag contains only a few things. Here it can truly make a difference to think about comfort in your choice of travel purse.
Likewise, if you are looking for a cute backpack travel purse then try to go with something that you like and won't give you a backache.
My advice is to choose a travel purse with a thick and padded strap. On top, try to choose something that doesn't bulk too far out from your body. Not only does this divide the weight strangely but it also ends up bothering your arm. If unsure, give your purse a test at home while walking far or running errands. You can even try putting something heavy like a filled water bottle inside.
Style
Style is always something to consider for your next travel purse. You should pick something that you like and feel comfortable walking around with. It sucks to have a purse in all your pictures that you hate so it's worth caring about.
Choose something that you can pair with many things and have a color that you won't get sick of.
Lastly, try to choose a style that you imagine being "in fashion" for at least a few of your trips.
Best purse types for traveling
Crossbody Travel Purse
Crossbody travel bags are the best option in terms of travel purses. The reason for this is that they are usually the most convenient, most comfortable, and safest to walk around with. 
Crossbody purses usually come with either a zip in the top or, at least, a foldover flap. This makes it more difficult for thieves to access and steal your stuff. On top, you are carrying your bag around your body and not just hanging off your shoulder. This also makes it more complicated to snatch your bag off you. Of course, the strap can still be cut, but it is still safer to have your valuables as close to your body as possible.
This type of back is more comfortable to walk around with as your arms can relax as the bag hangs off your body without effort. On top, when traveling you want to have your hands free to do other stuff as much as possible. This way you can take photos, look at things, drink water, climb, look at a map, and so on with both of your hands.
Convertible Backpack Purse
This type of bag is great because you can use it in multiple ways. Usually, this type of bag will allow you to wear it as a shoulder bag, backpack, and crossbody bag.
These features are great if you do traveling that include a lot of different activities. Imagine going for a day hike and using your bag as a backpack during the day and then taking it out for dinner as a shoulder bag later. When traveling it is great having things with multiple purposes as this allows you to pack fewer things overall.
Make sure to get a convertible backpack purse that is lightweight, and has comfortable straps and zips to keep your stuff safe when you use it as a backpack.
Shoulder Bag
Shoulder bags are probably the least desirable in terms of travel purses. And that is said only with a focus on convenience and safety. A shoulder bag usually has a longer or shorter strap with the intention of hanging off one shoulder. This can also be something like a tote bag. This is particularly unhandy if you wish to carry a lot of stuff since this tends to hurt the shoulder. Lastly, this is also the easiest set-up for a thief to snatch your bag off one shoulder and charge off.
Belt Bag
A belt pack, or fanny pack, is a very popular choice amongst many travelers, and for good reason. You can strap these bags around your waist and wear them as a belt. Hence the name. However, with the adjustable strap, you can also wear it as a shoulder bag or even a crossbody.
Fanny packs are great because they are usually small, lightweight, and easy to carry around. While they won't fit something like a laptop, they can contain all your most important valuables and essentials.
Finally, a belt bag is good for safety because they come with a zipper and you wear them very close to your body. You can even hide your bag easily under your clothes if you are in a particularly exposed situation.
Messenger Bag
A messenger bag is commonly a larger type of traveling purse that is made for containing a few more things. Usually, you wear these bags crossbody because of the weight and they come with thicker straps. A messenger bag comes with a flap over which is great for protection against pickpockets. On top, this flap usually contains more pockets which are great for organizing items.
Best brands of purses for traveling
Travel purses come in many shapes and sizes and not one is perfect for everyone. While it is tempting to buy something cute at your destination in a colorful store, there is a difference in the quality and safety you get with your purchase.
Some brands are specialized in travel purses and are trusted within the industry for good reason. Therefore, I'd advise anyone to go with some of the experts in the field instead of falling into temptation.
While there are many great bags out there and it might be possible to seek them out yourself, I like going with brands that I know have a good reputation. This way I'm sure that I get value for my money and don't get ripped off. Also, I'm quite sure that I get a product that will last me a long time and perform well.
Some of the best brands are Samsonite, Dagne Dover, Baggalline, Travelon, Kenneth Cole, Lewis N. Clarke, and Pacsafe.
You can purchase them at many large online stores and also at most airports.
Best travel tips for keeping your purse safe when traveling
Keep an eye on your belongings at all times
You have heard it hundreds of times at places like airports, but "keep an eye on your belongings" is the number one rule when traveling. Thieves are experts in spotting easy targets and opportunities and the accident happens in a split second. Never leave your stuff out of sight and always ask someone to keep an eye on your stuff if you absolutely have to leave it.
Cover your bag with a hand
When walking around in crowded places make a practice out of always having a hand on your bag. This will keep most pickpockets away from your stuff.
This especially applies if someone approaches you. It might seem like a nice salesperson or local, but, unfortunately, many scams start like this. While one person distracts you another is quickly snatching your things or cutting your purse. It's a shame that you have to end up being suspicious and extra cautious, but better safe than sorry.
Walk with your belongings on your front
Many travelers lose their belongings while they are hanging off their bags. This can be a backpack, crossbody back, or camera. If you are in a crowded place or you feel exposed, then move your stuff to the front of you where you can see it and be alert.
Be careful when you are out
This includes being at a restaurant, bar, or café. People tend to be deep in their meals, conversation, or in people-watching while sitting down for something. This is a time to relax and enjoy, right? It should be but, unfortunately, this is another set-up that leaves you exposed and thieves know it.
Don't ever hang your bag off the bag of your chair or off the table loosely. Neither is it a good idea to leave your stuff on the floor. I'd recommend you keep your purse in your lap or touch you at all times somehow. Lastly, never leave valuables freely on the table. Things like a phone, expensive sunglasses, a wallet, or a small camera can very easily disappear under the brochure someone is showing you.
Final notes on the best purse for traveling
Traveling is my absolute favorite activity and I want it to be as enjoyable for everyone as possible. Having a great travel purse can save you a lot of hassle, discomfort, or frustration if you get your things stolen. Even if you are traveling as a backpacker, taking a small vacation in Europe, working full time as a digital nomad, making money on the road, or whatever you are doing, having a great purse for traveling can be a great investment. Accidents happen everywhere. Whether traveling around what seems to be the safest countries in South America or on a short weekend getaway, it's always best to be on the safe side.
On this list, I added what I consider to be some options in terms of the best travel handbags based on functionality, price, comfort, and safety.
As usual, feel free to comment if you have any additional points or questions!
//Josephine
The article may include affiliate links, meaning that I may receive affiliate compensation at no cost to you if you decide to purchase. Read more in my
Affiliate Disclosure.
BEST TRAVEL RESOURCES
BOOK YOUR FLIGHT: Not sure how to get the best and cheapest flights? I always use Skyscanner for the best deals. The best tip is to be flexible with dates and destinations if you want the cheapest options.
Alternatively, for frequent travelers, get a membership with Wayaway and receive a cashback on cheap flights and hotels every time you book! Via the link, you even get a 10% discount on your membership.
BOOK GREAT ACCOMMODATION: Booking great accommodation is not difficult but it sucks paying too much. Use Booking.com for the greatest hotel deals and Hostelworld for amazing hostel stays. Alternatively, you can sign up for Worldpackers to get FREE accommodation in exchange for your work.
BEST TRAVEL INSURANCE: Traveling without insurance is a mistake that you don't want to make - trust me I've tried. I'd suggest SafetyWing as they offer great and flexible policies - especially if you are traveling for a long time or a digital nomad. World Nomads is another great insurance with extensive coverage.
NEED HELP WITH YOUR VISA? Figuring out how and when you need a visa can be a bit of a jungle. iVisa is a very handy and user-friendly service.
HAS YOUR EU FLIGHT BEEN DISRUPTED? Use AirHelp as a service to get flight compensation on your European flights in case your flight was delayed, canceled, or disrupted in other ways. More often than not you are actually entitled to compensation.