Ah, travel. For some of us, it's that much-needed escape from the 9-to-5 grind. For others, it's about chasing the thrill of a new destination. But regardless of the reason, there's one thing all travelers can agree on: the sheer joy of finding that perfect travel companion – and no, I'm not talking about that chatty seatmate on your flight. I'm referring to the unsung heroes of our voyages: the best travel crossbody bags.
You see, over the years, the crossbody bag has emerged not just as a fashion statement, but as a trusted sidekick for wanderers everywhere.
Why? Well, it's not just about its chic appeal. It's about its unrelenting practicality.
Picture this: You're navigating the crowded streets of Bangkok, a snack in one hand, a map in the other, and your essentials safely tucked away, just a zip away. That's the magic of a crossbody bag. So, let's dive into what makes these crossbody bags the go-to for travel and weekend trips alike.
The Top Picks
| CATEGORY | WINNER | IMAGE | FIND HERE |
| --- | --- | --- | --- |
| Best Overall | Pacsafe: Citysafe CX Anti-Theft Convertible Crossbody | | |
| Most Stylish | JW PEI: Mini Flap Crossbody | | |
| Best Leather | The Sak: Alameda Crossbody in Leather | | |
| Best Vegan | Telena: The Women Vegan Leather Crossbody Purse | | |
| Best Belt | AslabCrew: 2-Way Zipper Unisex Belt Bag | | |
| Most Practical | TUMI: Persia Crossbody | | |
| Safest Option | Travelon: Women's Anti-Theft-Class Small East/West Crossbody Bag | | |
| Budget Winner | THE NORTH FACE: Jester Crossbody Bag | | |
What are The Best Crossbody Bags for Travel?
Ever heard the saying, "It's not about the destination, but the journey?" Corny, I know. But when it comes to selecting the ideal crossbody bag for travel, it rings true.
Now, think of it this way: if you were going on a date, wouldn't you want someone who's both interesting and reliable? Similarly, your crossbody bag should not just be a pretty face.
It should hold its own when you're racing to catch that connecting flight or when you're caught in a surprise downpour in Paris.
It's the little things that count, and when choosing the right crossbody bag for travel, you're setting the tone for your entire trip. From security features to the strap's comfort, from its size to its style quotient, every detail matters.
So, how do you ensure you pick the right one? These are my 13 top picks for the best crossbody bags for any trip and budget you might have.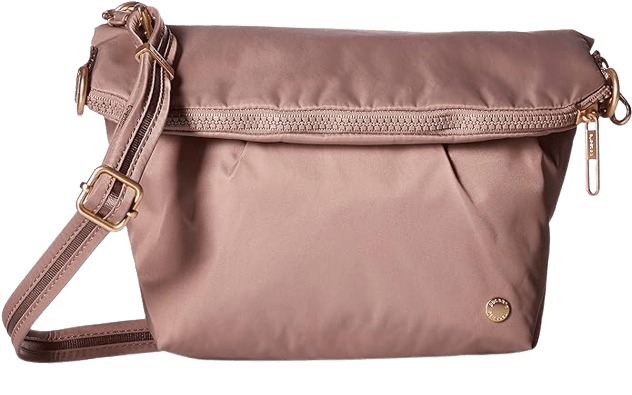 When it comes to combining style with security, Pacsafe's Citysafe CX Anti-Theft Convertible Crossbody stands out. Traveling can sometimes bring along the anxiety of keeping your belongings safe, but with this bag, you can lay those worries to rest.
Constructed with water-repellent materials, this is one of those travel crossbody bags that are ideal for unpredictable weather and also champions security with its suite of anti-theft features. The slashguard strap and exterior, coupled with RFID safety pockets, make it a formidable barrier against potential thefts. The added material that blocks out card or chip readers is a testament to Pacsafe's dedication to your security.
What sets this bag apart is its adaptability. On days when you're packing light or have those few extra items, the expandable design ensures you have just the right amount of space. And if you're transitioning from day to evening, the bag effortlessly converts into a chic handbag, ensuring you're always in style. With the choice of three elegant colors, it promises to complement any outfit.
A few might find the shoulder strap a tad narrow, but its security features more than makeup for it. The main zip pullers, which can be attached to hooks, the material resistant to cutting, and the option to lock the bag to fixtures, give travelers added peace of mind.
Measuring 11.0″H x 10.2″ W x 3.2″D and weighing a mere 0.65 lbs, this bag offers the perfect blend of space and comfort. Plus, the 5-year Pacsafe warranty is a testament to its durability.
Priced at $90, the Pacsafe Citysafe CX Anti-Theft Convertible Crossbody isn't just a bag – it's a promise of security, style, and versatility. Perfect for the modern traveler, it's an investment in peace of mind and elegance.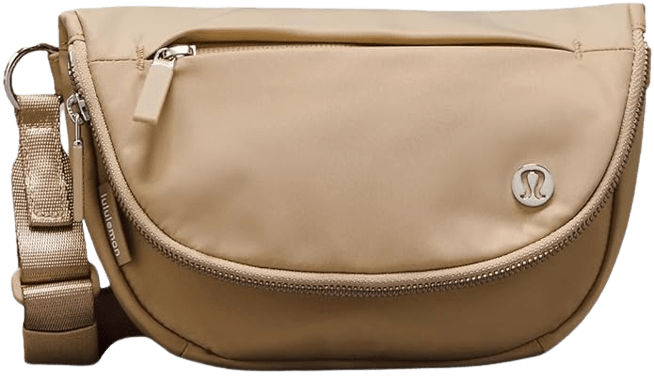 Lululemon has always been a brand synonymous with comfort and style, but with the All-night Festival Bag, they've taken it up a notch.
Its spaciousness is something to marvel at, ensuring all essentials find their rightful place. Thanks to the adjustable shoulder strap, the weight distribution is on point, making it a breeze to carry around, even on those particularly long days.
The numerous interior and exterior pockets, combined with zipper and magnetic closures, guarantee that everything stays where it's supposed to. No more mini heart attacks wondering if you've misplaced your keys or cards.
What caught my attention was the bag's broad opening in the main compartment. This thoughtful design ensures you can easily spot and retrieve your belongings without the usual rummaging.
Now, let's discuss the fabric. The water-repellent nylon is a game-changer. Whether you're poolside or caught in an unexpected drizzle during your explorations, this bag stands resilient.
But it's not all about function. The elegance and style it exudes are commendable. Pair it with jeans, a dress, or even activewear; it complements every look, ready to elevate any outfit.
Priced at $78, this bag presents a blend of fashion-forward thinking with practicality.
Key Details: Coming in at 7.9 x 3.9 x 8.3 inches and crafted from a blend of nylon and polyester, the All-night Festival Bag is every traveler's dream realized.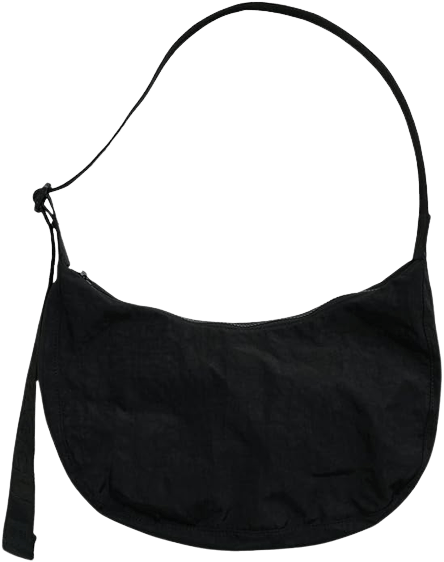 Enter Baggu with its Medium Nylon Crescent Bag. At first glance, it might seem like any other bag, but let me assure you, it's so much more.
What stands out about this bag is its unparalleled versatility. It effortlessly transitions from being your weekend getaway partner to your trusted sidekick during city errands or amusement park escapades. Its design, though seemingly simple, is well-thought-out for varied contexts, making it one of the top picks.
One of the shining features of this bag is comfort. That wide strap ensures your shoulder won't bear the brunt of your adventures. With its adjustable nature, you can tailor it to sit just right, however you prefer.
Dive inside, and the spaciousness might surprise you. Interior pockets ensure your essentials are always within reach, saving you from the deep dive many of us are familiar with when searching for keys or lip balm.
As for durability, looks can be deceiving. While it feels soft to the touch, nylon bags are resilient and ready for whatever the day throws at you. And the cherry on top? It's machine-washable.
With a palette ranging from bold hot pink to a whimsical cloud print, it caters to a spectrum of personalities.
Priced at $52, it offers tremendous value, marrying form and function seamlessly.
Details to Note: Measuring 8 x 13.75 x 4 inches and crafted from sleek nylon, it's evident that this bag was designed with the traveler in mind.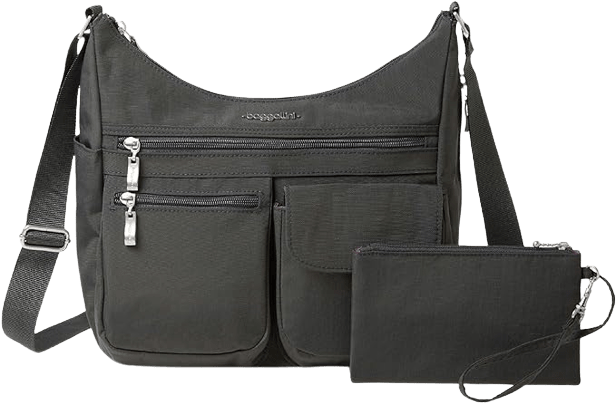 Have you ever found yourself wishing for a bag that has room for almost everything? The Baggallini Everywhere Bag seems to have heard those wishes. While it generously offers space reminiscent of Mary Poppins' magical bag, it maintains its identity as a crossbody, striking a perfect balance between capacity and convenience.
The bag's architecture is impressive. Pockets? It's got them everywhere! Whether you're looking externally or diving inside, there's a dedicated space waiting for each of your belongings. From a small laptop to a tablet, the main compartment is ready to accommodate. And for those tiny essentials that have a knack for getting lost, there's a space for them too.
Every traveler values safety, and this bag offers it in heaps. The adjustable strap ensures the bag sits right where you want it, while the water-resistant fabric has got your back against unexpected spills or rain. Furthermore, the top zipper ensures everything stays right where it's meant to be.
But what truly sets it apart is the removable RFID wristlet. On days when you wish to travel light or need that extra layer of security for important documents, this wristlet is a blessing in disguise.
Now, it comes in a spectrum of colors and prints. From the rich hues of dark cherry to the subtle tones of gray camo and even a plush black-and-beige faux-shearling-lined variant, there's one for every mood.
While it's on the pricier side at $110, remember that Baggallini stands tall among the most recognized brands for making the best travel bags. Investing in this bag isn't just about style or space; it's about owning a piece of trust and quality.
Fine Details: With dimensions of 11 x 9 x 5 inches and weighing just 12 ounces, this bag is the embodiment of efficiency and elegance in one neat package.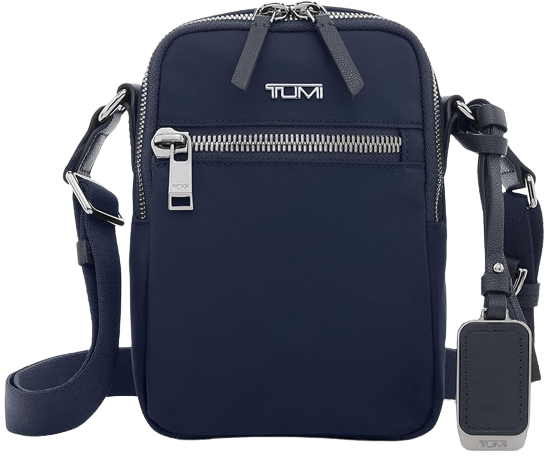 Small, sleek, and undeniably stylish, the Persia Crossbody by Tumi is an ode to those who believe in the "less is more" mantra. Its compact design is misleading; while it might appear dainty, it's crafted to keep your traveling essentials neatly organized and easily accessible.
This crossbody ensures your essentials are always within reach. Slide it into a larger bag, or simply keep it by your side. Its compactness is its superpower, especially during those long-haul flights.
Now, let's talk storage. Despite its petite frame, this crossbody surprises with its pockets. Think of an essential, and there's a dedicated space for it: keys, phone, AirPods, Kindle, your favorite lipstick, and even some munchies. Additionally, the inbuilt key leash, three card slots, and an adaptable strap boost its functionality.
The cherry on the cake? The monogramming feature. Add a personal touch to make this bag uniquely yours.
While its price tag might seem steep at $195, remember you're investing in a piece of TUMI's craftsmanship and design legacy.
Quick Glance: Sized at 7.5 x 5.3 x 2.0 inches and weighing a mere 9.6 ounces, this nylon marvel is all about marrying style with substance.
In the ever-evolving world of travel accessories, JW PEI's Mini Flap Crossbody stands out, effortlessly marrying sophistication with practicality. It's a testament to the idea that you shouldn't have to compromise style for function.
With its faux croc exterior and its magnetic flap closure this bag oozes elegance. The intricate design, complemented by the matching strap and chic gold hardware, easily makes it a head-turner.
Opening it reveals a compact yet efficient space, perfect for the essentials. Now, remember, beauty sometimes comes with its quirks – and with this bag, it's the non-adjustable strap. Depending on one's stature and preference, it might feel more at home on your shoulder than across your body.
Reflecting on their purchase, a delighted customer shared, "In love with the purse! It arrived nested inside a satin dust bag, further protected by a charming marble-patterned box. The bag radiates quality and maintains a structured form which I absolutely adore. The crossbody strap is on the shorter side, something I was aware of, but it's worth noting if you've got your heart set on this beauty."
Sized at a compact 7.9″ x 6.1″ x 3.1″, this bag is perfect for those who prefer traveling light and doing it in style. And at $68, it feels like a luxury steal.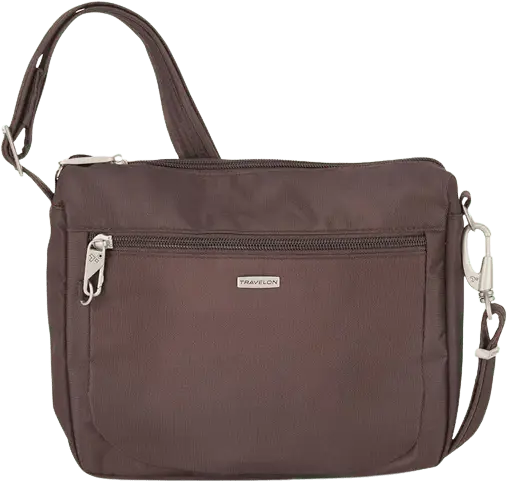 There's a unique sense of security when you sling on the Women's Anti-Theft-Class Small East/West Crossbody Bag from Travelon. Crafted meticulously with the modern-day traveler in mind, this small crossbody bag is more than just a fashion statement – it's a fortress for your belongings.
Constructed with robust polyester, the bag proudly boasts a suite of Anti-Theft features, making it one of the safest travel purses on the list. The locking compartments are your first line of defense, ensuring sneaky hands are kept at bay. Its construction doesn't just resist everyday wear and tear, but also those deliberate slashes, thanks to its slash-resistant design.
And if someone thinks of making a quick escape with your bag? They'll have to think twice. The adjustable strap is not just slash-resistant but can also be adapted to suit your carrying style, making it comfortable for those long travel days.
Internally, the bag is as impressive as its exterior. The roomy main compartment is armed with RFID-blocking slots, safeguarding your cards and passport from potential identity thieves. Additionally, an open-top pocket, a zipper pocket, and a tethered key clip equipped with an LED light ensure there's a spot for everything.
For quick access, there are zipper pockets both on the front and rear – ideal for those essentials you frequently reach out for.
All this security and functionality comes in a sleek design, sized at a convenient 10.5" x 8.5" x 2.5". And for $65? It's a smart investment for peace of mind on your journeys.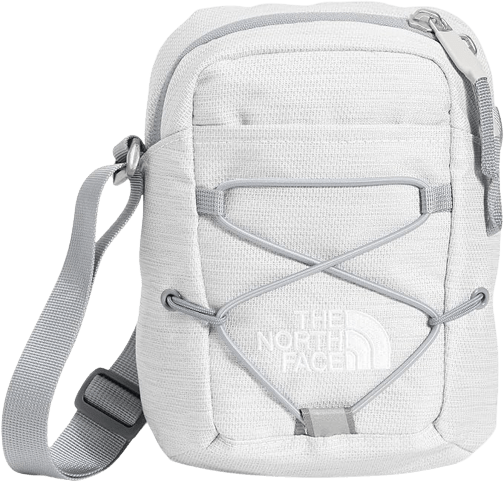 Travel light; is a motto many globetrotters swear by. Enter the Jester Crossbody Bag by The North Face, a testament to this very idea. With the hustle and bustle of travel adventures, sometimes less is genuinely more.
One of its winning attributes is how incredibly lightweight it is. You pack in your essentials, sling it across, and you're ready to go. The comfort is unparalleled, and as you traverse bustling streets or serene countryside, you might just forget you have a bag on you. Now, that's saying something!
However, while the bag champions light travel, it may not be the best friend of the hydration enthusiast. Its compact design means your regular-sized water bottle might have to be swapped out for a more petite version.
Measuring at 6″ x 2.5″ x 8.13″, it's a compact marvel. And with a price of $30, it's an affordable luxury for those on the move.
Wrap-Up: The North Face's Jester Crossbody Bag is a hymn to lightweight traveling. If you're someone who believes in the beauty of carrying just the essentials and enjoying the journey unburdened, this might just be your next purchase.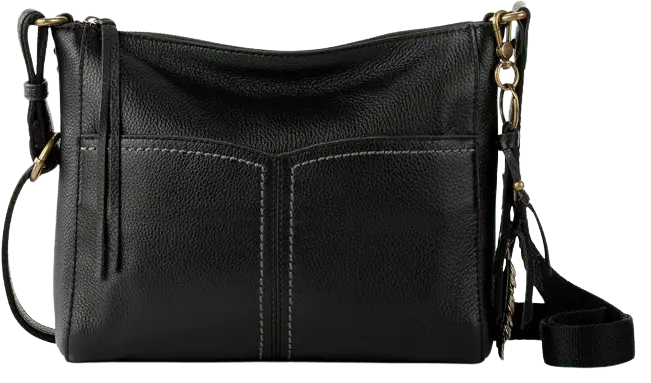 The Sak Alameda Crossbody in leather offers a great travel or even everyday bag. A nod to downtown chic, this bag promises more than just a stylish addition to your ensemble—it's an experience.
Crafted in luxurious leather, its design speaks volumes. The elegance of this crossbody bag is accentuated by its minimalist silhouette, ensuring it stands out. It's spacious, with interior pockets that are smartly organized, ensuring you're never rummaging endlessly for that lipstick or key.
Now, while its external leather is a beauty to behold, the story doesn't end there. This leather is sustainably sourced from a gold-rated certified tannery, ensuring that while you enjoy luxury, the environment isn't compromised. A reflection of The Sak's commitment to ethical choices, the bag's interior boasts a PETA-approved and vegan-certified reprieve lining.
Measuring 11in L x 1.5in W x 9in H with a 23in drop, it's the perfect size for someone on the move. While it comes with a heftier price tag of $159, remember: this isn't just a purchase. It's an investment. This is a bag built to last, a blend of style, functionality, and ethical choices.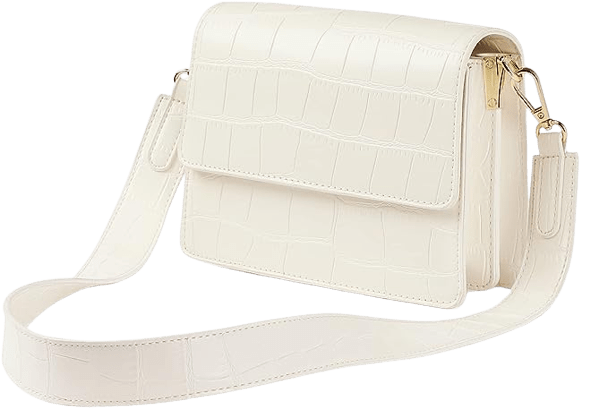 For those who believe that fashion should be both ethical and elegant, Telena's Vegan Leather Crossbody Purse is a dream come true. Nestled at the intersection of style and sustainability, this purse encapsulates the beauty of conscious choices without compromising on aesthetic appeal.
At first glance, the purse captivates with its pristine white hue, a reflection of its pure intent. Crafted from high-quality PU leather, it promises durability while resisting the regular wear and tear that purses often endure. Any smudges or dirt? A simple wipe and this gem looks brand new.
Its size, measuring (L)7.87″ x (W)2.36″ x (H)5.9″, makes it a practical choice for the modern woman. Whether you're darting between meetings or enjoying a leisurely day out, it comfortably houses your essentials—phone, keys, lipstick, and more. The adjustable and detachable straps offer versatility, allowing you to switch between a crossbody and shoulder bag as the occasion demands.
But what truly sets this purse apart is its adaptability. It's a statement piece that effortlessly transitions between casual outings, sophisticated soirées, or professional settings. With a price tag of just $38, it's highly affordable too!
So, if you're seeking a stylish sidekick that echoes your values and complements your style, Telena's Vegan Leather Crossbody Purse is the perfect choice. With unmatched quality and ethical standards, it's a bag that tells a story—one of thoughtful choices and timeless elegance.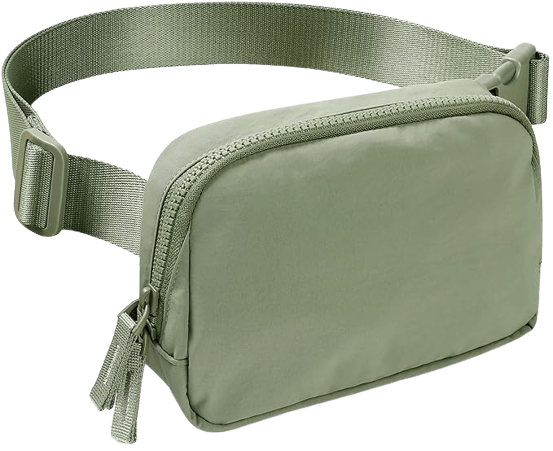 In the evolving world of fashion, the belt bags have emerged as a versatile accessory that effortlessly marries style with utility. They function as great crossbody travel bags because of their functionality. Enter the AslabCrew 2-Way Zipper Unisex Belt Bag – a modern, gender-neutral interpretation of the classic fanny pack.
Crafted from 100% durable nylon, this bag promises resilience while being lightweight. Its easy-to-maintain material ensures it remains pristine even with regular use, making it the perfect travel companion.
The defining feature, a 2-way zip closure, not only adds to its design appeal but ensures easy access to your belongings. With dedicated pockets at the front and back, this bag has been thoughtfully designed to cater to a traveler's needs. Whether you want quick access to your phone and sunglasses or need a safe spot for your passport and cards, this bag has got you covered.
Its adjustable strap is equipped with a sturdy buckle, allowing you to wear it in various ways. Be it a chic shoulder bag, a convenient waist pack, or even a trendy chest bag – the choice is yours. Its dimensions, 7.5" L x 5" H x 2" W, make it the ideal size to store all your essentials without feeling bulky.
Priced at an affordable $16, the AslabCrew belt bag is not just a purchase but an investment in convenience and style. It makes for a delightful gift, suitable for any occasion, and is sure to be cherished by those who value functional fashion.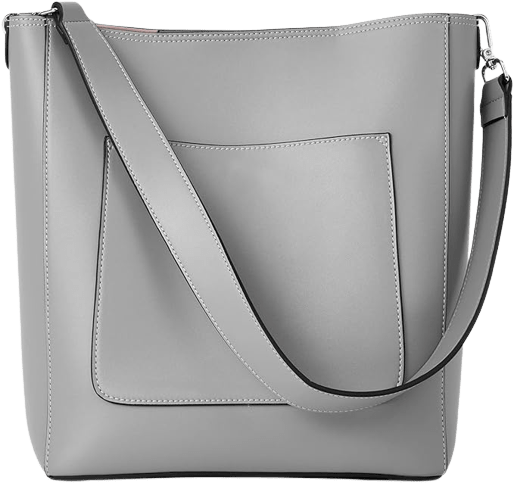 Every woman deserves a bag that is both functional and elegant. BROMEN's Mother's Day Hobo Bag ticks both these boxes with flair. Designed to be both a practical everyday accessory and a statement piece, it's a gift that's sure to impress.
Constructed from high-quality vegan leather, this bag not only promises durability but also offers the soft and comfortable feel that one associates with luxury. The silver metal hardware is more than just decorative; it underscores the bag's premium look and feel. The metal magnetic buckle closure is a thoughtful addition, ensuring that the contents of the bag remain secure.
In terms of capacity, the bag is generous without being bulky. With dimensions of (L)9.84" x (W)5.12" x (H)11.42" and a weight of 1.39 lb, it offers ample space without weighing you down. The handle drop, at 11.61 inches, is designed for comfortable shoulder wear. But for those days when you want to be hands-free, the adjustable shoulder strap, which can extend from 17 to 22 inches, allows the bag to double up as a crossbody.
Internally, the bag is structured to keep your essentials organized. The main pocket is compartmentalized with 3 slip pockets, making it easy to segregate items. An additional front pocket is ideal for those small necessities that you need to access quickly. From a small wallet and umbrellas to iPads and mobile phones, everything finds its place.
Priced at $65, the BROMEN Mother's Day Hobo Bag is an affordable luxury. Whether it's a treat for yourself or a gift for someone special, it promises to be a cherished possession. After all, elegance, style, and practicality are always in vogue.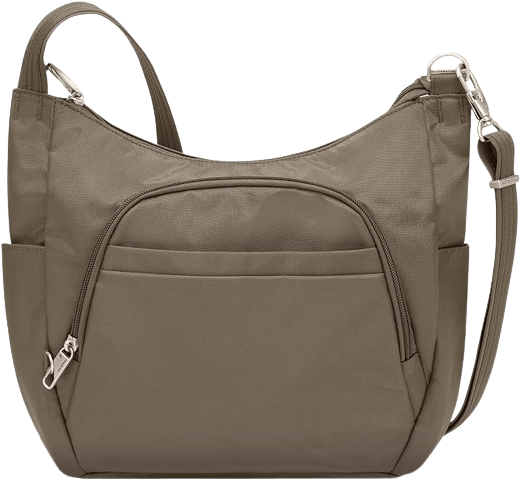 Dive deep into the heart of a seasoned traveler's desires, and the Travelon Cross-Body Bucket Bag echoes them back.
Safety tops the list, and with the RFID blocking card and passport slot, this bag ensures your treasured belongings are safeguarded against unwanted digital interference.
Added to this safety feature, the dual mesh expansion pockets are a godsend for travelers who love compartmentalizing. Whether it's a cherished souvenir from a local market or a quick snack to recharge during sightseeing, this bag thoughtfully carves out space for everything.
However, with strengths come quirks. The bag's reluctance to stand upright on its own might catch you off guard. But, isn't traveling all about adapting and moving forward anyways?
Designed with precision, it's evident that the creators had a wanderer's heart. They've integrated essentials like a pocket for your water bottle and ample space for all your travel essentials.
With dimensions set at 14″ X 11.5″ X 3″, it's an invitation to every traveler. And at a price tag of $50, it's an offering hard to refuse.
How to Choose the Perfect Crossbody Bag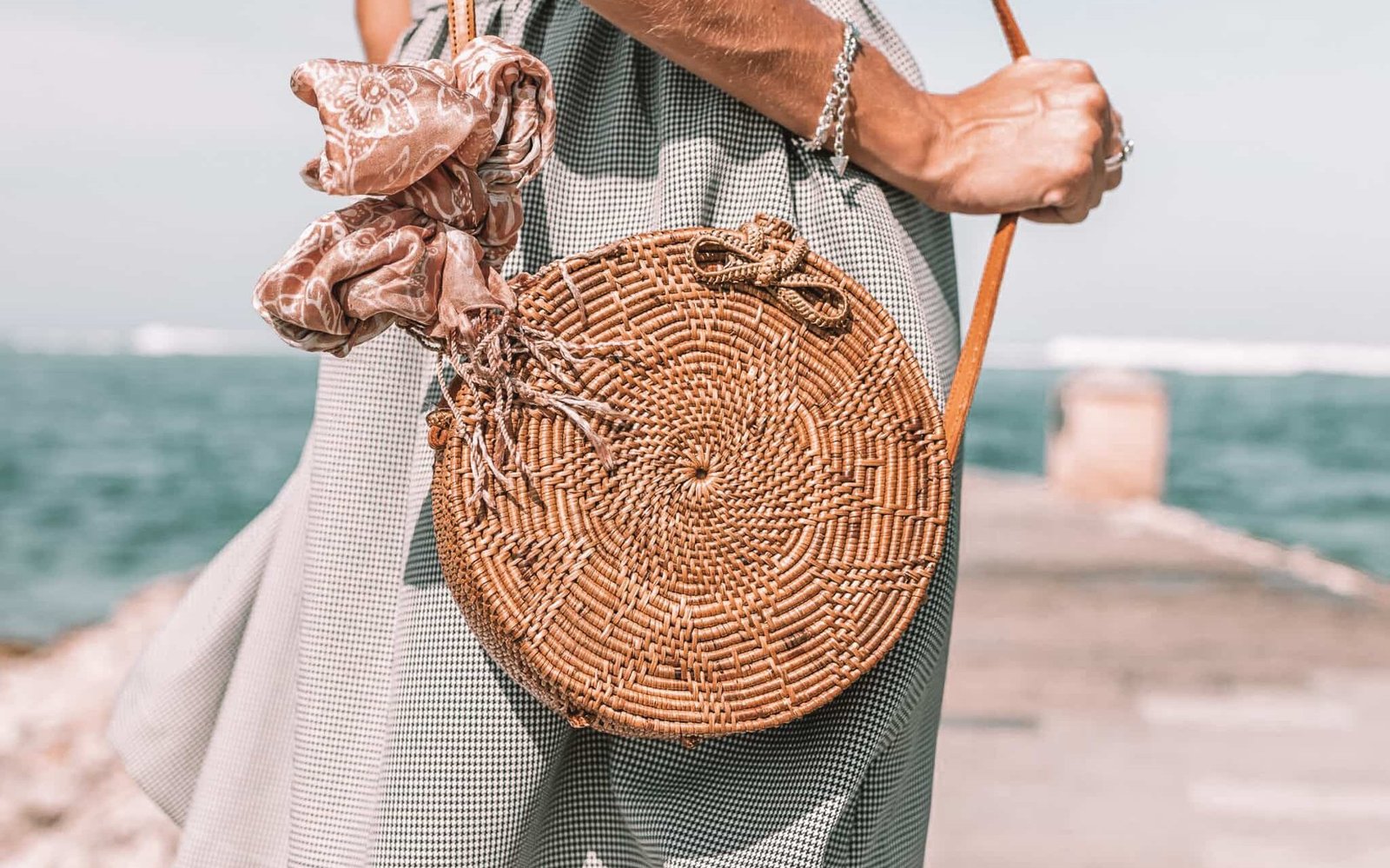 Choosing the right crossbody bags for travel can be an adventure in itself. With so many styles, materials, and features to consider, how can you be sure you're making the best choice for your needs? Let's delve into some key factors that make some of the favorite crossbody bags.
Understanding Your Needs:
The purpose and type of trip can drastically influence the kind of bag you need.
Urban Travel: When traversing through cities, opt for sleek, stylish versatile bags that match the urban vibe. Pockets for quick access to metro cards, cash, or maps can be beneficial.
Nature Getaways: Durability is key for such trips. Look for bags that can withstand wear and tear, perhaps those with water-resistant properties.
Business Trips: Here, functionality meets sophistication. Choose bags with compartments for tech gadgets, yet exude professionalism in design.
Evaluating Bag Size:
Compact Crossbody Bags: Ideal for those who prefer to travel light or are heading out for short durations. They're also stylish, often doubling as evening bags.
Larger Crossbody Bags: Perfect for individuals who travel and want to ensure they have everything they might need. They're especially beneficial for long day trips or when you're transitioning between different activities and need a range of items.
Materials Matter:
Different materials serve different purposes and also influence the bag's aesthetics. Materials literally determine whether it is a durable bag for travel and how easy it is to clean.
Leather: Luxurious and durable, leather ages beautifully but can be heavy and requires maintenance.
Polyester: A more affordable option, it's resilient and easy to clean but may not offer the same premium feel as leather.
Nylon: Known for its strength and resistance to wear, it's a great choice for durability. It's lighter than leather and can be more casual in appearance.
Security First:
In an age of pickpockets and digital theft, security features in a bag aren't just nice to have; they're essential.
Locking Compartments: A deterrent for opportunistic thieves, they add an extra layer of security to your travel crossbody bags.
Slash-resistant Construction: Reinforced shoulder straps and body construction can prevent your bag from being quickly slashed and grabbed.
RFID Blocking: With tech-savvy thieves able to digitally pickpocket, bags with RFID-blocking compartments protect your cards and passport.
Maximizing Your Crossbody's Potential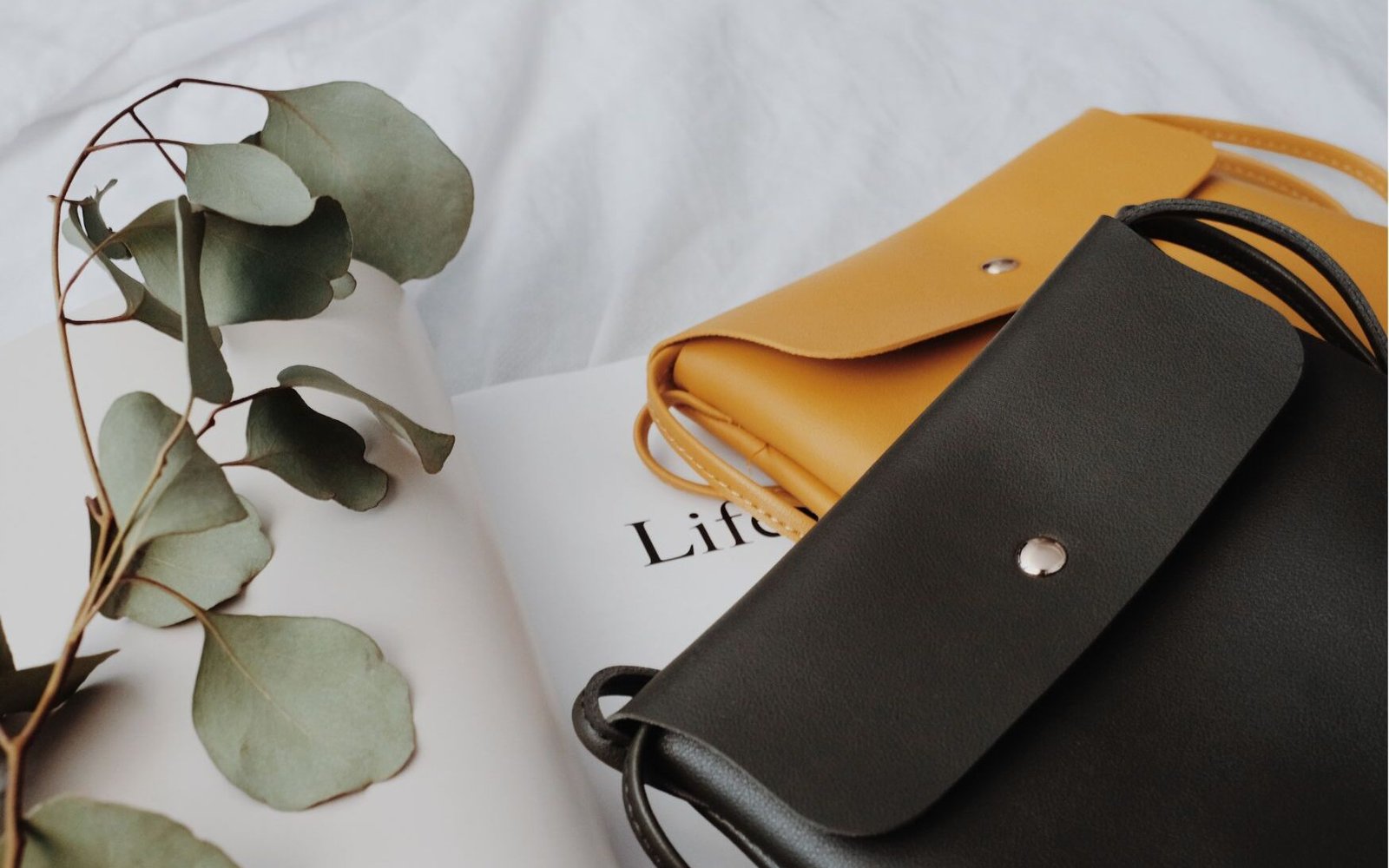 Crossbody bags for travel, with their combination of style and functionality, have become an essential accessory for many. To truly harness their potential, consider these pointers:
Efficient Packing Hacks Specific to Crossbody Bags:
Compartmentalize: Use smaller pouches or zip-lock bags to group items by type. This can be especially useful for cosmetics, tech accessories, or other loose items.
Roll, Don't Fold: If you're carrying clothing items, like scarves or bandanas, roll them to minimize wrinkles and save space.
Prioritize Essentials: Crossbodies aren't meant to carry your entire world. Prioritize essentials like wallet, keys, a compact, lip balm, and maybe a snack or two.
Styling Your Crossbody to Match Different Outfits:
Neutral Tones: Bags in neutral colors like black, brown, beige, or white can complement almost any outfit.
Statement Piece: Conversely, a vibrant or uniquely designed crossbody can serve as a statement piece against a simple outfit.
Adjust the Length: Use the adjustable strap to change the bag's position. A higher strap might complement casual outfits while letting it hang lower can suit more formal ensembles.
Care and Maintenance Tips to Retain Aesthetics and Prolong Lifespan:
Regular Cleaning: Wipe your bag regularly with a suitable cleaner. For leather, use a conditioner to maintain its shine and suppleness.
Rotate Usage: Give your bag a break now and then. Regularly switching between bags can prevent wear and tear.
Storage: When not in use, store your crossbody in a cool, dry place. Using dust bags can protect them from moisture and dust.
Discussing the Role of a Good Bag in Ensuring a Smooth Travel Experience:
Reliable crossbody bags keep your essentials within arm's reach when you travel, making navigation, transactions, and general movement smoother. Plus, having both hands free provides added convenience, whether you're snapping photos, holding onto railings, or simply enjoying a coffee. Alternatively, the convertible backpack purse is another popular option.
The Balance between Style, Security, and Space:
The magic of travel crossbody bags lies in their trifecta of style, security, and space. While it's tempting to go for the most fashionable option, ensure it has security features like zipper closures or internal pockets. Space is crucial too; your crossbody should be spacious enough for your needs but not so bulky it becomes cumbersome.
A Final Note on the Best Crossbody Bag for Travel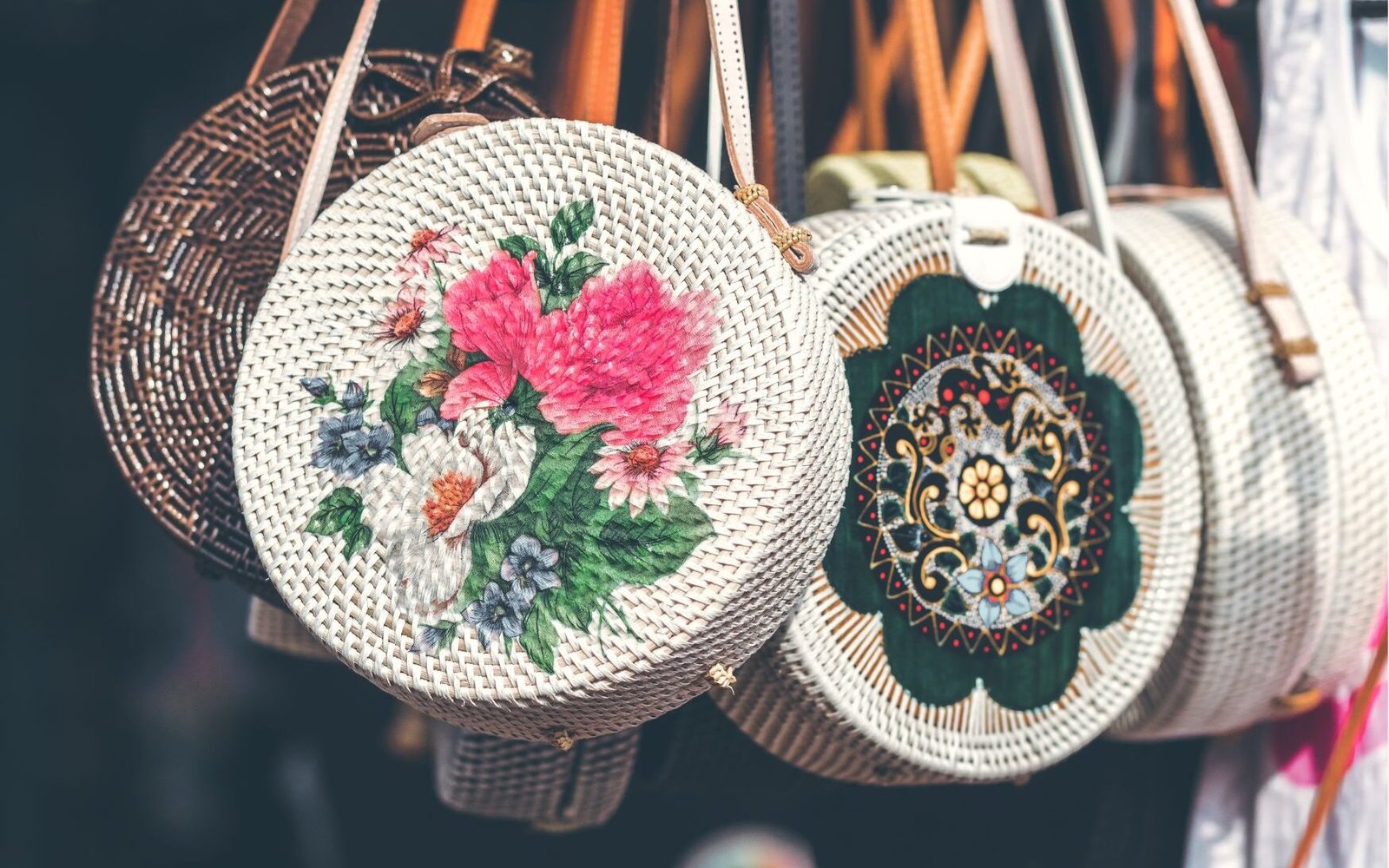 Traveling is as much about the journey as the tools that accompany you. Among these, the travel crossbody bags stand out as a perfect blend of style and function. Its hands-free design ensures ease and security, making it essential for globetrotters navigating bustling locales or capturing candid moments.
The best crossbody bags are more than just an accessory—it's a reliable companion. The benefits, from ergonomic weight distribution to organized storage, are undeniable. To the discerning traveler, investing in a quality crossbody bag is investing in seamless travel experiences.
FAQs: Addressing Common Queries About Travel Crossbody Bags
Is a crossbody bag good for travel?
Yes, crossbody bags are excellent for travel. They offer hands-free convenience, even weight distribution, and easy access to essentials.
Are crossbody bags good for pickpockets?
Crossbody bags, especially those with anti-theft features, can deter pickpockets due to their design and positioning close to the body.
How do I choose a crossbody bag?
Choose based on your travel needs, considering size, material, security features, and personal style preferences.
What is the difference between a crossbody bag and a sling bag?
A crossbody bag usually has a longer strap and is worn diagonally across the body. Sling bags typically have a shorter strap and hang on one shoulder.
Can I wear a crossbody bag on a plane?
Yes, crossbody bags can be worn on planes for travel. They're usually acceptable as personal items, but always check airline guidelines to ensure compliance.
The article may include affiliate links, meaning that I may receive affiliate compensation at no cost to you if you decide to purchase. Read more in my
Affiliate Disclosure.
BEST TRAVEL RESOURCES
BOOK YOUR FLIGHT: Not sure how to get the best and cheapest flights? I always use Skyscanner for the best deals. The best tip is to be flexible with dates and destinations if you want the cheapest options.
Alternatively, for frequent travelers, get a membership with Wayaway and receive a cashback on cheap flights and hotels every time you book! Via the link, you even get a 10% discount on your membership.
BOOK GREAT ACCOMMODATION: Booking great accommodation is not difficult but it sucks paying too much. Use Booking.com for the greatest hotel deals and Hostelworld for amazing hostel stays. Alternatively, you can sign up for Worldpackers to get FREE accommodation in exchange for your work.
BEST TRAVEL INSURANCE: Traveling without insurance is a mistake that you don't want to make - trust me I've tried. I'd suggest SafetyWing as they offer great and flexible policies - especially if you are traveling for a long time or a digital nomad. World Nomads is another great insurance with extensive coverage.
NEED HELP WITH YOUR VISA? Figuring out how and when you need a visa can be a bit of a jungle. iVisa is a very handy and user-friendly service.
HAS YOUR EU FLIGHT BEEN DISRUPTED? Use AirHelp as a service to get flight compensation on your European flights in case your flight was delayed, canceled, or disrupted in other ways. More often than not you are actually entitled to compensation.