A tour around Europe offers a pleasant combination of spell-binding landscapes, marvelous architectural structures, a rich cultural heritage, and memoirs of the world's past. Europe is teeming with diverse countries, cultures, cuisines, history, and languages; thus, making a trip around this continent as educational as it is fun!
Among the oldest habitats of Northern Europe is a city in Denmark called Copenhagen. This used to be a quiet Viking fishing village up until it was declared to be the capital of Denmark in the 15th century. This populous city is blessed with a wide variety of stunning landscapes and natural beauty waiting to be explored.
Not to mention, many people all over the world love the City of Fairytales for its picturesque canals, magnificent palaces, impressive art galleries, rich cultural heritage, scrumptious Danish culinary delights, and free-flowing breweries.
In this guide, we gathered the best places to visit if you want to experience the allure of the top attractions in Copenhagen. So, pack your bags, book a trip to Denmark, and embark on an epic journey of discovering the Danish delights of Copenhagen!
Which are the top attractions in Copenhagen?
The Little Mermaid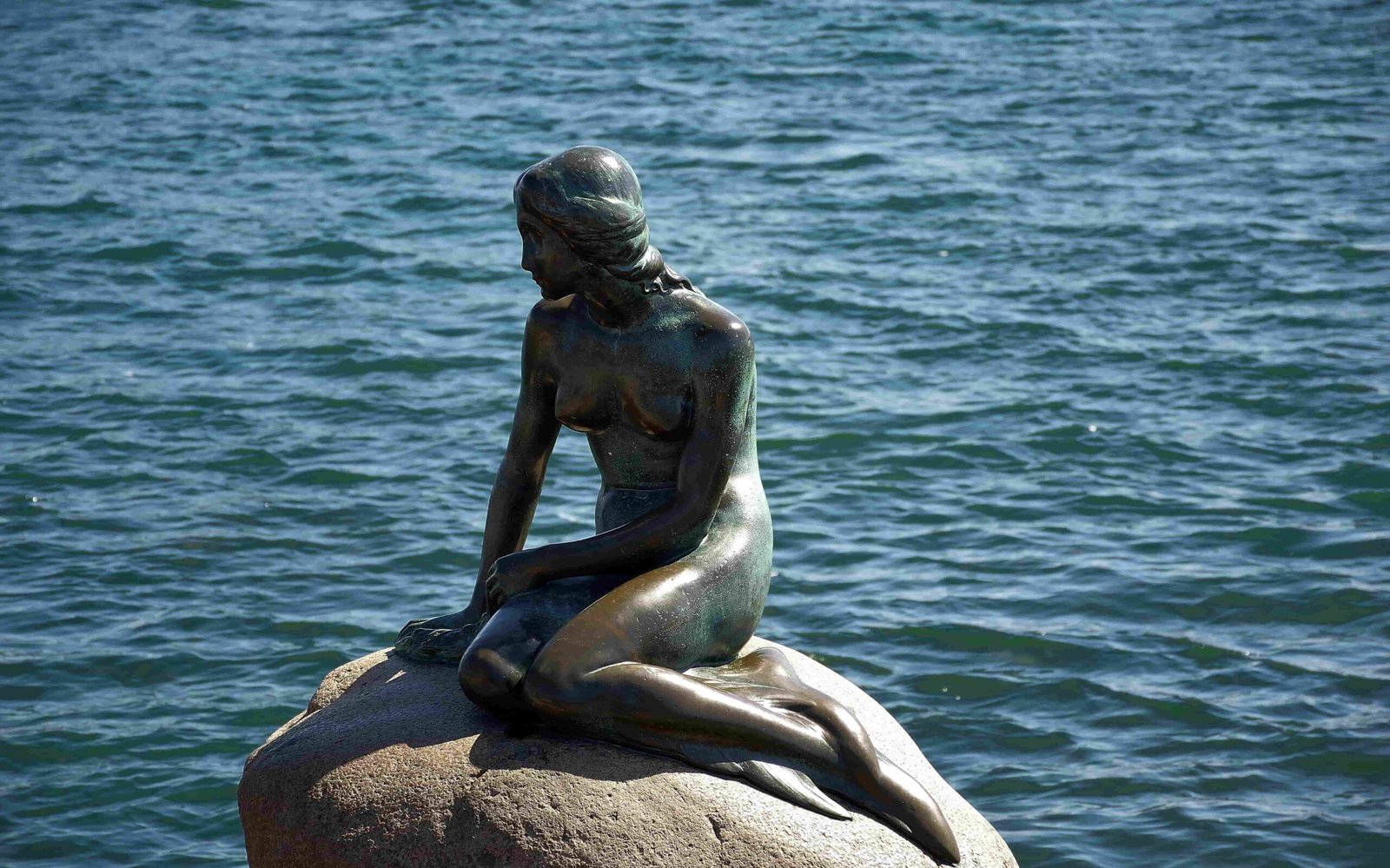 Your visit to Denmark's capital city wouldn't be complete without seeing Edvard Eriksen's iconic sculpture of the Little Mermaid. This statue is from the quintessential fairy tale by Hans Christian Andersen. So, head over to Langelinje in Copenhagen, just along the waterfront of Nyhavn. Your end destination is Kastellet to see one of the most visited and most photographed attractions in Copenhagen.
The enigmatic mermaid sculpture sits on a rock on the banks of Oresun, overlooking the clear waters with a profoundly melancholic expression. You would also have the same sentiments if you knew what the actual ending of the original Little Mermaid tale is. Nonetheless, make sure to snap some aesthetic photos of the Little Mermaid. Different tours pass by the sculpture, but seeing it on land offers a much better view.
After appreciating the intricate sculpture, you can also explore the charming town of Kastellet. It is the former Citadel of Frederikshavn, whose oldest parts date back to 1625. The quaint citadel buildings are well-maintained and are truly worth exploring.
Tivoli Gardens
Suppose you want to take a stroll along a popular tourist spot with everything you can ever want. Therefore, you should head over to Copenhagen's famed Tivoli Gardens.
From well-manicured gardens to roller coasters, theme park rides, cafes, bars, and even theaters, this magical place is a haven for tourists of varying interests. Whether you came for the gardens, music, performances, or theme park rides, you will surely have a good time here.
The Tivoli Gardens boasts lush gardens, exotic architecture, and historic buildings. Come nighttime, it gets illuminated by thousands of warm-colored lights, thereby creating a fairytale atmosphere that will surely charm you.
Aside from that, it is home to the world's oldest roller coaster—Rutsjebanen—which has been operating since 1914.
You can also enjoy a panoramic city view 80 feet above the ground when you ride the Star Flyer. And if you are an avid thrill-seeker, be sure to check out Vertigo.
This extreme ride will turn you upside down at the speed of 100 km/h. It is so thrilling that it even got voted as Europe's Best Ride in 2014.
Lastly, if you enjoy adrenaline-pumping activities such as navigating haunted houses, then you should try their newest attraction—the Villa Vendetta. This holds the title of Denmark's largest permanent haunted house, where the guests will embark on a bone-chilling journey. Here they go through 12 different haunted rooms complete with actors in their spooky costumes and makeup.
If you want something more leisurely, then don't miss the chance to witness the show-stopping performances of international stars in the gardens.
Alternatively, you can try Tivoli Garden's most famous restaurant—Grøften. They offer a wide variety of dishes—from traditional Danish cuisine to French bistro and even gourmet burgers. But if you are craving for some seafood, head over to Figaro.
For your hamburger cravings, visit the Gasoline Grill. Vegetarians are also in good hands here because Tivoli Gardens also has vegan restaurants. Gemyse is the most famous and highest-rated among all vegan options.
Rosenborg's Castle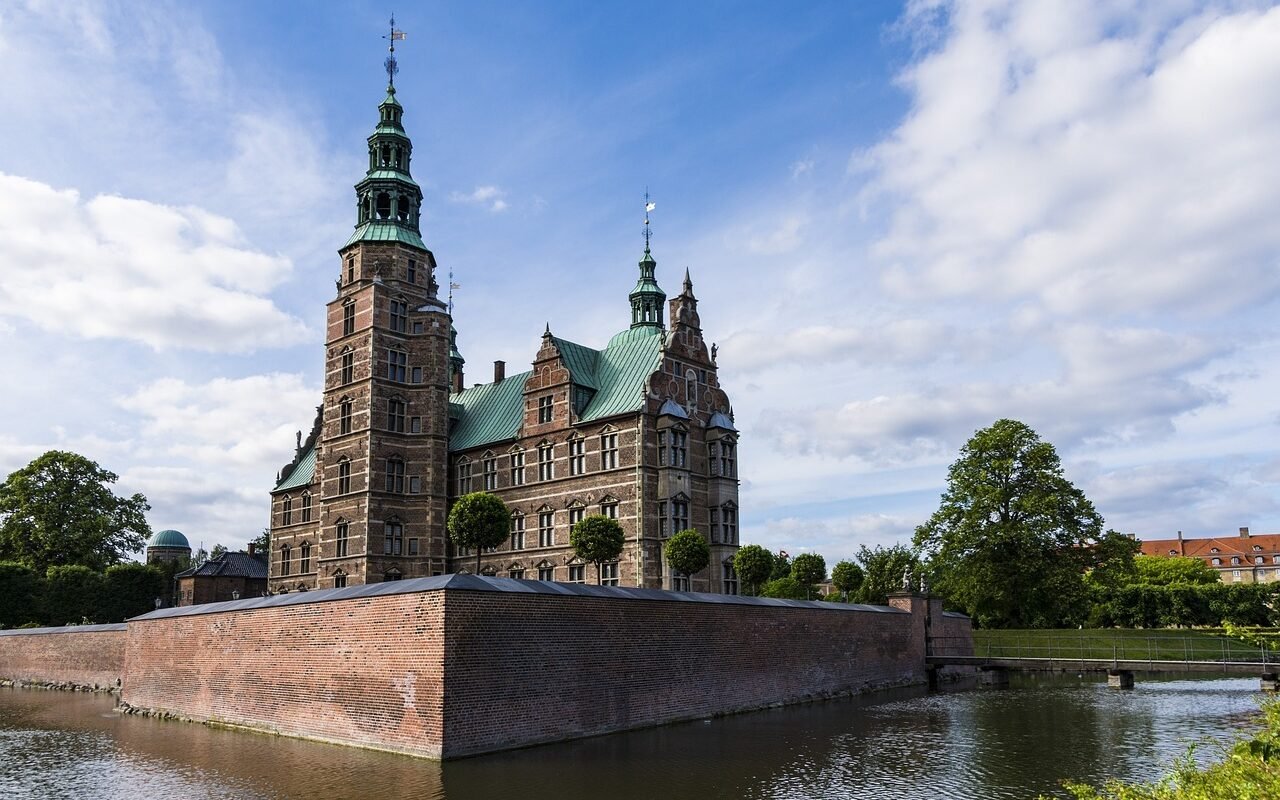 Rosenborg Castle is among Copenhagen's most iconic landmarks. This majestic Renaissance-style palace was commissioned to be built by King Christian IV in the early 17th century and has since then been a testament to Denmark's opulent royal history and rich cultural heritage.
It boasts of an impressive Dutch Renaissance style of architecture, characterized by its symmetrical design, ornate facades, and intricate, lavishly decorated interiors. Not to mention, it has a distinctively striking appearance because the castle is constructed solely from red bricks, sandstone decorations, and a unique copper roof, which has developed a characteristic green patina that further adds to the castle's charm.
Initially, the Rosenberg Castle served as a summer residence and hunting lodge for Denmark's Royal Family. However, later on, it was converted into a royal treasury and storage for the crown jewels. This collection of the Royal Family's Danish crown jewels later became one of the main attractions of the Rosenborg Castle. You will be in awe of the sheer amount of crowns, scepters, orbs, and other regal artifacts housed in this palace.
The castle's meticulously landscaped and well-maintained gardens are also praise-worthy. It features rows and rows of colorful flowerbeds, well-manicured lawns, and tree-lined pathways. Such a serene and picturesque garden is the perfect place for leisurely walks and picnics.
Nyhaven
Nyhavn—the Danish word for "New Harbor"—is a picturesque waterfront district tucked away in the heart of Copenhagen. This harbor is famed for its colorful buildings, scenic canals, and atmospheric vibe. Additionally, it is probably one of the most known attractions in Copenhagen.
Perhaps Nyhavn is most recognizable because of its vividly colored townhouses lining the harbor. These picturesque buildings with a wide variety of hues and architectural styles are the perfect backdrop for your next Instagram post. You will also find plenty of restaurants, cafes, and bars lining the harbor.
There is nothing more relaxing than savoring scrumptious Danish and international dishes while watching the port. You can also have leisurely walks, mini feasts, or simply sit by the water and watch the world go by. There are even idyllic museum ships that lie at anchor, including a lightship (Fyrskib) dating from 1885.
Copenhagen's Unique Neighborhoods
Copenhagen is a city of diverse neighborhoods, each with its own distinct charm. Nyhavn, with its picturesque canalside houses painted in vibrant colors, is a favorite among tourists and locals alike. It's an ideal spot for a canal tour in Copenhagen, al fresco dining, or simply enjoying the lively atmosphere.
In contrast, Christiania offers a unique experience with its alternative and artistic community. Explore its graffiti-covered streets and experience a different side of Copenhagen's culture.
For a more young and diverse experience, Nørrebro is a great place to visit and has many bars, restaurants, and cafes.
For anyone wishing to be in a hip area close to many attractions, Vesterbro is a good place to stay in Copenhagen.
Culinary Delights
Danish cuisine is a treat for the taste buds, and Copenhagen offers a wide range of culinary experiences. Start your day with a traditional Danish breakfast of delicious breads and pastries.
For lunch, a must is smørrebrød in Copenhagen. An open-faced sandwich topped with various ingredients like herring or liver pate. Don't miss out on Æbleskiver, delightful pancake puffs often enjoyed during the Christmas season.
Explore local eateries and bakeries for Danish pastries like the flaky, cinnamon-infused Kanelsnegl. For a memorable dining experience, consider restaurants like Noma, or head for more budget-friendly options.
For street food in Copenhagen, head for the street food market of Reffen.
Copenhagen's Museums and Galleries
Art and culture enthusiasts will find plenty to explore in Copenhagen. The National Gallery of Denmark, known as SMK, houses an extensive collection of Danish and international art, including works by famous artists like Rembrandt and Matisse.
Designmuseum Denmark is a must-visit for design aficionados, showcasing Danish design excellence. Ny Carlsberg Glyptotek features an impressive mix of art and antiquities, surrounded by beautiful indoor gardens that are also one of the top attractions in Copenhagen.
Cycling Culture
Copenhagen is known for its cycling culture, making it one of the most bike-friendly cities in the world. Rent a bike and join the locals on the extensive network of dedicated bike lanes.
Pedal through historic streets, explore parks, and enjoy the city's flat terrain, making cycling an efficient and enjoyable way to explore Copenhagen's attractions.
Day Trips from Copenhagen
Consider taking day trips from Copenhagen to nearby destinations. Roskilde, just a short train ride away, is famous for its stunning cathedral and Viking Ship Museum.
Kronborg Castle in Helsingør, known as the setting of Shakespeare's Hamlet, offers a fascinating glimpse into Denmark's history and provides breathtaking views of the sea.
Local Events and Festivals
Check out Copenhagen's annual events and festivals to enhance your trip. The Copenhagen Jazz Festival attracts music lovers from around the world, while the city's Christmas markets create a festive atmosphere during the holiday season. Don't miss the colorful Copenhagen Carnival, a lively celebration of music, dance, and culture.
A Final Note on Top Attractions and Visiting Copenhagen
Copenhagen beckons as a city of diverse experiences. From the iconic Little Mermaid to vibrant neighborhoods, historic royal palaces, and world-class museums, it offers something for every traveler.
As you plan your visit, remember that Copenhagen embraces sustainability, making it a green and bike-friendly city worth exploring. Whether you're a history enthusiast, an art lover, or a foodie, Copenhagen's cultural riches and culinary delights will leave a lasting impression.
But visiting Copenhagen is not just about ticking off tourist spots. It's about immersing yourself in Danish culture and heritage, discovering hidden gems, and relishing the city's unique charm.
The article may include affiliate links, meaning that I may receive affiliate compensation at no cost to you if you decide to purchase. Read more in my
Affiliate Disclosure.
BEST TRAVEL RESOURCES
BOOK YOUR FLIGHT: Not sure how to get the best and cheapest flights? I always use Skyscanner for the best deals. The best tip is to be flexible with dates and destinations if you want the cheapest options.
Alternatively, for frequent travelers, get a membership with Wayaway and receive a cashback on cheap flights and hotels every time you book! Via the link, you even get a 10% discount on your membership.
BOOK GREAT ACCOMMODATION: Booking great accommodation is not difficult but it sucks paying too much. Use Booking.com for the greatest hotel deals and Hostelworld for amazing hostel stays. Alternatively, you can sign up for Worldpackers to get FREE accommodation in exchange for your work.
BEST TRAVEL INSURANCE: Traveling without insurance is a mistake that you don't want to make - trust me I've tried. I'd suggest SafetyWing as they offer great and flexible policies - especially if you are traveling for a long time or a digital nomad. World Nomads is another great insurance with extensive coverage.
NEED HELP WITH YOUR VISA? Figuring out how and when you need a visa can be a bit of a jungle. iVisa is a very handy and user-friendly service.
HAS YOUR EU FLIGHT BEEN DISRUPTED? Use AirHelp as a service to get flight compensation on your European flights in case your flight was delayed, canceled, or disrupted in other ways. More often than not you are actually entitled to compensation.