Copenhagen is a world-famous city for different reasons and has been a growing travel destination for the last few years. Having lived here for 10 years I completely understand – the city is worth every bit of anyone's time.
One of the best things for me is the many restaurants and food options around town. Besides being well-known for their cuisine, Copenhagen, and Denmark, are also well-known for being super expensive.
And it is compared to many other places.
For many years going out to eat required quite a lot of money. That has all changed now as a new tendency for cheaper options has spread. Copenhagen is slowly becoming a mecca for cheap eats and great value-for-money restaurants all over the city.
Great news for us!
I love going out for food and trying new things. Honestly, it is one of my absolute favorite activities in Copenhagen.
Therefore I love it when I find amazing places, that at the same time don't resolve in living on porridge for weeks after a visit. These cheap eats in Copenhagen are places I love to go to because you get a ton of value, vibe, and happiness for reasonable money.
First, I will mention my favorite restaurants and finally, add a few very budget-friendly street food options around the city. These cheap eats will all be great gastronomical experiences and a lot of fun for you to try while you are in Copenhagen Denmark.
PIN THIS POST FOR LATER:
What Are the Best Cheap Eats in Copenhagen?
Cheap Restaurants in Copenhagen
Osteria 16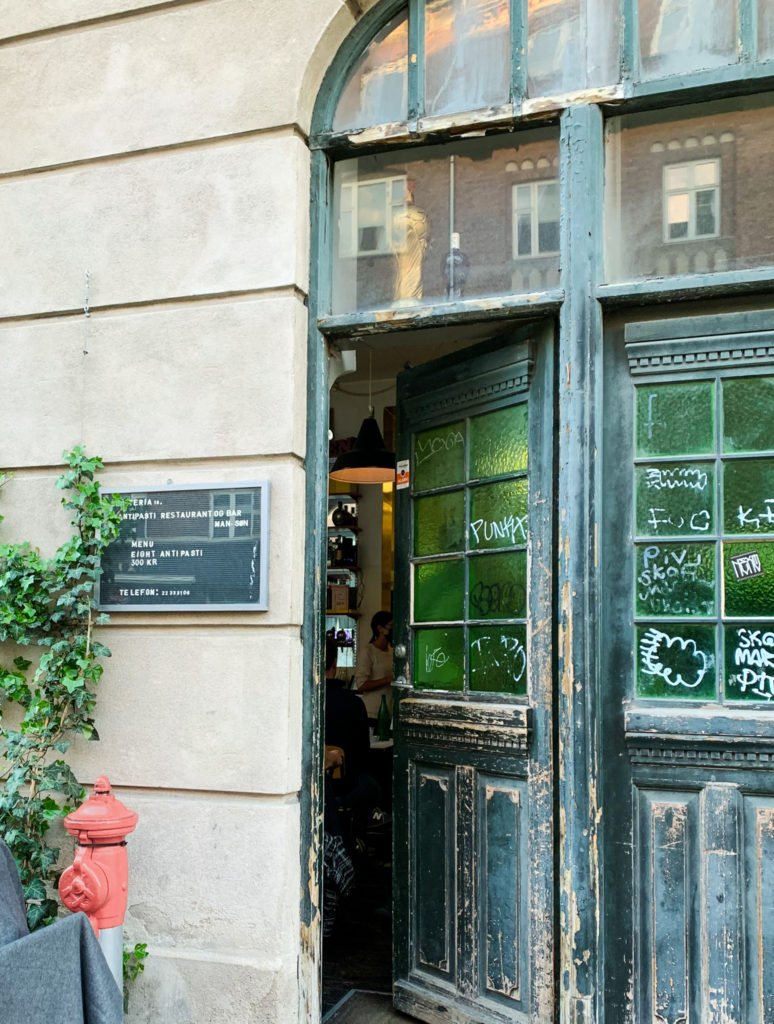 This small osteria is probably my favorite place to go out for dinner in Copenhagen. I have visited this place numerous times and I have never been disappointed – in fact, quite the contrary.
There are two restaurants. One at Nørrebro and one at Vesterbro. Personally, I favor the Vesterbro one. Not because of the food but because there is just something unique to me about the vibe. And maybe it is just because it was the first one… I don't know. 
At Osteria 16 they are superior enough to only offer a set menu of small starters and they do damn well at that.
At a very decent price, you get 8 different amazing Italian antipasti. I love this way of eating cause you get many small and fun servings instead of just one big plate. 
The drinks card is small and simple, offering a few great wines and simple cocktails.
This is one of those restaurants in Copenhagen that really understood that less is more and then just aiming for awesomeness in a very small field.
Now all you need to do is check out their website and book a table. You are welcome.
You find the restaurants at either Haderslevgade 16, 1611 Copenhagen, or Ravnsborggade 14B, 2200 Copenhagen N.
Oysters & Grill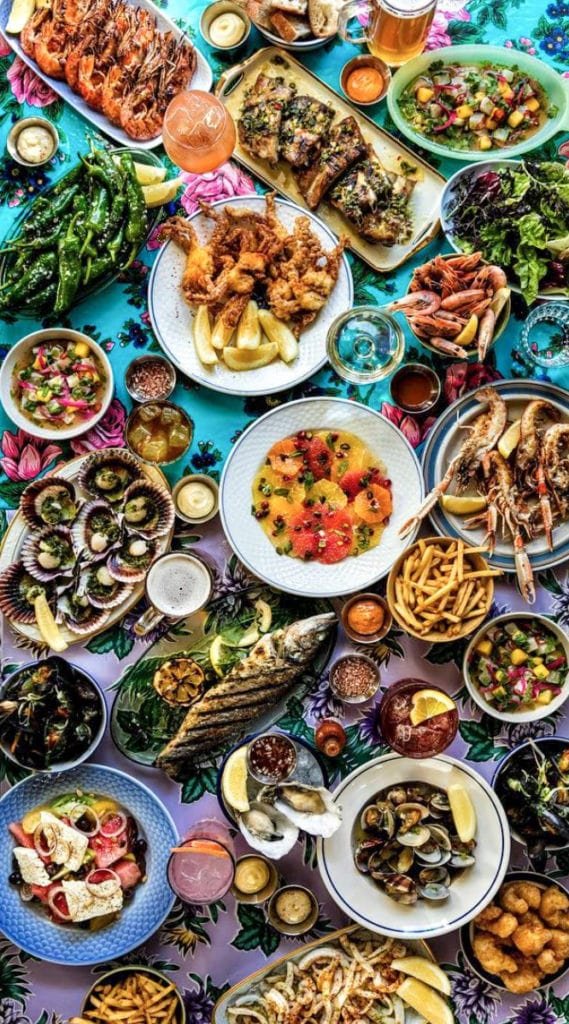 Oysters & Grill is a seafood place in the center of Nørrebro. Seeing this place will probably spice up your mood, as everything is decorated full of patterns and flowers which creates a super laid-back vibe and fun environment.
For very reasonable prices you can order a bunch of different small servings to share. Each serving is usually under 100 DDK and in terms of cheap eats around Copenhagen, you won't find much better prices unless you go for street food options.
The place is also very popular amongst young people because of the atmosphere and drinks. Besides being a vibe, the food is also really great and if you like seafood I guarantee you will love Oysters & Grill.
Head to their website and you will see what I mean about the vibe of this place.
You find Oysters & Grill at Sjællandgade 1B, 2200 Copenhagen N.
Omar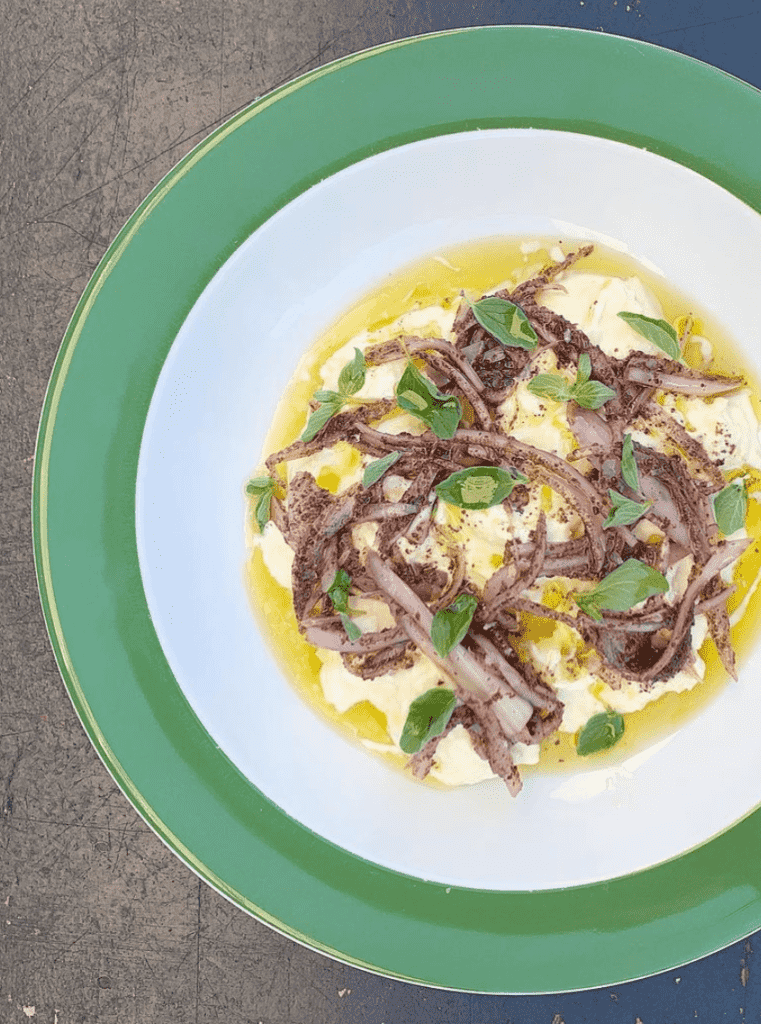 Restaurant Omar really surprised me the first time I went. Honestly, I am not exactly sure what to call their type of kitchen. It's Nordic but then again not – but it's great!
The reason why this restaurant surprised me was mainly because of how MUCH value for money I felt like I got.
The setting is beautiful, the servings even more so, and the food is amazing.
Omar offers a set menu of 8 servings for a very fair price, but you can also choose a la carte if you prefer. I only did the 8 servings and this is the best way to spend your money at this place – I have only been extremely happy with everything they serve.
Again a pretty simple setup in terms of food but then you have quite a few options in terms of drinks and wine.
Be sure to book a table as both Omar and their sister restaurant Safari (also a great alternative) are super popular. Check out their website and enjoy.
You find the restaurant Omar at Refnæsgade 32, 2200 Copenhagen N. 
Bar Pasta
In terms of these restaurants in Copenhagen, Bar Pasta is probably the simplest one. You know exactly what you can expect and they deliver.
Bar Pasta is inspired by the typical traditional Italian trattoria with great food and wine at good prices. It goes perfectly in hand with the Nørrebro vibe and the setting is very down-to-earth.
Because of the setup, Bar Pasta is also a popular drink spot amongst locals and during summer the whole outside is full of happy visitors. The area around is also a great destination in terms of bars and nightlife.
The menu card is small and only offers different pasta dishes as the main course. Cheap eats around Copenhagen have all adapted to this set-up where they offer a simple, but tasty, small menu. You won't find uptight service at any of these places and that is also one of the reasons why I enjoy them so much. At Bar Pasta the staff is always exceptionally friendly and fun.
You can check out their website for the menu and for making a reservation.
Bar Pasta is located on Griffenfeldsgade 17, 2200 Copenhagen N. 
Hidden Dimsum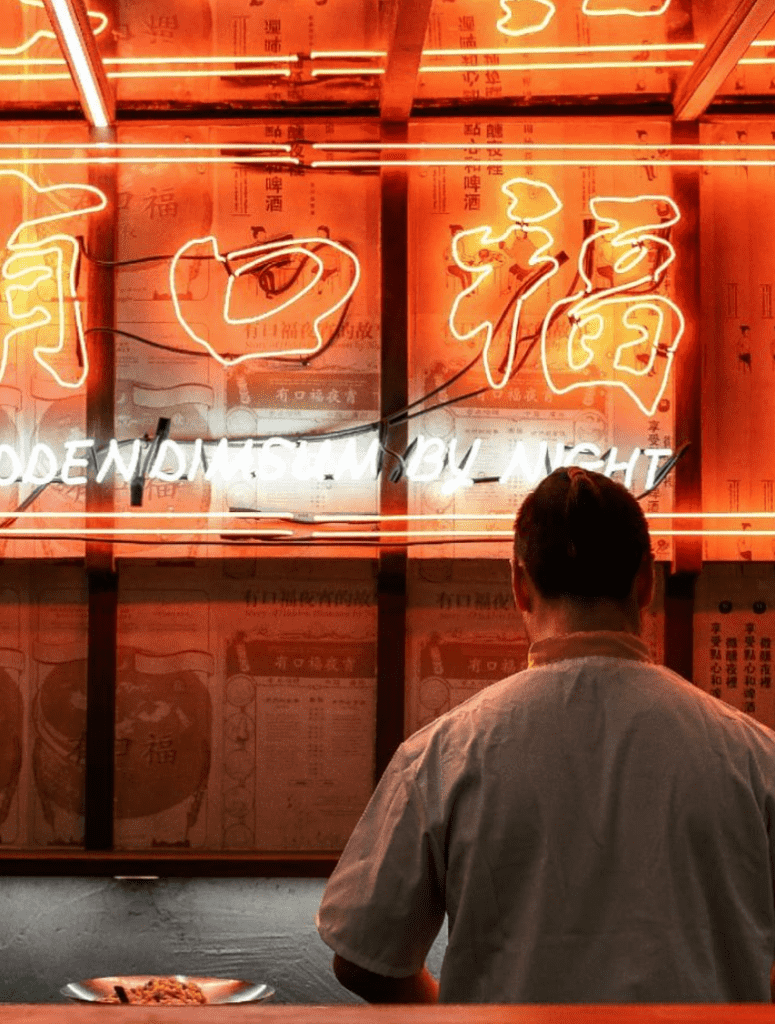 This is a restaurant in Copenhagen that is a little bit different because of 2 things. The first is that Chinese food is not hugely represented in the city (at least not like Hidden Dimsum does it), and second, because Hidden Dimsum offers their late-night concept "Hidden Dimsum by night".
Here the downstairs area turns into a late-night dim sum bar that has a very Hong Kong vibe.
As the name might indicate, Hidden Dimsum specializes in the Chinese dim sum, or dumplings, concept. But on top of that, they serve many other great things.
I usually order a variety of different dumplings and starters, and the special that you absolutely must try – is their crispy duck! This serving is a little pricier than the rest but, oh my, it is worth it! I have never had a better serving of duck in my life and Danish people are duck fanatics during Christmas.
Be sure to get their Buddha beer that comes in a super fun bottle and if you are many people, then beer pitchers are the way to go.
For more info check out the website.
Find Hidden Dimsum at Nytorv 19, 1450 Copenhagen K. 
Finally, the area around this restaurant is also a great place for travelers to find accommodation and enjoy the city.
Other Cheap Food Options in Copenhagen
The list above was a mention of my favorite value-for-money restaurants around Copenhagen, but the city also offers a bunch of other great options if your food budget is a little lower.
Copenhagen has a ton of street food options around the city, that range from a couple of food stalls to proper food markets.
I mention my favorite ones in my other post dedicated to street food in Copenhagen, but I thought I'd mention some other great options here too. These places are all great options around town, where you can grab something to eat for around, or less than, 100 DKK.
Gasoline Grill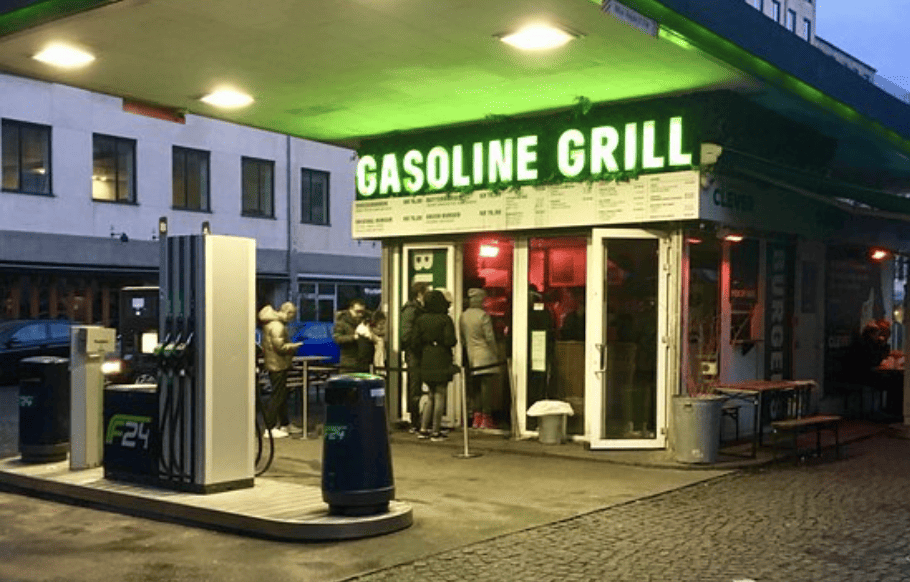 Gasoline Grill is one of the best burger places in Copenhagen and is a popular destination amongst tourists and locals. The first fast food joint is located in the center of the city and is an old fuel station, converted into a burger joint. In the beginning, people would line up in order to grab a quick and delicious meal, until Gasoline Grill announced that they were sold out.
Now there are a few places around the city as the small joint expanded into additional locations. While the original station is fun, the concept is still the same and you might experience them being sold out when you arrive.
A more convenient spot is Broens Gadekøkken. An open bridge street kitchen, consisting of a group of food stalls. Here you find another Gasoline Grill, as well as other food stalls selling different food options or drinks. You have a covered area with a bunch of long tables, and this street food market is usually a cool hangout spot in the middle of the city.
Otto
This is my all-time favorite pizza spot in Copenhagen. Otto is a new place that opened in the Vesterbro area and they have perfected the art of sourdough pizza.
You can choose to sit at Otto's or you can grab your pizza to go and head for any bench outside if the weather allows it.
If you are staying in Copenhagen and have your own kitchen, you can even grab the pizzas cold from their fridge and heat them up at home.
Lastly, the street where Otto is located is one of my favorite streets in the whole city. Værnedamsvej has been a merchant street for centuries and is full of little shops, great coffee spots, restaurants, and a few bars.
You find Otto at Værnedamsvej 18, 1619 København, and other locations around the city.
Tivoli Food Hall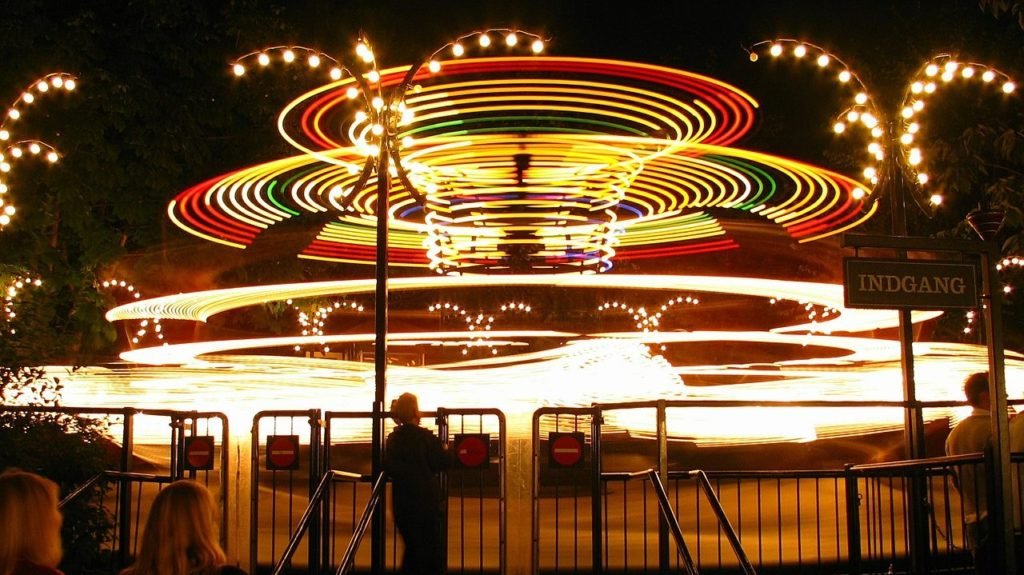 Near Copenhagen Central Station you find Tivoli and the new street food hall they extended the theme park with. Tivoli is quite pricy and all the restaurants inside the amusement park are pretty expensive. While you do have a few food stalls inside, it is not the main attraction.
Therefore, the Tivoli food halls were a great extension of the place, as they provided some more budget-friendly options.
Choose from the many different food stalls serving different street food options.
You find the food hall at the Tivoli Gardens at the address Bernstorffsgade 3, 1577 København.
Grød
In terms of cheap eats in Copenhagen, Grød is a fun and convenient one because of several reasons. Grød translates to porridge and that is exactly what they specialize in. Basically, the guy loved all types of porridge and turned this into a full concept. Not only for breakfast, but also for lunch, dinner, and dessert.
As odd as it might sound at first, the concept works very well and can be found in different locations all over town.
For breakfast, they serve different types of porridge, smoothie bowls, and acai bowls. For lunch and dinner, you have a changing menu depending on the season. Usually, they will have a few risottos, daal, and other types of "porridge" to offer.
You find Grød at many different locations all over Copenhagen.
Mahalle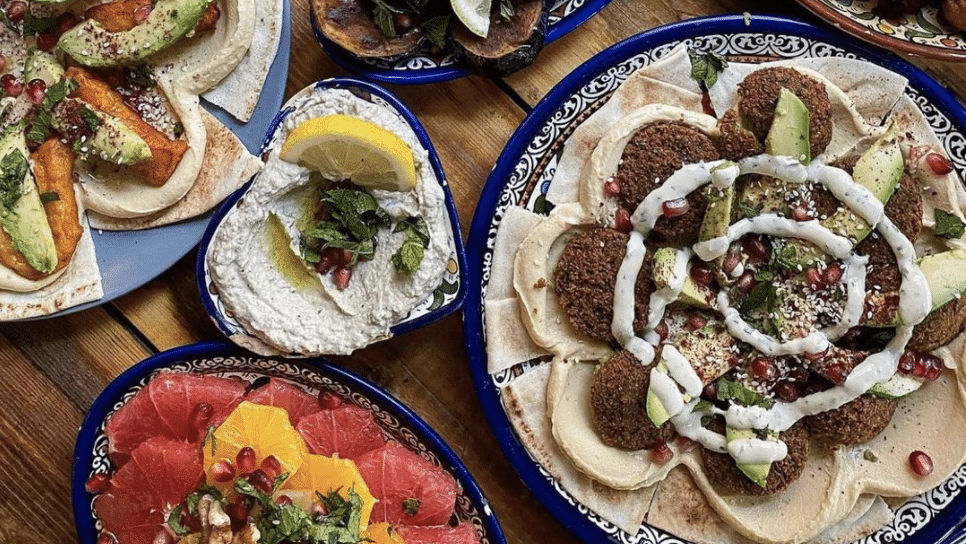 Mahalle was originally a tiny little café specializing in Lebanese food in the Nørrebro area. For years these guys were serving great food at very cheap prices, without them getting their well-deserved attention.
Now they have opened a few extra locations around town, still serving the same great food, at the same fair prices. The most popular serving is the halloumi salad. While not a salad at all, but more of a flatbread pizza with homemade hummus, grilled halloumi, avocado, and pomegranate. Get that along with a couple of other things from the menu that appeal to you.
You find Mahalle spread out over Copenhagen at different locations.
District Tonkin
District Tonkin is my go-to in terms of easy, delicious, and cheap Vietnamese food in Copenhagen. There are 2 places in town and they serve great Bahn Mi, noodle salads, and Pho Bo soup.
The interior is very cool inside and in summer you sit outside by small plastic tables, on little plastic chairs. Just like being in Vietnam…
Well not exactly, but it does give a nice touch that you won't find anywhere else in Copenhagen.
District Tonkin is a pretty popular spot amongst local people and they do tend to fill up in the evenings between 6 pm-8 pm. Maybe head there a little early, or late, or accept waiting a bit for a free table. District Tonkin is a great option both for lunch and dinner so you have options in terms of when to go.
You have them located at 2 different locations in Copenhagen.
Torvehallerne
Torvehallerne is a food hall in the city center of Copenhagen. There are two halls where one functions mostly as a luxury grocery hall, and the other is dedicated to food stalls, cafés, and delicacies.
Torvehallerne is not a cheap place in general, but you do have a few options for an affordable and delicious meal and that's why I want to mention it. Try the confit de canard sandwich at Ma Poule. It's been awarded as the best sandwich in the city a few times.
Furthermore, you have a weekend food market in the square just between the two food halls. This is a fun weekend activity where locals enjoy the different options available. My favorite is the taco joint. They serve corn tortillas with roast pork, chicken, or vegetarian options, and are all delicious.
Map of the Best Cheap Eats in Copenhagen
Below I made a map and included my recommendations for you:
Final Thoughts
These were the best cheap eats in Copenhagen. Note that in general you have food everywhere in the city and, thankfully, it does not have to cost a fortune to grab something delicious.
The food scene in Copenhagen is constantly developing and street food is becoming an even more accessible, and delicious, part of the city.
I hope you enjoy some of these spots in Copenhagen and if you have any questions or feedback, feel free to comment down below. e
Be sure to check out my guide on the best tours to do in Copenhagen for other great activities while you are in town.
//Josephine
Frequently Asked Questions
How to eat cheaply in Denmark?
Find budget-friendly eats in Denmark by visiting local markets, opting for street food, and enjoying picnic-style meals in parks. Also, lookout for 'dagens ret' (today's special) at restaurants for good deals.
How much is the average meal in Copenhagen?
In Copenhagen, an average meal at a mid-range restaurant may cost around 150-250 DKK. Fast food and street eats are cheaper, while fine dining is significantly more.
What food is famous in Copenhagen?
Copenhagen is known for smørrebrød (open-faced sandwiches), fresh seafood, Danish pastries, and the iconic hot dog stands. These dishes reflect the city's culinary heritage and innovation.
Is Copenhagen a foodie city?
Absolutely! Copenhagen is a haven for foodies, home to a range of Michelin-starred restaurants, vibrant street food scenes, and a strong focus on Nordic cuisine and locally sourced ingredients.
The article may include affiliate links, meaning that I may receive affiliate compensation at no cost to you if you decide to purchase. Read more in my
Affiliate Disclosure.
BEST TRAVEL RESOURCES
BOOK YOUR FLIGHT: Not sure how to get the best and cheapest flights? I always use Skyscanner for the best deals. The best tip is to be flexible with dates and destinations if you want the cheapest options.
Alternatively, for frequent travelers, get a membership with Wayaway and receive a cashback on cheap flights and hotels every time you book! Via the link, you even get a 10% discount on your membership.
BOOK GREAT ACCOMMODATION: Booking great accommodation is not difficult but it sucks paying too much. Use Booking.com for the greatest hotel deals and Hostelworld for amazing hostel stays. Alternatively, you can sign up for Worldpackers to get FREE accommodation in exchange for your work.
BEST TRAVEL INSURANCE: Traveling without insurance is a mistake that you don't want to make - trust me I've tried. I'd suggest SafetyWing as they offer great and flexible policies - especially if you are traveling for a long time or a digital nomad. World Nomads is another great insurance with extensive coverage.
NEED HELP WITH YOUR VISA? Figuring out how and when you need a visa can be a bit of a jungle. iVisa is a very handy and user-friendly service.
HAS YOUR EU FLIGHT BEEN DISRUPTED? Use AirHelp as a service to get flight compensation on your European flights in case your flight was delayed, canceled, or disrupted in other ways. More often than not you are actually entitled to compensation.