I have written a bunch of posts about Copenhagen and the food scene in the city, and if you have read any of them, you will know that I am pretty excited about it. However, in terms of cafés, I actually think we lack some skills. It's not that there are not plenty of cafés in Copenhagen. It's just that unfortunately, not all of them do a great job in my opinion. In general, I feel like a lot of places lack that final 5% which really makes the whole difference.
Fortunately, a fair few cafés really nailed it and always provide in terms of food, beverages, vibe, and setting.
These 11 great cafés in Copenhagen all manage to deliver with every visit and for sure are worth your visit while you are in town.
PIN THIS POST FOR LATER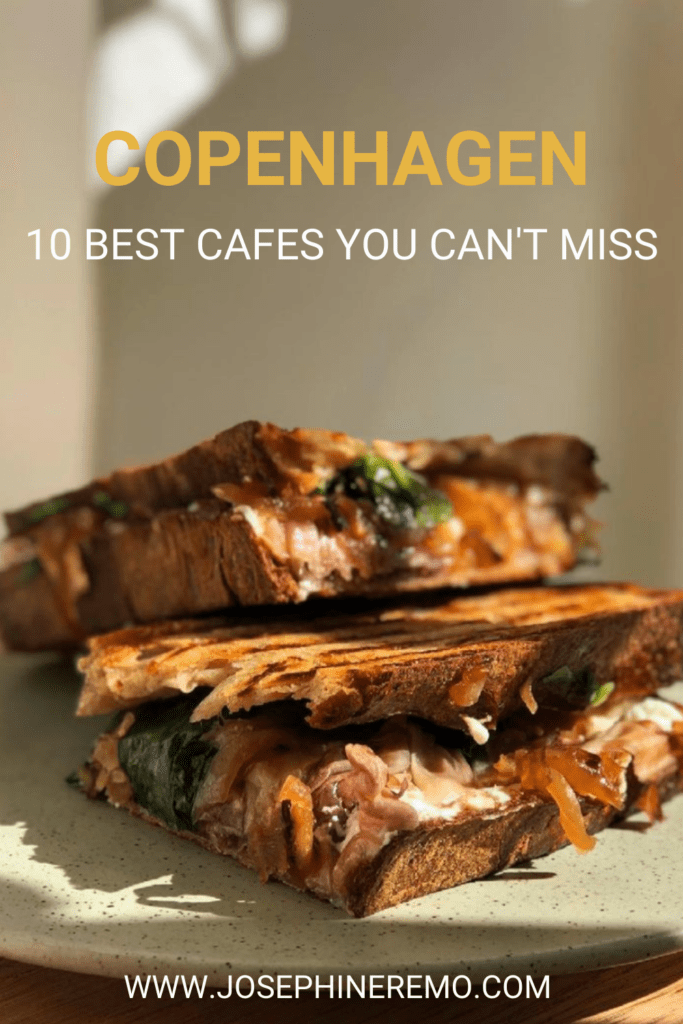 WHAT ARE THE BEST CAFES IN COPENHAGEN?
DARCY'S KAFFE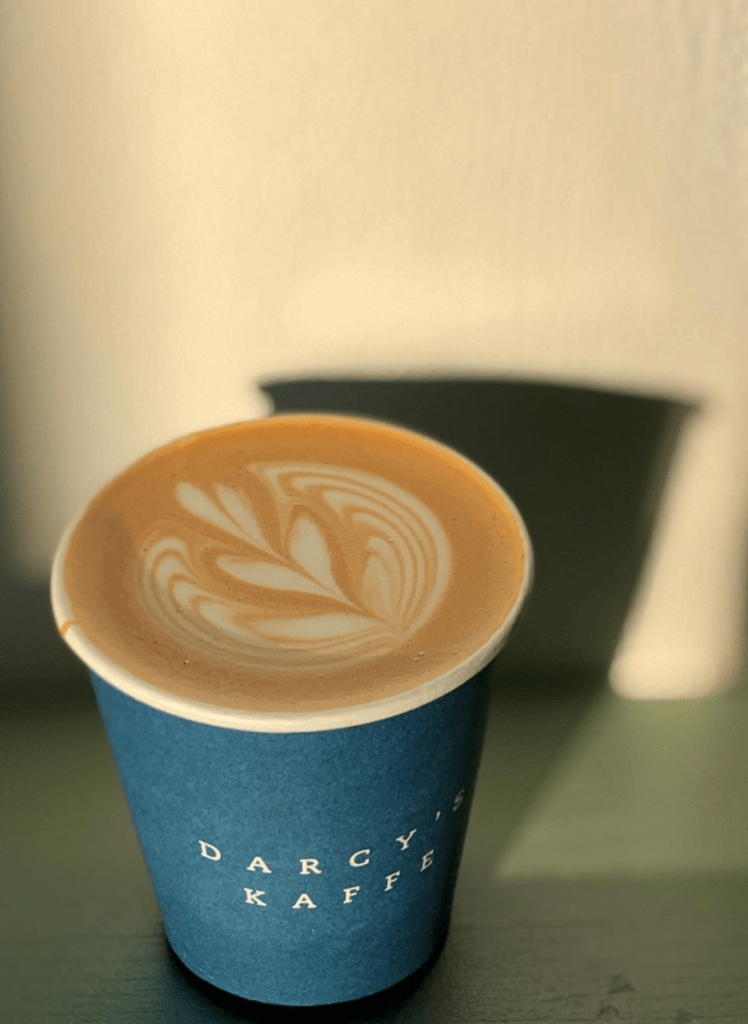 Café Darcy's is one of my absolute favorites in the city. Located in the Nørrebro area this café and coffee shop has a perfectly chill vibe and always extremely friendly staff.
Darcy's do great in terms of interior and spice up things with their selection of servings. Everything they offer is great and they even sell pretty cool merch.
These guys aim for serving great coffee and simple food and in both, they do superbly.
You find Darcy's at Ranzausgade 2, 2200 KBH N.
Travel tip: download the Wanderlog app onto your phone (works for both Android and iOs) and keep a plan for your trip. It's completely free and allows you to add everything you need such as important things scheduled, places you want to eat, reservations, and where you are staying!
Below I made a map and included my recommendations for you:
LILLE BAKERY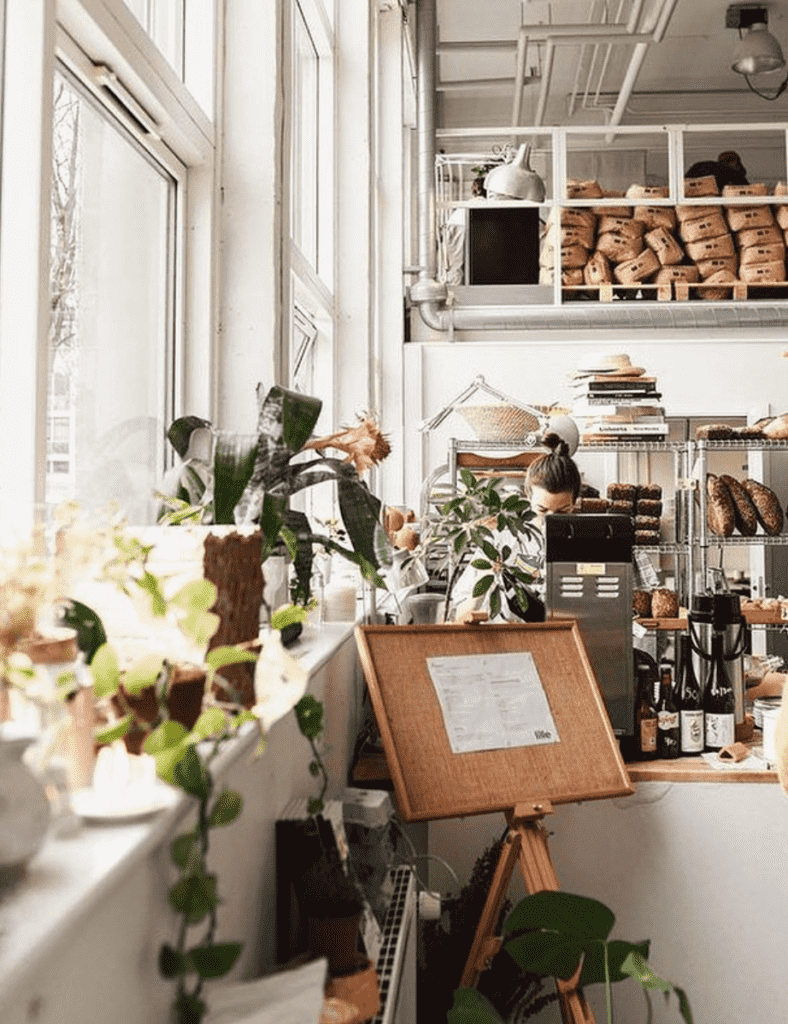 Lille Bakery is one of those cafés in Copenhagen that is great because it surprises you. Being located a little far away from the city, near the street food area "Reffen", the setup is unique, industrial, and cool.
The place is located in a small warehouse with a few long tables inside and a porch out the front. Here you have a couple more tables, sunbeds, and boxes used as small tables.
Lille Bakery is mostly, as the name indicates, a bakery, but also serves daily plates for lunch. On top of this, they serve great coffee and natural wines.
If I lived closer, Lille Bakery would be my hangout spot on a weekly basis!
You find this café at Refshalevej 213A, 1432 KBH.
SONNY
In terms of cafés in the center of Copenhagen, I don't think the area is the best for it. There are a couple of really good ones though, and here Sonny is my favorite.
The place is owned by a very nice couple who are great at changing up the menu with different homemade and seasonal things.
They do great at salads and in general, serve beautiful picturesque plates.
I go here for breakfast and lunch, but l I think I love them the most for lunch.
You find Sonnys at Rådhusstræde 5, 1466 KBH.
MORGENSTEDET
I love Christiania and think it is a must for you to visit.
This is my favorite café there for breakfast, lunch, or just to chill for a coffee.
Morgenstedet is super cute and has a very nice yard to sit in during summer.
The whole place pretty much screams Christiania and only serves vegetarian/vegan food in a very homey way.
Pro tip: make sure to bring cash or have mobile pay.
Christiania has a bit of a reputation in terms of safety. I visit this area all the time and I've never had a bad experience. Just travel around with good international travel insurance and you will be completely fine.
You find this café in the heart of Christiania at Fabriksområdet 134, 1440 KBH.
I always get the Lonely Planet Travel Guide books when I go visit a new place. They provide so much information and inspiration!
ATELIER SEPTEMBER
This kind of artsy café in the center of the city is a beautiful hotspot – that is also a bit pricy. Atelier September is however completely worth the money.
This café in Copenhagen is vegetarian but don't be fooled – everything tastes amazing and always has its own special little twist. Who knew that yogurt with olive oil was the most amazing mix??
At Atelier September they serve things just a little differently, and this combined with the beautiful surroundings is exactly what makes the place on point.
You find the café at Gothersgade 30, 1123 KBH K.
SMK KAFETERIA
Kafeteria is the café inside the National Museum of Art, SMK, in Copenhagen and both places should be on your list to visit – two in one, right?
The café is run by the same guy who has Atelier September and a place called Apollo (another great spot, though not a café). the places serve different things though and they are all amazing spots to go hang out.
Kafeteria serves great bread and pastries, along with amazing servings for both breakfast and lunch. Try their buttermilk pancakes as they are insanely good.
You find Kafeteria inside SMK at Sølvgade 48-50, 1307 KBH.
HOTEL CENTRAL & CAFE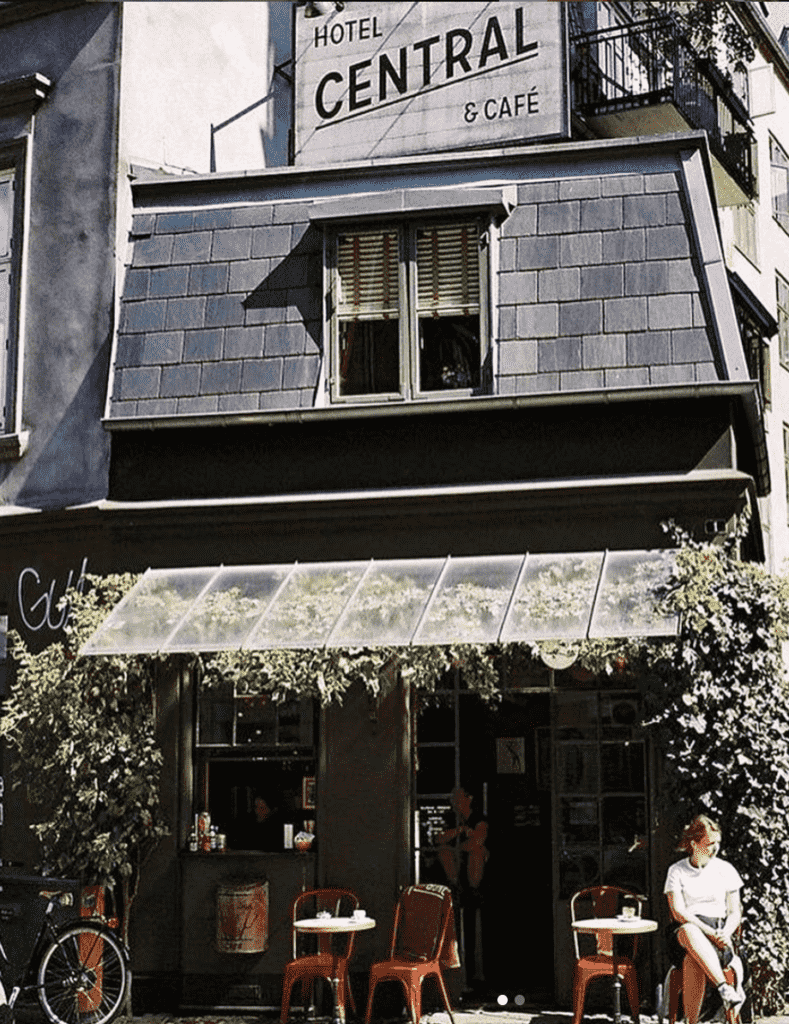 This is another of the more unique cafés in Copenhagen as it is also known as the smallest hotel in the world. Yup, it's tiny! Just for this is think it should be worth your time.
So downstairs you have a very tiny café with just one tiny table. Upstairs there is only a tiny bedroom with a tiny bathroom. Did I say tiny enough times?
The place obviously gives a very intimate feel and is very charming.
They do not serve a lot of things but you can get a nice small breakfast serving and along with that they do great coffee!
Who knew that the world's smallest hotel could be found in the center of Copenhagen at Tullinsgade 1, 1618 KBH.
BEAU MARCHE
As you might expect just from reading the name, Beau Marché is a French café.
Out front, you have a few very nice tables that serve as a perfect sunny spot on a nice day.
Next, you have a small shop that sells a bunch of very nice interior things.
If you walk through the back you find the small and very charming French café.
Beau Marché serves a great French breakfast and lunch. On top of that, they do great at offering amazing wines and a very chic setup.
This place is also at the center of Copenhagen at Ny Østergade 32, 1101 KBH.
DEPANNEUR
This is a small simple corner café in the Nørrebro area in Copenhagen. They specialize in bagels but also serve beer, drinks, and pastries and occasionally do events like serving oysters and wine.
Honestly, I am a little confused about the concept, but it is all very chill, and Nørrebro and I like it. Keep an eye out for their Instagram if interested in what they are up to this time.
Their bagels are in my opinion the best in the city and at fair prices too. I enjoy going for coffee and savory bagels as a quick simple breakfast.
The area around this cafe is also a cool and young spot with many bars and food options around – making Nørrebro a great area for travelers to stay.
You find Depanneur at Ranzausgade 36, 2200 KBH N.
MIRABELLE
This is a small café that is pretty popular and gets crowded at times. On weekends it is no guarantee you get a table without a reservation.
Mirabelle is connected and owned by the same people as the restaurant "BÆST" right next door. They are famous for their sourdough bread, and pizzas, and for making their own great cheeses.
This café is great for both breakfast and lunch. You can also just swing by and grab some pastries and a coffee to go. For lunch, they are "BÆST" inspired as serve Italian things like homemade pasta dishes, Foccacia, or Italian salads. 
Mirabelle is located at Guldbergsgade 29, 2200 KBH N.
GRUMS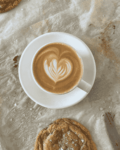 Grums is a fairly new café in the Nørrebro area, and I think they are quite underrated as they serve really nice things.
This is like a classic café with great coffee, freshly baked goods, simple servings for lunch, and a really good atmosphere.
The staff is always incredibly friendly and it's a great spot to just disappear for a few hours. I love coming here to zone out and enjoy something delicious in the cozy couch area of Grums.
Grums is located at Nørrebrogade 161, 2200 KBH N.
GENERAL NOTE ON CAFES AND COFFEE BARS IN COPENHAGEN
Danish people are café and coffee lovers in general. All over Denmark, you find cafes, coffee shops, ice cream places, and everything you might desire. We simply love food and going out for just about anything.
If you are a coffee enthusiast you will love the coffee scene in Copenhagen. Some of the coffee shops in town for grabbing some high-quality coffee are Prolog Coffee Shop, Copenhagen Coffee Collective, and ROAST Coffee. New places are opening all over the city all the time, and you will find cafes and coffee spots on almost every street in Copenhagen.
The best areas for visiting cafes and coffee shops are Nørrebro, Vesterbro, and the center of Copenhagen as well as Christianshavn. Avoid visiting places on the largest and main shopping streets of the cities, as well as the main squares. These places are usually more touristy and overpriced compared to the quality.
If you are looking for great places for either breakfast or brunch, Copenhagen has a bunch to offer here too.
That was all for the best cafés in Copenhagen. I tried to add great ones from all over the city so hopefully, you will at least be close to some of them. Enjoy and have a great time while visiting the city.
If you have any questions or feedback, feel free to leave a comment below.
//Josephine
The article may include affiliate links, meaning that I may receive affiliate compensation at no cost to you if you decide to purchase. Read more in my
Affiliate Disclosure.
BEST TRAVEL RESOURCES
BOOK YOUR FLIGHT: Not sure how to get the best and cheapest flights? I always use Skyscanner for the best deals. The best tip is to be flexible with dates and destinations if you want the cheapest options.
Alternatively, for frequent travelers, get a membership with Wayaway and receive a cashback on cheap flights and hotels every time you book! Via the link, you even get a 10% discount on your membership.
BOOK GREAT ACCOMMODATION: Booking great accommodation is not difficult but it sucks paying too much. Use Booking.com for the greatest hotel deals and Hostelworld for amazing hostel stays. Alternatively, you can sign up for Worldpackers to get FREE accommodation in exchange for your work.
BEST TRAVEL INSURANCE: Traveling without insurance is a mistake that you don't want to make - trust me I've tried. I'd suggest SafetyWing as they offer great and flexible policies - especially if you are traveling for a long time or a digital nomad. World Nomads is another great insurance with extensive coverage.
NEED HELP WITH YOUR VISA? Figuring out how and when you need a visa can be a bit of a jungle. iVisa is a very handy and user-friendly service.
HAS YOUR EU FLIGHT BEEN DISRUPTED? Use AirHelp as a service to get flight compensation on your European flights in case your flight was delayed, canceled, or disrupted in other ways. More often than not you are actually entitled to compensation.