Anyone who knows me knows that I love Copenhagen and I love breakfast and, therefore, the best brunch places in Copenhagen are places I go regularly.
You might already know that Copenhagen is a food lover's dream and that the city is packed with unique places to visit. However, like any capital, the city is also full of overpriced tourist traps and especially the cafe scene can be a little tricky to figure out.
If you are looking for a great place to go and enjoy brunch in Copenhagen then seek no further! Below I am sharing the 8 best brunch places in Copenhagen to make sure you have a great experience.
Lastly, joining a food tour around Copenhagen is another great way to experience the incredible culinary scene.
PIN THIS POST FOR LATER
WHERE IS THE BEST BRUNCH IN COPENHAGEN?
CADENCE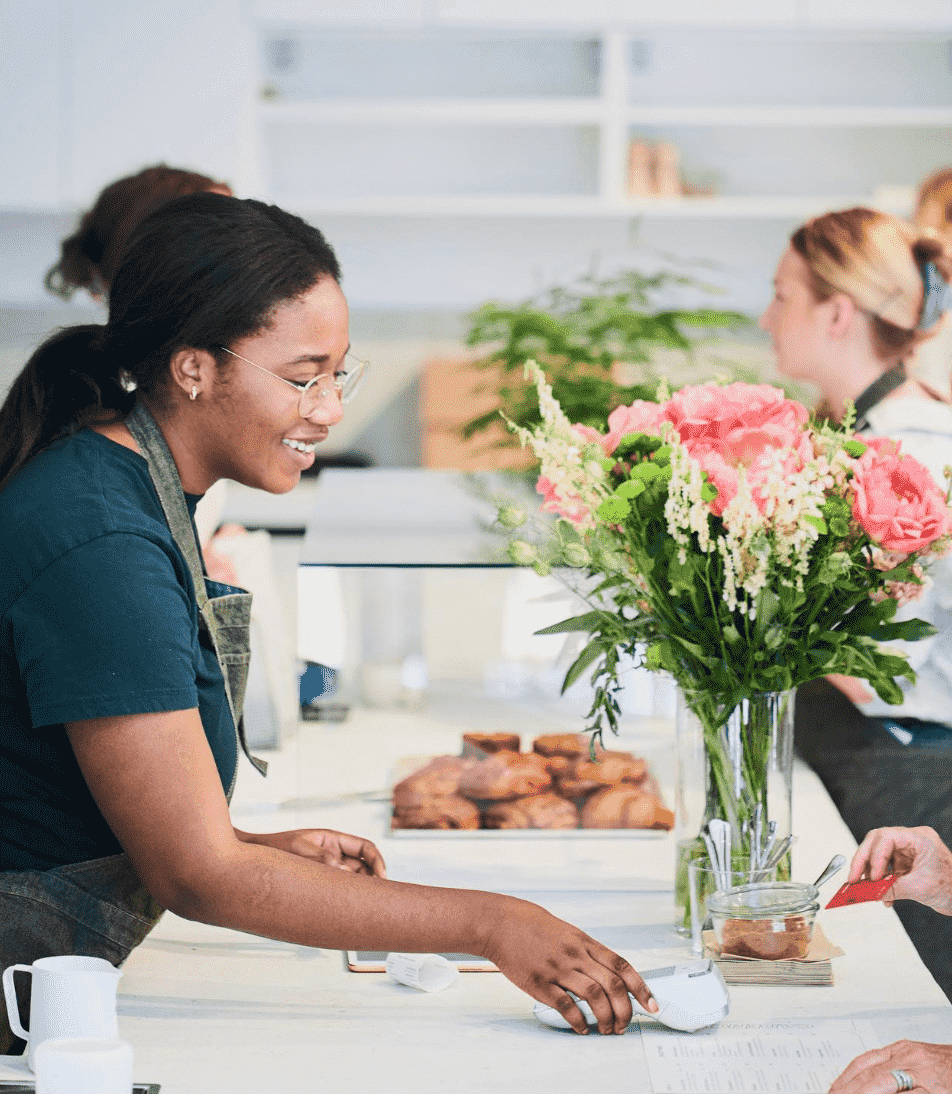 You find Cadence at the end of the Vesterbro area near Carlsberg City. The owners are an Australian team consisting of André Rossi and Rhys Howell-Morgan, who already have a successful breakfast location in Jægersborggade called "The Sixteen Twelve". Another place worth a visit.
However, at Cadence the two wish to challenge the traditional brunch scene in Copenhagen by using fermentation and serving healthier, but still delicious, alternatives.
Besides being a beautiful café, Cadence is also a bakery and whether you have time to enjoy a full brunch or simply a quick stop at the bakery, this place is worth your time, wallet, and stomach.
You can see their full menu here.
Address: Ny Carlsberg Vej 40, 1760 København V
THE SIXTEEN TWELVE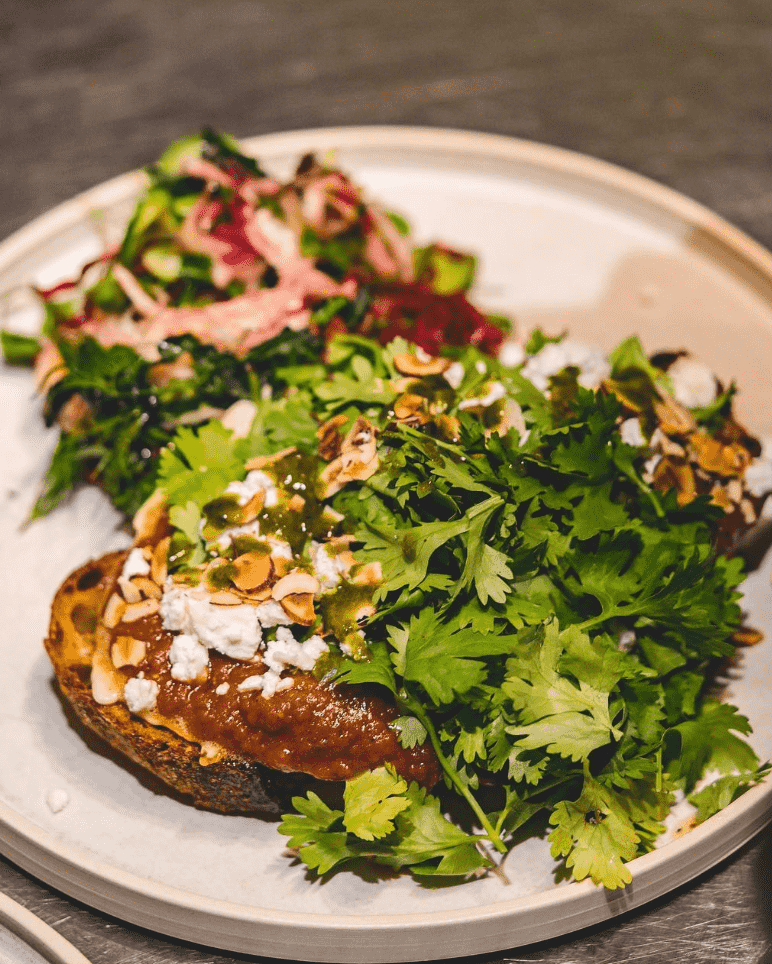 As mentioned above, The Sixteen Twelve is the sister of Cadence and is located in the heart of Jægersborggade. Here they serve both breakfast and brunch all day long and offer a wide variety of dishes on their menu. The Australian owners really brought over their beautiful breakfast culture and style as the concept is both innovative and delicious. This is also the reason why The Sixteen Twelve quickly became one of the most famous and best brunch spots in town.
The Sixteen Twelve is great at serving the classics with their own unique touch such as their Eggs Benedict with pulled pork, Bitcher müsli with coyo or french toast with caramelized pineapple.
You can check out their menu and make a reservation here.
Address: Jægersborggade 12,2200 København N
Travel tip: download the Wanderlog app onto your phone (works for both android and iOs) and keep a plan for your trip. It's completely free and allows you to add everything you need such as important things scheduled, places you want to eat, reservations, and where you are staying!
Below I made a map and included my recommendations for you:
JOHN & WOO
John & Woo is both a cafe and restaurant that is located right at the start of Amager and in Nordhavn.
In the evening these guys serve traditional bistro-style dishes and in the mornings a delicious brunch. Amongst some of their best servings are their Eggs Benedicts, French Toast, or their delicious mushroom toast.
Check out both their menu and location here.
Address: Under Elmene 13, 2300 København or Göteborg Pl. 2, 2150 København
MAD & KAFFE
If you are the indecisive type who wants a bit of everything, then Mad & Kaffe is for you. Here you design your own breakfast plate by ticking off small servings of what you want to eat. So whether you like chia porridge, pastries, rye bread, or classic eggs, you can design the perfect brunch plate just for you.
The brunch menu often changes at Mad & Kaffe and has different seasonal servings, making it easy to always try something new.
Note that Mad & Kaffe gets very busy on the weekends so either call and book a table or come in good time. Another option is to go during the week when 5 breakfast elements cost around 145kr.
Finally, Mad & Kaffe is located in different places around Copenhagen so you might be able to grab one of the best brunches close to where you are staying.
Finally, please note that Mad & Kaffe took over the location of Møller Kaffe in the Nørrebro area and, though the internet sometimes shows differently, this location is now closed.
See their menu here.
Address: Sønder Blvd. 68, 1720 København V, Godthåbsvej 45, 2000 Frederiksberg og Tyrolsgade 6, 2300 København S
SIDECAR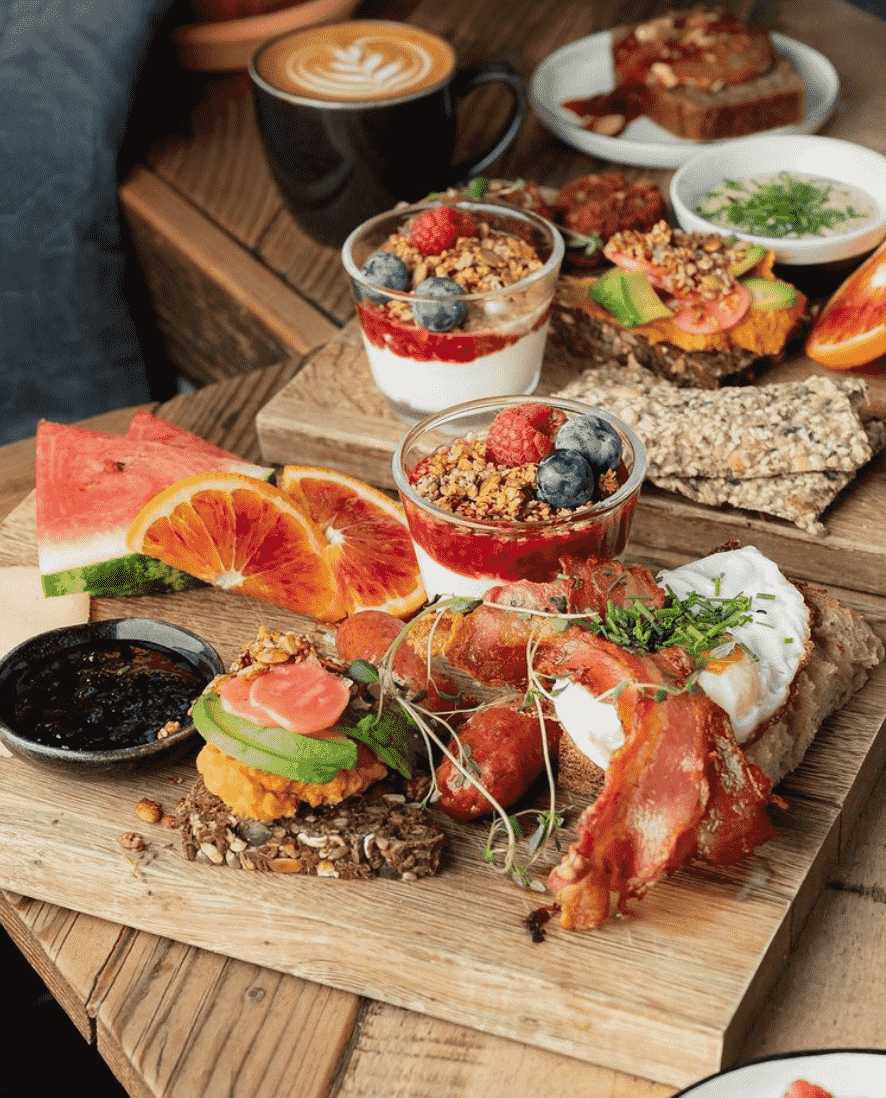 Sidecar is an interesting place as it has 2 faces. The restaurant works as an Asian bao bar at night, called MaoBao, and a great breakfast/brunch café during the day.
Besides being an interesting concept, this place also serves one of the best, and biggest, brunches in town.
Brunch is served every day of the week but the full experience is found on the weekend. Here you pick the hot part of your breakfast from the menu card and thereby get automatic access to the lavishing buffet in the middle of the café.
Everything in the buffet is fresh and delicious and provides a ton of great choices. Though it is a pretty pricey brunch, you won't walk out hungry or disappointed.
As some consider it the best brunch in Copenhagen, the weekend brunch at Sidecar gets booked out sometimes weeks ahead and you should be sure to make a reservation.
You see their full menu here.
Address: Skyttegade 5, 2200 København N
THE UNION KITCHEN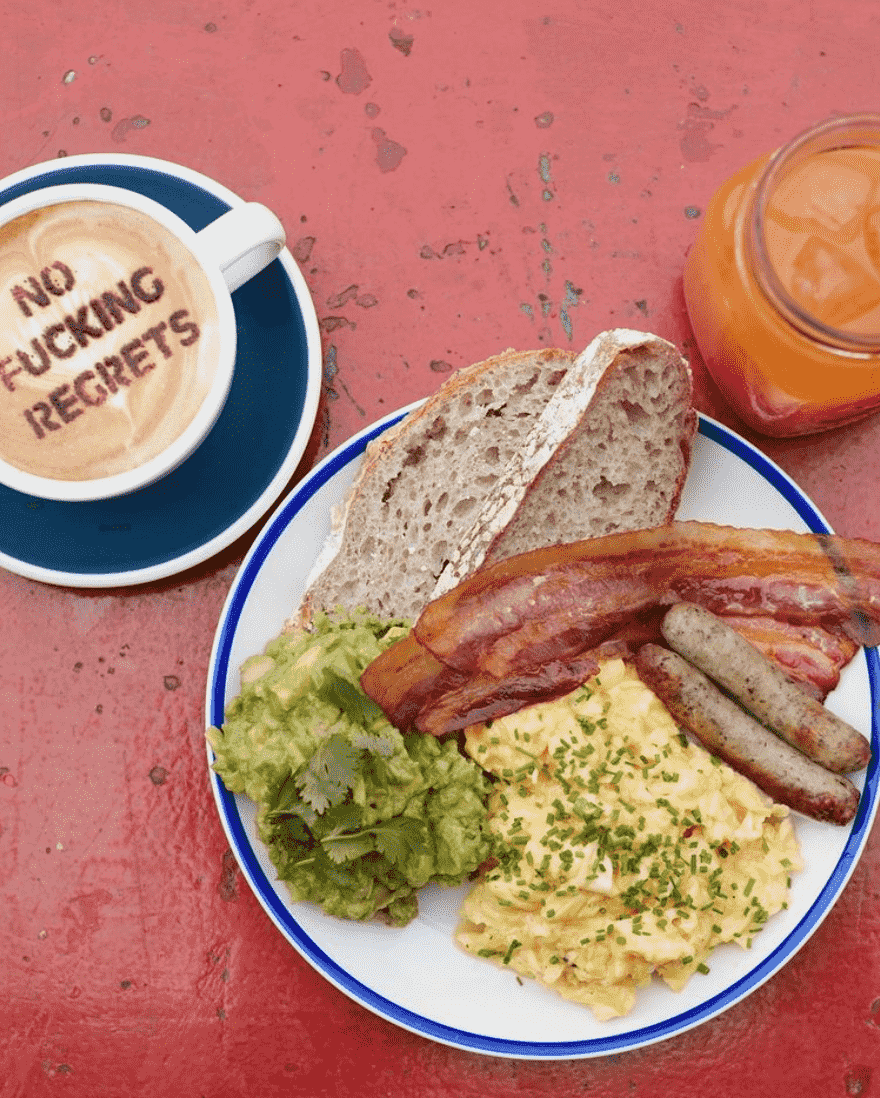 The Union Kitchen is a great option if you want a solid and tasty brunch. The place quickly became popular amongst locals due to its location in the middle of the city and its hip atmosphere.
Recently, these guys opened up a second location in the Østerbro area of the city.
The Union Kitchen is notoriously known for doing things their own way which you can quickly tell by the way they decorate their great coffee. The kitchen is good and innovative and always serves the classics with their own twist.
Visit The Union Kitchen for a tasty start to your day and a trendy Copenhagen experience.
You can see their menu here.
Address: Store Strandstræde 21, 1255 København K or Øster Farimagsgade 16A, 2100 København Ø
LE TROIS COCHONS
The last spot I want to mention, is the french brunch spot, Le Trois Cochons. As a part of the Cofoco restaurant chain, this place is known for its great food and beautiful decor. Stepping into this place feels like stepping into a Parisian café and they serve exactly what you would expect at one.
The brunch buffet at Le Trois Cochons offers a wide variety of classics like soft-boiled eggs, scrambled eggs, omelets, avocado toast, smoked salmon, and freshly baked bread.
Finally, Le Trois Cochons is also a great lunch or afternoon cheese and wine spot in the middle of beautiful Værnedamsvej.
You can see their menu and make a reservation here.
Address: Værnedamsvej 10, 1619 København
Finally, note that this area is also a great place to look for some accommodation options to stay while enjoying the city.
BOULEBAR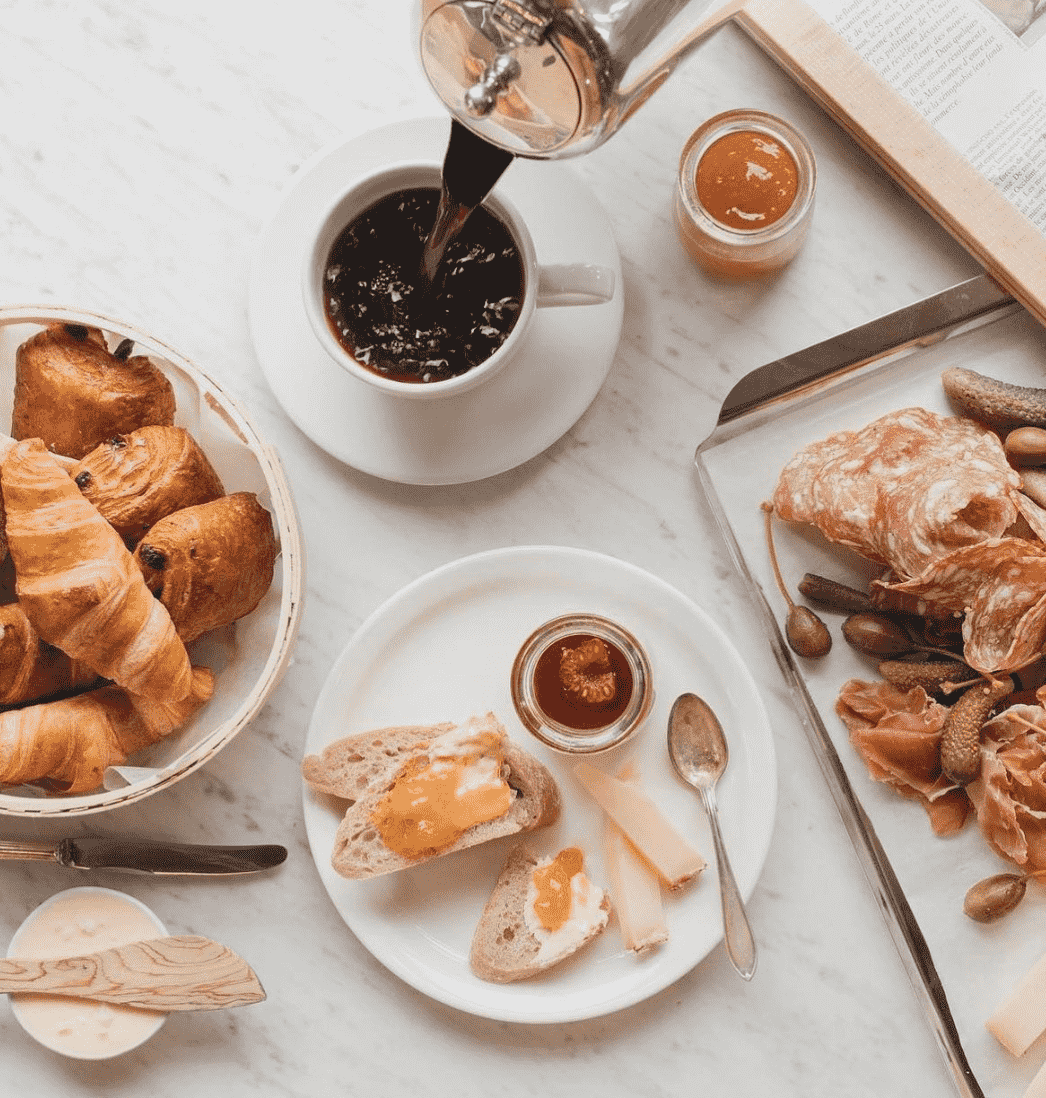 This last one I want to mention is a special and different setup and, therefore, it is also a lot of fun.
Boulebar in the center of Copenhagen is a popular bar amongst locals who like to enjoy good drinks while entertaining themselves with a game of Petanque.
Recently, Boulebar extended its services by also offering a french brunch which, combined with a game of Petanque, offers a perfect start to any weekend day.
Every Saturday and Sunday from 10:30 am – 3 pm you can choose a delicious brunch. This consists of, amongst other things, pan au chocolat, yogurt topped with granola and berry compote, charcuterie, and tart flambeé.
This great (and of the best) brunch even finishes in true french style with a dessert of crème brûlée, citron-gateau, mint praliné, and fruit.
If you thought it didn't get any better I can tell you that it does. (One of) the best brunch in Copenhagen is served at Boulebar in numerous rounds and you can ask for as much as you want.
The price is either 250kr for the brunch alone or 350kr if you want to enjoy a game of pétanque as well. You get the pétanque field for 1,5 hours and your brunch table for 1 hour and 20 minutes.
Whether you want to eat and then play or the other way around is completely up to you.
You can book and read more here.
Address: Nørregade 18, 1165 København K
GENERAL ABOUT THE BEST BRUNCH IN COPENHAGEN
Danish people love breakfast and brunch and it is now considered fashionable to go out for brunch on weekends.
While it started out as the classic buffet breakfast with eggs, bacon, toast, and coffee, it has now evolved into a more sophisticated meal with gourmet items and interesting servings.
There are many great places to have brunch in Copenhagen, buffet or not. However, these 8 mentioned are definitely the best of the best.
So if you're looking for a delicious meal to start your day, be sure to check out one of these amazing spots!
THE BEST AREAS OF COPENHAGEN TO GO FOR THE BEST BRUNCH
Copenhagen has many great areas for brunch, but these three are definitely the best:
-The Old Town (Copenhagen City Center)
-Vesterbro
-Østerbro
-Nørrebro
The Old Town is home to some of the best and most famous restaurants in Copenhagen. If you want a luxurious brunch experience, this is the place to go.
Vesterbro is known for its hip and trendy atmosphere, and brunch is no exception. This area has some of the most innovative and delicious brunch spots in the city.
Østerbro is a more relaxed area with great parks and green spaces. If you want a leisurely brunch experience, this is the perfect place to go.
Nørrebro is the perfect place to go for brunch in young surroundings. This area is full of great cafes and bakeries that serve delicious breakfast and brunch items. Sometimes even cheaper than in some of the more expensive areas.
GENERAL ABOUT THE FOOD SCENE IN COPENHAGEN
Copenhagen has a great food scene with something for everyone. If you want to try traditional Danish cuisine, there are many great places to do so.
For something more modern and international, there are also plenty of options. In recent years, the city has seen an influx of new restaurants, bars, street food, and cafes, so there is always something new to try.
No matter what your taste, you're sure to find something to your liking in Copenhagen.
COPENHAGEN FOOD YOU MUST TRY
If you're visiting Copenhagen, there are some traditional food items that you absolutely must try:
-Smørrebrød: This is a type of open-faced sandwich that is very popular in Denmark. It is usually made with rye bread and topped with various meats, cheeses, and vegetables.
-Wienerbrød: This is a type of Danish pastry. It is made with yeast dough and filled with various creams and jams.
FINAL NOTE ABOUT THE BEST BRUNCH IN COPENHAGEN
I hope you enjoyed this article about the best brunch in Copenhagen! If you have any questions or suggestions, please feel free to leave a comment below.
And if you're looking for more things to do in the city, be sure to check out my other articles about the best places to visit in Copenhagen!
All the best,
//Josephine
The article may include affiliate links, meaning that I may receive affiliate compensation at no cost to you if you decide to purchase. Read more in my
Affiliate Disclosure.
BEST TRAVEL RESOURCES
BOOK YOUR FLIGHT: Not sure how to get the best and cheapest flights? I always use Skyscanner for the best deals. The best tip is to be flexible with dates and destinations if you want the cheapest options.
Alternatively, for frequent travelers, get a membership with Wayaway and receive a cashback on cheap flights and hotels every time you book! Via the link, you even get a 10% discount on your membership.
BOOK GREAT ACCOMMODATION: Booking great accommodation is not difficult but it sucks paying too much. Use Booking.com for the greatest hotel deals and Hostelworld for amazing hostel stays. Alternatively, you can sign up for Worldpackers to get FREE accommodation in exchange for your work.
BEST TRAVEL INSURANCE: Traveling without insurance is a mistake that you don't want to make - trust me I've tried. I'd suggest SafetyWing as they offer great and flexible policies - especially if you are traveling for a long time or a digital nomad. World Nomads is another great insurance with extensive coverage.
NEED HELP WITH YOUR VISA? Figuring out how and when you need a visa can be a bit of a jungle. iVisa is a very handy and user-friendly service.
HAS YOUR EU FLIGHT BEEN DISRUPTED? Use AirHelp as a service to get flight compensation on your European flights in case your flight was delayed, canceled, or disrupted in other ways. More often than not you are actually entitled to compensation.