Copenhagen is a popular travel destination and has been a growing food mecca for the last decade. You find something for everyone in this city and, of course, some of the absolute best pizza options are also available in Copenhagen.
And who doesn't like pizza?
Because even when it's bad, it's still good, and in Copenhagen, you find some of the best options in the world.
I'm not even kidding.
If you are looking for some great pizza in Copenhagen then look no further than here. In this guide, I will share the 10 best pizza places in Copenhagen for you to try!
Lastly, joining a food tour around Copenhagen is another great way to experience the incredible culinary scene.
PIN THIS POST FOR LATER: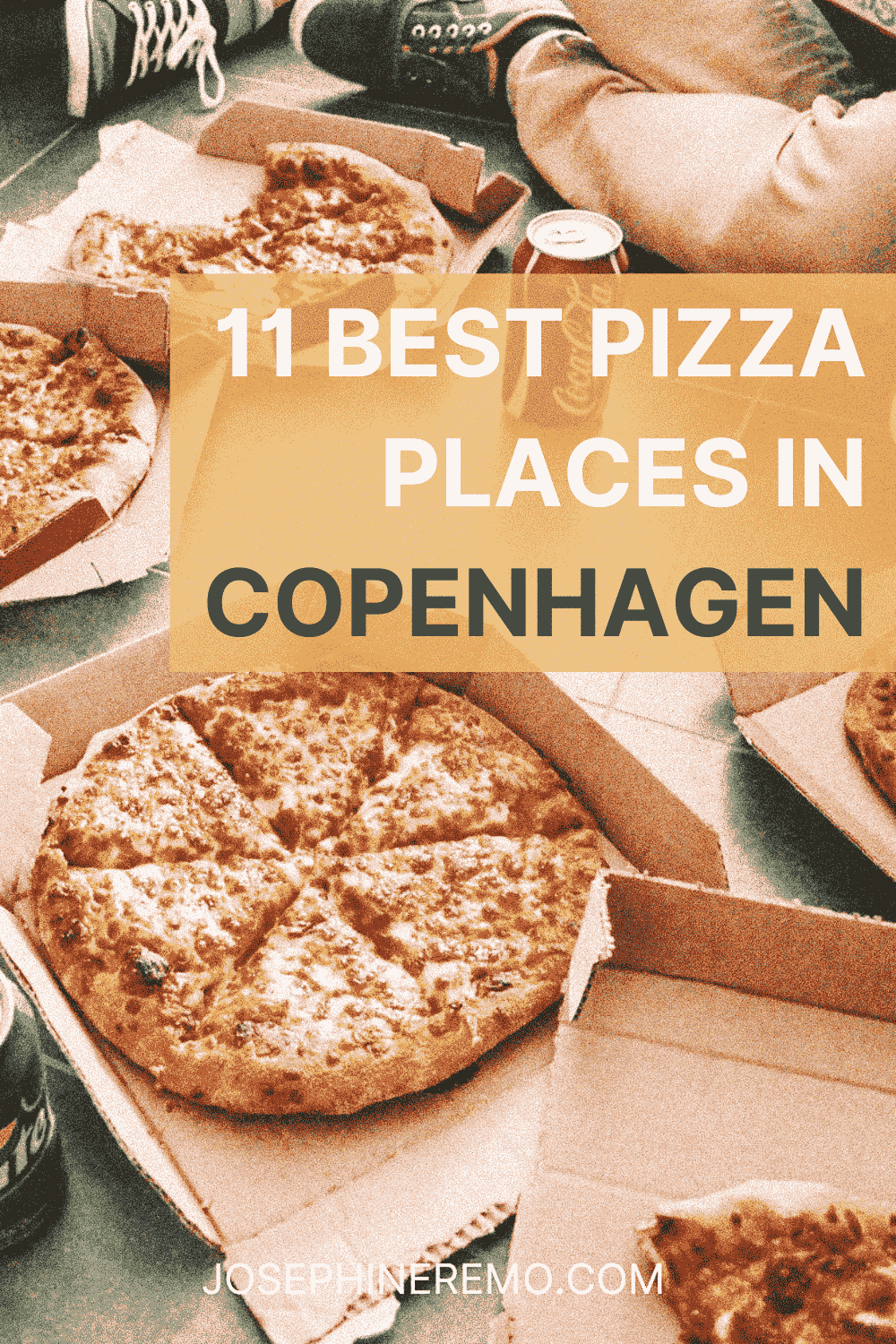 WHERE TO GET THE BEST PIZZA IN COPENHAGEN?
OTTO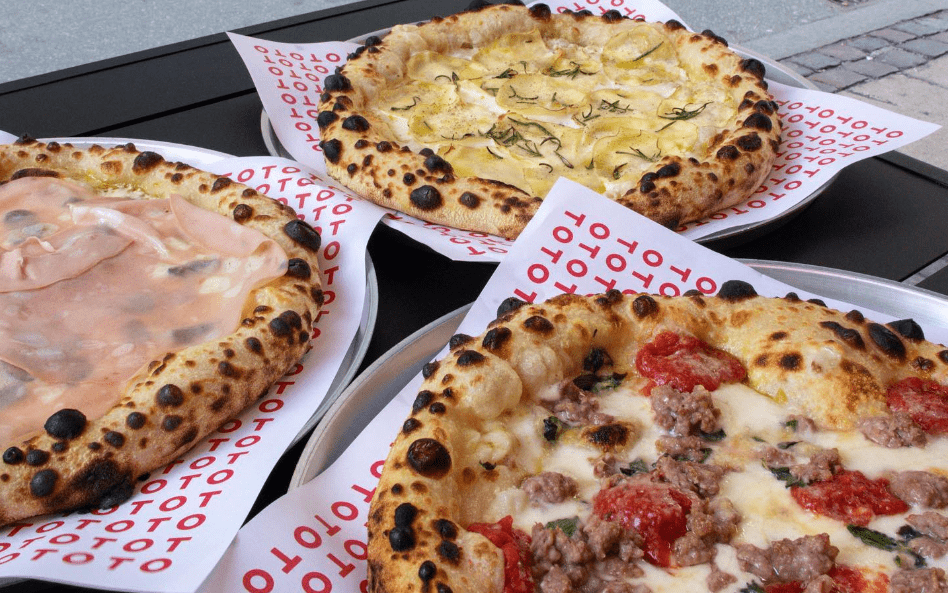 At the beginning of 2021, former Michelin chef Rasmus Oubæk opened a Neapolitan pizzeria called Otto. The original location was Værnedamsvej in the Vesterbro area, but within a year the pizza expanded into three additional locations and serves some of the best pizza in Copenhagen.
The pizzas are great with a thin bottom, good fresh toppings, and a crust you don't want to leave behind.
On top, they are also reasonably priced and range from 85-110 DKK. If you want to add some extra toppings you also do so and pay an extra 20 DKK.
Finally, Otto created a great new takeaway concept if you wish to enjoy your pizza at home. On top of being able to buy your takeaway pizza the classical way, you can also pick it up cold from the fridge and bake the final 10 minutes at home.
You find Otto at Værnedamsvej 18, 1619 København, Godthåbsvej 10, tv, 2000 Frederiksberg, H. C. Andersens Blvd. 12, 1608 København and Strandlodsvej 15 A, 2300 København
PIZZERIA LUCA
If you wish to taste one of the world's best pizzas (no joke), then you need to visit Luca. Luca was rated as the 9th best pizza place in the world and the popularity exploded since then.
And rightfully so.
The key behind Luca's success is a hidden secret in their pizza dough. The recipe is a well-kept secret but is a creation that needs to rise cold for 72 hours.
The master behind the magic is Luca Platania who is behind the recipe and also the name-giver of the restaurant.
Besides pizzas, you have a few other tasty servings, wines, and tasty Italian-inspired drinks.
Luca is located at Gammel Strand 42, 1202 København and Rosenvængets Allé 6, 2100 København
Travel tip: download the Wanderlog app onto your phone (works for both android and iOs) and keep a plan for your trip. It's completely free and allows you to add everything you need such as important things scheduled, places you want to eat, reservations, and where you are staying!
Below I made a map and included my recommendations for you:
MOTHER
In the meatpacking district of Copenhagen, you find the pizzeria MOTHER. A famous spot amongst locals and foreigners to go enjoy the Italian national dish and for good reason.
With a delicious sourdough bottom and fresh ingredients, it's hard to go wrong. Especially the sourdough is in focus here and it's actually the mother dough of sourdough that inspired the restaurant's name.
Since the first opening day of MOTHER, the restaurant has been more or less full. People know MOTHER as a certain winner and enjoy the tasty pizzas inside the trendy Meat Packing District location or on the benches outside. 
You find MOTHER at Høkerboderne 9-15, 1712 København V
Lastly, Vesterbro is a great and hip area that offers many bars, restaurants, and some of the best hotels in Copenhagen.
BÆST
Bæst translates to "beast" and that is exactly what you get at this place. At least in terms of pizzas and this pizza is definitely one of the best you can have in Copenhagen.
These guys serve sourdough pizzas with often homemade ingredients and cook them inside their impressive oven. Since the kitchen is open you even get a full front view of the magic happening inside.
At BÆST the ingredients are in focus which shines through in the taste. BÆST has, in fact, been nominated as one of the 10 best pizzas worldwide several times.
Besides their pizzas, the homemade bread, cold cuts, and cheeses are great too.
You find BÆST at Guldbergsgade 29, 2200 København N
SURT
At the end of 2019, the pizzeria SURT opened behind the famous old elephants in Carlsberg Byen in the Vesterbro area. Behind the magic is Giuseppe Olivia who used to make pizzas at two other places mentioned on this list; Tribeca and BÆST.
With a family who has baked bread since 1941, you would expect something good and this and much more is what you get at SURT. The bottoms are sourdough, the ingredients fresh, the tomato sauce made with love, and all is baked inside a handbuild oven.
Besides the pizzas, you also find other small dishes that are perfected with care and with a large focus on organic ingredients.
SURT is located Bag Elefanterne 2, 1799 København V
TRIBECA BEER & PIZZALAB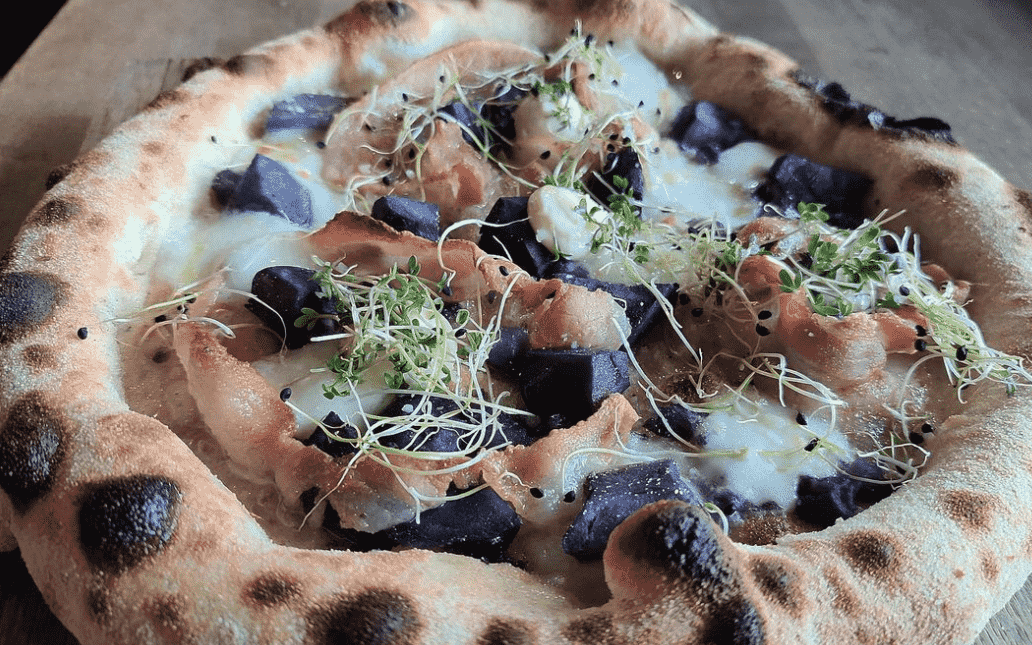 Tribeca in the Nordvest area is what could be called a pizza- and beer lab, which has specialized in Sicilian-style stone oven pizzas.
This place has a focus on organic quality ingredients which shines through in the taste of everything they serve. On top, these guys are great at playing and testing out interesting seasonal taste combinations.
Tomato and high-quality mozzarella are regulars, but you also find more exotic toppings such as truffle, nduja, artichoke, and other seasonal vegetables.
Tribeca is located at Bisiddervej 16, 2400 København
PICO PIZZA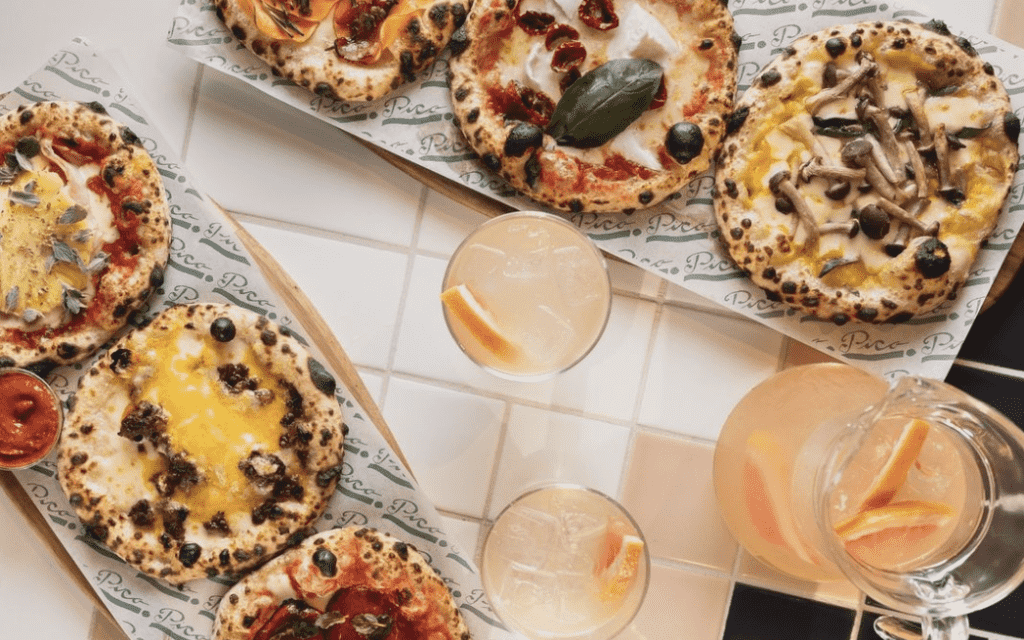 Do you ever have a difficult time choosing what to order because you really want to try everything? Well, at Pico Pizza they have eliminated this problem by serving mini pizzas.
Meaning, that you can try three different gourmet pizzas for just 130 DKK.
The setting of this place is laid back Nørrebro-style, and popular amongst young people who also enjoy pitchers of cocktails from the menu card.
In terms of taste, the pizzas are always great with an extra twist on the classical Italian pizza, and you can even ask for truffle mayo on the side.
Because of the concept, the kitchen sometimes needs a bit of time to prepare the food, so don't go if you are in a hurry and enjoy something to drink while you wait.
Pico Pizza is located at Vesterbrogade 135, 1620 København V and Skyttegade 3, 2200 København N
NEIGHBOURHOOD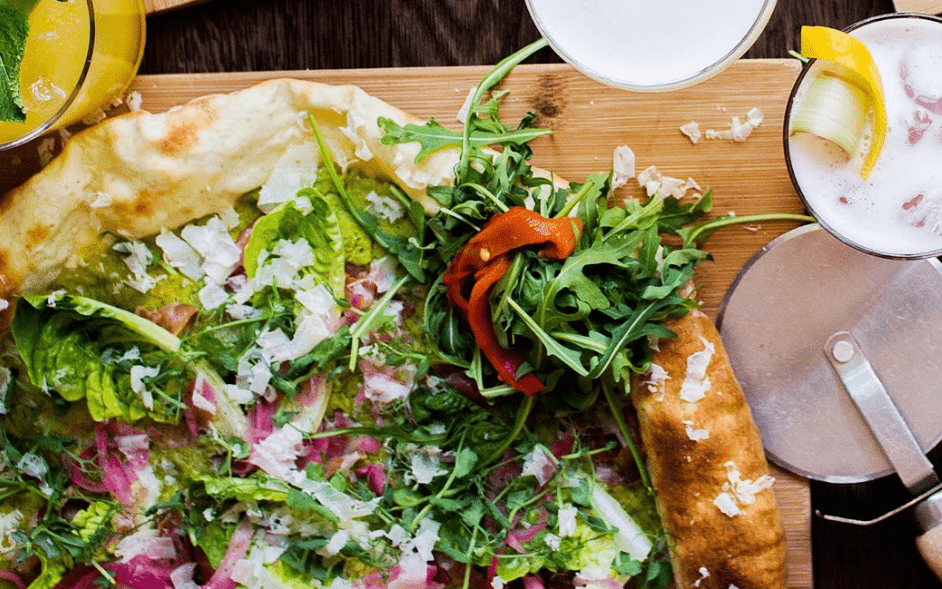 At Neighbourhood, you get a different serving of pizza than most other places.
These guys roll out their pizza bottoms ultra-thin and bake them extra crispy so it's almost like a tasty cracker.
Though it might sound innovative, the result is really light, fresh, tasty, and one of the best pizza servings to have in Copenhagen.
Neighbourhood tops their pizzas with fresh, seasonal, and organic goodies, and you are served something interesting that never disappoints.
The restaurants are decorated with a trendy Scandinavian touch and the menu card is full of tasty organic cocktails to pair with your meal.
You find Neighbourhood at Istedgade 27, 1650 København and Jægersborggade 56, 2200 København
PIZZERIA MAMEMI & WINEBAR
Pizzaria Mamemi & Winebar is run by three talented Italian gentlemen who know what they are doing.
The dough rises for a minimum of 48 hours and the ingredients are always of the highest quality. The toppings are always organic and as you might have guessed by the name, you can also visit this place as a wine bar. The wine list includes an impressive selection of biodynamic and natural wines that are always fun to dive into.
The pizzeria is located in the trendy Vesterbro area right by Enghave Plads (a cozy square) and the place has an inviting ambiance.
Pizzeria Mamemi & Winebar is found at Mysundegade 29, 1668 København V
GOLA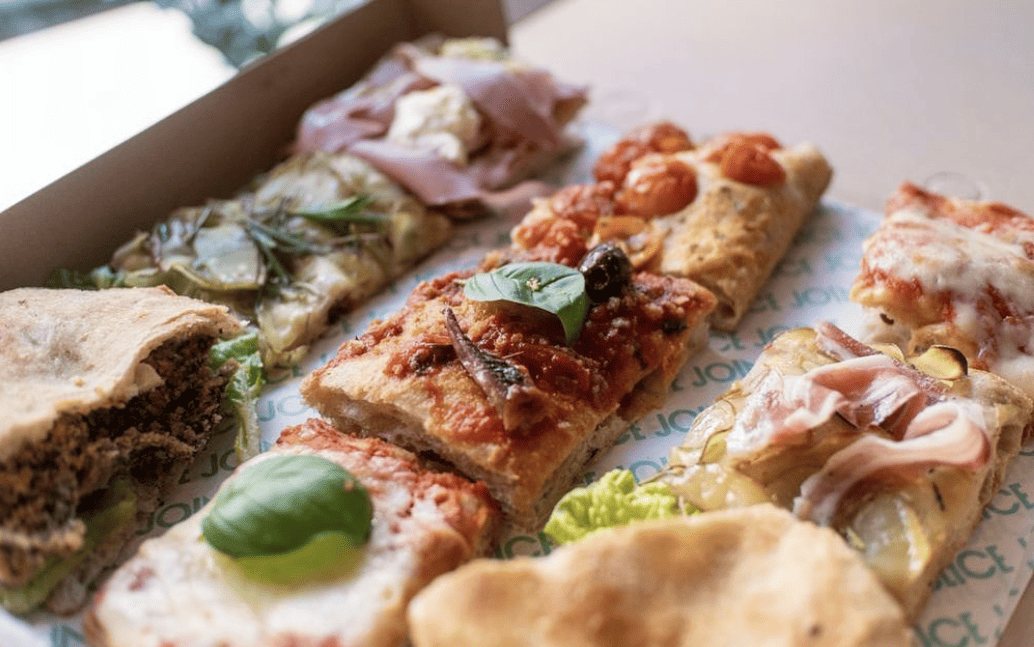 This tiny little Nørrebro pizza joint offers a roman style, but New York-inspired, pizza experience.
What does that mean?
It means that the pizzas are the roman style with a thicker bottom but the concept is a pizza slide concept as you might see in New York.
On top, Gola mixes this with an excellent selection and focuses on serving great biodynamic and natural wines.
Gola serves pizza slices with seasonal and organic toppings at a very reasonable price. The ingredients are always of the highest quality and the taste combinations sometimes with a Scandinavian twist.
With only a few seats, many people grab some pizza slices and head outside.
Gola is located at Rantzausgade 47, 2200 København N
GENERAL ABOUT THE BEST PIZZA IN COPENHAGEN
As you have hopefully learned through this post, Copenhagen serves some of the best pizza in the world.
Danish people love pizzas and therefore, you can find the Italian plate in many different varieties all over the city.
Though there are many great pizza places around, you also have some really crabby ones.
My advice is to stay away from places that have too many things on the menu or are located on main shopping streets or squares.
ADDITIONAL ABOUT THE BEST PIZZA IN COPENHAGEN
Copenhagen is any food lover's dream and you should always prioritize eating well while visiting. Whether you are into street food, amazing restaurants, burgers, or want to try traditional smørrebrød or brunch, Copenhagen has something for you.
On top, Copenhagen has a great cafe and bar scene that is sure to keep any traveler well-fed and entertained.
If you would like to read more about Copenhagen I have more posts on what to do on my website.
That was it for the best pizza in Copenhagen.
I hope you enjoyed this post and get to have a wonderful experience at some of these pizza joints.
As always feel free to leave a comment below!
//Josephine
The article may include affiliate links, meaning that I may receive affiliate compensation at no cost to you if you decide to purchase. Read more in my
Affiliate Disclosure.
BEST TRAVEL RESOURCES
BOOK YOUR FLIGHT: Not sure how to get the best and cheapest flights? I always use Skyscanner for the best deals. The best tip is to be flexible with dates and destinations if you want the cheapest options.
Alternatively, for frequent travelers, get a membership with Wayaway and receive a cashback on cheap flights and hotels every time you book! Via the link, you even get a 10% discount on your membership.
BOOK GREAT ACCOMMODATION: Booking great accommodation is not difficult but it sucks paying too much. Use Booking.com for the greatest hotel deals and Hostelworld for amazing hostel stays. Alternatively, you can sign up for Worldpackers to get FREE accommodation in exchange for your work.
BEST TRAVEL INSURANCE: Traveling without insurance is a mistake that you don't want to make - trust me I've tried. I'd suggest SafetyWing as they offer great and flexible policies - especially if you are traveling for a long time or a digital nomad. World Nomads is another great insurance with extensive coverage.
NEED HELP WITH YOUR VISA? Figuring out how and when you need a visa can be a bit of a jungle. iVisa is a very handy and user-friendly service.
HAS YOUR EU FLIGHT BEEN DISRUPTED? Use AirHelp as a service to get flight compensation on your European flights in case your flight was delayed, canceled, or disrupted in other ways. More often than not you are actually entitled to compensation.