Copenhagen is a great spot for nightlife and going out. The city is filled with bars and especially in summer, Copenhagen comes to life like no other city, and there are a ton of things to do. Some of the best bars in Copenhagen are found in popular areas, and others you travel a little out of the city to enjoy.
While Denmark, and Copenhagen, are best known for beer, the bar scene of the city has expanded to almost every extent desired. From local bodegas to high-class cocktail bars decorated in a New York City style, Copenhagen has it all.
Danish people are nightlife lovers, and in Copenhagen, you go out till late. Bars will stay open until 2 am or 6 am depending on where you go. Some places are even later than that. When you walk around the streets and areas of the city, you always pass by at least a couple of bars or something that looks cool.
It's a bit shameful to say, but Danish people are one of the populations worldwide, who drinks the most. When you are in Copenhagen, you understand why. While I always travel with good travel insurance, Copenhagen is a very safe city both day and night. However, at night there are occasionally pickpockets around and also inside crowded bars. Take good care of your stuff and, preferably, use an anti-theft travel bag to keep your stuff safe.
I've lived in Copenhagen for 10 years and have been a night owl my entire life. I think I know just about every little street and will nod at any popular bar you ask me if I've ever been to. While you will find a ton of great places throughout the entire city, and it's hard to say exactly what are the best ones, there are a few places that always stood out to me.
I've chosen to mention a few specific places in Copenhagen because of different criteria. They are all unique and local experiences that always provide a good time. It can be the serving, the setting, the people, the interior, or the vibe of the different places that secured them a spot on the list.
These are, in my opinion, the best bars in Copenhagen, that you should prioritize visiting while you are in the city.
PIN THIS POST FOR LATER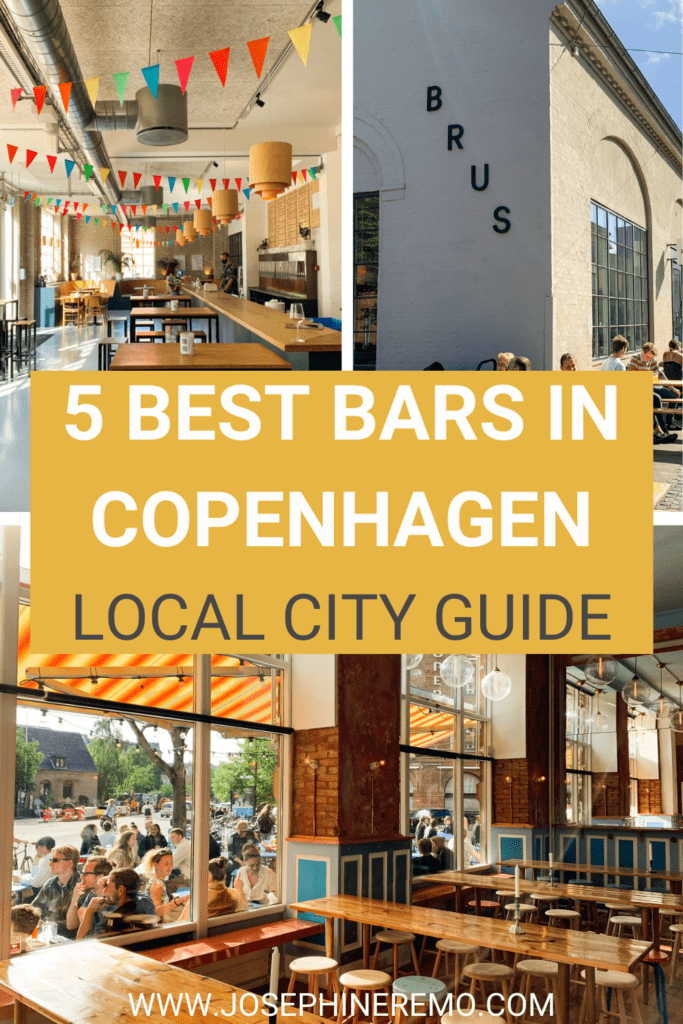 WHAT ARE THE BEST BARS IN COPENHAGEN?
LA BANCHINA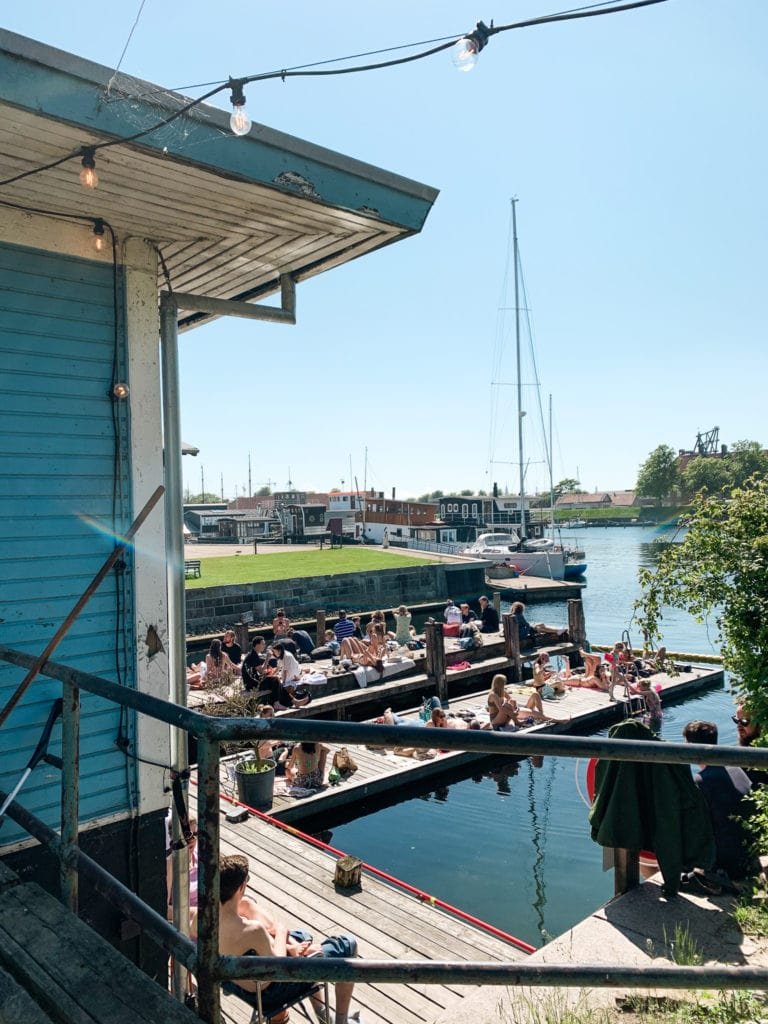 La Banchina is my all-time favorite bar to go hang out during summer in Copenhagen.
The name "La Banchina" means the quay in Italian and this is because the place sits right on the water with its own little pier.
Here you can go swimming and for 50kr you can even use their sauna which people tend to do in the colder months.
At La Banchina you have great natural wines as well as beer and other things. Outside there is a simple kitchen that usually has two options of the day – all seasonal and very natural just like the place.
To sum it up, you can call La Banchina many things. A bar, a wine bar, a restaurant, a café, a sauna, and a swimming spot, and that is why I love this place. La Banchina offers a great variety of things that I find very unique, and it is the best place to be on a sunny day.
Also, La Banchina is located right out by the street food market Reffen – another great spot to hang out for food or a beer.
You can check out their website for sauna bookings or any other information.
La Banchina is found close to Refshaleøen at Refshalevej 141, 1432 Copenhagen.
Travel tip: download the Wanderlog app onto your phone (works for both android and iOs) and keep a plan for your trip. It's completely free and allows you to add everything you need such as important things scheduled, places you want to eat, reservations, and where you are staying!
Below I made a map and included my recommendations for you:
BRUS
In terms of Nørrebro vibes and bars in this area – Brus is the best option. It is a brewery located in an old warehouse in the heart of the Nørrebro area.
The place brews a ton of different beers that you can get on tap or canned from the small shop connected to the bar.
You can also do beer tastings if you want to try out a few different ones. Be careful though, some of them will make your knees a little wobbly as the alcohol percentage is quite high.
Brus is a bar in Copenhagen that is always busy as people come in groups to enjoy the many great beers and hang out. 
One side of the warehouse is also a restaurant and the place does different events. You can check out their website for information.
You find Brus at Guldbergsgade 29, 2200 København N.
I always get the Lonely Planet Travel Guide books when I go visit a new place. They provide so much information and inspiration!
FRIHEDEN
I guess that Friheden is both a cafe, a restaurant, and a bar. And they manage to do great in all 3 categories.
The reason why I call it a bar is that this place takes off on the weekends and especially in summer you will end up at a small street festival outside. 
As soon as Friheden closes people stick around out front and hang out on the skate ramp. Friheden has tables out front as well as inside, and also has a great terrasse out the back.
Don't worry, if you are not in Copenhagen during the warmer months, May-August, Friheden is still a good place to visit in the evenings.
The place is also in the Nørrebro area and has a very relaxed atmosphere, great music, and decent prices. You can check out their menu and website.
The address is actually a little hard to define, as Friheden is located half in the park and by a skate ramp. But find it at Esromgade 15, 1 1, 2200 København.
KAYAK BAR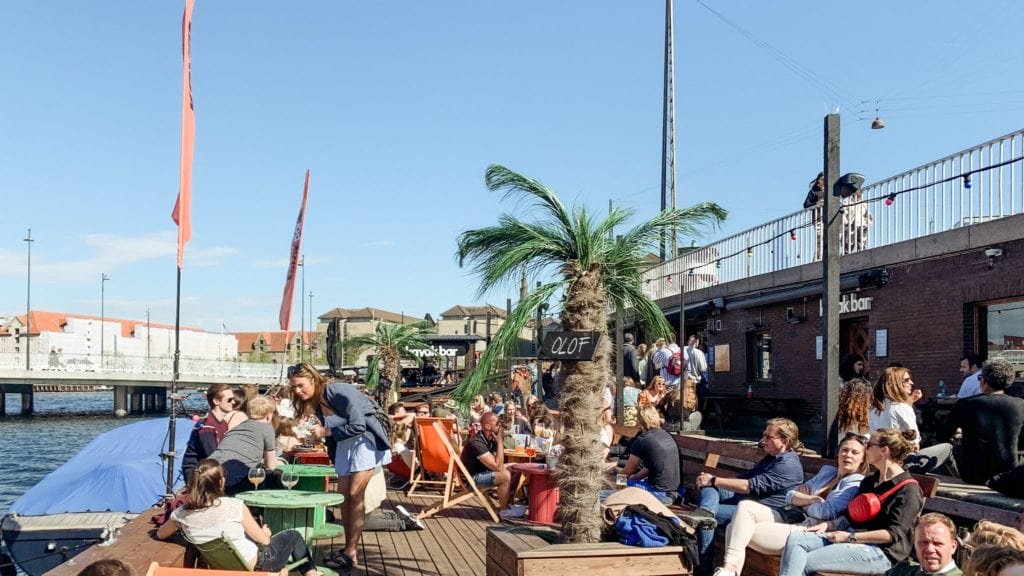 Kayak Bar is another bar in Copenhagen that really stands out and represents just how great the city is.
Its name describes it quite well in itself as it's a bar – and you can rent Kayaks too. Naturally, it sits right on the water and during summer you have a whole little beach party going on out front.
Kayak Bar is also my favorite spot during the Copenhagen Jazz Festival which usually runs for most of July.
Have a look at Kayak Bar's homepage for any information.
Find the bar just along the canal at Børskaj 12, 1221 København K.
KØLSTERS 12 HANER
This bar is probably one of the most beautiful ones in Copenhagen. Decor-wise they did a great job and beer-wise – even more so.
At Kølsters 12 Haner they serve hand-brewed craft beer where each brewing step is completed with care. You can enjoy beers in the pretty and also super relaxed atmosphere at this Nørrebro bar.
Another great aspect of this place is the street it's in. Ranzaugade is full of young people hanging out and nighttime and you have a bunch of different options for food and drinks. If you want to try a classic danish bodega, there are some great options on this street.
Find Kølsters 12 Haner at Rantzausgade 56, 2200 København.
LIEDKOEB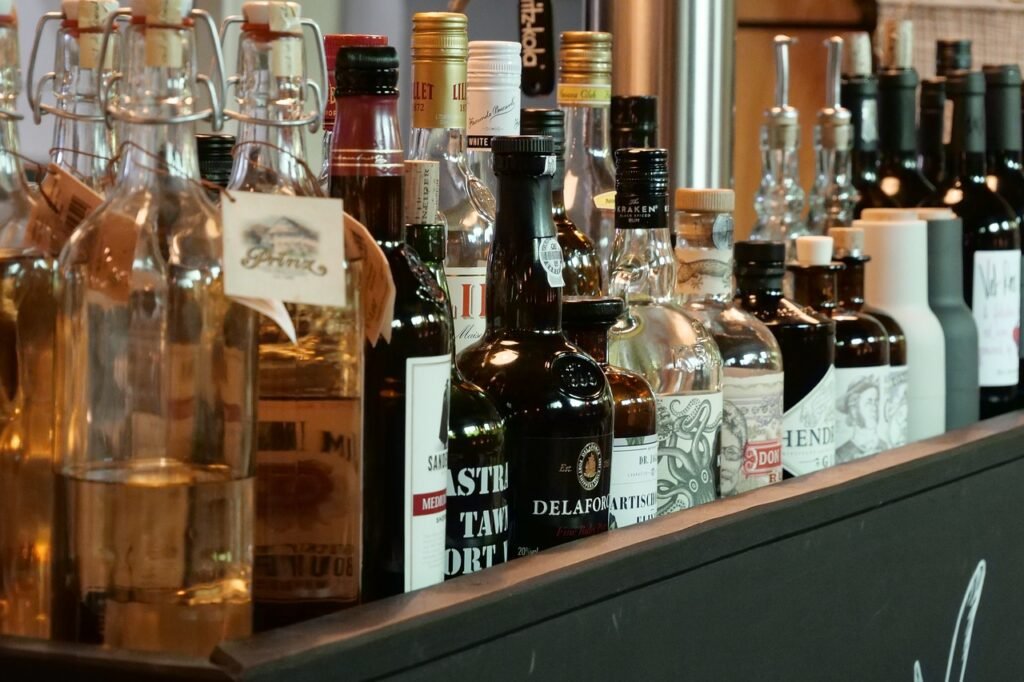 Liedkoeb is my all-time favorite cocktail bar in Copenhagen. This 3-story building used to be an old pharmacy in the Vesterbro area of Copenhagen. Now you won't find any medicine, instead, 2 floors dedicated to cocktails, and a whisky lounge bar on top.
The interior inside is done to perfection and Liedkoeb is one of those places you want to stay at for hours or at least as long as your wallet allows. The bar is not the cheapest in the world, but their drinks are incredible and served in great surroundings. The upstairs whisky lounge is even better, and if you like whisky, you will love this floor.
Liedkoeb is accessed through a small alleyway and in summer you have pop-up bars and restaurants in the small court.
I don't usually go to a lot of cocktail bars, but in Copenhagen, Liedkoeb, or its big sister Ruby, is the best one.
The area around Liedkoeb is also a great spot in terms of restaurants, clubs, and nightlife in general.
Liebkoeb is placed at Vesterbrogade 72B, 1620 København.
PORTVINSBAREN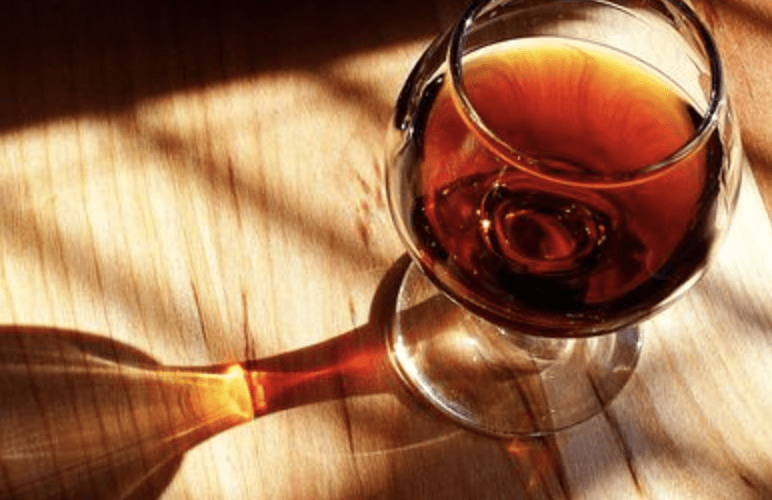 Portvinsbaren literally translates to The Port Wine Bar and that describes exactly what they serve. As the first, and only, bar in Copenhagen exclusively dedicated to serving port wine, this place is quite fun and different. You won't find people packed tight, or dancing on the tables in this place, but instead people enjoying port wine in a lounge setting.
I have a lot of respect for very dedicated and nerdy things, and that is exactly why I love coming to this place. In addition, to liking port wine of course.
If you like this type of drink and want to try something a little different than your standard Copenhagen beer bar, give Portvinsbaren a visit.
Portvinsbaren is found in the Vesterbro area at Kingosgade 4 1623 København, V.
VED STRANDEN 10
I thought long and hard about what I consider to be the best wine bar in Copenhagen. Honestly, there are a lot of great ones, but I chose to mention Ved Stranden 10.
This wine bar is found in the inner center of Copenhagen by the canal. An area of the city full of hotels, restaurants, bars, and places to go.
Not only is the wine list extensive and the options you have great but also the service and interior are on point. These guys love wine and serve a few things in terms of food also. Furthermore, they function as a wine shop. Visit Ved Stranden 10 if you are a wine enthusiast and enjoy being served in beautiful surroundings.
Finally, the center of Copenhagen is also a great area for travelers to stay and enjoy.
You find Ved Stranden 10 at Ved Stranden 10, 1061 København.
For other amazing wine bars in Copenhagen check out Beviamo Winebar, Pompette, Bottega Barlie, Den Vandrette, and Vinhanen.
RIGA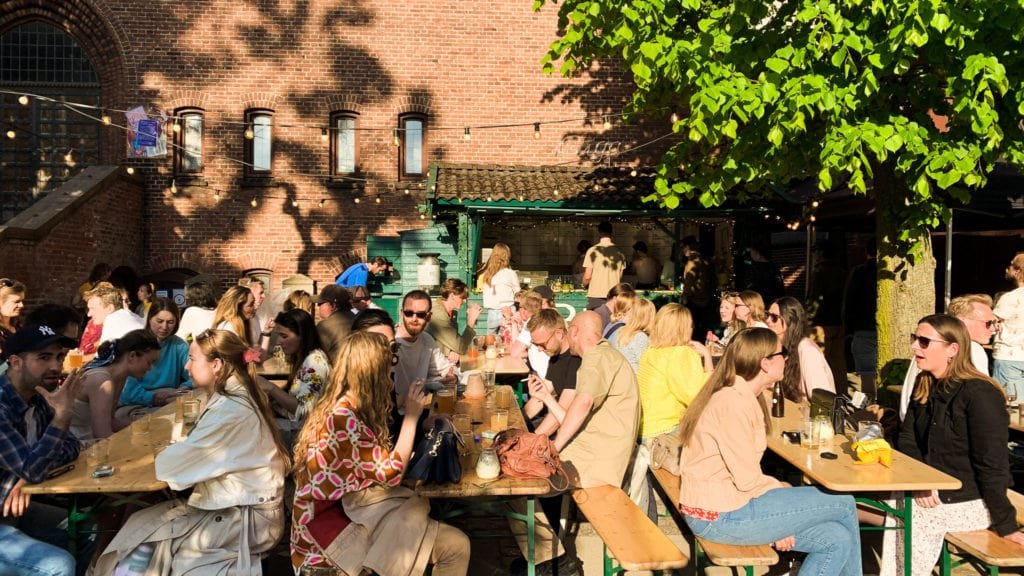 Riga is only open during summer and closes for the colder months.
It is extremely simple but that is also the charm of this place. A little wooden shed, some long tables outside, a square in the front, great beverages – what else do you need?
Absolutely nothing and many people tend to think so as the place is always full when the weather is nice.
Another bar in Copenhagen that turns into its own little mini street festival.
Try their Paloma cocktail and just keep them coming for the rest of the evening. Hans Christian Andersen.
Find Riga at Dannebrogsgade 53, 1660 København just at Litauens Plads.
That was it for the best bars in Copenhagen. I hope you get to enjoy them and as always feel free to leave a comment below.
//Josephine
The article may include affiliate links, meaning that I may receive affiliate compensation at no cost to you if you decide to purchase. Read more in my
Affiliate Disclosure.
BEST TRAVEL RESOURCES
BOOK YOUR FLIGHT: Not sure how to get the best and cheapest flights? I always use Skyscanner for the best deals. The best tip is to be flexible with dates and destinations if you want the cheapest options.
Alternatively, for frequent travelers, get a membership with Wayaway and receive a cashback on cheap flights and hotels every time you book! Via the link, you even get a 10% discount on your membership.
BOOK GREAT ACCOMMODATION: Booking great accommodation is not difficult but it sucks paying too much. Use Booking.com for the greatest hotel deals and Hostelworld for amazing hostel stays. Alternatively, you can sign up for Worldpackers to get FREE accommodation in exchange for your work.
BEST TRAVEL INSURANCE: Traveling without insurance is a mistake that you don't want to make - trust me I've tried. I'd suggest SafetyWing as they offer great and flexible policies - especially if you are traveling for a long time or a digital nomad. World Nomads is another great insurance with extensive coverage.
NEED HELP WITH YOUR VISA? Figuring out how and when you need a visa can be a bit of a jungle. iVisa is a very handy and user-friendly service.
HAS YOUR EU FLIGHT BEEN DISRUPTED? Use AirHelp as a service to get flight compensation on your European flights in case your flight was delayed, canceled, or disrupted in other ways. More often than not you are actually entitled to compensation.