I've said it before and I will say it many more times again. Copenhagen is a great destination in terms of food. Street food was not a big thing around the city and it took a little while for Copenhagen to catch up. Now there are a ton of great options around that make for an amazing, quick, and cheap meal.
Especially in summer, the street food markets are booming as people simply love to be outside enjoying the (hopefully) good weather and vibe around. The city is buzzing and living in these places, and if you really want to experience the pulse of the city, you should visit at least a couple of these places. While Copenhagen has a ton of things to offer, going out and enjoying food is one of my favorite activities.
In this post, I share the 10 absolute best street food options around Copenhagen that you do not want to miss.
Lastly, joining a food tour around Copenhagen is another great way to discover the culinary scene of the city.
PIN THIS POST FOR LATER:
Where is the best street food in Copenhagen?
Reffen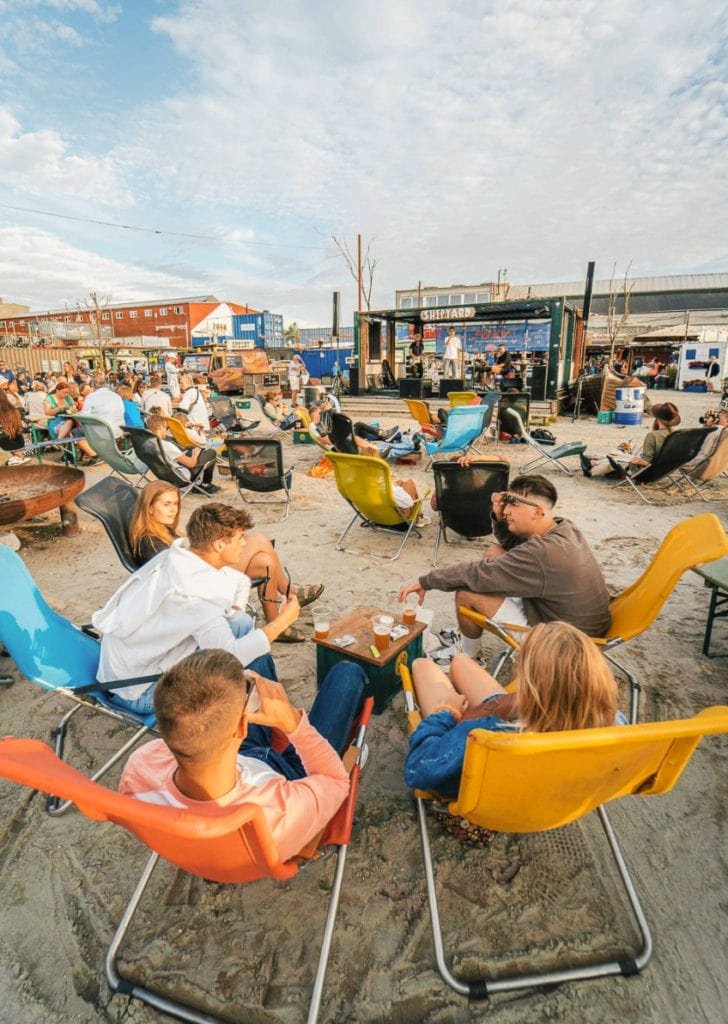 Reffen is the largest street food market in Copenhagen.
It's in the area " Refshaleøen", which is a little far out and is best reached by bike or the taxi ferry. Check out DOT for public transportation.
Refshaleøen is a new area of Copenhagen that didn't use to be used much. The whole place has a very industrial, raw, harbor feel about it. Nothing like the other more polished areas of the city.
Now NOMA used to be i placed out there along with many other good restaurants, cafés, and bars. And of course – Reffen. 
Reffen is an outside street food market in Copenhagen but they now also stay open in the colder months, where you can sit inside their big hall.
Here you have a bunch of great street food options to try out, and there should be something for everyone.
Grab whatever you want and head for the sunchairs right out by the water.
Note that Reffen does get packed and on a sunny day, it can be hard to get a spot. Be patient and creative. It's allowed to move chairs around and people tend to come and go frequently.
Psst… be sure to check out Mikkellers' beer bar just before you enter the street food market. It's a big and very cool warehouse bar that you can't miss on your way in.
You find Reffen at Refshalevej 167 Unit A, 1432 København, Danmark
I always get the Lonely Planet Travel Guide books when I go visit a new place. They provide so much information and inspiration!
Popl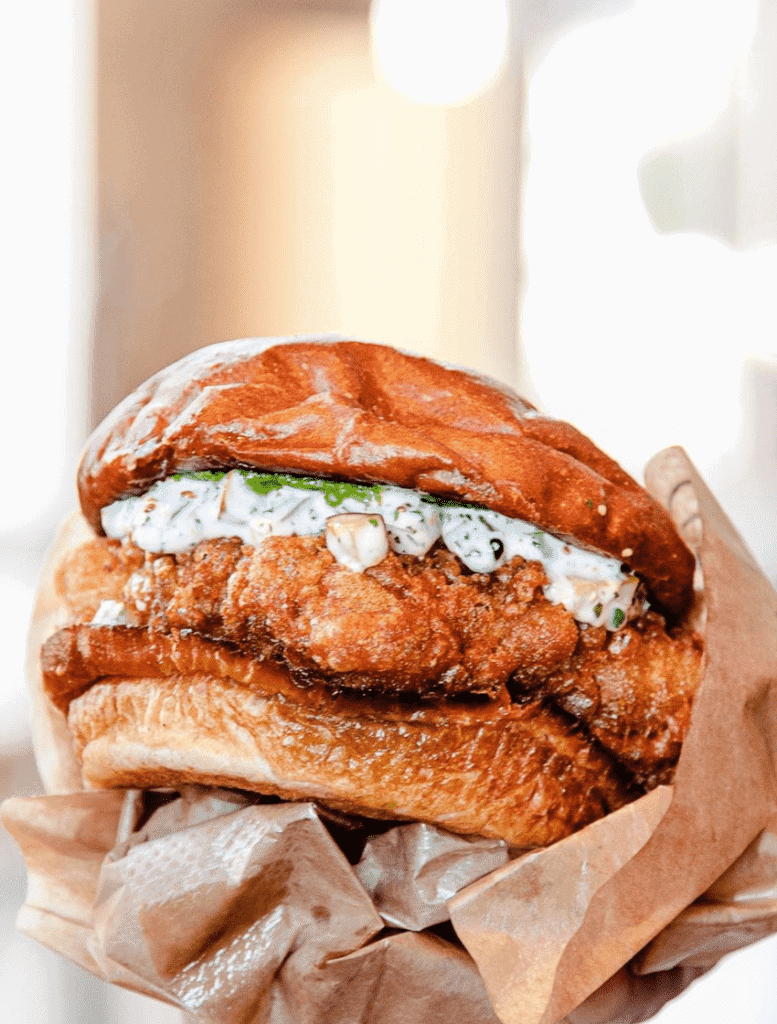 People who say that no good thing came out of COVID-19 are liars because in Copenhagen we got the NOMA burger.
So basically all the restaurants had to shut down and could only be open for take-away – you know the drill – and NOMA quickly turned their restaurant into the most amazing burger joint in the city. People would head out to the restaurant, wait in line for hours, just to sit in the beautiful garden and eat a burger. A damn good burger though and really good wines to go with it.
Unfortunately, after the lockdown ended, this amazing concept had to close again, as NOMA had to go back to being, you know, NOMA…
But thankfully the group saw the success and opened a permanent burger joint in the middle of the city. Even though the setting is not the same, the food is still as good.
Grab a burger from this corner joint and find a seat somewhere close along the canal. Or sit inside in the canteen-type setting that is also pretty cool.
You find POPL at Strandgade 108, 1401 København, Danmark
Travel tip: download the Wanderlog app onto your phone (works for both android and iOs) and keep a plan for your trip. It's completely free and allows you to add everything you need such as important things scheduled, places you want to eat, reservations, and where you are staying!
Below I made a map and included my recommendations for you:
Den Grønne Kødby
If you have read any of my other guides to Copenhagen you will know that I love the meatpacking district. It's just fun, easy, and always provides.
A new great thing that happened, is that the meatpacking district now also offers a seasonal street food market.
Even though it is not the biggest in the city, and does not provide the biggest variety of options, Den Grønne Kødby scores in terms of evening vibes. There are always a bunch of people enjoying life, drinking something, and chilling for the evening.
Mostly this place is a weekend and summer thing, and if you are so fortunate to be in Copenhagen at exactly that time – check out Den Grønne Kødby at least for a beer.
The Vesterbro area is a great place to enjoy the nightlife in Copenhagen. Be careful around Istedgade as it gets a bit dodgy at night, and always travel with good international travel insurance and preferably use an anti-theft travel bag.
You find Den Grønne Kødby at Slagtehusgade, 1715 København, Danmark
Poulette
This is my absolute favorite fried chicken burger option in Copenhagen because of 3 reasons. It's cheap, it's convenient, it's f**cking brilliant.
It was actually my younger sister who discovered the greatness of Poulette before me and in 2 weeks, she went 3 times. I am not joking.
Poulette is a tiny little street food joint in Copenhagen that is very popular because of my 3 reasons above. They only serve a couple of sandwiches and some fries + drinks of course.
I have only tried the chicken sandwich as every time I go I think "today I should try the tofu" – but then I remember how good the chicken is and I get scared that the tofu won't be as good and then…
Right next to Poulette you have the wine bar Pompette which is owned by the same people. Here you have really great natural wines that are also really affordable.
If you are smart and the weather is okay, you grab a sandwich and sit down outside at Pompette to pair it with some amazing wine.
The whole area around poulette is also a great spot in terms of shops, bars, cafes, and restaurants.
You find Poulette at Møllegade 1, 2200 København, Danmark
Gao Dumpling Bar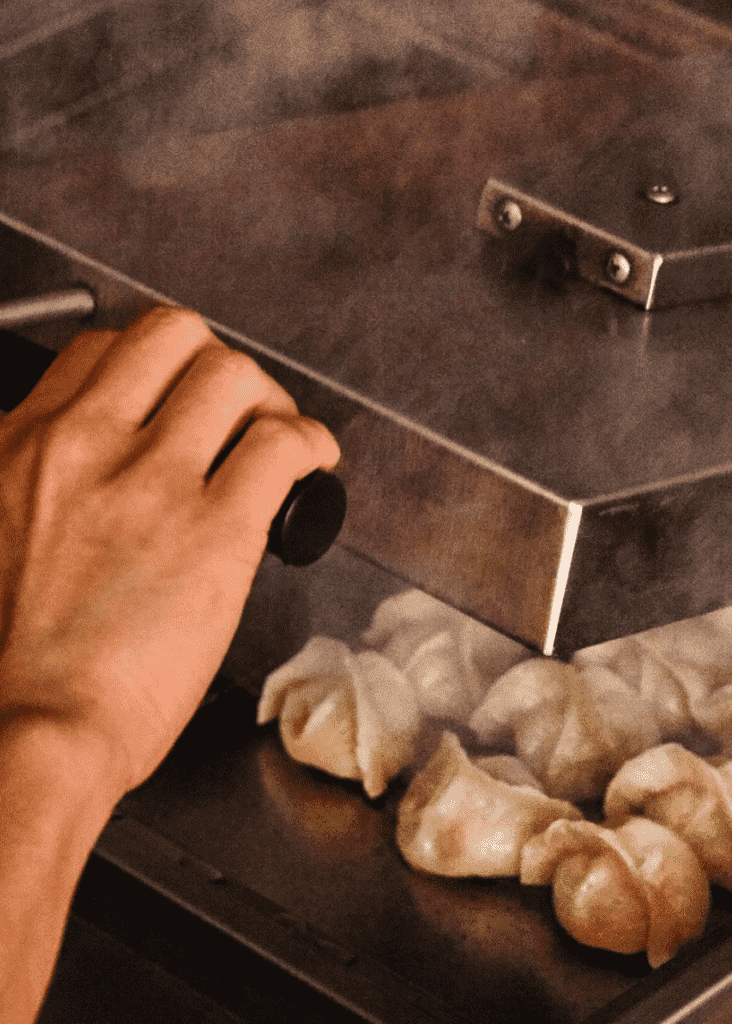 The street where you find Gao Dumpling Bar is worth a visit in itself. Very Nørrebro, young, and a great hang-out spot.
Here you have several little eateries and bars, where people sit at long tables outside in summer. You can also go in the colder months and just sit inside.
Gao Dumpling Bar is a small place that specializes in (surprise, surprise) dumplings. You have a few other options on the menu in terms of sides, but really – it's the dumplings you come here for.
The food is cheap and good, and you just order a bunch of different things and share it in between.
You find Gao Dumpling Bar at Blågårdsgade 3, 2200 København, Danmark
Broens Gadekøkken
This bridge street kitchen Copenhagen is not the biggest in the world but it does win in a few things: It's located in the very center of the city and it is a good chill spot on a nice day.
Right across the bridge coming from Nyhavn, going towards Christianshavn, you have the street food market. There are a few good options around and on the weekend there will usually be a DJ playing some vibey music.
There are a few good street food stalls and my personal favorite is the Dan Dan noodles at the very first booth when you cross over from the bridge. Another popular option is Gasoline Grill which serves some of the best burgers in town. Furthermore, Grød always makes a good choice – a chain and food stall that serves different types of organic porridge. Getting pitchers of cocktails at the bar is also always fun.
Also, in winter head here for ice skating and hot chocolate.
Finally, note that the area around makes for a great place to find accommodation.
You find Broens Gadekøkken at Strandgade 95, 1401 København, Danmark
Holy Krapow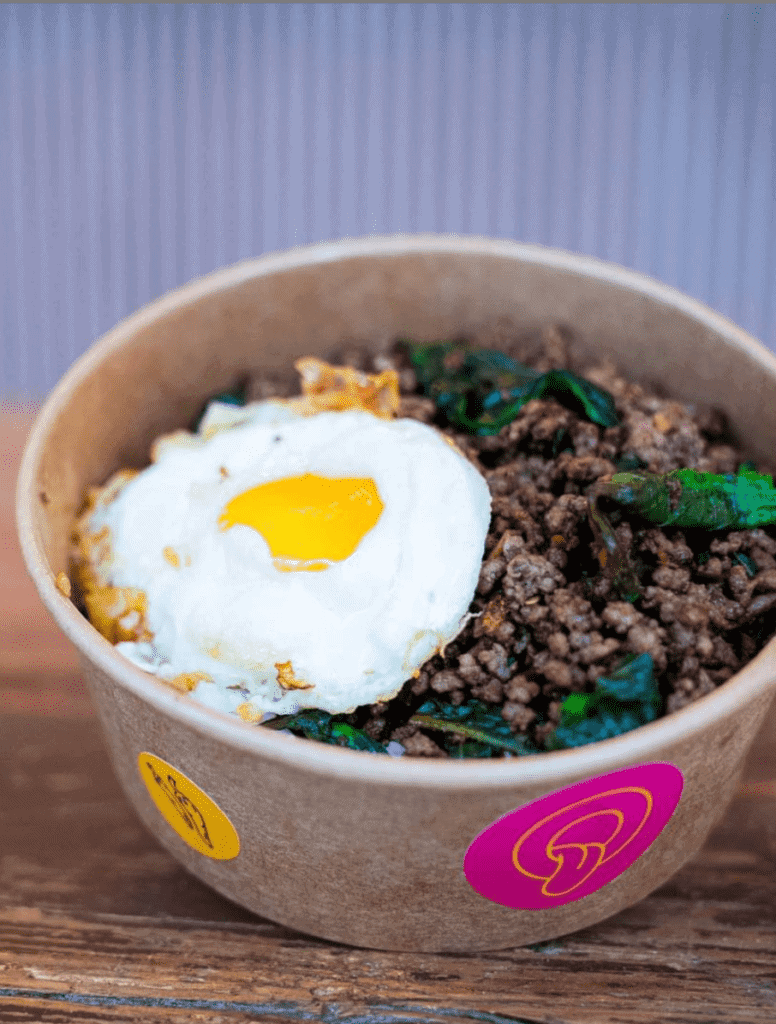 This is a fun little street food concept in the city that I really enjoy. Holy Krapow is the only place in Copenhagen, that I know of, where you can have the Thai dish "Krapow".
It's an extremely tasty and satisfying dish, that makes for a perfect quick evening meal.
Grab a serving of this baby and be careful with the spice. I absolutely love chili, but the spiciest option had me crying…
A good tip is getting the mushroom and a meat one between two people and then dividing the filling. You might just love either or, but I think it's a perfect balance.
You find Holy Krapow at Sankt Jørgens Allé 6, 1615 København, Danmark
Seaside Toldboden
This street food market is a little different as it does offer street food in Copenhagen, but high-end type.
Basically, it is 7 former Michelin chefs who now have their own booth in this warehouse.
As you can imagine this attracts a different clientele as the prices are more like a nice restaurant.
I am adding and recommending Seaside Toldboden though, as it is a very unique experience and lets you try the high-end Scandinavian cuisine, in a new and semi-affordable way.
The setting is nice and common though. Booths around for you to order and pick up your food. Here you even have a chance to chat with the actual chefs about what they are serving.
You have nice long tables outside and Toldboden is right by the water.
You find Seaside Toldboden at Nordre Toldbod 18-24, 1259 København, Danmark
Gola
Gola is a tiny little place that specializes in Roman-style pizza slices.
The slices they offer differ depending on daily local deliveries and get sold out during the day.
Besides serving great pizza they also have great wine.
Grab a few slices and a nice glass of wine, and just find a spot to sit on the street. Ranzausgade is a very chill street to just hang around.
You find Gola at Rantzausgade 47, 2200 København.
Pho Hanoi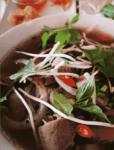 The last place I want to mention is Pho Hanoi.
By term, I am uncertain if you can really call this place street food, but I am going to and added it to the list because of a few reasons.
First of all, Pho Hanoi is really cheap compared to other eateries.
Second, in summer you literally sit at tables right outside on a pretty busy street – street food, right?
I walked past this place several times before going there. It intrigued me, but the placement and setup just looked a bit odd. Not bad, just different.
Then I finally went there and "wow". I think this is the best Vietnamese place in Copenhagen, at least for the price, and for sure they serve the best Pho in the city.
You find Pho Hanoi at Vester Farimagsgade 6, 1606 KBH.
Additional Street Food in Copenhagen
The mentions above are my favorite and, what I consider to be, the best street food options in Copenhagen. There are, however, two more options to mention.
1. TORVEHALLERNE
Torvehallerne is a set of food halls in the center of the city. Here you have the one hall functioning more as a general luxury grocery store, and the other provides different food options. Try the Confit De Canard sandwich from Ma Poule. It's been voted as the best sandwich in town a few times. Also, on Saturdays, you find markets out the front, and here you have some additional street food options.
2. TIVOLI FOOD HALL
Lastly, you have the Tivoli Food Hall in extension to the Tivoli Garden. Inside the theme park, you mainly have a bunch of pricy Danish restaurants so the food hall has been a great addition to the food scene at the amusement park. Here you find a few easy, quick, and more affordable options. It is possible to visit the Tivoli Food Hall without visiting the Tivoli Gardens. If you are a park visitor, a guard will let you back inside.
That was all for the best street food places around Copenhagen that you should swing by for some amazing food and a perfect time. Truly, they offer some of the best food in Copenhagen at the best price.
As always feel free to leave a comment below
//Josephine
The article may include affiliate links, meaning that I may receive affiliate compensation at no cost to you if you decide to purchase. Read more in my
Affiliate Disclosure.
BEST TRAVEL RESOURCES
BOOK YOUR FLIGHT: Not sure how to get the best and cheapest flights? I always use Skyscanner for the best deals. The best tip is to be flexible with dates and destinations if you want the cheapest options.
Alternatively, for frequent travelers, get a membership with Wayaway and receive a cashback on cheap flights and hotels every time you book! Via the link, you even get a 10% discount on your membership.
BOOK GREAT ACCOMMODATION: Booking great accommodation is not difficult but it sucks paying too much. Use Booking.com for the greatest hotel deals and Hostelworld for amazing hostel stays. Alternatively, you can sign up for Worldpackers to get FREE accommodation in exchange for your work.
BEST TRAVEL INSURANCE: Traveling without insurance is a mistake that you don't want to make - trust me I've tried. I'd suggest SafetyWing as they offer great and flexible policies - especially if you are traveling for a long time or a digital nomad. World Nomads is another great insurance with extensive coverage.
NEED HELP WITH YOUR VISA? Figuring out how and when you need a visa can be a bit of a jungle. iVisa is a very handy and user-friendly service.
HAS YOUR EU FLIGHT BEEN DISRUPTED? Use AirHelp as a service to get flight compensation on your European flights in case your flight was delayed, canceled, or disrupted in other ways. More often than not you are actually entitled to compensation.