The following article may include affiliate links, meaning that I may receive affiliate compensation at no cost to you if you decide to purchase. Read more in my
Affiliate Disclosure.
Last Updated on August 11, 2022 by josephineremo
If you're looking for the best lunch in Copenhagen, look no further than smørrebrød. This famous Danish dish is an open faced sandwich made with a variety of toppings, and there are plenty of amazing places to try it in Copenhagen.
Smørrebrød has a unique place in the heart of any Dane and is a deep part of Danish cuisine. You simply cannot visit Denmark and not try our classic, traditional, and delicious lunch.
In this blog post, I will list the 11 best smørrebrød restaurants in town, so you can taste the best of what Copenhagen has to offer! Whether you want budget-friendly and traditional or Michelin-rated and mindblowing, this list has something for you.
PIN THIS POST FOR LATER:
WHERE TO GET THE BEST SMØRREBRØD IN COPENHAGEN?
RESTAURANT PALÆGADE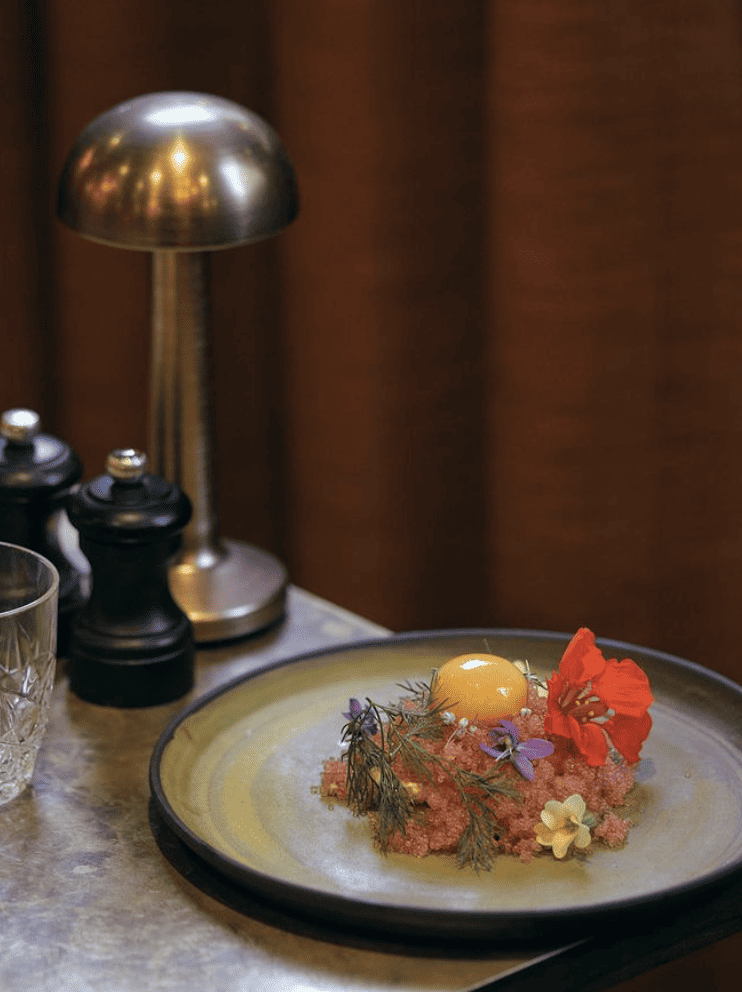 Restaurant Palægade is a popular lunch spot full of locals all days of the week and for good reason. Not only is the food outstanding but the restaurant is also beautifully decorated and the service on point.
These guys prioritized the ambiance of the place even though it's decorated in modern style with a beautiful checkerboard floor and a combination of warm wood and colors. Their open sandwiches are to-die-for and they have in no time built up an army of regulars, quite deserved.
It might not be the cheapest smørrebrød in town, but I promise that you will not leave disappointed.
You can check out the menu here.
Adress: Palægade 8, 1261 København K
NORRLYST
In a charming basement in the old area around Kompagnistræde, you will find Norrlyst. Recognized by Michelin in 2021, it truly is one of the best places to get smørrebrød in Copenhagen, new nordic style.
The decor is rustic and charming but the open sandwich – it deserves its very own narrative. It is full of flavor, always follows the season in question, and is based on Nordic ingredients such as chanterelles.
And especially the freshness of the plates shine through.
These guys pick the herbs themselves or get them delivered from smaller local suppliers, and those who are not used in the food, they like to use for their homemade schnapps. Most of their supplies come from organic and local farms around the country and this could be the secret behind their magic smørrebrød servings.
You can see their menu and read more here.
Address: Kompagnistræde 8, 1208 København K
RESTAURANT PUK
Restaurant Puk is one of the town's oldest pubs, dating back to 1750.
However, the decor has not changed much since then, and the coziness has been prioritized with dark wood and traditional stalls. All so that you may enjoy your meal in comfortable surroundings.
The menu is classic with, among other things, herring, roast beef, and other traditional favorites.
They truly have everything the heart might desire and at reasonable prices too. One piece of smørrebrød costs from DKK 95 and up.
If you want a down-to-earth and classic danish experience, then restaurant Puk could very well be your best choice.
See their menu here.
Address: Vandkunsten 8, 1467 København K
MØNTERGADE
Not long after the old sandwich kings and queens from Palægade took over the historical old red house on Møntergade, the announcement also came that they would take over the Restaurant's old premises on the other side of the street. Meaning that they dominate this small stretch of the old and charming street in a perfect way.
Their open sandwiches are completely classic and incredibly tasty. The service also doesn't get much better around Copenhagen.
Choose a few a la carte pieces or try the large lunch table with four servings for DKK 545. A great way to go all-in on one of the best smørrebrød experiences in Copenhagen.
Restaurant Møntergade is open for lunch every day of the week from 11.30 am, but I can also recommend swinging by in the evening when the kitchen transforms into a Danish / French brasserie.
Check out their menu here.
Address: Møntergade 19, 1116 København K
SELMA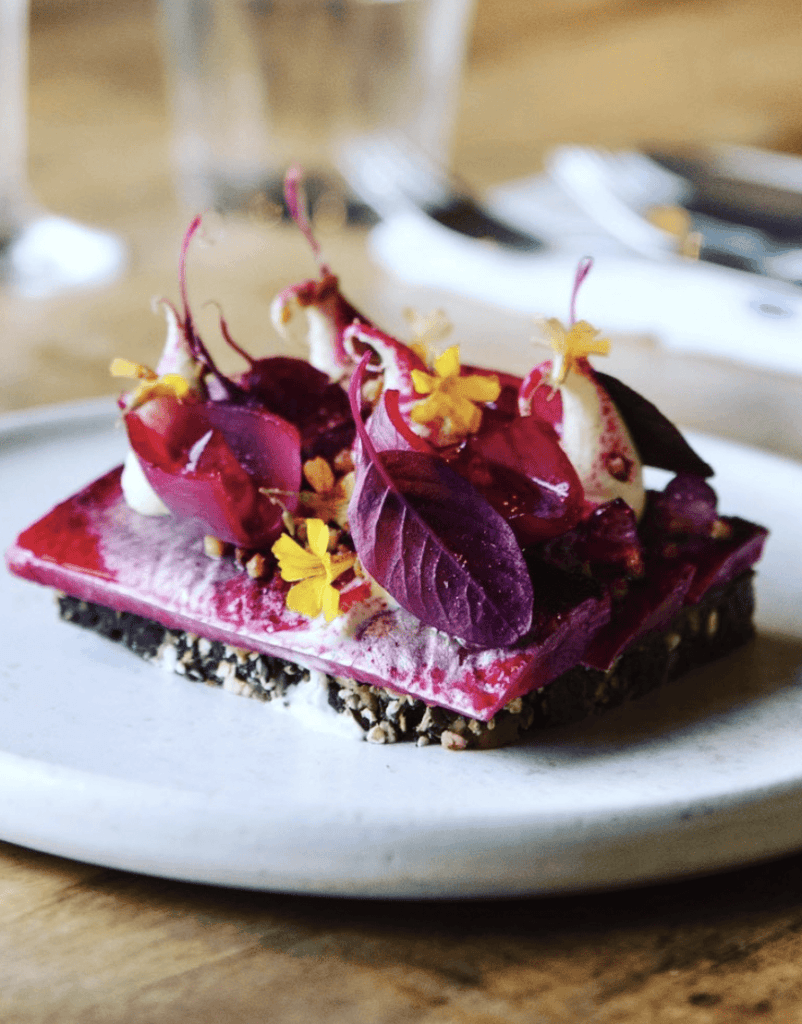 The modern open sandwich restaurant, Selma, right by Torvehallerne, focuses on Scandinavian seasonal ingredients when they put together a small work of art with their beautiful servings.
Here, talent is set free and played with when serving innovative plates. These include elderflower herring or young celery confit with Old Crunch cheese and browned butter. Or a whole piece of smørrebrød only dedicated to summer's Danish tomatoes.
I can guarantee that Selma is a hit if you want to shake the sandwich bag a little.
The beer card has 12 different quality beers on tap, just as there are both normal and natural wines to choose from a well-picked selection.
See their menu and prices here.
Address: Rømersgade 20, 1362 København K
AAMANNS
You can not miss the open sandwich at one of Adam Aamann's popular spots. And that's final. If you have time and want to try a few smørrebrød servings in Copenhagen, then make Aamanns a priority.
Adam Aamann is, quite deservedly, known as the open sandwich king and the man who sent our gastronomic heritage beautifully into the new millennium, when he modernized the old classics.
The food is simply world-class gourmet sandwiches from the top shelf and is a sure winner to repeat over and over again.
Here, of course, is often fully booked, but try for your own sake to find a table in the early days of the week, where you can get lucky.
Make a reservation or see the menu here.
There are 3 resraurants located at: Restaurant Aamanns 1921 at Niels Hemmingsens Gade 19-21, 1153 København K. Aamanns at Øster Farigmagsgade 12, 2100 København Ø. Aamanns Replik at Sankt Annæ Plads 36, 1250 København K
SCHØNNEMANN
Schønnemann is famous far and wide as one of the best and oldest options in terms of smørrebrød in Copenhagen. It is a pure lunch restaurant and one of the oldest existing restaurants in Copenhagen – dating back to 1877.
And there has been no downsize in terms of the menu, so remember to order a large beer while you decide, because it may take some time.
With over 110 pieces of different open sandwiches to choose from you might feel a bit overwhelmed. There are e.g. over 21 different herring snacks. Do not feel discouraged and know that the staff is always a great help and it's not possible to make a wrong choice.
On top, the old restaurant was also recommended by Lonely Planet as one of the world's best 'eats' in 2018.
See more on their website here.
Address: Hauser Plads 16, 1127 København K
RESTAURANT KRONBORG
Restaurant Kronborg sometimes runs a bit under the radar when people mention the best smørrebrød restaurants in Copenhagen.
But real connoisseurs discovered a long time ago, that down here with Claes and Walther in the basement, you are well taken care of.
All dishes are 100 percent old-school and homemade and kept in a simple but extremely tasty style – with a guarantee that you will walk out the door with a full stomach.
Be careful, they pour the schnapps, or snaps, here so much to the edge that you will have to go down and kiss the glass.
The fact that the basement is also historically charming, and the prices reasonable, does not hurt the experience either.
If you are looking for a fun, traditional but at the same time unique location, then this place does not disappoint.
See their menu and read more here.
Address: Brolæggerstræde 12, 1211 København K
RESTAURANT KOEFOED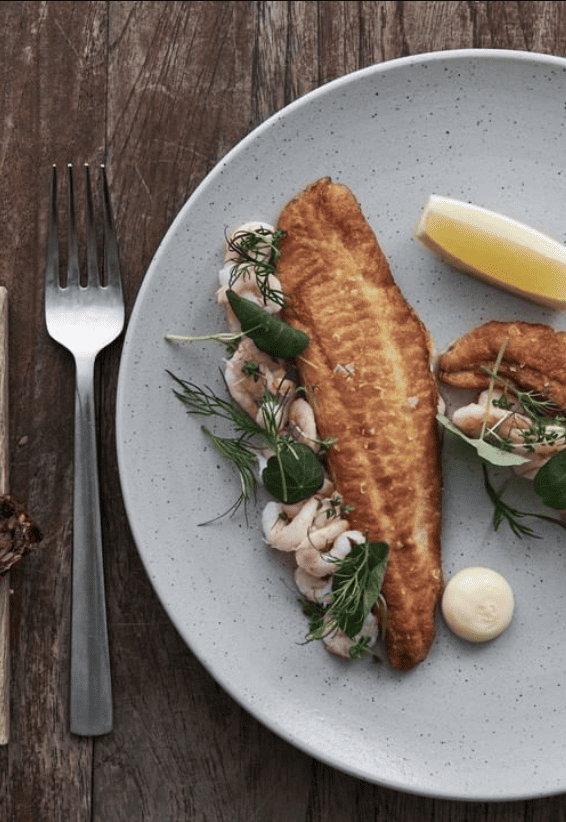 You can also call Restaurant Koefoed the shining beam from the island of Bornholm in Copenhagen.
Down here in the elegant and bright basement (it is ironically a former coal cellar) they focus on everything good from the rocky island to the east.
They offer "The Bornholm open sandwich menu", and of course, you go through Bornholm's national dish "Sol over Gudhjem", but they serve several other interesting stops along the way.
You can rinse it all down with beer from Svaneke Brewery, a famous and incredible brewery on the island.
See their menu and more on their website.
Address: Landgreven 3, 1301 København K
RAVELINEN
Ravelinen has soul and historical pride.
The restaurant was built in the 18th century, right here on the border between Christianshavn and Amager. Here farmers would eat and spend the night when they entered the city with their goods.
A few years ago, the kitchen set the level of ambition up in fifth gear and has not looked back since with its classic food profile.
Located almost in the middle of a lake with panoramic views of the moat, protected from the modern world, it is also an incredible hideaway with old-school decor and a cozy environment.
See their menu and more here.
Address: Torvegade 79, 1400 København K
RESTAURANT MEYERS I TÅRNET
Possibly the country's highest restaurant – and the level suits it perfectly. This is how it should be when you lie on top of the Danish parliament itself, in one of the city's most spectacular dining rooms.
The tower's lunch menu is not large, but the quality is second to none and deserves a great mention as one of the best smørrebrød experiences to have in Copenhagen.
The open sandwich is from the classic school, but with a modern and unique twist.
Bonus info: The rooms where Restaurant Meyers I Tårnet is located previously served as the storage room for statues and busts of the Danish parliament.
Do not forget to relax for a few minutes in front of the Tower's central panoramic window, which offers the most beautiful views of different areas and landmarks of the city.
Be sure to order their chicken salad as it is an absolute must-try!
See more on their website here.
Address: Christiansborg Slotsplads
THE HISTORY BEHIND THE BEST SMØRREBRØD IN COPENHAGEN
Smørrebrød is a danish open sandwich, typically eaten as lunch. You make it on a piece of buttered rye bread and top it with almost anything you might like. The history of smørrebrød dates back to the 18th century when it was originally a working-class food. In the 19th century, smørrebrød became more popular and started to be served in restaurants. In the 20th century, smørrebrød became a national dish of Denmark. You eat Smørrebrød with a knife and fork, but you can also eat it with your hands. The most common toppings are:- Fish: herring, salmon, cod- Meat: roast beef, chicken, pork- Vegetables: cucumber, tomato, lettuce- Cheese: Danish cheese, Havarti cheese- Eggs: boiled eggs, fried eggs.
THE CULTURE OF SMØRREBRØD
Smørrebrød is more than just a type of food, it is also a way of life. In Denmark, people take their smørrebrød seriously. There are even competitions to see who can make the best smørrebrød. The most important thing about smørrebrød is that you make it with fresh, quality ingredients. This means that the bread is always freshly baked, the meat is freshly cooked and the vegetables are freshly chopped. Smørrebrød is usually served on a piece of buttered rye bread, but can also be served on other types of bread such as white bread or sourdough bread. Honestly, you can't travel to Denmark without trying at least one piece of good smørrebrød.
WHAT TO DRINK WITH THE BEST SERVING OF SMØRREBRØD IN COPENHAGEN
Most people drink beer with their smørrebrød, as this is the traditional pairing but you can, of course, drink whatever you might like. If you are drinking beer, it is important to choose a light beer such as pilsner or lager. These types of beers will not overpower the taste of the smørrebrød.
Next, a true danish lunch consisting of smørrebrød wouldn't be complete without a side serving of schnaps. Schnaps is a type of distilled alcohol that you typically drink on the side of any traditional lunch.
WHY DO THE DANES LOVE SMØRREBRØD?
The simple answer is that smørrebrød is delicious. But there is more to it than that. Smørrebrød is a traditional Danish dish that has been around for centuries. It is a part of Danish culture and heritage. When you eat smørrebrød, you are not just eating a type of food, you are also experiencing a part of Danish history and culture. Smørrebrød is also a very versatile dish. You can make it with almost anything. This means that there is something for everyone. Whether you prefer fish, meat, vegetables, or cheese, there will be a smørrebrød that you will love.
IN GENERAL ABOUT THE FOOD SCENE IN COPENHAGEN
Copenhagen is a dream for any food lover and if you visit the city, make sure to prioritize having some mouth-watering experiences. Whether you like bars, cafes, street food or just incredible restaurants, Copenhagen has something for you.
That's it for the best places in Copenhagen to get smørrebrød. I hope you get to enjoy one of these places and have a great time. Feel free to add anything in the comments below.
//Josephine
BEST TRAVEL RESOURCES
BOOK YOUR FLIGHT: Not sure how to get the best and cheapest flights? I always use Skyscanner for the best deals. The best tip is to be flexible with dates and destinations if you want the cheapest options. Alternatively, for frequent travellers, get a membership with Wayaway and receive a cash back on cheap flights and hotels every time you book! Via the link you even get a 10% discount on your membership.
BOOK GREAT ACCOMMODATION: Booking great accommodation is not difficult but it sucks paying too much. Use Booking.com for the greatest hotel deals and Hostelworld for amazing hostel stays. Alternatively, you can sign up for Worldpackers to get FREE accommodation in exchange for you working.
BEST TRAVEL INSURANCE: Traveling without insurance is a mistake that you don't want to make - trust me I've tried. I'd suggest SafetyWing as they offer great and flexible policies - especially if you are traveling for a long time or a digital nomad. World Nomads is another great insurance with extensive coverage.
NEED HELP WITH YOUR VISA? Figuring out how and when you need a visa can be a bit of a jungle. iVisa is a very handy and userfriendly service.
HAD YOUR EU FLIGHT DISRUPTED? Use AirHelp as a service to get flight compensation on your European flights in case your flight was delayed, canceled, or disrupted in other ways. More often than not you are actually entitled to compensation.
Affiliate Disclaimer: This post may include affiliate links. I may receive a small commission at no extra cost to you if you click on them and purchase.