If you're looking for the best burger in Copenhagen, you've come to the right place. In this blog post, I will share the seven absolute best burger joints in the city. From classic American-style burgers to gourmet creations, there is something for everyone here. So whether you're a local or just visiting, be sure to check out these amazing burger places!
Copenhagen is a great travel destination that has a ton of incredible things to offer. However, it is any food lover's dream and therefore I always advise people to prioritize some good time to taste some of the incredible things you can get around the city.
Lastly, joining a food tour around Copenhagen is another great way to experience the incredible culinary scene.
PIN THIS POST FOR LATER:
WHAT IS THE BEST BURGER IN COPENHAGEN?
POPL BURGER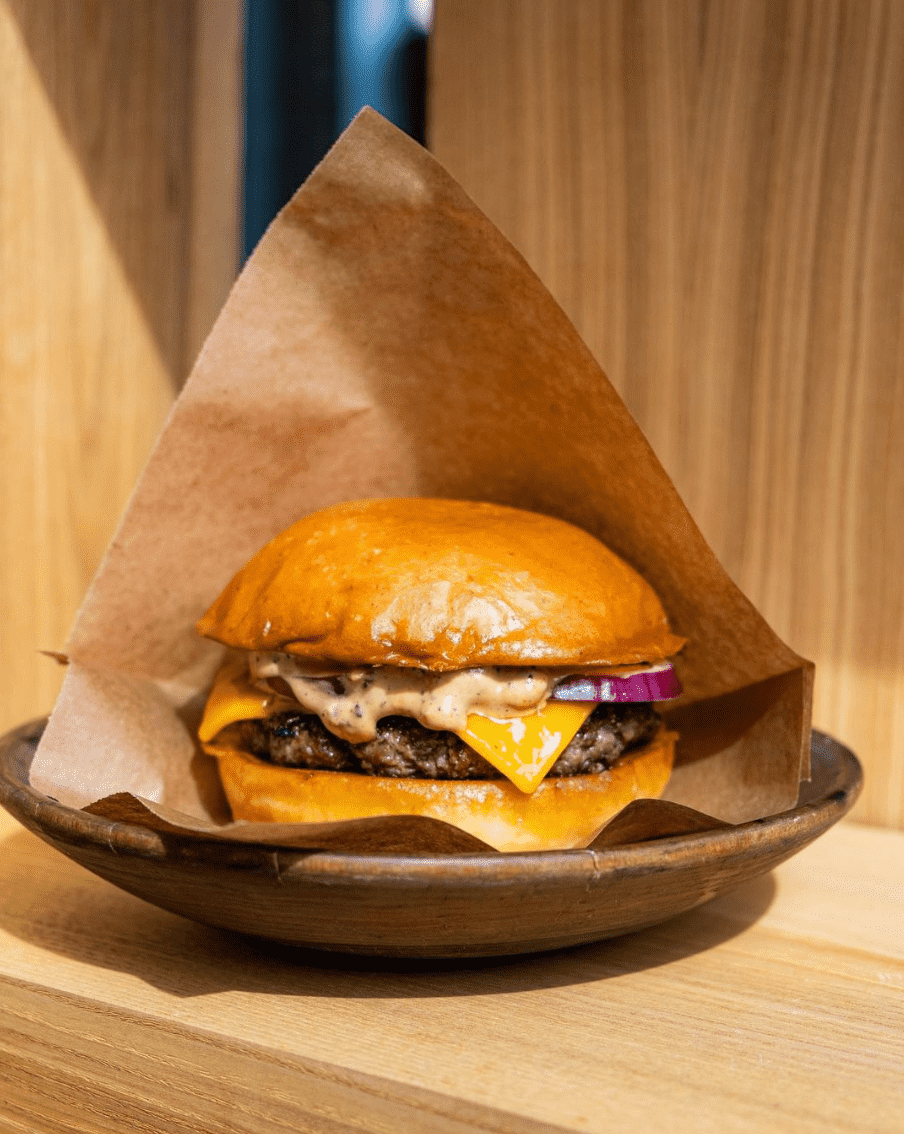 People who say that no good things came out of the pandemic are lying because, in Copenhagen, we got the Noma burger.
In the spring of 2020, Noma made a burger pop-up during the lockdown. This attracted crowds to their beautiful gardens at Refshaleøen to try the new phenomenon. In early December of the same year, they were able to open their very own burger restaurant just across the bridge on the other side of Nyhavn.
Before the opening in December, head chef Stuart Stalker (formerly sous chef at Noma) spent four months refining the burger recipe, and it only got better since.
It has everything you might dream of in a good and tasty burger. The airy brioche bun, a pink-fried steak of meat from Danish cattle, lots of umami, melted cheddar, special secret sauce, and thick slices of red onion.
If you are a vegetarian or vegan you will die for this too. Replace the steak with cooked and fermented quinoa patty, add a little green, and you get the tastiest vegetarian burger imaginable.
As you might imagine this place is a little pricier than your average burger joint but you will not be disappointed. On top, you get to try a little bit of Noma while you are in Copenhagen which is great fun.
In terms of the best burger in Copenhagen, it doesn't get much better or more unique than this.
You can check out their menu and see more here.
You find POPL burger at Strandgade 108, 1401 København
TOMMI'S BURGER JOINT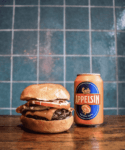 There is a rumor that Mcdonald's tried opening up in Iceland but had to pack up and leave after they noticed how good their competitors were. Tommi's Burger Joint simply scared the massive American killer chain straight out of the country.
Whether it's true or not I don't know. However, it would make perfect sense if the burgers in Iceland are even half as good as they are in Copenhagen.
The burger joint opened in 2016 and quickly became famous as one of the best burgers around Copenhagen. The burger was greasy and satisfying in the perfect way and the joint fitted perfectly in the old Meatpacking District of the popular Vesterbro area.
Later these guys opened up the second joint in the Nørrebro area which is just as good and popular as the first.
Both places are quite small with only 30-40 seats that are usually occupied. Wait around a little and you usually get a spot very fast.
You can check out more on their website here.
Tommi's Burger Joint is either located at Høkerboderne 21-23, 1712 København or Nørrebrogade 153, 2200 København
GASOLINE GRILL
In 2016, Klaus Wittrup opened a burger bar at a converted gas station in the center of Copenhagen.
From here, he served what he considered to be the dream burger – simple and tasty.
Good ingredients and a perfect balance between sour, sweet, salty, bitter, and umami are what make all the difference. His ideology and recipe quickly gained him many regular customers.
Gasoline Grill is inspired by the American burger style and is a small, but flavorful, bomb that can be eaten with one hand. Their bun is a potato-roll bun, where some of the flour has been replaced with mashed potatoes, making it more deliciously spongy. This spongy bun then embraces the organic meet in a perfect combination.
But nothing could have prepared him for the tsunami of fans that followed after being named one of the world's 27 best burgers by American Bloomberg in 2017.
Since then, there has been a permanent queue of people dying to try their popular cheeseburger and everything else from the menu. Make sure to arrive in decent time as the joints are open until they sell out.
Gasoline Grill has since opened branches in Niels Hemmingsens Gade 20, 1153 København, at Vesterport Station, Bryggernes Plads 1, 1799 København, Værnedamsvej 2, 1619 København V, and at Broens Gadekøkken (a street food spot in the city). The original gas station is located at Landgreven 10, 1300 København
POULETTE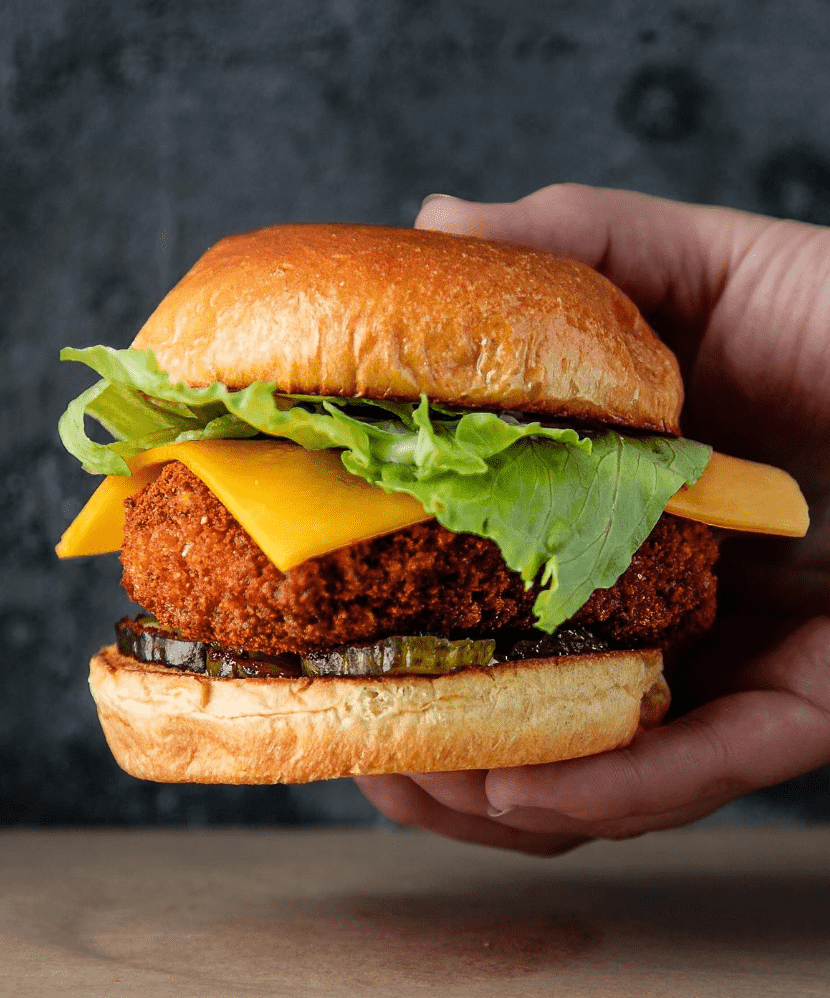 If you are looking for a fried chicken burger, look no further than Poulette in the Nørrebro area. Because here you find the absolute best fried chicken burger in Copenhagen.
Poulette opened in January 2021 and has since taken the city by storm with the Fried Chicken Sandwich.
Crispy on the outside, juicy on the inside, spicy, and perfectly balanced with a few pickles to tie it all together in an airy brioche bun – wow!
The burger costs DKK 85, and you can also choose it with tofu instead of chicken if you are looking for a veggie burger.
Note that there are no seats at Poulette. Instead, you only have a small bench outside the store and some plastic chairs to spread out. What most people do is, therefore, to pick up their burgers as takeaway and head for a nearby park. Another alternative is combining your meal with a glass of affordable natural wine from Pompette next door. Pompette is a sister location of Poulette and they are also worth a visit.
You can check out their website here.
You find Poulette at Møllegade 1, 2200 København
Travel tip: download the Wanderlog app onto your phone (works for both android and iOs) and keep a plan for your trip. It's completely free and allows you to add everything you need such as important things scheduled, places you want to eat, reservations, and where you are staying!
Below I made a map and included my recommendations for you:
JAGGER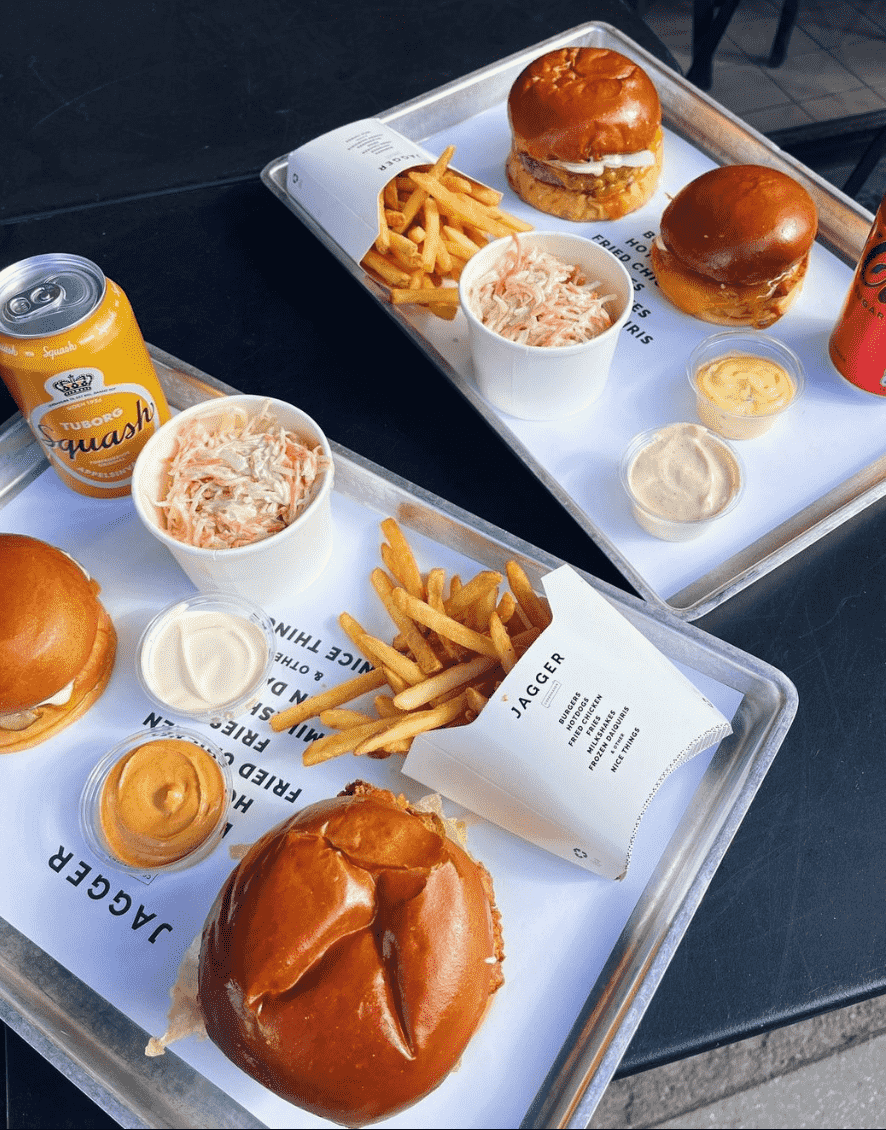 This burger chain was started by the former Michelin chef Rasmus Oubæk and Jesper Marcussen. These guys are also in charge of the popular Pluto, Retour, and Gorilla restaurants around the city.
Jagger is their take on real fast food but made with real Danish thoroughness and from scratch. Their goal is to become the Danish counterpart to Mcdonald's and for many people, it just might be.
Since the first Jagger opened in 2016 the concept has spread with lightning speed. Today you find a Jagger in most areas of Copenhagen.
The decor is simple, white, clean, and efficient. Just like you make imagine a real fast food burger joint serving great burgers, classic fries, and shakes.
You can check out their menu and see more here.
The original and first Jagger is located on Istedgade 62, 1650 København. The rest you find scattered all through the city.
GULDGRILLEN
Turkish chef icon Umut Ra Sakarya and head chef Frank Svärd Pedersen have cracked the culinary code and know what the people want.
People want burgers, roast pork sandwiches, meatball sandwiches, steak sandwiches, sausage mix, grilled chicken, and most importantly – the classic brown sauce.
So, therefore, this is exactly what they serve.
Guldgrillen on Nansensgade is a wonderland for all lovers of classic Danish barbecue built on quality and made from scratch.
Their burger is unpretentious and doesn't try to be fancy, but works because of the quality and good taste. For any Dane, this serving teleports them straight back to being a small kid enjoying what the local grill had to offer.
If you want a truly Danish and different burger experience, Guldgrillen in Copenhagen is the place to serve the best one. 
You can check out their website here.
Guldgrillen is located at Nansensgade 35, 1366 København
Finally, know that the area around also has some amazing accommodation options available.
SLIDERS
It's not the size that matters, not even in the burger universe.
Sliders is a solid example of this. They burst onto the burger scene in 2014 with their lively corner restaurant overlooking the Dronning Louise Bridge on Nørrebro.
A slider is, simply stated, a burger in size small. This means that you have an appetite to taste several different versions. This Sliders also offers with their, approximately, 10 changing versions with a few that have already become classics.
Sliders opened another large corner restaurant in 2017. This time in a disused bank with a safe deposit box and everything on Istedgade.
What Sliders offer are small gourmet burgers and a different experience. Instead of going and getting only one that fills you up completely, you have the option of trying a few delicious ones.
You can check out more on their website here.
Find Sliders at both Nørrebrogade 1, st, 2200 København and Enghave Pl. 4, 1670 København V
GENERAL ABOUT THE BEST BURGER IN COPENHAGEN AND THE FOOD CULTURE
In general, Copenhagen is full of great burger places. You can find a burger on almost every corner. And the best part? The burgers are really good!
The burger culture in Copenhagen is, therefore, booming and it doesn't seem to stop anytime soon. So, if you're ever in Copenhagen and looking for a good burger – you definitely won't be disappointed. There's something for everyone.
Two other classic places to go are either Halifax or Grillen Burgerbar. You find both places at different locations in the city too. However, in my opinion, you have a better and more unique experience at some of the other places. If you are looking for a good classic option, these places are good spots to visit.
ADDITIONAL IN TERMS OF THE BEST BURGER IN COPENHAGEN
Copenhagen is a food mecca and you should take time out to try some great things. The city is full of amazing restaurants, bars, and cafes. Whether you want brunch, bakeries, a small breakfast, pizza, or the classic danish smørrebrød, Copenhagen has incredible options for you.
That was it for this one.
I hope you enjoy some amazing burgers and have a wonderful time in Denmark.
As always, feel free to leave a comment below.
//Josephine
The article may include affiliate links, meaning that I may receive affiliate compensation at no cost to you if you decide to purchase. Read more in my
Affiliate Disclosure.
BEST TRAVEL RESOURCES
BOOK YOUR FLIGHT: Not sure how to get the best and cheapest flights? I always use Skyscanner for the best deals. The best tip is to be flexible with dates and destinations if you want the cheapest options.
Alternatively, for frequent travelers, get a membership with Wayaway and receive a cashback on cheap flights and hotels every time you book! Via the link, you even get a 10% discount on your membership.
BOOK GREAT ACCOMMODATION: Booking great accommodation is not difficult but it sucks paying too much. Use Booking.com for the greatest hotel deals and Hostelworld for amazing hostel stays. Alternatively, you can sign up for Worldpackers to get FREE accommodation in exchange for your work.
BEST TRAVEL INSURANCE: Traveling without insurance is a mistake that you don't want to make - trust me I've tried. I'd suggest SafetyWing as they offer great and flexible policies - especially if you are traveling for a long time or a digital nomad. World Nomads is another great insurance with extensive coverage.
NEED HELP WITH YOUR VISA? Figuring out how and when you need a visa can be a bit of a jungle. iVisa is a very handy and user-friendly service.
HAS YOUR EU FLIGHT BEEN DISRUPTED? Use AirHelp as a service to get flight compensation on your European flights in case your flight was delayed, canceled, or disrupted in other ways. More often than not you are actually entitled to compensation.