Have you ever thought about truly experiencing the cool parts of Copenhagen by doing bike tours?
Well, you should!
Alright, let me give you the real deal. I've called this buzzing city home for a whole ten years, right? And trust me, there's no better vibe than cruising through its lively streets and chilled-out spots on a bike.
And no, I'm not just talking about a random spin; I mean really diving deep into the city's hidden and cooler parts.
I've traveled every inch of Copenhagen on two wheels, knowing its ins and outs like the back of my hand.
Now, why keep all that wisdom to myself?
Time to share the love and give you the lowdown on the absolute best bike tours Copenhagen has to offer.
Why Copenhagen is Such a Good City for a Bike Tour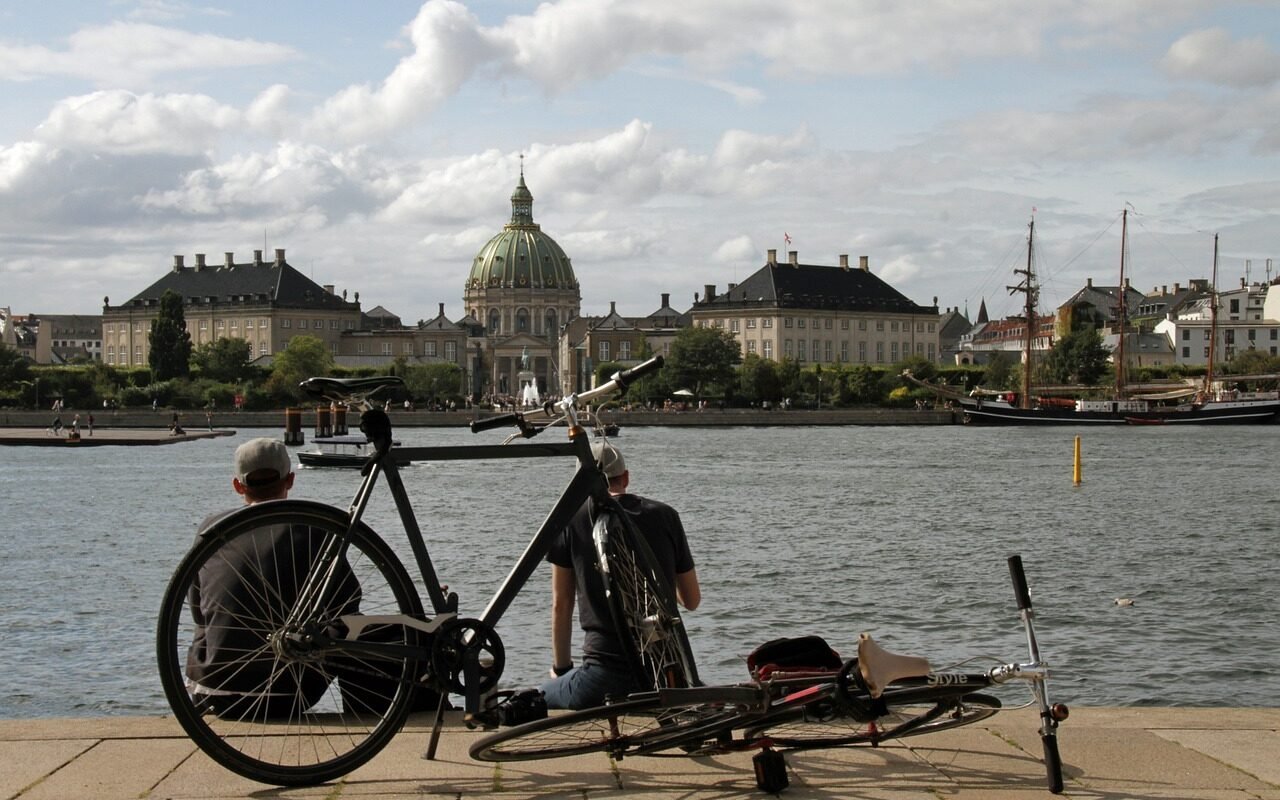 Alright, if you haven't heard it yet, let me drop this bomb: Copenhagen is basically bike heaven! Like, seriously, it's THE city for bikers.
First off, Denmark is flatter than a pancake, which means no huffing and puffing up steep hills. Score!
And now, here's the deal.
Everyone—grandmas, kids, cool peeps in suits—they all bike around here!
Locals don't just use bikes because they're hip or eco-friendly (though that's a bonus); it's legit the easiest and most fun way to zip around town. The city's designed with bikers in mind: wide lanes, loads of bike parks, and traffic lights even synced for bike speeds. No joke!
And guess what?
Taking a bike tour isn't just about seeing the sights (though they're bloody gorgeous). It's about living and breathing the Copenhagen way. When you're on that bike, weaving through streets, you're not just a tourist anymore—you're getting the authentic, local experience.
Biking truly is part of what makes Denmark so unique.
So, when in Rome – err, Copenhagen – do as the Danes do!
What are The Best Bike Tours in Copenhagen?
Ready to pedal your way through the crème de la crème of Copenhagen? I've got you covered!
Here's my handpicked list of the absolute best bike tours in Copenhagen. Trust me, after a decade of cycling every inch of this city, I know which tours will give you those "WOW" moments.
So, grab your helmet, let's dive in, and discover the magic on two wheels!
If you're on the hunt to experience the best bits of Copenhagen in a snap, this 3-hour bike tour is just the ticket!
Let's face it, when you're traveling, time is gold. This tour is like your fast-track ticket to the city's coolest spots.
You'll be cruising past every major highlight: the jaw-dropping Frederiks Kirke, the exciting Tivoli Gardens, the iconic Little Mermaid statue, and so much more.
Best part?
This isn't some rushed trip; you'll get plenty of chances to stop, click a pic, and soak it all in. And with the city's bike-friendly vibes, you're in for a smooth ride.
Think of it this way: you get the best of both worlds. Knock out your sightseeing list in just a few hours, and boom, you've still got loads of time to munch on Danish pastries, sip on local brews, or, yeah, squeeze in that power nap.
Oh, and a heads up—this tour's a hot one!
It tends to sell out pretty fast. So if you're feeling it, don't wait around too long. Book your tour and save your spot!
Key Benefits:
Efficient: Cover major sights in just 3 hours
Flexible: Free cancellation up to 24 hours in advance
Safety first: Helmets in bike safety in place
Book now, pay later: Keep those travel plans adaptable
Get that local touch: Live guides in multiple languages
Extra Perks: Discounts on bike rentals post-tour
Pros:
Comprehensive: Get a feel of the city's main attractions
Interactive: Friendly local guides to answer all your questions
Picture-perfect: Many photo ops along the journey
Additional bike rentals: Explore even more after the tour
Cons:
Rain can be a bummer: Bring your own rain poncho just in case
This is for you if you are the time-saving travel! Do you love the idea of exploring Copenhagen on two wheels but think 3 hours sounds like a marathon?
No worries, there's a short tour for you!
How does seeing all the top hits of the city in just a breezy 1.5-hour sound?
Epic, right?
Jump on this quick spin and be ready to be dazzled!
From the famous Little Mermaid (yeah, she's as little as they say) to the majestic Gefion Fountain and the royal Amalienborg Castle, we've got it all in there.
And, this ain't just a zip through the town; they've planned some lovely off-the-bike moments. Stroll through lush parks, take a quick pit stop at scenic lakes, and dive into intriguing stories about the Danish culture, all while getting those perfect shots for the 'gram.
Plus, you know what's super cool?
If there's a spot you're dying to see or maybe one you'd rather skip (hey, no judgment!), just holla. This tour's got that easy-going vibe where you can kinda tailor it on the go.
So if you want to do a bike tour quickly, why not quickly book and get it over with?
Key Benefits:
Time-Saver: Hit the best spots in just 1.5 hours!
Flexibility on Point: Cancel up to 24 hours before and get a full refund
Stay Safe: All safety stuff covered
Zero upfront payment: Reserve now and keep those coins for later
Feel the Pulse: Experience Copenhagen like a local
Your Tour, Your Way: Tailor the tour based on group vibes
Pros:
Quick Yet Comprehensive: See major attractions in record time
A blend of Riding and Walking: Best of both worlds, baby!
Fun and Interactive: Dive into Copenhagen's history and quirky stories
Adapt on the Go: Got a special request? Just shout it out!
Cons:
Need for Speed: This is a swift ride; you will need to see things quickly!
Extra Charges: Helmets and water come at an additional cost
Alright, fellow food lovers! Imagine pedaling your way through Copenhagen's scenic lanes and every now and then, stopping for some drool-worthy Danish delights.
Sounds like a dream, doesn't it?
Well, pinch yourself 'cause this is one delicious reality!
This tour, my friends, is my personal favorite.
I mean, I'm a foodie at heart, and there's honestly nothing better in Copenhagen (besides the biking) than munching on its culinary treasures. Now mix the two, and it's magic!
Over a delightful 3 hours, you get to chow down on stuff ranging from award-winning hot dogs (yes, they're a thing!) to the classic Danish Smørrebrød.
And just when you think you can't handle more yumminess, boom! A Danish Flødebolle chocolate dessert winks at you.
Oh, and did I mention the beer?
You get that too.
What makes this tour extra special? It's cozy! With just a cap of 10 people, it feels more like you're out and about with friends rather than a touristy herd. Plus, you're getting a ton of value for your money.
This tour is also very popular, so be quick to book. The worst is missing out because something booked out!
Key Benefits:
Foodie Heaven: 6 stops at top-notch Danish eateries
Stress-Free Booking: Cancel up to 24 hours in advance, and pay nada today
Safe and Sound: All the safety stuff is in place
Intimate Group: Small group vibes with a cap of 10 participants
Local Lore: Dive into stories of Danish food culture and history
All Gear Provided: Comfortable bikes and optional helmets
Pros:
Mouth-Watering Stops: From hot dogs to pastries, it's a culinary journey!
Quality Time: Limited participants mean a more intimate experience.
Scenic and Tasty: Experience both, the beauty and the flavors of Copenhagen.
Fun and Informative: Learn not just about food, but also local history.
Cons:
Pace Yourself: There's a LOT of food; come with an empty stomach!
Not for Diet Watchers: Forget those calories for a day!
More stops: More breaks might annoy some people
Ever thought of truly immersing yourself in Copenhagen without the regular touristy hassle?
Picture this: A leisurely bike ride, tailor-made just for you and your buddies, weaving through Copenhagen's picturesque streets and making memories worth a thousand selfies.
Now, here's the deal about this tour.
If you're someone who (let's be honest) doesn't always love being around loads of people, or if you're traveling in a group – this one is a golden ticket.
It's private.
Yup, you heard it right. You won't have that one random dude struggling with his bike gears or the gal who stops every 2 seconds for a pic (unless they're your friends, of course, then you're on your own ).
Split the cost and voilà – an affordable, customized, and intimate biking experience through the heart of Copenhagen.
This private bike tour takes you all around. From the stunning Amalienborg Palace to the iconic Little Mermaid, pedal through diverse neighborhoods and over architectural marvels like the Snake Bridge. For you, this means you get to see all the cool stuff in one go.
And hey, sneak in a trendy dinner spot hint in Vesterbro or just take a "hygge" break – you call the shots!
If you are in a group or you are looking for a more personal experience, this one is the perfect option. Just book it and surprise your buddies with a fun day planned!
Key Benefits:
Private Tour Vibes: Customize your journey and go at your own pace
Stress-Free Booking: Cancel up to 24 hours in advance, and pay nothing now
Safety First: You are sure that the safety is tip-top!
Cultural Deep Dive: From the Amalienborg Palace to the modern Meatpacking District
All-Inclusive: Comfy bikes, helmets (if you fancy one), and a knowledgeable tour guide!
Price: $417 for the group
Pros:
Exclusive Experience: No strict itinerary, no fuss, and no annoying people!
Tailored Adventure: See what you want, skip what you don't
Economical for Groups: Split the price and get bang for your buck
Comprehensive Overview: Dive deep into the Danish capital in just 3 hours
Cons:
Self-Contained: If you fancy meeting new people, this might not be it
Pricey for less people: it is more expensive for a small group
Want to glide through Copenhagen effortlessly, while catching all its majestic sights?
Say no more!
Explore the Danish capital on our state-of-the-art electric kick bikes and feel the vibe of the city like never before.
Copenhagen is a city of contrasts: from historical castles to modern waterfronts, bustling harbors to tranquil gardens. Now imagine zipping through it all, not on the usual bike, but on an electric kick bike.
It's swifter, it's easier, and oh boy, it's FUN!
Did I mention these are the brand new 2023 Electric Kick-Bikes? Yep, and they are the first of their kind in Denmark.
With a guide who has 15 years of biking tour experience, you won't miss a single beat of what this beautiful city has to offer. From the iconic Little Mermaid to the majestic Amalienborg Royal Castle, you'll see it all!
This tour is for those who want a more fun and easy experience. You see just as much as on the other tours in Copenhagen, but it's more fun and unique.
If this sounds more like your style, then book a little ahead as there is a 10-person limit!
Key Benefits:
Innovative Experience: The only electric kick bike tour in Copenhagen
Effortless Exploration: No need to pedal hard; just kick, glide, and enjoy the sights
Safety First: Helmets are mandatory. Plus, a full intro and training session before setting off
Easy cancellation: You can cancel up to 24 hours before and pay absolutely nothing now
Intimate Group Size: With just 10 participants, it's personal, fun, and interactive
Legendary Landmarks: From the Royal Library to the Royal Theatre, you'll soak it all in
Pros:
Smooth Ride: These electric kick bikes are a game-changer. Swift, stable, and a total thrill!
Comprehensive Overview: See 90% of Copenhagen's highlights in just 2 hours.
Experienced Guides: Dive deep into stories, facts, and anecdotes of the city's rich history
All-Inclusive: Stylish kick bike, protective helmet, and the company of an enthusiastic guide
Cons:
Speed Limit: They go fast and you have to follow the speed limit
Who Can Join a Copenhagen Bike Tour?
The short answer; is anyone with some common sense and decent shape.
Whether you've been cycling for ages, or if the last bike you rode had training wheels, you're in for a treat.
But a quick reality check – in Copenhagen, biking isn't just fun and games. It's a legit way folks commute daily. Locals hustle around on their trusty steeds, come rain or sunshine.
While the atmosphere is relaxed, remember: this city's biking game is on point.
So, when you hop on that bike, it's all about blending in. Watch those bike lanes, follow the traffic signals, and oh, always gear up with that helmet.
Biking here isn't just about the views; it's about rolling the Danish way. Stay safe, respect the rules, and soon enough, you'll feel like you've been pedaling through Copenhagen's streets all your life.
How Can a Bike Tour in Copenhagen Benefit You
By now, you should get the idea that Copenhagen is a biking city and you can do a guided tour.
And so what? You might think.
Here's why doing bike tours in Copenhagen is a game-changer:
Authentic Experience: Biking is as Copenhagen as hygge or those delicious Danish pastries. You're not just touring; you're living the city the way locals do which is always super nice.
Maximized Sightseeing: On bike tours, you can cover more ground than walking in Copenhagen, ensuring you catch all those can't-miss spots. Plus, with Copenhagen's extensive bike-friendly infrastructure, you'll glide smoothly from one landmark to the next.
Health and Environment Bonus: Pedal power means zero emissions! Plus, you're getting a lovely bit of exercise while vacationing – a win-win while you visit Copenhagen.
Unique Perspective: See the city at street level, making it easier to hop off, snap a photo, chat with locals, or grab a snack.
Money saving: Copenhagen is expensive. Taxis and public transport add up! Unless you are planning on walking around, biking is the most economical alternative.
Buyers Guide: How I Conducted My Research
To ensure I was bringing you the most reliable and authentic recommendations for bike tours in Copenhagen, I followed a detailed research methodology. Here's a glimpse into my process:
Local Expertise: First and foremost, I tapped into my personal experience. Being from Copenhagen, I have an innate understanding of the city, its routes, and the distances between attractions. This helped me decide whether the tours are fun, realistic, and include what they should.
Pricing: I closely examined how much each tour cost, ensuring it provided value for money. As a local, I have a fair idea of what's a reasonable charge and what's overpriced.
Route Evaluation: Leveraging my knowledge of the city, I meticulously evaluated the routes each tour offered. Some routes promise a lot but don't deliver in terms of iconic sites or unique experiences.
Features: What makes each tour stand out? Whether it was a unique vantage point, the inclusion of lesser-known spots, hidden gems, or the charm of a local guide, I listed the best features of each product.
Negatives: No product is perfect. I pointed out what each tour might be lacking, be it in terms of duration, attractions covered, or any other aspect.
Support or Refund: A good business stands behind its offerings. I checked if the tours had provisions for community engagement, customer support, or a clear refund policy in case things didn't go as planned.
Armed with this information, I set out to deliver a list that represents the crème de la crème of Copenhagen bike tours so you can have a great trip.
Wrapping Up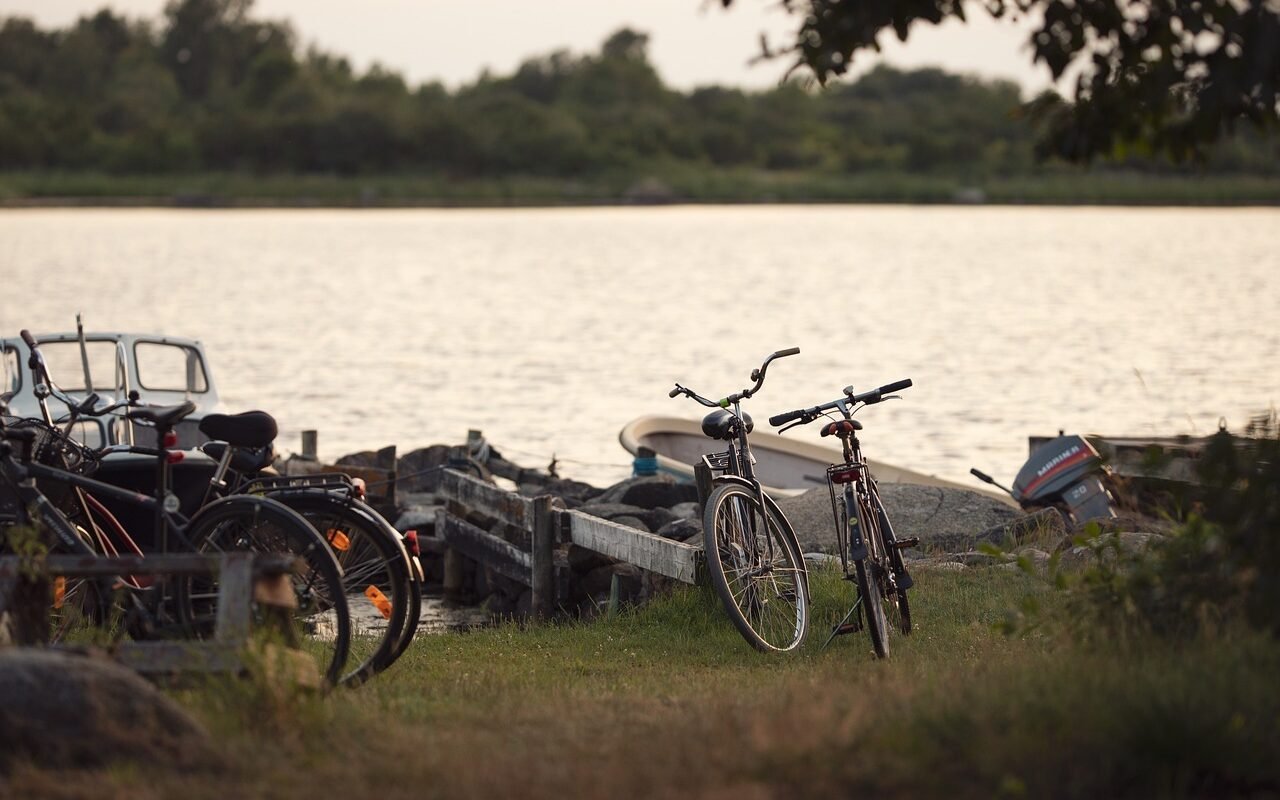 Alright, after all that chat, here's the deal: biking around Copenhagen is the real deal.
I've tried to break down the best of the best for you, and given I've been weaving through these streets forever, I'd like to think I know a thing or two.
Whether you're all about that electric buzz or the old-school pedal power, there are several bike tours in Copenhagen suited for you!
Remember, when in Copenhagen, we don't just bike to show off – it's legit how we get around. So, take my two cents, find your perfect ride, and live out those cruisy city dreams.
For more great tips on how to experience Copenhagen, make sure to check out my full guide to the city.
Frequently Asked Questions
Is Copenhagen a bike-friendly city?
Absolutely! Copenhagen is known globally as a bike-friendly city, with extensive cycling lanes, bike-only bridges, and a culture that promotes biking as a primary mode of transport.
What to see in Copenhagen by bike?
Copenhagen offers many sights: the iconic Little Mermaid statue, the historical Christiansborg Palace, the picturesque Nyhavn harbor, and the expansive Tivoli Gardens, to name just a few. Biking is the ideal way to explore these attractions.
Is biking safe in Copenhagen?
Yes, biking in Copenhagen is safe. The city boasts well-marked bike lanes, clear traffic regulations for cyclists, and general respect for bikers among motorists, making it a great place for cyclists.
Do you need a helmet to bike in Copenhagen?
While helmets are highly recommended for safety, they aren't legally mandatory in Copenhagen. However, many tour operators and rental services might insist on you wearing one.
Do people lock bikes in Copenhagen?
Yes, bike theft can be an issue, so Copenhageners always lock their bikes. It's advisable to use a strong lock, especially in busy areas, and to secure the bike to a fixed object when possible.
The article may include affiliate links, meaning that I may receive affiliate compensation at no cost to you if you decide to purchase. Read more in my
Affiliate Disclosure.
BEST TRAVEL RESOURCES
BOOK YOUR FLIGHT: Not sure how to get the best and cheapest flights? I always use Skyscanner for the best deals. The best tip is to be flexible with dates and destinations if you want the cheapest options.
Alternatively, for frequent travelers, get a membership with Wayaway and receive a cashback on cheap flights and hotels every time you book! Via the link, you even get a 10% discount on your membership.
BOOK GREAT ACCOMMODATION: Booking great accommodation is not difficult but it sucks paying too much. Use Booking.com for the greatest hotel deals and Hostelworld for amazing hostel stays. Alternatively, you can sign up for Worldpackers to get FREE accommodation in exchange for your work.
BEST TRAVEL INSURANCE: Traveling without insurance is a mistake that you don't want to make - trust me I've tried. I'd suggest SafetyWing as they offer great and flexible policies - especially if you are traveling for a long time or a digital nomad. World Nomads is another great insurance with extensive coverage.
NEED HELP WITH YOUR VISA? Figuring out how and when you need a visa can be a bit of a jungle. iVisa is a very handy and user-friendly service.
HAS YOUR EU FLIGHT BEEN DISRUPTED? Use AirHelp as a service to get flight compensation on your European flights in case your flight was delayed, canceled, or disrupted in other ways. More often than not you are actually entitled to compensation.