Visiting the most beautiful cities in France should be high on any traveler's list of priorities if planning an extensive trip to Europe. France is more than just Paris, the Eiffel Tower, and baguette. For this reason, you can easily explore the beautiful towns for months if you have the time.
The top attractions include world heritage sites, impressive cathedrals, wine tours, cultural experiences, gastronomical amazement, french offenses, and much more.
These beautiful french cities are something you should add to your France bucket list for the most memorable trip in this stunning part of Europe.
In this post, I've included the 15 most beautiful cities in France from where you can seek inspiration and later explore and enjoy.
Note that France is well populated and traveled. Always travel with travel insurance and preferably even an anti-theft travel bag.
PIN THIS POST FOR LATER: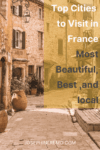 Which are the most beautiful cities in France?
Paris
Like many capital cities, Paris has some of the most spectacular, significant, and beautiful attractions in France. Paris is also called the city of love, but it is a big city with noise and dirt like any bustling metropolis, but you can still find there's still plenty of beauty.
First, there are some very pretty streets in Paris. Many in village-like Montmartre, including Rue de l'Abreuvoir, but also in other spots around the city, including Rue Crémieux, near the Bastille.
Secondly, there's beautiful architecture. Few gothic landmarks remain, but those that do are very impressive, including Notre Dame Cathedral and Tour Saint-Jacques. There are some spectacular examples of ostentatious baroque and Napoleonic architecture, including Palais Garnier, Les Invalides, and the Palace of Versailles, reachable by train. The Haussmann boulevards and mansions that took over Paris in the 19th century are grand and handsome. Their blue-grey rooftops have been an instantly recognizable aspect of Paris. In addition, the Belle Epoque brought us beguiling masterpieces like the Basilica of Sacré Coeur de Montmartre, the Grand Palais, and the first big department stores, including Galleries Lafayette. Even the Art Nouveau-style metro stations are gorgeous!
Thirdly, housed in some of those buildings, there's beautiful art – and lots of it. The Louvre is famous for Leonardo Da Vinci's Mona Lisa, but there's so much more than that. It is full of treasured works of art including statues from ancient Greece and Renaissance paintings. Musée d'Orsay has a wonderful collection of sculpture and impressionist art. On top, Musée De l'Orangerie displays Monet's Waterlillies in a stunning environment.
Finally, there are also plenty of beautiful parks and green spaces in Paris. Jardin du Luxembourg is one of the biggest. Furthermore, it's a lovely place to get away from the buzz of the city. There are also plenty of smaller city parks dotted around. There's also an elevated garden: Promenade Plantée René-Dumont is an elevated tree-lined walkway built on top of an obsolete railway line.
Whether you travel with friends or a partner or you're traveling solo in Paris, you'll find plenty of beauty to inspire you.
Contributed by Martha, from MayCauseWanderlust.com
From Paris, it is also possible to take a day trip to the stunning Loire Valley.
Rouen
Rouen is the capital of the historical Normandy region in Northern France. This region is famous for its cheese, apples, and its fervent past.
The city is very accessible and just 1 1/2 hours away from Paris, making it a great place to be any time of the year on a weekend.
Rouen is known for its wonderfully preserved architecture. Most buildings didn't fall in WW2 and reflect well the authentic charm of the northern French provinces. The cathedral of Rouen and the renaissance timepiece are only a few of the many wonderful landmarks in Rouen. The medieval freedom fighter and hero, Joan of Arc, was burned at the stake in Rouen. You can visit the memorial at the heart of the city.
The Dojon, where she spent her last days, is also open to the public and tells the tale well. Parts of the city were heavily attacked and bombarded by allies during the WW2 liberation efforts. Visitors can still see the damaged walls at the justice Palais on a stroll through the city. Yet, the capital of Normandy has been around since Roman times and was an important trading post for the Vikings. Statues and memorials remind visitors of Rouen's historical importance over the ages.
Discover the colorful architecture of Normandy and specifically look out for the small water canal road near the Saint-Ouen Abbey Church. You will find cute local stores here and flower-decorated pedestrian zones.
The city is great all year round, but it can get busy during the summer months on weekends. Plan to stay at least 2 days in Rouen to make the most of your trip to this very French city. Make sure to taste plenty of strong flavored Camembert and heart-shaped Neufchâtel cheese and drink some of the best apple brandy known as Calvados when in Rouen.
Contributed by Paul D'Souza from Paulmarina
Toulouse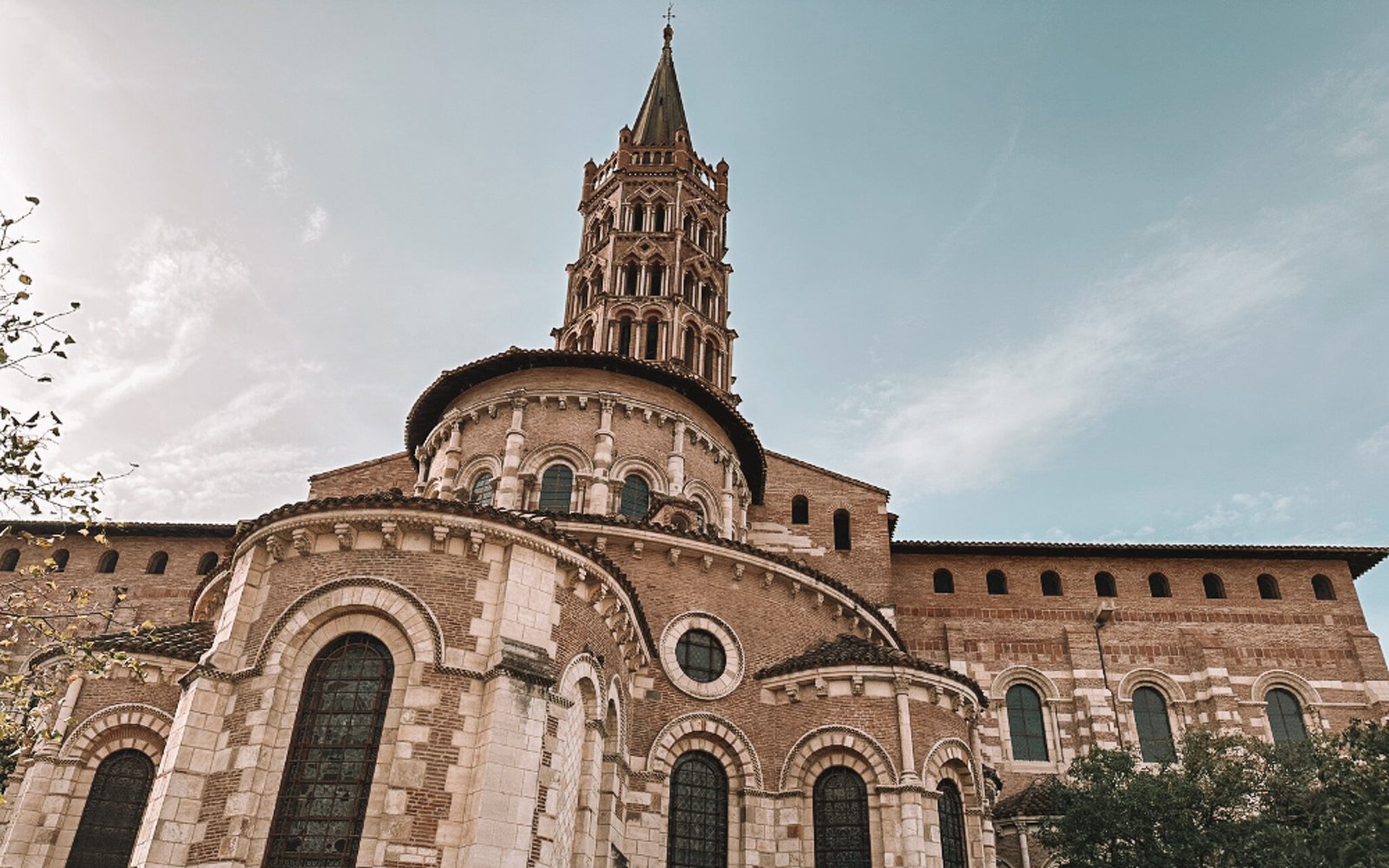 Another one of the most beautiful cities in France is Toulouse, which is the capital of the Occitanie region. In fact, locals often refer to Toulouse as "The Pink City." This is because many of its buildings feature pink terracotta bricks that create a distinct yet striking appearance.
Furthermore, visitors will also notice that nearly all of the buildings lining the narrow cobblestone streets are vibrant shades of red, orange, and yellow! It's truly a sight to behold and makes wandering the streets to admire the French architecture the perfect way to spend an afternoon.
Of course, any visitors looking to be thoroughly impressed should pay a visit to the iconic Place du Capitole, which serves as Toulouse's city hall. The architecture is magnificent, and the surrounding square is filled with lots of fancy hotels, souvenir shops, and markets. Thus, it's a must-visit and the ideal place to search for a gift for a loved one!
Meanwhile, those interested in seeing historic churches and beautiful Romanesque architecture should make their way to the Basilica of Saint-Sernin. The church dates back to the 12th century and is incredible to walk through.
And for anyone looking to escape the bustling city, Toulouse is centrally located an hour away from several other smaller yet beautiful French towns. For example, visitors can comfortably travel to the medieval city of Carcassonne for a little excursion!
All in all, with so many places to visit and explore, Toulouse is perfect for a long weekend getaway. And, the city's prime location in the South of France means that the city experiences comparatively warm weather almost year-round, making it always a good idea for a vacation getaway. Thus, visitors interested in visiting Toulouse can fly directly into the Toulouse-Blagnac airport!
Contributed by Kristin Lee of Global Travel Escapades.
Chamonix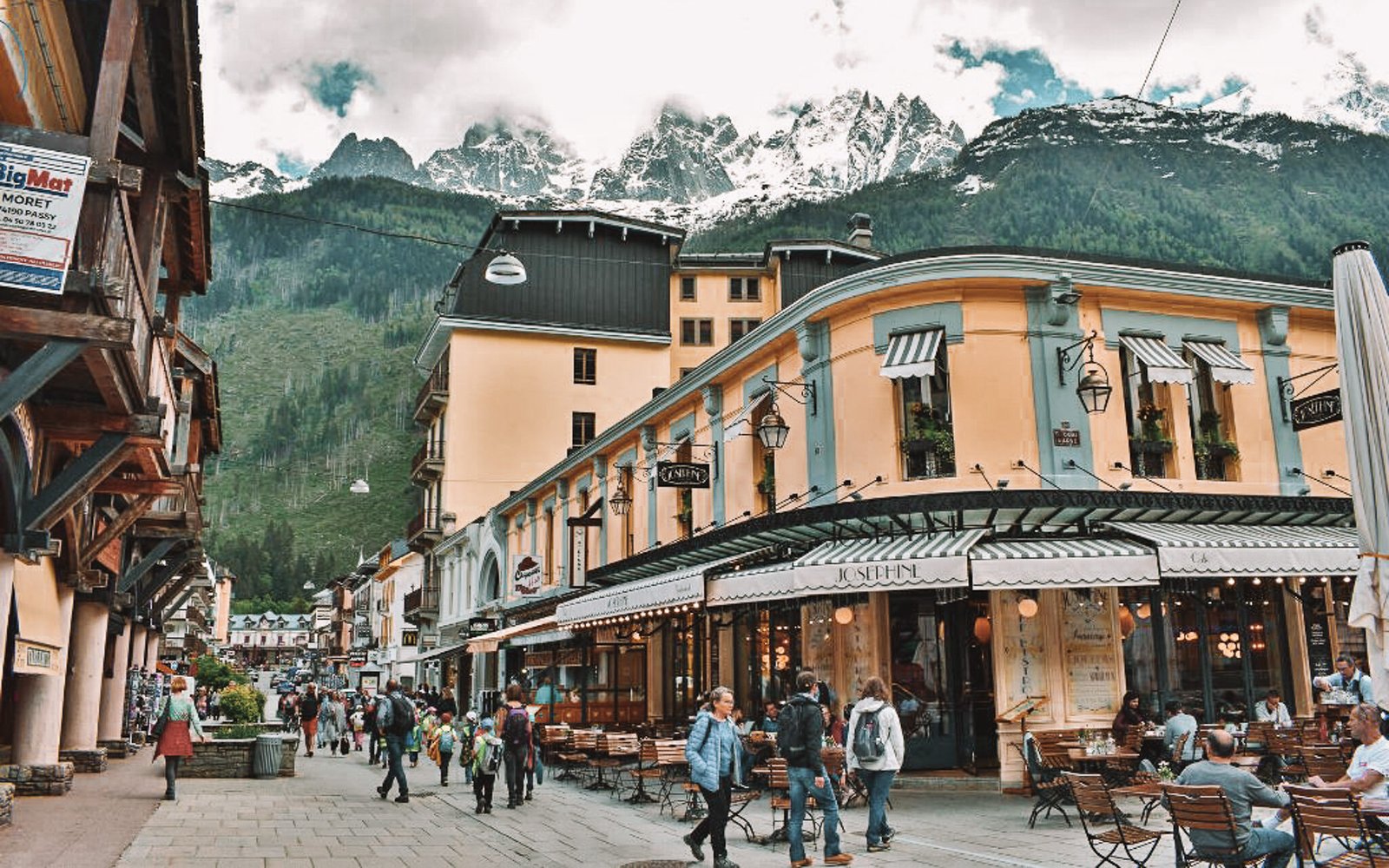 When it comes to the most beautiful cities in France, Chamonix is at the top of this list. This quaint ski town is full of beautiful French architecture and is set at the base of the French Alps with views of Mont Blanc. Enough said.
Not to mention, it offers some of the most interesting cuisines in France with influences from both Italy and Switzerland. This is owed to its unique location on their borders (the Raclette is a must-try while you're in the region). The town is lively year-round, but it is best known for its stunning beauty in the winter months. Here the ski slopes are covered in a blanket of snow. Its apres-ski scene is also pretty amazing.
Don't let the phrase "winter months" fool you. The summertime is incredible when you can see hikers from every angle exploring the surrounding mountains. Others take to the sky with parachutes strapped to their backs as they paraglide across the valley
To get there, fly into Geneva, Switzerland, and take a private shuttle to your accommodation in Chamonix-Mont-Blanc. This is by far the fastest method, but you also have the option of flying into Lyon and then taking the train the rest of the way.
Plan to spend at least 2-3 days in Chamonix to get just a taste of what the city has to explore. However, from the relaxing spas offering everything from beauty treatments to massages, incredible shops selling locally made products, and the endless outdoor activities on offer, you could easily spend a week here.
Chamonix is easily one of the most beautiful cities in Europe because of its gorgeous location nestled in the Alps. If you plan on visiting, be sure to check out these 23 best things to do in Chamonix in both summer and winter.
Contributed by Emily Cuneo from Emilyembarks
Chamonix and the area around is a great summer hiking destination. Make sure to bring some hiking essentials and a good hiking lunch.
Metz
One of the best and most beautiful cities to visit in France is Metz with its picturesque old town. This stunning metropolis on the Moselle is located in the northeast of France, near the border with Germany and Luxembourg. You can also reach the city easily by train from Paris because there are direct connections for getting there.
A special feature and the reason why a trip to Metz is worthwhile is the historic old town of Metz, which inspires with lots of charm and French flair! On a city trip to Metz, you can look forward to countless highlights and activities. A walk along the picturesque riverbank of the Moselle is just wonderful, and you can also visit the island île du Petit-Saulcy. There you will marvel at the famous Temple Neuf, the Place de la Comédie, and the Jardin d'Amour.
Just a short walk away is the main attraction of Metz, the Saint-Étienne Cathedral. It is one of the most stunning and largest Gothic church buildings in all of France. Impressive from the outside, you should not miss a visit to the interior. The huge windows are also impressive as they are decorated with stained glass, which conjures up a unique play of light.
If you are interested in art, also plan a visit to the Centre Pompidou-Metz. The extraordinary architecture is a real eye-catcher and the art exhibitions are also very interesting.
A visit to Metz is especially recommended in the warm summer months. People meet for a picnic by the river, go on a pedal boat tour or just stroll up and down the promenade.
You can explore the most important sights of Metz on a day trip. However, it is worth staying a few days in this amazing French city. Then you have the opportunity to soak up the unique ambiance and try the best restaurants and patisseries.
Contributed by PlacesofJuma
Lyon
If you're looking to visit one of the most beautiful cities in France, Lyon should be at the top of your list. And, as a bonus, it is easy to reach – Lyon is only two hours from Paris by high-speed train. As the fourth largest city in France, there is plenty to experience.
Start by taking the funicular up to the top of Fourvière Hill. Located atop the hill like a crowning jewel is Lyon's stunning basilica, La Basilique Notre Dame de Fourvière. The basilica's exterior features ornate carvings and spires, but you'll want to tour the interior to view the incredible mosaics and stained glass.
While you're here, take a moment to enjoy the splendid panoramic views from the basilica's esplanade. From this vantage point, you have all of Lyon laid out at your feet. View the Cathédrale Saint-Jean-Baptiste, the Saône River, and the expanse of red-topped buildings stretching out to the horizon.
One of Lyon's unique attractions are its traboules. These secret passageways run through buildings to connect the narrow lanes of Vieux Lyon. Public traboules are marked with a special seal. Seek them out to find hidden gems like quaint courtyards and stairways. You can explore on your own or join a guided tour to learn more about their history, from their usage in Lyon's silk trade to hiding the French Resistance efforts during WWII.
Lyon is especially famous for its gorgeous trompe l'oeil murals. These frescoes are large-scale paintings decorating entire sides of buildings and are so detailed and realistic that you'll have to look twice to determine if it is art or reality. You'll find many of these artistic treasures in Lyon's Croix-Rousse area.
A long weekend is the perfect amount of time to spend in Lyon so that you have enough time to get a taste of all that this amazing city has to offer!
Contributed by Lisa Garrett of Waves and Cobblestones
Colmar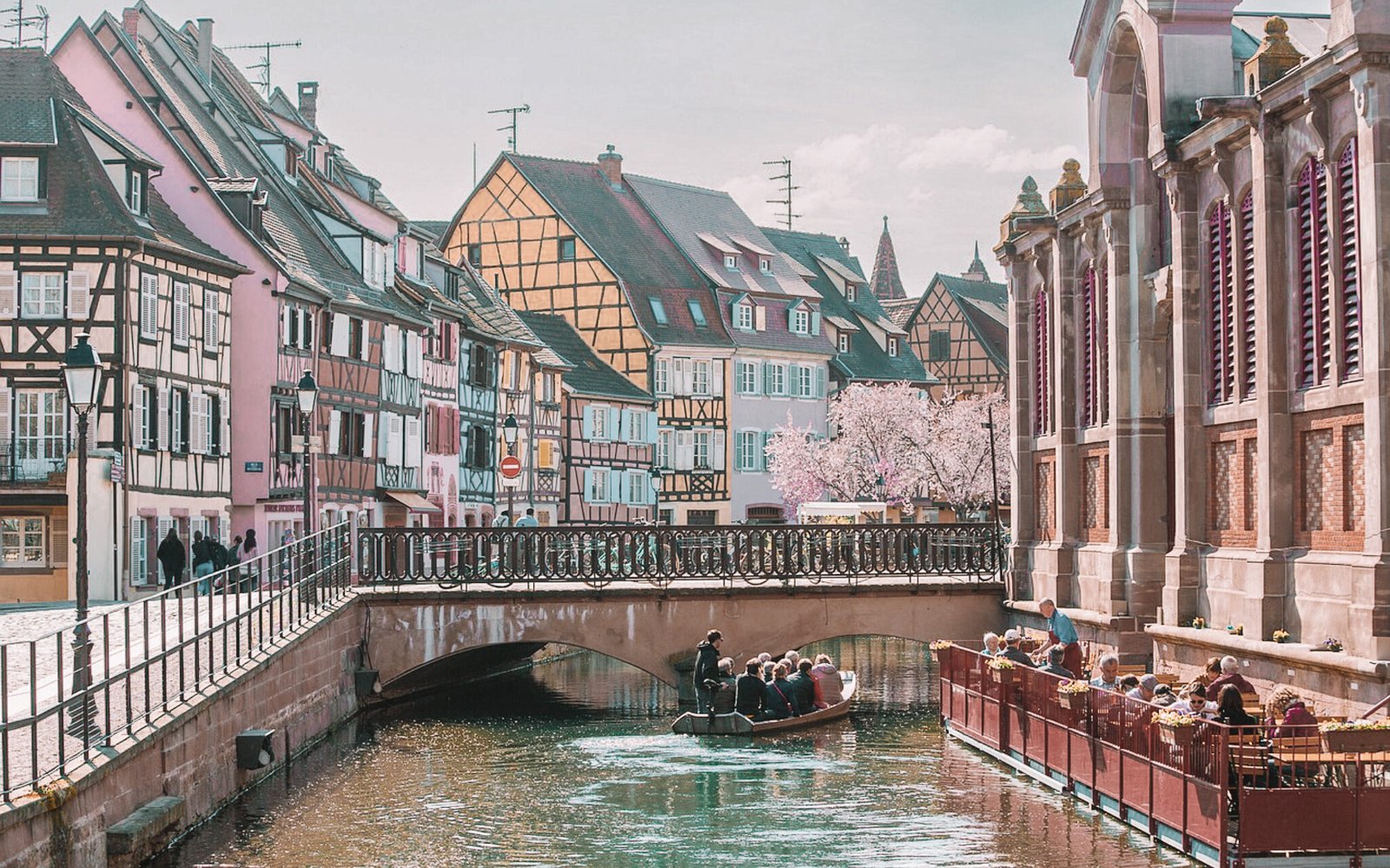 The city of Colmar, France is in Alsace, close to the German border. With its half-timbered homes, historic churches, and thought-provoking museums, it is undoubtedly one of France's most picturesque urban centers. The city looks like something out of a fairytale, and it is an amazing glimpse into the medieval Alsace Region. Its well-preserved historic district is a delight for strolling couples or lone travelers.
You can easily spend a day or weekend exploring this charming location from Paris. Driving from Paris will take you anywhere from 5 to 7 hours, while a train from Gare de l'Est will get you there in under 2.5 hours.
No matter how long or short your stay in Colmar, you simply must visit La Petite Venise (Little Venice). It's hard not to feel like you've stepped into a Disney movie or a fairytale as you stroll along the canal and admire the pretty half-timbered buildings.
St. Martin's Church, a gothic-style structure built between 1234 and 1365, is another must-see. You should also visit the Customs House (Koifhus) which was a major hub during the Middle Ages for trade in Colmar. Learn about Colmar's history and culture by taking in some art at the Musee Bartholdi, the Unterlinden Museum, or airing the paintings in and out of Pfister House.
If you get tired of walking, you can take a canal cruise or ride the tourist train for a different perspective on the historic district.
Three to five days to explore the surrounding towns and villages in the Alsace region, using Colmar as a home base is ideal. Or you can stay and explore Colmar for an entire weekend. You can visit Colmar as a day trip if you are staying elsewhere in the Alsace region. It will be a little rushed though, so please keep that in mind.
Contributed by Imee Magbag from Journey To France
Lille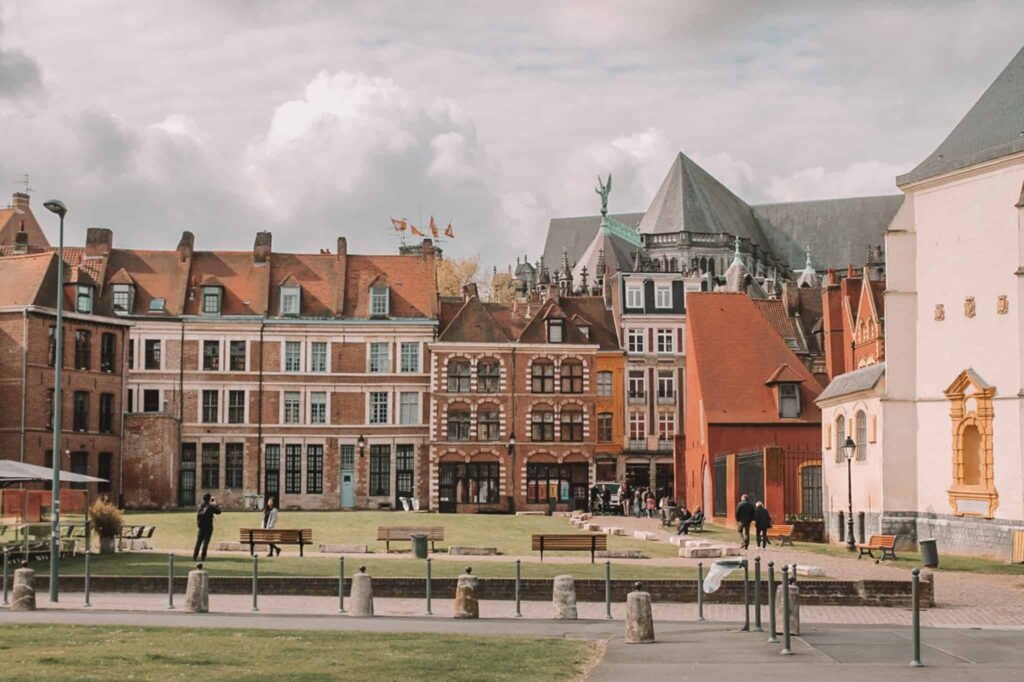 Lille (also known as Rijssel) is one of the most beautiful cities in the north of France. It's near the border with Belgium, and you can feel Belgium's influence when you're in the city. There are many places to drink Belgium beers and the architecture is quite similar.
It has a big international train station, which makes it easy to reach by highspeed train. It has good train connections with London, Paris, and Brussels. Lille is not too big, so it's a perfect city to spend a weekend in.
What are the best things to do in Lille? First of all, the city is perfect for art lovers since there are museums and artworks everywhere. The Musée des Beaux-Arts (Museum of Fine Arts) is one of the best museums in the city center. It has an extensive art collection, including statues by Rodin and paintings by Van Gogh. This museum feels like a miniature version of the famous Louvre museum in Paris.
Musée La Piscine is another great museum to visit. The building is amazing to see, it used to be a swimming pool. The best thing to see is the room with the large (empty) pool, which has many statues.
If you want to watch beautiful works of art for free, make sure to visit the metro stations in Lille. They all have a beautiful mural or an interesting art installation. You can also see amazing artwork in Jardin de Géants, a city park near the train station. There are, for example, some giant heads made of plants.
Besides finding great artworks, Lille is a great city just to wander around and watch the historic buildings in Vieux Lille. You can find some beautiful 17-century mansions around Place du Général de Gaulle. In addition, the city has many amazing restaurants where you can enjoy delicious French cuisine.
Contributed by Jacoba from opreismetco
Honfleur
Honfleur is a must-see when visiting Normandy. Located in Calvados, Honfleur is a port city famous for its typical Norman setting and its great artists such as the painters Claude Monet and Gustave Courbet. Although it counts only 8,000 souls, the city attracts more than 5 million visitors every year. Making it the 5th most visited town in France.
Its picturesque paved and lively streets along with its half-timbered houses offer visitors travel back in time. Once fortified to protect its people from English invasions, you can still see traces of it when visiting the town. Honfleur also stands out because of its small fishing port style due to its long history of port trading.
Among the best things to see in Honfleur, the Vieux Bassin is the main attraction. It is almost the postcard of the city. With its trawlers and pleasure boats, it is lined with narrow colorful houses of the 17th century featuring bars and restaurants. The Sainte-Catherine church, built entirely of wood in the 15th century, as well as the Grenier à Sel (salt storehouse) and the Jardin des Personnalités, are other attractions not to miss.
1-2 days are enough to discover one of the most beautiful cities in France, as it is not too big. Also, aim to visit from June to September, as the temperatures are pleasant. In any case, avoid the rest of the year because the weather is very rainy and cold.
There are several ways to get to Honfleur. You can of course get there by car. The city has many parking lots in town, but also outside the city. Otherwise, you can take the bus from the stations of Paris Saint Lazare, Deauville/Trouville, Lisieux and Pont-l'Evêque. If you come from far away, you can fly to Deauville airport. Then, you will only have to take a taxi or rent a car to drive the last 15 kilometers.
Contributed by Nes from Kevmrc
Nice
The city of Nice in France is one of the most beautiful cities in France. On top, it has a unique feel and vibe compared to many other cities and villages.
Nice sits right on the Mediterranean Sea, and you get beautiful coastal views from many spots in the city. The style and architecture in town are a mix between classic French architecture (similar to the Haussmanian style you'll see in Paris) and Italian-influenced buildings in orange, tan, gold, and pink.
Palm trees dot the city, particularly along the Promenade des Anglais. This wide and charming sidewalk lines the beach and the sea and extends for seven miles. The area is lovely and well-kept and has places to sit and relax, city rental bikes are available, and is a popular place for walking, exercising, or just enjoying a beautiful day.
And if you visit in summer, the many beaches in Nice feel wonderfully refreshing and are just across the street from Old Town and much of the rest of the city.
Besides the beaches and promenade, the Jardin Albert I is a must-visit park, Castle Hill has no castle but does have great views over the city, and the port is a nice area to walk as well. And of course, wandering the old town, stopping in at the flower market or Place Garibaldi, and exploring the shops and restaurants in the narrow winding streets, is a must-do in the city.
Nice is well-connected to the rest of France, with its international airport (NCE), a train station, and a bus station.
Two days is a good amount of time for seeing the sites in the city. However, you may want to spend longer if you are visiting in summer and want more beach time. On top, you can take day trips and tours from Nice to the many picturesque towns and villages nearby.
Contributed by Stephanie from theunknownenthusiast
Annecy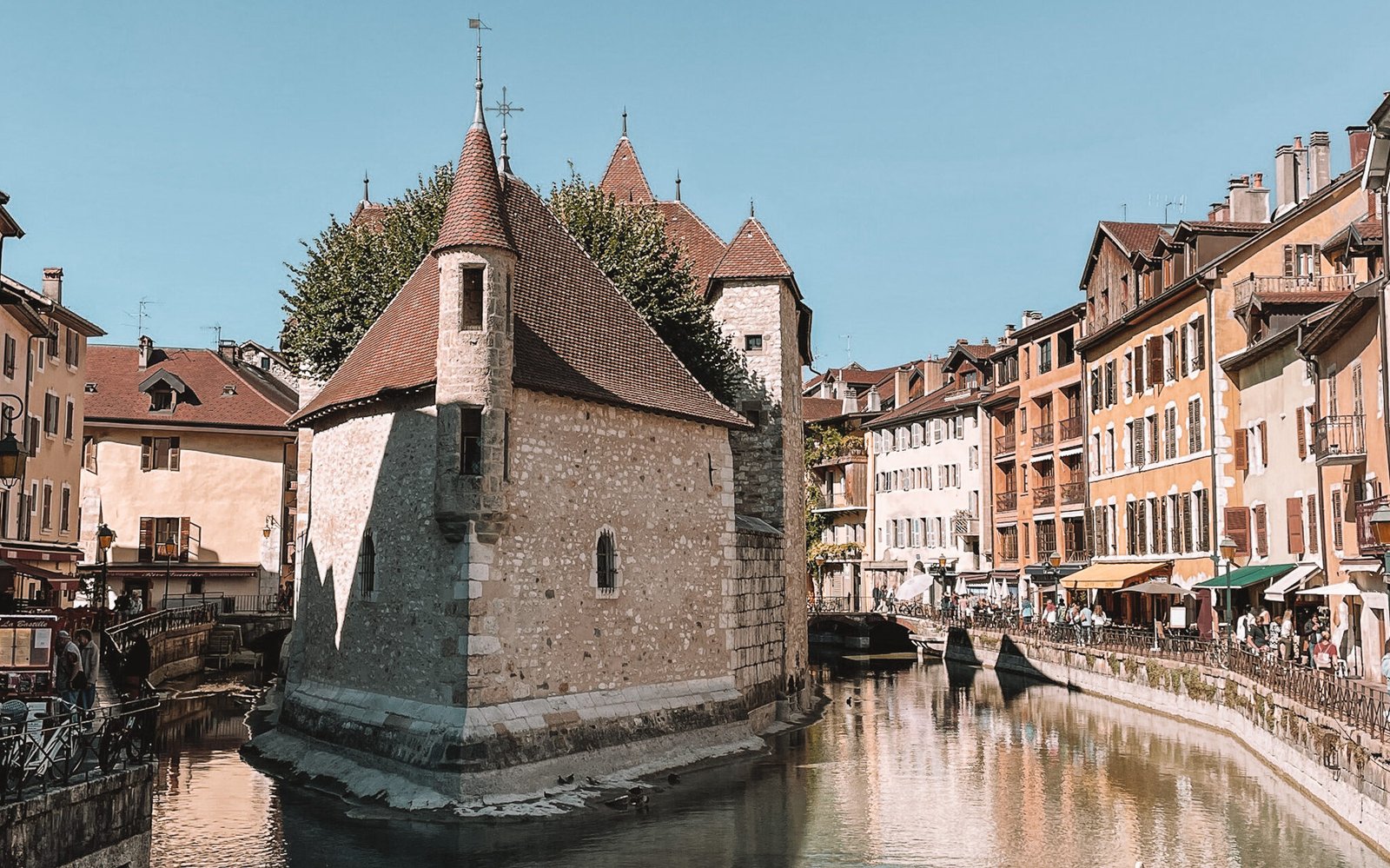 Surrounded by the beautiful Lake Annecy and mountain ranges, Annecy is one of the most beautiful cities in France.
From charming canals that meander through the city to its quaint and colorful little houses, it's no surprise that people call it the "Venice of the Alps."
Besides its exceptional beauty, the charming canals, little hidden streets, and the picture-perfect Palais de l'Île all make it postcard-worthy.
Annecy is also a hub of outdoor activities! You can spend time on Lake Annecy and participate in water sports like Pedal boating, motorboating, and water skiing or simply take a leisurely cruise with a tour.
For the adventurous one, Annecy provides various hiking possibilities with several hiking trails that lead to one of the mountain peaks. Here you can take in stunning views of Lake Annecy and the city. You can also take in the beauty of the lake by biking around it, but if you'd rather go up into the skies in style, paragliding is one adventure not to miss.
For foodies, Annecy also has a strong food scene! There are so many restaurants in the old town serving tasty dishes like Tartiflette, Gratin de Crozets, Fondue, Raclette (which originated in Switzerland but is now very common in Annecy), and many other Savoyard dishes.
Ready to visit but not sure when to go? Though the city is most suited in the summer months, to take advantage of the outdoor activities and the nice weather, spring and early fall are good times as the weather is still warm and the crowds smaller.
So whether you treat it as a weekend trip from Paris or an independent trip from nearby countries like Switzerland, your time in Annecy will be memorable.
Contributed by Esther from Dreams in Paris
Menton
Menton is more than just the jewel of the French Riviera – it's also one of the most beautiful cities in all of France! Considered the most Mediterranean of all the French Riviera cities, Menton offers over 300 days of sunshine per year. It's no wonder visitors flock here year-round to soak up the sunshine and indulge in the land of lemons.
Speaking of lemons, Menton is also the beloved destination of Fête du Citron, the city's annual lemon festival. Held annually each February, this festival is a favorite amongst locals and first-time visitors alike. During this time, Menton is transformed into a spectacular display of lemons via impressive parades of floats, lavish garden displays, and lemon-inspired performances.
Beyond sunshine and lemons, Menton offers irresistible storybook charm in its idyllic alleyways. One could spend hours wandering the maze of streets, browsing boutiques and galleries, and strolling through Place Fontana. Those who fancy a dip will enjoy soaking and sunbathing on Plage des Sablettes. From here, be sure to enjoy the spectacular backdrop featuring the Riviera's surprisingly mountainous landscape.
Menton also benefits from lush vegetation and is home to several gardens. These include Jardin Serre de la Madone, Jardin Fontana Rosa, and Jardin Maria Serena.
For an unforgettable sunset, head to Quai Impératrice Eugénie and marvel at the beautiful glow over the village. From here, visitors can see the Menton skyline in full glory, with the centerpiece of the Basilica of Saint Michael Archangel.
Traveling to Menton is straightforward, particularly as far as public transportation is concerned. The journey by train takes less than 40 minutes from Riviera's capital city Nice. Visitors can also arrive by bus, albeit a more time-consuming option. For those arriving by car, the D6007 is a pleasant coastal roadway offering sweeping views. While you can largely uncover Menton in the afternoon, an itinerary of several days is ideal.
Contributed by Elena from The Carry-On Chronicles
Avignon
Known as the Gateway to Provence, Avignon is one of the most historically rich and beautiful cities in France.
Set on the banks of the Rhône River in Southeast France, evidence of settlement in Avignon dates back around 5000 years. But it's the city's medieval heart that has earned this part of the city the prestigious UNESCO World Heritage Site Status.
Medieval ramparts surround winding stone streets, which are lined with boutique stores and independent cafés. While the skyline is dominated by one of the largest and most important medieval Gothic buildings in Europe, the Palace of the Popes (Palais des Papes). Once the seat of the Catholic Popes, Avignon remained under papal rule until becoming part of France in 1791.
Today you can tour the beautifully preserved 14th-century palace, guided by informative boards or a Histopad (audio guide via electronic tablet), which is included in the entrance fee. Queues for the palace can get rather long in the Summer months. Therefore, it's best to buy tickets in advance. You can purchase combination tickets that include the Pont Saint-Bénézet and Pontifical Gardens. The 12th-century Pont Saint-Bénézet, known simply as Pont d'Avignon, is said to be the most famous bridge in the world. On top, it's said to be featured in the popular children's song Sur le Pont d'Avignon.
Avignon is also home to the oldest festival in France, which draws thousands of international visitors each July. The Festival d'Avignon takes place in the courtyard of the Palais des Papes and celebrates the performing arts. While history buffs can enjoy numerous art galleries and history museums scattered throughout the city. Avignon is accessible from Marseille by train, which takes just over half an hour. The nearest airport is Nimes (FNI) Airport, which is only a 45-minute drive from the city center.
Contributed by Lucy from Thoroughly Travel
Nimes
For those who love history, the beautiful city of Nimes is home to some of the world's best-preserved Roman monuments. In the 1st century, Nimes was a thriving Roman city and the richest in Gaul. Hundreds of years later, the Roman architecture of Nimes remains in remarkably good condition.
In addition to the incredible Roman history, Nimes also has an impressive city center featuring historic buildings, canals, gardens, and fountains. Nimes is the ideal destination for a weekend break however it is also a great addition to a road trip through the South of France.
The most iconic landmark of Nimes is the 2000-year-old Roman arena. Its appearance may resemble the Colosseum in Rome however Nimes Arena is much smaller in comparison. To this day, events and concerts are still held in the arena and it is open to the public daily.
Not far from the arena is the Maison Carrée which is a stunning Roman temple dating back to the year 2AD. With all of the columns still intact, it is said to be the best-preserved Roman temple of its kind! Other great attractions you should not miss in Nimes are the Tour Magne and Les Jardin du Fontaine.
Before leaving Nimes, be sure to make a stop at Pont du Gard, a Roman Aqueduct from the 1st century AD. It's a 30-minute drive from Nimes and well worth a visit. Pont du Gard is in fantastic condition if you consider its age and is listed as a UNESCO heritage site.
Nimes is located in the south of France near the Mediterranean coast. To get there, it's a 1.5-hour drive from Marseille and 1 hour from Montpellier. For those who wish to visit Nimes on a weekend trip from Paris, you can get there in just under 3 hours by taking the high-speed train. To sum it up, visiting one of the most beautiful cities in France is quite accessible.
Contributed by Ann from The Road Is Life
Reims
Reims is a great city for a long weekend getaway, conveniently located only 45 minutes from Paris by high-speed train. On Top of this, It is one of the most beautiful cities to visit in France.
The jewel of Reims is the beautiful Gothic-style cathedral, Notre Dame de Reims with its beautiful stained glass windows. Build in the 13th century, this church saw many coronations of French kings. It has so many layers of history, it's well worth taking a guided tour to not miss out on all the interesting stories. Visit the Palais du Tau next door to discover all about the history of the cathedral and French royalty.
Reims is a fairly small city that you can easily discover on foot. The main square of Reims, Place d'Erlon, offers cafes, shopping, and great people-watching opportunities. On Saturdays, a covered market opens at Halles Boulingrin. Here you find tempting stalls full of fresh bread, cheese, produce, and other treats.
Reims has a fantastic Musee des Beaux-Arts, with artwork spanning centuries including some works by famous artists such as Monet, Renoir, and Charles Le Brun. After walking around, a great place for a hearty French meal is at Le Petit Basque, or a delicious sweet or savory crepe at A l'Ere du Temps.
Just on the outskirts of town lies Fort de la Pompelle. This is a historic fort, and museum dating back to World War I. Reims is in the region of Champagne, known for, of course, champagne! Every visitor to Reims should do a champagne tasting at a cellar or estate. Here you can taste a variety of different types of champagne and buy a favorite bottle. If staying longer than a few days in the area, the Champagne region is a gorgeous place to drive around. Stop at different vineyards or visit Epernay, the other town in the region famous for its champagne.
Contributed by Megan from Meganstarr
Final notes on the most beautiful cities in France
These were the 15 most beautiful cities in France for you to dream about and plan to visit. All contributions are written by fellow travelers who have visited and fallen in love with the stunning locations.
Take this as a France travel guide and use the travel tips for future adventures. Whether you are a digital nomad traveling with your laptop, or a backpacker looking to plan your travel itinerary, France is an amazing destination to explore.
As usual, feel free to comment down below.
//Josephine
The article may include affiliate links, meaning that I may receive affiliate compensation at no cost to you if you decide to purchase. Read more in my
Affiliate Disclosure.
BEST TRAVEL RESOURCES
BOOK YOUR FLIGHT: Not sure how to get the best and cheapest flights? I always use Skyscanner for the best deals. The best tip is to be flexible with dates and destinations if you want the cheapest options.
Alternatively, for frequent travelers, get a membership with Wayaway and receive a cashback on cheap flights and hotels every time you book! Via the link, you even get a 10% discount on your membership.
BOOK GREAT ACCOMMODATION: Booking great accommodation is not difficult but it sucks paying too much. Use Booking.com for the greatest hotel deals and Hostelworld for amazing hostel stays. Alternatively, you can sign up for Worldpackers to get FREE accommodation in exchange for your work.
BEST TRAVEL INSURANCE: Traveling without insurance is a mistake that you don't want to make - trust me I've tried. I'd suggest SafetyWing as they offer great and flexible policies - especially if you are traveling for a long time or a digital nomad. World Nomads is another great insurance with extensive coverage.
NEED HELP WITH YOUR VISA? Figuring out how and when you need a visa can be a bit of a jungle. iVisa is a very handy and user-friendly service.
HAS YOUR EU FLIGHT BEEN DISRUPTED? Use AirHelp as a service to get flight compensation on your European flights in case your flight was delayed, canceled, or disrupted in other ways. More often than not you are actually entitled to compensation.