I do not believe that many people choose to travel to South Korea, and Seoul, because of the outdoor activities that are provided. A shame really, as you have some stunning sights to see and prioritize. Overlooking the massive metropolis of Seoul, sitting amongst the beautiful mountain range, you find Bukhansan mountain.
Although Seoul is a great city, with a billion things to offer, it is also a massive metropolis that lacks fresh air and green areas. Fortunately, Bukhansan National Park provides sweeping mountain views, maple leaves in autumn, rushing streams, and remote temples. This is probably why Bukhansan mountain, and Bukhansan National Park, is such popular hiking destination amongst Koreans and foreigners. In fact, the attraction hosts almost 5 million hikers and rock climbers a year.
If you are fortunate enough to have time in South Korea and Seoul, then heading to Bukhansan National Park, and hiking the mountain, is a great way to spend a day. It was one of the best and most adventurous days I had in Seoul and something I would absolutely recommend you to do. After 3 months of living in the massive city, I was struggling with the lack of outdoor activities and nature that the city provides. Luckily, Bukhansan mountain is only 1 hour north and is very accessible to reach by train. I, therefore, decided to head up north one weekend, to do some hiking and get a look at some urban areas in South Korea. It did not disappoint.
Not only does Bukhansan mountain provide stunning views and a great workout, but it also allows you to get the break you might need from the speed, pollution, and intensity of the city. The hiking trails are quite steep and challenging at times, but the hike is manageable to anyone with a standard fitness level and does provide a lot of fun.
Is it worth it when you get to the top?
Absolutely, and if you go on a nice clear day then the lookout is quite special and something not to miss out on.
Make sure to bring a lot of water, a sugary snack, a good camera, and all your other hiking essentials.
A SMALL NOTE ON BUKHANSAN MOUNTAIN
Be aware that this s a very popular hiking destination for Koreans and especially on the weekends it can get packed. Koreans do not play around in terms of conquering this mountain and you will see them geared up and in groups all the way up the climb.
I had already heard of overcrowded weekends and the intensity level of reaching the top. So naturally, I chose to go on sunny Saturday at 10 am, hungover as hell. Finally, the day I went was not so crowded, but I have heard of visitors waiting in line to climb the top. Not exactly what you imagine when heading for a scenic horned mountain experience that was supposed to take you away from the crowds…
If you have time during the week, then go for a mid-week (and sober) hike instead.
PIN THIS POST FOR LATER
HOW TO HIKE IN BUKHANSAN NATIONAL PARK?
HOW TO GET TO BUKHANSAN MOUNTAIN
Bukhansan National Park is found in the northeastern corner of South Korea and takes up an area of 30.86 square miles. Getting to Bukhansan mountain is done quite painlessly from Seoul and takes approximately 1 hour by subway.
First, you simply take the subway to Gupabal Station on line 3 north of the Han River. Your goal is to travel from Seoul to Gyeonggi – the region surrounding the metropolis to the north.
Once you have arrived, then head to the bus stop.
From the bus stop right outside the station, grab either bus 34, 704, or 720. They will all take you to the Bukhansanseong Fortress entrance and takes about 15 minutes.
If you are unsure of where to go, simply follow the locals in their hiking gear making their way to the mountain.
Once you arrive at the bus stop, you now follow the signs to the Bukhansan National Park entrance. On the way, you will pass the National Park Service. Here you find several shops selling hiking gear and also a few restaurants. Be sure to grab a few snacks and also extra water before heading up Bukhansan mountain. Finally, there are no restrooms on the route so this is your last chance of using a proper one before heading up the mountain.
I always bring the Lonely Planet Guide books with me when I travel. They are a perfect source of information and inspiration. The Lonely Planet Korea Travel Guide provided so many great experiences during my six-month stay in South Korea! It is also where I discovered the hike in Bukhansan…
WHAT TRAIL TO TAKE
The National Park is divided into 2 parts. The Bukhansan area in the south and the Dobongsan area in the north. Both have different trails to reach the mountain granite peaks and should supposedly be equally beautiful.
In the north, there is the popular trail up Dobongsan. A 740m climb that reaches the Ridgetop peak. Along the way, you have detours leading you to forested Buddhist temples, Cheonchuk-sa and Mangwol-sa. This trail takes about 4 hours in total.
The southern part of the park has the highest peak in South Korea; Baegundae Paek at 836m.
I chose to head for the southern part and here there are several trails to reach the Baegundae Peak.
The most popular one, and supposedly also the easiest, is the Bukhansanseong Course. I found this trail both doable and not overly crowded. Even on a sunny weekend that was supposed to be the worst time to go.
You will see signs leading to the start of your trail on your way towards Bukhansan mountain. If in doubt then pop into the information center and there will be a nice person there to help you. If you grab a map you can check out all the alternative routes and compare steepness as well as the distance.
THE HIKE OF BUKHANSAN MOUNTAIN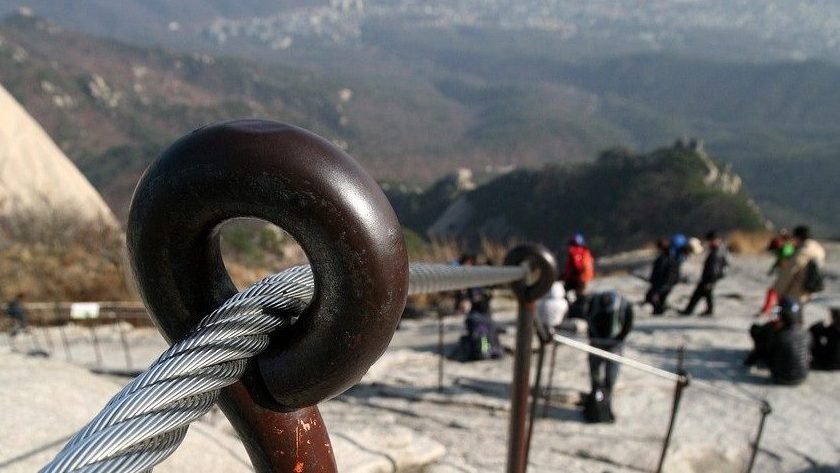 Hiking Bukhansan mountain is a bit of a challenge, but doable and worth it. If your fitness level is low-medium and you don't have any disabilities, you will nail this trek without any problems.
In total, the trail takes about 2 hours to make it to the top but this of course depends on your level of fitness. Also, you want to take time to sit down and enjoy the view on the way a little. Maybe have a few snacks and a laugh – I don't know, you do you.
Set aside 4-6 hours for the entire thing and you will have enough time to relax along the way.
The hike to Baegundae Peak starts off fairly easy. You head steadily up through a foresty area with nice steps taking you up a small climb.
Slowly as you start to rise, the climb will get steeper and as you get closer to the peak, you will start climbing some pretty serious rocks.
The last stretch before reaching the peak is the most challenging but also the most fun! Here you climb solid rocks and only have a thin rope to support yourself with. The steps get quite narrow and when you look down, there's just a straight and steep fall. Your heart might race a little and the adrenalin should start to kick in.
A little scary and challenging but also very entertaining.
Hiking Bukhansan Mountain is both challenging and edgy at times. I always make sure that I have good travel insurance before I travel and especially before I go hiking. They will cover in case you twist an ankle, drop a camera, or have any other accident that might happen.
BAENGUNDAE PEAK
After all your climbing and sweating you now see sense to all the madness. As long as your eyes can see you have the most beautiful mountain scenery overlooking the endless lines of Seoul. Even though it is not the most natural scenery, the contrast between Bukhansan mountain and the city is a quite unique sight. In fact, it's something I have never experienced anywhere else.
On top of the view, the natural bliss and quietness can be much needed and appreciated after several months in the city. Even if the city madness has not gotten to you, then this view is worth the trip. If you like hiking or nature, Bukhansan mountain should be on your list of priorities and be an enjoyable way for you to spend your time. In my opinion, it's also quite cool to know that you reached the top of South Korea.
Someone once told me that it is a tradition to drink soju when you reach Baengundae Peak. Though I am uncertain whether or not this is actually true, I choose to believe it. It is a nice tradition and a great way to celebrate getting to the top!
Sit back, enjoy the view, and enjoy some soju for the true Korean experience.
Hopefully, you will even have some sun on your face.
GETTING BACK DOWN
There are two different ways for you to get back from the peak.
Either the way you came or along the old fortress wall which is also a sight supposedly worth seeing.
The latter option will add another 4km to your hike, meaning a total of 7km. I went straight down the way we came up because the weather started turning. If the weather had allowed it (and if I had been less lazy), I would have taken the long way home and explored the fortress.
The fact that the hike is only a few kilometers felt a little depressing to me. It does, however, only prove how steep Bukhansan mountain is. It felt like we had walked a lot further and I can guarantee, that your legs will be sore the next day. And the day after that one too.
Never skip leg day, right?
GETTING BACK TO SEOUL
Getting back into the city is easy because you have already taken the exact way and transportation runs regularly.
Simply grab either bus 34, 704, or 720 back to Gupabal Station.
From there get back on line 3 and head straight back into Seoul city. From there you can head back to your hotel or accommodation in Seoul.
That's it for Bukhansan Mountain. Hope you have a great day outside and as always feel free to comment below. 
//Josephine
The article may include affiliate links, meaning that I may receive affiliate compensation at no cost to you if you decide to purchase. Read more in my
Affiliate Disclosure.
BEST TRAVEL RESOURCES
BOOK YOUR FLIGHT: Not sure how to get the best and cheapest flights? I always use Skyscanner for the best deals. The best tip is to be flexible with dates and destinations if you want the cheapest options.
Alternatively, for frequent travelers, get a membership with Wayaway and receive a cashback on cheap flights and hotels every time you book! Via the link, you even get a 10% discount on your membership.
BOOK GREAT ACCOMMODATION: Booking great accommodation is not difficult but it sucks paying too much. Use Booking.com for the greatest hotel deals and Hostelworld for amazing hostel stays. Alternatively, you can sign up for Worldpackers to get FREE accommodation in exchange for your work.
BEST TRAVEL INSURANCE: Traveling without insurance is a mistake that you don't want to make - trust me I've tried. I'd suggest SafetyWing as they offer great and flexible policies - especially if you are traveling for a long time or a digital nomad. World Nomads is another great insurance with extensive coverage.
NEED HELP WITH YOUR VISA? Figuring out how and when you need a visa can be a bit of a jungle. iVisa is a very handy and user-friendly service.
HAS YOUR EU FLIGHT BEEN DISRUPTED? Use AirHelp as a service to get flight compensation on your European flights in case your flight was delayed, canceled, or disrupted in other ways. More often than not you are actually entitled to compensation.