The following article may include affiliate links, meaning that I may receive affiliate compensation at no cost to you if you decide to purchase. Read more in my
Affiliate Disclosure.
When I travel I absolutely love trying street food (probably a little too much considering how many times I've paid the price), and always plan this activity into my trip. For this activity, Seoul is the perfect destination as the city is simply full of different types of Korean street food that have to be tried.
The best place to do so? Local street food markets of course. And here, Seoul does not disappoint. In fact, it is hands-down the best place I've ever been in terms of street food and street food markets.
All the markets are different and they are all a fun, cultural, and unique experience not to miss out on since every market specializes in specific things. You cannot only choose to go to one and think that you've seen and had it all. The chances of you missing out on something extremely entertaining or delicious is simply too big.
Finally, they are all popular hotspots for locals who hang out to eat, drink, shop, and chat. Here you truly experience Korean people at their best and get to feel like a proper local.
Enough blabbering and let's get to it so you can try them out yourself. Here are the 5 best markets that you absolutely have to visit for the best Korean street food in Seoul.
Besides taking a food tour there are a million other things to do in Seoul. During my 6 months in the city, I explored as much as possible and I truly love every Korean street.
PIN THIS POST FOR LATER
WHERE TO GET STREET FOOD IN SEOUL, SOUTH KOREA?
GWANGJANG MARKET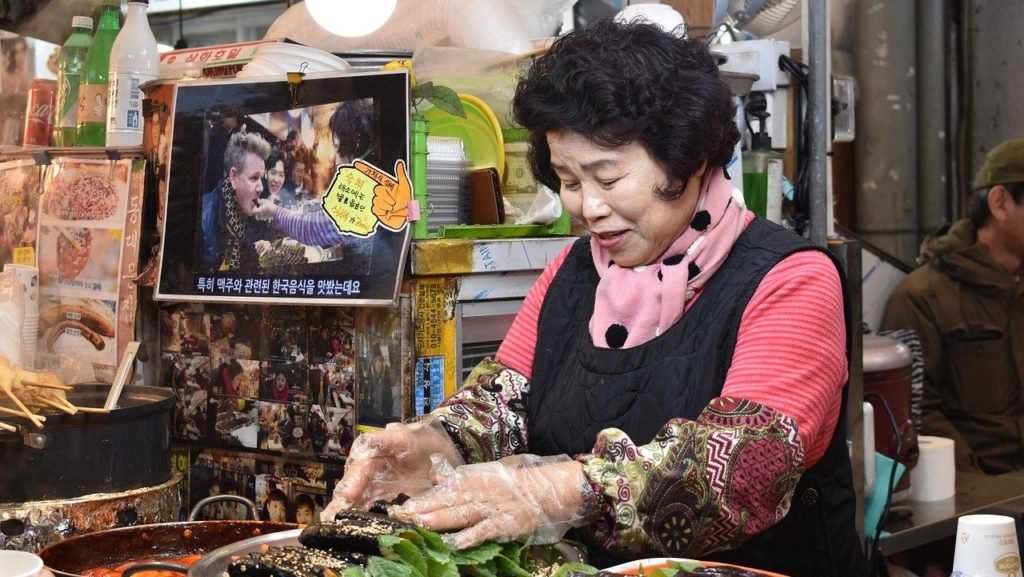 The Gwangjang Market is Seoul's largest traditional market, which sits in a big old warehouse in the North-Eastern part of the city. At first, you walk through an alley filled with shops selling mostly silk and linen. After you come to a clearing where old Korean men, usually sit around and eat a beetle soup that smells quite funky. This is not something that I tried or can recommend but feel free to do so, and then let me know how it was! I have always continued down to the next clearing where you have a slightly wider collection to choose from…
Now you enter into the food section with two alleyways packed with small kitchens and usually people. Along the sides you have restaurants and in the center rows of kitchens owned by Korean women. Grab a free seat at one of the many benches – preferably at a stall where there are already some Koreans seated. At Gwangjang market you find loads of different types of Korean street food. The market specializes in Korean fried pancakes, kimbap (Korean sushi), blood sausage, bibimbap, mandu, and noodles. In the restaurants along the sidewalls, you have pigs' feet, Korean tartar, and even the famous raw moving octopus.
Gwangjang is a great market to spend some hours during lunchtime or in the afternoon. Have fun changing booths, trying different types of Korean street food, chatting, sharing some soju, makgeolli, or beer. Just sitting around and soaking up the energy of this buzzing place can keep you entertained for some hours.
Gwangjang is located at 88 Changgyeonggung-ro, Jongno 4(sa)-ga, Jongno-gu, Seoul, just between jongno 3-ga and jongno 5-ga metro stations.
I discovered all these amazing street food markets in the Lonely Planet Travel Guide for Seoul. Honestly, I get these books every single time I visit a new place. They are the perfect source of information and inspiration!
TONGIN MARKET: KOREAN STREET FOOD PARADISE
This market offers something a little extra special and unique for lunch and is probably my favorite in Seoul. I don't know if the name is on purpose, but at Tongin market you pay with tokens. You head down through the market alleyway until you see a small table with a person selling tokens. If no one is there then head on upstairs and ask someone.
For 5000 won you get 10 tokens and a lunchbox and can head back down. Now the fun starts as you get to assemble your lunchbox at the different street food vendors, for 1 or 2 tokens each place. Take a good street food tour up and down the aisleway and eye out your favorites first. The best thing about Tongin market is that you get to taste a variety of different Korean street foods in just one meal – and they are all delicious! I advise you to spend some of your tokens on tempura vegetables, mandu, tteokbokki (spicy rice cakes), and kimbap.
Once you have filled up your box then head back upstairs. There are two floors to sit in a canteen style set up why you find everything you need like water, cutlery, soy sauce, etc. The second best thing about Tongin market is that once you finish, you can repeat the process as many times as you prefer.
Tongin Market is located at 18 Jahamun-ro 15-gil, Cheongunhyoja-dong, Jongno-gu, Seoul. Not far away from the Gyeongbokgung Palace.
NORYANGJIN FISH MARKET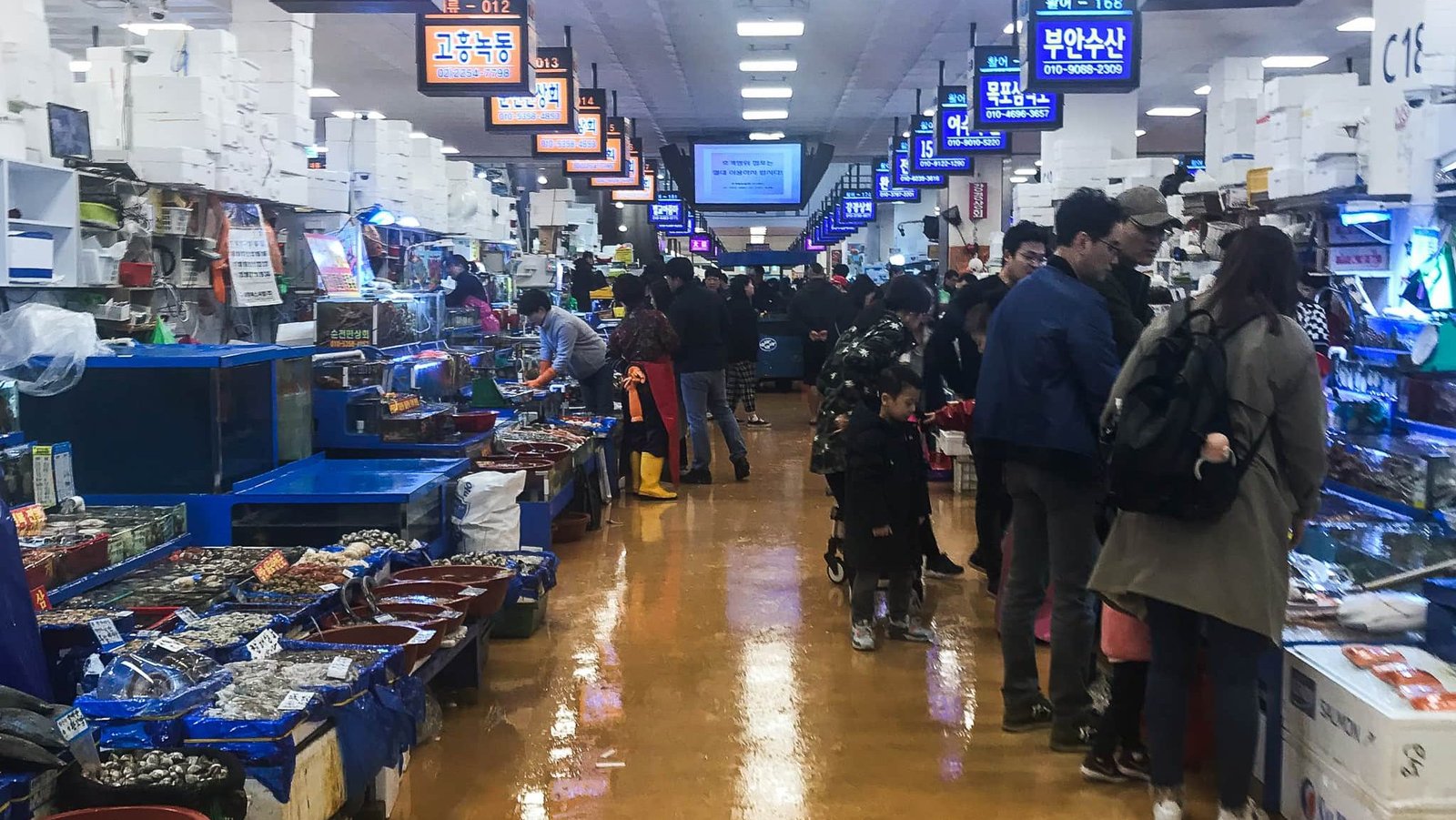 This is another great market and food experience that I really enjoyed and highly recommend because of its uniqueness. Even if you are not into Korean fish or seafood then I would say the place is worth a visit.
Don't feel ashamed to be a little overwhelmed and especially as a foreigner. All the fishermen will start calling out to you, showing their products, and trying to sell you things. This was a surprise to me as it is not the Korean way. I only experienced Koreans as pretty humble when selling, so I advise you to reset your mind before entering the place.
Walk around and find some things that you would like to try. Noryangjin fish market is not the cheapest but it is a really fun way to try some super fresh seafood. At least try some sashimi, steamed fish, or raw octopus if you dare. Once you have decided what to get, then make your order directly with the people working on the ground floor.
Once you have ordered…
You will now be taken up the metal staircase and shown into one of the small restaurants placed along the ENTIRE side of the building. Remember to take your shoes off as these restaurants are very traditional. Now you will be seated between tables filled with Korean men who are quite happy on soju (have a look around and notice just how many bottles there are on the tables). Finally, I have to warn you that you will, almost with 100% certainty, end up seated on the floor along with everyone else.
The cool part is, that whatever you ordered downstairs is now being prepared for you in the restaurant kitchen. While you wait feel free to order some soju and other drinks.
I never travel anywhere without good international travel insurance. They will cover you in case anything happens like slipping on a wet fish market floor or swallowing a fishbone.
You will find Noryangjin fish market at 674 Nodeul-ro, Noryangjin-dong, Dongjak-gu, Seoul. Across the Han River at the West side of the city.
NAMDAEMUN MARKET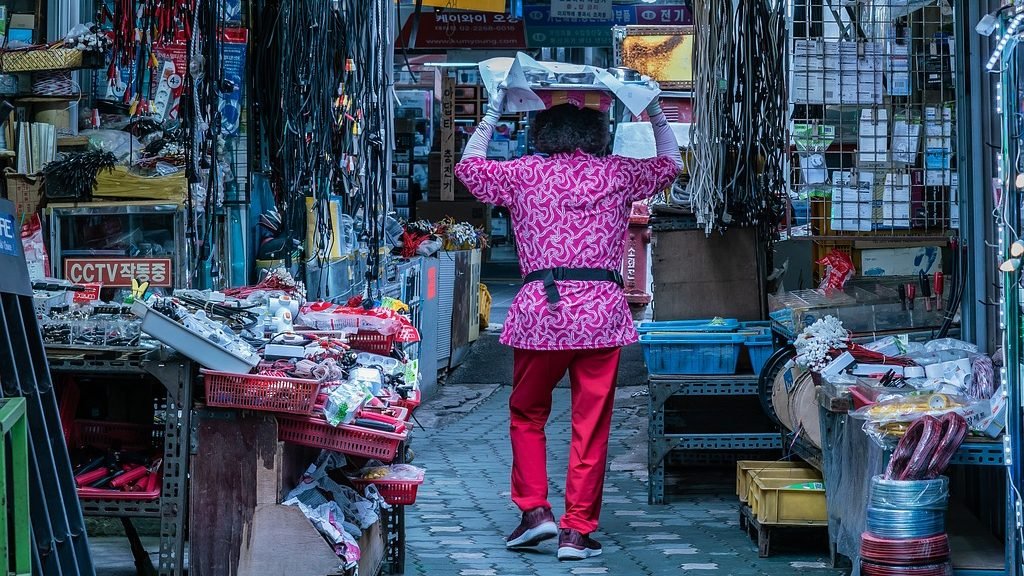 This market shows the amazing contrast and clash between the old and the new in Seoul. Namdaemun market is a very traditional place with old people working at the small shops and Korean street food vendors filling the many small alleys. I advise you to go during lunchtime. Sure this is the most hectic time to go but it is also the most fun.
The place is sporadically filled with street food stalls all selling traditional Korean things. Try some sweet fried scallion or mungbean (red bean paste) pancakes. You can even adventure down some of the little hidden alleyways around and see what the tiny local restaurants there have to offer.
I once had some insanely good spicy fish stew in this tiny alley: Galchi Jorim Alley: Joongang Sikdang, 22-12 Namdaemunsijang 4-gil, Hoehyeon-dong, Jung-gu, Seoul. Basically, you get a fish perfectly cooked in a spicy red sauce with a side serving of Korean rice and pickled vegetables. Note that you can only order for 2 people at most restaurants. However, the food is so cheap that it doesn't exactly hurt your wallet if you are only 1 person. I went alone and really enjoyed it.
Another time I crawled into a plastic tent that was a secret gateway to Kalguksu Alley – a noodle alleyway from heaven situated just near Gate 6. Here you have noodle restaurants all down the side of the tent and sit on tiny plastic benches side by side with the locals. They serve great food and it probably does not get any more Korean than inside this plastic heaven. The alleyway is located in Kalguksu Alley, nearest Hoehyeon Station, exit 5, 60-3 Namchang-dong, Jung District, Seoul.
Namdaemun market is also known as the Chinese market, as you find a huge group in the northern end. The vibe changes a little bit but it does keep you entertained walking around and checking out the ton of things that are being sold.
You find the Namdaemun market at: 21 Namdaemunsijang 4-gil, Hoehyeon-dong, Jung-gu, Seoul.
MYEONGDONG KOREAN STREET FOOD ALLEY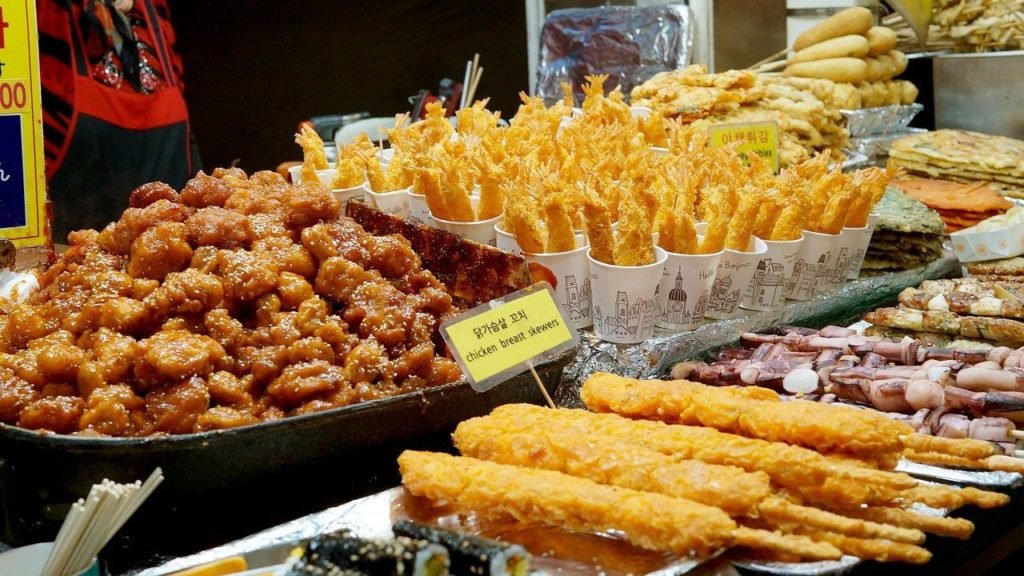 Myeongdong street food alley can be (surprise, surprise) found in the Myeongdong area. This market is of course, as the name indicates, also dedicated to Korean street food. The street is packed with food stalls and people, who are walking around enjoying a few cheap but delicious snacks. There are always a ton of people in this popular Korean street and a lot of things happening in this area at night, so this is the best time for you to go and visit.
Grab a snack, do some late-night shopping, Ctrl C, Ctrl V, Ctrl C, Ctrl V. The Korean street food stalls sell a big variety of different things you can try. Eye it out and get a few things that you think look good. You find kimbap, mandu, Korean pancakes, Korean fried chicken, Korean rice cake, fish cake, ice cream, and the list truly continuous until eternity. Get the egg bread for something unique and amazing. For dessert try the strawberry mochi rice cake – a massive strawberry coated with chocolate and then wrapped in sweet rice cake with red bean paste- super fun and awesome!
The Myeongdong area is also the shopping area of Seoul. You won't find many high-end stores here but instead a ton of colorful shops and flashing lights. You also have a few big shopping malls and will find anything you might need. Also, if you like Korean skincare, this place has something for you.
You find the Myeongdong street food alley at Myeongdong-gil, Myeong-dong – just walk up or down the street and you will find it.
This is what I consider to be the 5 best street food markets in Seoul. Writing this down made me realize just how much I have to go back to revisit all of them! Food is such a big part of visiting Seoul and since Koreans are such big foodies, you won't find cleaner Korean culture than at one of these Korean Street food markets!
Koreans are famous for their endless recipes and dishes. Another must is trying Korean bbq that can be found almost anywhere in the city.
That was it for this one – as always feel free to comment below.
//Josephine
BEST TRAVEL RESSOURCES
BOOK YOUR FLIGHT: Not sure how to get the best and cheapest flights? I always use Momondo for the best deals. The best tip is to be flexible with dates and destinations if you want the cheapest options!
BOOK GREAT ACCOMMODATION: Booking great accommodation is not difficult but it sucks paying too much. Use Hotels.com for the greatest hotel deals and Hostelworld for amazing hostel stays. Alternatively, you can sign up for Worldpackers to get FREE accommodation in exchange for you working.
BEST TRAVEL INSURANCE: Traveling without insurance is a mistake that you don't want to make - trust me I've tried. I'd suggest SafetyWing as they offer great and flexible policies - especially if you are traveling for a long time or a digital nomad. World Nomads is another great insurance with extensive coverage.
NEED HELP WITH YOUR VISA? Figuring out how and when you need a visa can be a bit of a jungle. iVisa is a very handy and userfriendly service.
HAD YOUR EU FLIGHT DISRUPTED? Use AirHelp as a service to get flight compensation on your European flights in case your flight was delayed, canceled, or disrupted in other ways. More often than not you are actually entitled to compensation.
Affiliate Disclaimer: This post may include affiliate links. I may receive a small commission at no extra cost to you if you click on them and purchase.