I've spent quite some time exploring the ins and outs of Seoul, especially its bustling Korean street food markets.
I'm a self-proclaimed street food connoisseur, and trust me, Seoul does not disappoint when it comes to tantalizing the taste buds with its vast array of Korean street food.
Each market I've visited is a unique experience in itself, brimming with culture, fun, and, of course, delicious food.
Seoul's markets are popular hangout spots for locals who come to eat, drink, shop, and chat. You'll definitely feel like a proper local here, immersed in the everyday life of Koreans at their best.
Lastly, there are a million other things to do in Seoul if you are interested in other things than eating.
Not really?
I get that.
So without further ado, let's dive into the best markets and food in Seoul.
PIN THIS POST FOR LATER
Popular Korean Street Food
There is a wide variety of popular Korean food that caters to every taste bud. Here are some of the must-try items when visiting Seoul:
Tteokbokki
Spicy rice cakes cooked in a gochujang (red chili paste) based sauce, often combined with fish cakes, vegetables, and boiled eggs. The red sauce is not a particularly spicy sauce though the color would indicate otherwise. Turns out it is more of a sweet and spicy sauce. The Korean rice cake skewers are made from glutinous rice flour and are sold at many street food stands.
Kimbap
Seaweed rice rolls filled with various ingredients, such as vegetables, pickled radishes, eggs, and sometimes meat or fish.
Hotteok
Sweet pancakes filled with a mixture of brown sugar, cinnamon, and chopped nuts, then pan-fried until crispy. At times you also find mung bean pancakes that contain a sweet red bean paste.
Odeng
Skewered Korean fish cakes served with a warm broth, are often available at food carts.
Pajeon
Savory pancakes are made with green onions and a variety of ingredients, such as seafood or kimchi.
Sundae
Korean blood sausage is made from a mixture of pig's blood, glass noodles, and vegetables, steamed and served with a dipping sauce.
Twigim
Deep-fried snacks, which can include vegetables fried chicken, shrimp, or squid, served with a dipping sauce.
Mandu
Mandus are Korean dumplings and are Korean steamed buns that come with a variety of fillings.
Gamja-Hotdog
This Korean hotdog is a famous delight that you can purchase at various street food stalls. This potato hot dog comes in all types of variations. You have the sausage in the center, sometimes cheese, breading, and topped with either ketchup, mayonnaise, or mustard. Some variations come coated in french fries or sugar. They are fried until golden brown and crispy.
Dakgangjeong
In South Korea, KFC does not mean Kentucky Fried Chicken, but Korean fried chicken. Fried chicken in Korea is an absolute must to try. The most classic Dakgangjeong comes with a sweet chili sauce.
The History Behind Korean Street Food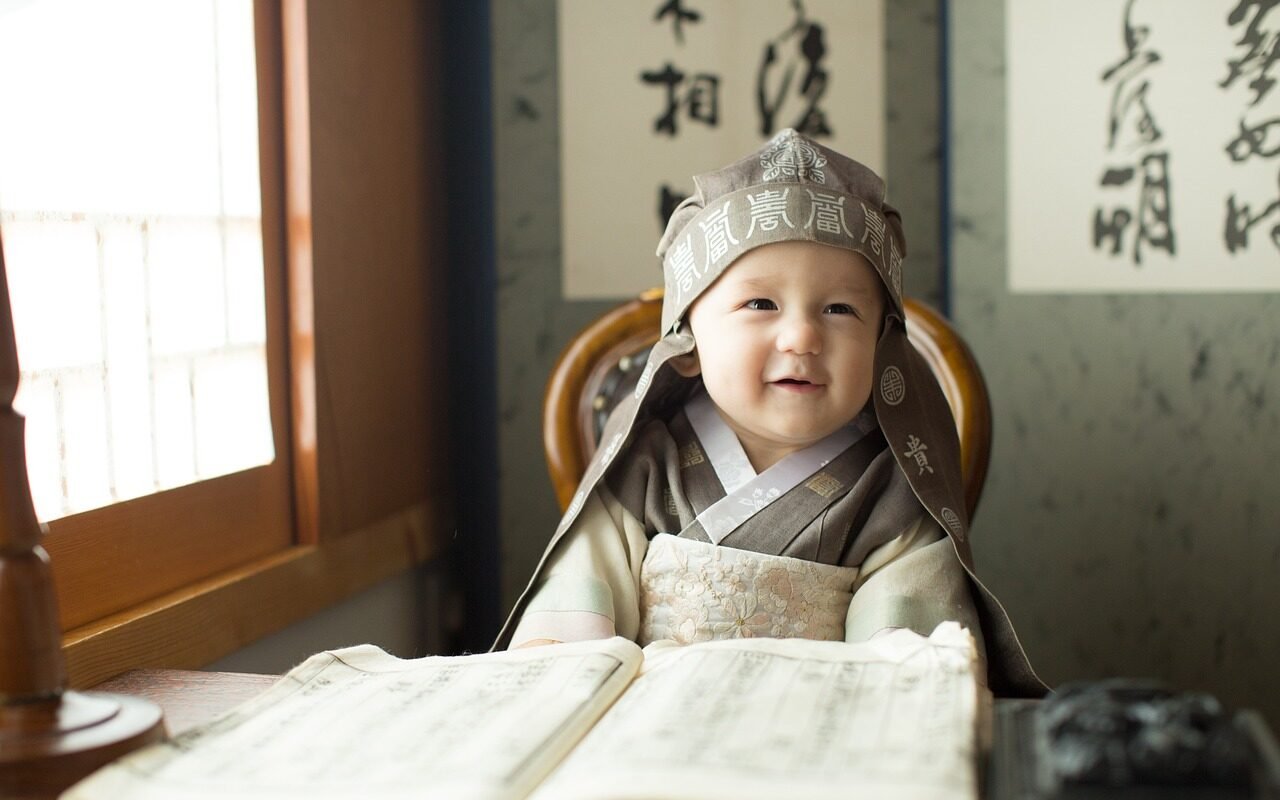 Korean street vendors and food have a long and rich history that can be traced back to the Joseon Dynasty (1392-1910). During this time, street vendors sold simple snacks and dishes to the public. Many of these traditional foods have evolved but remain popular today.
In the late 19th and early 20th centuries, with the opening of Korea to foreign trade, new ingredients, and culinary influences started to make their way into the Korean food scene.
Items like kimbap and hotteok were influenced by Japanese and Chinese cuisine, respectively, and have become integral parts of Korea's food culture.
After the Korean War (1950-1953), street food played a significant role in the daily lives of Koreans, as it provided an affordable source of sustenance during difficult times.
As the country's economy grew, the street food culture continued to thrive, and the variety of dishes expanded.
The Street Food Culture Today
Today, Korean street food has become an essential aspect of Korea's culinary identity. Food markets are bustling hubs where locals and tourists alike can indulge in an array of delicious dishes.
These markets also serve as social spaces, where people gather to eat, drink, and chat, highlighting the role of food in bringing people together.
So, when you visit Seoul, don't miss the opportunity to delve into the city's vibrant food scene and experience a taste of Korea's rich culinary history.
Which are the best Korean street food markets in Seoul?
Travel tip: download the Wanderlog app onto your phone (works for both Android and iOs) and keep a plan for your trip. It's completely free and allows you to add everything you need such as important things scheduled, places you want to eat, reservations, and where you are staying in Seoul!
Below I made a map and included my recommendations for you:
Gwangjang Market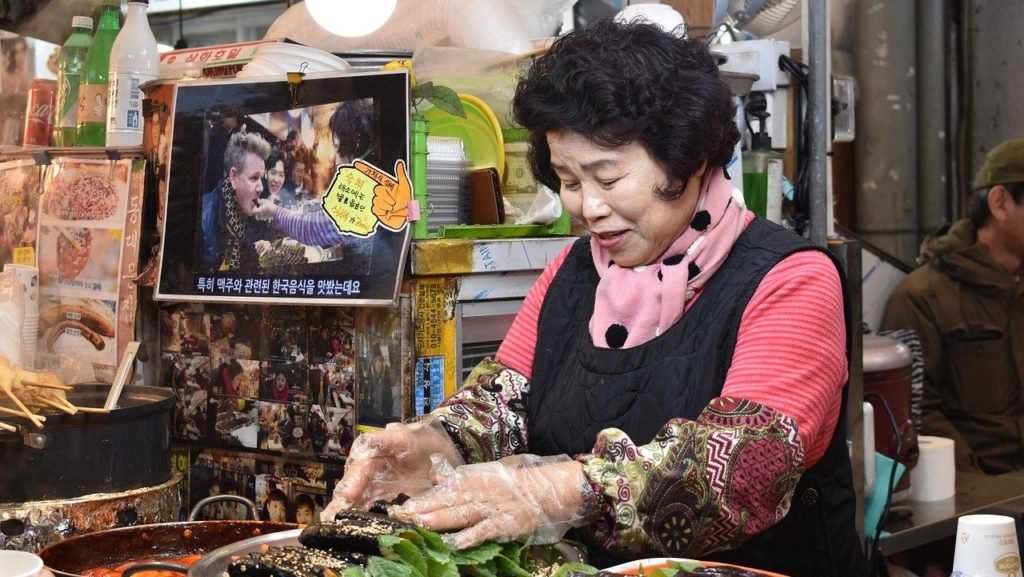 Gwangjang Market, located in the North-Eastern part of the city, is Seoul's largest traditional market.
It's teeming with vendors selling everything from silk and linen to a variety of delicious Korean street food. The market is famous for its Korean pancakes, kimbap (Korean sushi), sausage, bibimbap, mandu, and noodles.
Gwangjang is a great market to spend some hours during lunchtime or in the afternoon. Have fun changing booths, trying different types of Korean street food, chatting, and sharing some soju, makgeolli, or beer.
Just sitting around and soaking up the energy of this buzzing place can keep you entertained for some hours. In addition, the area around this bustling market is also one of the best for finding accommodation in Seoul.
Gwangjang is located at 88 Changgyeonggung-ro, Jongno 4(sa)-ga, Jongno-gu, Seoul.
Tongin Market
Tongin Market offers a unique and fun way to try a variety of delicious street food. Here, you buy tokens and use them to assemble your lunchbox from various Korean street food vendors.
For 5000 won you get 10 tokens and a lunchbox and can head back down. Now the fun starts as you get to assemble your lunchbox at the different vendors, for 1 or 2 tokens each place.
Take a good food tour up and down the aisleway and eye out your favorites first. The best thing about Tongin Market is that you get to taste a variety of different delicious Korean delights in just one meal – and they are all delicious!
I highly recommend tempura vegetables, mandu, tteokbokki (spicy rice cakes), and kimbap. Located near the Gyeongbokgung Palace, it's an absolute paradise for Korean street food lovers.
Tongin Market is located at 18 Jahamun-ro 15-gil, Cheongunhyoja-dong, Jongno-gu, Seoul.
Noryangjin Fish Market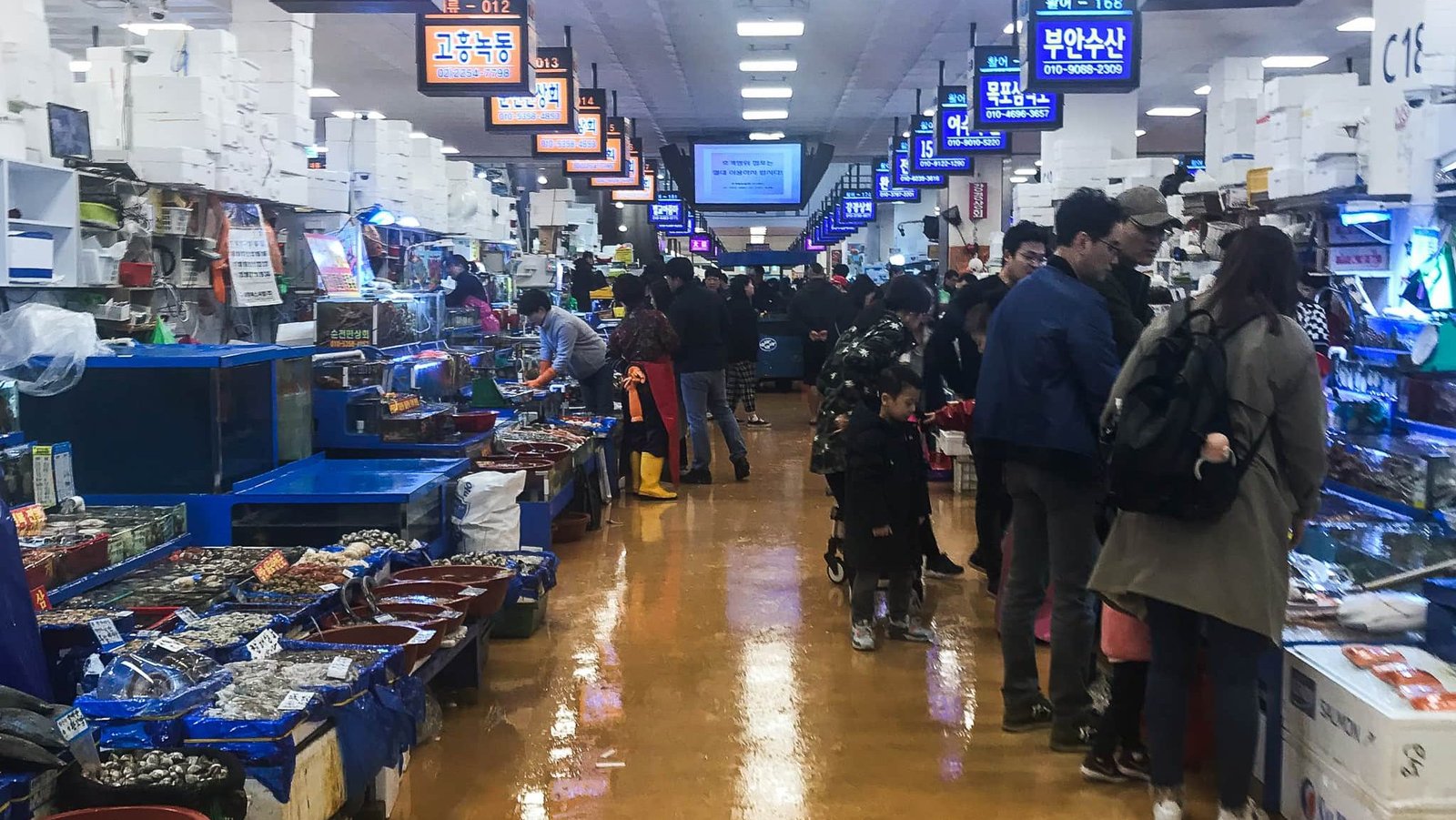 For seafood lovers, Noryangjin Fish Market is a must-visit. Located on the West side of the city, this market offers a unique experience.
Walk around and find some things that you would like to try. Noryangjin fish market is not the cheapest, but it is an entertaining way to try some fresh seafood. At least try some sashimi, steamed fish, or raw octopus.
You can select your seafood on the ground floor and then have it prepared for you in one of the traditional restaurants upstairs. It's a fun way to enjoy super fresh seafood.
You will find Noryangjin fish market at 674 Nodeul-ro, Noryangjin-dong, Dongjak-gu, Seoul.
Namdaemun Market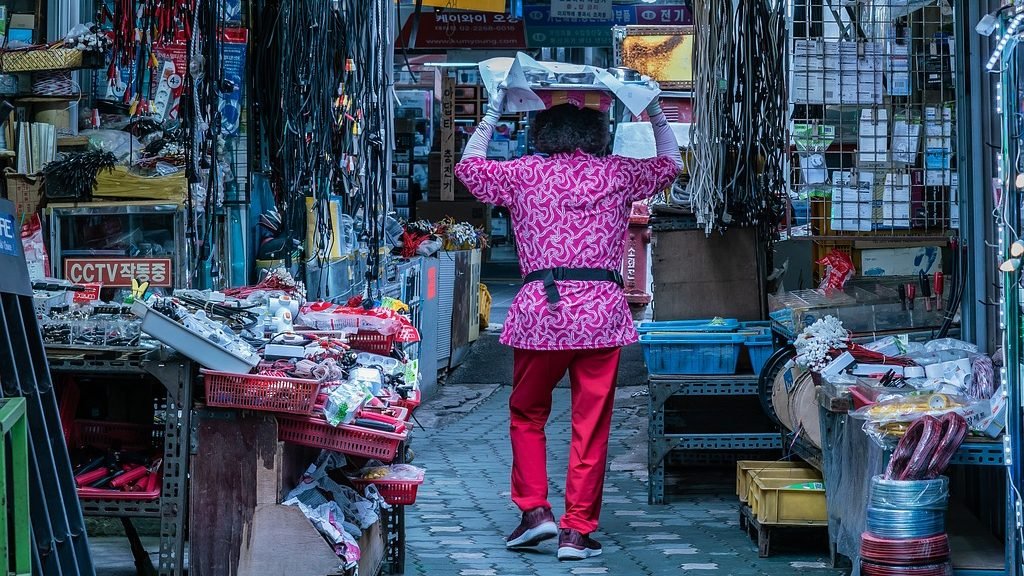 Namdaemun Market is a bustling traditional market offering a myriad of Korean street foods. You can venture down the hidden alleyways and try out the local restaurants there.
This market shows the amazing contrast and clash between the old and the new in Seoul. Namdaemun market is a very traditional place with old people working at small shops and food vendors filling the many small alleys. I advise you to go during lunchtime. Sure this is the most hectic time to go but it is also the most fun.
I once had some insanely good spicy fish stew in this tiny alley: Galchi Jorim Alley: Joongang Sikdang, 22-12 Namdaemunsijang 4-gil, Hoehyeon-dong, Jung-gu, Seoul.
Another time I crawled into a plastic tent that was a secret gateway to Kalguksu Alley – a noodle alleyway from heaven situated just near Gate 6. The alleyway is located in Kalguksu Alley, nearest Hoehyeon Station, exit 5, 60-3 Namchang-dong, Jung District, Seoul.
You find the Namdaemun market at 21 Namdaemunsijang 4-gil, Hoehyeon-dong, Jung-gu, Seoul.
Myeongdong Street Food Alley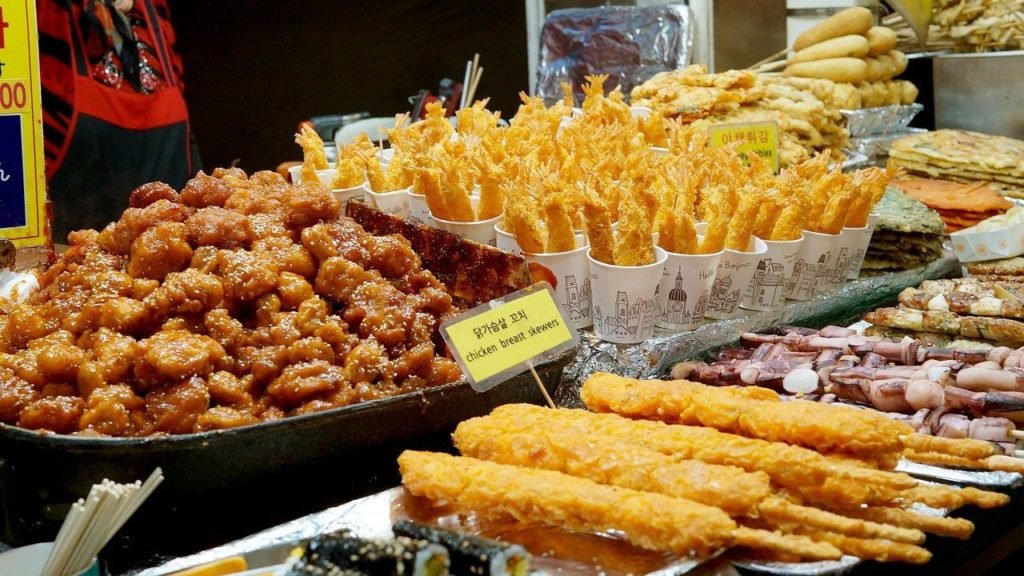 Myeongdong food alley can be (surprise, surprise) found in the Myeongdong area. This is a fun Korean street food market, dedicated to delicious late-evening snacks. The street is packed with food stalls and people, who are walking around enjoying a few cheap, but delicious, snacks.
Try the Korean egg bread and the strawberry mochi rice cake for something uniquely delicious. In addition, you also find options like Korean tornado potato, Korean sweet pancake, spicy Korean rice cake, fried chicken, Korean corn dogs, Korean fish-shaped pastry, and Korean dumplings. The Korean sweet pancakes usually come filled with ground mung beans.
The Myeongdong area is also a great place for late-night shopping, especially if you're into Korean skincare.
Korean Street Food Etiquette
Understanding the local food etiquette is key when visiting a new place. In Korea, it's common to see locals standing while eating at the stalls. If you're dining in a restaurant, remember not to pour your own drink — it's customary to pour drinks for others, and someone else will pour yours. Always receive food and drink with two hands as a sign of respect.
Navigating Seoul's Public Transport
Seoul's public transport system is efficient and easy to use. The subway is the fastest and most convenient way to get around the city. Make sure to get a T-money card, a rechargeable smart card for public transport, which you can purchase and top up at subway stations or convenience stores.
South Korean Street Food Beyond Seoul
While Seoul is a veritable paradise for street food enthusiasts, other cities in Korea offer a unique gastronomic journey through their vibrant food scenes.
In Busan, Korea's second-largest city, one must not miss the ssiat hotteok, a sweet pancake stuffed with seeds, honey, and cinnamon.
Jeonju, the food capital of South Korea, is famous for its bibimbap and food markets. And let's not forget about Gwangjang Market in Gyeongju, known for its traditional Korean snacks such as chalboribbang, a sweet red bean pancake.
Venturing beyond Seoul not only allows you to taste different regional specialties but also gives you a broader sense of Korea's diverse culinary landscape.
The Evolution of Korean Street Food
Korean street food has a rich history, intertwined with the nation's social and economic developments. Originating from humble beginnings in post-war Korea, street food was a way for people to make a living and provided affordable meals for those on a tight budget.
Over the years, as Korea's economy thrived, so did the street food culture. The simple snacks have evolved into a cornucopia of flavors and creativity, with vendors continuously experimenting and creating new dishes, while still maintaining the traditional ones like tteokbokki (spicy rice cakes) and odeng (Korean fish cake).
Today, Korean street food is not just a culinary delight but a cultural icon that reflects Korea's past and its transformation into a modern, globalized nation.
The Art of Korean Table Manners
Korean dining etiquette is deeply rooted in its culture and respect for others. If you're invited to a Korean home or dining at a local restaurant, remember these key points:
Always wait for the eldest person to start eating before you begin.
Never stick your chopsticks vertically into your rice bowl as it resembles a practice used in ancestral rites.
Try a little bit of everything, and remember that it's polite to finish all the food on your plate.
When drinking alcohol, turn away from the eldest person as a sign of respect.
Always receive food or drinks with two hands, especially from someone older than you.
By understanding and following these basic rules, you can fully appreciate the communal and considerate aspects of Korean dining culture.
The Health Benefits of Korean Street Food
Korean cuisine, including its street food, is often hailed as one of the healthiest in the world. Many street food dishes are made with ingredients that have significant health benefits.
Kimchi, for instance, is a staple side dish made from fermented cabbage that's high in fiber, loaded with antioxidants, and a great source of probiotics.
Tteokbokki, while spicy and indulgent, is made of rice cakes which are low in fat and high in carbohydrates, providing a steady release of energy.
Sundae (Korean blood sausage) is high in protein and iron. Even though street food is often enjoyed as a treat, it's comforting to know that these popular Korean street food items carry nutritional benefits.
Korean Street Food Festivals in Seoul
Seoul is a city that never sleeps, and its vibrant street food culture is a testament to this. Several festivals throughout the year celebrate this gastronomic love, turning the city streets into a food lover's paradise. Here are two of the most popular food festivals in Seoul:
Seoul Bamdokkaebi Night Market
Running from March to October, the Seoul Bamdokkaebi Night Market is a feast for the senses.
Hundreds of vendors gather in several locations around the city, offering a diverse selection of food, crafts, and other goods.
From delicious treats like tteokbokki and pajeon to unique handcrafted goods, this night market has something for everyone.
As you explore the market, you'll also be treated to live performances and various cultural events, making it an unmissable experience for anyone visiting Seoul.
Seoul Kimchi Festival
Held every November, the Seoul Kimchi Festival is a celebration of Korea's national dish, kimchi.
This unique event allows visitors to learn about the history of kimchi, take part in a communal kimchi-making event, and, of course, taste different varieties of this iconic fermented dish. The kimchi fried rice is an all-time classic.
The festival is not just about food but also about community and tradition, reflecting the deep cultural significance of kimchi in Korean society.
Whether you're a kimchi connoisseur or a curious newbie, this festival is sure to leave you with a deeper appreciation of Korean cuisine and culture.
FAQ's about Korean Street Food
What is Korean street food?
Korean street food consists of various snacks and dishes sold by vendors at markets and street stalls throughout Korea. It's a vital part of Korean food culture, offering an array of tastes from savory to sweet. Some other popular Korean street food items include tteokbokki (spicy rice cakes), kimbap (seaweed rice roll), and hotteok (sweet pancakes).
How much does Korean street food cost?
Korean street food is typically very affordable. Prices can range from 1,000 to 5,000 KRW (£0.65 to £3.25) per item, making it a delicious and budget-friendly way to explore Korean cuisine.
What is the most popular Korean street food?
Tteokbokki is probably the most popular Korean street food. It's a dish made of chewy rice cakes cooked in a spicy and slightly sweet red chili sauce. Other favorites include sundae (blood sausage), pajeon (green onion pancake), and odeng (fish cake).
Is Korean street food spicy?
While some Korean street food can be spicy, like tteokbokki or spicy Korean chicken skewers, many are not. There's a wide variety of flavors available, from the sweet taste of roasted sweet potatoes or Korean sponge candy to the savory delight of kimbap.
Can I find Korean street food at night?
Absolutely! The street food scene in Seoul comes alive at night, especially in areas like Myeongdong and Hongdae. This is a great time to experience the city's vibrant food culture.
A final note on Korean street food markets in Seoul
As you embark on your culinary journey through Seoul's bustling street food markets, you'll find that there's more to these vibrant spaces than just delicious food. The street food culture in Seoul is deeply rooted in the city's history, traditions, and social fabric. It is an integral part of the urban experience, offering a window into the lives of the people who call this metropolis home.
As you savor each bite, take a moment to appreciate the stories behind the dishes and the hard work of the vendors who prepare them with passion and dedication. Engage with the locals, as they often have insider tips on the best stalls and hidden gems. Don't be afraid to try new flavors, as you never know when you might discover a new favorite.
In a city where modernity and tradition intertwine seamlessly, Seoul's street food markets serve as a reminder of the importance of community, the simple pleasure of sharing a meal, and the joy of discovering new tastes.
As usual, feel free to leave a comment below.
// Josephine
The article may include affiliate links, meaning that I may receive affiliate compensation at no cost to you if you decide to purchase. Read more in my
Affiliate Disclosure.
BEST TRAVEL RESOURCES
BOOK YOUR FLIGHT: Not sure how to get the best and cheapest flights? I always use Skyscanner for the best deals. The best tip is to be flexible with dates and destinations if you want the cheapest options.
Alternatively, for frequent travelers, get a membership with Wayaway and receive a cashback on cheap flights and hotels every time you book! Via the link, you even get a 10% discount on your membership.
BOOK GREAT ACCOMMODATION: Booking great accommodation is not difficult but it sucks paying too much. Use Booking.com for the greatest hotel deals and Hostelworld for amazing hostel stays. Alternatively, you can sign up for Worldpackers to get FREE accommodation in exchange for your work.
BEST TRAVEL INSURANCE: Traveling without insurance is a mistake that you don't want to make - trust me I've tried. I'd suggest SafetyWing as they offer great and flexible policies - especially if you are traveling for a long time or a digital nomad. World Nomads is another great insurance with extensive coverage.
NEED HELP WITH YOUR VISA? Figuring out how and when you need a visa can be a bit of a jungle. iVisa is a very handy and user-friendly service.
HAS YOUR EU FLIGHT BEEN DISRUPTED? Use AirHelp as a service to get flight compensation on your European flights in case your flight was delayed, canceled, or disrupted in other ways. More often than not you are actually entitled to compensation.