Seoul, the vibrant capital of South Korea, is an exciting fusion of past, present, and future. A city where ancient palaces sit beneath towering skyscrapers, and bustling markets lie a stone's throw from high-end designer boutiques.
A trip to Seoul is like stepping into a whole new world, yet it feels comfortably familiar at the same time.
Whether you're a history buff, a foodie, a shopaholic, or an outdoor enthusiast, Seoul is the city that keeps on giving.
It's a bustling metropolis that offers a unique blend of culture, history, and technology, with enough variety to captivate every kind of traveler.
From its awe-inspiring skyline to its intricate network of winding alleyways, each corner of Seoul has its own story to tell, and it's just waiting for you to discover.
In this guide, I've compiled a list of the best things to do in Seoul, which will take you on a journey from the city's most iconic landmarks to hidden gems only locals know about.
So, buckle up and get ready to explore the infinite discoveries that Seoul has to offer.
PIN THIS POST FOR LATER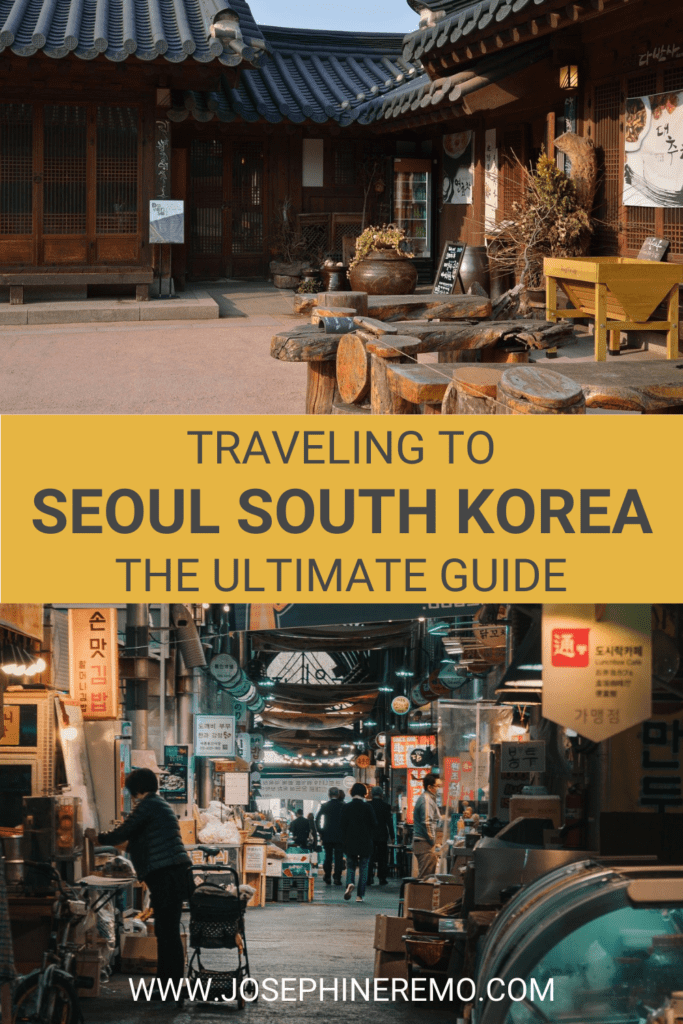 Travel tip: download the Wanderlog app onto your phone (works for both android and iOs) and keep a plan for your trip. It's completely free and allows you to add everything you need such as important things scheduled, places you want to eat, reservations, and where you are staying!
Below I made a map and included some of my recommendations for you:
Why Seoul is a Must-Visit Destination
Why should Seoul be on your travel bucket list? Well, the answer is simple. This city is where tradition meets modernity, creating an intriguing blend that's hard to resist.
Have you ever visited a place where centuries-old palaces and temples stand tall alongside soaring skyscrapers?
Or where bustling markets selling traditional wares are mere steps away from sophisticated fashion boutiques?
That's Seoul for you. It's a city where the past, present, and future coexist harmoniously, making it a must-visit destination.
So, if you're thinking about things to do in Seoul, remember, the city itself offers a world of fascination.
What are the Best Things to do in Seoul?
Top Landmarks and Attractions in Seoul
When you visit Seoul, you'll notice the city is teeming with landmarks and attractions, each with its unique charm and history. Here are a few you shouldn't miss:
Seoul Tower: A Panoramic View of the City
Imagine standing atop a tower, looking down at a sprawling city that stretches as far as the eye can see. That's the breathtaking panorama you'll experience at the N Seoul Tower.
At 236 meters, it's the highest point in the city.
One of the top attractions is to visit the N Seoul Tower at sunset. Watching the city lights flicker on, as the sun dips below the horizon, is a sight you won't soon forget. Reach it from the city center by either walking a grabbing the cable car.
Gyeongbokgung Palace: A Journey into the Past
Ever wanted to travel back in time? Step into the Gyeongbokgung Palace, and you'll feel like you've been transported to the Joseon Dynasty.
This 14th-century palace is one of the most iconic landmarks in Seoul. It's an architectural marvel, complete with grand halls, beautiful pavilions, and intricate details.
Visiting Gyeongbokgung Palace is like stepping into a living history book, making it one of the top things to do in Seoul.
Bukchon Hanok Village: Traditional Korean Houses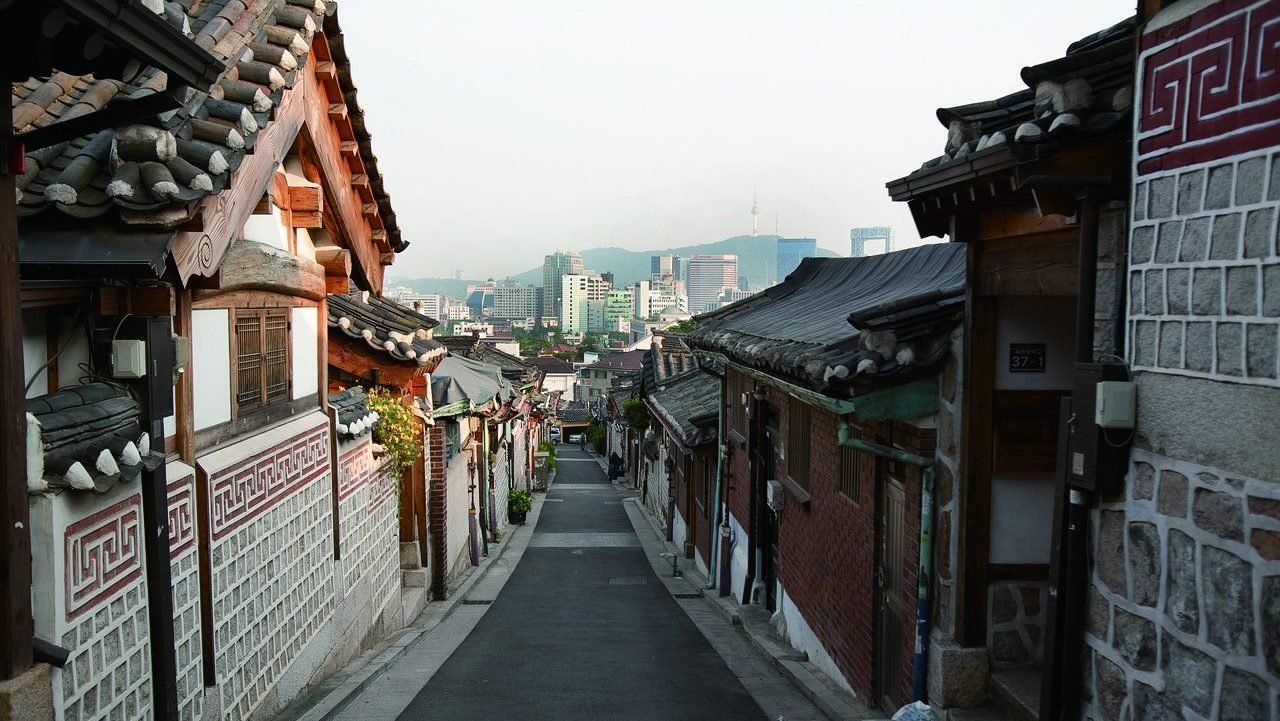 Bukchon Hanok Village offers a glimpse into Seoul's past with its well-preserved Korean houses called hanoks.
Walking through its narrow lanes, you'll feel like you're in a Korean period drama. It's a charming contrast to the modern cityscape, and a visit to Bukchon Hanok Village is undoubtedly essential.
Visit the Lotte World Tower: Sky-High Views and Luxury
Standing at 555 meters, the Lotte World Tower is the tallest building in South Korea and the fifth tallest in the world. Dominating the Seoul skyline, this architectural marvel is a must-see for any visitor.
The tower's main attraction is the Seoul Sky Observatory, which spans the top seven floors. Ride one of the world's fastest elevators to the observation decks, where you can enjoy panoramic views of Seoul and beyond. On a clear day, you might even catch a glimpse of North Korea.
The lower levels of the tower house the Lotte World Mall, which offers high-end shopping, dining, and entertainment options. From luxury brands to trendy Korean designers, the mall has something for every shopper.
The tower is also home to the Lotte Concert Hall, boasting world-class acoustics and a diverse schedule of performances. For art lovers, the Lotte Museum of Art showcases contemporary Korean and international art.
Experience Seoul's Vibrant Nightlife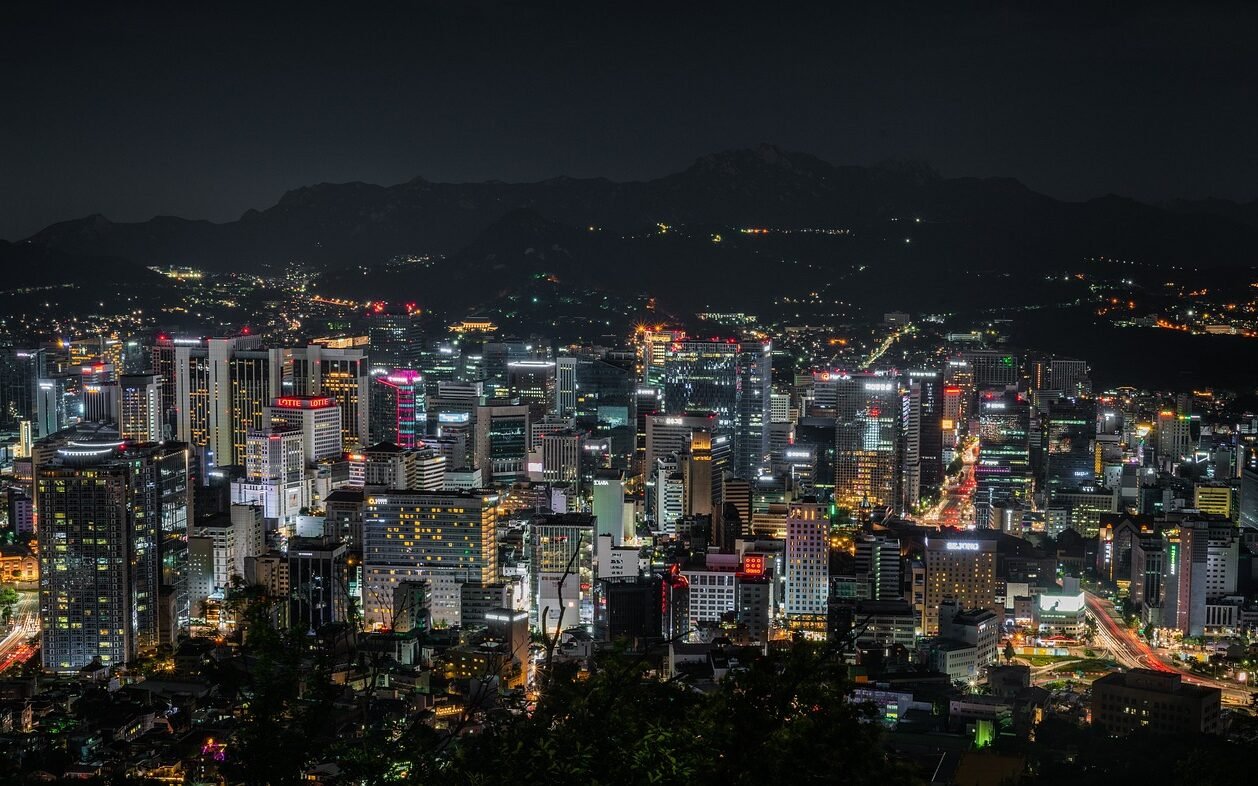 When the sun goes down, Seoul comes alive. The city's nightlife is as vibrant and diverse as its day attractions.
Hongdae: The Heartbeat of Seoul's Youth Culture
Want to experience Seoul's youth culture? Head to Hongdae. Known for its indie music scene, quirky cafes, and many art galleries and markets, Hongdae is where you'll find the city's young and creative souls.
Whether you're into live music, clubbing, or simply people-watching, Hongdae offers a taste of Seoul's youthful energy.
Itaewon: International Flavors and Exciting Nightlife
If you're looking for international flavors and a diverse nightlife scene, Itaewon is the place to be.
This multicultural district is home to a variety of restaurants offering cuisines from around the world. And when the sun sets, Itaewon's numerous bars and clubs become the city's party central.
Exploring Itaewon's vibrant nightlife is an exciting activity.
Explore Seoul's Natural Beauty
While Seoul's man-made marvels are sure to captivate you, the city's natural beauty is equally enchanting.
Namsan Park: A Breath of Fresh Air in the City
Looking for a quiet escape within the city's bustle?
Namsan Park is your answer.
It's a hill in the center of Seoul, known for its walking trails, panoramic city views, and the iconic N Seoul Tower. Whether you're up for a stroll, a challenging hike, or just want to enjoy a picnic while admiring the view, Namsan Park is a must-visit.
Han River: A Riverside Adventure in Seoul
Imagine biking along a scenic riverside trail, feeling the cool breeze as you take in the breathtaking views. Sounds perfect, right?
That's what awaits you at the Han River.
This river cuts through the heart of Seoul, offering endless recreational activities. From biking and picnicking to cruising and water sports, the river is a fantastic outdoor destination in Seoul.
Dive into Seoul's Shopping and Fashion Scene
Shopping in Seoul is more than just a pastime; it's a vibrant cultural experience.
Myeongdong: Shopper's Paradise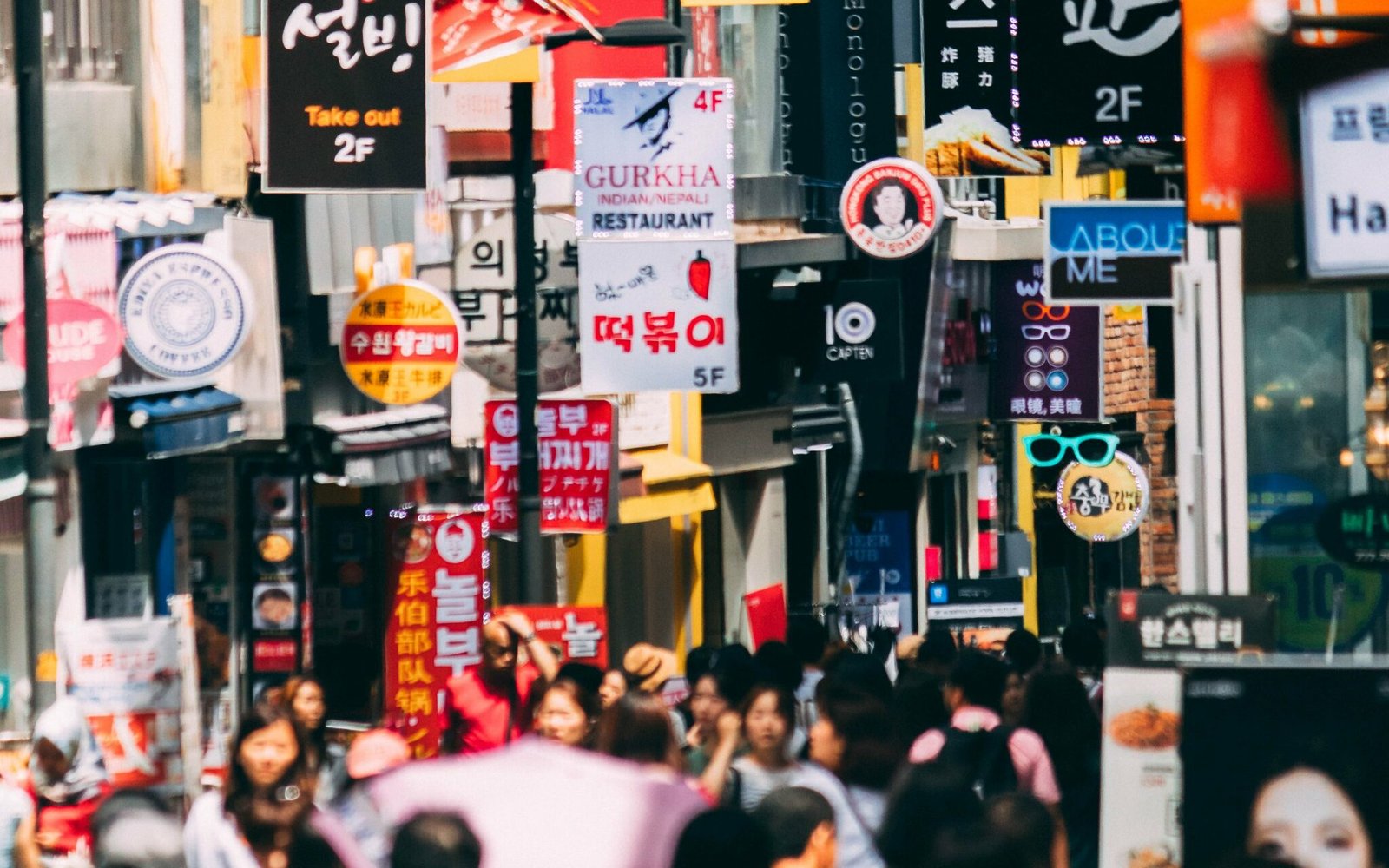 Myeongdong is Seoul's shopping mecca.
With three shopping malls and countless stores selling everything from the latest fashion trends to the best Korean skincare products, Myeongdong is a shopper's paradise.
But it's not just about shopping; the street food trucks and stalls serving delicious Korean snacks add to Myeongdong's vibrant atmosphere.
Dongdaemun: Fashion Enthusiast's Dream
If you're a fashion enthusiast, Dongdaemun is your dream destination.
This district is known for its shopping mall complexes filled with clothing, accessories, and more.
Whether you're looking for the latest trends or unique pieces to stand out from the crowd, Dongdaemun has something for every fashionista.
Savor the Flavors of Traditional Korean Cuisine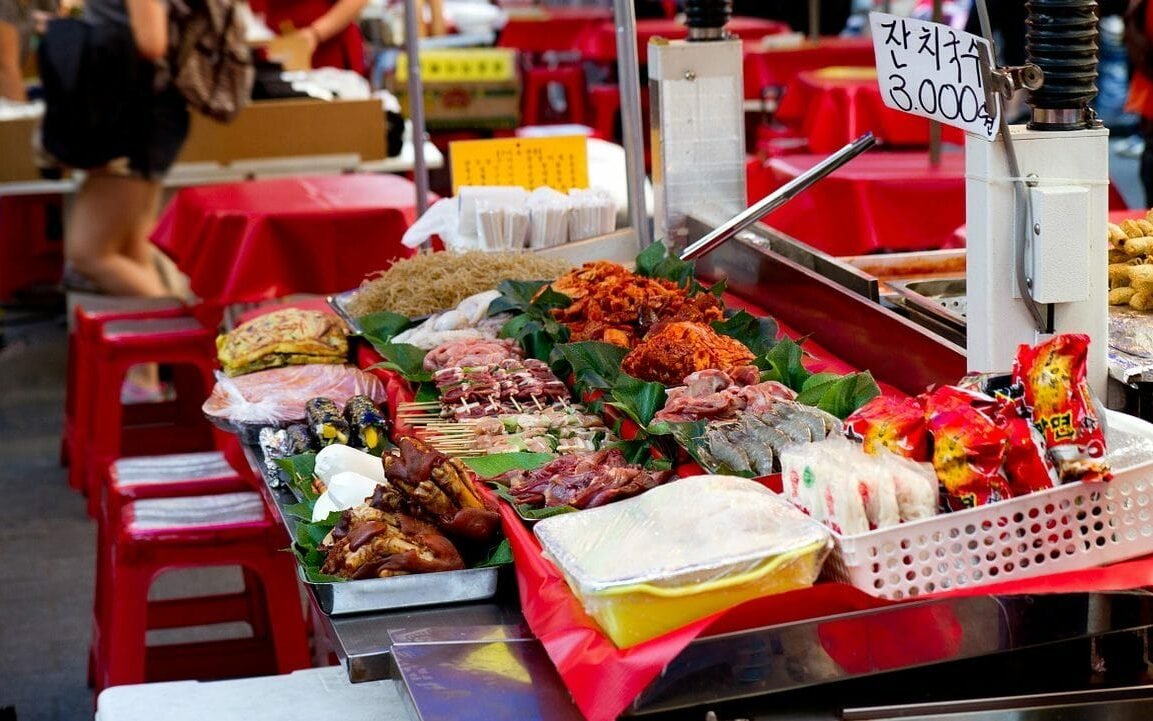 A trip to Seoul wouldn't be complete without indulging in its culinary delights. The local food scene offers a variety of options like Korean mung bean pancakes, mandu, noodle dishes, and much more. From vibrant street food markets to upscale dining experiences, Seoul's Korean food scene is as diverse as it is delicious.
Sampling Street Food in Gwangjang Market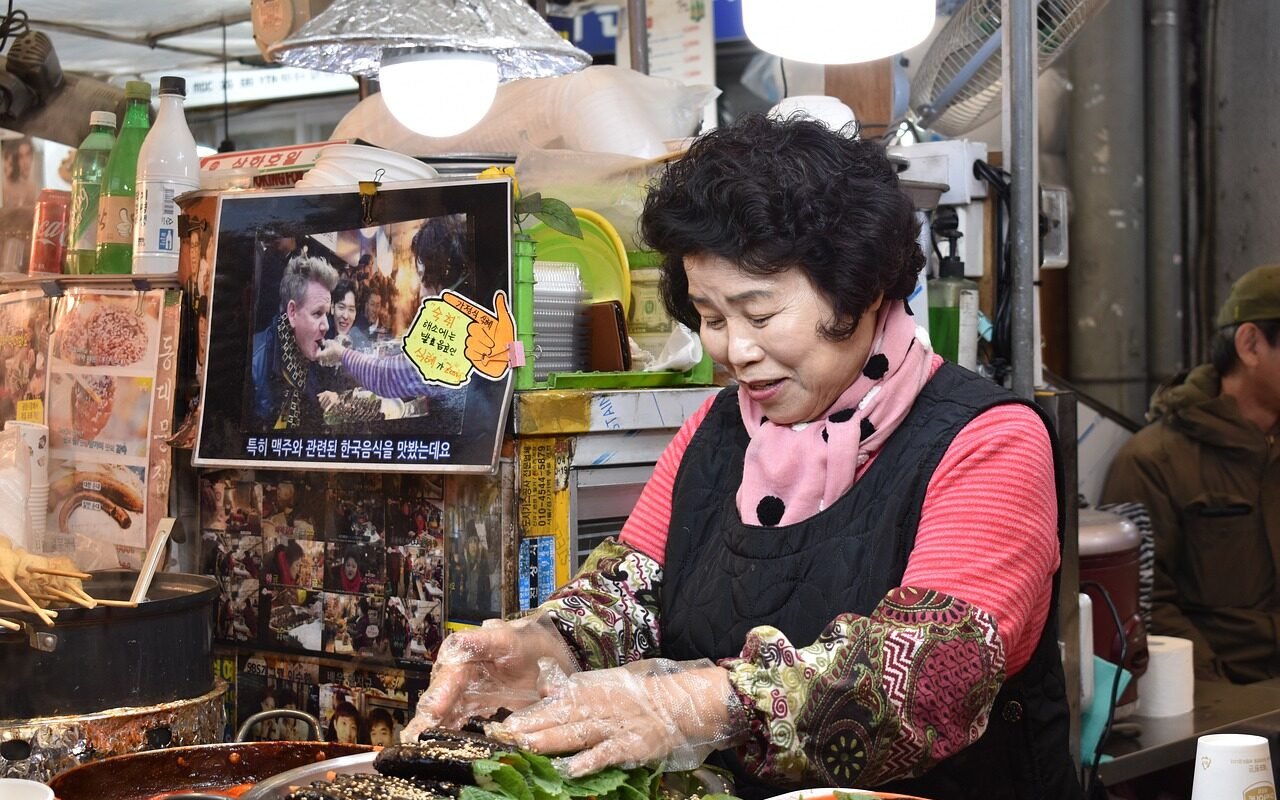 Ready to dive into the world of delicious Korean street food?
Make your way to Gwangjang Market. This bustling market is a Korean street food party's paradise, with stalls serving up a variety of mouth-watering dishes.
From savory pancakes known as Bindaetteok to the spicy rice cakes called Tteokbokki, the flavors here are sure to tantalize your taste buds.
Truly, one of the delightful things to do in Seoul is to immerse yourself in the lively atmosphere of Gwangjang Market while savoring the authentic tastes of Korean street cuisine.
Fine Dining in Gangnam: A Taste of Luxury
If you're in the mood for a more upscale dining experience, head to Gangnam.
This district is renowned for its luxury dining scene, offering a host of restaurants that serve exquisite Korean and international cuisine.
Whether you're looking to try a modern twist on traditional Korean dishes or indulge in a sumptuous steak dinner, Gangnam's fine dining establishments won't disappoint.
Indeed, dining in Gangnam allows you to experience the luxurious side of the city.
Engage in Unique Cultural Experiences
Seoul's cultural experiences go beyond sightseeing. They invite you to immerse yourself in the local customs and traditions, providing a deeper understanding and appreciation of traditional Korean culture.
Attend a Hanbok Wearing Experience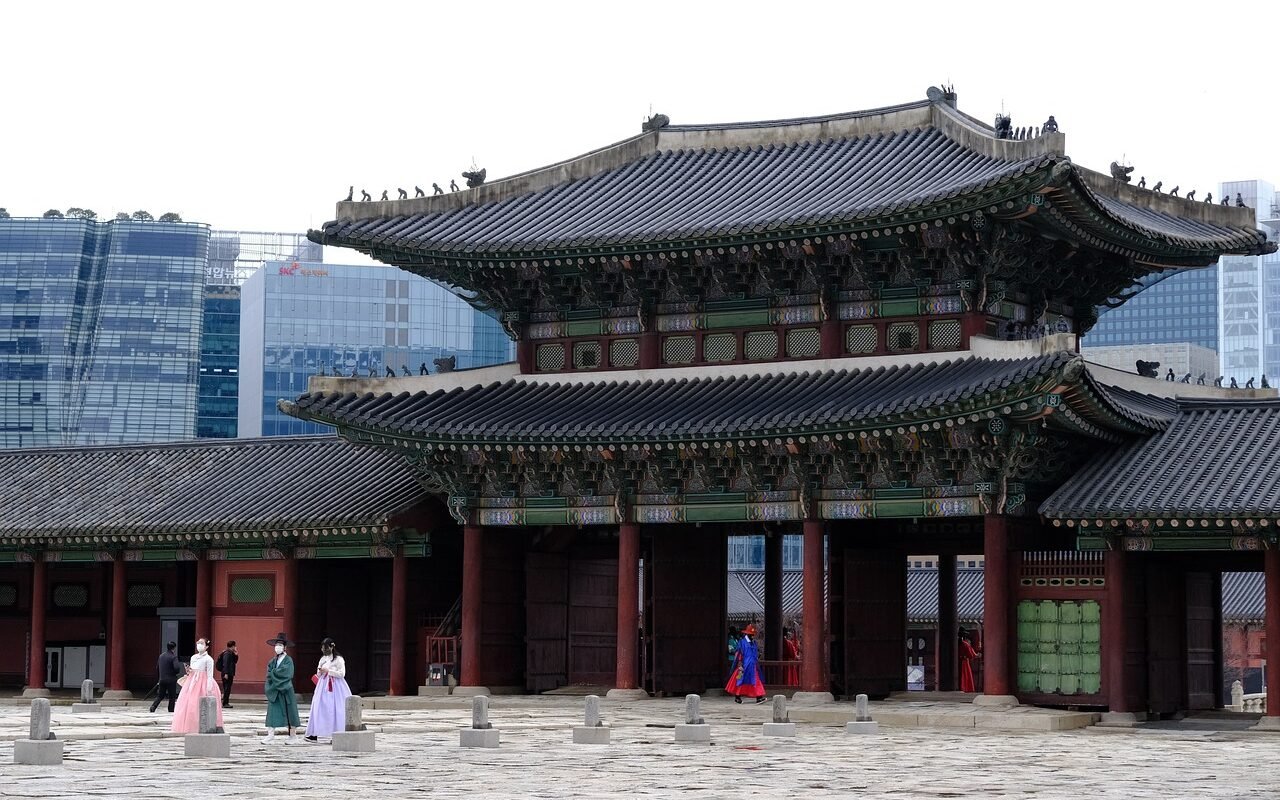 Have you ever wanted to dress like a Korean Joseon Dynasty noble?
Try on a Hanbok, the traditional Korean dress, and you'll feel just like one!
There are many places in Seoul where you can rent a Hanbok and roam around ancient palaces or traditional villages.
It's a unique experience that not only makes for great photos but also lets you feel a part of Korean history and culture.
Learn about Korean History at the War Memorial of Korea
For history enthusiasts, a visit to the War Memorial of South Korea is a must.
This museum provides a sobering look into the Korean War and the country's military history. Through its exhibits, you'll gain a deeper understanding of the sacrifices made and the resilience of the Korean people.
It's an educational and moving experience, making it one of the essential things to do in Seoul.
Discover Seoul's Rich History and Art
Seoul's history and art scene are as vibrant and diverse as the city itself, offering a wealth of treasures to explore and appreciate.
Visit the National Museum of Korea
The National Museum of South Korea is a national museum with a treasure trove of traditional Korean art and history. With artifacts dating back thousands of years, this national museum also offers a comprehensive look at Korea's rich cultural heritage.
From ancient pottery and royal artifacts to Buddhist art and modern paintings, the art galleries and collections here will fascinate any history or art lover.
Check out The National Folk Museum of Korea
Located within the palace grounds of the Gyeongbokgung Palace, the National Folk Museum of Korea offers a fascinating insight into the country's rich history and cultural traditions.
The museum houses over 98,000 artifacts that illustrate the traditional way of life of Korean people. Its collections cover a broad range of topics, from agriculture, traditional arts, and religious practices to domestic life, clothing, and food culture.
The museum's exhibitions are spread over three main halls. The 'History of Korean People' features materials of everyday life in Korea from prehistoric times to the end of the Joseon Dynasty in 1910. 'Korean Way of Life' shows how the philosophical values of the traditional society were reflected in daily life. Lastly, 'Life Cycle of the Koreans' demonstrates the deep roots of Confucianism in Korean culture and how this ideology gave rise to most of the culture's customs.
Explore the Changdeokgung Palace and Secret Garden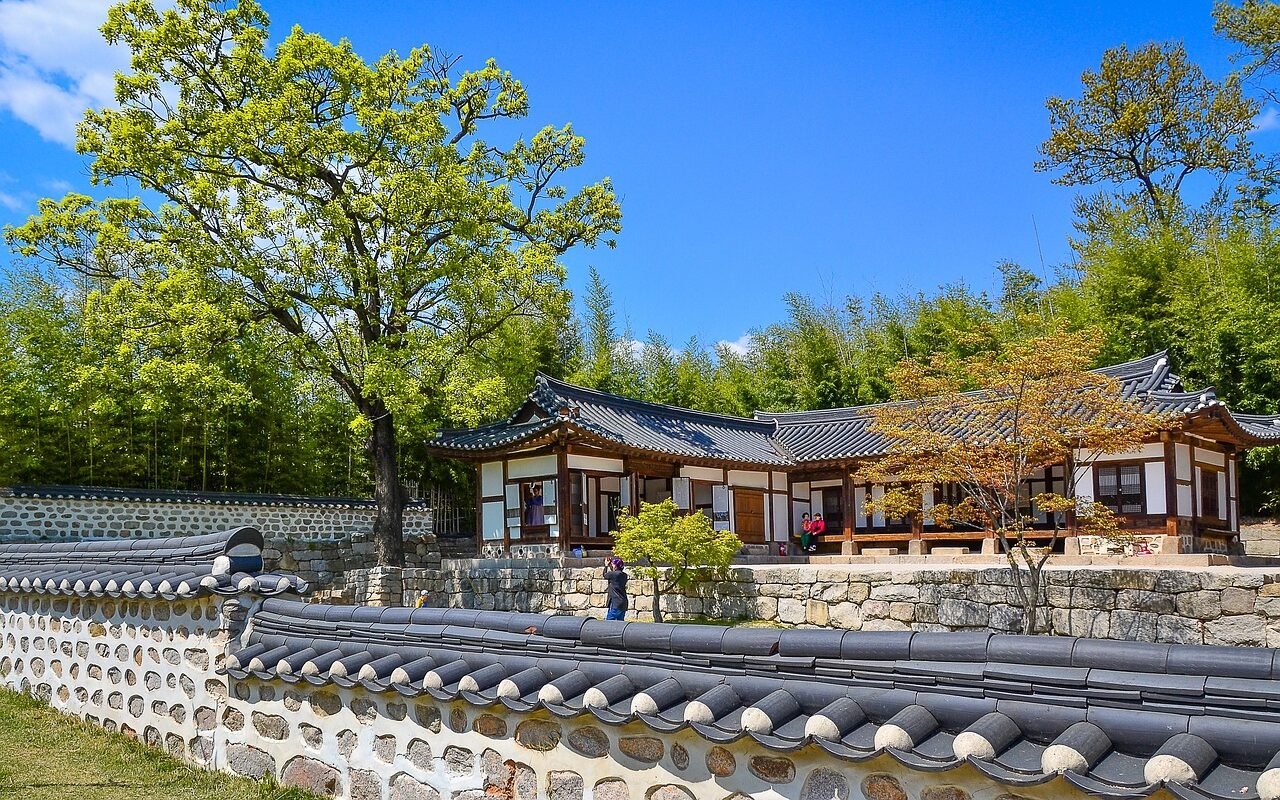 Among Seoul's five grand palaces, Changdeokgung Palace stands out for its Secret Garden. This UNESCO World Heritage Site and tranquil garden, once a place of rest for the kings, is a haven of natural beauty, complete with pavilions, ponds, and a plethora of flora and fauna.
Exploring the Changdeokgung Palace and its Secret Garden is like stepping into a serene world, away from the city's hustle and bustle.
It's one of the activities in Seoul that shouldn't be missed.
Leeum, Samsung Museum of Art: An Artistic Gem in Seoul
Located in the heart of Seoul, the Leeum, Samsung Museum of Art provides a unique blend of traditional Korean art and contemporary works from around the globe. This museum, a result of Samsung's investment in Korean culture, is a must-visit for art lovers and casual visitors alike.
The museum consists of two main parts. Museum 1 is dedicated to traditional Korean art, showcasing a collection of over 200 pieces, including celadon, white porcelain, and Buddhist art, some of which are National Treasures.
Museum 2 is a testament to contemporary art and includes works from both Korean and international artists. From paintings and sculptures to installations and digital art, the variety here is impressive. You can find works by renowned artists like Damien Hirst, Mark Rothko, and Warhol here.
The architecture of the museum itself is a work of art, with a seamless blend of traditional and modern design elements. It's designed by three world-renowned architects – Mario Botta, Jean Nouvel, and Rem Koolhaas – each contributing their distinctive style to the museum's design.
A Visit to the Edge: The North Korean Border
A trip to Seoul isn't complete without making the unique and somewhat surreal journey to the border between the two countries. It provides a stark contrast between the two Koreas and offers a glimpse into one of the most secretive nations on earth.
This activity can be booked online in advance to save money and time:
The Demilitarized Zone (DMZ)
The DMZ, a 250-km long, 4-km wide strip of land that separates North and South Korea, is a powerful symbol of division and a historical site. Here, you can feel the tension but also the hope for reunification.
JSA and Panmunjom
Within the DMZ is the Joint Security Area (JSA), the only place where North and South Korean forces stand face-to-face. Panmunjom, the "Truce Village", is where the 1953 Korean Armistice Agreement was signed. You can even step into the northern country in one of the conference rooms straddling the border.
Dora Observatory
From the Dora Observatory, you can look across the border. Binoculars are available to get a closer view of the propaganda village in the North, Kijong-dong, and the city of Kaesong.
The Third Infiltration Tunnel
Discovered in 1978, the Third Infiltration Tunnel is one of four known tunnels under the border. North Korea dug these tunnels for a surprise attack on Seoul. Visitors can don a hard hat and walk part of the way into this tunnel.
Dorasan Station
The Dorasan Station, the northernmost stop on South Korea's railway line, stands ready for the day the two Koreas reunite. Despite the current division, it symbolizes hope for a future connection with the North.
A visit to the border is a sobering and unforgettable experience that highlights the realities of the ongoing conflict between North and South Korea. Please note that access to these areas can change depending on political conditions, so check for any travel advisories before your visit.
Unleash Your Inner Child in Seoul's Theme Parks
Seoul's theme parks are a wonderland for kids and adults alike, offering an array of thrilling rides, captivating shows, and unforgettable experiences.
Have Fun at Lotte World: The World's Largest Indoor Theme Park
Looking for some adrenaline-pumping fun?
Lotte World is the place to be. As the world's largest indoor theme park, Lotte World boasts a variety of exciting rides, shows, and attractions that cater to all ages.
From roller coasters and VR experiences to ice skating and parades, Lotte World guarantees a day full of excitement and entertainment.
It's no wonder that visiting Lotte World is one of the top things to do in Seoul as this magic island provides something unique.
Experience Adventure at Everland: South Korea's Biggest Theme Park
Everland, South Korea's largest theme park, is a must-visit for thrill-seekers and families alike. With its exhilarating rides, lush gardens, and entertaining shows, Everland promises a fun-filled day for everyone.
Don't miss the chance to ride the T-Express, one of the world's steepest wooden roller coasters, or enjoy the park's seasonal festivals.
Visiting Everland is undoubtedly one of the things to do in Seoul that you'll remember for a lifetime.
Engage in Active Leisure Activities in Seoul
There's no shortage of opportunities for outdoor enthusiasts in Seoul. From hiking to biking, the city offers a plethora of active leisure activities that allow you to appreciate its natural beauty.
Take a Hike at Bukhansan National Park
Nestled within Seoul's city limits, Bukhansan National Park is a haven for nature lovers and hikers.
With its striking granite peaks, dense forests, and ancient temples, the park offers a serene escape from the bustling city.
Whether you're a seasoned hiker or a casual walker, Bukhansan National Park has trails to suit all levels of fitness and experience. Hiking in this park is undoubtedly one of the things to do in Seoul that lets you embrace nature's wonders.
Take a Bike Ride Along the Han River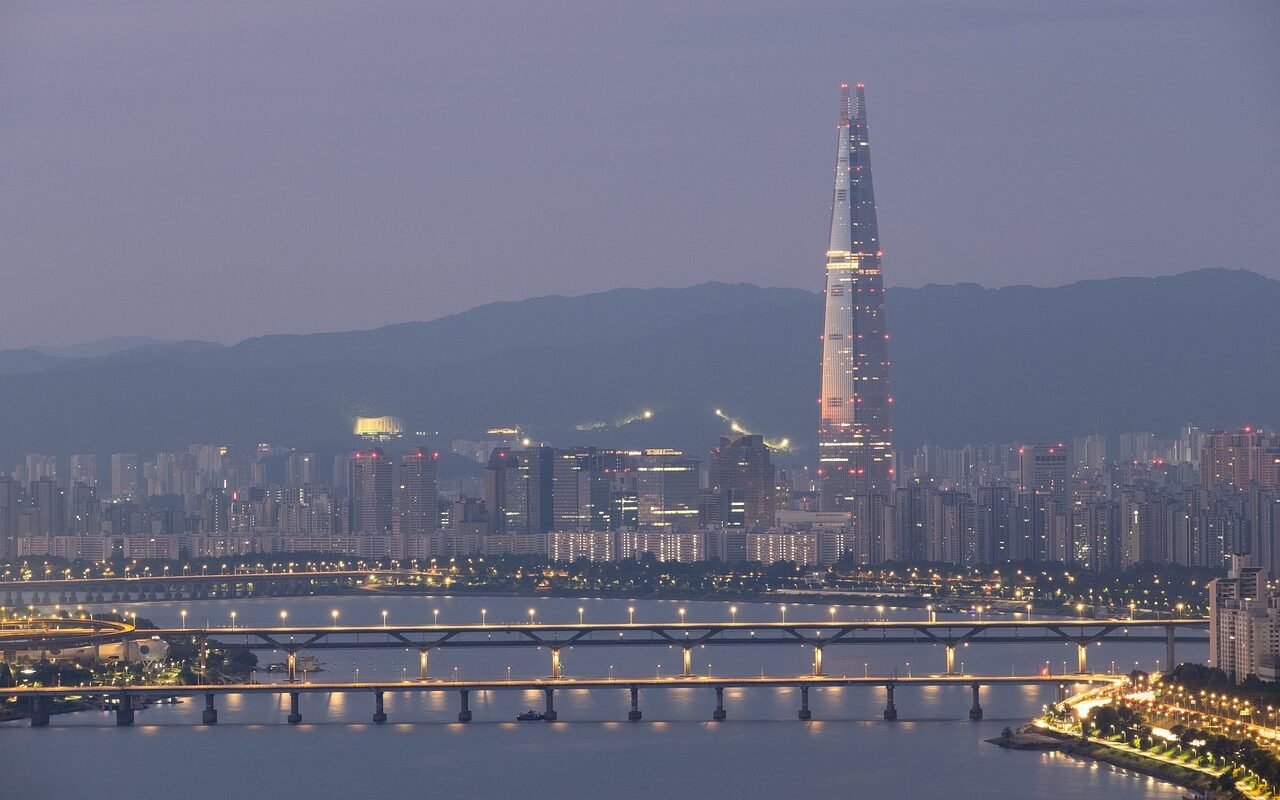 Cycling along the Han River is a fantastic way to explore Seoul while staying active. The river's extensive network of cycling paths takes you past picturesque parks, modern skyscrapers, and historic landmarks.
Rent a bike and pedal your way through Seoul, stopping at cafes and picnic spots along the way. A bike ride along the Han River combines fitness, sightseeing, and relaxation.
Seoul Zoo: A Wildlife Haven in the City
Nestled within the grand Seoul Grand Park, Seoul Zoo is an oasis for nature and wildlife enthusiasts right in the heart of the city. As the largest zoo in South Korea, it's a must-visit for families and animal lovers.
The zoo is home to over 3,000 animals from 376 species worldwide, including elephants, tigers, pandas, giraffes, and more. It is laid out in different sections representing different global regions, such as the African Savannah and Tropical Rainforest, allowing visitors to embark on a world wildlife tour without leaving Seoul.
Beyond viewing the diverse array of animals, visitors can enjoy interactive experiences, like the 'Zoo-Topia' where you can feed and pet smaller animals. There's also a botanical garden featuring thousands of plant species, making it a great spot to appreciate the quieter side of nature.
Seoul Zoo is not just about fun, though. It's also dedicated to conservation and education, running programs to help endangered species and offering educational exhibits to raise awareness about wildlife preservation.
Explore Seoul's Unique Neighborhoods
Each of Seoul's neighborhoods has its distinct charm and character, offering unique experiences for visitors to explore and enjoy.
Immerse Yourself in Art in the Ihwa Mural Village
Tucked away in the hills of Seoul, the Ihwa Mural Village is a canvas of colorful murals, street art, installations, and quaint cafes.
This revitalized neighborhood is a haven for art enthusiasts and photographers, with its vibrant street art and panoramic city views.
Strolling through the Ihwa Mural Village is one of the things to do in Seoul that allows you to witness the city's creative spirit.
Discover the Hipster Hangouts in the Garosu-gil Neighborhood
Garosu-gil is a trendy neighborhood known for its tree-lined streets, chic boutiques, and stylish cafes.
This area is a hub for Seoul's fashion-forward crowd and offers a glimpse into the city's contemporary culture.
Shopping, dining, or simply people-watching in Garosu-Gil allows you to experience the city's modern and stylish side.
Experience Traditional Korean Wellness Culture
Wellness is deeply ingrained in Korean culture, and Seoul offers several traditional wellness experiences that can rejuvenate your body and mind.
Relax in a Korean Spa or Jjimjilbang
After a long day of exploring the city, unwind at a jjimjilbang, a traditional Korean spa. Known for their heated rooms, therapeutic mineral baths, and rejuvenating body scrubs, Jjimjilbangs provide a unique wellness experience.
Whether you're looking for relaxation, detoxification, or simply a taste of Korean culture, visiting a jjimjilbang is one of the things to do in Seoul that should be on your list.
Learn about Korean Medicine at the Seoul Yangnyeongsi Herb Medicine Market
The Seoul Yangnyeongsi Herb Medicine Market is a fascinating place to explore traditional Korean medicine.
Here, you can find a myriad of herbs, roots, and medicinal products, and even receive a consultation from experienced practitioners.
Learning about the principles of Korean medicine and exploring the vast array of medicinal herbs is a unique experience, making it an educational and cultural experience in South Korea.
Discover Seoul's Innovative Technology and Pop Culture
Seoul is not only South Korea's capital but also a hub for cutting-edge technology and vibrant pop culture.
This city leads the way in tech innovation and is the birthplace of the Hallyu wave, making it a fascinating destination for tech enthusiasts and K-pop fans alike.
Visit the Samsung D'light: A Showcase of Future Technology
If you're interested in technology, make sure to visit Samsung D'light, located in the global tech giant's headquarters in Seoul.
This futuristic exhibition space showcases Samsung's latest innovations, offering a glimpse into the future of technology.
From virtual reality and AI to next-generation smartphones and home appliances, Samsung D'light is a playground for tech enthusiasts. Visiting this technological wonderland is undoubtedly one of the things to do in Seoul that will leave you in awe of the city's technological prowess.
Experience Hallyu Wave: K-Pop and K-Drama Locations in Seoul
Are you a fan of K-pop or K-dramas? Then Seoul is your dream destination. As the epicenter of the Hallyu wave, Seoul is home to numerous locations that have been featured in popular music videos and TV dramas.
You might even get a chance to see a live K-pop performance or visit the entertainment companies that are home to your favorite stars. Moreover, you can explore places like Namsan
Tower or the Han River, often featured in K-dramas, and reenact scenes from your favorite shows. Experiencing the Hallyu wave firsthand will make your trip unforgettable, especially if you're a fan of Korean pop culture.
Places to visit outside Seoul
There are some great attractions close to the city, for anyone wishing to take a day trip from Seoul.
Bukhansan National Park
If you have a decent amount of time in Seoul and South Korea, then a great way to escape some city madness is to head to Bukhansan National Park. In this national park, you find Bukhansan Mountain and some great hiking options.
Only 1 hour north of the city you find nature at its best and have stunning mountain views overlooking the metropolis. Truly, heading to Bukhansan National Park was one of the best days and places I visited in South Korea.
Everland Theme Park
If you are a theme park lover, you will love Everland Theme Park. Approximately one hour by bus out of Seoul you find an insane Korean Fairytale land.
Try the endless rides and watch the costumes and colors around at this amusement park.
Unique Experiences in Seoul
Like you probably can imagine, South Korea has some pretty unique things that you should try while there.
Karaoke is very popular in South Korea and truly is something different. Head for the Hongdae area to try it out. It's not like anywhere else where it is one big room with a stage for everyone to watch you. Oh no, here you get a small private room just for you and your friends. You can even order drinks and snacks for your own little private party!
Seoul has something different to offer in terms of cafes – they have animal cafes. Going to a dog or cat cafe is pretty cool and definitely something I have never tried anywhere else before! Basically, you get an overpriced beverage and in return, you get to hang out with a bunch of cute animals.
Romantic Getaways: Things to Do in Seoul for Couples
Seoul is a city of endless charm that perfectly caters to couples looking for romance, adventure, and memorable experiences. Here are a few suggestions to create unforgettable moments with your significant other.
Enjoy the View from N Seoul Tower
Start your romantic journey by visiting the N Seoul Tower, one of the most iconic landmarks in the city. Ascend to the observatory deck and marvel at the panoramic views of Seoul's sprawling cityscape. Make sure to leave a love lock at the "Trees of Love" fence, a popular tradition among couples visiting the tower.
Take a Stroll through the Cheonggyecheon Stream
Escape the city's hustle and bustle by taking a leisurely walk along the Cheonggyecheon Stream. This 11-km-long urban sanctuary is perfect for a romantic stroll, especially in the evening when the stream is illuminated with soft lights.
Experience the Magic of the Banpo Bridge Rainbow Fountain
Catch the spectacle of the world's longest bridge fountain, the Banpo Bridge Rainbow Fountain. The synchronized water, lights, and music create a captivating sight, especially at night. It's a truly magical and romantic experience.
Romantic Dining in Itaewon
Treat your partner to a romantic dinner in Itaewon, a neighborhood known for its diverse culinary scene. With a variety of cuisines available, you can choose from elegant fine-dining restaurants, cozy cafes, or rooftop bars with stunning views of the city.
Explore the Bukchon Hanok Village
Nothing spells romance like a walk back in time. Visit the Bukchon Hanok Village and admire the traditional Korean houses (Hanoks). The charming alleyways and beautifully preserved houses provide an idyllic setting for a romantic walk while teaching you about this Korean folk village.
Relax at a Jjimjilbang
Finish your day by relaxing at a jjimjilbang, a traditional Korean bathhouse. These spas offer various facilities like hot baths, saunas, and massage services, perfect for a relaxing couple's retreat.
Whether it's sharing intimate moments against the backdrop of stunning views or exploring the rich culture together, Seoul offers a multitude of romantic experiences.
How to get around in Seoul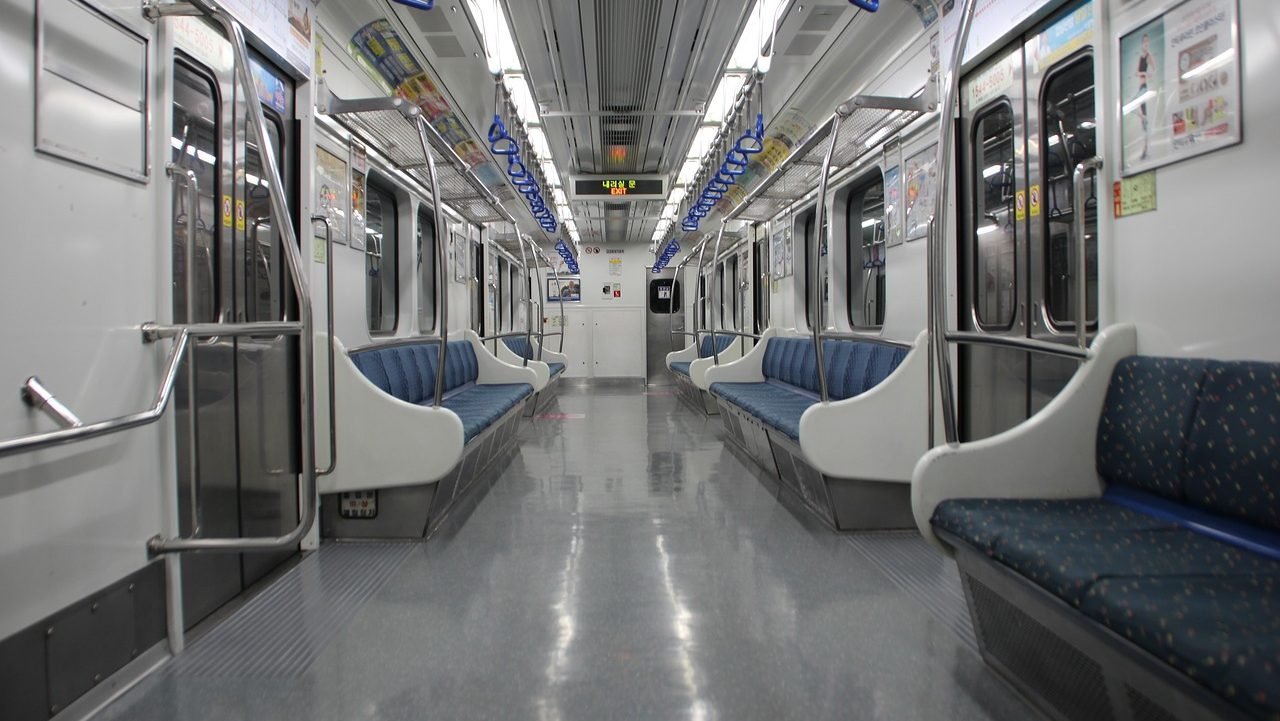 Navigating through Seoul, especially the bustling areas around Seoul Station and downtown Seoul, is a breeze, thanks to the city's highly efficient and expansive Seoul subway line system. It's not just vast, it's remarkably clean, comfortable, and easy on the pocket.
Getting a metro card is straightforward. You can purchase one from the vending machines at any station and recharge it as needed. It's worth noting, though, that the trains can become quite crowded during peak hours. If you're traveling at these times, consider using an anti-theft travel bag to keep your belongings safe from potential pickpockets.
Taxis are another viable option for getting around Seoul. They're generally affordable but beware of the city's notorious traffic jams, which can strike at the most unexpected times.
For those who prefer to explore at a slower pace, walking around the city is a safe and enjoyable way to immerse yourself in the vibrant Seoul atmosphere.
A crucial tip for navigating Seoul is to download Kakao Maps. This is a game-changer for finding your way around the city. Because of South Korea's unique geopolitical situation, detailed maps are rarely shared openly. Google Maps provides a basic layout, but for specific street names and metro stations, especially in areas like Seoul Station and downtown Seoul, Kakao Maps is a more reliable choice.
Remember, whether you're hopping on the metro, hailing a taxi, or strolling through the streets, embracing the journey is part of the Seoul experience.
Best Time to Visit Seoul
Seoul is a city that showcases a different charm with each changing season. Spring (April to June) and autumn (September to November) are generally considered the best times to visit. In spring, the city is adorned with cherry blossoms, creating picturesque views. Autumn, on the other hand, brings vibrant foliage, adding a romantic charm to the city's landscapes.
Summers (July to August) can be hot and humid, and winters (December to February) can be extremely cold with occasional snowfall. However, if you're a fan of snow sports, winter could be an exciting time to visit.
Regardless of the season, Seoul's bustling markets, historic sites, and dynamic nightlife can be enjoyed all year round.
Festivals and Events in Seoul
One of the best ways to experience the local culture of a city is to participate in its festivals and cultural events themselves. Seoul, with its rich heritage and modern flair, hosts a plethora of such festivities and cultural events year-round. Here, we delve deeper into some of the must-attend cultural events here in Seoul:
Lantern Festival (May)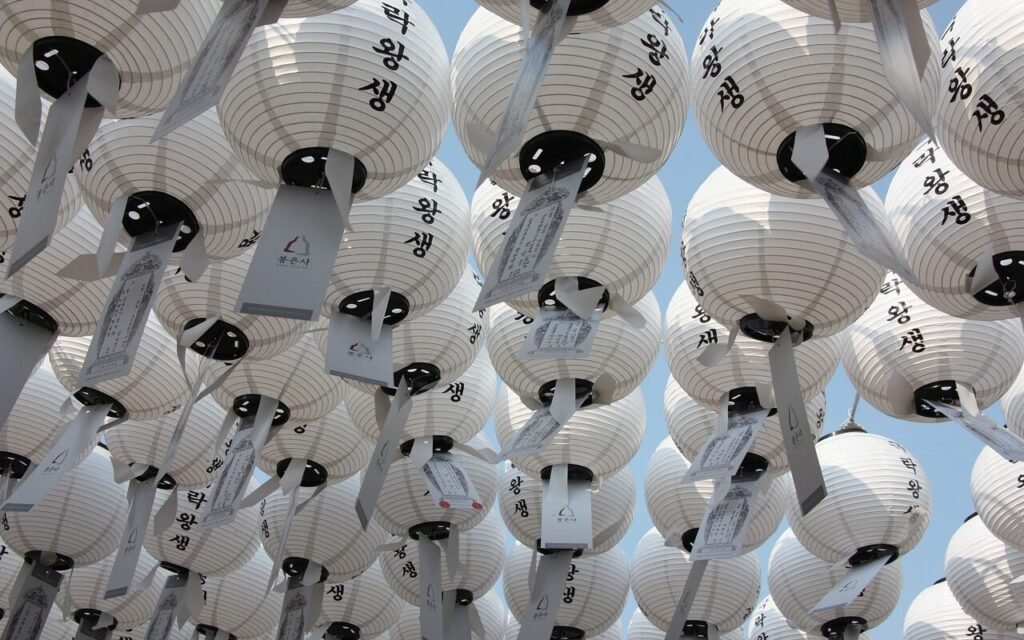 Also known as the Lotus Lantern Festival, this event is held in celebration of Buddha's birthday. As dusk falls, Seoul transforms into a city of light, with thousands of intricately designed paper lanterns illuminating the streets.
The highlight is a grand parade, featuring gigantic lanterns shaped into animals, mythical creatures, and important Buddhist figures.
Additionally, there are lantern-making workshops, traditional Korean games, and vibrant cultural performances. This festival is a visual treat that captures the essence of South Korea's Buddhist traditions and its love for artistry.
Seoul Fringe Festival (August)
The Seoul Fringe Festival is a dynamic platform that supports independent artists and their unfiltered creativity.
This festival encompasses a wide range of art forms, including music, dance, theater, and visual arts. It's a chance to witness the raw talent of artists who are pushing the boundaries of their respective fields.
As you wander through the festival, you'll be treated to street performances, open-air concerts, art installations, and impromptu theater performances. This festival is a testament to the thriving independent arts scene in Seoul.
Seoul International Fireworks Festival (October)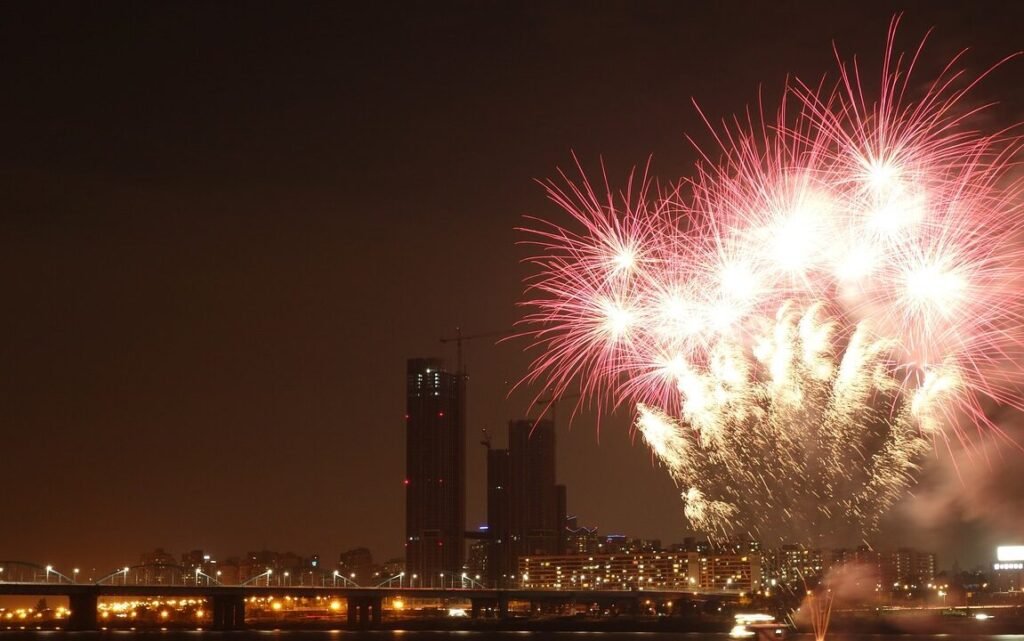 The Seoul International Fireworks Festival is a visual spectacle that attracts international fireworks companies and a large crowd of spectators. Set against the backdrop of the Han River, the sky lights up in a symphony of colors and shapes, accompanied by synchronized music.
The festival is free to attend and is a popular event for families, friends, and couples. This event offers an unforgettable experience of Seoul's lively atmosphere and the locals' love for celebrations.
Seoul Kimchi Festival (November)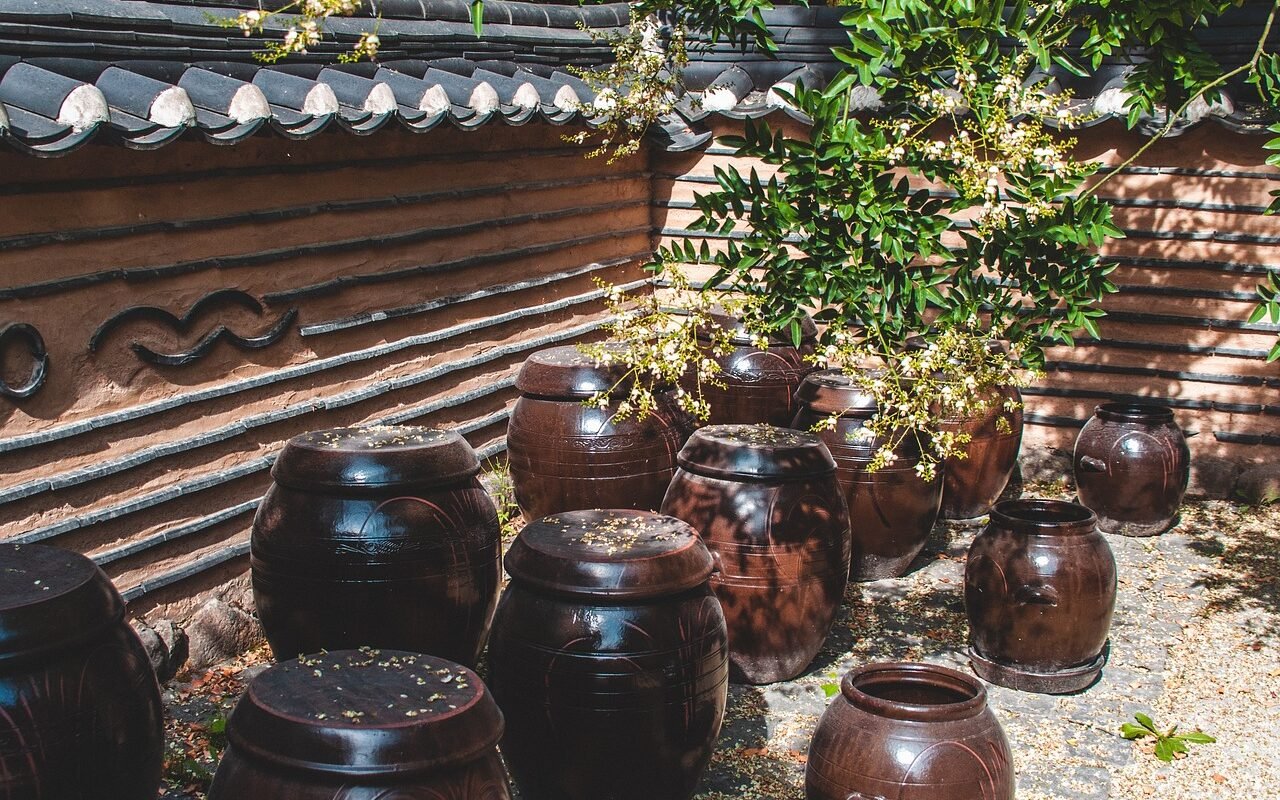 The Seoul Kimchi Festival pays homage to the country's beloved staple food, Kimchi. Participants have the opportunity to learn about the traditional process of making Kimchi, including hands-on experience in making and preserving their own.
The festival also includes a sharing event where Kimchi is distributed to underprivileged communities, showcasing the spirit of sharing in Korean culture.
A variety of Kimchi from different regions is also available for tasting. This festival is a perfect platform to learn about and appreciate the culinary heritage of South Korea.
Seoul Music Festival (Year-round)
Music is an integral part of Seoul's culture, and the Seoul Music Festival celebrates this in all its forms. The festival hosts a variety of concerts throughout the year, spanning genres from classical symphonies to electrifying K-pop performances. It showcases the talent of renowned artists as well as emerging musicians.
The festival also hosts workshops and interactive sessions, offering a chance to engage with the music on a deeper level. Whether you're a classical music aficionado or a K-pop enthusiast, this festival is a must-visit for all music lovers.
Each of these festivals presents a unique facet of Seoul's culture, giving you a chance to immerse yourself in the local traditions, flavors, and rhythms of the city.
Check the dates, mark your calendar, and get ready for an unforgettable cultural journey in Seoul!
FAQs on visiting Seoul South Korea
How many days do I need in Seoul?
Seoul is a city rich in history, culture, and modern attractions. To fully experience what Seoul has to offer, a stay of at least 5 to 7 days is recommended. This allows ample time to visit major landmarks, explore different neighborhoods, sample a variety of Korean dishes, and even take part in unique activities such as attending a Hanbok wearing experience or visiting a traditional Korean spa.
Is South Korea tourist-friendly?
Absolutely! South Korea, and Seoul in particular, is known for its warm hospitality and well-structured tourism infrastructure. The city offers a wide range of accommodations to suit all budgets, an efficient public transportation system and many signs and maps are in English. Plus, there are numerous tourist information centers and helpful locals who are often willing to assist travelers.
What is Seoul famous for?
Seoul is famous for its seamless blend of history and modernity. It's home to ancient palaces like Gyeongbokgung and the Changdeokgung palace, traditional neighborhoods like Bukchon Hanok Village, and markets such as Gwangjang. At the same time, it's a city of skyscrapers, cutting-edge technology (being the home to tech giants like Samsung), and vibrant pop culture (K-pop and K-dramas). Seoul is also known for its diverse culinary scene, from street food stalls to high-end dining.
Is South Korea a cheap travel destination?
The cost of traveling in South Korea can vary greatly depending on your travel style and preferences. While it's not the cheapest destination in Asia, it offers a range of options that can accommodate various budgets. Street food, public transportation, and accommodations like guesthouses or budget hotels are relatively affordable. Meanwhile, dining in upscale restaurants, shopping for high-end fashion, or staying in luxury hotels can be more costly. Overall, with a bit of planning, Seoul can be an affordable destination for many travelers.
How much money do you need for 7 days in Seoul?
For a 7-day journey in Seoul, the budget for accommodation can range between $350-$700 if you opt for budget hotels or guesthouses. Food expenses could amount to approximately $140 if you balance between budget-friendly traditional Korean foods and mid-range dining options. As for transportation, the efficient public transit system in Seoul is quite affordable, costing about $20 for the entire week. When considering only park entrance and fees to attractions, plan for around $70-$140 for the week. Lastly, for shopping, nightlife, and miscellaneous expenses, set aside an additional $100-$200. So, a ballpark figure for a week-long trip to Seoul could range from $680 to $1200, contingent on your spending habits and preferences.
A Final Note on Visiting Seoul and Embracing the Adventure
Seoul is a city of contrasts, where thousand-year-old palaces stand tall amidst skyscrapers, and bustling markets coexist with trendy boutiques. It's a city that thrives on its rich traditions while embracing the new with open arms. Whether you're a history buff, a foodie, a nature lover, or a fan of K-pop, there's something for everyone in this vibrant metropolis.
As you prepare for your trip to Seoul, remember that Seoul is more than just a checklist of attractions. It's a city to be experienced. Take a leisurely stroll along the Han River, get lost in the labyrinthine streets of Bukchon Hanok Village, or simply sit in a traditional tea house and watch the world go by. Engage with the locals, try delicious street foods that you've never heard of, and immerse yourself in the rhythm of the city.
In the heart of South Korea, Seoul is a city that never sleeps, yet knows how to slow down and savor the moment. It's a city that's waiting for you to explore, discover, and most importantly, fall in love with.
So pack your bags, set your spirit of adventure free, and get ready to create unforgettable memories in Seoul. Because in Seoul, every day is a new discovery, every street corner a surprise, and every moment a story waiting to be told.
Finally, because of the size of Seoul, it can be a challenge to figure out where to stay. Do some research and stay close to attractions that you are really excited about visiting. In my full guide on where to stay in Seoul, I go deep into hotel options and the best areas of the city.
That was my best guide and bits of advice for what places to visit in Seoul. I hope you liked it and feel free to comment below.
//Josephine
The article may include affiliate links, meaning that I may receive affiliate compensation at no cost to you if you decide to purchase. Read more in my
Affiliate Disclosure.
BEST TRAVEL RESOURCES
BOOK YOUR FLIGHT: Not sure how to get the best and cheapest flights? I always use Skyscanner for the best deals. The best tip is to be flexible with dates and destinations if you want the cheapest options.
Alternatively, for frequent travelers, get a membership with Wayaway and receive a cashback on cheap flights and hotels every time you book! Via the link, you even get a 10% discount on your membership.
BOOK GREAT ACCOMMODATION: Booking great accommodation is not difficult but it sucks paying too much. Use Booking.com for the greatest hotel deals and Hostelworld for amazing hostel stays. Alternatively, you can sign up for Worldpackers to get FREE accommodation in exchange for your work.
BEST TRAVEL INSURANCE: Traveling without insurance is a mistake that you don't want to make - trust me I've tried. I'd suggest SafetyWing as they offer great and flexible policies - especially if you are traveling for a long time or a digital nomad. World Nomads is another great insurance with extensive coverage.
NEED HELP WITH YOUR VISA? Figuring out how and when you need a visa can be a bit of a jungle. iVisa is a very handy and user-friendly service.
HAS YOUR EU FLIGHT BEEN DISRUPTED? Use AirHelp as a service to get flight compensation on your European flights in case your flight was delayed, canceled, or disrupted in other ways. More often than not you are actually entitled to compensation.