The following article may include affiliate links, meaning that I may receive affiliate compensation at no cost to you if you decide to purchase. Read more in my
Affiliate Disclosure.
Seoul can be explored infinitely with its ten million population and endless amount of areas to visit. What to do and what places to visit in Seoul can, however, be hard to figure out because of its massive size! The city is, in my opinion, an extremely underestimated and underprioritized travel destination. The Metropol has such a huge variety of different things to offer and will keep you entertained for days (myself even for months).
Seoul is divided by the enormous Han River where everything north of the river is the old town and everything south is new. I personally favored the old Seoul as I found this part of the city more interesting.
In general, Seoul offers everything from culture, art, shopping, food, nightlife and so much more. The city is an interesting vibrant place, that never sleeps, where hyper-modern meets the old and traditional. Creating an insane contrast between the old and the new, with its tiny alleyways filled with traditional Korean restaurants and massive skyscrapers with high-class cocktail bars.
I lived in Seoul for 5 full months and I never got tired or finished exploring the city! In some way, Seoul feels as if Tokyo and Shanghai had a very complex and well-spoken baby. The city is like nothing I have ever experienced before and deserves at least a 3-day visit in my opinion.
If you are heading to Seoul, South Korea you are in for a treat. Get ready to experience a city and Asian culture like never before.
I've broken down this post into what your top priorities should be in terms of what places to visit in Seoul.
PIN THIS POST FOR LATER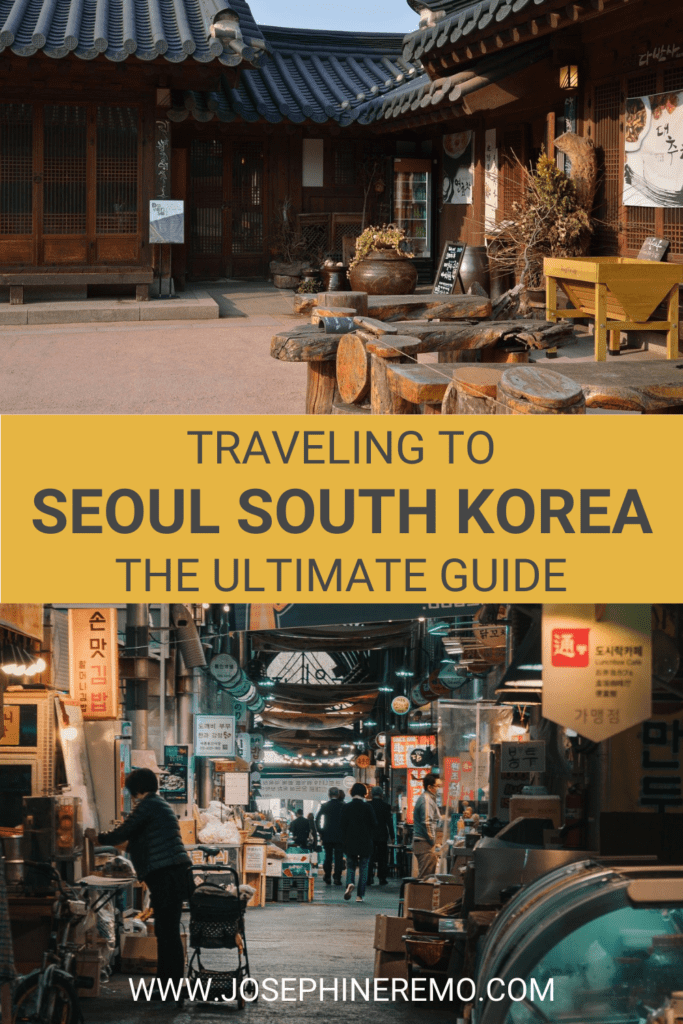 WHAT PLACES TO VISIT IN SEOUL?
RESTAURANTS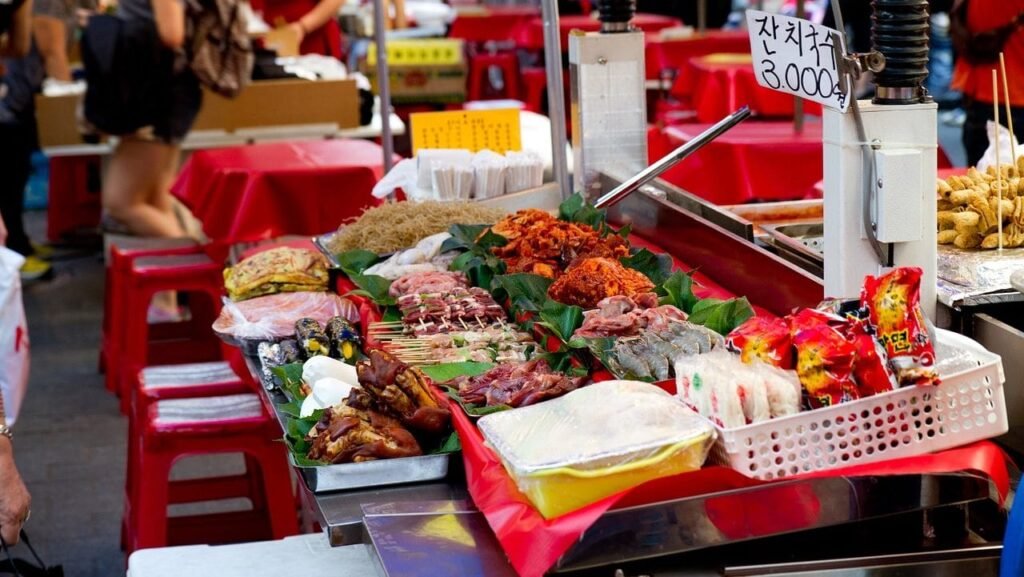 Okay, so honestly, the main reason I chose Seoul as the destination for my exchange during university, was because of the food. Let me just tell you – I was not disappointed. If you could only choose one thing in terms of what to do in Seoul, then eating would be it.
The thing that amazed me most, is exactly just how many restaurants one city can have! There is food EVERYWHERE and I am not over exaggerating. Korean people are such foodies and will wait in line for hours at their favorite restaurant. It blows my mind just how many national dishes a country can have and also rules in terms of what alcohol to pair them with. Koreans eat all their meals out – meaning that restaurants are completely packed all hours of the day. This also means that prices are quite cheap (ranging from street food being about 5000 Korean won and a nice Korean BBQ costing about 35.000 Korean won – you do the conversion to whatever currency you need).
A good rule of thumb is, that you want to go to visit the places in Seoul where there is a line outside. Don't worry – people come and go quickly so it really should not take too long. A must in Korea is Korean bbq and ginseng chicken soup along with many other amazing things!
KOREAN STREET FOOD VENDORS
On top of having around 3 billion restaurants (I made this number up so don't quote me), Seoul also has a ton of street food to try. It varies from little stalls just randomly placed along the sidewalk to big markets and food halls. These provide a very fun activity and while being in Seoul you should try out at least a few!
Make sure to try Korean mung bean pancakes, kimbap, tteokbokki, bibimbap, mandu, and everything else Korean that looks good!
Note: you don't need to worry about getting sick from these as Koreans are very proper in terms of hygiene. Like with everything, please use common sense though.
Finally, I just have to warn you that Korean food can be INSANELY spicy, and I say that loving chili and eating a lot of spice. If you are not a big chili fan then stay away from everything that has the color of dragon fire!
SHOPPING AREAS AND MALLS
Koreans shop a lot and to our luck! In most places you go, you will find cool little shops and also high-end fashion stores where you can lose yourself for several hours. At the biggest metro stations, you can even do some shopping in the underground shopping centre!
Spend some time in the Insadong area that is famous for its unique and traditional stores. Here you will find handicrafts shops, hanok style tea houses and cafes, art galleries, ceramics shops, and more.
Myeongdong is also a common shopping area that is a bit more crazy and packed. It is, however, definitely worth a visit with its fluorescent lights and buzzing sounds. If you prefer a more stylish and high-end type of shopping then I would recommend you to go to Garasu-gil in Gangnam. This is also a fun place to go people-watching. Here you will see just how stylish and modern the people of Seoul can be.
PALACES AND HANOK VILLAGES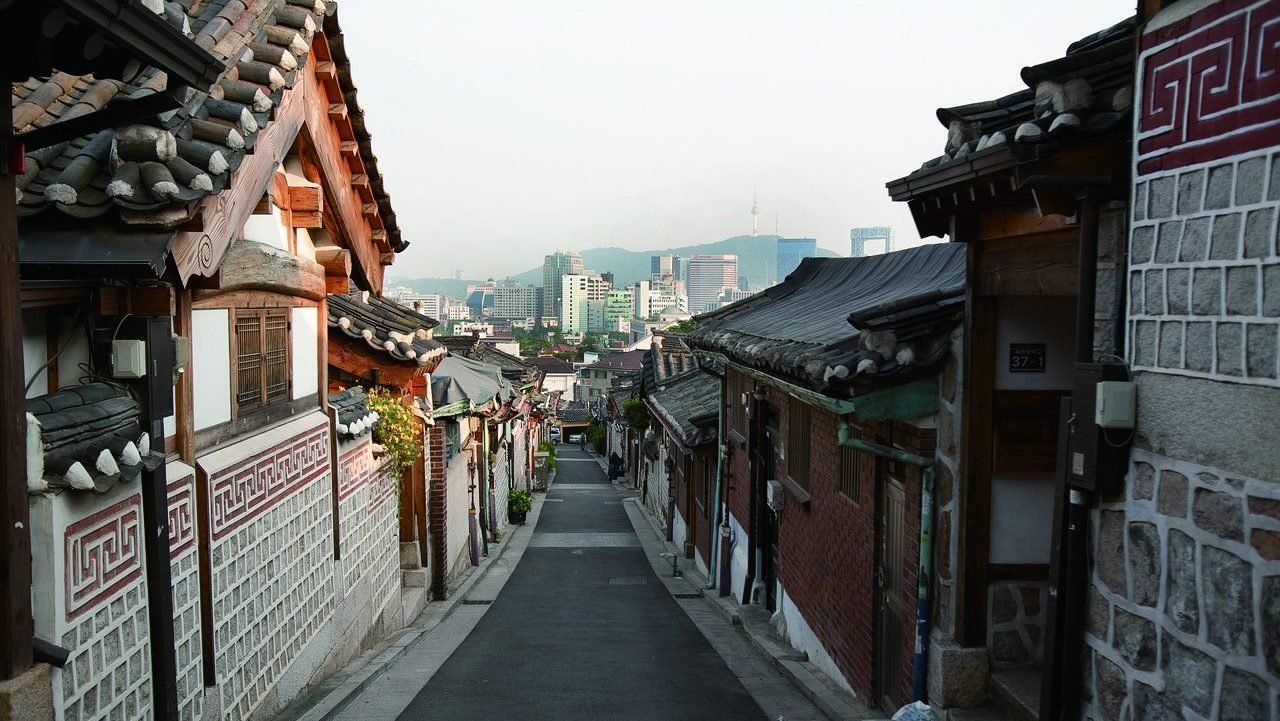 Take some time to go visit at least one of the main palaces; Changdeokgung (choose this if only doing one because of the secret garden and because everything secret should be discovered) and Gyeongbokgung palace. Seoul has five grand palaces but these two are the most famous and also the best. You can choose to take a tour of the palaces and learn a lot of interesting Korean history and the Joseon Dynasty.
Head to the old Bukchon Hanok village. This is a preserved area showing old Korean culture and traditional Korean houses, and also has cute shops and cafes to see around the area.
The very handy part about these 3 places to visit in Seoul? The palaces are within walking distance from each other with the Hanok village separating them in the middle. So my point is, that it can be done very efficiently!
Finally, you can go for a walking tour along the old city wall. If you dedicate proper time to this it will take you up the mountain of the western end of the city, and provide some pretty awesome views!
I discovered so many amazing experiences in the Lonely Planet Travel Guide for Seoul. Honestly, I get these books every single time I visit a new place. They are the perfect source of information and inspiration!
AREAS IN SEOUL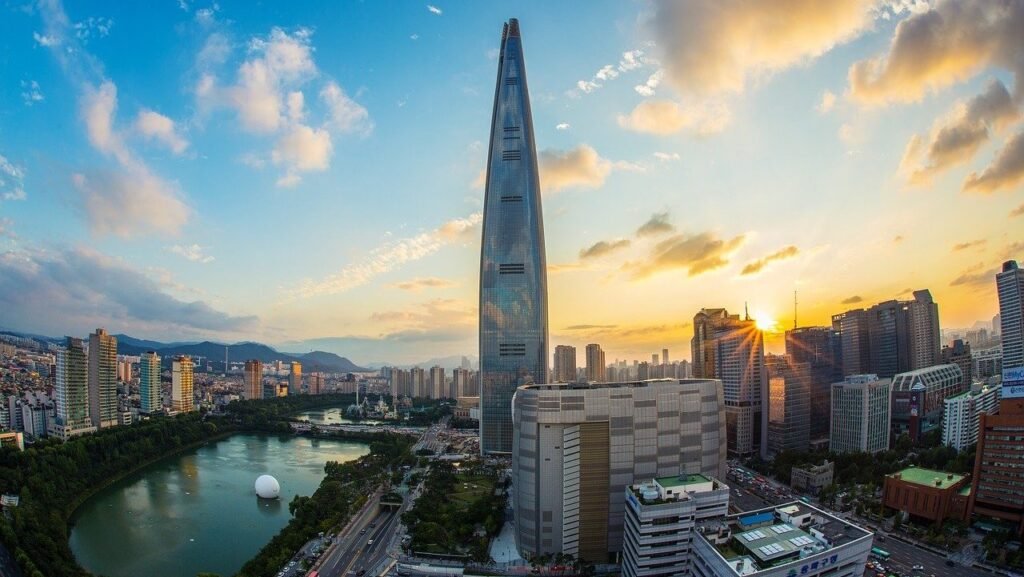 I won't even try to count how many areas Seoul is divided into, but you should visit a few different ones. Most of them are quite unique and have different things to offer – others will look completely the same.
Prioritize going to (as before mentioned) Insadong, Gangnam, Myoengdong, and also Itaewon and Jamsil.
While in Insadong, find the small area Ikseon dong – probably Seoul's hippest area. The whole area consists of tiny little alleys filled with shops, bars, restaurants, and cafes. The place is very charming and feels like finding a hidden traditional Korean treasure box.
Itaewon is another one of my favorites as it is the international district of the city. Here you have many cool shops, bars, and cafes. Nightlife is also great here and in general, the mix of international and Korean creates a very hip and interesting vibe.
Jamsil is one of the newer areas South of the Han River that houses the tallest building in Seoul; Lotte World Tower also known as Seoul Tower. Inside this enormous place, you have many fun things to do and will be entertained for hours.
In Jamsil you also find Lotte World which is a tourist attraction in itself. An outdoor amusement park that sits on a beautiful lake and has the 4th steepest wooden roller coaster in the world. What's not to like?
Also head to Jamsil if you happen to be in Seoul during cherry blossom season. The two lakes just outside Jamsil station and across Lotte Tower have cherry blossom trees all along the border – making it a very pretty and Instagram-friendly walk!
NAMSAN TOWER
This tower can be seen from almost anywhere in the city (if not covered by a massive skyscraper).
It sits beautifully on top of Namsan mountain overlooking the whole city. A great way to spend half a day is taking a (small but steep) hike up the mountain and enjoying the view. Alternatively, you can even take the lift up to the top. On the top of the mountain, you can go up in the tower for an even better lookout if you prefer.
MUSEUMS
You find a big variety of museums in Seoul, and what place to visit, really depends on what you are into. Some of the rated tourist attractions and popular ones are:
DONGDAEMUN DESIGN PLAZA
This enormous plaza is also a metro station that is sure to amaze. An extremely futuristic and beautifully crafted metal construction that is a magnificent sight.
If you are into architecture then you need to check out the Dongdaemun Design Plaza.
Inside you have a ton of shops and even occasional flea markets.
PLACES TO VISIT OUTSIDE OF SEOUL
BUKHANSAN NATIONAL PARK
If you have a decent amount of time in Seoul and South Korea, then a great way to escape some city madness is to head to Bukhansan National Park. In this national park, you find Bukhansan Mountain and some great hiking options.
Only 1 hour north of the city you find nature at its best and have stunning mountain views overlooking the metropolis. Truly, heading to Bukhansan National Park was one of the best days and places I visited in South Korea.
I always get good travel insurance before I go anywhere abroad. Bukhansan Mountain is quite steep and challenging so I would be careful and make sure to have my insurance in place.
EVERLAND THEME PARK
If you are a theme park lover, you will love Everland Theme Park. Approximately one hour by bus out of Seoul you find an insane Korean Fairytale land.
Try the endless rides and watch the costumes and colors around.
NIGHTLIFE AREAS
The nightlife in Seoul is an ever-breathing aspect of the city, and since restaurants are also bars – there are a lot of places to go! Both Hongdae and Itaewon are famous nightlife areas and should satisfy your party need.
TRY SOMETHING UNIQUE
Like you probably can imagine, South Korea has some pretty unique things that you should try while there.
Karaoke is very popular in Korea and truly is something different. Head for the Hongdae area to try it out. It's not like anywhere else where it is one big room with a stage for everyone to watch you. Oh no, here you get a small private room just for you and your friends. You can even order drinks and snacks for your own little private party!
Seoul has something different to offer in terms of cafes – they have animal cafes. Going to a dog or cat cafe is pretty cool and definitely something I have never tried anywhere else before! Basically, you get an overpriced beverage and in return, you get to hang out with a bunch of cute animals. There are also a bunch of raccoon and meerkat cafes around. Some will even have a wallaby! I have no idea how they smuggled that thing out of Australia and into a cafe in Seoul but never mind. However, I wouldn't recommend going to these places as I'm not sure about the treatment of these animals.
In terms of what places to visit in Seoul, going to Lotte Tower or Lotte Mart is another experience that has a lot of fun things. The place is MASSIVE and every floor is dedicated to something specific. You should head to the one all about gaming. Trying some video games is a lot of fun and very extreme! If you don't want to try them yourself, then just watch the Koreans. Don't be surprised when you don't manage to see their hands moving around.
HOW TO GET AROUND IN SEOUL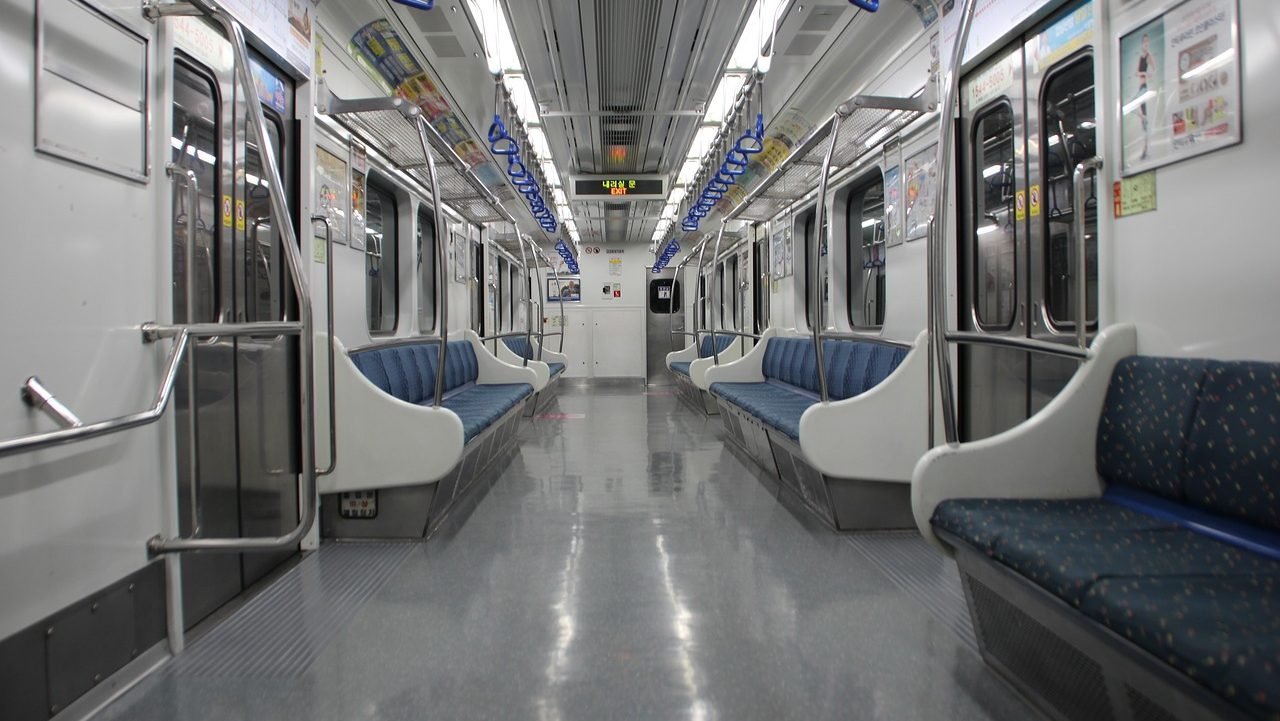 On this, there is just one answer – metro. The metro is insanely efficient, massive, comfortable, and cheap. Truly I have never seen a metro so wide and clean. Get a metro card from one of the machines at the station and just fill up the card when needed. Taxis are also pretty affordable, but I will warn you – getting stuck in traffic can happen at the most unsuspected and inconvenient times.
Finally walking around is very safe and is another great way to just soak up the city. Your legs will be super sore as Seoul has some serious hills though – workout done!
The last thing to add is that YOU NEED TO DOWNLOAD KAKAO MAPS! This took me weeks to figure out and I was struggling so hard with finding my way around. Since South Korea is technically still at war with North Korea, they do not share detailed maps anywhere. Google maps will give you a basic, overall view, but you won't find detailed street names and metro stations on there.
That was my best guide and bits of advice for what places to visit in Seoul. I hope you liked it and feel free to comment below.
//Josephine
BEST TRAVEL RESSOURCES
BOOK YOUR FLIGHT: Not sure how to get the best and cheapest flights? I always use Momondo for the best deals. The best tip is to be flexible with dates and destinations if you want the cheapest options!
BOOK GREAT ACCOMMODATION: Booking great accommodation is not difficult but it sucks paying too much. Use Hotels.com for the greatest hotel deals and Hostelworld for amazing hostel stays. Alternatively, you can sign up for Worldpackers to get FREE accommodation in exchange for you working.
BEST TRAVEL INSURANCE: Traveling without insurance is a mistake that you don't want to make - trust me I've tried. I'd suggest SafetyWing as they offer great and flexible policies - especially if you are traveling for a long time or a digital nomad. World Nomads is another great insurance with extensive coverage.
NEED HELP WITH YOUR VISA? Figuring out how and when you need a visa can be a bit of a jungle. iVisa is a very handy and userfriendly service.
HAD YOUR EU FLIGHT DISRUPTED? Use AirHelp as a service to get flight compensation on your European flights in case your flight was delayed, canceled, or disrupted in other ways. More often than not you are actually entitled to compensation.
Affiliate Disclaimer: This post may include affiliate links. I may receive a small commission at no extra cost to you if you click on them and purchase.