Embarking on a camping trip is as exhilarating as it sounds. But have you ever spent a night under the stars, cramped and uncomfortable because of a small tent?
This guide emphasizes the importance of choosing the best 8-person tent for those treasured camping adventures. Furthermore, when we discuss and rank tents, several factors come into play, ensuring every outdoor enthusiast gets the best out of their purchase.
| CATEGORY | WINNER | VISUAL | PRICE | FIND HERE |
| --- | --- | --- | --- | --- |
| Best overall | Nemo Wagentop | | $$$ | |
| Best value for money | CAMPROS | | $$ | |
| Most durable option | Teton Sports Mesa | | $$$$ | |
| Best instant tent | Coleman Instant Tent | | $$$ | |
| Most versatile choice | Eureka Copper Canyon | | $$$ | |
Key Features to Consider in an 8-Person Tent
Size and Space: Comfort for All
The floor space in an 8-person tent is a game-changer. Especially if you want to use it as a family camping tent and have kids that play camping games. However, it's not just about the square footage or having a larger tent. Vertical tent walls, for instance, provide ample headroom, making movement inside less restricted.
It's essential to ensure that every camper has a comfortable sleeping spot, making those camping trips memorable and comfortable.
Tent Materials and Weight: Striking the Perfect Balance
Whether you're leaning towards a canvas tent or a nylon one, materials play a pivotal role in tent selection. While canvas tents are known for their durability, nylon tents are lightweight and often more portable.
It's all about balancing that durability with the ease of carrying it to your campsite.
Waterproofing and Weather Resistance: Every Camper's Umbrella
No one wants to wake up in a soggy sleeping bag. A waterproof tent, paired with a reliable rain fly, can be your savior in unpredictable weather.
Staying dry during your camping trip is crucial, especially when you're in areas prone to sudden showers or dew.
Ventilation Systems: Breathing Easy in Nature's Lap
Ever been inside a tent that feels like a sauna?
Proper ventilation ensures efficient air circulation, reducing condensation in cabin tents. Mesh roofs and adequately spaced windows can make a world of difference, keeping the tent's interior fresh during those warm-weather camping nights.
Setup Simplicity: Every Minute Counts
After a long drive to your favorite campsite, wrestling with tent poles isn't anyone's idea of fun. Instant tents or those with color-coded setups can be the way to go.
Look for tents that promise a hassle-free setup, ensuring you spend more time around the campfire than fumbling with tent stakes.
Room Dividers and Privacy Options: Your Tent, Your Space
Whether you're on an outdoor trip with family or with a group of friends, having the option to create separate sleeping or storage areas can be invaluable. A cabin tent can also create more storage space as separate rooms can work as camping gear storage space.
Room dividers provide that extra touch of privacy to the entire tent, making your tent feel more like a home away from home.
Durability Factors: Built to Last
Your tent is an investment. Features like anti-snag zippers, reinforced seams, and sturdy tent poles determine the tent's longevity.
A durable tent ensures that whether it's a gusty night or a child's playful tug, your shelter remains steady.
Which are the best 8-person tents?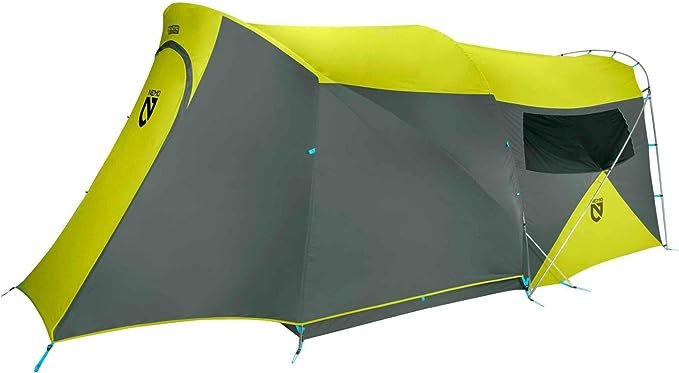 Nemo Wagontop offers campers an unparalleled experience. With its nearly vertical walls, this 8-person tent ensures optimal interior space. Its unique design caters to tall campers, providing enough headroom and comfort. Notably, its durable tent fabric ensures longevity while the ventilation system makes warm-weather camping a breeze.
The canvas tent construction provides both durability and a touch of luxury, making it stand out in crowded campsites.
Pros:
Tall in height
Vertical walls
Lightweight
Easy to set up
Great ventilation
Cons: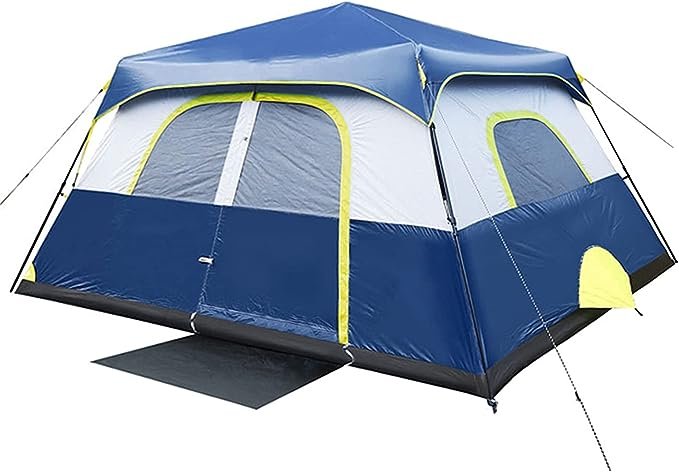 Hitwby has crafted a tent perfect for bigger camping trips. Offering an impressive floor space and storage space for gear, it ensures no camper feels cramped. Additionally, its waterproof tent design, paired with effective weather protection, ensures a dry shelter even during light rain.
Its combination of quality tent materials and an affordable tent price point makes it a top contender.
Pros:
Easy to set up
Extra rainproof
Spacious cabins
Tall in height
Cons:
Instructions are not always clear
Structure less stable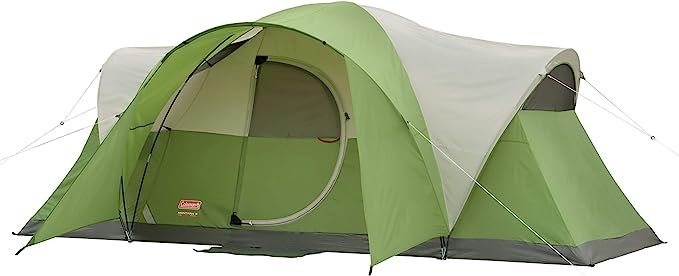 As one of the frontrunners in outdoor gear, Coleman's Elite Montana is a testament to their reputation. Featuring a dome tent design, it optimizes both space and stability. Its spacious interior, combined with room dividers, provides campers with the privacy they crave.
Furthermore, the tent's enhanced weather protection ensures that campers remain dry and cozy throughout their camping trip.
Pros:
Spacious
Easy to set up
Extensive awning
Wide doors
Good ventilation
Stable structure
Cons:
Less handy to pack up
Leaks can occur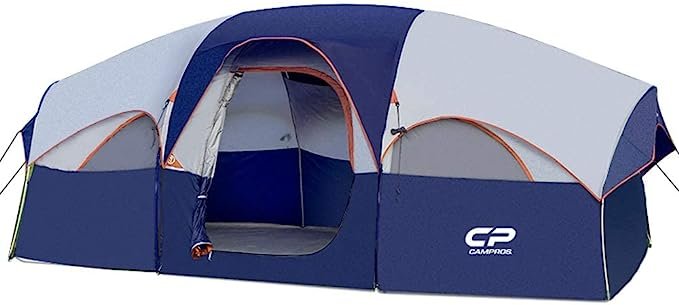 CAMPROS strikes a balance between quality and affordability. Its spacious canvas tent design guarantees comfort while ensuring the tent remains lightweight. Key features like a reliable rain fly and mesh roof guarantee ventilation and protection.
For those seeking a budget-friendly option without compromising on essential features, CAMPROS is a great tent to consider.
Pros:
Great ventilation
Easy to set up
Spacious
Handy storage options
Cons:
Only one door
Less stable compared to others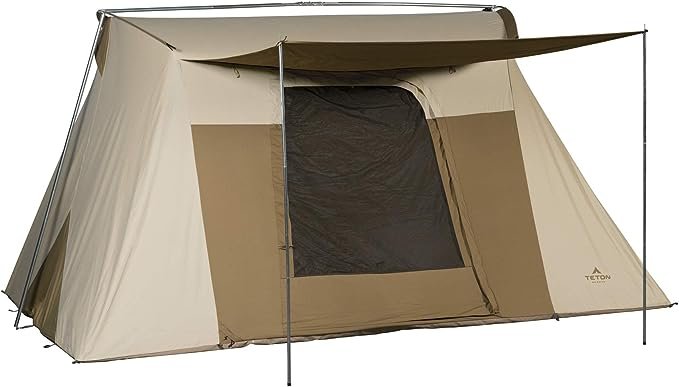 Teton Sports Mesa embraces the essence of rugged adventures. Designed for the unforgiving outdoors, it boasts impeccable durability factors, from sturdy tent poles to reinforced seams.
Ideal for those family camping expeditions on challenging terrains, its robust construction and weather resistance make it a trusted companion.
Pros:
Easy to set up
Extra durable
Spacious
Wide doors
Cons:
Structure less stable
Pegs a little skimpy
Wenzel Klondike brings forward a perfect blend of space and value for money. The tent offers a distinct roomy tent feel, courtesy of its design and floor space. Moreover, its large tent windows provide not just ventilation but also panoramic views of the surroundings.
Campers seeking a tent that doesn't break the bank but still offers premium features will find Klondike a worthy choice.
Pros:
Good division
Great ventilation
Useful instructions
Cons:
Eureka Copper Canyon redefines interior space. This cabin-style tent boasts nearly vertical walls, providing campers with ample room to move around. Additionally, its mesh roof ensures continuous air circulation, making it ideal for group camping in warm climates.
The tent's screen room is perfect for late-night chats without the interference of pesky bugs.
Pros:
Extra waterproof
In-build power cutouts
Good ventilation
Stable and durable
Good division of space
Cons:
Less spacious
Not so tall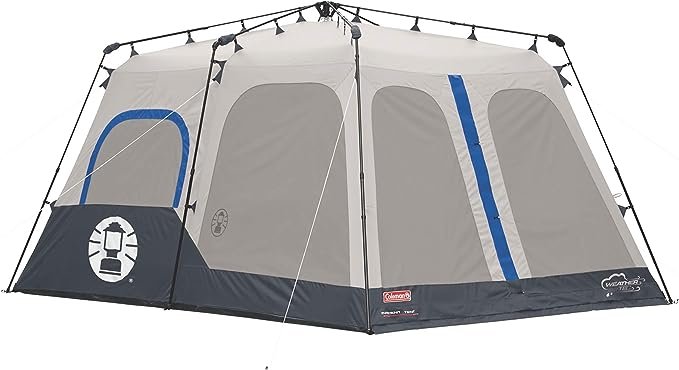 Coleman does it again with their Instant Tent, emphasizing setup simplicity. As the name suggests, campers can expect a rapid, hassle-free assembly. But speed isn't its only strength. Its robust tent poles and durable tent fabric ensure it withstands various outdoor challenges.
Ideal for car camping or spontaneous family camping weekends, this tent offers both speed and reliability.
Pros:
Spacious
Easy to set up
Durable
Tall in height
Cons:
Less handy stakes
Division of tent could be better
Benefits of Investing in a Quality 8-Person Tent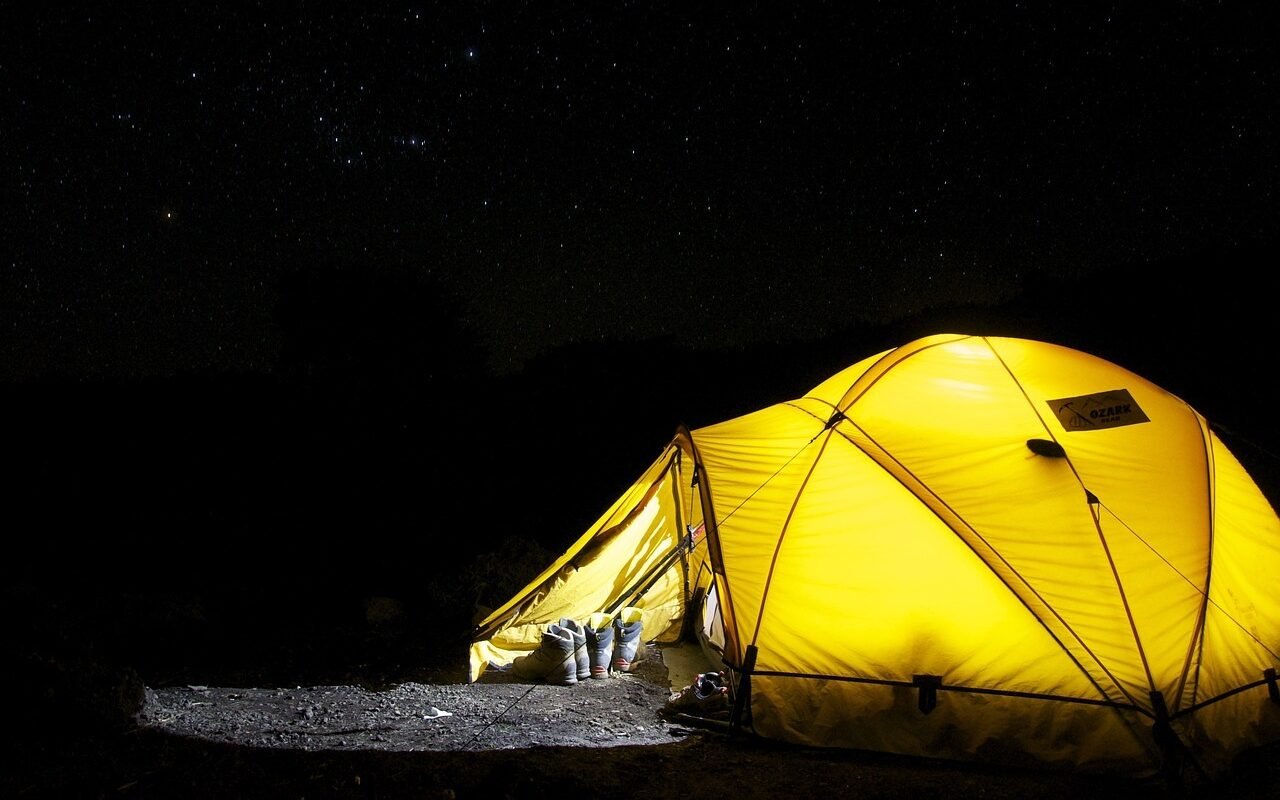 Long-Term Savings: Durability over cheap, short-term options.
When you invest in a high-quality 8-person tent, you're not just buying a shelter, but a long-term commitment to outdoor adventure.
While it might be tempting to go for cheaper options, remember: you often get what you pay for.
High-quality tents are designed with durable tent materials like sturdy canvas tents or nylon tents, reinforced seams, and robust tent poles. These tents don't just last a season or two but promise several years of service, saving you money in the long run.
Instead of frequently replacing a worn-out tent, a one-time investment in a durable tent can serve you for countless family camping trips.
Enhanced Camping Experience: Comfort and protection for the family.
Nothing ruins a family camping trip faster than a tent that leaks, lacks proper ventilation, or simply can't withstand a gust of wind.
Investing in a high-quality tent ensures that your family stays protected from the elements, be it light rain or warm weather camping. With features like room dividers for privacy, near-vertical walls for ample interior space, and a reliable rain fly, a good 8-person tent enhances the overall camping experience.
And let's not forget the emotional comfort; knowing your friends or family are safe and cozy in their sleeping bags lets you truly relax and enjoy the great outdoors.
Versatility: Using the tent for different occasions and terrains.
A top-tier 8-person tent isn't limited to just family camping in forests or by the lakeside. Thanks to their robust design, they can withstand various terrains, from various beachfronts to rugged mountainous regions.
A large camping tent, with its spacious interiors, can also be repurposed for other events like backyard sleepovers, group camping trips, or even as an extra space for guests during family reunions – especially if it has more than only one door.
The versatility of a quality tent ensures that wherever you go, be it a music festival or a camping expedition, you've got reliable shelter at your disposal.
Expert Recommendations and Trust Factors
Why This Review Matters: Testing process and expertise.
In the ever-expanding world of outdoor gear, discerning the best products can be a daunting task. This is where my reviews come into play. The team consists of seasoned campers, avid outdoor enthusiasts, and technical gear testers who have spent countless hours on the field. Each 8-person tent that I recommend has undergone rigorous testing, from enduring harsh weather conditions to assessing the ease of setup in various terrains.
Furthermore, I understand that a tent is more than just its technical specifications. It's about the experiences it facilitates and the memories it helps create. The experts have evaluated each tent not just for its material strength or waterproofing but for the comfort, spaciousness, and overall experience it offers. With this comprehensive testing process, the recommendations provide you with the best value, durability, and user experience.
Feedback from Real Users: Incorporating customer reviews and experiences.
While the team's expertise is invaluable, I believe in the power of community insights. Hence, I incorporate feedback from real users who've taken these tents on their family camping trips or group camping excursions. By delving deep into customer reviews, I gain insights into long-term durability, real-world performance, and any issues users might face. This helps me present a holistic view of each product.
Moreover, real user feedback provides insights that might be overlooked in controlled testing environments.
How does a particular tent fare in unexpected scenarios?
Are there any nuances in setup or storage that only emerge after repeated use?
Such details, gleaned from the experiences of the broader camping community, ensure my reviews are grounded, reliable, and genuinely beneficial for my readers.
Factors to Consider Beyond the Tent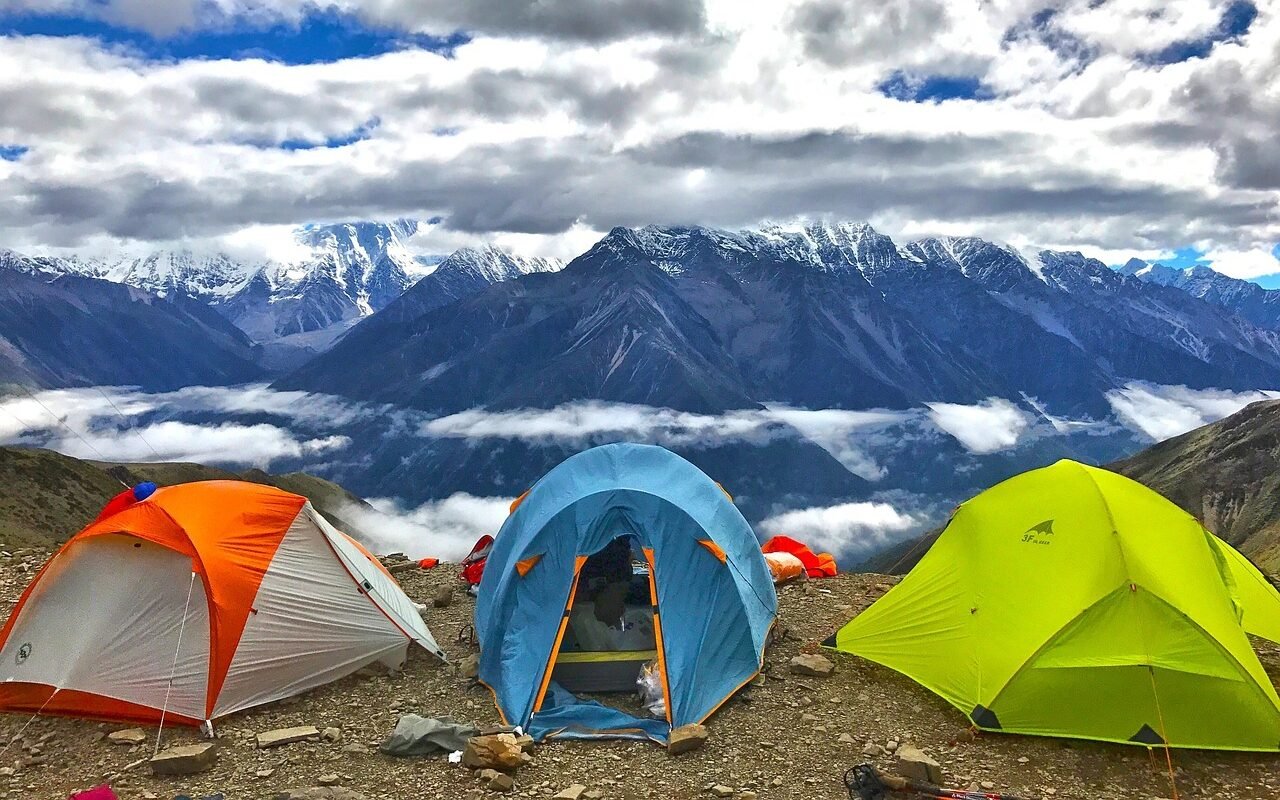 Matching Your Tent with the Right Campsite: Location matters
Choosing the best 8-person tent is only half the battle; selecting the ideal campsite is equally vital. The environment can significantly impact your camping experience. When you've invested in a large tent, consider the size and the terrain of your campsite. Flat terrains without sharp objects are ideal for tent floor longevity and comfortable sleeping arrangements. Look for sites shielded from strong winds or those that have natural barriers, such as trees or boulders.
Proximity to water sources can be valuable, but ensure you're not so close that rising water levels or nocturnal tides can surprise you. Remember, while a picturesque lakeside campsite might look inviting, being too close can lead to increased condensation inside your tent or potential flooding. Balance beauty with practicality.
Caring for Your Tent: Maintenance and storage tips to extend tent life.
Your tent, especially a high-quality 8-person tent, can be a considerable investment. Thus, ensuring its longevity is crucial. Here are some guidelines:
Cleaning: After every camping trip, gently clean your tent using a mild soap and water solution. Ensure it's free from dirt, leaves, or pine needles.
Dry Completely: Before storing, always ensure your tent is completely dry. Even a slight dampness can lead to mold or mildew, damaging the tent fabric. Open one or two doors to air it out and open up any room divider.
Storage: When storing, loosely roll or stuff your tent into its storage bag. Don't fold it the same way every time; this can lead to creases that might weaken the fabric over time.
UV Damage: Limit prolonged exposure to direct sunlight. Ultraviolet (UV) rays can degrade the tent material over time. Use a rainfly or a tarp to shield the tent from unnecessary UV exposure.
Zippers and Seams: Use a silicone lubricant for the zippers to keep them functioning smoothly. Additionally, check seams regularly and consider seam sealing as a preventative measure.
A final note on the best 8-person tents
Embarking on an outdoor adventure with family or friends is one of life's most rewarding experiences. However, the gear you choose is crucial whether you are camping in New Zealand or a spot closer to home.
While nature offers the spectacle, the gear you choose, especially your tent, can significantly shape your adventure's quality and determine whether you get to sleep comfortably. Beyond just the tent's features, factors like the chosen campsite and proper tent care play crucial roles in ensuring a memorable outing.
As you make your choice, remember: the best tent is not just about space or durability; it's about the memories it also allows you to create.
As usual, feel free to reach out with any questions or additions!
//Josephine
FAQs about large tents
What is the best 8-man tent to buy?
The best 8-man tent varies by individual needs, but the Nemo Wagontop often stands out for its design and durability. Ensure the tent's features match your requirements and conditions.
What is the most popular type of tent?
The dome tent is the most popular due to its aerodynamic shape, stability, and versatility for various camping conditions.
Who makes the toughest tents?
Brands like The North Face, Teton, MSR, and Hilleberg are often recognized for their durable, four-season tents.
Should I get a 6-person or an 8-person tent?
Choose based on your group size and space needs; an 8-person tent offers more space but is larger and potentially heavier.
How many people can sleep in an 8-person tent?
An 8-person tent can sleep eight side-by-side, but for extra gear or comfort, fewer individuals may be preferable.
The article may include affiliate links, meaning that I may receive affiliate compensation at no cost to you if you decide to purchase. Read more in my
Affiliate Disclosure.
BEST TRAVEL RESOURCES
BOOK YOUR FLIGHT: Not sure how to get the best and cheapest flights? I always use Skyscanner for the best deals. The best tip is to be flexible with dates and destinations if you want the cheapest options.
Alternatively, for frequent travelers, get a membership with Wayaway and receive a cashback on cheap flights and hotels every time you book! Via the link, you even get a 10% discount on your membership.
BOOK GREAT ACCOMMODATION: Booking great accommodation is not difficult but it sucks paying too much. Use Booking.com for the greatest hotel deals and Hostelworld for amazing hostel stays. Alternatively, you can sign up for Worldpackers to get FREE accommodation in exchange for your work.
BEST TRAVEL INSURANCE: Traveling without insurance is a mistake that you don't want to make - trust me I've tried. I'd suggest SafetyWing as they offer great and flexible policies - especially if you are traveling for a long time or a digital nomad. World Nomads is another great insurance with extensive coverage.
NEED HELP WITH YOUR VISA? Figuring out how and when you need a visa can be a bit of a jungle. iVisa is a very handy and user-friendly service.
HAS YOUR EU FLIGHT BEEN DISRUPTED? Use AirHelp as a service to get flight compensation on your European flights in case your flight was delayed, canceled, or disrupted in other ways. More often than not you are actually entitled to compensation.