Embracing the ultimate luxury, romantic hotels with a jacuzzi in-room will transform a simple hotel stay into an indulgent, immersive experience. A private Jacuzzi steps away from your bed promises comfort, relaxation, and a unique touch of romance.
In this blog post, we'll journey through the United States, visiting top destinations like Pennsylvania, New York, California, Texas, Colorado, Las Vegas, and Florida, to unveil the best romantic hotels with an in-room Jacuzzi.
Importance of Choosing a Romantic Hotel with a Jacuzzi
Choosing a romantic hotel with a Jacuzzi in-room is about more than simply finding a place to sleep for the night; it's about enhancing your travel experience with a touch of luxury and intimacy.
An in-room Jacuzzi provides a private haven where couples can relax and unwind after a long day of sightseeing or business meetings.
It offers a chance to soak away your worries, soothe your muscles, and spend quality time with your partner. With bubbles, mood lighting, and the comfort of warm water, it's an opportunity for romance to bloom in the privacy of a private bathroom in your suite.
Top Rated Hotels with In-Room Jacuzzi Across the US
There's no shortage of romantic hotels across the US that offer the luxury of an in-room Jacuzzi. Whether you're planning a special surprise for your partner, celebrating an anniversary, or simply looking to make your holiday extra memorable, these hotels cater to all desires.
In this section, I'll introduce the top-rated romantic hotels featuring in-room Jacuzzis in popular US destinations, including Pennsylvania, New York, California, Texas, Colorado, Las Vegas, and Florida. Prepare to step into a world of relaxation, comfort, and an unforgettable luxury experience.
My Top Picks for the Best Hotels with In-Room Jacuzzis in Pennsylvania
Pennsylvania is a gem of a travel destination that combines historical charm with modern attractions. It's home to some of the most significant historical sites in the US, like the Liberty Bell and Independence Hall.
But what makes it stand out to me is its picturesque natural beauty. From the rolling hills of the Pocono Mountains to the stunning landscapes of the Delaware Water Gap, there's a lot to explore outdoors.
Whether you're a history buff, an outdoor enthusiast, or a foodie, Pennsylvania truly has something for everyone.
Imagine finding a quaint B&B nestled right in the heart of Ephrata. That's Twin Pine Manor for you. The manor presents an inviting garden terrace, a well-equipped fitness room, and even couple's massages. If you're like me and love a bit of adventure, you can engage in outdoor activities like hiking or cycling around the area. The rooms offer cozy seating areas, flat-screen cable TV, and private bathrooms. Some even come with an in-room whirlpool tub!
My Recommendation: The Superior King Suite caught my eye. It's serene and comes with a jetted tub right in the room – a picture-perfect setting for a truly relaxing honeymoon or romantic stay.
The starting price for staying here is also decent at around $175.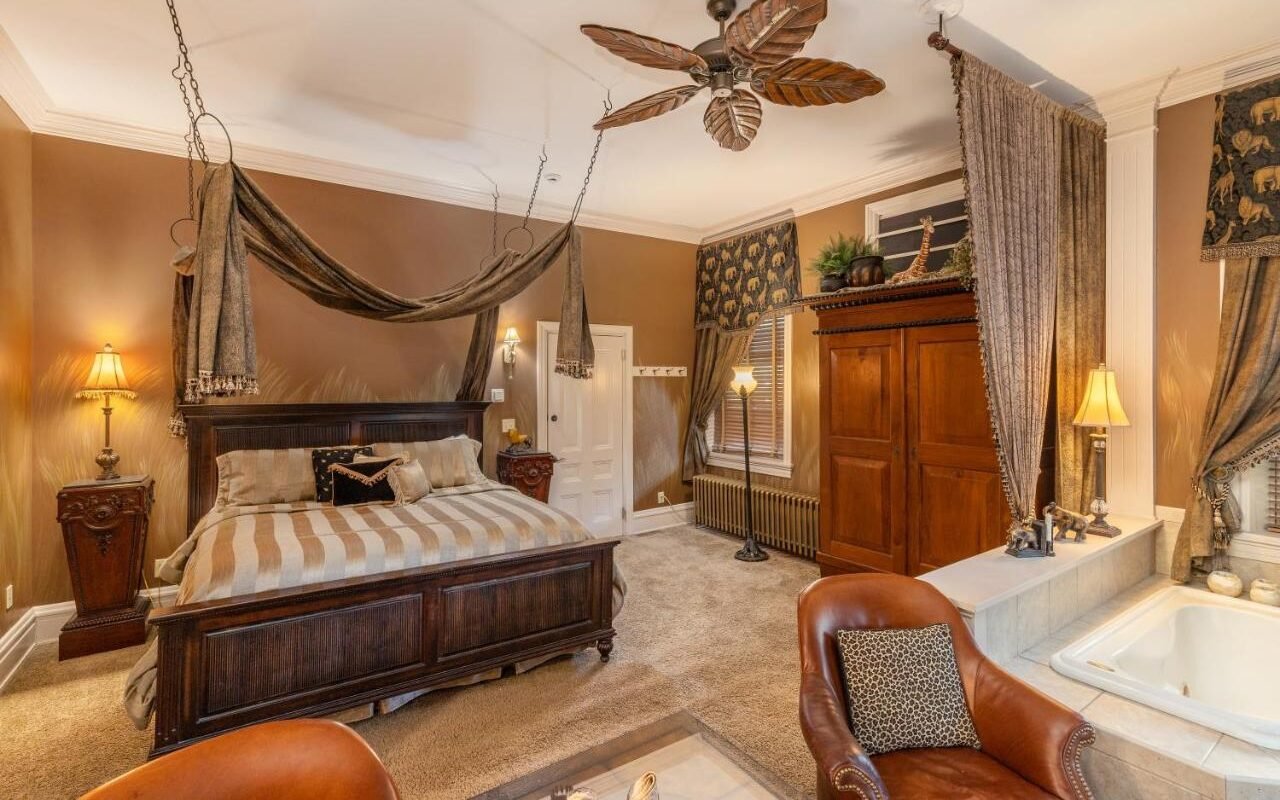 Have you ever fantasized about escaping to a distinctive, historic inn? Your dream getaway awaits at The Londonderry Inn. This inn promises not only enchanting decor that oozes charm but also allows you to experience a taste of history. The highlight is a shared lounge, a beautiful garden with a terrace, and ample free parking to ensure your stay is seamless.
What's more, all rooms are designed to cater to your every need, equipped with seating and dining areas and coffee makers. If you are looking for romantic getaways in PA, their hot tub suites complete with fireplaces make for an ideal pick.
As a bonus, Hershey's Chocolate World is just a quick drive away from the property.
My Recommendation: To book a hot tub suite, it is advised to contact the B&B directly.
The starting price for staying here is $295.
The Kimpton Hotel Palomar is truly a gem in the city, with its stunning city views, spa hot tub suites throughout, and pet-friendly policy. Plus, their around-the-clock concierge service makes any stay worry-free. The daily complimentary coffee and tea are perfect for kickstarting my day, and the complimentary wine at the bar each evening is a great way to unwind. And let's not forget the in-house restaurant, Square 1862 – it has all the meals covered, from breakfast to dinner.
My Recommendation: For a touch of luxury, I recommend booking the Premium King Room. It comes with a jetted tub and a fantastic city view that adds a touch of romance to any stay.
The rooms come at $290 as a starting price.
Top Suite Hotels in New York with Jacuzzi in Room
New York is famous for its bustle, and there's no better way to unwind after a busy day in the Big Apple than by sinking into a soothing hot tub in-room. Here are my top picks for luxury suite hotels that offer this fabulous amenity:
I've got to tell you, the Manhattan Suites here are the epitome of lavish living. Whether you're traveling solo, as a couple, or with a group of friends, these one or two-bedroom suites will make you feel like you've struck gold.
Each suite boasts a spacious living area complete with a dining area and a handy kitchen. You'll love the expansive bedrooms, each adorned with its own private bathrooms. But the real magic happens when you step onto the private terrace and catch sight of those stunning city views.
A night here starts at $800, and let me tell you, it's worth every penny.
This place lives up to its name. The duplex penthouse is like a dream come true. The one-bedroom suite, perfect for couples or solo adventurers, offers a spacious living and dining area, a kitchen that has everything you need, and a bedroom that's as comfortable as it is luxurious.
The real highlight, though, is the private balcony with its panoramic city views. It's the perfect spot to unwind after a day out, especially when you've got your own private Jacuzzi.
Prices start at $180, which I think is a steal for what you get.
Nestled in Midtown Manhattan, The Kimberly Hotel is one of my favorites.
The suites here are a cut above, offering more than just a place to sleep. The views of the city are simply unbeatable, and there's a Jacuzzi tub in every suite to help you soak away the hustle and bustle.
If that wasn't enough, there's a rooftop pool, a 24-hour fitness center, and an on-site restaurant for when you don't feel like venturing out.
You can experience all this luxury from $450 a night.
Florida's Romantic Hotels with In-room Jacuzzi
Florida, with its sunny beaches and beautiful landscapes, is a haven for couples looking for a romantic escape. Here are my top three Florida hotels that offer in-room Jacuzzis and boast high ratings and rave reviews: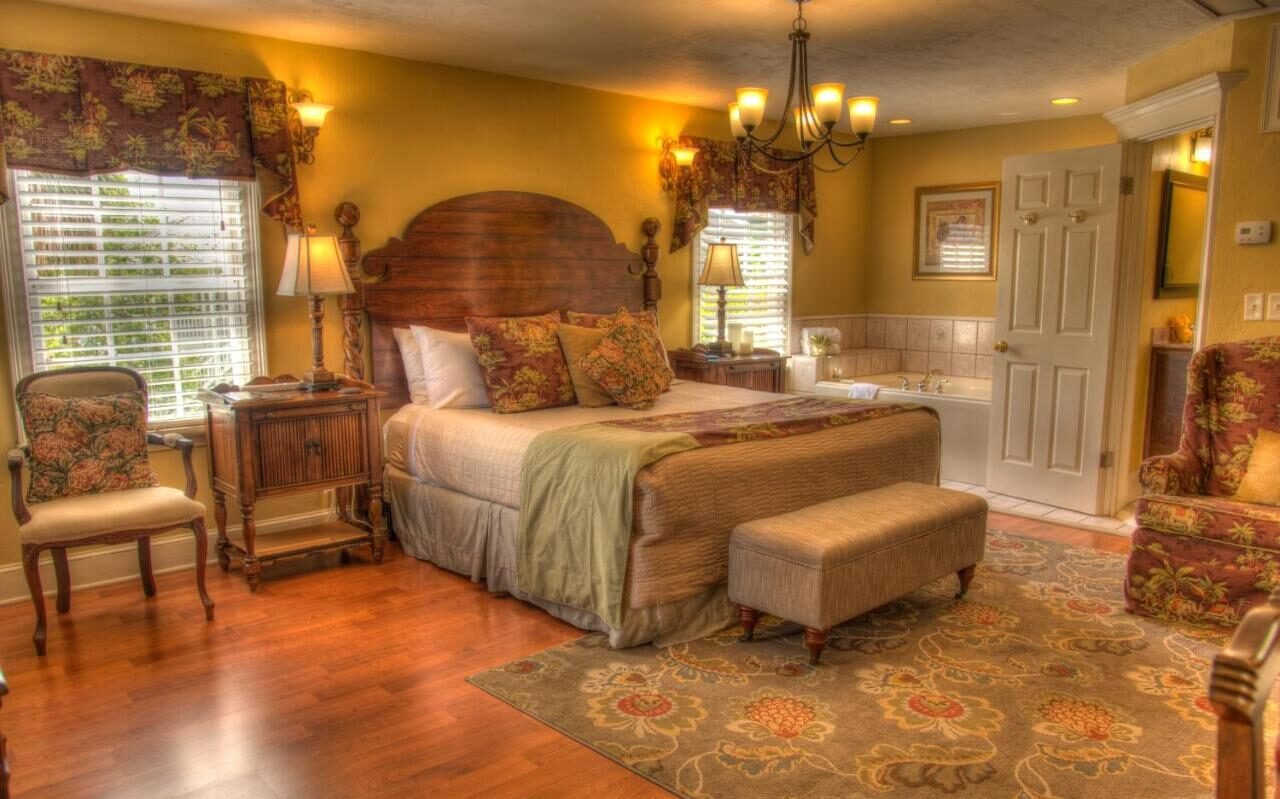 Imagine walking into a spacious, air-conditioned double room, complete with a hot tub, just waiting for you to step in. Well, that's exactly what you get at the Casa De Solana. There's a comfy seating area to relax in and garden views that will make you feel completely at ease.
This charming B&B is right in the heart of St. Augustine, with attractions like Potter's Wax Museum just a short walk away. To top it all off, you'll wake up to a home-cooked breakfast each morning.
The starting price here is around $260, and it's a popular choice for couples.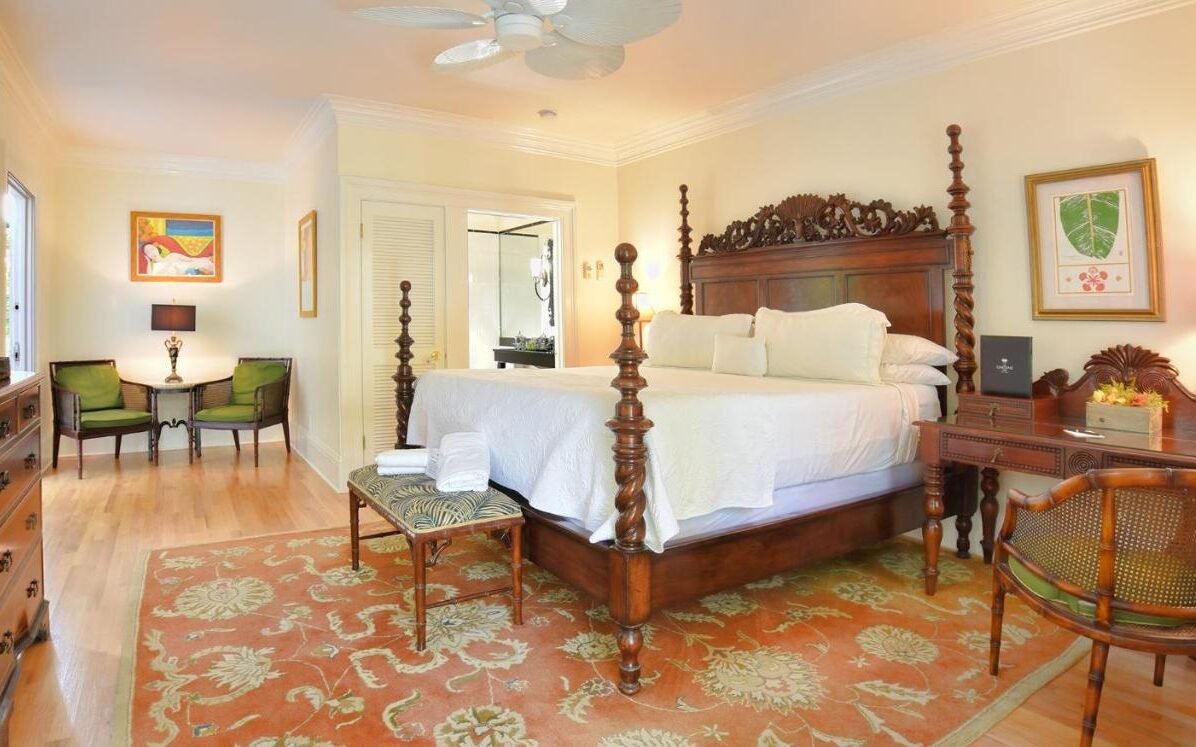 If you're after a hotel with a relaxing atmosphere, The Gardens Hotel in Key West should be on your list. Their Carriage House room, situated above the pool, is a haven of tranquility, complete with a spa tub in the marble bathroom. The private veranda overlooking the pool and gardens is a perfect spot for a romantic sunset.
The hotel's location is spot on, just a minute's walk from Duval Street, and a few minutes' drive to the Key West Butterfly and Nature Conservatory. What I love is their live jazz music every Sunday.
A night here starts from $570, and it's an adults-only retreat.
Now, if you want to splurge and live it up, the Four Seasons Hotel at The Surf Club is your go-to. The King Room here screams elegance, with floor-to-ceiling windows offering views of Collins Avenue and a spa bath waiting for you in the marble bathroom. A balcony and a large flat-screen TV are just cherries on top.
The hotel, which harks back to the 1930s, boasts stunning architecture and interiors, a beach, a pool, and an on-site restaurant serving dishes inspired by Italy's Amalfi Coast.
At a starting price of about $800, it's a luxury option, but the indulgence is worth it.
California's Top Hotels with In-room Jacuzzis
California is known for its diverse landscapes, beautiful coastlines, and luxurious hotels. Among these accommodations, some take luxury to another level, boasting in-room Jacuzzis for a relaxing and romantic stay. Here are three of the Golden State's finest:
A room with a personal hot tub on a private balcony overlooking 22 miles of undisturbed coastline, that's what you get with the Deluxe King room at the SeaVenture Beach Hotel. Along with this stunning vista, the room also offers a fireplace and a cable TV for cozy evenings.
Located just a 10-minute stroll from Downtown Pismo Beach, this hotel balances relaxation and convenience perfectly. Plus, their on-site restaurant serves up locally sourced food, ensuring you dine as well as your rest.
This slice of coastal heaven comes in at about $310 a night.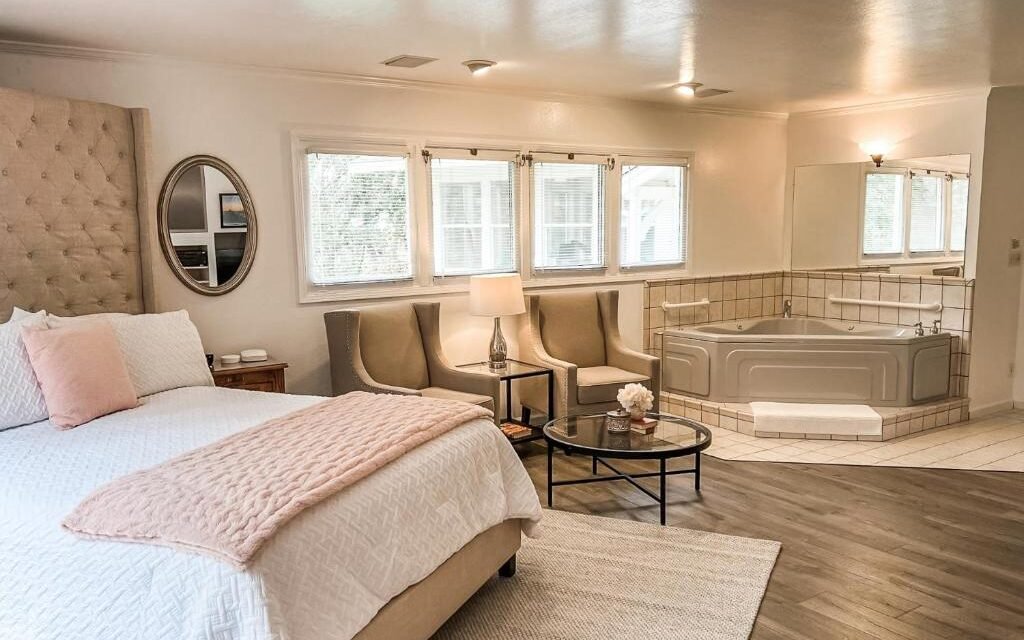 If you're after a more rustic charm, the Cabernet Suite at the Stahlecker House Inn in Napa is your perfect pick. This two-room, air-conditioned suite comes with a Jetted Tub for two and an outdoor patio for some fresh air.
Located a mere 5-minute drive from downtown Napa, the ranch-style inn sits on a vast one-acre plot, offering both space and tranquility. Napa is known for its wine, and you'll be glad to know that Napa Factory Stores are only a short drive away.
A stay in this charming suite costs around $350 a night.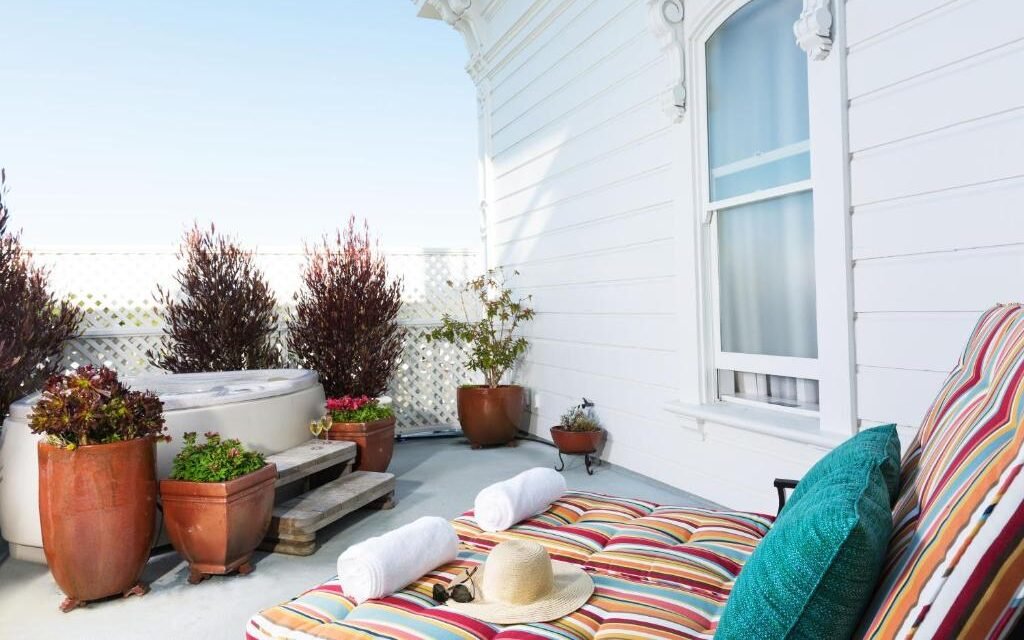 Perched on a bluff across from Cowell's Beach, the West Cliff Inn offers luxury with a Victorian touch. Their Superior King room, which comes with an outdoor spa, also features a balcony for some seaside viewing. Plus, it's just steps away from the Santa Cruz Beach and Boardwalk, offering ample opportunity for sightseeing and fun.
With luxurious rooms, marble-tile bathrooms, and modern amenities like high-speed internet and flat-screen TVs, the West Cliff Inn has your comfort in mind.
A room here starts from $380, and it's worth every penny for the luxury and location.
Texas's Premier Hotels with In-room Jacuzzis
Texas, known for its unique blend of Southern hospitality and cowboy charm, offers plenty of luxurious hotels with in-room Jacuzzis. These hotels provide an extraordinary stay with top-notch amenities, ideal for romantic getaways or simply relaxing after a long day of sightseeing. Here are three of the finest options: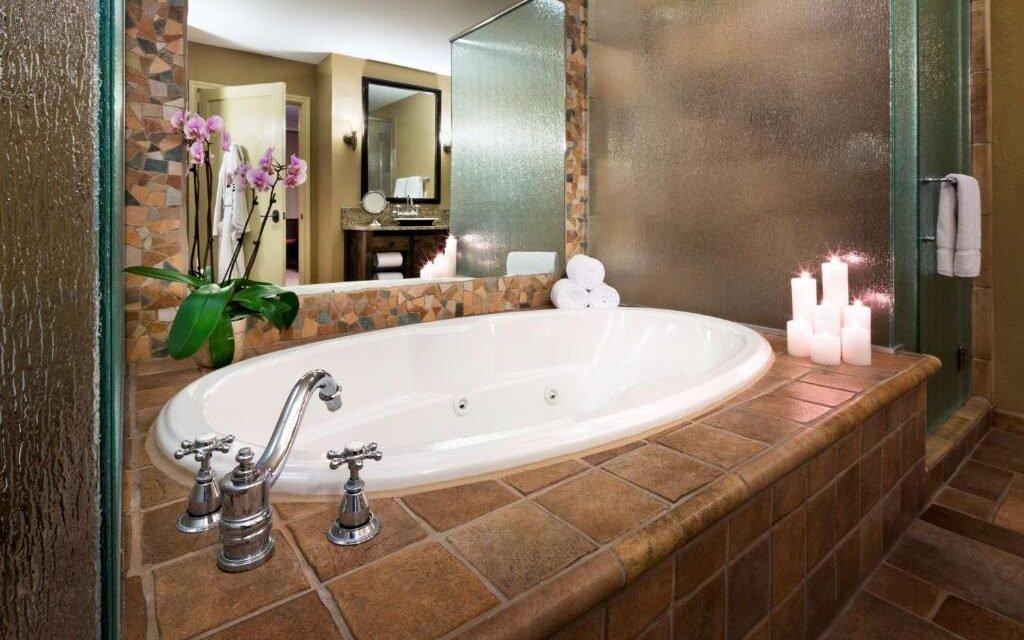 Offering the perfect blend of luxury and comfort, the Hyatt Residence Club in San Antonio boasts an array of amenities. These include an indoor and outdoor pool with a water slide, a fitness center, an on-site restaurant, and an outdoor fireplace to enjoy on those cooler evenings. For golf enthusiasts, there's a course right at your doorstep.
Some hot tub rooms feature a jetted tub, a seating area, and even a balcony or patio, perfect for taking in the serene surroundings. With a guest rating of 9.0, the Hyatt Residence Club promises an unforgettable stay.
Nestled in the vibrant heart of the city, The Sanford House Inn & Spa stands as a luxurious boutique hotel that exudes elegance. Not only does it house Restaurant506, renowned for its artistic presentation of gourmet dishes, but it also offers complimentary Wi-Fi and a sumptuous full breakfast.
The rooms, designed in a contemporary style, showcase exclusive artwork and sophisticated decor. They feature cable TV and a private bathroom, promising a blend of comfort and luxury.
In addition, The Sanford House Inn & Spa has a spa facility providing an array of services, from body massages and facial treatments to manicures and pedicures. The cherry on top is the magnificent tranquil garden adorned with majestic trees and fountains. With a stellar rating of 9.4, this establishment is a testament to the impeccable service and comfort it offers, making it an excellent choice for a romantic retreat.
Nestled in the vibrant heart of Houston, Hotel ICON, Autograph Collection offers guests a mix of contemporary and stylish accommodations. It comes equipped with amenities such as a fitness center and business center, catering to all types of guests.
Adding to its charm is an on-site restaurant serving a variety of meals from breakfast through dinner. This ensures your culinary needs are met without you ever having to step foot outside the hotel.
Notably, select rooms at the Hotel ICON boast splendid city views or a luxurious spa tub, enhancing the quality of your stay. This establishment caters to both your comfort and your senses, ensuring a memorable stay in Houston.
Fabulous Hotels in Colorado with In-Room Jacuzzis
Travelers to Colorado are in for an unforgettable romantic vacation filled with luxury and relaxation. Here are some of the best accommodations that this picturesque state has to offer, each featuring private hot tubs:
Immerse yourself in the old-world charm at Holden House 1902 Bed & Breakfast Inn. Situated in the picturesque Colorado Springs. This inn is the epitome of comfort and elegance, with shared lounging spaces, ample parking, and a lush garden with a serene terrace.
Every room at the Holden House is designed to offer a homely vibe, featuring a cozy seating area, a private bathroom, and modern conveniences like a flat-screen cable TV and a coffee/tea maker.
What sets many of the suites apart is the romantic touch of a bubbly soaking tub, adding an element of luxury and romance to your stay. With a stellar rating of 9.6, the Holden House 1902 Bed & Breakfast Inn guarantees a memorable stay for those seeking Colorado accommodations with in-room jacuzzis.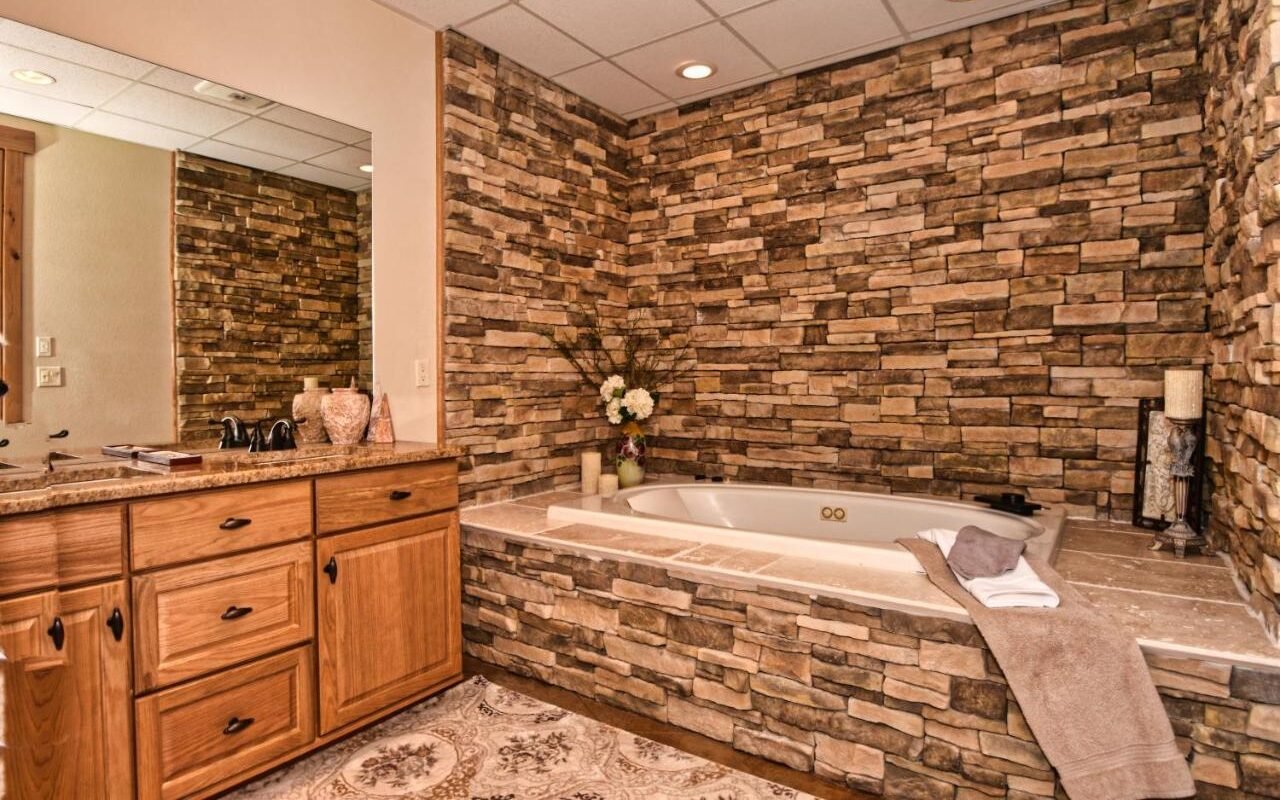 Rampart Range Resort, nestled in the beautiful region of Woodland Park, Colorado, presents a splendid blend of comfort and nature's bounty. Offering accommodations with free WiFi and ample private parking, the resort promises an effortless and enjoyable stay.
Each accommodation unit is designed to cater to your comfort, with several units featuring a balcony, a flat-screen cable TV, and a cozy seating area. Start your day with a hearty American breakfast served daily at the resort, fueling you up for the day's adventures.
The resort also features a sunny terrace, perfect for soaking up the picturesque surroundings. And if you're a fan of indoor games, you can enjoy a round of billiards within the premises. For the outdoorsy guests, the nearby area offers ample opportunities for hiking or skiing.
With an impressive guest rating of 9.9, Rampart Range Resort stands as an excellent choice for those seeking an adventurous yet relaxing stay in Colorado.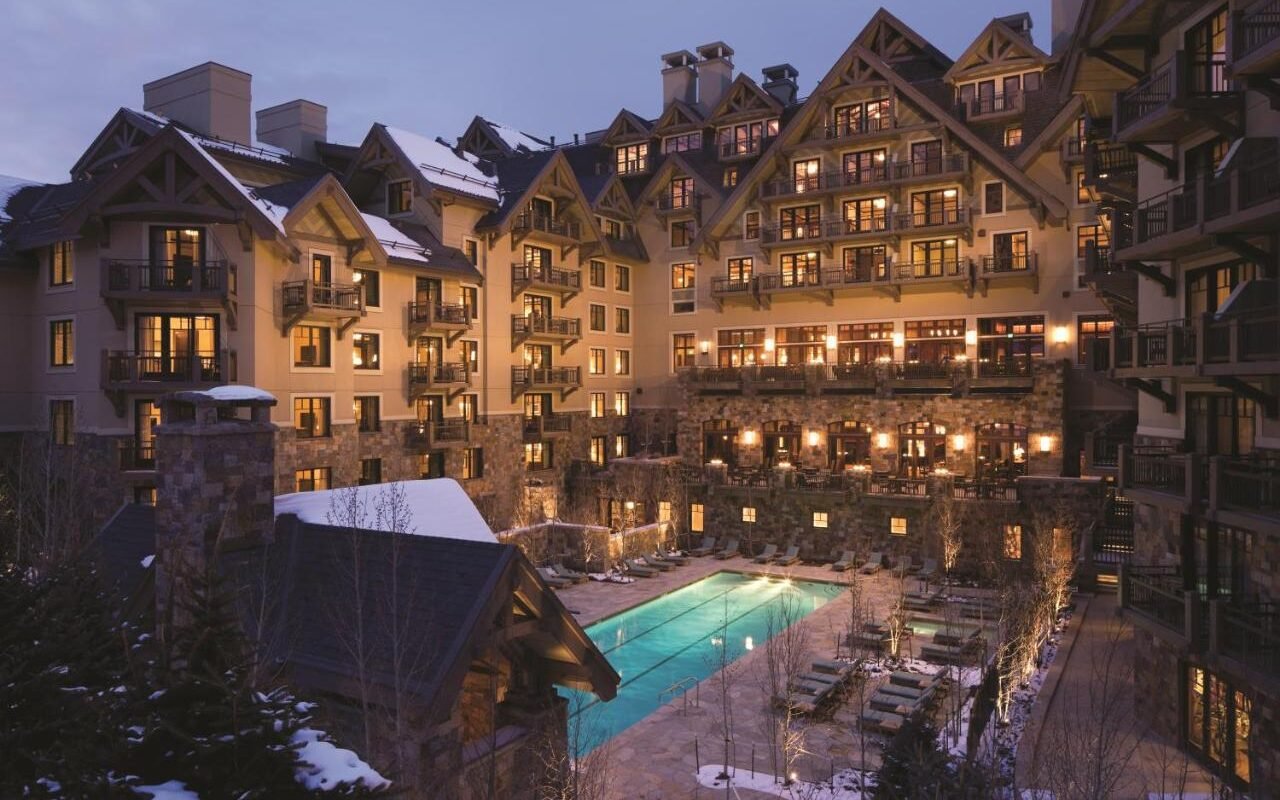 Indulge in a sumptuous stay at the entrance of Vail Village, at the Four Seasons Resort and Residences Vail. Boasting the only Five-Star Spa in the Vail Valley, this property offers easy access to Vail Village's shops and restaurants and has a dedicated Ski Concierge near Gondola One's base.
Enjoy complimentary s'mores by the heated pool and feast on modern mountain meals at the onsite Remedy Bar & Flame Restaurant. In addition to the communal jacuzzis, the resort's 6-bedroom Designer Residence features a private hot tub.
After a soak, you can cozy up by the fireplace, read from the extensive in-room book collection, or unwind in the enormous kitchen. This resort is a top pick for those seeking Colorado ski accommodations with private hot tubs.
Romantic Hotels in Las Vegas with Jacuzzi in the room
Visiting Las Vegas can be an unforgettable experience, particularly if your accommodations add to the charm. Here are some top Las Vegas hotels famous for their in-room jacuzzis, providing the perfect relaxation spot after a long day of exploration: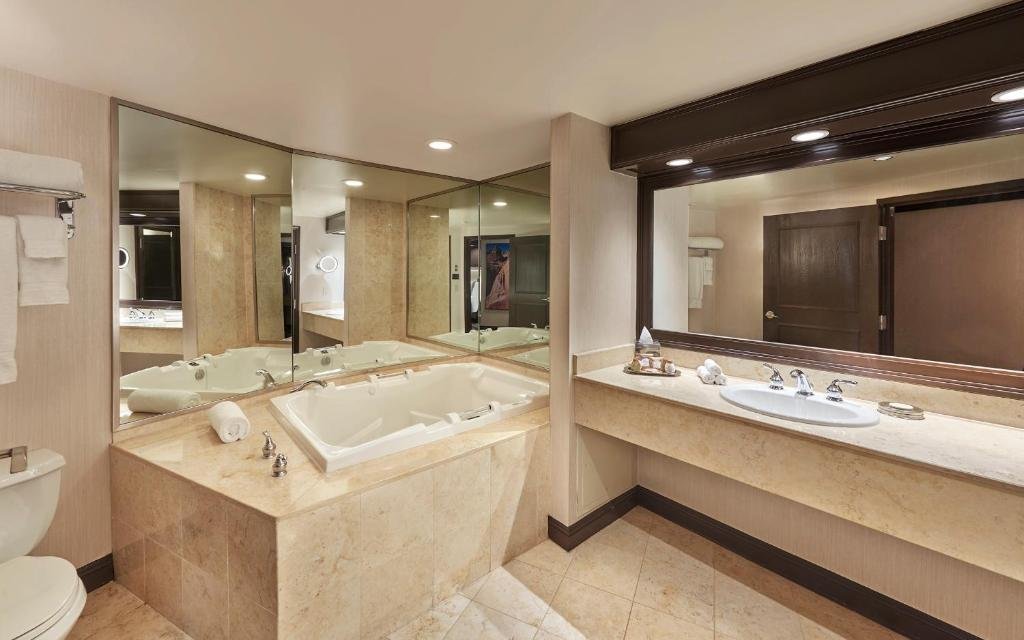 Perfectly located in the heart of the Las Vegas Strip, Treasure Island is an exhilarating casino hotel well-known for its vibrant ambiance and proximity to the city's top attractions.
The hotel's newly renovated rooms and suites offer modern comforts and amenities. Every suite features an in-room jacuzzi alongside a separate shower for a luxurious stay.
Enjoy the view of the Las Vegas Valley or the Strip through floor-to-ceiling windows, and take advantage of 24-hour room service. If a pampering stay is your goal, Treasure Island is the place to be.
ARIA Resort & Casino stands tall as a sophisticated gem in downtown Las Vegas, offering exquisite suites with jacuzzis that overlook the cityscape and mountains. With an on-site spa and salon, three sparkling swimming pools, and rooms equipped with minibars and smart controls, ARIA promises an upscale experience.
For an extra-special stay, consider a Stay Well room featuring infused showers, air purifiers, and soaking tubs. Or opt for a Tower or Sky Suite for luxury comfort, complete with a marble jacuzzi tub, steam shower, plush linens, and complimentary concierge and butler services. As an AAA Five Diamond-rated property, it's one of Las Vegas's top-notch hotels offering jacuzzis in the rooms.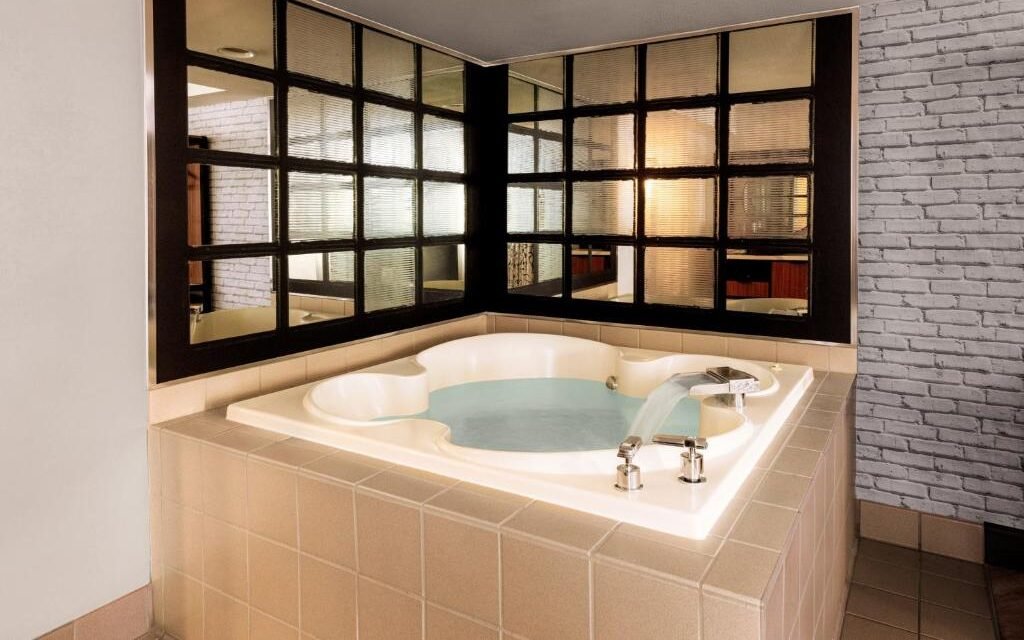 Immerse yourself in the buzzing energy of New York New York, a themed hotel that provides a slice of the Big Apple right in Las Vegas. This hotel features an iconic exterior mimicking the NYC skyline, complete with a replica of the Statue of Liberty and the Big Apple Coaster.
But it's not all about the thrills here.
New York New York also provides a serene retreat with its in-room spa and whirlpool tubs. Choose from a variety of spacious rooms with modern decor, safety features, and granite bathrooms. The Spa Suite comes with an elegant spa tub, oversized shower, vanity, and seating area, offering the perfect blend of excitement and relaxation.
Tips for Booking a Hotel with a Jacuzzi in the Room
Booking a hotel room with a jacuzzi can enhance your holiday experience significantly. However, there are a few considerations to keep in mind to make the most of your booking.
Research and Reviews: Online reviews can provide insights into the quality of the in-room jacuzzi and overall room comfort. Look out for mentions of cleanliness, functionality, and privacy.
Location of the Jacuzzi: Check if the jacuzzi is located indoors or on a private balcony. Depending on your preference, you might want to consider the privacy and view it offers.
Size of the Jacuzzi: Jacuzzis come in various sizes. If you're planning a romantic getaway, ensure the jacuzzi can comfortably accommodate two people.
Cost: Factor in the cost as well. A room with a jacuzzi may come at a higher price, but the luxury and relaxation it provides can be worth the extra cost.
Ask Directly: When in doubt, don't hesitate to reach out to the hotel directly. They can provide the most accurate and up-to-date information about their facilities.
A Final Note on Romantic Hotels with Jacuzzi in the Room
Whether it is a romantic getaway to New Mexico or California, booking a romantic hotel with an in-room jacuzzi can provide an unforgettable getaway. The enhanced privacy and relaxation offered by these luxury amenities can significantly elevate your overall vacation experience.
From the heart of Las Vegas to the majestic Rocky Mountains of Colorado, the United States has a plethora of fantastic hotels that cater to this exact luxury. Whether you're seeking a revitalizing soak after a day of exploration or a private retreat to unwind with your loved one, a jacuzzi in your hotel room can be the ultimate vacation indulgence.
FAQs about booking romantic hotels with Jacuzzi in room
What is it called when a hotel has a Jacuzzi in the room?
When a hotel has a Jacuzzi in the room, it is typically referred to as a "Jacuzzi Suite" or "Suite with a Jacuzzi." These are premium rooms that feature a private Jacuzzi either inside the room or on a private balcony or patio.
What is the difference between a hot tub and a Jacuzzi?
A hot tub is a large tub or small indoor pool full of water used for relaxation or hydrotherapy, often heated using electric or natural gas heaters. A Jacuzzi, on the other hand, is a brand name that has become synonymous with the product, much like Kleenex for tissues.
How do you know if a hotel room has a Jacuzzi?
The best way to know if a hotel room has a Jacuzzi is by checking the hotel's website or contacting the hotel directly. Hotel room descriptions typically list all the amenities offered in the room. You can also look at reviews or pictures posted by previous guests.
What is a spa resort hotel?
A spa resort hotel is a type of accommodation that offers a wide range of health and wellness treatments alongside typical hotel amenities. These treatments can include massages, facials, body treatments, and other spa services. They also often have amenities such as hot tubs, saunas, and fitness centers.
What is a Jacuzzi suite?
A Jacuzzi suite is a hotel room or suite that comes with a private Jacuzzi. This feature can be inside the room, in the bathroom, or sometimes on a private balcony or patio.
The article may include affiliate links, meaning that I may receive affiliate compensation at no cost to you if you decide to purchase. Read more in my
Affiliate Disclosure.
BEST TRAVEL RESOURCES
BOOK YOUR FLIGHT: Not sure how to get the best and cheapest flights? I always use Skyscanner for the best deals. The best tip is to be flexible with dates and destinations if you want the cheapest options.
Alternatively, for frequent travelers, get a membership with Wayaway and receive a cashback on cheap flights and hotels every time you book! Via the link, you even get a 10% discount on your membership.
BOOK GREAT ACCOMMODATION: Booking great accommodation is not difficult but it sucks paying too much. Use Booking.com for the greatest hotel deals and Hostelworld for amazing hostel stays. Alternatively, you can sign up for Worldpackers to get FREE accommodation in exchange for your work.
BEST TRAVEL INSURANCE: Traveling without insurance is a mistake that you don't want to make - trust me I've tried. I'd suggest SafetyWing as they offer great and flexible policies - especially if you are traveling for a long time or a digital nomad. World Nomads is another great insurance with extensive coverage.
NEED HELP WITH YOUR VISA? Figuring out how and when you need a visa can be a bit of a jungle. iVisa is a very handy and user-friendly service.
HAS YOUR EU FLIGHT BEEN DISRUPTED? Use AirHelp as a service to get flight compensation on your European flights in case your flight was delayed, canceled, or disrupted in other ways. More often than not you are actually entitled to compensation.