Mexico City stands as a culinary paradise, where flavors, traditions, and innovation intertwine. The Mexican capital is filled with taco stands, street vendors, and upscale eateries, each offering a unique element of Mexican cuisine. Food in Mexico City is diverse and colorful. From delicious tacos al pastor or vegan tacos made with fresh tortillas to the famous mole sauce, the culinary offerings reflect the nation's rich history and diverse influences.
Mexico City's food scene not only pays homage to its indigenous roots but also embraces contemporary interpretations. Marketplaces like Mercado de la Merced and Mercado Roma, in the Roma Norte neighborhood, are treasure troves of ingredients, reflecting the city's culinary tapestry and showcasing traditional Mexican cuisine.
In this blog post, I will highlight some of the best Mexican food items to try when you visit Mexico City and some of the best Mexico City restaurants that have made Mexican cuisine famous around the world. Some of the best restaurants in Mexico, even rank among the 50 best Restaurants in the world.
UNESCO's Recognition of the Mexican Cuisine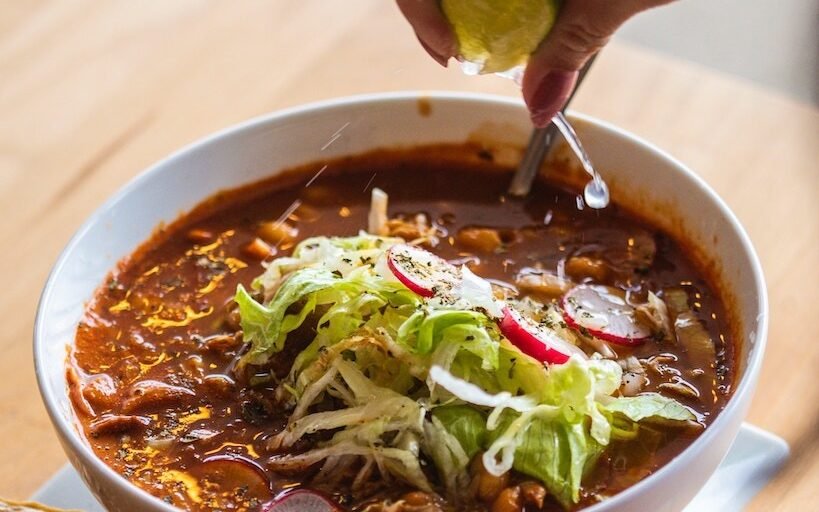 In a historic and flavorful declaration, UNESCO has recognized Mexican food as an intangible cultural heritage of humanity. Mexican food has transcended borders to become a global hit.
UNESCO's recognition highlights the significance of Mexican food being recognized as an Intangible Cultural Heritage of Humanity. Passed down through generations, the art of crafting tortillas, salsas, and tamales carries within it the stories, rituals, and histories of diverse Mexican regions.
This acknowledgment by UNESCO not only celebrates the artistry of chefs and home cooks but also highlights the agricultural practices that sustain this Mexican culinary heritage.
Iconic Restaurants to Indulge in
Mexico City stands as an international hub for food experiences and also offers some of the best restaurants in the world. Here are some of the most famous restaurants and highly acclaimed restaurants that Mexico City has to offer. Trust me when I say that you are about to experience an ultimate upscale culinary adventure.
Pujol: An Innovative Culinary Experience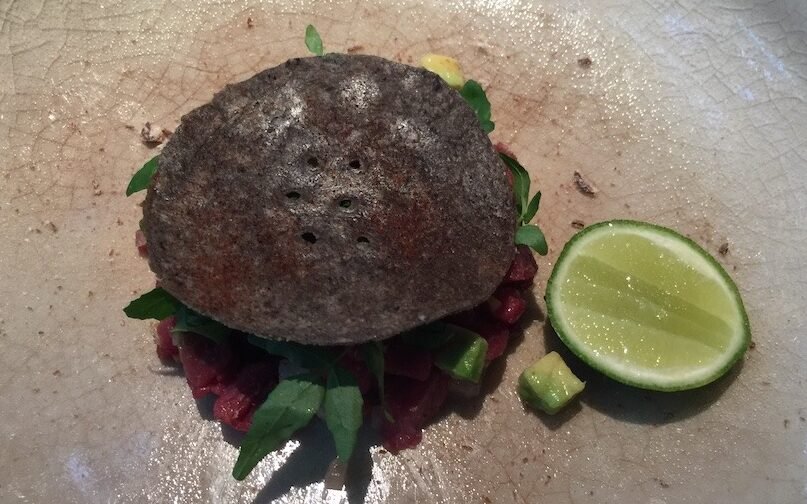 Located in the famous Polanco neighborhood in Mexico City, Pujol is the crown jewel of restaurants in Mexico City that attracts locals and visitors.
This restaurant has risen through the ranks, securing its place as the 13th-best restaurant in the world in the prestigious 2023 World's 50 Best Restaurants awards. Notably, it holds the distinction of being the second-best Mexican restaurant on this list, just trailing behind Quintonil Mexico City, which clinched the 9th position this year.
Under the guidance of acclaimed Chef Enrique Olvera and Chef de Cuisine Jesús Durón, Pujol's distinctive blend of exceptional cuisine and stylish setting has taken the culinary scene by storm.
A Journey Back in Time and Flavor
The Pujol story dates back to 2000 when Chef Enrique Olvera founded the restaurant with a vision to celebrate the richness of Mexican gastronomy.
With a focus on unique techniques, authentic spices, and a nod to the nation's history, Pujol began its culinary voyage. With constant mention and earning awards in Latin America and The World's 50 Best Restaurants since 2016, Pujol has transformed into a global hotspot for food enthusiasts.
Elevating Mexican Cuisine Globally
Enrique Olvera's dedication has propelled him to the top echelons of the culinary world. Olvera is celebrated as one of the best chefs in the world. Still, he has also expanded his other restaurant concepts to the United States with the now-famous Cosme restaurant in New York earning a spot on the list of the 100 Best Restaurants in the World in 2022.
Culinary Masterpieces at Pujol Mexico City
Pujol Mexico City presents a dynamic seven-course tasting menu that evolves with the seasons. While the menu changes, the signature Mole Madre and Mole Nuevo remain constant – an homage to Mexican tradition.
Among the highlights is the mouthwatering baby corn with chicatana ant mayonnaise, a dish that seamlessly blends simplicity and flavor. Served with an array of tortillas, the Mole Madre offers a symphony of tastes. The tasting menu experience is priced at $150 per person, excluding drinks and gratuity.
Omakase Taco Time at Pujol Mexico City
The much-loved taco bar at Pujol offers a ten-course omakase menu that redefines the classic Mexican dish. Imagine scallop tacos with avocado, ginger, and shiso, or squash blossom tacos with koshihikari rice and amberjack.
This journey through flavors is enhanced by the personal touch of the chef's favorites, such as amberjack ceviche with palm hearts and fennel. Pujol's specialty, the continuously cooking mole since 2013, graces your palate like a delicate, intricate blend of melted chocolate. The omakase taco experience comes for $175 per person, excluding drinks and gratuity.
An Atmosphere of Elegance
Pujol's new home, established in 2017, is in a leafy suburb of Mexico City. Whether seated indoors or on the terrace, guests are immersed in an atmosphere that combines sophistication with comfort.
The surroundings of this restaurant in Mexico City are truly beautiful and impressive in itself.
A Taste of Mexico's Finest
Pujol Mexico City beckons all those who seek an authentic encounter with Mexico's culinary treasures. With signature dishes like Mole Madre and Mole Nuevo, a journey through their seven-course tasting menu is a culinary symphony.
Plan Ahead for a Remarkable Experience
Reservations open a year in advance, indicating the high demand for this culinary haven. If you're considering a visit, planning a couple of months ahead is advisable. An insider tip for solo travelers: The Omakase experience may hold a surprise spot just for you.
A Recent Shift in Global Rankings
In the ever-evolving world of gastronomy, Pujol's ranking has adjusted. Previously hailed as the best restaurant in North America and ranked 5th globally, it now proudly stands as the 13th best restaurant worldwide. This development signifies the fluid nature of culinary acclaim. Notably, Quintonil has ascended to the forefront, claiming the title of the best restaurant in Mexico and securing the 9th position globally.
Quintonil: A Gastronomic Journey with Nature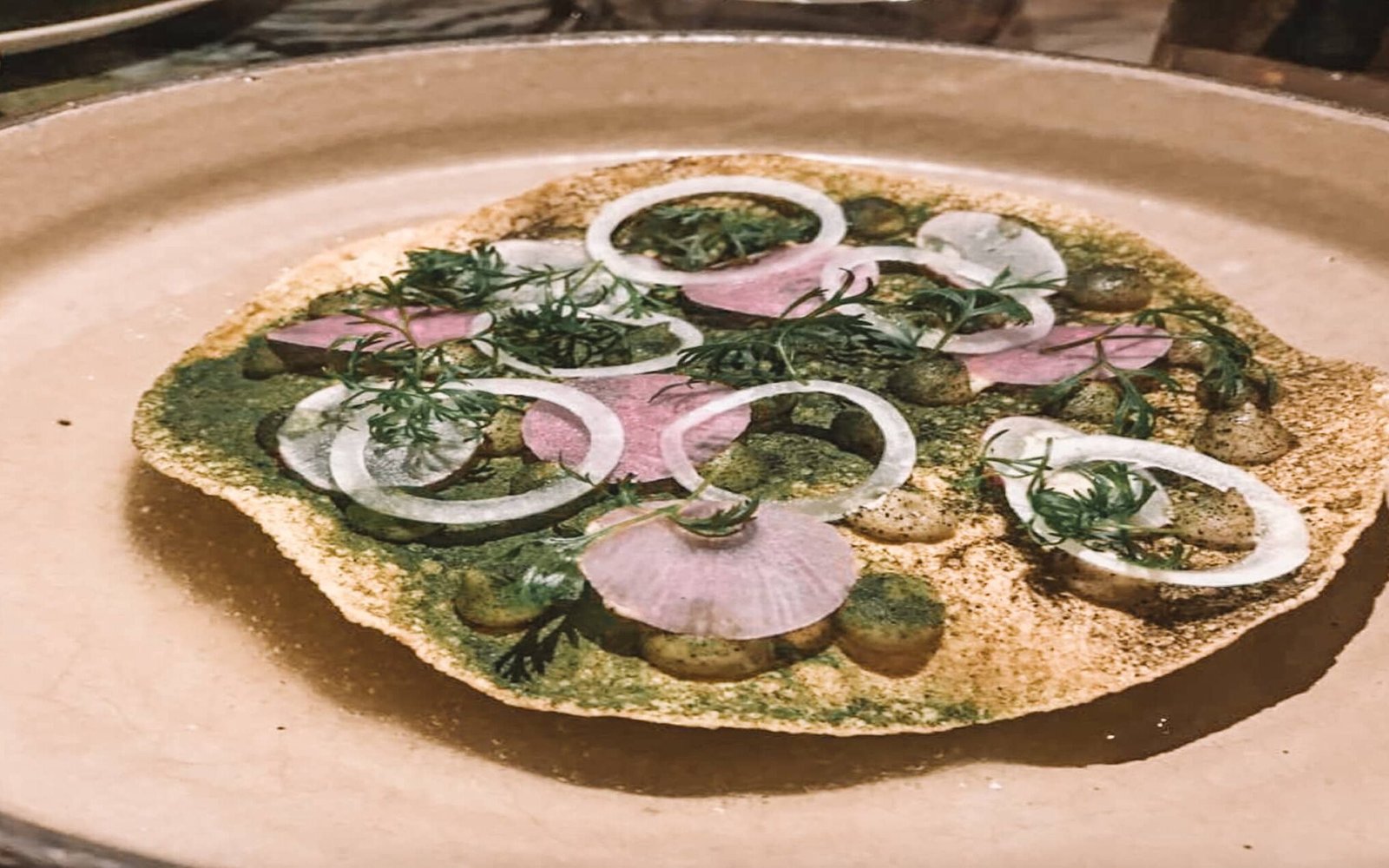 Exciting news has catapulted Quintonil Mexico City into the limelight – it secured the top spot as Mexico's Best Restaurant in the 2023 50 Best Restaurants Awards, ranking an impressive 9th globally.
If you're seeking an exquisite fine dining affair brimming with authentic Mexican flavors, look no further than Quintonil, the brainchild of Chef Jorge Vallejo.
Tradition and Innovation
Nestled in the upscale Polanco neighborhood, Quintonil beautifully merges tradition with modernity. Chefs Alejandra Flores and Jorge Vallejo's culinary prowess has been on full display since opening in 2012.
The restaurant's name, derived from the Nahuatl words "quiltonilli" (edible plant or weed) and "tonalli" (vitality), embodies its commitment to using local, indigenous ingredients.
Chef Jorge Vallejo's Journey
Chef Vallejo's journey spans from Pujol, under the tutelage of Enrique Olvera, to the prestigious Noma in Copenhagen. In 2012, alongside his wife Alejandra Flores, he founded Quintonil. Alejandra expertly manages the front-of-house team, known for its outstanding hospitality.
An Enchanting Dining Experience
Quintonil's charm extends to its elegant and minimalistic ambiance. Natural light floods through large windows, illuminating the restaurant's bright and airy atmosphere. The knowledgeable and attentive staff guides you through a culinary adventure like no other.
Elevating Mexican Flavors
The menu at Quintonil is a dynamic exploration of Mexican flavors, evolving with the seasons.
Crispy suckling pig with mole, charred octopus with avocado and cucumber – each dish is an artistic masterpiece. Signature dishes like the slow-cooked beef tail in a rich sauce and the savory atocpan-style mole are not to be missed.
The Culinary Adventure Continues
For an unparalleled experience, consider the Kitchen Bar Experience. Witness the chefs in action as you savor every moment of culinary creation. Additionally, Quintonil's extensive wine list perfectly complements its cuisine, featuring Mexican and Spanish wines.
Reserve Your Seat at the Table
Reservations are a must, as Quintonil often fills up quickly. Plan and secure your spot up to two months in advance via phone or their website.
Contramar: A Seafood Lover's Paradise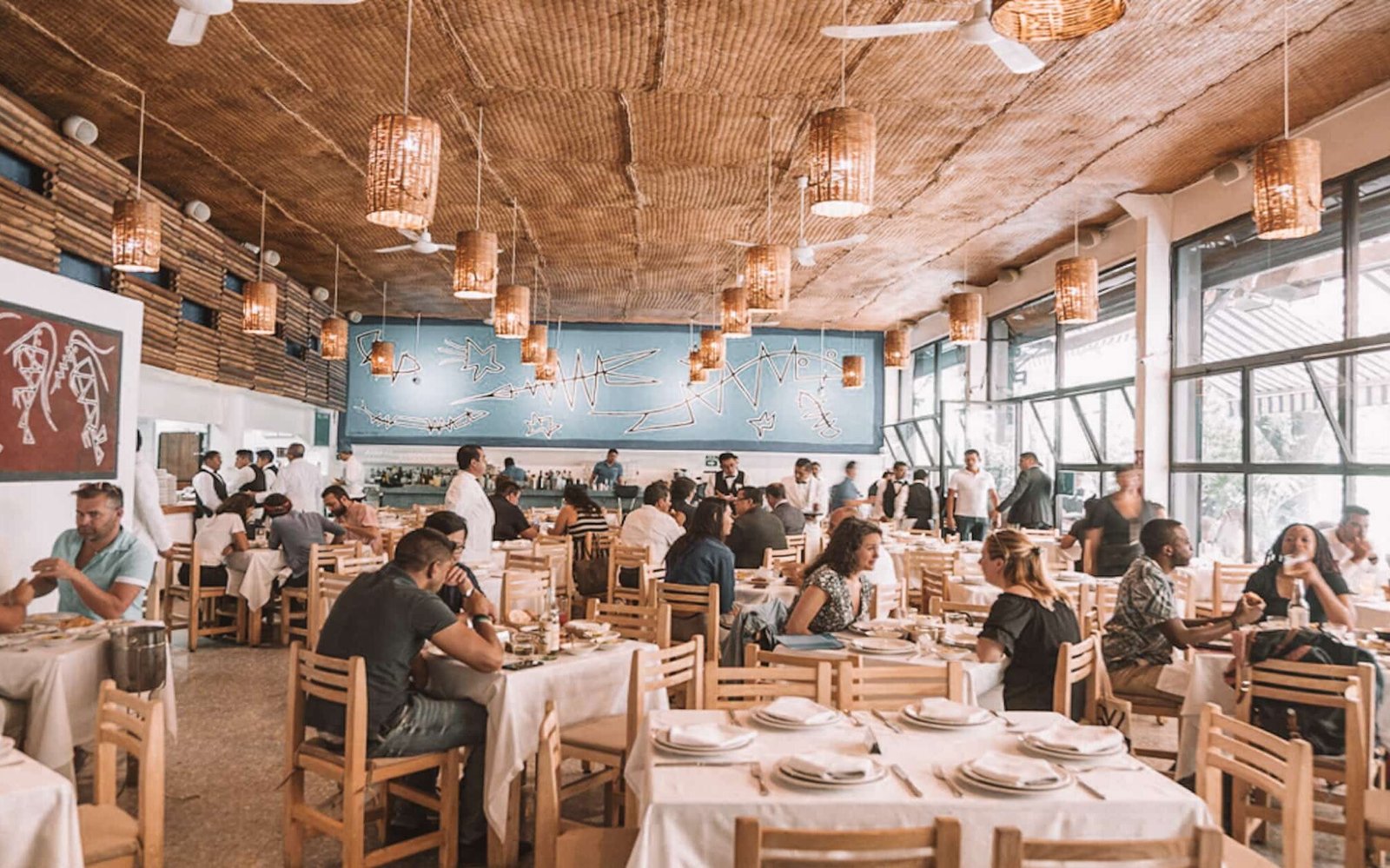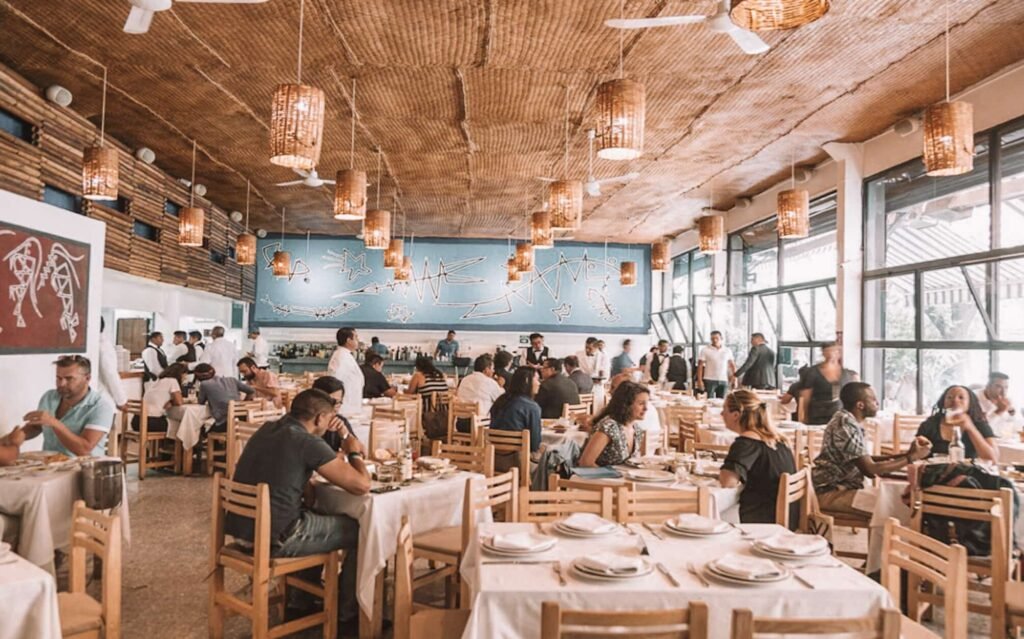 Nestled in the heart of Mexico City, Contramar has emerged as a culinary gem that's not to be missed. With a fusion of Mexican flavors and typical seafood dishes, this restaurant has built a global reputation ever since it opened in 1998.
A Welcoming Voyage
Upon crossing the threshold into Contramar, you'll find yourself immersed in a world of vibrancy and warmth. The interior resonates with a coastal charm as if you're stepping onto a luxury yacht set adrift in the middle of the city. The decoration and set design vision is to create a beach and sailing vibe in the dining room, creating the perfect ambiance for a seafood experience.
Famous Seafood Menu in Mexico City
Contramar's menu is carefully curated to showcase the best of Mexico's marine bounty.
From the tantalizing tuna tostadas which became famous, thanks to Latin America's 50 Best Restaurants Awards, to the invigorating ceviches, each dish pays homage to the country's rich culinary heritage. However, the undisputed star of the show is the grilled whole fish, affectionately known as "Pescado a la Talla". This succulent creation arrives at your table adorned with Contramar's duo of signature sauces – a zesty red sauce and a refreshing green sauce.
The flavors and presentation of each of the dishes are some of the highlights and top-rated reviews of why the menu at Contramar is worth trying.
A Celebrity's Pick
Contramar's reputation isn't confined to its locale. International celebrities like Dua Lipa have visited this restaurant during their concert tours. When in Mexico City, she too couldn't resist the siren call of Contramar's delectable offerings. This is a testament to how good the food is in Contramar.
A Culinary Odyssey Awaits
Dining at Contramar comes without a fixed menu, allowing you the freedom to explore the culinary voyage that speaks to your palate. It's worth noting that the price range typically falls between $60 to $100 per person.
The experience is a must for any foreigner visiting Mexico City, as Contramar invites you to experience some Mexican food cuisine of seafood dishes with tasty flavors and a great ambiance for guests to enjoy.
Street Food Delights to Savor
Tacos al Pastor: The Ultimate Street Food Classic
The legendary Tacos al Pastor reigns supreme as a beloved street food classic. These mouthwatering tacos tell a tale of culinary fusion and heritage. With roots tracing back to Middle Eastern shawarma, Tacos al Pastor embodies the historical intermingling of cultures.
Picture succulent marinated pork slow-cooked on a vertical rotisserie, reminiscent of shawarma's technique. The pork's flavors are heightened by spices, chilies, and aromatic herbs, creating an irresistible flavor that makes it the most famous taco in Mexico.
What truly makes Tacos al Pastor a Mexico City staple is the creative adaptation to local tastes. Served on soft corn tortillas, the flavorful meat is typically accompanied by pineapple slices, a nod to the fruit's natural sweetness that perfectly balances the savory notes of the pork.
Consider doing a Mexico City food tour while in town. Food tours are a great way to eat in Mexico City while letting you experience downtown Mexico City as well as classic Mexican dishes like shrimp tacos, fish tacos, tacos de canasta, al pastor tacos, traditional sweets, salsa verde, pickled red onion, meat dishes, or even vegan food made with local ingredients.
Pozole and Tamales: Traditional Mexican Food
Pozole holds a cherished place in Mexican culture, symbolizing tradition, community, and heritage. Rooted in pre-Columbian rituals, pozole reflects the fusion of indigenous and Spanish influences. Prepared for celebrations, its communal nature reinforces bonds among families and friends. With red, green, or white variations representing different regions, pozole's diverse incarnations mirror Mexico's varied landscapes.
Tamales, a cornerstone of Mexican gastronomy, not only delight the palate but also hold a special spot in daily life. Made from masa and various fillings, tamales are an integral part of Mexican breakfasts, offering sustenance and comfort to start the day. Passed down through generations, the art of tamale-making often becomes a family tradition, weaving history into every fold. As the sun rises over Mexican households, the aroma of tamales wafts, bringing generations together around the breakfast table.
Pozole and tamales in Mexico transcend mere food—they embody history, family, and shared experiences, etching their flavors into the nation's identity. Local street food stalls sell this Mexican comfort food around the Mexican capital.
Esquites and Elote: The Quintessential Corn Snacks
Elotes and Esquites take center stage as quintessential snacks that capture the city's vibrant culinary spirit. Elotes, or grilled corn on the cob, is a visual and flavorful delight. Roasted to perfection and adorned with a luscious blend of mayo, cheese, chili, and lime, they offer a harmonious fusion of smoky, tangy, and creamy elements.
Similarly, Esquites, often referred to as "corn in a cup," provide a convenient yet equally satisfying option. Cooked corn kernels are mixed with butter, herbs, mayo, cheese, and chili powder, creating a warm and comforting dish that embodies the heart of street food culture.
Elotes and Esquites embody the essence of Mexico City's culinary scene, showcasing the ingenious way simple ingredients are transformed into delightful delicacies. These aren't just snacks; they're edible treasures that offer a savory slice of the city's rich gastronomic heritage, enjoyed by locals and visitors alike as they explore the bustling streets of Mexico's vibrant capital.
Churros and Conchas: Sweet Treats to Delight In
Indulging in the sweet side of Mexico City is a delightful experience with churros and conchas taking the spotlight as iconic treats. Churros, golden and crispy, are deep-fried to perfection, then dusted with cinnamon sugar—a harmonious blend of textures and flavors that's impossible to resist.
Conchas, on the other hand, is a type of sweet bread adorned with intricate shell-like patterns. Their soft interior and slightly crunchy topping create a symphony of textures and tastes.
Among the many delights, Churreria el Moro stands tall as a known churro haven. This historic establishment has perfected the art of crafting churros, drawing locals and visitors alike with its delectable offerings. Be sure to order a hot chocolate. This is so you can dip your churro in this very popular hot drink at Churreria El Moro.
In Mexico City, churros and conchas aren't just treats; they're a flavorful journey into the heart of the city's sweet traditions. Inviting all to savor the irresistible sweetness of its culinary culture.
Must-Visit Food Markets and Halls in Mexico City
Mercado de la Merced: A Bounty of Mexican Ingredients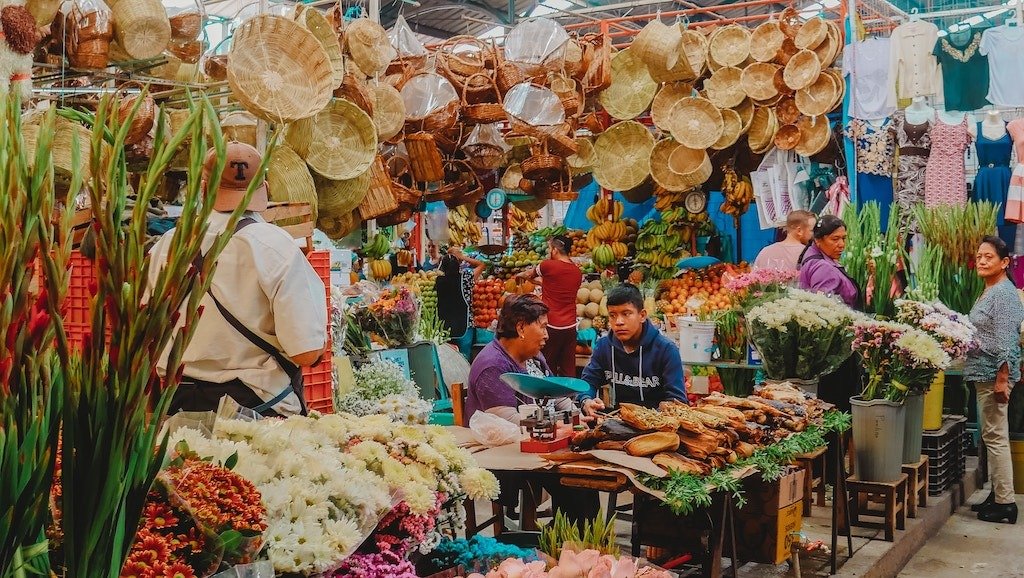 Mercado de la Merced is one of the most famous markets in Mexico City with rich history and culture. Right by the historic center of the city, this busy old market is a place where you can feel the past and enjoy the present. If you love Mexican food, this place is an absolute must.
You can find all sorts of things here – fresh fruits, meats, tasty spices, traditional foods, and colorful fabrics. The market is like a party for your senses with its bright colors, nice smells, and lively sounds.
A long time ago, before the Spanish came, the market was already important for the local people. As time went on, it changed with the Spanish influence and became the exciting market it is today.
More than just a place to buy things, Mercado de la Merced is also a cultural spot. People from all around love to come here, both locals and visitors. The market has a real Mexican feel that is very welcoming.
The market has lots of food places where you can try traditional Mexican dishes and street food. These elements make a unique experience when visiting this very important market in Mexico City. Commonly, this market hosts special events to showcase some of Mexico's food culture.
Mercado de la Merced is more than just a market – it's a living piece of Mexico City's story.
Mercado Roma: Gourmet Haven in a Food Hall
When you're in the Roma neighborhood of Mexico City, there's a must-visit spot that's all about good food and good vibes – Mercado Roma. It's not your average market; it's like a foodie wonderland where you can dive into a world of flavors and experiences.
Mercado Roma is a paradise of gourmet goodies and fresh produce. Imagine wandering through stalls filled with mouthwatering cheeses, irresistible pastries, and spices that'll make you try some of what Mexico City has to offer.
Local Love
Here's the cool part – they're all about supporting local talent. Many of the things you'll find are made by local artisans and producers. This showcases the awesome creativity Mexico has to offer.
Eat, Chat, Repeat
Yes, it's a market, but it's also a social spot. You'll find cool events, workshops, and tastings that let you dive into the world of local food while making new friends. It's like a community of food lovers.
Good Vibes Only
Step in and feel the energy. The place is alive with people enjoying great food and good company. You can kick back, eat some amazing bites, and just soak up the awesome atmosphere.
Stay Ahead of Yum
These guys are always on top of the food game. They're not just about traditional stuff – you'll find new and exciting flavors that'll give your taste buds a fun surprise.
Culture and Cuisine
Being in the Roma neighborhood means you're in the heart of Mexico City's artistic scene. The market captures that spirit perfectly, with local art, cool vibes, and of course, delicious food.
Dig In and Enjoy
Whether you're a food explorer looking for new tastes or a traveler wanting to dive into Mexico City's vibe, Mercado Roma is the place to be.
Mercado de Coyoacán: Immersing in Local Flavors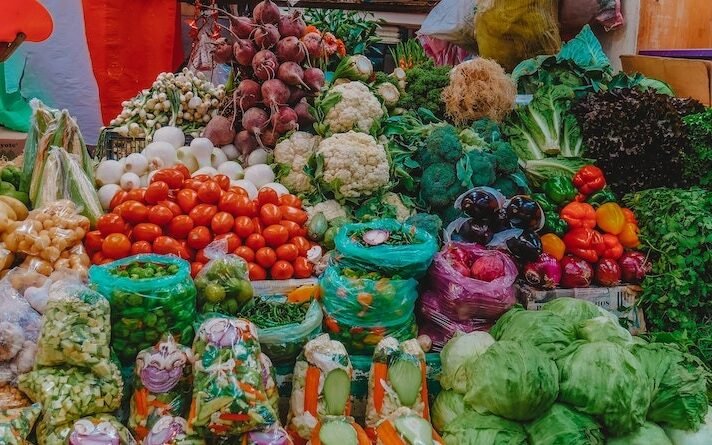 Mercado de Coyoacán is a famous market located in the Coyoacán neighborhood in Mexico City. Imagine strolling through colorful stalls that are bursting with life. Fresh fruits and veggies are piled high, showing off Mexico's amazing variety. And the smell of spices in the air? It's like a promise of deliciousness waiting for you.
And oh, the food! Tacos that make your taste buds dance, Mexican food like tamales that are a hug wrapped in a corn husk, and fruit juices that are like a sip of sunshine. It's a foodie's dream come true.
But it's not only about what's on your plate. The market is like a treasure trove of local artistry. There are beautiful handwoven textiles that feel like a warm hug, pottery that's like holding a piece of Mexico's history, and shiny jewelry that's just begging to be worn.
The market has a history that goes way back, and it's tied to Casa Azul, Frida Kahlo's home. You're not just shopping – you're becoming a part of the fabric of Coyoacán.
So take your time, soak in the sights and sounds, and let the Mercado de Coyoacán show you a little piece of Mexico's heart.
A Final Note on the Unique Food in Mexico City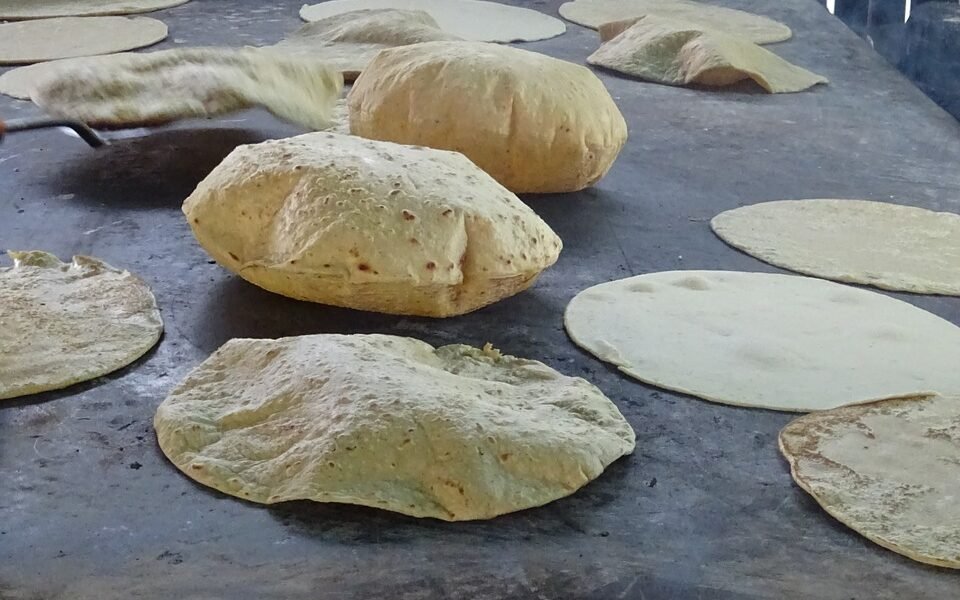 In the kaleidoscope of global culinary destinations, Mexico City emerges as a true standout. Every bite in Mexico City tells a story from cherished street food classics like tacos al pastor to time-honored traditions like tamales for breakfast.
The uniqueness lies not only in the flavors but in the experience. The bustling markets, the sizzling grills, the fragrant spices. All of it weaving a vibrant tapestry that captures the essence of Mexico's rich cultural heritage. In every dish, there's a whisper of ancient civilizations and colonial influences, a nod to the fusion that birthed this culinary wonderland.
Mexico City in general invites you to explore beyond your plate and embrace the immersive journey that unfolds with each mouthful. It's a city where food transcends sustenance, becoming an art form that celebrates community, history, and the very soul of a nation. So, indulge, discover, and savor the magic that is Mexico City's unique and unforgettable food scene.
Mexico City also happens to offer an amazing nightlife scene. It offers amazing cocktails with incredible views like at the famous Bar Carlotta located in Ritz Carlton Mexico City. Additionally, you find other internationally famous bars like Licoreria Limantour. Mexico City is a great option for foodies and mixology enthusiasts. It is a combination of rich traditional cultural heritage to modern techniques fusing other international cuisines that you definitely can't miss during your Mexico City visit.
FAQs about the Best Food in Mexico City
What foods are popular in Mexico City?
There are multiple popular dishes in Mexico City, here are some of the top-rated Mexican foods: tacos, enchiladas, chilaquiles, and quesadillas.
What is a typical breakfast in Mexico City?
Chilaquiles, tamales, and Mexican sweet pastries are daily food items for breakfast for all families in Mexico.
How much do people tip in Mexico?
It's highly recommended to tip 10 to 15%
What is a typical Mexican lunch?
Lunch can be regular sandwiches to some Mexican food like quesadillas and the famous "sopes" made of beans and cheese.
What is street food like in Mexico City?
It's rich and diverse but most of the street food in Mexico City will always offer the famous tacos al pastor and quesadillas with multiple ingredients like chicharron, cheese, and beef.
About the Author:
Mauricio Vite is a Travel and Entertainment blogger in Mexico City. With his company Vite Presenta he shares insights about Mexico City and other Major Cities in the US.
The article may include affiliate links, meaning that I may receive affiliate compensation at no cost to you if you decide to purchase. Read more in my
Affiliate Disclosure.
BEST TRAVEL RESOURCES
BOOK YOUR FLIGHT: Not sure how to get the best and cheapest flights? I always use Skyscanner for the best deals. The best tip is to be flexible with dates and destinations if you want the cheapest options.
Alternatively, for frequent travelers, get a membership with Wayaway and receive a cashback on cheap flights and hotels every time you book! Via the link, you even get a 10% discount on your membership.
BOOK GREAT ACCOMMODATION: Booking great accommodation is not difficult but it sucks paying too much. Use Booking.com for the greatest hotel deals and Hostelworld for amazing hostel stays. Alternatively, you can sign up for Worldpackers to get FREE accommodation in exchange for your work.
BEST TRAVEL INSURANCE: Traveling without insurance is a mistake that you don't want to make - trust me I've tried. I'd suggest SafetyWing as they offer great and flexible policies - especially if you are traveling for a long time or a digital nomad. World Nomads is another great insurance with extensive coverage.
NEED HELP WITH YOUR VISA? Figuring out how and when you need a visa can be a bit of a jungle. iVisa is a very handy and user-friendly service.
HAS YOUR EU FLIGHT BEEN DISRUPTED? Use AirHelp as a service to get flight compensation on your European flights in case your flight was delayed, canceled, or disrupted in other ways. More often than not you are actually entitled to compensation.