Many people dream of converting a van into a campervan and living a life full of travel and freedom. But how much does it actually cost to convert a van into a camper?
When I first started the project I had no idea how much it would cost and trying to budget for it seemed like shooting in the dark.
What I discovered is that truthfully, it is quite expensive and hard work. Maybe that is why so many people never get around actually realizing that dream. A big shame really and all the hard work and money are so rewarding on the other side!
And the good thing?
Once the money is spent and the work is done all there is left to do is enjoy. Not to mention that your van will probably be worth all the money you put into it, if not more, should you ever decide to sell your beautiful van build.
Now keep in mind that every van is different and the price will vary depending on what your ambitions are. The only thing I can do is share my experience and budget. Hopefully giving you a good idea and inspiration on how much it costs to convert a van.
Lastly, I want to say that we bought and converted our van in Argentina. I would say that this is a medium cheap location to convert a van as cars and car parts are not so cheap. Labour and other things are though. Please keep this in mind when you are reading this.
In the end, I will share a few pictures from before and after so you can see where all my money went.
PIN THIS POST FOR LATER:
HOW MUCH DOES IT COST TO CONVERT A VAN?
VAN-RELATED EXPENSES: 4.311 USD
Our van-related expenses include everything from buying the van to registration as a campervan and having all our papers in order.
We bought a Mercedes MB180D from 1996 that was in a medium-bad state. While the engine was great, basically everything else needed some love.
Below you can see the different expenses included in this category.
Note that finding van conversion insurance is both difficult and expensive!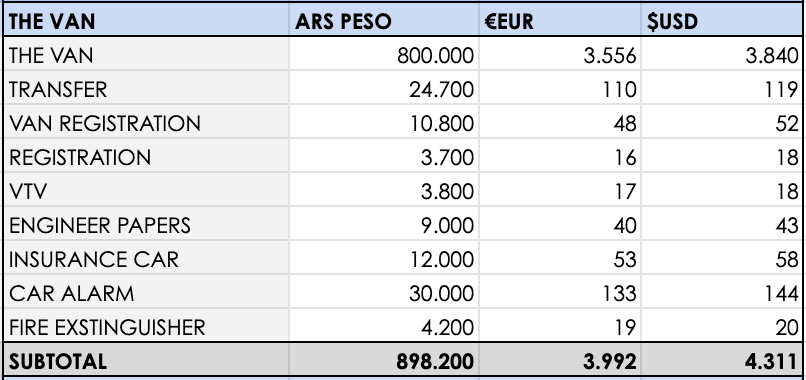 COST OF CAR REPAIRS: 2.689 USD
Unfortunately, we were unlucky and found a lot of broken parts that needed to get repaired. Some of it we could do ourselves and buy the parts, and at other times we needed more professional help.
We had to change the clutch, two tires, the front brakes, and a lot of other things that I don´t even remember now.
All in all, it cost us around 2700 USD to get the van up and running smoothly again.
Below you can see all the repair work we had to have done and the cost of all the spare parts we bought.
COST OF ELECTRICAL SYSTEM: 1.088 USD
A very appealing aspect of van life for me is the ability to disconnect from the system and be as self-sufficient as possible. It was, therefore, self-spoken that I wanted solar panels to provide clean energy to the van.
I also wanted to have an electrical system that would allow me to charge my devices, power a fridge, and do some other things.
All in all, I spent around 1100 USD on the complete electrical set-up of the van.
The cost included solar panels, batteries, an inverter, cables, outlets, and much more.
See the table below for a more detailed overview.

COST OF WATER SYSTEM: 330 USD
Whether you want a bathroom and running water in your van is entirely up to you. We decided we wanted both since the plan is to live full-time in the van for possibly years.
We wanted a water tank that we could fill up and use to brush our teeth, do the dishes, and even take a shower.
Of course, we also needed a way to get rid of our greywater.
In total, we spent around 330 USD on everything related to the water system in our van, and making a water system is much easier than I thought it would be.
If this seems too ambitious for you then a much simpler solution is having a water container and a small sink.
Below you can look into the numbers. The system was made by buying a few pipes, a water pump, connections, and some water tanks.
COST OF BUILDING EXPENSES: 1.844 USD
The actual building of a van is in itself quite complex and the building expenses add up!
You need to buy or find materials, tools, and how-to books (or YouTube videos as we did).
We spent around 1850 USD on building materials, which included wood for the insulation, plywood for the walls and ceiling, screws, sealant, and much more.
In addition to this came the cost of tools, which we luckily already had. But if you need to buy them, it will cost you extra.
To give you an idea of how much the different materials cost us, see the table below. It is important to say that these prices may vary a lot depending on where you live and how good you are at finding deals! In addition, the quality of the material matters a lot in terms of price also.
Finally, expect things to break and mistakes to be made. We ended up paying much more than estimated for many things because we didn't get it right the first time(s). Learning by doing, right?
COST OF INTERIOR EXPENSES TO CONVERT THE VAN: 351 USD
For me, the van needed to be nice and cozy inside. Being from Denmark I care a lot about interior design and wanted a space to feel comfortable in.
We, therefore, spent a lot of time and money on making the inside of the van look good.
In total, we spent around 350 USD, which might sound like a lot, but it was worth it!
Some of the things we bought were plants, curtains, cushions, hangers, and much more to make the space more homely. Also, we got customized cushions made for the back lounge area which cost quite a bit.
Below you can see the list of what we bought and how much it cost us, the lounge being the biggest sinner but oh, how I love it!
COST OF EXTERIOR EXPENSES TO CONVERT THE VAN: 139 USD
For the exterior of the van, it was important for me to create a cool and cozy camping set-up that was also practical to use.
We spent around 140 USD on things like an awning, camping chairs, a table, outside cooking utilities, and so on.
See the list below for more details.

EXTRA COSTS TO CONVERT THE VAN: 194 USD
Now when you convert a van there are a lot of expenses that you didn't initially think about and all these little van conversion costs add up!
The extras that are in this category are things like a GPS, a small vacuum cleaner, fans, an electrical heater, and many other things that you wouldn't initially think about. Finally, a lot of these are essential accessories to bring with you when living van life and something I didn't realize before we were almost finished.
Below you can see the numbers and in total, we spend an extra 200 USD on.. yeah I don't even know, but extras!
TOTAL COST: 10.946 USD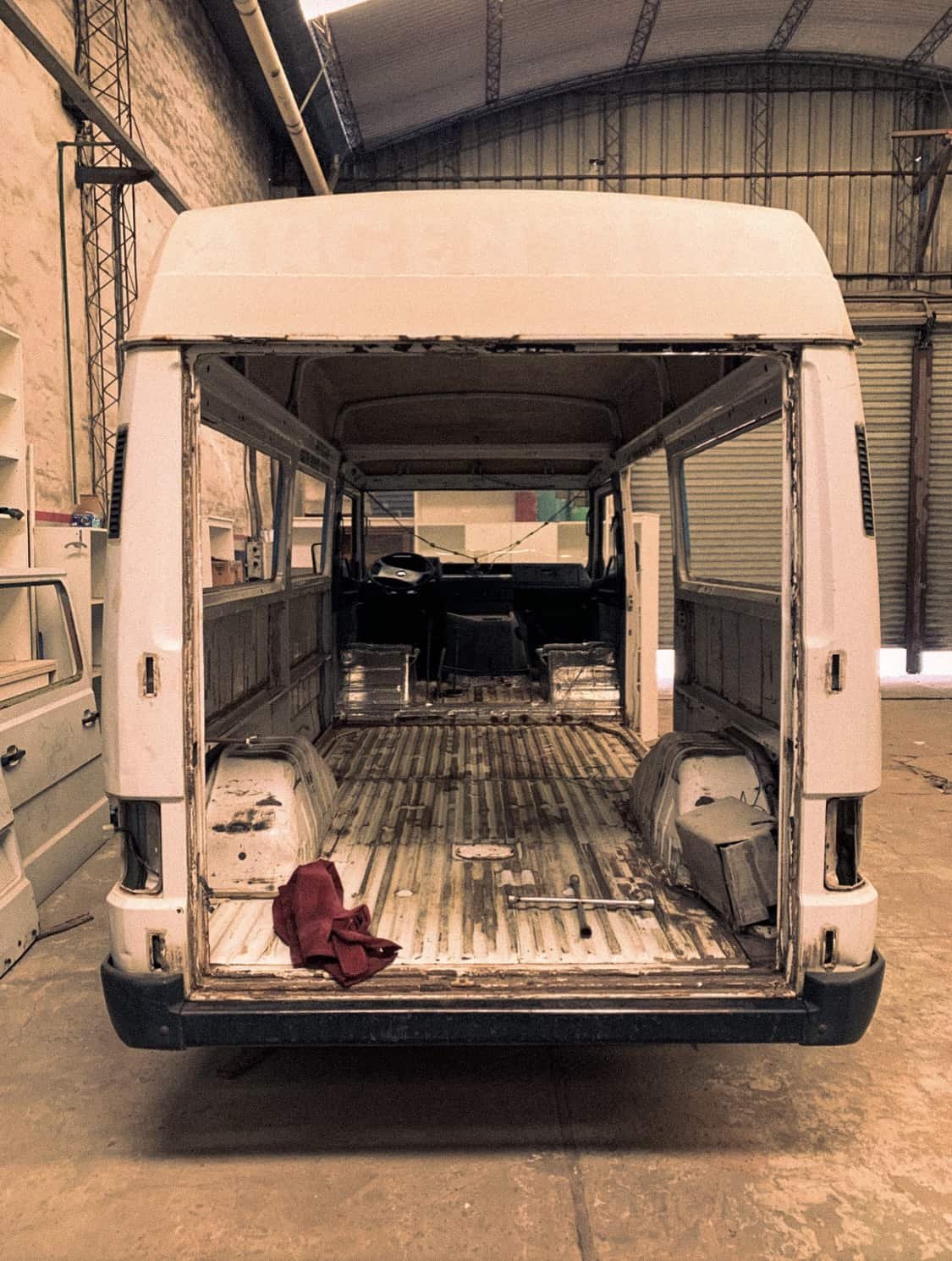 The total van conversion ended up blowing our budget a bit. Initially, we budgeted for the whole van conversion to cost around 7500 USD.
While some of it was bad luck in terms of the repairs we discovered along the way, we also made many mistakes and had to redo a lot of things. Also, I believe we under-budgeted some things before we began the project.
But all in all, it was so worth it! We now have an amazing campervan that we can travel around in for years to come.
Below is a detailed breakdown of how much everything cost us and the full budget. I hope this can give you an idea of how much it costs to convert a van into a campervan and help you budget for your DIY van build!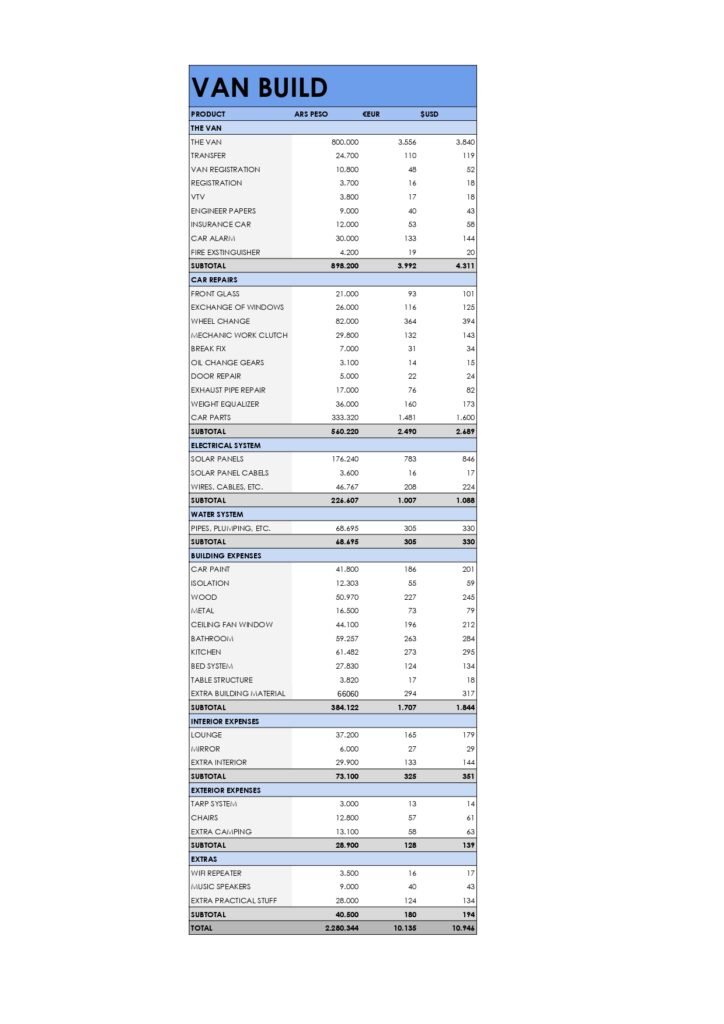 HOW MUCH TIME DOES IT COST TO CONVERT A VAN?
The cost in time for us to convert our van was 4,5 full months. This was for 2 people working day and night and even on weekends to get it done.
We had a full garage with all the necessary tools and all the materials we needed close by. On top, we had a family member who is a mechanic who could help us out.
Realistically, I advise anyone to budget at least 6-8 months in total to convert a van. If you are very ambitious and don't have a lot of time or resources, count on 1 year.
Alternatively, there are many van conversion companies out there that can help you out if the process is too overwhelming to do on your own. Though it might not be the cheapest option, it will save you a lot of sweat, blood, and tears! A conversion van from a conversion company will surely have all your desired functionalities.
WHAT ARE THE BEST VANS TO CONVERT INTO A CAMPER VAN?
There are many different types of vans you can convert into camper vans out there. The most common ones people use are:
– Ford Transit
– Mercedes Sprinter Van
– Dodge Promaster
– Ram Promaster City
– Nissan NV Cargo/Passenger vans
– VW Crafter/Transporter T vans
These are only a few of the most popular vans to convert, but you can turn any van into a campervan with enough time and money. It all depends on your budget and how much you're willing to spend on the conversion.
If you're looking for a van that's already set up for camping, there are a few companies that specialize in this. Outdoorsy is a great option if you're looking for a van that's already set up for camping. You can browse through their selection of vans and find one that's perfect for your needs.
Assuming you already have a van, the next step is to start planning your conversion. This includes everything from how you want the interior to be laid out, to what kind of appliances and furniture you'll need.
If you don't have a van yet and are still considering then the sprinter vans are becoming one of the most popular on the market because of their size and functionality. They are also a bit expensive though. My advice is always to buy a used car as it will save you a ton of money!
WHAT TO CONSIDER IN TERMS OF HOW MUCH IT WILL COST AND HOW TO CONVERT A VAN
There are a few things you'll need to consider before starting your conversion:
– Insulation: This is one of the most important things to consider when converting your van. You'll need to insulate the walls, ceiling, and floor to make sure your van is comfortable in all weather conditions. There are many different types of insulation available, so you'll need to research which one is best for your needs. Think hard about the climates you will face and exactly what you might need.
– Windows: You'll need to decide how many windows you want in your van, and where you want them placed. You can either install them yourself or have a professional do it for you if the van does not already have windows.
– Flooring: You'll need to determine the sort of flooring you want for your van. There are several alternatives to choose from, so do some research and find the right one for you. Remember to think in lightness and functionality.
– Furniture: You must choose the type of furniture you want in your van. There are a variety of alternatives to choose from, so make careful research before making a selection. A good idea is to seek some inspiration from pictures or Pinterest and draw everything beforehand!
– Appliances: You'll need to decide what kind of appliances you want in your van. Do you want a full fridge and do you need a warm shower? These appliances add up and have a huge impact on the system you need to design. The more power, the bigger the solar panels.
Once you've considered all of these things, you'll be able to start budgeting for your DIY camper conversion. This is where things can get a bit tricky, as there are many different ways to convert a van and the costs can vary greatly.
There are endless types of van conversions out there and all work in different ways. Design your dream van exactly how you want it so it may fit your dream road trip.
FINAL NOTES ON HOW MUCH IT COSTS TO CONVERT A VAN
Expect to be hard work and cost a fair bit to convert a camper into a campervan. To be honest, I was surprised at how difficult everything was.
We made so many mistakes and had to re-do a lot of things because we didn't do it right the first time.
The most important thing is to make sure you enjoy the process and don't stress too much about making everything perfect. Especially the part about wanting everything to be perfect is something you will have to forget. Take each task and day at a time and eventually the work is done.
Lastly, converting a van is hard work and costs a lot of money but is so rewarding on the other side. Besides the satisfaction of having built a home to travel in yourself, you will also be able to live very cheaply. There are many free campsites all around the world and with your free energy from your solar panels all you need is fuel, food, and water (which you can most likely also find for free).
If you have any questions about how much it costs to convert a van or the process, please let me know in the comments below. I would be happy to answer any questions.
Also, If you have already completed your campervan conversion I would love to hear if you have any inputs!
If you are interested in my journey in Argentina by van, be sure to follow me on Instagram or sign up for my newsletter here on my blog.
Happy vanlife!
//Josephine
The article may include affiliate links, meaning that I may receive affiliate compensation at no cost to you if you decide to purchase. Read more in my
Affiliate Disclosure.
BEST TRAVEL RESOURCES
BOOK YOUR FLIGHT: Not sure how to get the best and cheapest flights? I always use Skyscanner for the best deals. The best tip is to be flexible with dates and destinations if you want the cheapest options.
Alternatively, for frequent travelers, get a membership with Wayaway and receive a cashback on cheap flights and hotels every time you book! Via the link, you even get a 10% discount on your membership.
BOOK GREAT ACCOMMODATION: Booking great accommodation is not difficult but it sucks paying too much. Use Booking.com for the greatest hotel deals and Hostelworld for amazing hostel stays. Alternatively, you can sign up for Worldpackers to get FREE accommodation in exchange for your work.
BEST TRAVEL INSURANCE: Traveling without insurance is a mistake that you don't want to make - trust me I've tried. I'd suggest SafetyWing as they offer great and flexible policies - especially if you are traveling for a long time or a digital nomad. World Nomads is another great insurance with extensive coverage.
NEED HELP WITH YOUR VISA? Figuring out how and when you need a visa can be a bit of a jungle. iVisa is a very handy and user-friendly service.
HAS YOUR EU FLIGHT BEEN DISRUPTED? Use AirHelp as a service to get flight compensation on your European flights in case your flight was delayed, canceled, or disrupted in other ways. More often than not you are actually entitled to compensation.