Dubai is the kind of place that has a little bit of everything, whether you're into shopping, luxury, family fun, or outdoor adventures. When it comes to picking the best time to visit Dubai, it depends on what you are looking for.
This city is sunny almost all year round, thanks to its desert climate, but it doesn't rain much.
While the weather is usually warm, some times of the year are better for certain things, especially if you want to avoid the super-hot summer. Whether you want to chill on the beach, stroll through outdoor markets, or just hang out in some of the world's coolest malls, each season has its own vibe.
I've been around, and I can tell you that Dubai's different every time you visit.
Summers are hot but quiet, perfect if you're looking for deals and don't like crowds. Winters are cooler and busier, great for exploring and enjoying the city's buzz.
I'm here to help you figure out when to go to get the most out of your trip.
Stick around, and I'll share some tips on the best times for all the fun stuff Dubai has to offer.
When Is the Best Time to Visit Dubai?
The ideal time to go to Dubai largely depends on what you're looking for.
For pleasant weather and outdoor activities, November to February is ideal, offering cool, comfortable days.
However, if you're seeking budget-friendly travel and don't mind the heat, the summer months of June to August offer lower prices and fewer crowds.
Below we will have a look at each, to help you decide when the best time is for you.
December to March – Peak Tourist Season
The most popular months to travel to Dubai are during the cooler winter months from December to March. This is the best time of the year to go to Dubai.
With comfortable daytime temperatures averaging around 25°C (77°F) and cooler evenings, this is ideal weather for spending time outdoors sightseeing and exploring the city.
The ocean water is also pleasantly warm for swimming during the winter.
Key activities and attractions during this peak tourist season include:
Outdoor markets and festivals like the Dubai Shopping Festival, where you can pick up souvenirs and enjoy live entertainment and fireworks.
Family activities like picnicking and cycling at Zabeel Park or green spaces like Safa Park and Creek Park.
Sightseeing without the summer heat at major landmarks like Burj Khalifa, Palm Jumeirah, Dubai Miracle Garden, and more.
Desert safari tours in the evening when temperatures are cooler.
Beach time for sunbathing, swimming, or water sports along Dubai's coastline. Popular public beaches include Kite Beach and JBR Beach.
The only downsides to traveling from December to March are higher accommodation prices and crowded tourist attractions and venues. However, this is hands-down the ideal time to visit for most visitors to experience Dubai.
October to November – Pleasant Weather and Smaller Crowds
The autumn months of October and November still offer warm sunny weather before the big winter tourist rush. Daytime temperatures remain in the 30°Cs (86°F+), while the humidity declines and evenings start to become cooler and more pleasant.
Benefits of visiting in the fall include:
Smaller crowds at major attractions like Burj Khalifa and theme parks like IMG Worlds of Adventure
Lower hotel rates and airfares before peak season
Beginning of the camel racing season
Opening of Dubai Fitness Challenge, with loads of free fitness events and activities
Pleasant outdoor conditions for sightseeing, desert safaris, and activities like golf or waterparks
Key events in October/November include the Diwali Festival of Lights and the lead-up to Dubai Airshow 2021. It's a nice time for culture and aviation enthusiasts to visit before peak crowds. The water remains warm for swimming and water sports as well. For affordable sightseeing with fewer crowds, autumn is an excellent option.
April to May – Great Value with Hot Weather
After the busy tourism season winds down, April and May see lower numbers of visitors, the best deals, lower hotel rates in Dubai, and temperatures rising sharply. It's one of the hottest periods, with average highs of around 40°C (104°F).
However, for heat-tolerant travelers and sun seekers looking for deals, there are some advantages:
Significantly lower accommodation prices at Dubai hotels
Cheaper airfares to/from Dubai
Less crowded major attractions like IMG Worlds of Adventure theme park or Global Village Dubai
Still warm ocean temperatures for beach & pool activities
Ongoing Dubai Food Festival with foodie events throughout April
As long as you don't mind hot and humid weather, April and May offer a budget-friendly time to experience Dubai's sites. Focus activities on indoor attractions, waterparks, or malls during the day and venture out in the evenings when temperatures fall slightly.
It's low season so you'll get some great deals on hotels and flights.
June to September – Extreme Heat & Summer Activities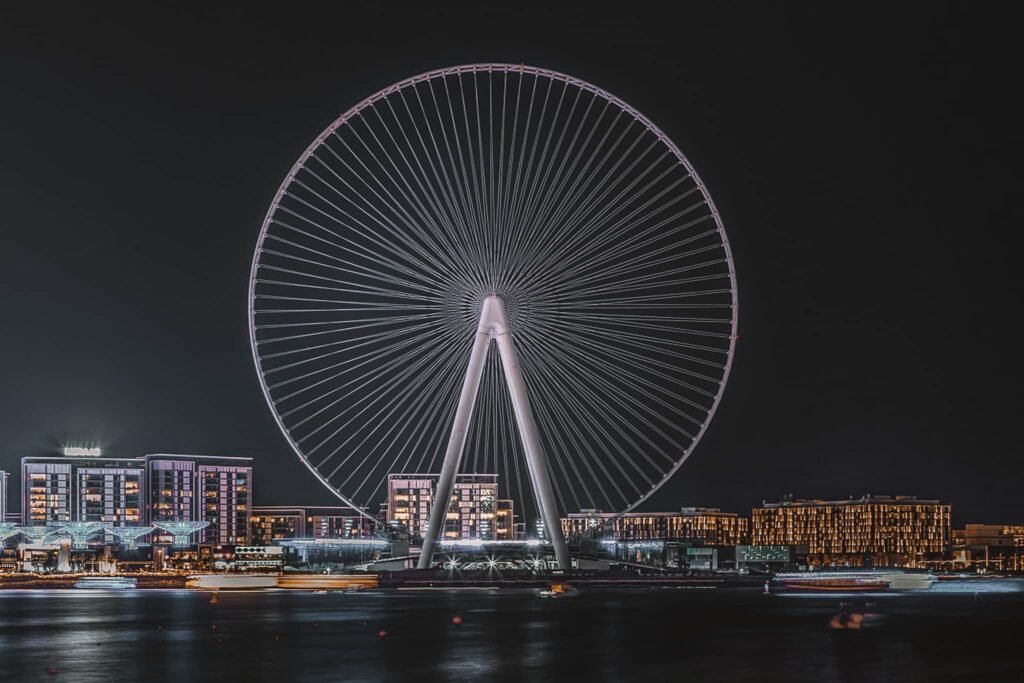 The summer in Dubai brings scorching temperatures, averaging over 40°C (104°F) most days in June through September. It's considered low season due to the extremely hot conditions.
However, there are some advantages if you can handle the heat and don't mind indoor activities:
Hotel rates and airfares are at their lowest due to low demand
Many indoor venues like malls and attractions have summer sales
Some outdoor waterparks and beach clubs are open for cooling off
Events like Dubai Summer Surprises Festival with sales, entertainment & prizes
It's best to plan indoor activities or water activities to beat the heat. Head to hotel pools, and waterparks like Aquaventure, Wild Wadi, or Legoland Waterpark and visit attractions like the Dubai Mall Aquarium. Malls are popular spots to escape the heat.
While summertime deals can be attractive, the extreme heat and humidity make Dubai best avoided by many travelers during the summer months.
Key Events Year-Round
Beyond the best weather conditions, it's worth planning your Dubai trip around major events or festivals:
Global Village – This huge carnival with shopping, food, and entertainment runs from October to April annually.
Dubai Shopping Festival – Starting in December and running for a month, this major retail sale event also has fireworks, and entertainment and draws big crowds.
Dubai Food Festival – During April, food festivals and deals can be found citywide throughout the month-long celebration of cuisine.
Dubai Summer Surprises – Activities, hotel deals, sales, and family entertainment make July and August more bearable with this city-wide festival.
Dubai Airshow – Occurring in the odd number of years, this major aviation trade show also has aerial displays and demonstrations in November.
Dubai International Dance Festival – This vibrant festival, held annually in October, brings together dance enthusiasts and professionals from around the globe.
Dubai International Film Festival – Taking place every December, this prestigious event celebrates the magic of cinema.
From Eid celebrations to fashion shows, sporting events, and more, Dubai has a packed calendar of events year-round.
Scheduling your visit around the event you're most excited about can be a great idea.
Best Time to Travel to Dubai for Families
Dubai is very family-friendly, with plenty of big theme parks, water parks, beaches, and activities to entertain kids. The most popular times to visit with kids include:
October to April – Great weather and outdoor options like parks, beaches, and pools. Attractions are all open.
June to August – Kids activities in Dubai and indoor entertainment like games centers.
December/January – Fun family activities like the Global Village carnival are open and cooler weather prevails.
Eid Holidays – Following the Holy Month of Ramadan, parks and attractions offer special Eid deals.
Anytime is a good time to go to Dubai with kids. Just be sure to include a mix of educational and entertainment attractions like the Dubai Aquarium, LEGOLAND, and Ferrari World theme park.
Dubai Weather and Climate
Dubai is a city where the sun loves to shine, especially in the summer. From late April to early October, it gets really hot, with average temperatures often jumping above 40°C (104°F).
It's the kind of heat where you'd appreciate air conditioning everywhere you go. And trust me, in Dubai, you'll find it almost everywhere, from malls to taxis.
Rain is pretty rare in Dubai, mostly making brief appearances between December and March.
Winters here are like a mild, sunny day in many other places, with a beautiful winter sun and temperatures hanging around an average temperature of 15°C to 25°C (59°F to 77°F).
It's the perfect time to wander around the city, hit the beaches, or enjoy a desert safari.
In Dubai, the sea temperature is as inviting as the city itself, especially if you love a warm swim.
During the summer months, from June to August, the sea can feel like a warm bath, with sea temperatures often reaching around 30°C (86°F).
In the cooler months, from November to March, the sea is pleasantly refreshing, hovering around 20°C to 25°C (68°F to 77°F).
Whether you're into leisurely swimming or water sports, the Arabian Gulf's waters offer a comfortable and enjoyable experience almost all year round.
Dubai's weather can be intense, but the city is all set up to keep you cool and comfortable, no matter when you visit.
It's a place that's ready for visitors all year round, blending its sunny days with world-class comfort.
Final Thoughts on the Best Time to Visit Dubai
While Dubai sees visitors year-round, the best time to visit Dubai is during the peak tourist season from December to March when temperatures are comfortable and major events are often running.
For smaller crowds and lower prices, October to November or April/May are solid options. June to September can be unbearably hot but does bring cheaper rates and summer sales if you don't mind the heat.
When planning the perfect Dubai trip, consider what types of activities interest you most and align with a time offering optimal weather, hotel rates, and things to do.
For an amazing family vacation or a holiday shopping spree, winter is ideal while budget travelers will appreciate Dubai's off-season deals during the summer heat.
Feel free to reach out with any questions or additions in the comments below!
All the very best,
//Josephine
FAQs About Visiting Dubai
When is the best month to go to Dubai?
The ideal time to travel to Dubai is from November to February. The weather is cool with clear blue skies and perfect for exploring the city's outdoor attractions.
When is the cheapest time to visit Dubai?
If you're looking for budget-friendly travel, consider visiting Dubai during the summer months, from June to August. It's less crowded and prices are generally lower.
Which month is the most hot in Dubai?
August is typically the hottest month in Dubai, with temperatures soaring. Be prepared for intense heat if you're planning a visit then.
What month is the coldest in Dubai?
Dubai's coldest month is usually January. It's relatively cooler but still pleasantly warm, making it a great time for tourists.
What is the off-season in Dubai?
The off-season in Dubai is during the summer, from June to September. It's when the city experiences extreme heat, leading to fewer tourists and lower prices.
The article may include affiliate links, meaning that I may receive affiliate compensation at no cost to you if you decide to purchase. Read more in my
Affiliate Disclosure.
BEST TRAVEL RESOURCES
BOOK YOUR FLIGHT: Not sure how to get the best and cheapest flights? I always use Skyscanner for the best deals. The best tip is to be flexible with dates and destinations if you want the cheapest options.
Alternatively, for frequent travelers, get a membership with Wayaway and receive a cashback on cheap flights and hotels every time you book! Via the link, you even get a 10% discount on your membership.
BOOK GREAT ACCOMMODATION: Booking great accommodation is not difficult but it sucks paying too much. Use Booking.com for the greatest hotel deals and Hostelworld for amazing hostel stays. Alternatively, you can sign up for Worldpackers to get FREE accommodation in exchange for your work.
BEST TRAVEL INSURANCE: Traveling without insurance is a mistake that you don't want to make - trust me I've tried. I'd suggest SafetyWing as they offer great and flexible policies - especially if you are traveling for a long time or a digital nomad. World Nomads is another great insurance with extensive coverage.
NEED HELP WITH YOUR VISA? Figuring out how and when you need a visa can be a bit of a jungle. iVisa is a very handy and user-friendly service.
HAS YOUR EU FLIGHT BEEN DISRUPTED? Use AirHelp as a service to get flight compensation on your European flights in case your flight was delayed, canceled, or disrupted in other ways. More often than not you are actually entitled to compensation.