You know, living in Copenhagen for ten years has been a dream. It's a fantastic place – those lovely canals, the lively streets, and an energy you just can't beat.
But sometimes, you just need to hit the pause button and get out of town, right?
That's why I'm all about those weekend trips from Copenhagen. It's like stepping into a whole new world, even if it's just for a couple of days.
So, let me tell you about some killer spots to check out when you're craving a change of scenery.
Whether you're a local like me, or just in town for a bit, these getaways are perfect for shaking things up.
We're talking cozy coastal towns, cities with more culture than you can imagine, and nature spots that'll make your heart sing.
Trust me, stepping outside of Copenhagen for the weekend is where it's at. Even though the city offers a ton of great activities!
Ready to explore?
Let's dive in!
What Are the Best Weekend Trips From Copenhagen?
Discovering Denmark: Charming Destinations Near Copenhagen
Ready to see what Denmark has up its sleeve, just beyond Copenhagen?
This little country packs a big punch with its mix of cool countryside spots, quaint old towns, and some seriously fun cultural vibes.
It's all about those hidden gems that give you a taste of Danish life outside the city buzz.
Tisvildeleje
If you're in for some sun, sand, and sea, Tisvildeleje is your go-to spot. Just an hour's drive from Copenhagen, this beach town is a little slice of paradise. The whole coastline is perfect for a full weekend, or even just for day trips.
Picture yourself chilling on sandy beaches, or strolling through the Troldeskoven forest – it's like stepping into a fairytale.
The laid-back vibe here is perfect for unwinding, and hey, the local ice cream and traditional smørrebrød with fish cakes are a must-try!
Ærø
Ærø is like stepping back in time. This island is all about charming streets, colorful houses, and some of the best maritime vibes you'll find in Denmark.
You can get here by ferry, and it's an experience in itself. Imagine exploring ancient windmills, sipping on local brews at cozy pubs, and just soaking up the peaceful island life.
It's a total contrast to city life and a perfect weekend escape.
Bornholm
Copenhagen is famous for riding a bike, but Bornholm is even more so!
Bornholm isn't just another island; it's a whole new world. Known as the 'sunshine island', it's a bit further away but worth the trip, and perfect for weekend getaways.
You've got craggy cliffs, dense forests, and beaches that look like they're from a postcard.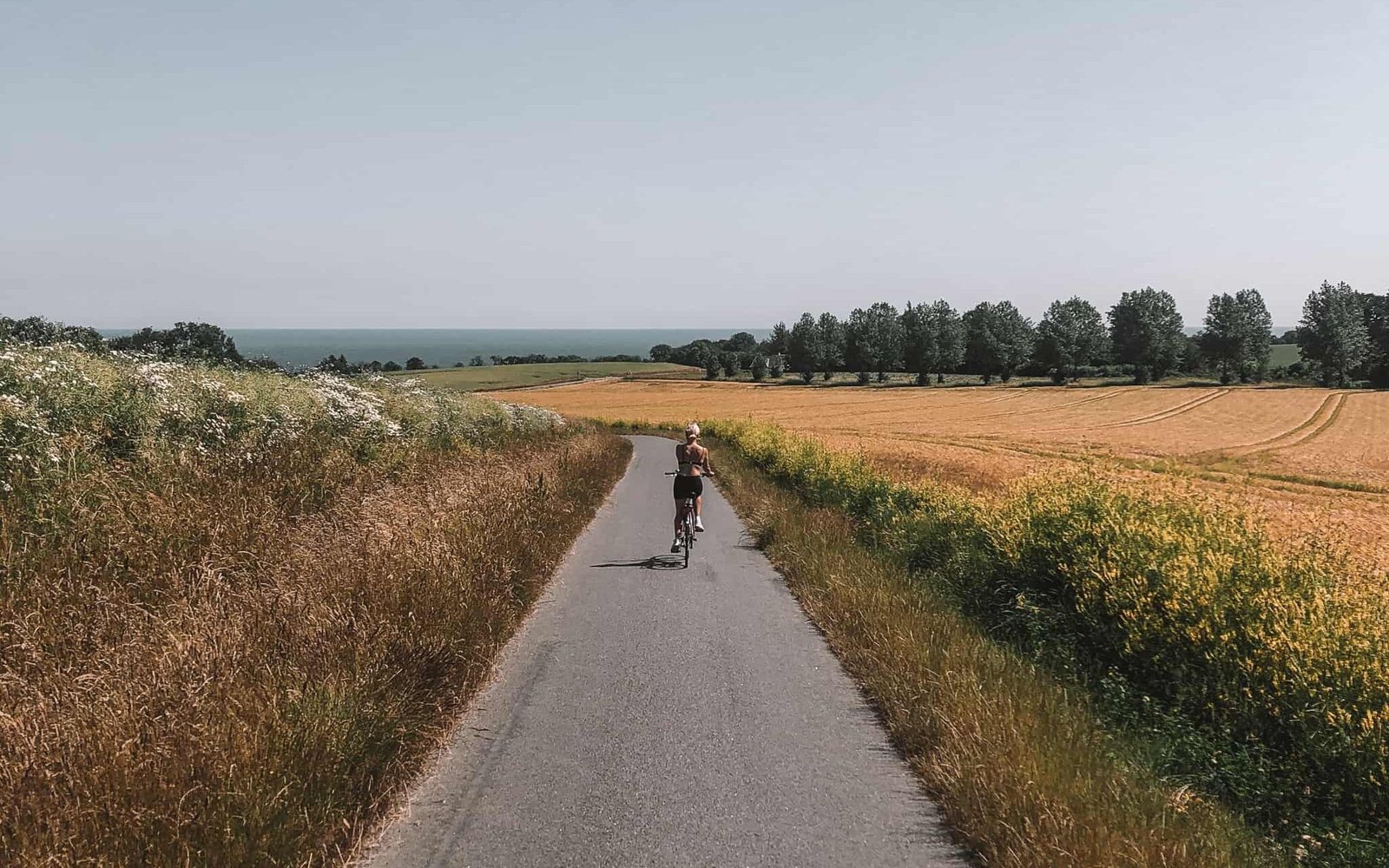 And the food? Fantastic.
Think fresh seafood and local delicacies. Bornholm is a treat for nature lovers and foodies alike.
Samsø
Samsø is a hidden gem that's all about sustainability and green living. It's an island where you can chill in quaint villages, check out organic farms, and maybe even join a local festival.
The energy here is infectious, and the scenery? Stunning.
Whether you're cycling through the fields or just lounging by the sea, Samsø offers a refreshing break from the usual.
Historical Havens: Ribe and Jellingstenene
Ribe
Ribe is like taking a walk through a living history book. It's Denmark's oldest town, and it feels like you've time-traveled to the past.
The cobblestone streets, ancient buildings, and the impressive Ribe Cathedral are just a start. Stroll along the river, pop into a cozy café, and don't forget to check out the Viking Museum.
It's a history buff's dream, but honestly, anyone would be charmed by this town's timeless beauty.
Jellingstenen
Ever heard of Denmark's birth certificate? That's Jellingstenen for you.
This place is a real-deal Viking landmark. The Jelling Stones, with their runic inscriptions, are a UNESCO World Heritage site and tell the tale of Denmark's transition to Christianity.
The site isn't just about the stones; there's a church and a museum where you can dive deep into Viking history. It's fascinating, and even if you're not a history geek, it's pretty cool to stand where Vikings once roamed.
Into this part of Danish history? Approximately a one-hour train ride away from Copenhagen, you can visit the Viking Ship Museum in Roskilde.
Nature's Wonders: Marselisborg Dyrehave and Gedser Odde
Marselisborg Dyrehave
Imagine a place where deer roam free and the trees tell stories of centuries gone by.
That's Marselisborg Dyrehave for you.
Just outside Aarhus, this nature reserve is a haven for wildlife lovers and anyone looking to take a breather from city life.
The trails are perfect for a peaceful walk or a bike ride.
And the best part? It's common to spot deer up close, making for some fantastic photo ops and unforgettable moments.
Gedser Odde
Gedser Odde isn't just a spot on the map; it's an experience. As Denmark's southernmost point, it offers a unique blend of rugged nature and serene landscapes.
The area is a birdwatcher's paradise, especially during migration seasons. The windswept shores and the lighthouse offer a dramatic backdrop for a reflective stroll.
It's a bit of a trek from Copenhagen, but the journey is part of the adventure, leading you to a place that feels like the edge of the world.
Cross-Border Adventures: Exploring Scandinavia and Beyond
Copenhagen isn't just a gateway to Denmark; it's your launchpad for easy international adventures across Scandinavia and beyond.
Thanks to its prime location and excellent transport links, hopping over to neighboring countries for the weekend is a breeze.
Whether it's catching a short flight, a scenic train ride, or even a relaxing ferry journey, exploring new cultures, landscapes, and cities has never been more accessible.
A Weekend in Stockholm: Sweden's Capital
Stockholm, with its stunning archipelago and vibrant city life, is a treasure just a short flight or scenic train ride from Copenhagen.
Spend your weekend meandering through the cobbled streets of Gamla Stan, Stockholm's old town, filled with history and charm.
Don't miss the Royal Palace and the modern marvel that is the Vasa Museum. If you're into a bit of shopping, Biblioteksgatan is your go-to.
With its cool cafes and waterside views, Stockholm mixes sleek modernity with ancient history, making it a must-visit Nordic capital.
If Stockholm seems too far away, there are plenty of other destinations in Sweden you can visit instead. A great Copenhagen day trip is jumping on a train right across to Malmö. This is a local favorite for shopping and escaping the Danish capital.
Norwegian Delights: A Quick Trip to Oslo
Oslo, a blend of lush nature and urban cool, is easily accessible from Copenhagen by a short flight or a picturesque train journey.
Additionally, you can even catch the ferry overnight, with DFDS, directly from Copenhagen.
This city offers a unique combo of outdoor activities and cultural experiences. Visit the iconic Opera House, take a stroll around the Vigeland Sculpture Park, or dive into history at the Viking Ship Museum.
For a taste of Norwegian wilderness, don't miss the opportunity to hike in Nordmarka, just a quick tram ride from the city center.
Oslo is a city where nature and culture live side by side, offering a delightful long weekend trip from Copenhagen.
Hamburg and Berlin: Germany's Cultural Gems
Hamburg and Berlin, each just a quick flight or a comfortable train journey from Copenhagen, are cities steeped in history and buzzing with modern life.
In Hamburg, explore the Speicherstadt warehouse district, a UNESCO World Heritage site, and catch a show in the futuristic Elbphilharmonie.
Berlin, a city that never sleeps, offers a whirlwind of experiences – from the historical Brandenburg Gate to the vibrant art scene in East Side Gallery.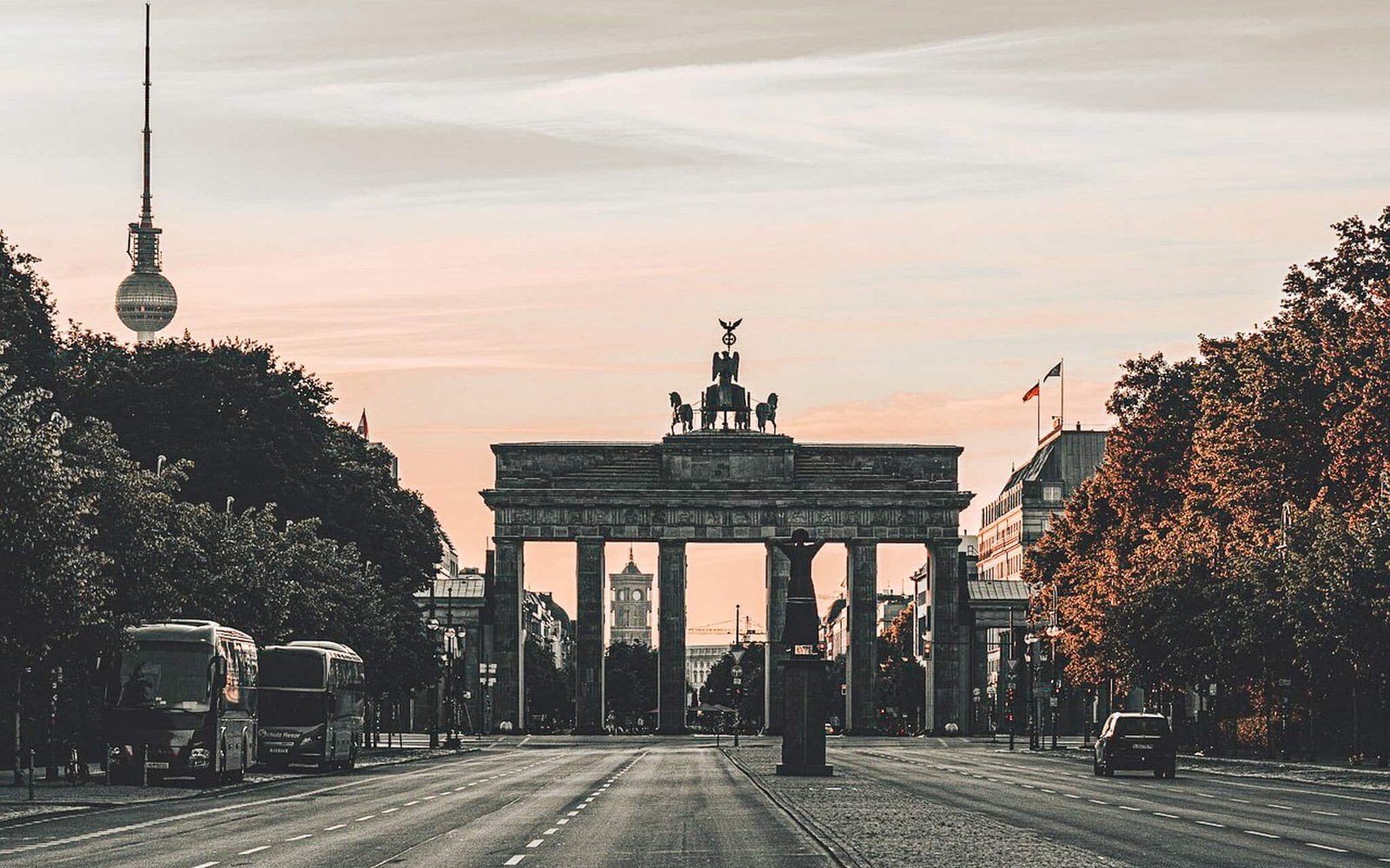 You can easily reach Hamburg by a short train ride and Berlin by bus. For this reason, both are perfect places for a weekend break when visiting Denmark.
Both cities are a foodie's paradise, offering everything from traditional German fare to international cuisine. These German gems are perfect for a weekend getaway of culture, history, and culinary delights.
Travel Made Easy: Transport Options from Copenhagen
Navigating from Copenhagen to your weekend destination is simpler than you might think. This country in Northern Europe is well-connected and easy to travel to and from.
Whether you're a fan of scenic train rides, road trips, or ferry adventures, you've got options that start right at Copenhagen's central station or within the city.
Let's break down the best ways to get from Copenhagen to these amazing destinations.
By Train: Scenic and Convenient
Trains from Copenhagen Central Station can whisk you away to numerous destinations both within Denmark and across borders.
They are the most comfortable and efficient way to reach many destinations.
If you are looking to make a day trip to Kronborg Castle or the modern and contemporary art museum, Louisiana Museum, the train is the best option.
Opt for a direct train to places like Stockholm or Hamburg for a hassle-free journey. The scenic views en route are a bonus, from rolling countryside to coastal vistas.
Booking in advance can snag you some great deals, and don't forget to check for special weekend passes that public transport services often offer.
Road Trips: Car and Bus Options
For those who love the freedom of the road, renting a car from Copenhagen offers endless possibilities.
Drive down picturesque routes like the Marguerite Route for a taste of Denmark's diverse landscapes.
Buses are another viable option, especially for direct routes to major cities or hard-to-reach coastal towns by the scenic Danish coastline.
They're often more affordable than trains and can be a good choice if you're traveling on a budget.
Sea Journeys: Exploring by Ferry
Copenhagen is a gateway to the Baltic Sea, making ferries a unique and enjoyable way to travel. Ferries can take you to Swedish cities like Malmö or the idyllic Danish islands.
These journeys offer a different perspective of Scandinavia, with fresh sea air and the chance to spot marine wildlife.
Check ferry schedules from Copenhagen's ports and consider booking cabins for overnight journeys to farther destinations like Oslo or the German ports.
Pro tip: look for a ferry during off-season or mid-week for discounted tickets.
Making the Most of Your Copenhagen Weekend Trip
Planning your weekend trips from Copenhagen can be as exciting as the trip itself. Start by choosing your next trip – think about what you're in the mood for, be it a cultural city, a tranquil island, or a nature-filled retreat.
Smart Packing: Prepare for changeable weather with versatile clothing, bring essential tech like GPS apps, and a camera for those special moments.
Research and Explore: Before you go, look up that great place to eat or a unique attraction in the area to add an extra spark to your visit.
Plan for Smooth Travel: Check transport options, different tours in Copenhagen, and timings in advance to avoid any last-minute rush, ensuring a relaxed start to your getaway.
Respectful Travel: Embracing Local Cultures and Environments
Traveling is not just about seeing new places; it's about respecting them too. As we explore different destinations, it's important to embrace sustainable and respectful travel practices.
Denmark's a very liberal and down to earth country, but here are some key points to keep in mind:
Understand Local Customs: Take time to learn about local traditions and norms to show respect for the culture.
Environmentally-Friendly Choices: Opt for eco-friendly transport and accommodations where possible.
Support Local Businesses: Choose local eateries and shops to contribute to the community.
Leave No Trace: Always clean up after yourself, whether in nature or urban settings.
Cultural Sensitivity: Be mindful and respectful of local customs and heritage sites.
Final Thoughts on Weekend Trips From Copenhagen
Copenhagen is a gateway to countless adventures, with many day trips and weekend trips available.
From the historical local allure of Frederiksborg Castle to the cultural experience of jumping to another country, there's always something new to discover.
If you have the time while spending time in Copenhagen, you should prioritize experiencing even more of Denmark than just the capital city.
Share Your Experiences: Have you ventured on any weekend trips from Copenhagen? I'd love to hear about your experiences and discoveries.
Also, don't miss out on my article about unique things to do in Denmark, where I dive into the country's lesser-known treasures.
All the very best,
//Josephine
FAQs About Weekend Trips From Copenhagen
What countries are easy to travel to from Copenhagen?
From Copenhagen, you can easily travel to neighboring countries like Sweden, Germany, and Norway. Thanks to excellent transport links, destinations such as Stockholm, Hamburg, and Oslo are accessible by train, plane, or ferry, making them ideal for quick and effortless trips.
What can I combine with Copenhagen?
When visiting Copenhagen, you can combine city exploration with day trips to places like Roskilde Cathedral, Elsinore, and the white chalk cliffs of Møns Klint, or even venture further to Swedish cities like Malmö and Lund. For nature lovers, the Danish countryside and coastal towns offer a refreshing contrast to city life.
Where can I take a train to from Copenhagen?
Denmark's capital is a hub for trains to various destinations. You can take direct trains to cities like Stockholm, Hamburg, and Berlin. Additionally, domestic trains can take you to scenic places within Denmark like Odense and Aarhus.
Which Swedish city is best to visit from Copenhagen?
Malmö is a great choice for a short trip from Copenhagen, thanks to the Öresund Bridge connecting the two cities. It offers a mix of modern architecture and historic charm, making it a popular day trip or weekend destination for those in Copenhagen.
The article may include affiliate links, meaning that I may receive affiliate compensation at no cost to you if you decide to purchase. Read more in my
Affiliate Disclosure.
BEST TRAVEL RESOURCES
BOOK YOUR FLIGHT: Not sure how to get the best and cheapest flights? I always use Skyscanner for the best deals. The best tip is to be flexible with dates and destinations if you want the cheapest options.
Alternatively, for frequent travelers, get a membership with Wayaway and receive a cashback on cheap flights and hotels every time you book! Via the link, you even get a 10% discount on your membership.
BOOK GREAT ACCOMMODATION: Booking great accommodation is not difficult but it sucks paying too much. Use Booking.com for the greatest hotel deals and Hostelworld for amazing hostel stays. Alternatively, you can sign up for Worldpackers to get FREE accommodation in exchange for your work.
BEST TRAVEL INSURANCE: Traveling without insurance is a mistake that you don't want to make - trust me I've tried. I'd suggest SafetyWing as they offer great and flexible policies - especially if you are traveling for a long time or a digital nomad. World Nomads is another great insurance with extensive coverage.
NEED HELP WITH YOUR VISA? Figuring out how and when you need a visa can be a bit of a jungle. iVisa is a very handy and user-friendly service.
HAS YOUR EU FLIGHT BEEN DISRUPTED? Use AirHelp as a service to get flight compensation on your European flights in case your flight was delayed, canceled, or disrupted in other ways. More often than not you are actually entitled to compensation.