"Hostels are gross."
"Hostels are noisy."
"Hostels are for hippies."
These are some of the presumptions and the reputation that is often related to hostels. I hear them all the time from people who have never stayed in one and from people who swear they never will.
A shame really, as people are missing out on some of the great aspects of staying in a hostel and they are also widely misled.
Yes, hostels indeed used to be quite low in standard but it is also true that many things have changed since hostels started to become popular. Nowadays most of them are not very far away from a common hotel. They offer private rooms and bathrooms just like hotels and can be just as, if not even more, clean. There are, however, a few key differences that separate hotels vs hostels from each other.
I always book hostels through Hostelworld and hotels through Booking.com. They have the absolute best deals and options in terms of accommodation.
If you are not sure whether you would like to stay in hostels vs hotels then keep reading below.
I will break down the main differences between the two and include the pros and cons of staying in hotels vs a normal hotel.
PIN THIS POST FOR LATER: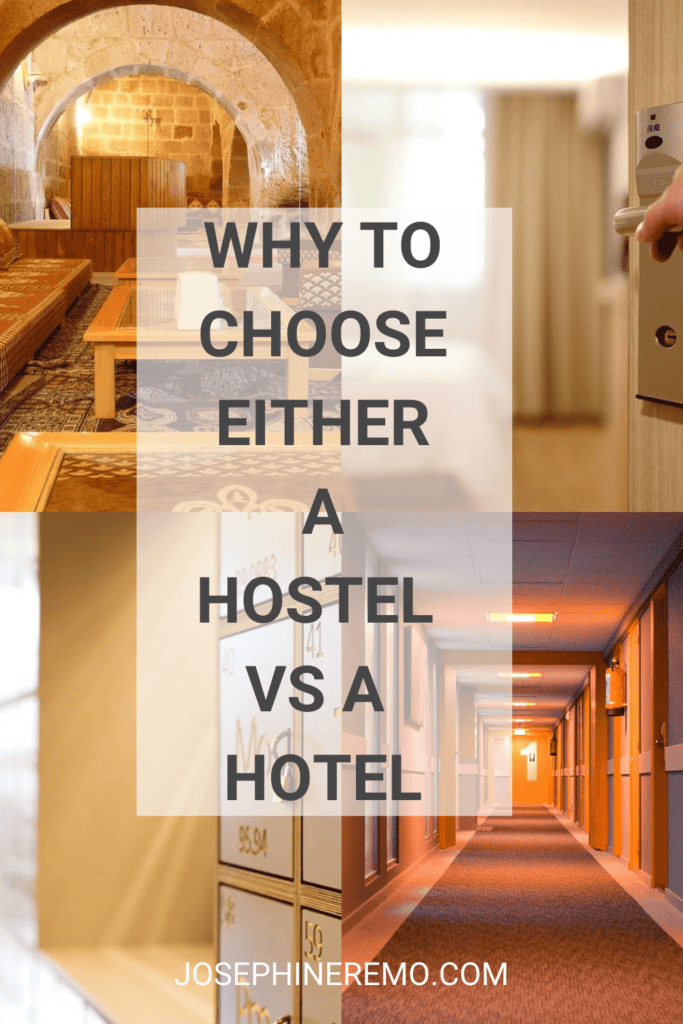 WHAT IS THE DIFFERENCE BETWEEN HOSTELS VS HOTELS?
HOSTELS ARE USUALLY CHEAPER
Hostels are usually a cheaper option compared to hotels. They will cut costs and exclude the amenities that nonbusiness travelers don't usually need. In hostels, you also have the option to share dorms, if you wish, and this makes for very cheap accommodation. You won't find luxuries in your private room like a fridge, coffee machines, etc. These will usually be available in the common areas for all guests to use.
HOSTELS OFFER DORMS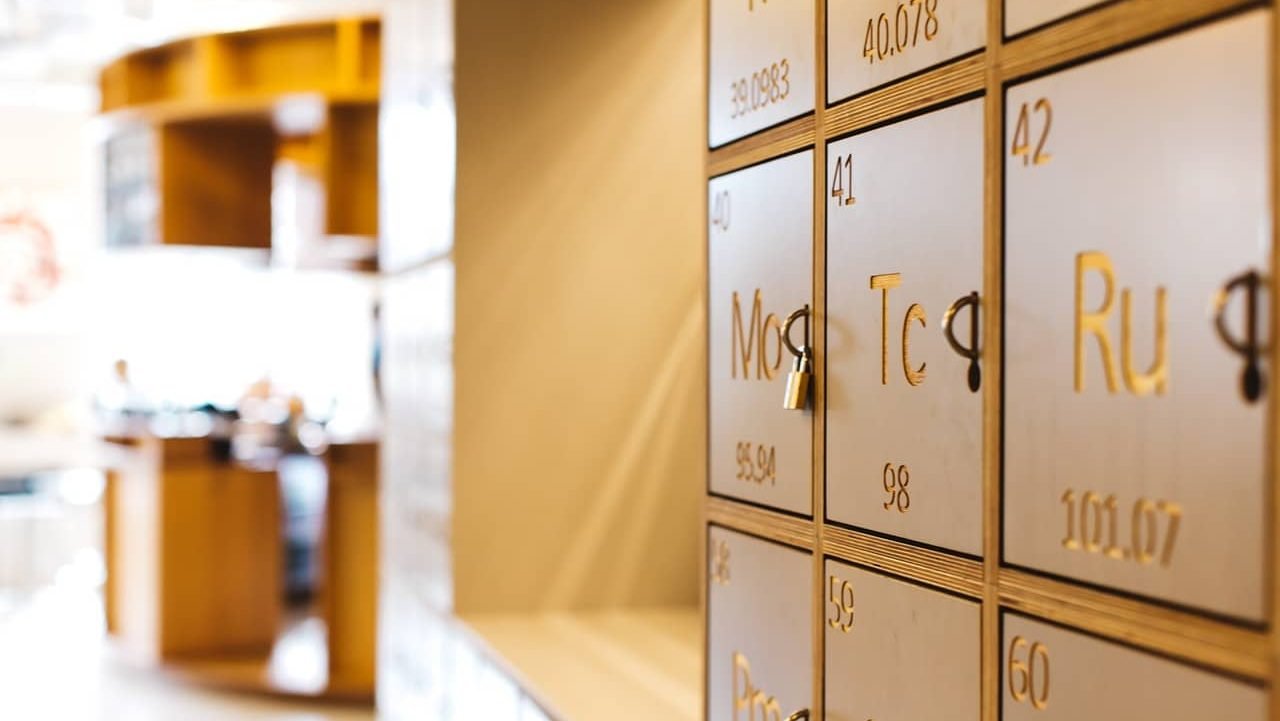 This is probably the most well-known difference between hostels vs hotels. Hostels usually offer dormitories. You can pick a dorm room that ranges in size and usually, you will also have the option of a mixed or gender-divided dorm. Many hostels do, however, also provide the option for private rooms if you wish to have your own room.
HOSTELS ARE MORE SOCIAL
Speaking of common areas. This is one of the biggest differences between hostels vs hotels. Hostels are usually designed to be social and have a lot of spaces inviting people to hang out and meet. People who stay at hostels are commonly more open to meeting other travelers and are open for social activities. Many hostels will have different events that people can join in on. This can be everything from tours, to dinners, to movie nights, and to pub crawls. Depending on where you are and the type of hostel you checked into, they will usually have something going on weekly.
HOSTELS HAVE SOCIAL COMMON AREAS
Hostels have common areas that invite people to hang out. These vary depending on where you go but most hostels have a communal kitchen, bar, or cafe. Here travelers can prepare or grab drinks and meals and meet other people easily. In addition, there will usually be some sort of living room space, outside area, or other spaces dedicated for travelers to relax. If you are in a tropical place they might be hammocks hanging outside or bean backs in the sand. Some hostels I've been to had the best common areas for all sorts of activities. Whether you wish to hang out and read a book, work, or be social these common areas can be great places to do so.
HOSTELS FOCUS MORE ON TRAVELERS VS VACATIONERS
Hostels are not just for hippies. Let me just get that one out of my system. They do attract a large variety of people though and are usually focusing more on travelers compared to vacationers. Travelers tend to be away for longer and will probably want a place that feels more welcoming and homey. Many hostels are owned by former travelers and they understand what others want and need while on the road. Finally, there are many different types of hostels and it's pretty easy to spot the main audience before booking. Look at the price, common areas, and description of the place. If you want somewhere more quiet then a party hostel is not your best choice.
HOSTELS ARE MORE LOCAL
Hotels are often operated by large chains and are not as close to the local community as hostels are. The people that work at hostels are local people with good customer service abilities. You won't find many people with fancy degrees in hostels but they are always welcoming and friendly.
HOTELS HAVE MORE AMENITIES
Hotels will have more amenities included when you stay with them. These can be your little shampoo bottles, the mini bar, and the ironing board. Hotels will include towels and bedding whereas in some hostels you will have to pay for those. In general, hotels are expecting guests who are on vacation for a few weeks and want all the amenities for convenience. In general, hotels will provide more luxury and service than a hostel will. Remember that everything goes hand in hand with the price of the hotel.
HOTELS ARE MORE LUXURIOUS
In general, hotels will have a bigger focus on luxury than hostels do. Where hotels will focus on increasing the amount of luxury, hostels will focus more on social areas and comfortable surroundings. Some hotels do an absolutely fabulous job of providing guests with a very luxurious stay. Staying at an amazing resort can be an experience all in itself.
PROS AND CONS OF HOSTELS VS HOTELS
There are pros and cons when staying in a hostel. The main pros are:
HOSTELS ARE CHEAPER
You can easily save a bit of money on accommodation. Especially if you are not planning on spending a lot of time in your room anyway, this is really convenient.
HOSTELS HAVE GREAT COMMON AREAS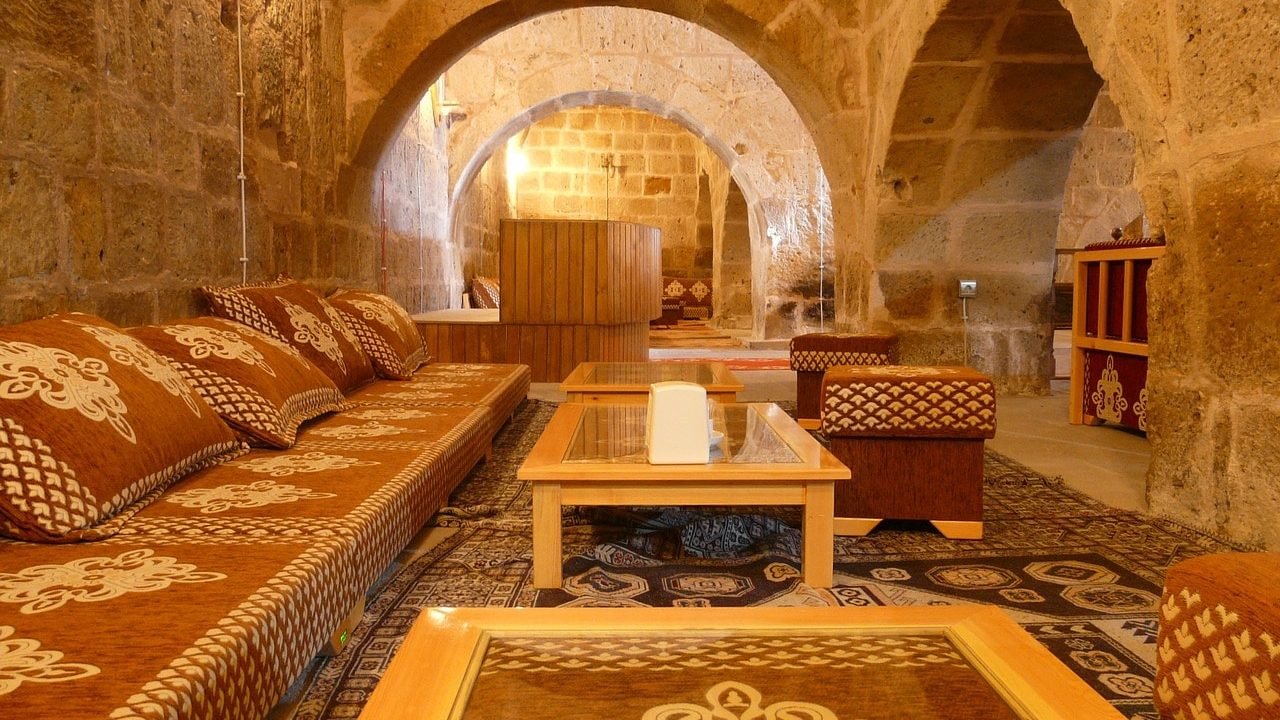 Not only are they comfortable areas for you to hang out in but will also make you feel more relaxed and at home.
HOSTELS ARE MORE SOCIAL
This is a great advantage of hostels if you like meeting other people. Especially if you are traveling by yourself I'd always advise people to stay at hostels and then choose a private room if preferred. You always meet people at hostels and this is a very easy way to make new friends, get great travel tips, or to have someone to join for activities.
YOU CAN SHARE LARGE ROOMS WITH FRIENDS
If you are traveling in a group you can choose a shared dorm if you wish. If not, then private rooms are usually also available.
HOSTELS CAN HAVE GREAT SOCIAL ACTIVITIES
If you want to meet other people and have fun, then hostels usually offer great options for that. Many hostels will have weekly events going on. All to make sure that guests are feeling welcome and having fun during their stay.
HOSTELS TEND TO HAVE GOOD DEALS WITH LOCAL OPERATORS
Many hostels have great and convenient deals with tour operators and companies. As mentioned above, hostels are focused on travelers and know why people are in the area. Many places will make it convenient for guests to go out and explore. Some hostels will offer different tours or all the information you might need to experience what you want. Sure you could probably get it even cheaper by walking around but sometimes you save almost nothing and lose time. A lot of the time travelers will book things together through the hostel and usually get good group discounts as well as a more social experience.
The main cons of staying at a hostel are:
HOSTELS CAN BE NOISY
Some hostels are very focused on party visitors and tend to attract a young crowd. If this is not your desire then doing a bit of research will save you from that experience. I always book hostels through hostelworld.com and here you always have reviews where you can read other travelers' experiences. There are plenty of hostels around that attract families and a more mature crowd. Some hostels even ban drinking and have guards.
YOU MIGHT HAVE TO PAY IN CASH
Some hostels don't accept credit cards as they have to pay for this feature. Since accommodation is already discounted the hostel might have a "cash only" policy. You can usually read this in the description and you just have to make sure to have cash. If in doubt, ask at the counter when you check in.
SOME HOSTELS ONLY HAVE SHARED BATHROOMS
Not all hostels have private rooms with private bathrooms. These private bathrooms can, however, be very large and clean. I've stayed in hostels where there were large shower booths in the bathroom. These were big enough to bring all your necessities with you and also extremely clean. If a private bathroom is a must for you then make sure to look for that in the description of the hostel.
The main pros of staying at a hotel are:
HOTELS ARE MORE ORGANISED
Since hotels have a larger budget and are sometimes operated by chains, they can be a little more organized. Some hostels have travelers working at the front desk, etc. and that can lead to mistakes. Hotels have staff specialized in hospitality and systems in place to make sure everything runs smoothly.
HOTELS HAVE MORE AMENITIES
Hotel rooms will usually have the most basic necessities covered. You almost always have towels, bedding, toilet utilities included in your room. What is available depends on where you are staying. You get what you pay for with everything. I have stayed in hotels where you had to pay extra for almost all amenities, but in most places, they are included. Also, some hostels might have more things available if you ask the front desk. They keep amenities there in case guests don't need them but will hand them out to you if you ask.
The main cons of staying at a hotel are:
HOTELS ARE MORE EXPENSIVE
Hotels generally cost more and you might be paying extra for things that you don't even need. I always book through Booking.com for the best deals available. The site scans and compares prices. Making sure you get the best offer on your hotel room. Often, there are also last-minute deals that you can access through the site.
HOTELS ARE MORE UPTIGHT
Hotels are generally more stiff and cold in service. Although the staff might be friendly they will usually not become your friend. Hotels might focus more on the aesthetic of the environment compared to it being homey.
HOTELS HAVE MORE HIDDEN FEES
Some hotels will add service charges to your bill when you check out. It's always a negative experience when you find out you have to pay more than you expected.
WHAT IS A HOSTEL?
In short, a hostel is a budget-friendly place to stay for all types of travelers. Hostels focus on a shared and social experience where they aim to bring travelers together and make them feel at home.
Many different types of people stay in hostels. They range in age groups and nationalities, and you might meet people from all over the world.
In hostels, you can expect to have the option to stay in a hostel dorm as well as a private room. Most hostels will have the option for private bathrooms but some places might only have shared options.
Hostels provide great common areas for different purposes. These can be to eat, drink, party, play games, watch movies, work, relax, and so much more.
Hotels usually offer kitchen facilities so guests can cook for themselves and some might have laundry facilities too. Almost all hostels will have free wifi and provide lockers to keep your stuff safe.
All hostels are different and offer different things in terms of facilities, people, and vibe.
I always use hostelworld.com for the best options and deals.
WHAT IS A HOTEL?
A hotel is a facility where you can pay for accommodation on a short-term basis. Hotels focus on convenience for their guests and have different levels of services included. The standard of a hotel differs depending on the star rating and the price.
Many different people stay in hotels and will usually be vacationers or business travelers. Many hotels have a large focus on business travelers and offer different services and conference rooms.
In hotels, you usually have different amenities included in your stay. These are things like towels, toilet utilities, hairdryers, refrigerators, etc.
In hotels, you have private rooms and they will differ in size and number of beds, depending on the room you choose.
Hotels usually offer free wifi, laundry services, and breakfast options. The extent of the hotel service correlates with the price and star rating.
I always use Booking.com for the best hotel deals and options around.
FINAL NOTES ON STAYING IN HOSTELS VS HOTELS
If you are still debating whether to stay at hostels vs hotels then I will try to sum it up here.
Hostels are usually cheaper than hotels and are your best bet for budget travel-friendly options.
The main difference between hostels vs hotels is that hostels will have the option to stay in dormitories. Some will offer private rooms and private bathrooms but it can vary. Hotels always offer private rooms and generally offer more privacy.
Hostels always have common areas and a more social setting. If you enjoy meeting new people then hostels are a great choice for that. Hostels are safe places to stay but if you are staying in a dorm, then you should always lock up your valuables. I always make sure I have travel insurance when I go anywhere. This will cover in case you have any accidents or stolen possessions.
If you want more private accommodation and have money to spare, then a hotel might be a more comfortable choice for you. Hotels are more associated with privacy and luxury, whereas hostels are more budget-friendly and social.
Lastly, there are other great hotel alternatives out there for travelers looking for different experiences!
That was all for this one. I have stayed in amazingly cool hostels all around the world and met great people that way. Finally, hostels are my number one choice because of the travel tips you might get from other travelers. Usually, people are traveling around for a long time and are very happy to share their experiences.
As always, feel free to leave a comment below.
//Josephine
The article may include affiliate links, meaning that I may receive affiliate compensation at no cost to you if you decide to purchase. Read more in my
Affiliate Disclosure.
BEST TRAVEL RESOURCES
BOOK YOUR FLIGHT: Not sure how to get the best and cheapest flights? I always use Skyscanner for the best deals. The best tip is to be flexible with dates and destinations if you want the cheapest options.
Alternatively, for frequent travelers, get a membership with Wayaway and receive a cashback on cheap flights and hotels every time you book! Via the link, you even get a 10% discount on your membership.
BOOK GREAT ACCOMMODATION: Booking great accommodation is not difficult but it sucks paying too much. Use Booking.com for the greatest hotel deals and Hostelworld for amazing hostel stays. Alternatively, you can sign up for Worldpackers to get FREE accommodation in exchange for your work.
BEST TRAVEL INSURANCE: Traveling without insurance is a mistake that you don't want to make - trust me I've tried. I'd suggest SafetyWing as they offer great and flexible policies - especially if you are traveling for a long time or a digital nomad. World Nomads is another great insurance with extensive coverage.
NEED HELP WITH YOUR VISA? Figuring out how and when you need a visa can be a bit of a jungle. iVisa is a very handy and user-friendly service.
HAS YOUR EU FLIGHT BEEN DISRUPTED? Use AirHelp as a service to get flight compensation on your European flights in case your flight was delayed, canceled, or disrupted in other ways. More often than not you are actually entitled to compensation.