Since you are here you are probably looking for a change of life and wondering what jobs you can do from anywhere.
Maybe you are sick of the standard 9 to 5, or you are looking to change careers.
You might even want to move abroad or travel around.
Maybe you feel trapped, unhappy, or adventurous.
Whatever your reason, I completely understand, and quitting my corporate job is the best decision I have ever made in my life.
The thing is, we have been programmed to believe that we have to live life a certain way to make money and be happy. Terrible things will happen if we don't.
The truth is we have been told lies our entire life to create fear and keep us within a certain system. It's stable and secure, and everything stays within the ordinary. While there is nothing wrong with that system it is simply not for everyone. We wither and become unhappy. All inspiration, enjoyment, motivation, and lust for adventure disappear.
Personally, I had done everything right. After high school, I got a good job and traveled a bit. When people started expecting me to, I applied for university and got into one of the most popular schools in the country. I graduated and immediately landed a job at a high-end TV production house, working on a big Netflix show. People were impressed and I was proud.
A few months later I felt completely different. It wasn't that the job wasn't interesting or my colleagues weren't fun. The problem was that I had actively participated in every single decision designing my life and I was now seeing it play out in front of my eyes, and I hated it.
If I was doing everything right, how could it feel so wrong?
So I quit, packed up everything, and set out to find a different life. Though not an easy decision, it was exactly what I needed to do.
If you are wondering whether it is possible to break from the system, I tell you that it is very possible. People do it all the time and if they can, so can you. It only takes a bit of courage, travel insurance, persistence, possibly an anti-theft travel bag to keep your belongings extra safe, and belief to make it happen. The time has never been better to work remotely online with a good travel laptop. Likewise, it has never been easier to find jobs in different locations.
I wrote this list of 21 jobs you can do from anywhere, hoping to inspire you and realize the endless possibilities there are in our modern world today to find work anywhere.
PIN THIS POST FOR LATER: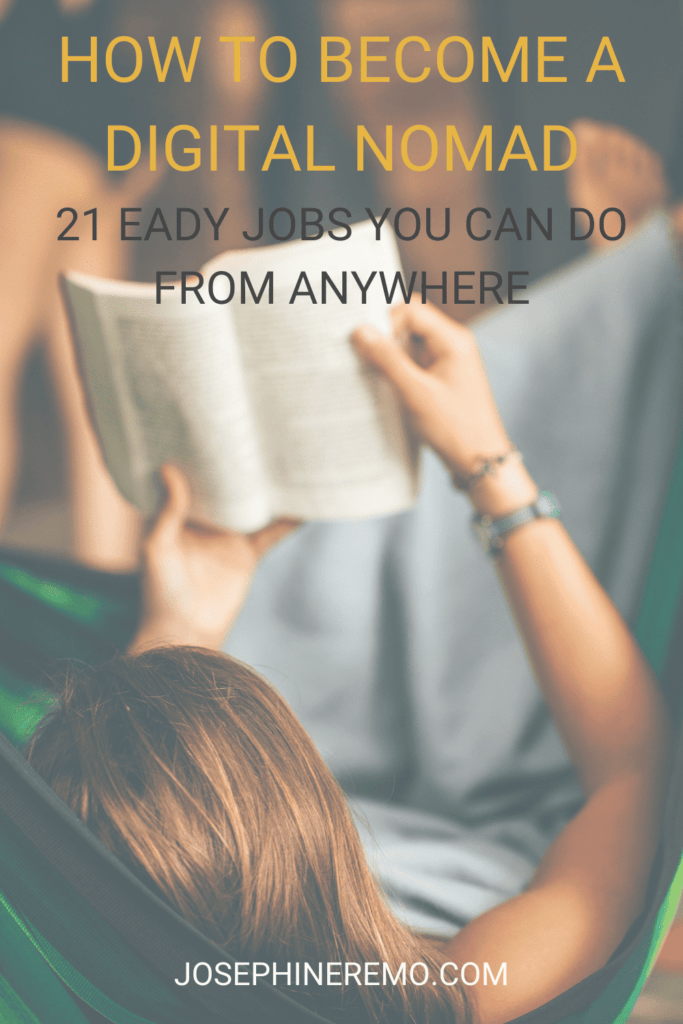 WHAT JOBS CAN YOU DO FROM ANYWHERE?
1. WEB PAGE DESIGNER
The internet is an ever-growing vibrant organ that never sleeps and working online literally has endless opportunities. An obvious job that you can do as a digital nomad is web page design.
Most companies need a web page and the market for web developers and web design is massive. Not only is web page designing time-consuming but it is also overwhelming to many people. Businesses will pay good money for someone to design or update their website.
The good thing is that you don't even need a proper education for it. If you have a good tech understanding and know how to google, a few online courses or videos will have you covered.
Next, you can outsource your services on platforms such as Fiverr and Upwork. You might not make big money in the beginning but as you build your resume and get a few regular clients, you can easily support yourself in no time.
2. VIRTUAL ASSISTANT
Corporations are growing and people are busy, but everyone wants cheap and fast options. Work as a virtual assistant is a growing concept where a business can outsource tasks online that they don't necessarily want to hire an extra person to do or have time to do themselves.
As a virtual assistant, you do regular assistant work but work remotely. These can be tasks such as filling out spreadsheets, being a customer service representative, customer support, performing data entry, updating folders, or sorting emails. Though it might not sound overly exciting, it is an easy way to do remote work. Additionally, this is a no-experience digital nomad job that you can succeed in as a beginner.
I don't know about you, but I'm willing to do a lot of boring tasks if it means I can drink my morning coffee overlooking the ocean in Sri Lanka.
If this is of interest to you there are a bunch of Facebook groups you can join and, again, Fiverr and Upwork are portals where you can find work.
3. SEO EXPERT
SEO or Search Engine Optimization is a crucial step if anyone wants to be discovered online. Again, it is something that many people don't know about and are willing to pay good money for.
If you are an SEO expert this is one of those jobs you can truly do from anywhere and make good money.
4. SOME MANAGER
If you have a good understanding of social media you are all set. SOME is the largest growing source of advertisements and businesses need people to help with their online presence.
As a SOME Manager, you need to know how to do online campaigns and understand platforms such as Pinterest, Twitter, Instagram, YouTube, and Facebook. While you don't need to be skilled in all of them, you have to know how to get results with at least one.
5. GRAPHIC DESIGNER
People need logos and graphic designs for their businesses and they always will. Fortunately, this is also one of the most obvious jobs that you can do from anywhere in the world.
Becoming a freelance graphic designer will not only pay well and provide freedom, but you will also have endless possibilities of working with interesting clients and tasks.
6. PHOTOGRAPHER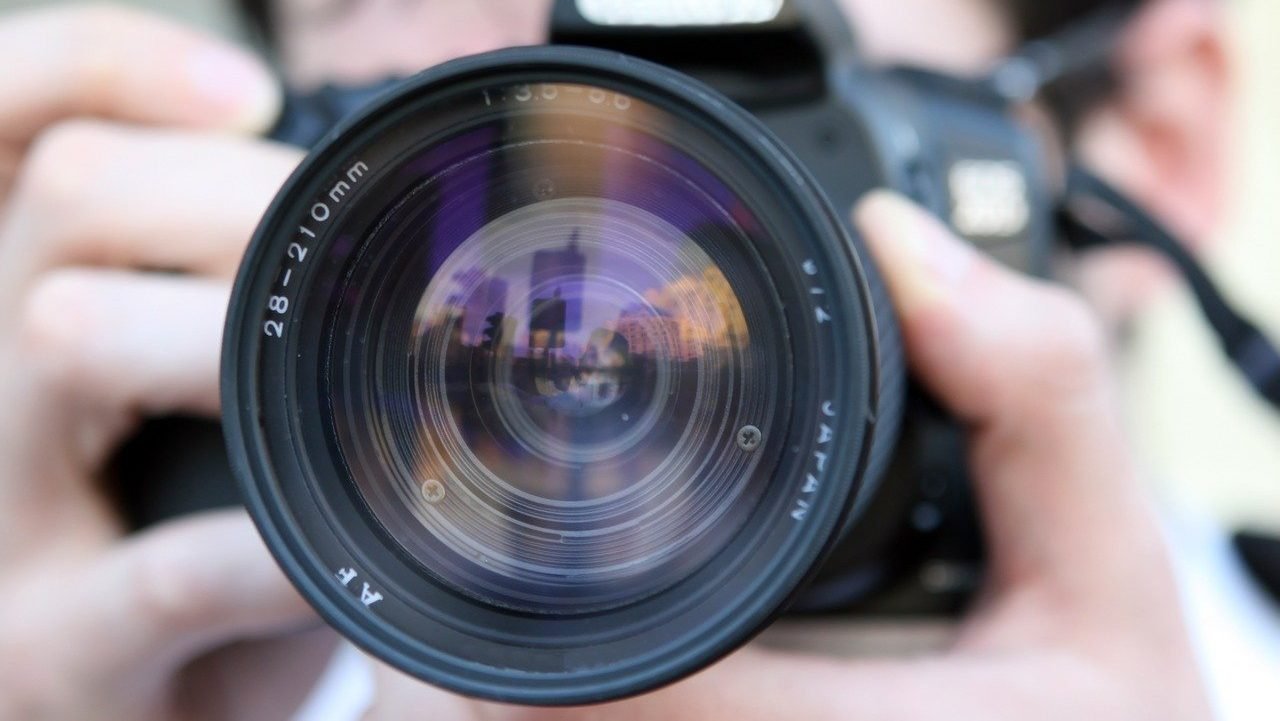 There can never be too many good photographers and you don't need to be professional to make money. All it takes is decent equipment, a good eye, and practice.
Making money from photography can be done by selling pictures or video footage on different stock sites such as Getty Images, Shutterstock, or Blackbox. Though the market is saturated it is possible to make enough money if you make enough content. On top, you can always sell your pictures privately online, or even in newspapers and magazines.
7. JOURNALIST
If you are a good writer and interested in a specific field, then becoming a freelance journalist is a good option to have as a remote job. With platforms such as Zoom, Facetime, and Skype you can easily make interviews and write thorough articles from anywhere.
These articles you can sell to newspapers and magazines in your niche.
8. COPY/CONTENT/WRITER
The internet is heavily dependent on well-written text and if you are a good writer, there are jobs you can do from anywhere for you.
Whether it is ghostwriting for a blogger, writing a book, or creating good marketing copy, you have great online job opportunities as a freelance writer.
9. TRANSLATOR
The internet has created countless opportunities and translation is one of them. Back in the day, a business would have to find an official translator to help them out with basically anything. Nowadays you can easily find a native speaker online who can do the job fast, cheap, and easily.
If you speak more than one language then becoming a translator is an option for you.
10. LANGUAGE TEACHER
The demand for language teachers has been growing since globalization started. To do it online and from anywhere you would probably have to be official and speak several languages but otherwise, this is also a job that people do in specific countries.
I have met people who have taught English in both China, India, and Nepal. If this is an experience you would like to have then I think it could be wonderful for you.
11. TEACHER
As mentioned above teaching is an option and there are plenty of teaching jobs that you can do from anywhere. If you have any skills that you can share you can either do it online or in person.
You can teach almost anything and a few examples would be music, mathematics, writing, science, etc.
12. BLOGGER
Becoming a blogger can be a profitable business but know that it takes time and dedication. You won't necessarily see a dime in your first year of blogging or even longer depending on your work ethic.
But once it's going, it's going and you can do it from anywhere while making a great passive income. The good thing about blogging is that you can also blog about absolutely anything. As long as you have a specific niche you can find an audience.
13. YOUTUBER
People are watching YouTube content like never before and in many ways, YouTube has even replaced regular TV. It's easy, the videos are short, and the amount of entertainment is endless.
If you are good on camera and like video editing, then YouTubing could be for you. Know that you need a specific niche and that YouTube takes time and dedication.
14. PODCASTER
If you are a good storyteller but not necessarily good on camera or a good writer, then making a podcast is a great alternative. People love podcasts and again there is a crowd for almost any niche.
Being a podcaster from anywhere would also allow you to involve people from anywhere in the world if you wanted to.
15. VIDEO OR SOUND EDITOR
Many businesses outsource their sound and video editing. If you are a shark within this field, then you can easily do it from anywhere.
16. MODERATOR
Being a moderator is actually one of the jobs I have that you can do from anywhere. Basically, it is being an online interviewer and you can earn good money. If you are good at talking to people and know a little about interviews, then corporations hire freelance moderators to conduct interviews.
I, for instance, work for a company that executes user surveys for other companies. Whenever they need to complete a study, they contact me to do the online interviews for them.
17. MUSICIAN
Being a musician does not require a specific location and can be done with a computer and a simple set-up. There are studios all over the world so, of course, it is possible to do it from anywhere. Many musicians even sell jingles and tunes to small companies and that does not require a massive set-up.
Also if you are a good artist, you play small jobs on the roads in bars and restaurants.
18. ARTIST
If you are creative or handy you can easily create products and sell them online or even on the road. A simple website, a little online marketing, and an Instagram page can bring in cash from anywhere in the world.
Finally, you can even sell your designs, jewelry, or paintings to shops, galleries, or markets.
19. COACH
Being a coach can be done online and in person. Zoom and other types of social media make it extremely easy to stay in contact with clients and be present in your coaching. For many people, it is easier to commit to an online coaching session than to go in person.
If you are good with people and have something valuable to share, then coaching from anywhere could be for you.
20. CONSULTANT
If you know about business consulting and know how to make businesses grow then many people will pay for your expertise. More often than not, sharing reports and discussing via zoom is enough to do the job.
Know that you can be a business consultant in many fields and if you have skills in marketing, IT, finances, etc, you can consult businesses from anywhere.
21. FITNESS INSTRUCTOR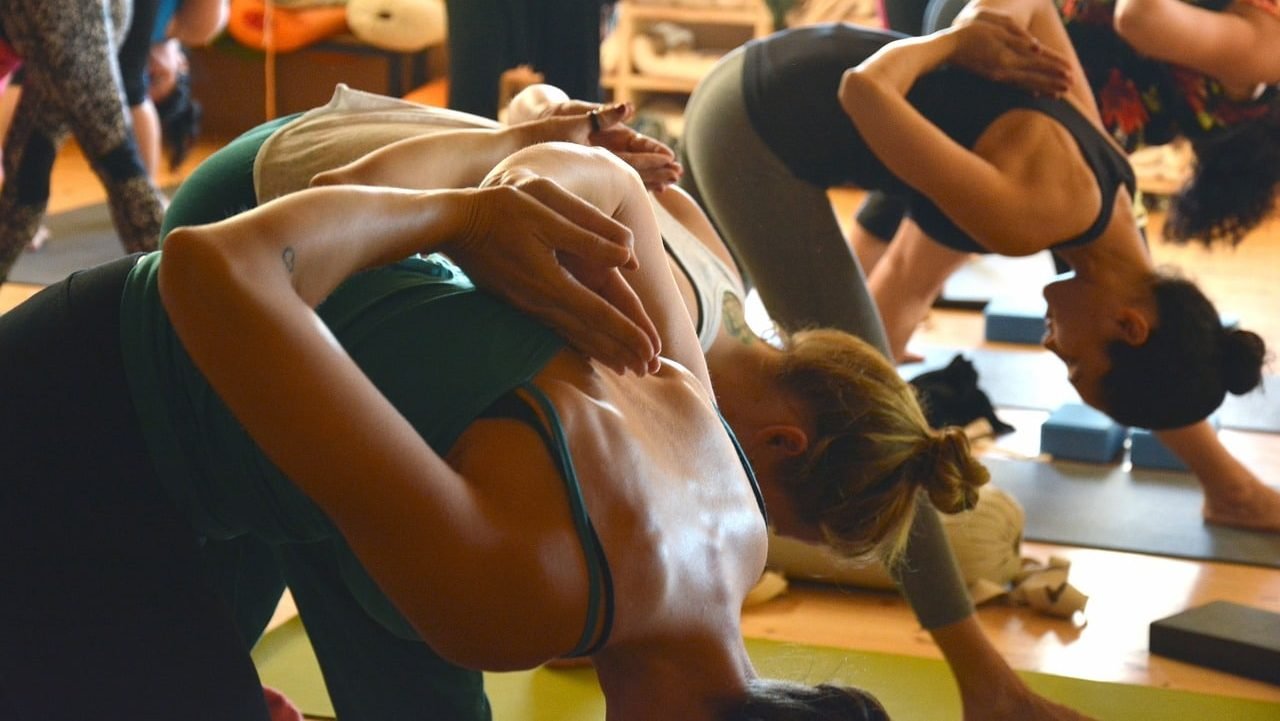 The last of the jobs you can do from anywhere that I would like to mention is working as a fitness instructor. Here I am not only referring to heavy weight lifting or being in a gym but any type of fitness. Yoga and Pilates instructors are needed anywhere in the world and you can work on the road in this field.
Finally, you can even sign up with online fitness platforms or even start your own YouTube channel if you want.
TIPS AND INSIDES ON JOBS YOU CAN DO FROM ANYWHERE
FIVERR AND UPWORK
The two most widespread and popular platforms for online jobs are Fiverr and Upwork. On these platforms, you create a profile where you describe your skillset. Here businesses look for and hire people whose profile matches the tasks they need to solve.
Sounds easy enough right?
It is but there is one massive downside. Both portals are highly saturated and competitive. The problem is also that people from all over the world have joined the network and offer the same skills at very different price ranges. While you would charge 20 USD an hour for something, a person in Asia might only want 7 USD.
Therefore, be prepared to work at a low salary when you first start out to build up your resume. Fortunately, people are also willing to pay decent money for high-level services, and after a few good reviews, you will be able to charge more.
Finally, businesses will keep working with people they know and trust, so in a short time, you should get a few regular clients if you do the tasks satisfactorily.
NETWORK CAN BE KEY
Your network is your biggest strength and you should take advantage of it. Instead of relying on finding jobs online, ask around in your network to job search.
Make a status on Facebook or an Instagram post, explaining what you are looking for and what skills you can offer. Ask if anyone could know someone or if people could please share your post. More often than not you will receive a positive response.
If you know someone who is in the field that you would like to be in, message them directly. Maybe they can put you into contact with someone or you can even make a collaboration.
Don't be scared to ask around. Nice people want to help and the worst that can happen is that you won't find anything this way.
YOUR JOB COULD HAVE OPPORTUNITIES
You might not realize but many jobs will allow you to do your tasks from anywhere. The job you are currently in at home knows you and trusts you. You know the company, the clients, the systems, and the tasks that need to be completed. This is valuable to your workplace as you have insights that they would have to teach a new person.
While you might not be able to keep your current position, maybe you can downsize your hours and responsibilities and do your job from afar and still get paid. Talk to your boss and explain that you are looking for a change and ask if you can help them with xx tasks online in the future.
Please note that by doing so you are implying your wish to quit and you should only do this if you are absolutely sure and ready to leave.
LAST NOTES ON JOBS YOU CAN DO FROM ANYWHERE
Taking the step to go outside the system can seem overwhelming, scary, and exciting at the same time. The hardest thing is usually dealing with a bit of fear and insecurity and this is not only coming from yourself. Be prepared that other people might get upset or feel threatened by your choice. Maybe you are doing exactly what they always wanted to do but never dared to.
Surround yourself with people who support and uplift you, and shut down negative comments that make you doubt yourself.
Working remotely and following dreams is completely accessible and you will never know if you never try. It just takes a little bit of courage and some knowledge on how to start making money while you travel.
Worst comes to worst, you can always go back to your old ways, and in that, there is no shame.
Finally, the great thing about becoming a digital nomad or working remotely is that you will lower your living expenses tremendously depending on the digital nomad destination you choose. If you want you can even work a bit at hostels, bars, or other facilities in your destination in exchange for free accommodation.
It has never been easier to step out and find remote jobs that you can do from anywhere than it is today.
That was it for this one. Please share this post if you think it could be valuable to someone and comment if you have any inputs or further suggestions. Would love to hear!
//Josephine
The article may include affiliate links, meaning that I may receive affiliate compensation at no cost to you if you decide to purchase. Read more in my
Affiliate Disclosure.
BEST TRAVEL RESOURCES
BOOK YOUR FLIGHT: Not sure how to get the best and cheapest flights? I always use Skyscanner for the best deals. The best tip is to be flexible with dates and destinations if you want the cheapest options.
Alternatively, for frequent travelers, get a membership with Wayaway and receive a cashback on cheap flights and hotels every time you book! Via the link, you even get a 10% discount on your membership.
BOOK GREAT ACCOMMODATION: Booking great accommodation is not difficult but it sucks paying too much. Use Booking.com for the greatest hotel deals and Hostelworld for amazing hostel stays. Alternatively, you can sign up for Worldpackers to get FREE accommodation in exchange for your work.
BEST TRAVEL INSURANCE: Traveling without insurance is a mistake that you don't want to make - trust me I've tried. I'd suggest SafetyWing as they offer great and flexible policies - especially if you are traveling for a long time or a digital nomad. World Nomads is another great insurance with extensive coverage.
NEED HELP WITH YOUR VISA? Figuring out how and when you need a visa can be a bit of a jungle. iVisa is a very handy and user-friendly service.
HAS YOUR EU FLIGHT BEEN DISRUPTED? Use AirHelp as a service to get flight compensation on your European flights in case your flight was delayed, canceled, or disrupted in other ways. More often than not you are actually entitled to compensation.