I want to start this post by saying thank you to the person with the fake Airbnb apartment in Palermo. Because of you, I ended up spending a month in a pure volcanic paradise by mere coincidence. This was in Lipari and the Aeolian Island group.
I will admit that being without a place to stay in the middle of the Italian holiday month of August with a heatwave bringing Sicily to the boiling point, did not exactly have me thrilled on arrival.
Before arrival, I had pre-booked the last ferry heading to Lipari Island from Milazzo harbor and made it to the check-in counter three minutes before departure.
I was hot, hungry, stressed, and frustrated that the trip from Palermo to the harbor had taken 8+ hours.
And where was I going exactly?
Let's just say I wasn't exactly optimistic.
Little did I know that I was about to visit the most interesting, beautiful, and charming group of Islands in the whole of Italy.
PIN THIS POST FOR LATER:
What To Do on Lipari Island?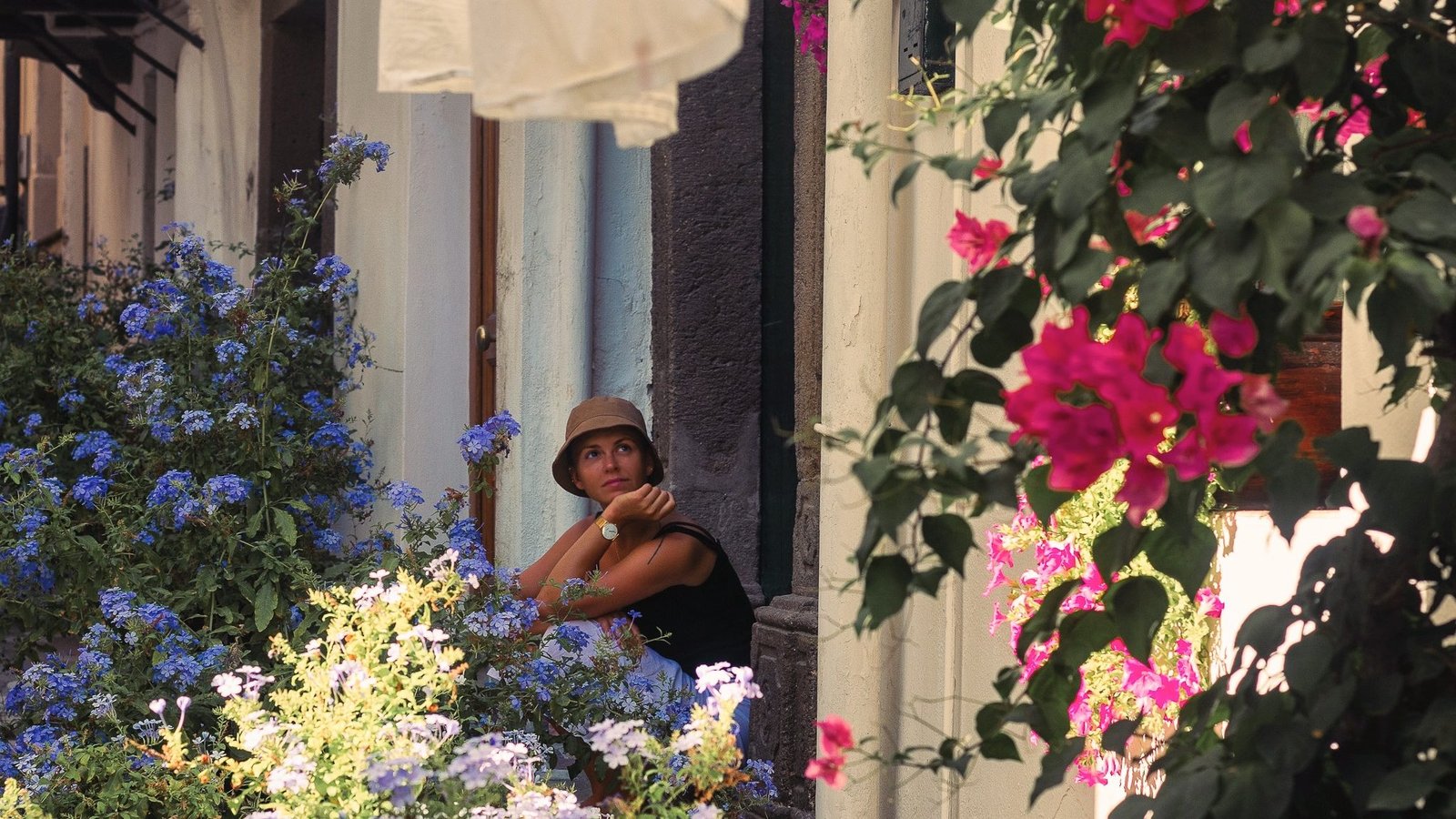 Lipari Island is the largest of the seven islands of the Aeolian group. Because of this, it is also the busiest and the most touristic since the island works as a connection point for tourists to visit the Aeolian Islands.
Though Lipari does get busy during the high season, it has still preserved its small island feel, charm, and beauty.
Tiny cobbled alleyways, laundry lines full of white sheets, balconies spilling over with flowers, and a harbor area full of old sailors, make Lipari Island look and feel exactly like the perfect romantic Italian summer cliché.
And it is exactly that and therefore, also the perfect vacation destination. Lipari Island is a beautiful paradise that provides a bunch of great activities to keep any traveler entertained for weeks.
Travel tip: download the Wanderlog app onto your phone (works for both android and iOs) and keep a plan for your trip. It's completely free and allows you to add everything you need such as important things scheduled, places you want to eat, reservations, and where you are staying!
Below I made a map and included my recommendations for you:
Visit Downtown Lipari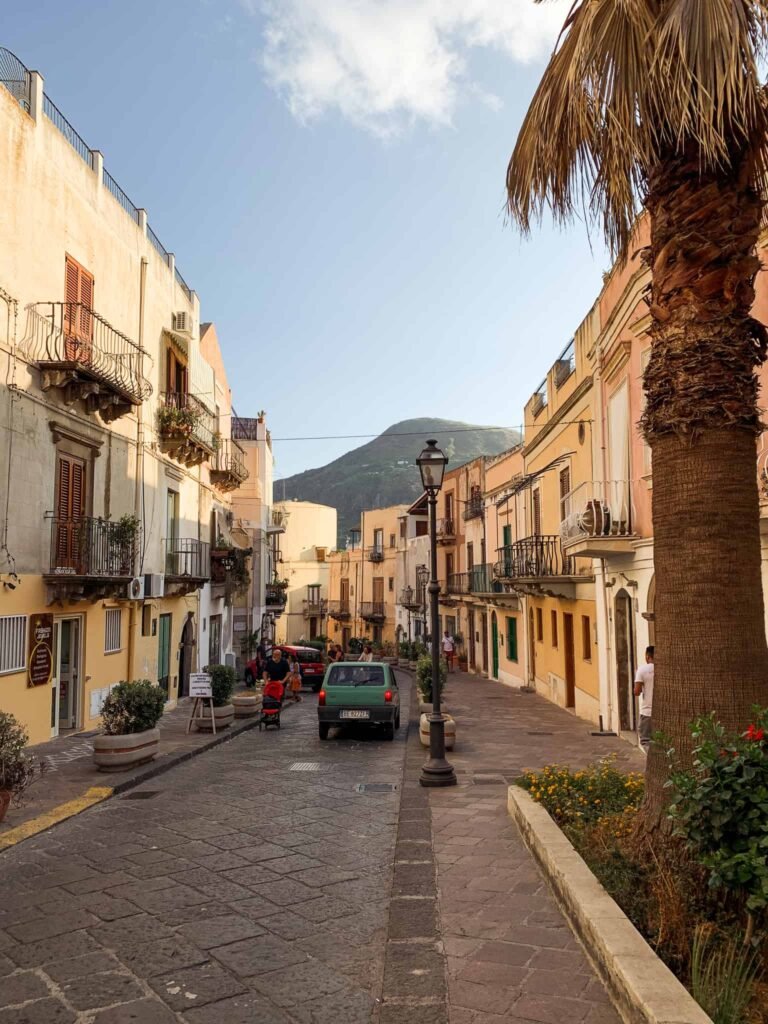 Lipari town center is a charming Unesco World Heritage Site that stretches from Marina Lunga to Marina Corta.
You head via Corso Vittorio Emanuele, the main shopping street of the city. From there you are simply supposed to get lost in the many tiny alleyways that make up the small historical city.
Lipari Island holds an interesting, dark, and amazing story as the islands were colonized before the beginning of Christ by the Ancient Greek. Since then they have been conquered by pirates, liberated, and conquered again more times than you can count on two hands. The island is a historical hotspot and the old town of Lipari an impressive sight.
Head to the Castello Di Lipari and admire the ancient fortress walls still standing since the 16th century. From there it's a must to visit the Cathedral of St. Bartholomew and the interesting Aeolian Archaeological Museum. On top of being a very interesting history lesson, you will also have a beautiful lookout over the ocean and the old town below.
Go To The Beaches of Lipari Island
There are many beautiful beaches around Lipari Island, and while on the Island the turquoise sea will call to you all by itself.
The largest, most accessible, and also the most commercial beach, is Canneto. Canneto beach is only a few kilometers away from the main town and can be reached very easily.
Besides Canneto you also have Spiaggia Bianca. While the ocean here is the clearest I've ever experienced, you have to take a steep walk to reach the white sand. Furthermore, you have one main Lido where you pay for a chair and a small free area for other visitors.
Finally, if you have time, make sure to visit Spiaggia Papesca, Spiaggia Porticello, and Spiaggia Acquacalda. All beautiful places with crystal clear ocean splashing against the volcanic soil of Lipari Island.
Hike Around Lipari Island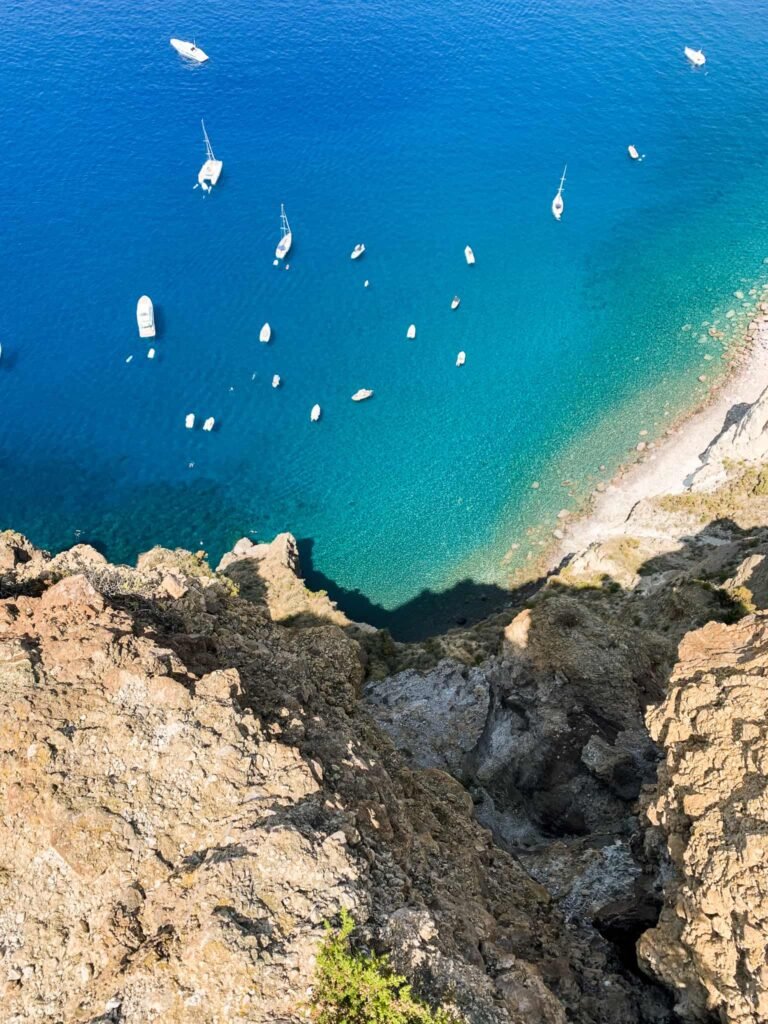 There are many scenic walks you can take around the Island where you have a beautiful lookout over the ocean, the volcanic rock formations, and a view of the other islands.
The most popular walks are either the climb up Monte Sant'Angelo or to the ruins and natural springs of San Calogero.
On top, make sure you head for Quattrocchi Belvedere one way or the other, to have a stunning view of the raw volcanic cliffside and Volcano Island.
Next, go to Quattropani on the north coast for a lookout over Salina and the sunset of your life.
Visit Agriturismo Tivoli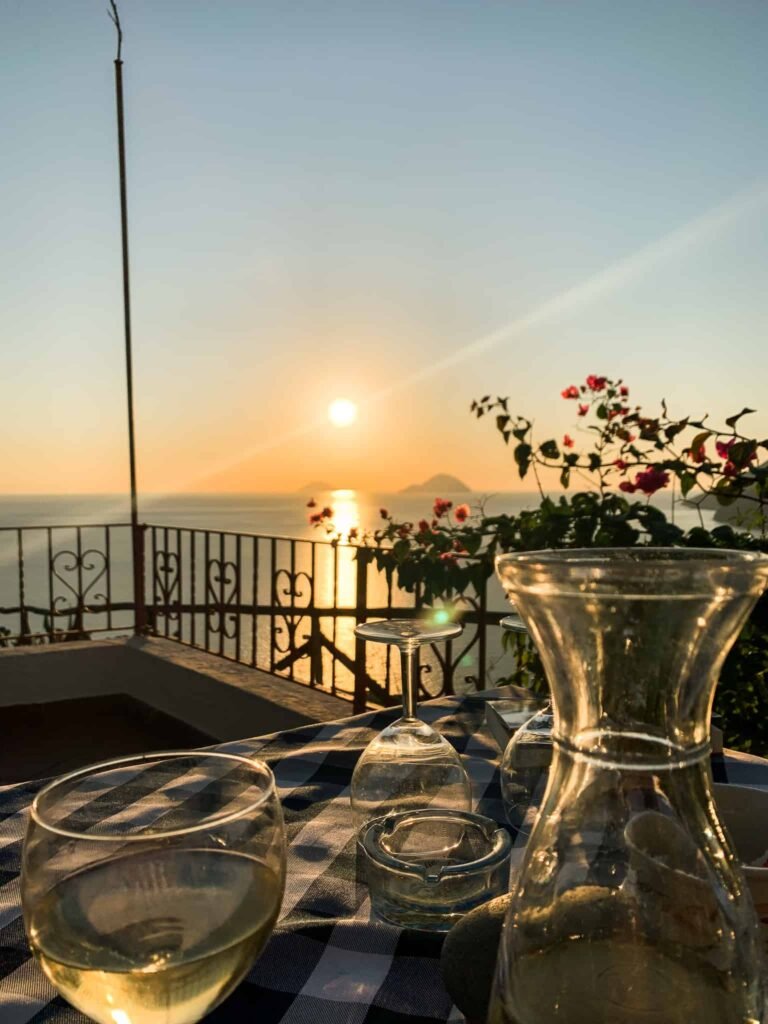 At Quattropani you find the beautiful Agriturismo Tivoli. The second we stepped inside this place, this agriturismo stole my heart completely. With a small backyard full of hammocks and benches, you have the perfect afternoon hangout spot and the perfect place to watch the sun connect with the sea.
For dinner, the agriturismo serves a set menu of various traditional plates and the house wine in simple glass cans.
Simple, local, and beautiful just as it should be.
Go To a Winery
As mentioned, the Aeolian Islands are a group of volcanic islands dramatically bursting out of the ocean. Besides being breathtakingly beautiful, these conditions are also perfect for wine production.
Tenuta Di Castellaro is a winery located at the very top of Lipari Island. Besides being amazing wine producers, their beautiful winery also provides stunning views.
Head for Tenuta Di Castellaro for either a wine tasting overlooking the sea, a tour, or a sunset picnic. I can highly recommend all three options.
In addition, there are several tours that you can do for great food and wine tasting!
Visit The Other Aeolian Islands
While on Lipari Island you have to prioritize at least one full day on the ocean and preferably even visiting some of the other islands around.
Make sure to prioritize the following:
Volcano Island
Visit Volcano Island and take a hike up to the active crater and swim in the ocean bubbling with volcanic activity underneath you. Visiting Volcano Island feels very adventurous and it makes for a very fun day excursion.
Stromboli Island
Enjoy the island vibe and watch lava splash out of the crater at night at Stromboli Island. This island amazed me because you watch the active volcano breathing right above your head, while you are sipping drinks and listening to live music in a crowded bar just beneath it.
Shouldn't we be running away?
Salina Island
Salina Island is the second-largest island that has a calmer feel compared to Lipari. Go here to enjoy a day in the ocean, have lunch, or even visit the Salvatore D'amico winery. Apparently, the Pane Cunzato was invented in this place and it's a must to go enjoy a serving for lunch by the oceanside.
Panarea Island
Panarea Island is a tiny island that has the most beautiful ocean and beaches. Head to Panarea to enjoy a quiet afternoon and have a walk on this tiny island.
It's possible to visit the other islands in the following ways:
Island Hop With The Ferry
Boats are constantly leaving Lipari Island and it's fairly easy to get around. The Liberty Lines leave Marina Lunga and connect the other Islands during the day.
Note that these ferries are not overly flexible and you need to plan ahead. Sometimes there is just one boat early in the morning and then another late in the afternoon. The ferries compromised us a few times because we assumed there would be a boat. This can be avoided if you check the timetable beforehand.
Rent a Boat
While it is fairly expensive during high season, the best way to spend a day in the Aeolian Islands is by renting your own boat. This way you have the liberty to island-hop and swim all day without the crowds and a tour guide. Note that most boats are small and getting to the further islands might take some time.
You don't need a license and head to Marina Lunga to make the arrangements. Make sure to always have good travel insurance that will cover any accidents. Most commonly, you pick up your boat at 9 am and hand it back in at 6 pm.
Do a Boat Tour of The Aeolian Island
While I would advise any visitor to rent a boat and enjoy a private day around the islands yourself, I would also advise you to book a tour.
For not a lot of money, we enjoyed an entire day on a boat. Here we visited Salina, Panarea, and watched the lava splash from Stromboli in the late evening.
Our tour started by going around Lipari for a few hours. From the boat, we could swim and see the beautiful rock formations.
For lunch we enjoyed spending a few hours at Salina Island, drinking wine, eating Pane Cunzato, and overlooking the ocean.
You make a short swimming stop at Panarea and finally, you head off to Stromboli Island.
At Stromboli, you have a few hours to enjoy what the island has to offer before it gets dark. Now you head back around the island with the boat to watch the impressive splashes of lava coming from the top of the active volcano.
Any tourist shop at the beginning of the main street from Marina Corta offers tours. Just make sure to book with one of the smaller boats (less than 100 people) as this does make the day more enjoyable.
Or find a tour in advance and book online here:
How to get to Lipari Island
Most people coming to Sicily will arrive via the largest City. You should visit Palermo for a few days, and from there you can take the train down the coast.
The easiest way to reach Lipari Island is by ferry from either Messina or Milazzo. Easiest in the sense that ferries run most regularly and the trip is shorter.
On top, there are other options to go straight from Palermo or even grab a ferry from Naples.
Check out Liberty Lines for the schedule and make sure to book ahead in the busy months.
Where To Stay on Lipari Island
Lipari Island can get very busy and the prices for accommodation skyrocket. Again, research and pre-book in good time.
In my opinion, one week is perfect to explore Lipari and the Aeolian. So pack your little travel suitcase and enjoy paradise.
I would highly recommend you to stay at either Agriturismo Tivoli, Hotel Cutimare Di Acquacalda, or see if you can find a nice Airbnb close to the ocean.
Note that you can't swim in the old town of Lipari and that it is quite packed with people at times. Though fun, it might not be perfectly inlined with your understanding of a relaxing vacation.
How To Get Around Lipari Island
Getting around Lipari Island is possible by bus, but even better by renting a scooter or a car.
There are services in the main town of Lipari renting out vehicles daily.
Alternatively, you can also grab an electrical bike or grab a taxi to ride around the island.
Finally, if you have a car in Sicily, you can take this with you on the big ferry and drive around the island yourself.
What To Eat on Lipari Island
Lipari Island is, as you might expect, full of fish and seafood. Spada or swordfish is a local delicatessen and is served all over the island.
During lunch, eat Pane Cunzato. An open Mediterranean sandwich that comes in many different varieties.
Another local specialty is Granita. A water-based ice cream that comes in flavors grown on the islands.
Visit Agriturismo Tivoli for a stunning local dinner.
On top, Trattoria Del Vicolo is another family-run and local delight.
For a cheap, easy, and central meal head to the Enopaninoteco Gilberto e Vera – a small place specialized in wine and paninis.
Lipari and The Aeolian Islands are wonderful volcanic paradises that any traveler should prioritize visiting.
I have never visited a place with such a high amount of volcanic activity or felt so close to nature before. From the ever-smoking Stromboli to the cave formations surrounding the islands, Lipari and the Aeolian Islands are a natural reminder beautifully crafted by nature.
If you are looking for a different, beautiful, interesting, and fun place to take your next vacation, then Lipari Island is it.
That was all for this one. Feel free to leave a comment or ask any questions below.
//Josephine
The article may include affiliate links, meaning that I may receive affiliate compensation at no cost to you if you decide to purchase. Read more in my
Affiliate Disclosure.
BEST TRAVEL RESOURCES
BOOK YOUR FLIGHT: Not sure how to get the best and cheapest flights? I always use Skyscanner for the best deals. The best tip is to be flexible with dates and destinations if you want the cheapest options.
Alternatively, for frequent travelers, get a membership with Wayaway and receive a cashback on cheap flights and hotels every time you book! Via the link, you even get a 10% discount on your membership.
BOOK GREAT ACCOMMODATION: Booking great accommodation is not difficult but it sucks paying too much. Use Booking.com for the greatest hotel deals and Hostelworld for amazing hostel stays. Alternatively, you can sign up for Worldpackers to get FREE accommodation in exchange for your work.
BEST TRAVEL INSURANCE: Traveling without insurance is a mistake that you don't want to make - trust me I've tried. I'd suggest SafetyWing as they offer great and flexible policies - especially if you are traveling for a long time or a digital nomad. World Nomads is another great insurance with extensive coverage.
NEED HELP WITH YOUR VISA? Figuring out how and when you need a visa can be a bit of a jungle. iVisa is a very handy and user-friendly service.
HAS YOUR EU FLIGHT BEEN DISRUPTED? Use AirHelp as a service to get flight compensation on your European flights in case your flight was delayed, canceled, or disrupted in other ways. More often than not you are actually entitled to compensation.