Vietnam was at the top of my bucket list for years and finally, I took the time to visit the wonderful Asian country. Something about it simply intrigued me and seemed very different and cool compared to other Asian countries I had visited. Fortunately, experiencing Vietnam is easy to do with a great travel itinerary.
In general, I try not to have too many expectations before I visit a new place and I try to research as little as possible. Even though my expectations for Vietnam were high, I was not disappointed a single bit.
Vietnam is a great travel destination for many reasons. Besides being incredibly beautiful and fun, Vietnam is also exceptionally easy and convenient to explore. Because of the shape being skinny and long, it is extremely easy to travel down through and experience the many great things Vietnam offers.
Here I am sharing the best travel itinerary for Vietnam and letting you in on the best Vietnam highlights you want to prioritize while visiting this beautiful place.
Feel free to do the itinerary in reverse or however you please. Vietnam offers many means of transportation and getting from north to south is very manageable.
Note that traveling during the pandemic might mean travel restrictions or other inconveniences. You should always research before you travel to any destination.
Travel tip: download the Wanderlog app onto your phone (works for both android and iOs) and keep a plan for your trip. It's completely free and allows you to add everything you need such as important things scheduled, your itinerary, places you want to eat, reservations, and where you are staying!
Below I made a map and included the itinerary for you:
PIN THIS POST FOR LATER:
WHAT IS THE PERFECT TRAVEL ITINERARY FOR VIETNAM?
HANOI
Hanoi is an absolute must to experience and prioritize while traveling in Vietnam.
One of the first things you will notice in the encounter with Hanoi, the capital of Vietnam, is the traffic. The noise of the thorn horns as the locals rush past on the endless fleet of scooters that characterize the cityscape, all the while tourists explore a garden of exciting experiences.
Numerous experiences await with everything from tasty street kitchens to traditional entertainment. Not to forget the fascinating history and culture, of a city that has survived colonial occupation and war, with its spirit intact.
Make sure to visit Hanoi's "Old Quarter" – Hanoi's buzzing old town and heart for more than 1000 years. The Old Quarter is located at the northern end of Hoan Kiem Lake and is still a hub for locals' everyday lives.
You can only really understand the Vietnamese capital once you settle into a charming sidewalk café and wait while your Vietnamese coffee is slowly running through its filter. Hanoi may seem busy and stressful on the outside, but the city's true rhythm is far from hasty. Enjoying Vietnamese coffee in a New York City style and authentic café is a must.
Pay a visit to the Thang Long Citadel. Hanoi's history goes back more than 1,000 years, and new excavations at the Thang Long Imperial Citadel have unveiled ancient monuments dating back to the 7th century.
For hundreds of years, the Hang Be market has been an indispensable part of Vietnam's capital. For the locals in Hanoi, the Hang Be Market is a place of socialization. A true cultural space for the people of the old quarters.
Dong Xuan Market is housed in a four-story Soviet-style building, located at the northern end of Hanoi's "Old Quarter". It was established in 1889.
It is also known as Hanoi's largest indoor market, offering a wide range of goods; fresh produce, souvenirs, clothing, electronics, and household appliances.
If of interest, the Ho Chi Minh Mausoleum is also a great place to entertain yourself for a few hours.
Lastly, if you have time then adding a day trip to Ninh Binh is a very popular activity for people who love to experience stunning nature. There are many buses from Hanoi and Ninh Binh that take less than three hours to reach.
SA PA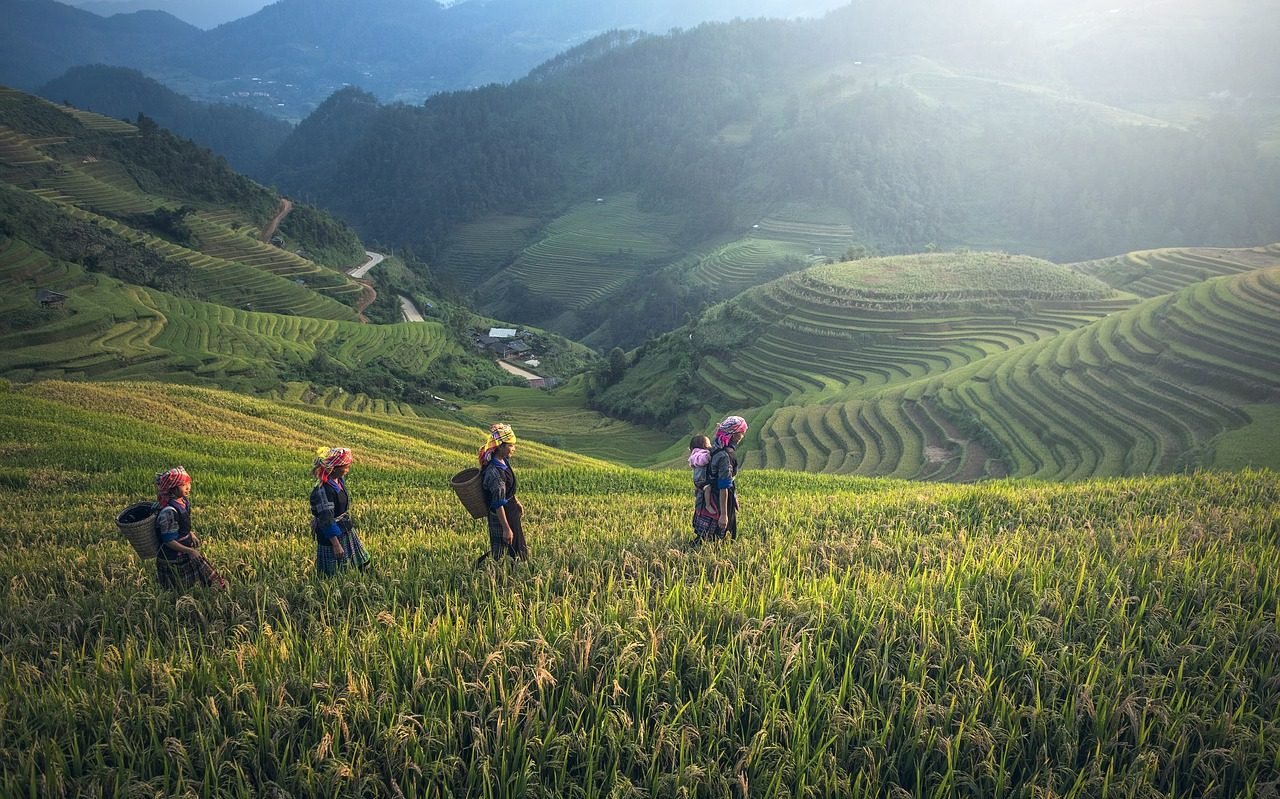 The next stop on the Vietnam itinerary is taking you to the beautiful rice fields of Sa pa. Sa pa is located in the beautiful highlands northwest of Hanoi – right on the border with China.
The city was founded by French colonial masters in 1922 as a "hill station", where people escaped to the top when it got too hot and too humid in Hanoi. Today, the area is Vietnam's trekking center, and tourists come here to enjoy amazing trekking options in beautiful natural scenery. Among the area's most important attractions for trekkers is Mount Fansipan, which with its 3,143 meters is the highest in ancient Indochina.
The green nature, packed with sumptuous rice terraces, waterfalls, and mountains is home to nine different tribes, of which the Hmong people make up a majority of more than 50%. You can recognize different people by their headgear. The color sends a signal as to which minority they belong to.
The city itself has a slightly touristy feel and serves primarily as a starting point for exciting day trips in the green. There is plenty of good food here – also local specialties that are special to the people who live in the area.
HALONG BAY
Halong Bay has been on UNESCO's world heritage list since 1994, attracting millions of tourists from around the world every year.
The stunning limestone cliffs are a spectacular sight as the boat quietly cruises through the water and it is impossible not to fall in love with nature along the way. Halong Bay is also great for delicious food, floating cities, beautiful beaches, and amazing kayaking and it is a unique opportunity to sleep under the stars with nothing but the sound of the surrounding islands' wildlife. A unique experience that typically leaves a bigger impression than you imagine from home.
Halong Bay is located approx. 170 km from the big city of Hanoi. Since the construction of the highway, connecting Halong City with Hanoi, in 2018, it's incredibly easy to get there.
PHONG NHA-KE BANG NATIONAL PARK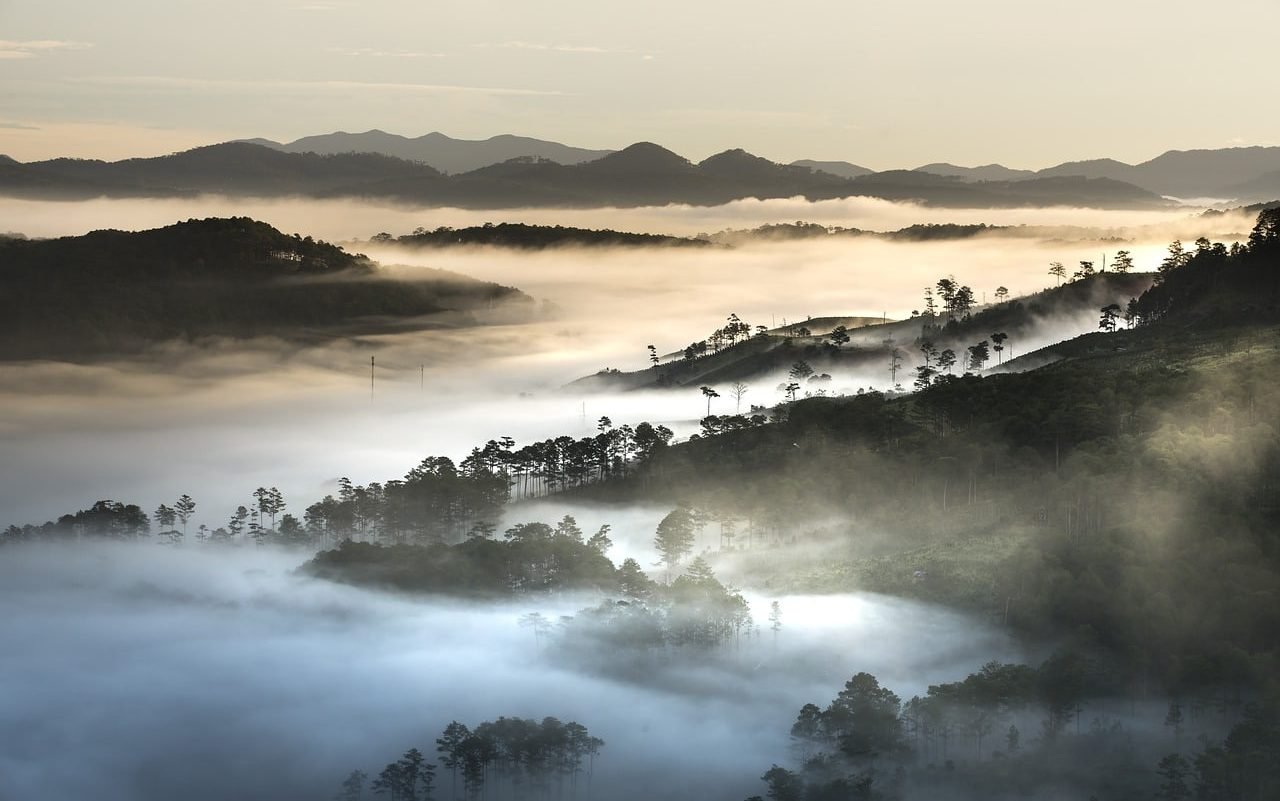 On my trip to Vietnam, I accidentally found an article about Phong Nha-Ke Bang National Park and stumbled upon the most spectacular part of my trip by coincidence.
With the largest caves in the world, Phong Nha-Ke Bang National Park is sure to knock you off your feet. I would highly advise any traveler to spend a few days in the area.
The national park has been a UNESCO world heritage site since 2003 and is located in the middle of the deep jungle, approximately 500km south of Hanoi.
HUE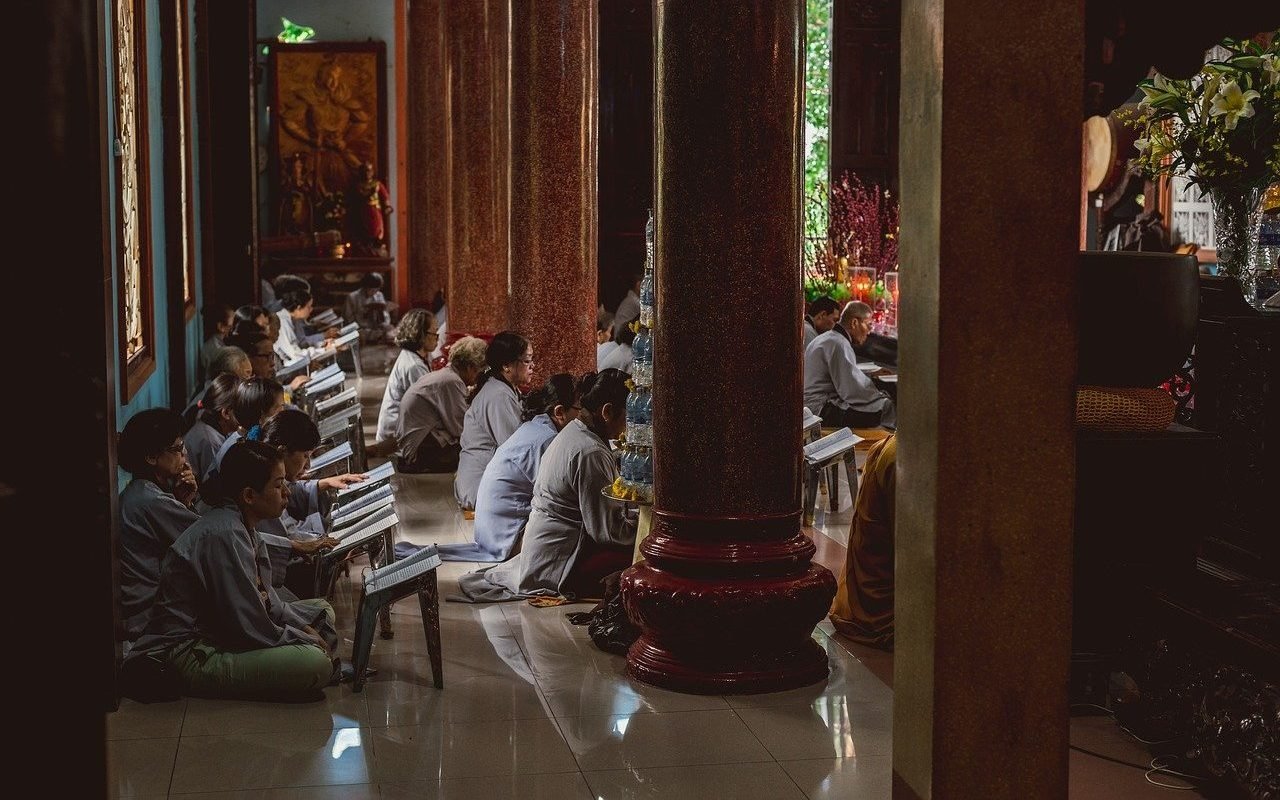 Hué is beautifully situated on the River of Fragrances and abounds in historical sights with the citadel and the Royal Palace as the absolute highlights. The city was the headquarters of the Nguyen dynasty, which ruled from 1802 to 1945. When the Vietnam War broke out, the city was a bloody arena for one of the most deadly battles. Today it is known as the Battle of Hué.
During the war against the Americans, when it rained bombs on the city, especially the Citadel and the Royal Palace suffered great damage, but since then UNESCO has supported the reconstruction. Today, the citadel looks beautiful and well-preserved as archetypal eastern architecture that overlooks the city.
A trip to Hué is first and foremost a historical experience with pagodas, palaces, bridges, and ancient artifacts. On top, the atmosphere is something unique in itself. Hop on a boat and sail along the river or experience the local atmosphere along the riverbank.
HOI AN
Hoi An, perhaps the most beautiful city in Vietnam, and on the UNESCO World Heritage List, is beautifully preserved on the banks of the serene Thu Bon River.
The beautiful city of Hoi An, with architectural elements from many cultures, is a place you must visit on your trip to Vietnam. Merchants from many parts of the world (Chinese, Japanese, Dutch, and Portuguese) have throughout history traded and settled in Hoi An.
Hoi An as a trading city started when the Cham people ruled the region. The Champa empire became very rich in the trade of spices from the 7th to the 10th century. During this period, Hoi An developed into the most prominent international port in Vietnam. In the 17th century, Hoi An was the most important trading port in the region and remained so until the 19th century.
The spice trade brought Hoi An prosperity, turning it into a maritime highway for the exchange of goods, styles, and ideas. Today, you can enjoy this while walking around the center of the city, or while you enjoy the many colorful lanterns that light up the city every night. Hoi An is a charming town with beautiful buildings housing boutique hotels, shops, restaurants, and bars.
Hoi An, and the surrounding area, must be experienced by bike – on a guided tour or on your own. Drive over the many bridges that connect the small islands with the mainland and roll on past water buffaloes in the rice fields and small villages. Maybe you choose to stop at a family business far out in the country. Here locals produce reed mats and noodles.
DA NANG
A bit outside the central Vietnamese city, of Da Nang, you will find a few oddities. First, take the cable car to Ba Na Hills, an amusement park with a medieval look with castles, spires, and slides. From here you can continue to the Golden Bridge – a 150-meter-long bridge, carried by two giant hands.
Ba Na Hills and the Golden Bridge were built exclusively for tourists – a mix of Disneyland and a medieval city. The interesting thing is that the bridge has become a real Instagram icon. If you can find the fun in the crazy, Ba Na Hills and Golden Bridge are a nice day trip from Hoi An.
MUI NE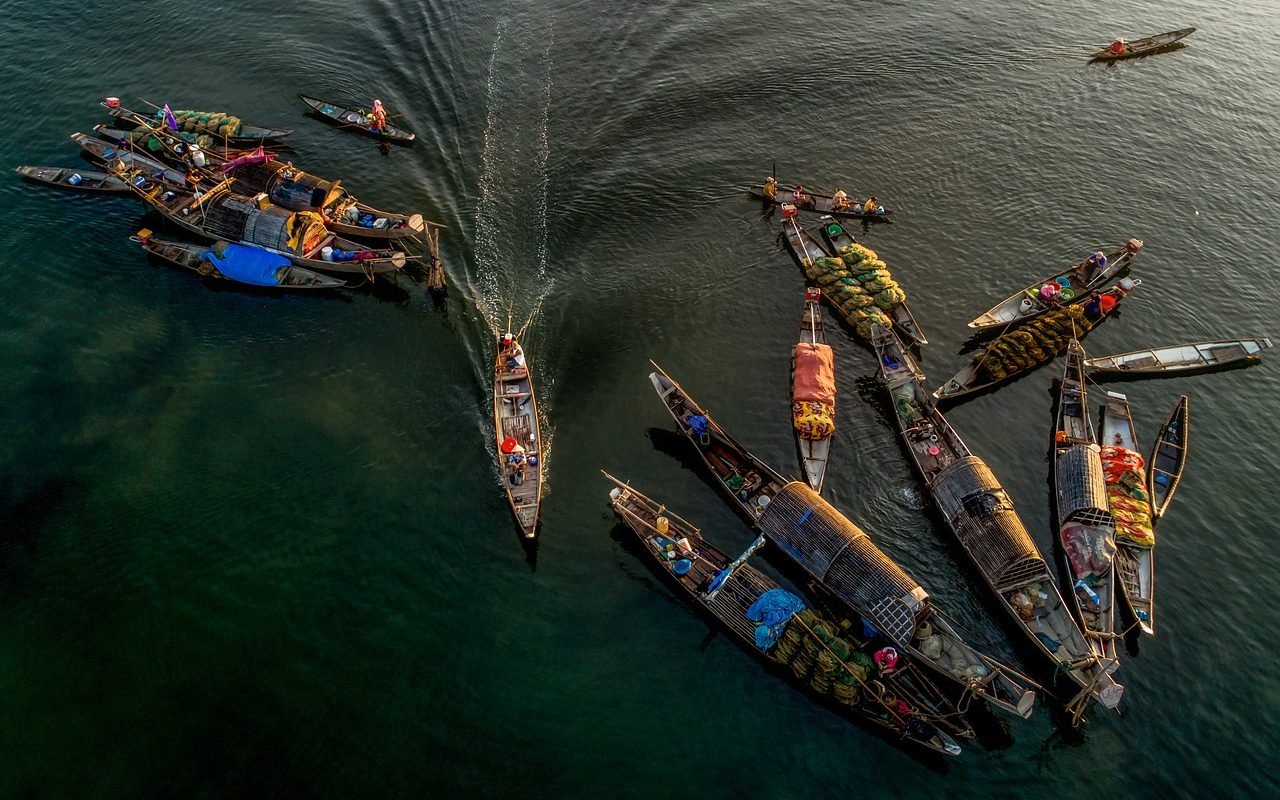 Mui Ne, and the towns around, is a famous and popular beach area in Vietnam best known for surfing, kitesurfing, and beachy vibes.
Close to Mui Ne, the popular beach area of Phan Thiet is a small desert that you can quite conveniently pass by if you want a little variety from the beach life. Here you will find both a red and a white desert that lends itself to a variety of fun activities.
If you want to see something a little different, take a day tour into the desert and surf down the sand mountains. You also have the option to take the ride if you prefer. They provide you with a straw hat and special shoes so that you do not burn yourself. From there, all you have to do is have fun.
DALAT
The hill town of Da Lat truly surprised me and is an underrated stop on the travel itinerary for many travelers in Vietnam. Many people call it 'Le Petit Paris' and the town even features a mini-replica Eiffel Tower in its center along with its large lake in the middle.
Da Lat is famous for its wide variety of flowers, fruit, and vegetables from its surrounding farmlands. Furthermore, it is known for its beautiful landscape, evergreen forests, and minority villages. This also makes Dalat a great destination to enjoy outdoor activities such as Canoeing and trekking.
HO CHI MINH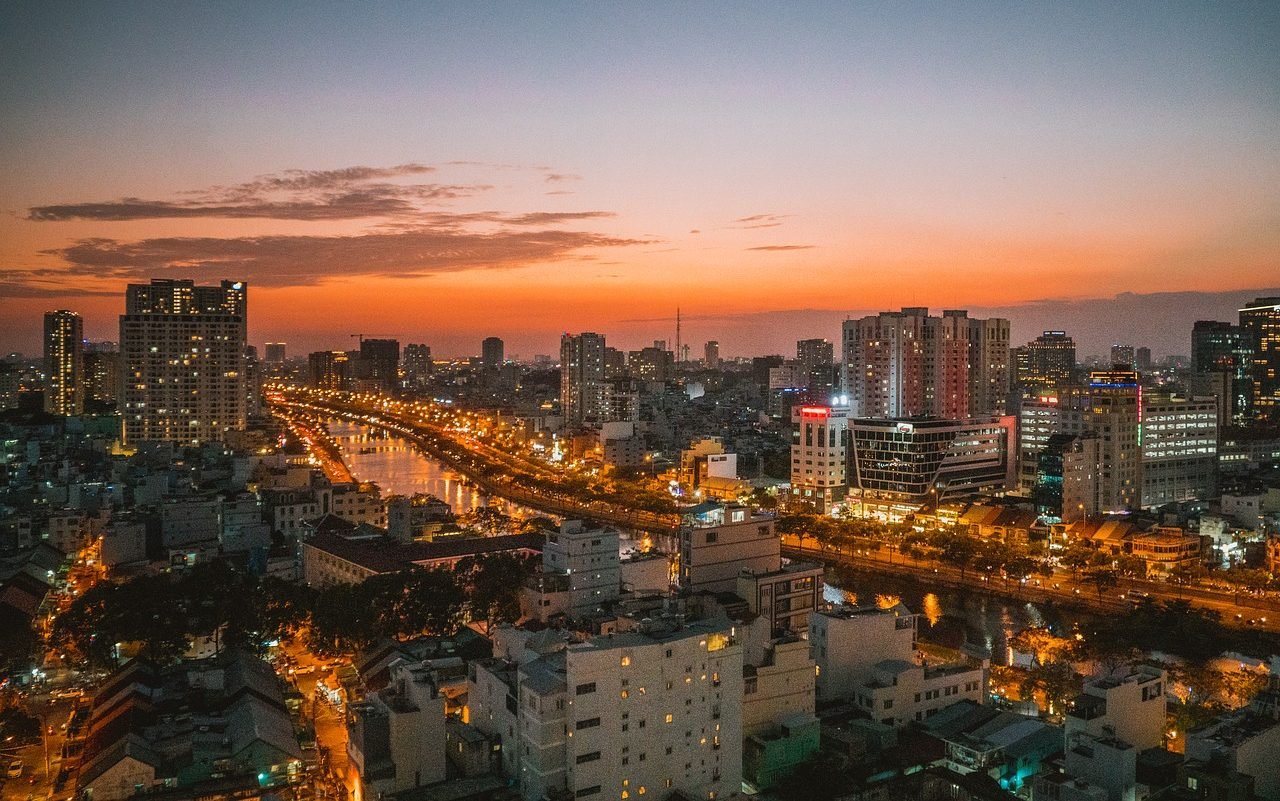 Ho Chi Minh City is the former Saigon, and in folklore, the old nickname is often used. The city is Vietnam's largest with up to seven million inhabitants, which you can feel in a hectic atmosphere. There is a lot of traffic here, especially small motorcycles, but also exotic markets, sidewalk restaurants, and cafes. Furthermore, in recent years, thousands of small and large shops have emerged. This is an expression of the very big change that the city and the country are undergoing.
There are about 45 million motorcycles in Vietnam and they have almost become the symbol of wealth. Therefore, of course, you must also experience Ho Chi Minh City in the back seat of a scooter. In fact, it's one of the most Vietnamese things you can ever do. Try to see if you can book a motorbike tour to the street food mecca of districts 1, 3, or 10.
The Cu Chi tunnels outside Ho Chi Minh City are an important relic of the Vietnam War. Also, it is one of the country's most important sights. The tunnels were initially created as protection against the French. However, with the Vietnam War, underground architecture really had to stand the test of time. The tunnel system with more than 250 km of winding passages at one time housed about 22,000 people, and 22 children were even born here. The tunnels were used strategically to deceive the Americans, who, despite their well-developed equipment, had a hard time hitting their enemy.
MEKONG DELTA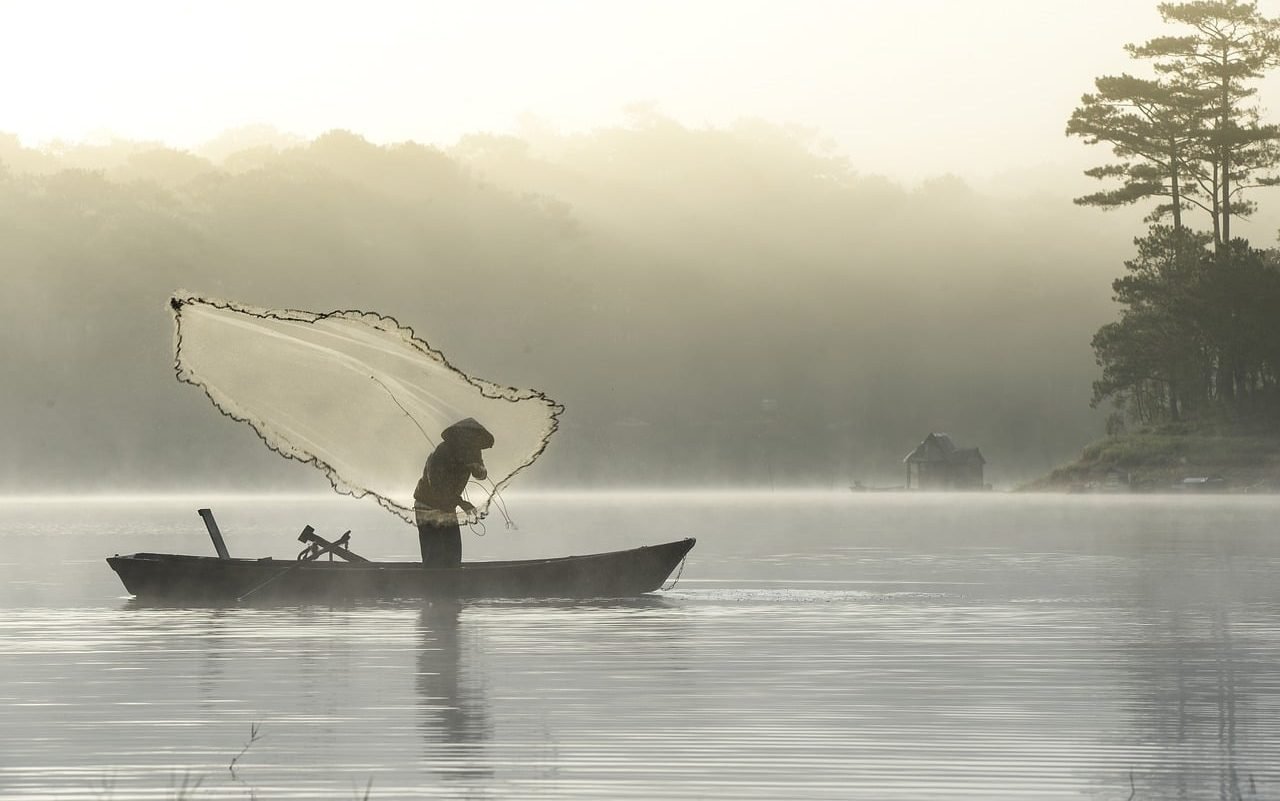 The Mekong Delta is also known as Vietnam's pantry since the majority of the country's food production is concentrated in this area. The delta includes the mighty Mekong River. On top of this, a maze of tributaries, canals, and streams filled with boats, floating houses, and markets.
On a trip to the Mekong Delta, you should not deceive yourself for a boat trip on the waterways. Either in a larger boat or in smaller rowing boats, where you get the opportunity to get all the way out on the smallest canals, past sleepy villages on stilts, vegetable groves, rice fields, and nature in full bloom. For experiencing the area from the countryside, it is worth renting a bike and letting the pedals show the way to the small villages, which are all around.
At the Mekong Delta, you get very close to local life. This is either in Cai Be, located on a small island in the delta, or in Can Tho which is the largest city in the delta. You can choose to stay inside the city or out in the delta in small cozy homestays or lodges.
PHU QUOC
If you dream of throwing yourself in a hammock or snorkeling among colorful fish and corals, you have landed in the right place on Phu Quoc island. The pearl of Vietnam, sheltered by the Cambodian mainland in the Gulf of Siam.
In many ways, Phu Quoc is reminiscent of the Thai islands. Here the chalk-white beaches lay like a gentle wreath around a lush green center. This is where you will find Vietnam's clearest and most turquoise sea. Truly, there has been no compromise with the natural beauty of this island.
Although the island may immediately look like a tourist magnet, it is actually quite local. With 100,000 people, there is a lot of local atmospheres in the small fishing villages. On top, you can also look forward to lots of good Vietnamese food. This is even though you are geographically closer to Cambodia.
GENERAL ABOUT TRAVEL ITINERARY FOR VIETNAM
In general, Vietnam is one of the easiest countries I have ever visited and explored. Traveling around in Southeast Asia can often be both inefficient and time-consuming. This is quite the contrary when completing a travel itinerary around Vietnam.
Vietnam is used to travelers and backpackers all year long. Even though the population does not speak much English, it is still extremely easy to make your way north or south through the beautiful country.
Note that Vietnam is quite busy with tourists and a young backpacking party crowd. If you wish to avoid having your relaxing holiday spoiled, then stay outside the most crowded areas. Also, avoid booking anything party-related.
HOW TO GET AROUND DURING YOUR TRAVEL ITINERARY FOR VIETNAM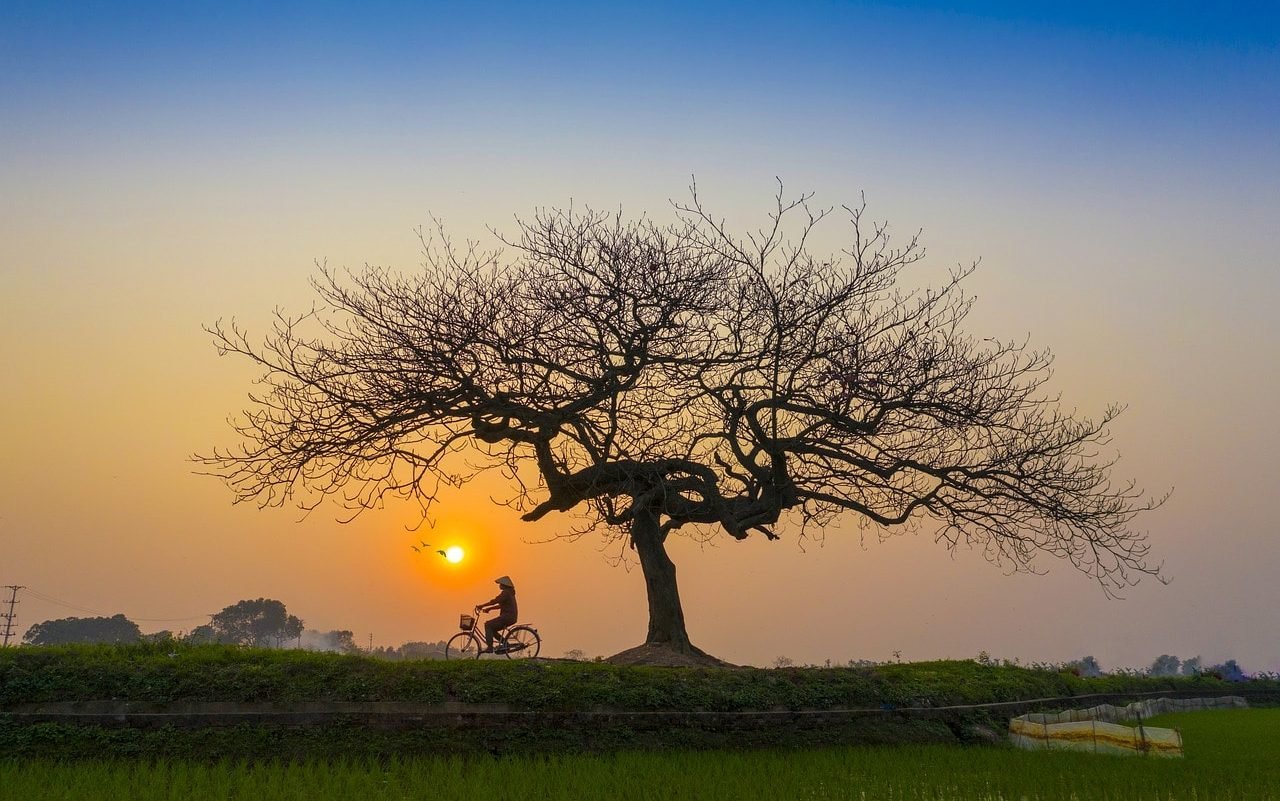 I always make sure to travel with good insurance. This is to make sure I have coverage in case of any accidents or disruptions of my trip. On top, it is always a good idea to travel with an anti-theft travel bag. Getting around in Vietnam is possible and manageable in the following ways:
FLYING
Flights are the fastest and most expensive option when traveling around Vietnam.
But in terms of time and price, a domestic flight is the most obvious option. This is great if time is short for your travel itinerary and you do not have many days in Vietnam.
I always book through Skyscanner for the absolute best deals and options.
BUS
With an "open bus ticket," you can hop on and off the bus whenever you want.
Buy e.g. a ticket from Hanoi to Ho Chi Minh City. This can include stops in Hue, Hoi An, Nha Trang, and Mui Ne. The ticket is valid for 30 days. You only need to confirm your departure from the place you want to travel from. They recommend that you confirm 1-2 days in advance, to be sure that there is room. However, often you can book the same day.
Open Bus is clearly the cheapest option if you are going through all of Vietnam with multiple stops. Note, however, that busses are also the favorite choice for backpackers.
TRAIN
A train journey in Vietnam is a beautiful experience in itself. Therefore, many also choose a route with trains from e.g. Hanoi to Lao Cai (Sapa) or Danang (Hoi An).
It is not only trying the train that is an experience in itself. But also the seeing of the country beautifully and differently, and from a different angle. The downside is that you can't just stop when you feel like it.
BIKING
Riding a bike is virtually possible for completing a travel itinerary throughout Vietnam. This is especially a popular choice around Sapa, Hanoi, Hue, Hoi An, and the Mekong Delta.
It is probably no surprise to most that Vietnam has a hot and wet climate. It gets hot early and the sun can be intense while you cycle and enjoy the beautiful scenery.
Make sure you protect yourself from the sun. This way you will have nothing else to think about but enjoy nature, culture, and the many friendly people around.
MOTORBIKE
More and more people are choosing to buy a used motorcycle and drive down or up through Vietnam. It's a really good way to experience Vietnam during your itinerary and to truly understand how beautiful it is.
I personally rented a motorbike from the Phong Nha-Ke Bang National Park and drove eight hours through the green area. Even though this was an amazing experience, you have to know that driving a motorbike in Vietnam is not the safest choice.
You do not know the traffic, most people do not have the right driving license. Therefore, no insurance to cover if the accident is out. There are lots of accidents every year, even with foreigners involved so be careful if you choose this option.
HOW LONG DO YOU NEED FOR YOUR VIETNAM TRAVEL ITINERARY
Because of the convenient shape of Vietnam and the many possible means of transportation, you can complete a great trip within a two or three-week Vietnam itinerary. If you want to deep dive into Vietnamese culture and experience all the wonders of the country, aim for 3-4 weeks.
I would advise anyone visiting Vietnam, to depart or arrive from each end of the country. I for instance arrived in Hanoi and had my flight booked out of Ho Chi Minh three weeks later. This was a great decision as I didn't miss time looping back up through the country. Though plane tickets might be a little more expensive, it's money well spent. You will experience much more during your travel itinerary for Vietnam.
HOW TO BUDGET FOR YOUR VIETNAM TRAVEL ITINERARY
In general, Vietnam is a very budget-friendly travel destination with street meals and accommodation/night costing as little as 5 USD.
Depending on the type of trip you wish to do, spending just 20 USD on accommodation/night will set you up quite nicely.
My rule of thumb is to aim for 50 USD a day. This is for a more comfortable backpacking experience with room for doing activities and enjoying great food and fun.
For a comfortable mid-range experience, budgeting 60-100 USD a day will cover all your expenses.
I hope you have a great time in Vietnam and it sucks you in with its magical culture and vibe.
As always, feel free to comment if you have any questions or additions below.
//Josephine
The article may include affiliate links, meaning that I may receive affiliate compensation at no cost to you if you decide to purchase. Read more in my
Affiliate Disclosure.
BEST TRAVEL RESOURCES
BOOK YOUR FLIGHT: Not sure how to get the best and cheapest flights? I always use Skyscanner for the best deals. The best tip is to be flexible with dates and destinations if you want the cheapest options.
Alternatively, for frequent travelers, get a membership with Wayaway and receive a cashback on cheap flights and hotels every time you book! Via the link, you even get a 10% discount on your membership.
BOOK GREAT ACCOMMODATION: Booking great accommodation is not difficult but it sucks paying too much. Use Booking.com for the greatest hotel deals and Hostelworld for amazing hostel stays. Alternatively, you can sign up for Worldpackers to get FREE accommodation in exchange for your work.
BEST TRAVEL INSURANCE: Traveling without insurance is a mistake that you don't want to make - trust me I've tried. I'd suggest SafetyWing as they offer great and flexible policies - especially if you are traveling for a long time or a digital nomad. World Nomads is another great insurance with extensive coverage.
NEED HELP WITH YOUR VISA? Figuring out how and when you need a visa can be a bit of a jungle. iVisa is a very handy and user-friendly service.
HAS YOUR EU FLIGHT BEEN DISRUPTED? Use AirHelp as a service to get flight compensation on your European flights in case your flight was delayed, canceled, or disrupted in other ways. More often than not you are actually entitled to compensation.