South America is, along with Africa, one of the most unexplored, underrated, and beautiful continents in the world. My very first big trip was a four-month solo trip to South America at the age of 20. "Isn't it dangerous?" – people would ask and to that, I guess the answer is both yes and no. I believe that South America is unexplored by many travelers because of its reputation as being dangerous. Therefore, I wanted to write this post including the 7 safest South American countries, highlighting just how wonderful they are and why you should visit South America. Hopefully, it will inspire you to experience all the magic all to yourself and kill the idea of South America being too dangerous to visit. 
South America is Darwin's Galapagos and Evita Peron's Buenos Aires. It's Machu Picchu, the Amazon, the Iguazu Falls, and the wilderness of Patagonia – but it's also coffee farmers, gauchos, and Native American tribes. In South America, you feel the culture and history from colonial times and ancient Native American cultures. In contrast, contemporary culture is expressed through tango, salsa, samba, and a degree of excitement for life that you don't find anywhere else in the world.
Is South America Safe To Visit?
South America is an enchanting and beautiful continent, and to start, it is also safe to visit. When one hears about crime in South America, it is often reduced to particular neighborhoods or population groups that you as a tourist do not even come close to. I'm not going to lie and things do, however, happen. The biggest threat we as tourists face when traveling to South America is petty crimes such as theft. Crime against tourists does happen and unfortunately also violently. My advice will always be to use common sense and always have good travel insurance to ensure a great trip and safe travel. On top, using an anti-theft travel bag is a good idea to take care of your belongings.  
South America has been one of my favorite travel destinations since I first visited the beautiful continent, and it is a safe and amazing place to visit, even if you are a female solo traveler. 
In the following post, I will list the seven safest South American countries and include the highlights of the different countries and this wonderful continent. My research is based on the global peace index, what I read on other websites, and personal experiences from traveling around South America. All countries are safe to visit and provide great experiences and fun.
PIN THIS POST FOR LATER!
What are the safest South American Countries to visit?
1. Uruguay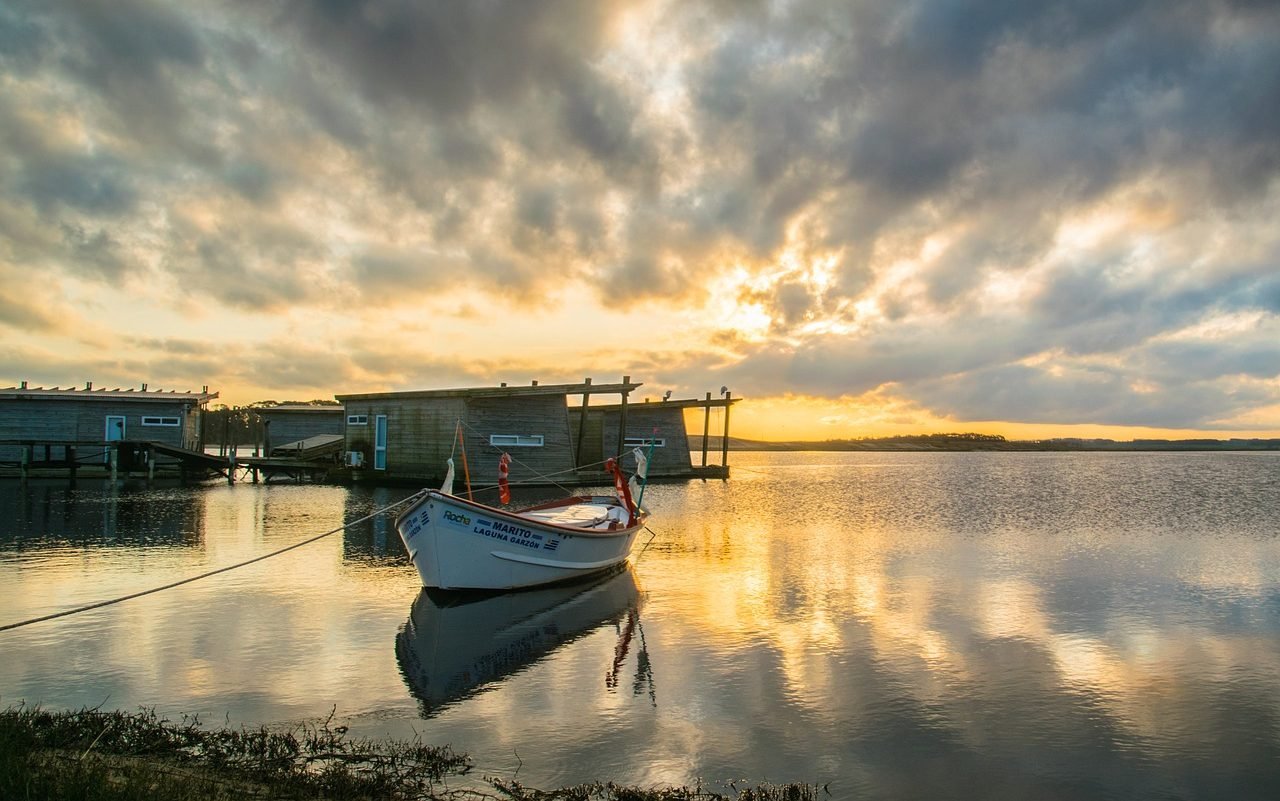 The first country on the list of the safest South American countries, is the small paradise of Uruguay,
Uruguay has fine sandy beaches, charming colonial towns, juicy steaks, and a true gaucho atmosphere. The entire South American elite flocks to the seaside resort of Punta del Este to showcase swimwear, cash, and attitude, while Uruguayans play football in the park or cheer on the national ball heroes ahead of the next World Cup. Because of its beauty and safety, Uruguay serves as a vacation destination for many in Latin America.
The cows are just as meaty as in neighboring Argentina, and the national dish parrillada consists of a sumptuous cocktail of every conceivable kind of grilled meat rinsed down with serious amounts of maté; a South American form of tea.
Uruguay is famous for its beautiful beaches and for the Portuguese port city of Colonia, and most holidaymakers in Uruguay concentrate on the coast. The beautiful old town with the full name Colonia del Sacramento, with its fine colonial architecture, has a place on UNESCO's coveted list of world cultural heritage. Most of the buildings are from the 17th and 18th centuries, and since the city was a Portuguese colony, it is from here that the building style is taken. The cozy and bustling capital of Montevideo is also part of many trips to Uruguay. The city is best known for its charming old town but also has a modern town with exciting architecture.
2. Chile
Number two of the safest South American countries is Chile.
A trip to Chile – one of South America's most exciting countries – is at the top of the list for many adventurous travelers. The country has an exciting history, which has developed tremendously in our lifetime, as we have followed its struggle for democracy and become acquainted with its extremely charismatic leaders.
Today, Chile is famous for its breathtakingly beautiful nature with large national parks, such as Torres del Paine and Tierra del Fuego (the Land of Fire, divided by Argentina). With the beautiful fjord landscapes on the west coast facing the Pacific Ocean and not least Cape Horn (the southernmost continent peak), Chile offers a uniquely diverse landscape. The country's eminent wine production also attracts a lot of attention.
Traveling to Chile means magnificent scenery, exciting cities, and a friendly, welcoming atmosphere. Among Chile's modern, interesting cities is Santiago with its beautiful location in a wide valley between the snow-capped Andes and the old port city of Valparaiso with its colorful colonial houses. Close to Valparaiso is the famous beach area Viña del Mar. The city is also called "Ciudád Jardin" (garden city) thanks to the subtropical vegetation consisting of palm and banana trees.
As one of the richest countries in South America, Chile is also one of the safest places to visit on the continent.
3. Paraguay
Third, we have Paraguay.
Paraguay is the country where the number of jaguars almost exceeds the number of travelers but is still one of the safest countries in South America. Here are natural and historical sights, as they have prospered for centuries without being worn down by flocks of tourists.
In Paraguay, you have real South American wilderness in Gran Chaco, cozy towns with friendly inhabitants, and a carnival that every year in February gives Rio de Janeiro battle to the line.
A trip to Paraguay is not marked by large flocks of tourists and overcrowded sights. Instead, there is plenty of room to enjoy the beautiful scenery and Spanish-Indian culture in peace. The beautiful capital city of Asunción is built on slopes down to the Paraguay River.
4. Argentina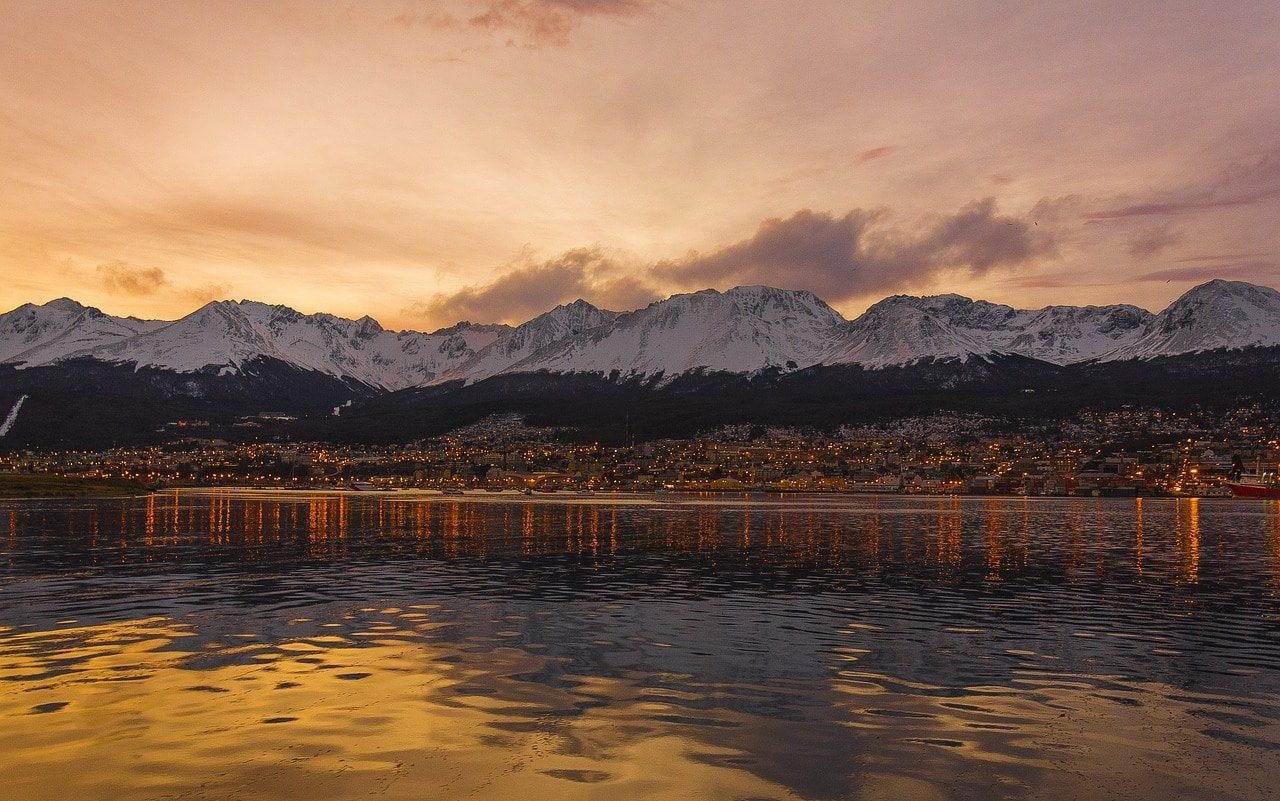 Number four of the safest South American countries is Argentina.
Depending on when you choose to visit Argentina, there are endless activities for you to explore. In the southern part of the elongated country, you can experience mighty glaciers, such as Perito Moreno glacier, and distorted mountain peaks in Patagonia's raw nature, and in the northern part, it is the rainforest and one of the world's largest waterfalls, Foz de Iguazu, that draws. In between is the legendary Pampa, where gauchos run cattle farms, and beautiful orderly cities, not least Buenos Aires.
You get something to look forward to on a trip to Argentina. Both culturally and naturally, there is plenty to experience. Buenos Aires is an international city and is popularly called the Paris of South America because of its wide boulevards, magnificent mansions, narrow streets, elegant business streets, and green parks.
The wine town of Mendoza is charming with its picturesque architectural remains from its founding in the 16th century. Around Mendoza are vineyards surrounded by fruit groves, avenues of poplar trees, and the majestic Andean peaks.
5. Peru
Fifth on the list of the safest South American countries is Peru.
Peru can perhaps best be described as a bottomless treasure chest. For it is as if the stories and sights of the country will never end. Peru is the land of the Incas and Machu Picchu still stands as the crown of the work. Peru is also, however, everything else besides Machu Picchu.
Nature ranges from the lush, swampy Amazon jungle to snow-capped mountains, deep gorges, salt flats, deserts, giant lakes, beautiful coastlines, and a sea of whales, penguins, and sea lions. History hides everything from the Inca people to Spanish colonial masters. Finally, both nature and history have created the wonderful Peru we as travelers can experience today.
Peru can be overwhelming and intense at first. However, a trip to Peru is a step into a wonderful world where discoveries await around every corner.
6. Brazil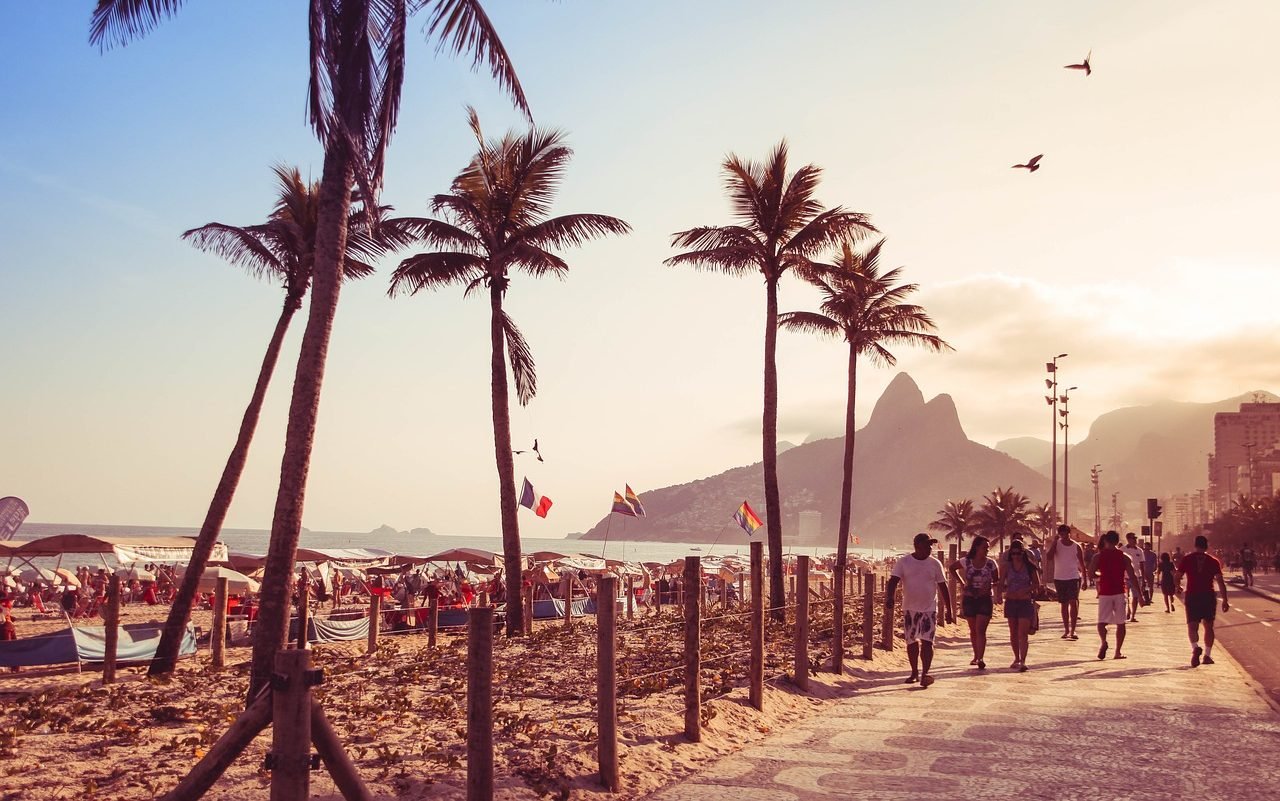 Brazil is an incredible natural wonder and comes number six on the list. 
A trip to Brazil is, first of all, a trip to the superpower of South America in terms of the economy. However, to a large extent also in terms of human resources, culture, history, and natural wealth.
When you travel to Brazil, you can experience incredible nature with tropical rainforests in the mighty Amazon jungle. On top, paradisiacal beaches along the Atlantic coast. Lastly, the huge, rushing Iguacu waterfall, which the Brazilians themselves believe is the largest in the world. Standing on the edge and looking down into Devil's Throat or sailing very close to the water is an experience you will never forget.
Other highlights of Brazil include the stunning Baroque cities of the state of Minas Gerais, magical Salvador which is the African heart of Brazil, and Rio de Janeiro with its iconic sights, Christ the Redeemer, Sugarloaf Mountain, and Copacabana Beach.
Brazil is a natural and cultural wonder full of fun and experiences. While the country has a ton of amazing things to offer, its 200 million people, ranging from wealth to extreme poverty, mean an intriguing but also complex contrast. Always travel while using common sense and be aware of pickpockets, especially in larger cities.
7. Ecuador
The final country on the list of the safest South American countries is Ecuador.
As the name suggests, the equatorial line runs directly through the beautiful country, which has plenty of experiences to offer. On a trip to Ecuador, you can experience beautiful colonial cities, towering volcanoes, lush Amazon jungle, and hidden magnificent gems. Not least, the unique Galapagos Islands also belong to Ecuador. A trip to Ecuador will often be an active trip with experiences in nature.
Ecuador contains almost everything the experience-seeking traveler dreams of. Here are lush jungles, high mountain peaks, colorful Native American cultures, and the truly unique Galápagos Islands. For thousands of years, animals and birds have swum or flown to these isolated volcanic islands far out in the Pacific Ocean. Here, over time, they have adapted to the living conditions of the islands and evolved into special species not found anywhere else in the world.
Summary of the safest South American countries to visit
A trip to South America almost screams at nature experiences. A cruise between the Galápagos Islands is an encounter with turtles, sea lions, and sea iguanas. In Ecuador, you can hike on the volcanoes of the Andes chain or explore the Amazon rainforest in a real jungle lodge. You must experience the giant Iguazú waterfall on the border between Brazil and Argentina. But there is much more to appreciate in the diverse continent.
Spend your holiday past small colonial towns with cozy, cobbled streets and buildings in classic Baroque style. You can also have great experiences in the region's big cities such as Buenos Aires or the world's most beautifully located city, Rio de Janeiro.
You can meet the Indians of the past on trips to Cuzco and in the forgotten Inca city of Machu Picchu in Peru. Today you find Indians i.a. on floating islands of reeds in the high-lying lake Titicaca. A trip to South America can also easily contain a good dose of mystery. For example the fascinating Nazca lines in geometric and animal-like shapes. Another wonder is visiting the mythical Easter Island with the colossal stone sculptures of up to 40 tons.
Traveling to South America is completely safe and accessible as long as you use common sense. The safest South American countries to visit range from Chile, Uruguay, Argentina, Paraguay, Peru, Ecuador, and Brazil.
Last note on the safest South American countries to visit
While I have never experienced anything unsafe on any of my travels to South America, things do, unfortunately, happen.
The biggest danger travelers face in South America is crime, including petty crime and occasionally violent crimes. In general, South America is subject to small conflicts and regular strikes. While they can be annoying, they usually do not provide much danger. Since South America has a rough landscape, extreme weather conditions do occur. These include droughts, floods, wildfires, and tropical storms. Furthermore, you have to be careful with the mosquitos especially close to the Amazon. Annual epidemics of Dengue fever are common.
Furthermore, if you are interested in visiting South America or that part of the world, but still feel a little worried. Costa Rica is a good choice to start as it is also the safest country in Central America. This vibey country provides jungle, beautiful beaches, fun, and many other travelers making Costa Rica both safe and enjoyable. 
Finally, another great and very safe alternative is visiting the beautiful San Blas Islands of Panama. This beautiful island kingdom consists of approx. 365 small islands that are distributed along the coast of the northeastern part of Panama. Here you live naturally and simply among the Kuna Indians. On top, you are surrounded by turquoise-blue water and white beaches.
6 amazing pieces of nature you only find in South America
Iguazu
The Iguazu Waterfall sets the border between Brazil and Argentina at 5,000 cubic meters of water per second, spread over 270 individual falls. The world's richest waterfall, which from the Brazilian side can be seen as a beautiful panorama, while on the Argentine side, you get closer to the actual splash. 
The Amazon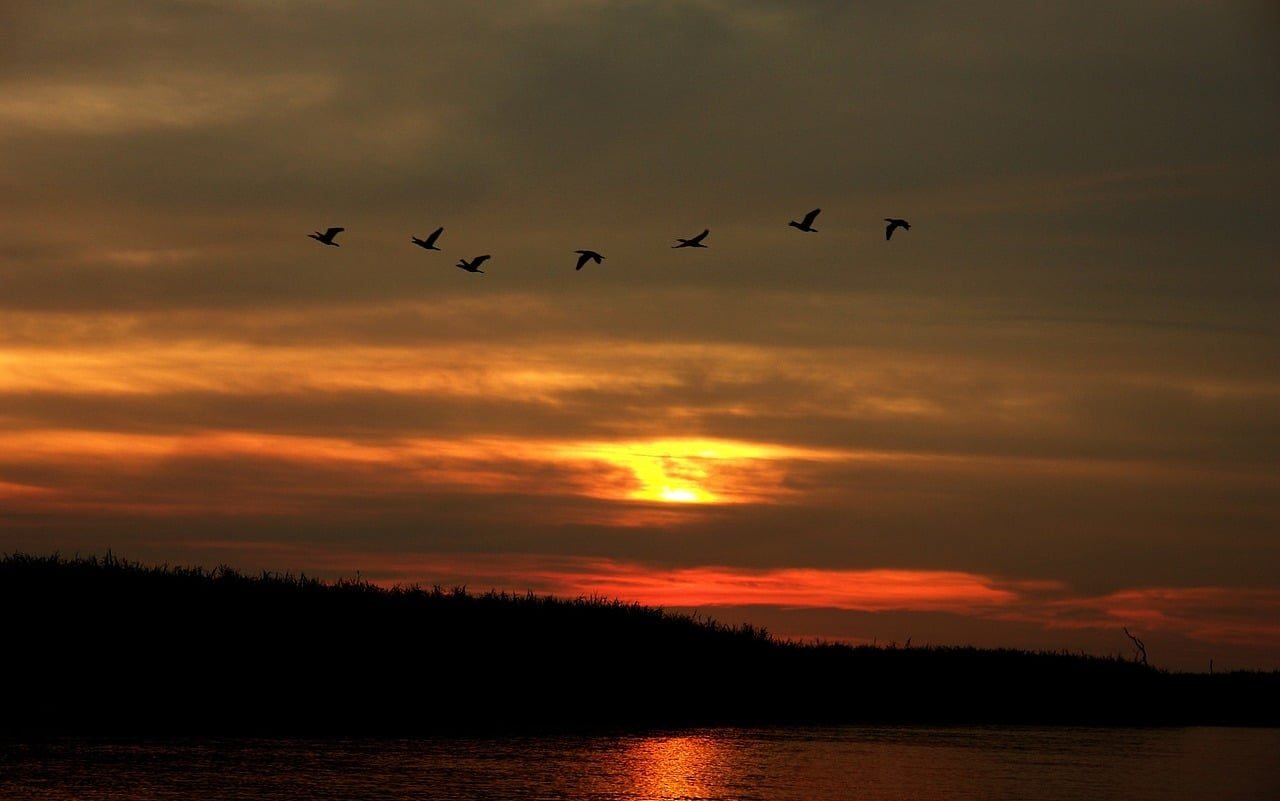 The Amazon jungle makes up over half of the earth's remaining reindeer forest areas and affects nine different countries; Brazil, Peru, Colombia, Venezuela, Ecuador, Bolivia, Guyana, Suriname, and French Guiana. Known as the lung of the world with the world's richest river and home to unique animal and plant life. Heading into the jungle somewhere along your South America trip is an absolute must and an amazing experience.
Salar De Uyuni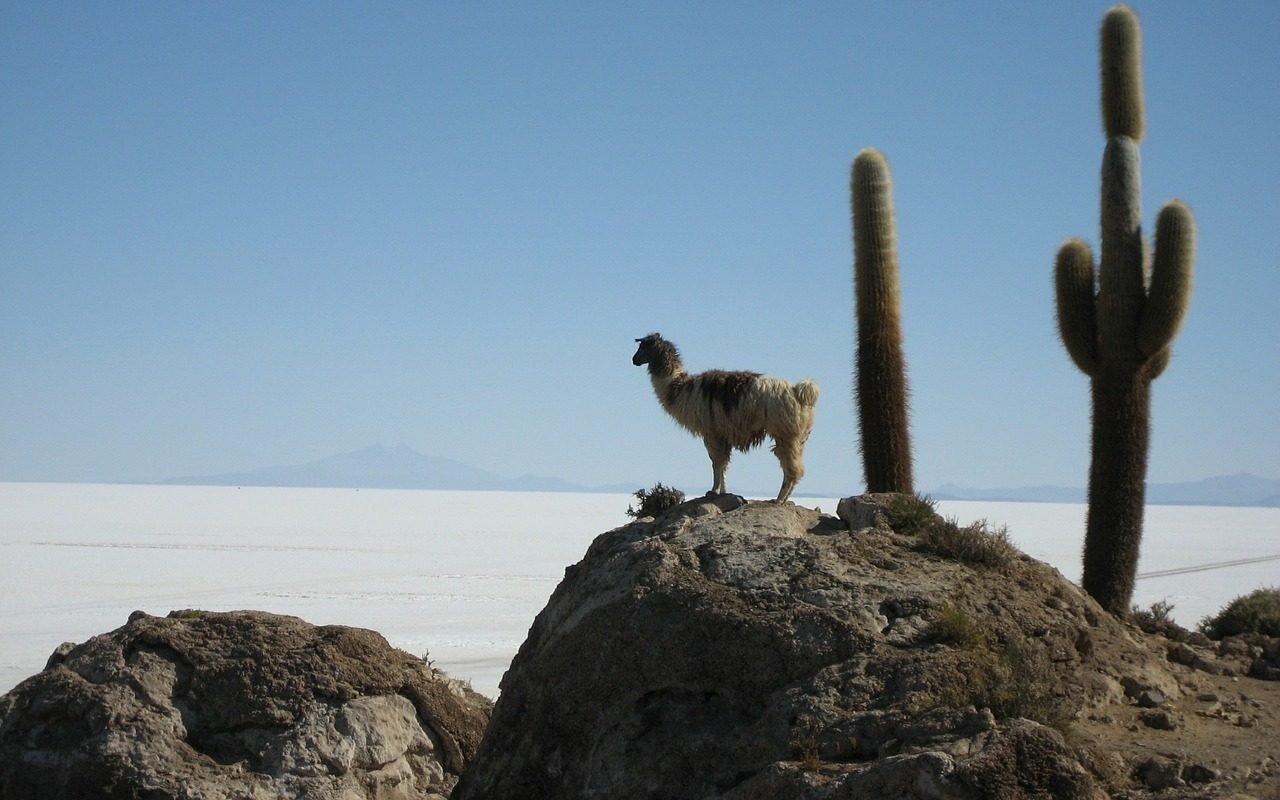 In the highlands of Bolivia's hide, you have the world's largest salt plain, Salar de Uyuni. An area that covers 10,582 km2 at an altitude of 3650 meters. A beautiful sight when the salt surfaces crackle in the dry season, as well as when the plain water covers the grounds during the rainy season, where the water settles as a shiny mirror layer. One of the top highlights in all of South America that you should aim to experience. 
The Galapagos Islands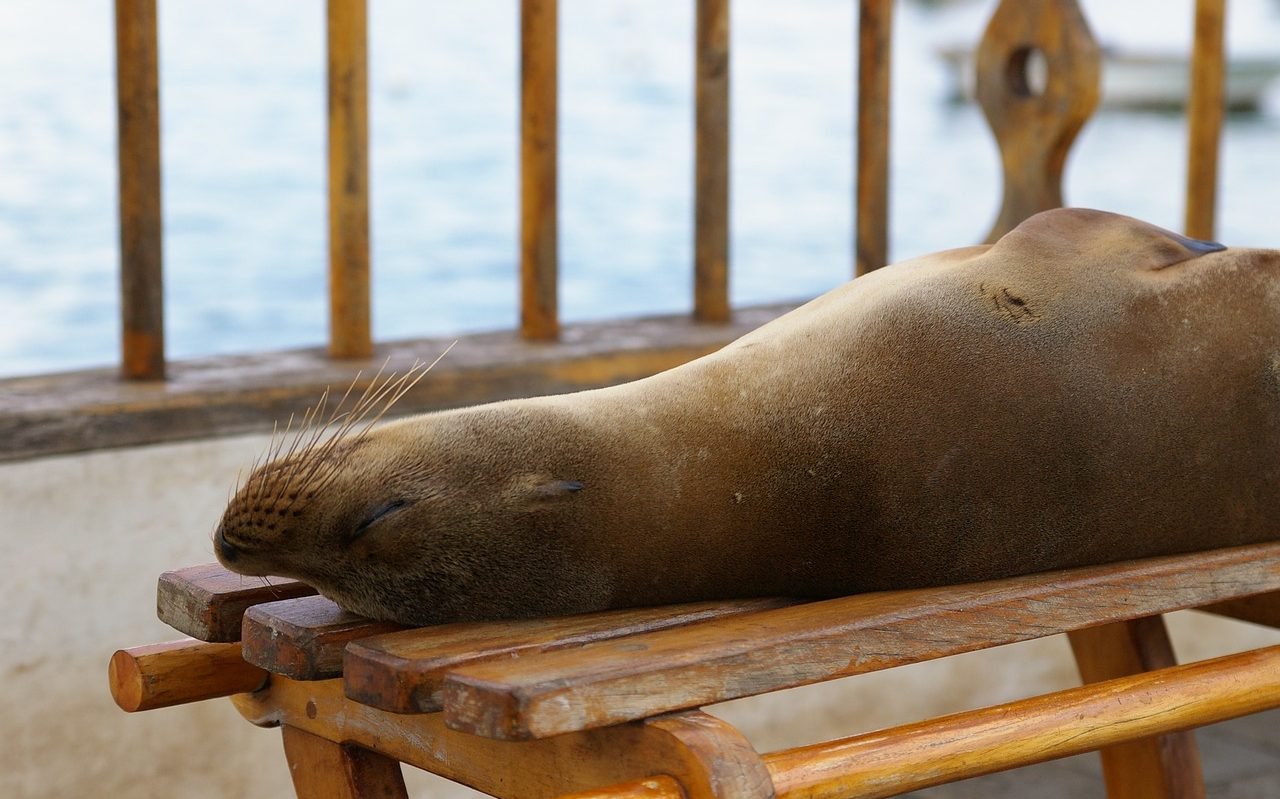 The Galapagos Islands are an isolated small island community. Here birds, fish, mammals, and amphibians have lived their very own lives for countless years. Here are 100-year-old turtles, blue-footed gannets, and pelicans to name just a few of the residents living in the countryside. To me, this paradise looks like something taken straight out of Jurassic Park. The Galapagos Islands are a natural paradise that you should prioritize if your budget allows it. As restrictions are in place to protect the wildlife, the price of visiting this place is also quite high. 
Torres Del Paine
It is as if nature has been allowed to take care of itself in Patagonia's Torres del Paine National Park, where glaciers, turquoise lakes, waterfalls, and pointed mountain peaks are a sight for gods. The park covers an area of approx. 2000 square kilometers and has been a UNESCO World Heritage Site since 1978. A must for the nature lover's 'bucket list' and an adventure challenge for anyone interested.
The Andes Mountains
The Andes Mountains are the earth's longest mountain range, stretching 7,500 kilometers from Venezuela and Colombia in the north, down through Ecuador, Peru, and Bolivia to Chile and Argentina in the south. Along the way, the mountain range offers well-known highlights such as the Cotopaxi volcano, the Aconcagua mountain, and the highlands of Peru i.e. Machu Picchu. The Andes Mountains offer a rough and ever-changing landscape that has provided some of the most stunning scenery I have ever witnessed in my many years of traveling. 
South American History in Short
Before the Conquer
14,000-12,000 BC: The first people in South America probably came across the Bering Strait, after which distributed in North and South America. Since then, they became Incas, Mayans, Quechua, etc.
2500 BC: The first known agricultural society arises where llamas and alpacas are domesticated while fruits and vegetables are grown.
900 BC: The continent's first known civilization arose in what later became Peru.
200 BC: The first drawing of the Nazca lines. Some of the world's largest and most mysterious works of art.
200: The growing of the potato starts in the Andes.
1000: The Incas came to the Cusco region.
1498: Columbus discovers South America as he lands in what is later Venezuela.
1530-1540:The Inca Empire, which at this time covered Peru and Bolivia as well as parts of Ecuador, Chile, Argentina, and Colombia, is conquered.
After the Conquer
1535: The bishop of Panama discovers The Galapagos Islands.
1825: In the years around 1825, the wars of liberation of Spanish South America were led by Simón Bolivar and José de San Martin. These resulted in the independence of South America. In Brazil, independence took place more peacefully, as the Portuguese Crown Prince declared the country independent in 1822.
1880-1900: The wars of liberation did not mean independence at once. The nation-states were not established until the last decades of the 19th century.
1911: The American archaeologist Hiram Bingham discovers Machu Picchu.
1913: South America's first subway system opens in Buenos Aires.
1975: Suriname becomes the penultimate South American country to become independent from the Netherlands. French Guiana remains French territory.
That was it for this one. I hope you get to enjoy some of the countries described above. Not only are they wonderful to explore, but also the safest South American countries to visit.
As always feel free to comment, bring additional information, or ask questions below.
//Josephine
The article may include affiliate links, meaning that I may receive affiliate compensation at no cost to you if you decide to purchase. Read more in my
Affiliate Disclosure.
BEST TRAVEL RESOURCES
BOOK YOUR FLIGHT: Not sure how to get the best and cheapest flights? I always use Skyscanner for the best deals. The best tip is to be flexible with dates and destinations if you want the cheapest options.
Alternatively, for frequent travelers, get a membership with Wayaway and receive a cashback on cheap flights and hotels every time you book! Via the link, you even get a 10% discount on your membership.
BOOK GREAT ACCOMMODATION: Booking great accommodation is not difficult but it sucks paying too much. Use Booking.com for the greatest hotel deals and Hostelworld for amazing hostel stays. Alternatively, you can sign up for Worldpackers to get FREE accommodation in exchange for your work.
BEST TRAVEL INSURANCE: Traveling without insurance is a mistake that you don't want to make - trust me I've tried. I'd suggest SafetyWing as they offer great and flexible policies - especially if you are traveling for a long time or a digital nomad. World Nomads is another great insurance with extensive coverage.
NEED HELP WITH YOUR VISA? Figuring out how and when you need a visa can be a bit of a jungle. iVisa is a very handy and user-friendly service.
HAS YOUR EU FLIGHT BEEN DISRUPTED? Use AirHelp as a service to get flight compensation on your European flights in case your flight was delayed, canceled, or disrupted in other ways. More often than not you are actually entitled to compensation.