Copenhagen, the charming capital of Denmark, is a favorite destination for travelers seeking rich cultural experiences, delicious food, and picturesque scenery. The city boasts an array of hostels to suit every traveler's taste and budget. In this guide, I'll share the best hostels in Copenhagen, delving into their unique features, pros, and cons to help you pick the best place to stay.
Since I have lived in the city for ten years, I know every part of the city and exactly where you should stay in Copenhagen. In addition, I can tell you that Copenhagen is a great travel destination that will keep you entertained for several days.
First, below are the overall category winners:
Best cheap hostel for budget travelers: The Generator Copenhagen
The best party hostels in Copenhagen: Copenhagen Downtown Hostel and Generator Copenhagen
The best quiet hostel in Copenhagen: Woodah Boutique Hostel
Best luxury hostels in Copenhagen: Next House Copenhagen and Steel House Copenhagen
Why Copenhagen is a Backpacker's Dream
The vibrant capital of Denmark, Copenhagen, is a dream destination for backpackers and budget travelers.
The city's rich history, beautiful architecture, and bustling food scene make it the perfect destination for anyone looking to immerse themselves in Scandinavian culture.
Moreover, Copenhagen offers a wide variety of hostels catering to different tastes and budgets, ensuring that every traveler can find the perfect place to stay.
What to Expect from Hostels in Copenhagen
When it comes to hostels in Copenhagen, you can expect high-quality accommodations with various amenities. Most hostels provide free Wi-Fi, communal kitchens, laundry facilities, and 24-hour reception services.
Additionally, Copenhagen hostels often organize social events and activities to help you meet fellow travelers and make new friends.
Which are the best hostels in Copenhagen?
Generator Copenhagen is a popular, stylish hostel located in the heart of the city center.
It is a very large hostel that offers a variety of accommodations, from shared dorms to private rooms, and features an on-site bar, a spacious lounge area, and a lively atmosphere.
Pros:
Central location near major attractions
Wide range of room options
24-hour reception
The social atmosphere with events and activities
Clean and modern facilities
Cons:
Can be noisy due to the social atmosphere
Some guests may find the rooms small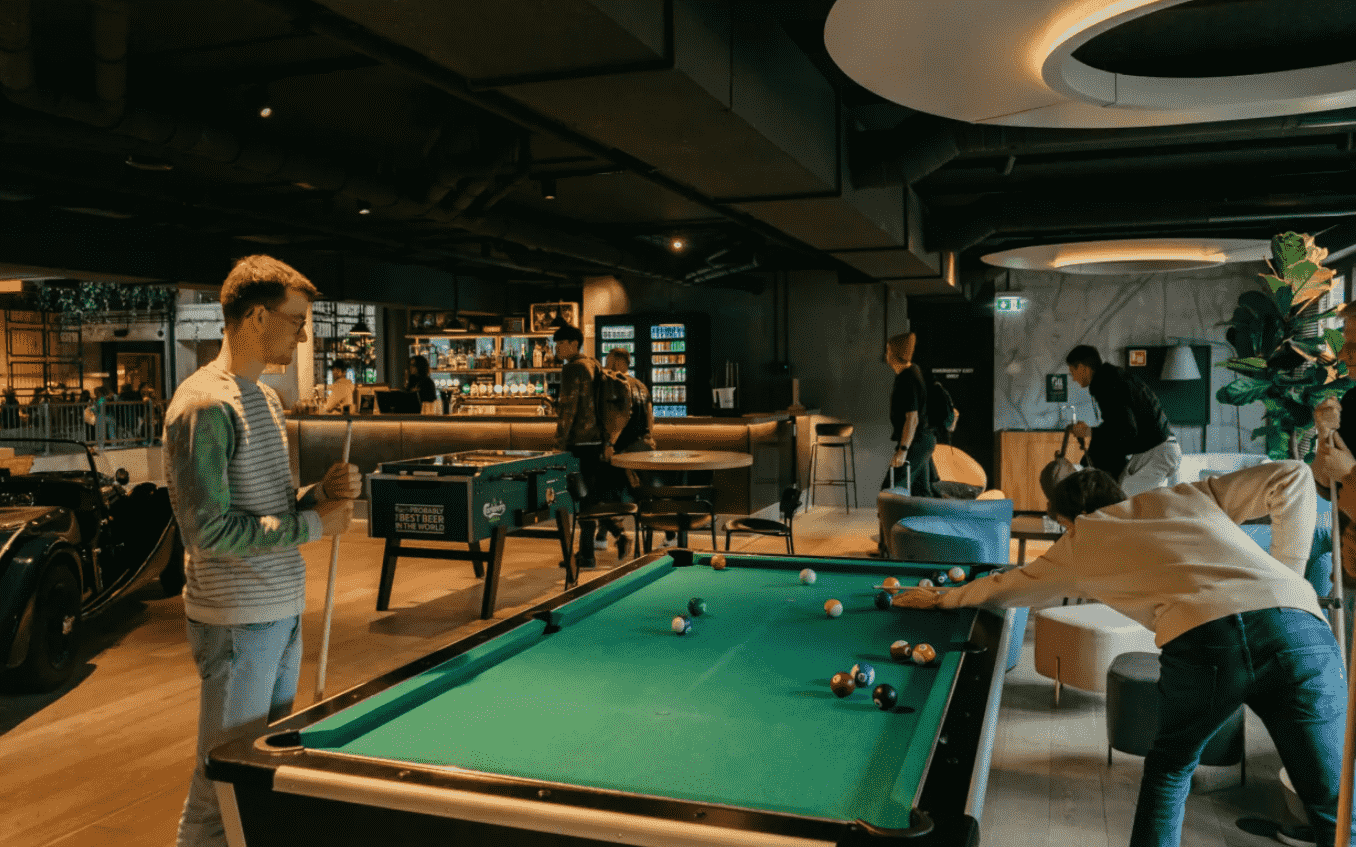 Next House Copenhagen is a luxury hostel offering a blend of contemporary design and vintage charm.
This cozy and luxurious hostel provides various room options, great amenities, a pool table, and beautiful settings.
Pros:
Unique and stylish design
Quiet and relaxed atmosphere
Great communal areas
Helpful and friendly staff
High service
On-site bar and restaurant
Central location
Cons:
Limited social activities compared to other hostels
Higher prices
Steel House Copenhagen is a modern, luxury, industrial-style hostel offering a wide range of amenities, including an indoor pool, gym, cinema, movie room, and a stylish bar. It provides various room options, including private rooms and dorms, catering to all types of travelers.
Pros:
Modern and stylish design
Extensive amenities, including a pool and gym
Occasional karaoke and music events
Central location
Self-service kitchen
Variety of room options
Secure lockers and keycard access
Cons:
Charges for some amenities, such as towel rental and luggage storage
Less social compared to other places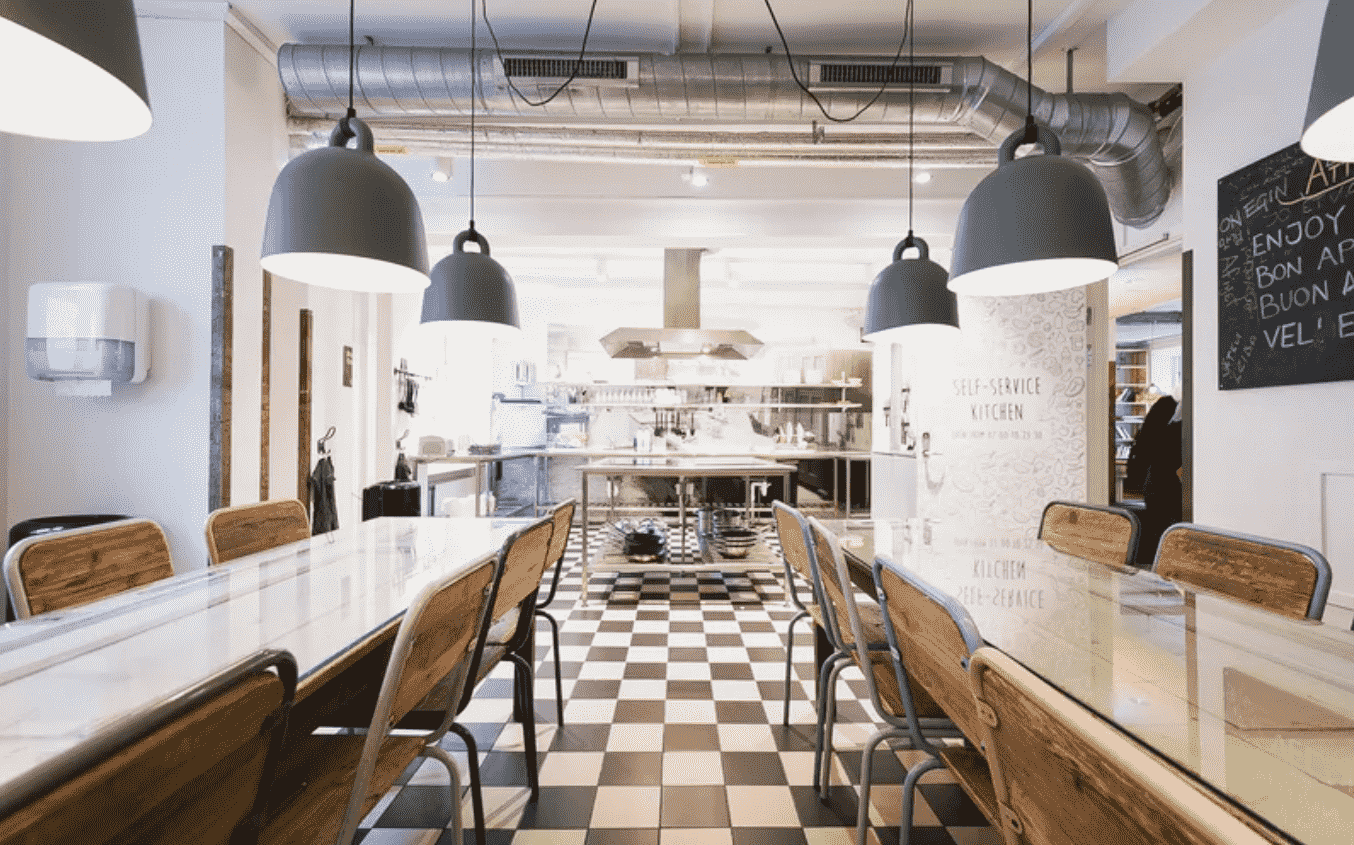 Urban House Copenhagen by MEININGER is a lively hostel with a modern design, spacious rooms, and an on-site bar.
The hostel is known for its social atmosphere, with a regular events calendar and a central location that makes exploring the city center's attractions a breeze.
Pros:
The social atmosphere with regular events
On-site bar and restaurant
Central location near attractions and public transport
Billiard lounge
Variety of room options, including private rooms and dorms
Bike rental available
Cons:
Can be noisy due to the lively atmosphere
They charge for some amenities
Copenhagen Downtown Hostel is a vibrant, social hostel, centrally located in the city center. As the best party hostel in Copenhagen, travelers have amazing bars and great activities within walking distance.
It offers a range of accommodations, from shared dorms to private rooms, and features an on-site bar and café, as well as regular events and activities. Enjoy live music at the in-house bar while enjoying a local craft beer.
Pros:
Central location
The social atmosphere with events and activities
On-site bar and café
Affordable prices
24-hour reception
Cons:
Can be noisy, particularly in the common areas
No communal kitchen for guest use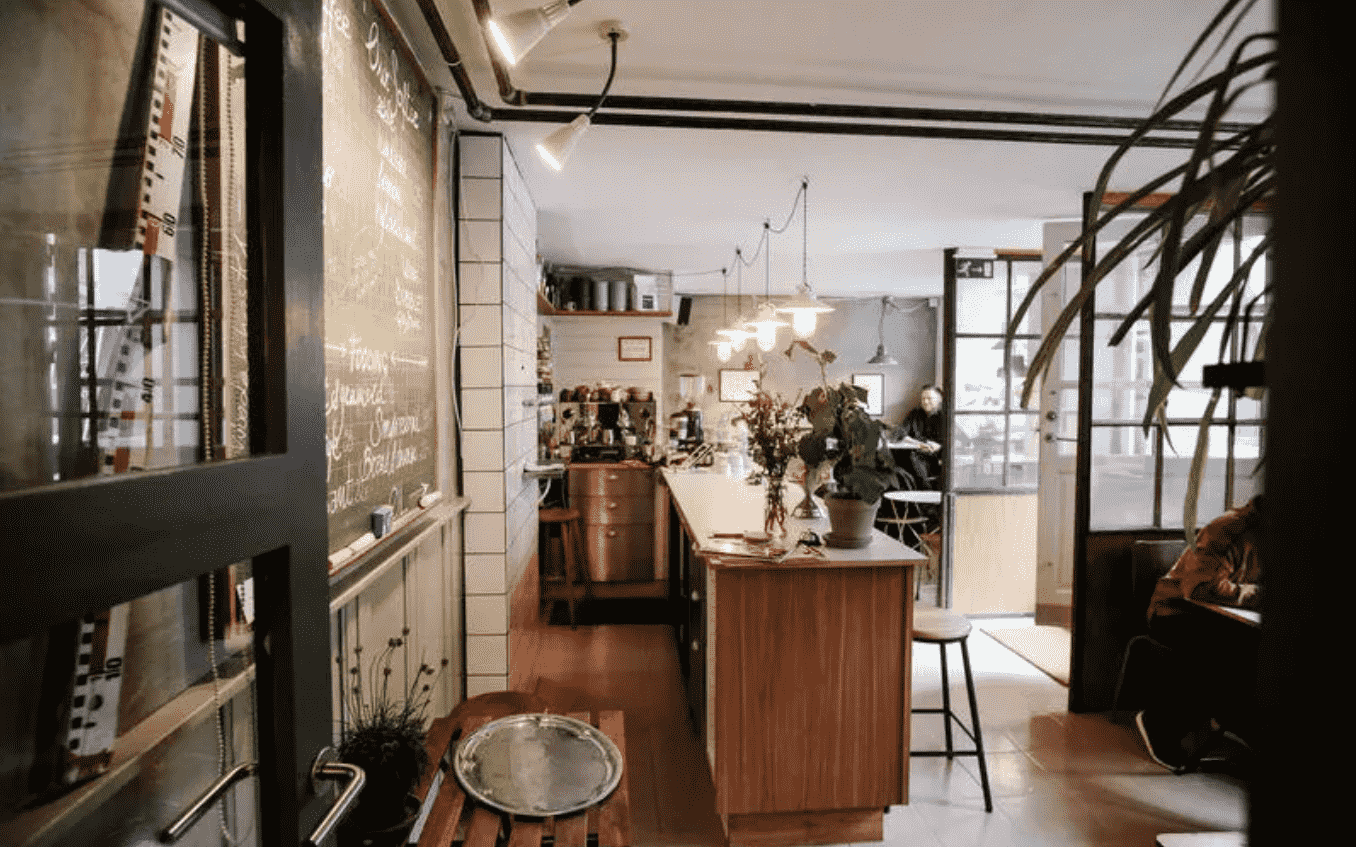 Woodah Boutique Hostel is a cozy, eco-friendly hostel offering a relaxed atmosphere and a focus on sustainability.
The leading boutique hostel provides various room options, comfortable sleeping pods, and a cozy café and bar.
Pros:
Eco-friendly and sustainable ethos
Quiet and relaxed atmosphere
Central location near attractions and public transport
Helpful and friendly staff
Cons:
Limited social activities compared to other hostels
No on-site restaurant
CityHub Copenhagen is a unique, high-tech, and amazing hostel offering compact, private sleeping pods instead of traditional dorm rooms.
The hostel features a communal living area, a shared kitchen, full laundry facilities, and a digital concierge service to assist guests with local recommendations and bookings.
Pros:
Innovative sleeping pod design for privacy
The communal living area and shared kitchen
Digital concierge service
Central location
Affordable prices
Cons:
Sleeping pods may feel small for some guests
Limited storage space in the sleeping pods
Choosing the Perfect Hostel for Your Stay
When selecting a hostel in Copenhagen, consider factors such as location, atmosphere, amenities, and budget.
Each of the hostels mentioned in this guide offers unique features and caters to different traveler preferences. Additionally, most of the hostels are within walking distance of central junction points such as the central train station, the former city hall square and city square hall itself, bike rental services, and downtown Copenhagen.
Whether you're seeking a luxurious hostel, a lively social atmosphere, stylish design, or eco-friendly accommodations, there's a great hostel here in Copenhagen to suit your needs.
How to Stay Safe at a Hostel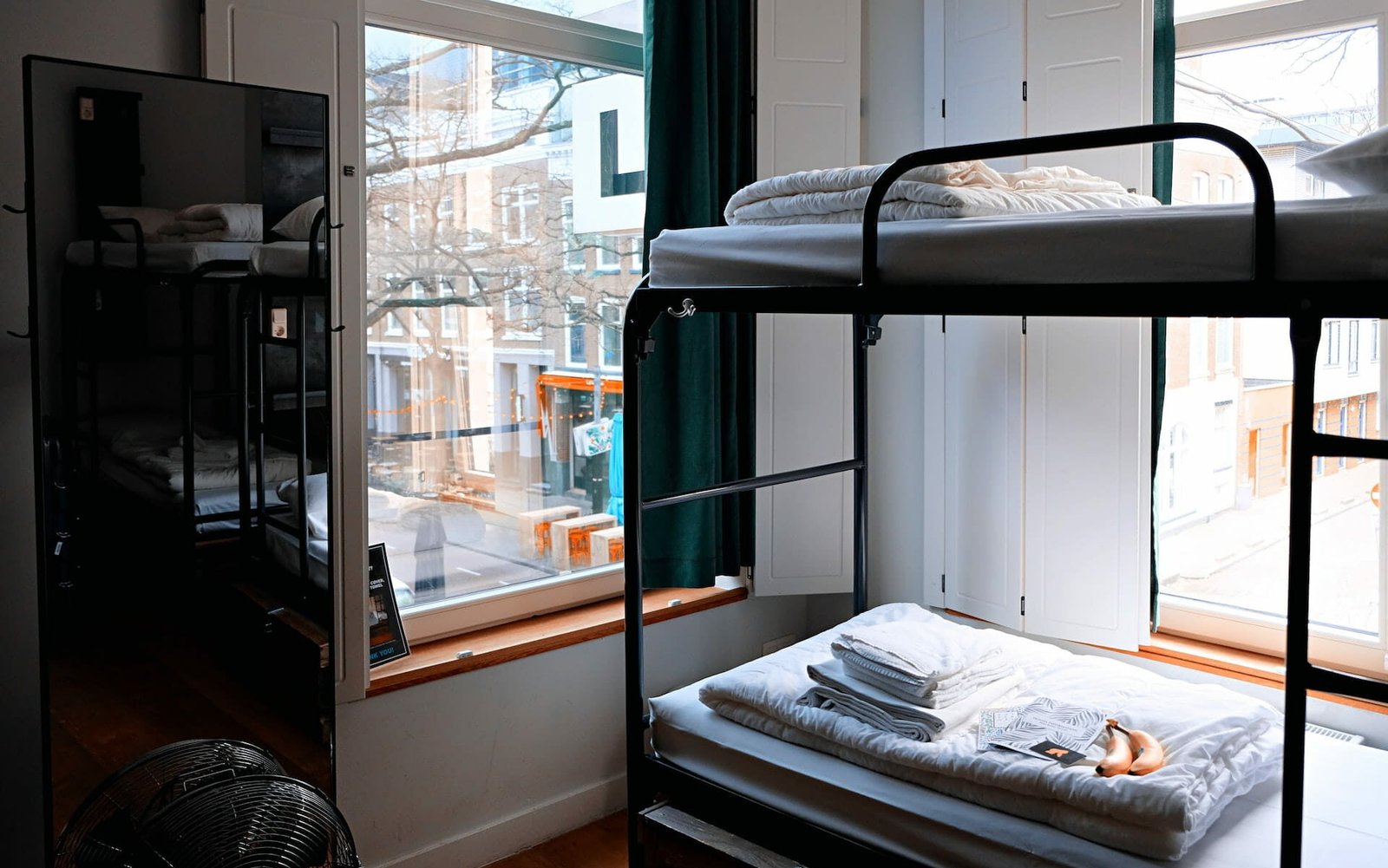 Staying at a hostel is a fantastic way to save money and meet other fellow travelers while exploring a new city. This is what makes it unique compared to a hotel. However, it's essential to prioritize your safety during your stay.
Here are some tips on how to stay safe and secure while enjoying your hostel experience:
Choose a Reputable Hostel
Before booking, research the hostel's reputation and read reviews from other travelers. Look for hostels with a high rating and positive feedback, particularly regarding safety and cleanliness.
Reputable hostels often have strict security measures in place to ensure a safe and comfortable environment for their guests.
Use Lockers
Most hostels provide lockers to secure your belongings, so make sure to use them for your valuables such as passports, electronics, and cash.
Bring luggage lockers with your own padlock or purchase one at the hostel's reception for added security. If lockers aren't available, consider using a portable travel safe or lockable luggage.
Get Travel Insurance
Travel insurance is essential when embarking on any trip, as it can cover unforeseen expenses such as medical emergencies, lost or stolen belongings, and trip cancellations.
Make sure to choose a comprehensive policy that covers hostel stays and adequately protects you against potential risks during your travels.
Be Aware of Your Surroundings
Stay vigilant and be aware of your surroundings while staying at a hostel. Familiarize yourself with the hostel's layout, emergency exits, and the location of the nearest hospital or embassy.
Always trust your instincts; if something feels off, inform the hostel staff or seek assistance from local authorities.
Protect Your Personal Information
Avoid sharing personal information, such as your full name, home address, or travel plans, with strangers. Be cautious when using public Wi-Fi networks, as they can be susceptible to hackers. Consider using a VPN (Virtual Private Network) to secure your online activities while using public connections. An anti-theft travel bag with RFID blocking also prevents people from stealing your information.
Socialize Responsibly
While hostels offer an excellent opportunity to meet new people and make friends, remember to socialize responsibly. Be cautious when accepting drinks from strangers, and never leave your drink unattended. Always prioritize your safety and well-being, even when enjoying the hostel's social atmosphere.
Follow Hostel Rules
Most hostels have rules and guidelines to ensure a safe and pleasant environment for all guests. Familiarize yourself with these rules and follow them accordingly. This includes respecting quiet hours, adhering to kitchen guidelines, and being mindful of shared spaces.
The Best Time to Visit Copenhagen
When planning a trip to Copenhagen, it's essential to consider the time of year to ensure you make the most of your visit.
While the city is beautiful all year round, certain seasons offer unique experiences, better weather, and more affordable prices.
Spring (April to June)
Spring is an excellent time to visit Copenhagen, as the weather starts to warm up, and the city comes to life.
With temperatures ranging from 10°C to 20°C (50°F to 68°F), you can enjoy comfortable outdoor exploration without the summer crowds.
Spring also brings the stunning cherry blossoms in Bispebjerg Cemetery and the Tivoli Gardens' reopening, offering a magical atmosphere.
Pros
Pleasant weather
Fewer crowds than in summer
Cherry blossoms and vibrant gardens
Cons
Slightly cooler temperatures than summer
Some attractions may have limited hours
Summer (June to August)
Summer is the peak tourist season in Copenhagen, with long days, warm temperatures, and an abundance of events and festivals.
The average temperature ranges from 15°C to 22°C (59°F to 72°F), making it ideal for exploring the city's picturesque streets, parks, and waterfront areas.
Keep in mind that this is also the busiest and most expensive time of year.
Pros
Warmest weather
Numerous events and festivals
Long days with up to 17 hours of daylight
Cons
Crowded tourist attractions
Higher accommodation and flight prices
Autumn (September to November)
Autumn in Copenhagen is a beautiful time to visit, with colorful foliage and cooler temperatures ranging from 5°C to 15°C (41°F to 59°F).
While the weather can be unpredictable, you can take advantage of lower prices and fewer crowds compared to the summer months.
This is also the perfect time to enjoy Copenhagen's cozy cafés and world-class museums.
Pros
Beautiful fall foliage
Less crowded attractions
Lower prices than summer
Cons
Unpredictable weather
Shorter daylight hours
Winter (December to March)
Winter in Copenhagen is cold and dark, with temperatures often dropping below freezing.
However, if you're willing to brave the chilly weather, you can experience the city's magical Christmas markets, cozy hygge culture, and snow-covered streets.
Plus, you'll find the most affordable accommodation and flight prices during this time.
Pros
Magical Christmas markets
Affordable prices for accommodation and flights
Cozy hygge atmosphere
Cons
Cold and dark weather
Limited daylight hours (as few as 7 hours)
Some attractions may be closed or have limited hours
The Best Attractions in Copenhagen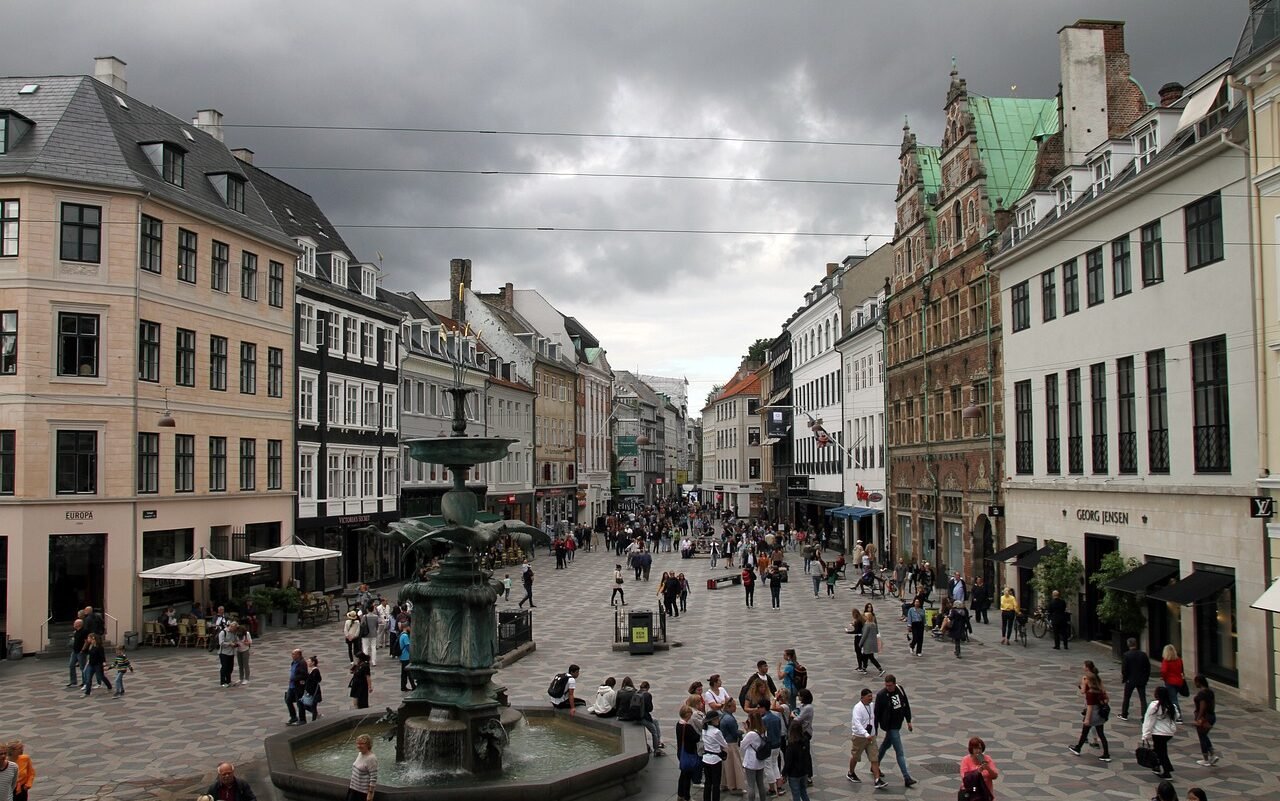 Copenhagen is a city filled with stunning architecture, historical sites, and vibrant culture, offering a range of attractions to suit every traveler's taste.
While there are numerous places to explore, I've compiled a list of the best attractions in Copenhagen that you shouldn't miss during your visit to this enchanting city.
Additionally, know that there are many great tours to join to experience the best of the city:
Tivoli Gardens
Tivoli Gardens is one of Copenhagen's most famous attractions and is the second-oldest amusement park in the world.
This historic park opened in 1843, and features beautiful gardens, thrilling rides, and various entertainment options, making it a must-visit for visitors of all ages.
Don't forget to catch a show at the Pantomime Theatre or enjoy the mesmerizing view from the iconic wooden roller coaster, Rutschebanen.
Nyhavn
Nyhavn is a picturesque waterfront area and one of Copenhagen's most iconic locations.
This 17th-century harbor is lined with colorful townhouses, bustling cafés, and restaurants, making it the perfect spot to relax and enjoy the scenic views.
Join some of the free walking tours or take a canal tour to fully appreciate the charm of this historic district.
The Little Mermaid Statue
One of Copenhagen's most famous landmarks, The Little Mermaid statue, is a tribute to Danish author Hans Christian Andersen's beloved fairy tale.
Located by the Langelinie promenade, this iconic bronze statue has been a popular attraction since its unveiling in 1913.
Be sure to take a walk along the waterfront and snap a photo with this enchanting symbol of Copenhagen.
Christiania
Freetown Christiania is a unique, alternative neighborhood in Copenhagen, known for its artistic and counterculture atmosphere.
Established in 1971, this self-proclaimed autonomous community is home to colorful street art, eclectic shops, and laid-back cafés.
Explore the vibrant streets, visit the local art galleries, and experience the spirit of freedom and creativity that permeates this one-of-a-kind destination.
Rosenborg Castle
Rosenborg Castle is a stunning Renaissance-style castle built in the early 17th century, featuring beautifully preserved interiors, manicured gardens, and a fascinating museum.
Take a guided tour to discover the castle's history, marvel at the Danish Crown Jewels, and stroll through the picturesque King's Garden, the oldest royal garden in Denmark.
National Gallery of Denmark
The National Gallery of Denmark (Statens Museum for Kunst) is a must-visit for art enthusiasts, housing an extensive collection of Danish and international art spanning seven centuries.
Discover masterpieces by renowned artists such as Rembrandt, Picasso, and Matisse, as well as works by contemporary Danish artists.
The museum's stunning architecture and tranquil sculpture garden are additional highlights not to be missed.
Unique Local Events in Copenhagen
Copenhagen is a lively city that hosts a variety of unique annual events, attracting both locals and tourists alike.
From cultural festivals to music events and celebrations of Danish heritage, there's always something happening in this vibrant city.
Here are some of the most notable annual events that you can experience during your visit to Copenhagen:
Copenhagen Light Festival
Taking place in February, the Copenhagen Light Festival is an annual event that transforms the city into a mesmerizing world of light and color.
Various light installations, interactive art pieces, and light shows illuminate the city's streets, buildings, and waterways, creating a magical atmosphere that can be enjoyed by visitors of all ages.
Copenhagen Sakura Festival
Celebrating the beauty of cherry blossoms, the Copenhagen Sakura Festival takes place in April at Langelinie Park.
This two-day event showcases Japanese culture through traditional performances, martial arts demonstrations, workshops, and food stalls.
Don't miss the opportunity to admire the stunning cherry blossoms in full bloom while experiencing a taste of Japanese culture in the heart of Copenhagen.
Distortion Festival
Held in early June, Distortion Festival is a massive street party that takes over Copenhagen for five days, celebrating electronic music, art, and urban culture.
The festival features numerous music stages, art installations, and food vendors throughout the city's neighborhoods, culminating in a massive closing party called Distortion Ø.
Copenhagen Jazz Festival
Copenhagen Jazz Festival is a 10-day event that takes place in July, featuring both international and local jazz artists.
The festival is held in various venues across the city, including parks, squares, and concert halls, offering a diverse array of jazz performances and genres to satisfy any music lover's taste.
Copenhagen Pride
Copenhagen Pride, held in August, is a week-long celebration of LGBTQ+ culture, featuring numerous events such as concerts, workshops, and debates.
The highlight of the festival is the colorful Pride Parade, which sees thousands of participants and spectators fill the streets of Copenhagen in a vibrant display of unity and acceptance.
Culture Night
Taking place in October, Culture Night is a one-night event that opens the doors of museums, galleries, churches, and other cultural institutions across Copenhagen for free.
Visitors can enjoy special exhibitions, performances, workshops, and free guided walking tours, during this unique event that aims to make culture accessible to everyone.
Copenhagen Christmas Markets
Starting in late November and lasting through December, Copenhagen's Christmas markets bring festive cheer to the city.
Numerous markets pop up in various locations, such as Tivoli Gardens, Nyhavn, and Højbro Plads, offering traditional Danish holiday treats, handmade crafts, and seasonal decorations.
The markets create a magical atmosphere, making it the perfect time to experience the city's hygge vibes.
The Best Hostels in Copenhagen FAQs:
What are the best hostels in Copenhagen?
The best hostels in Copenhagen include Generator Copenhagen, Next House Copenhagen, Steel House Copenhagen, Urban House Copenhagen by MEININGER, Copenhagen Downtown Hostel, Woodah Boutique Hostel, and CityHub Copenhagen.
What are the best hostels in Copenhagen for solo travelers?
Solo travelers may prefer hostels with a social atmosphere, such as Copenhagen Downtown Hostel and Urban House Copenhagen by MEININGER.
How much do hostels cost in Copenhagen?
Hostel prices in Copenhagen vary depending on factors such as location, amenities, and the time of year. On average, expect to pay between €20 for a cheap hostel and €50 per night for a luxury hostel for a dorm bed.
Are hostels in Copenhagen safe?
Copenhagen is generally a safe city, and most hostels prioritize guest safety and security. Look for hostels with 24-hour reception, lockers for valuables, and positive safety reviews.
Can I find a private room in a Copenhagen hostel?
Yes, many Copenhagen hostels offer private room options for solo travelers, couples, or those who prefer more privacy. Keep in mind that private rooms are usually more expensive than dorm rooms.
A Final Note on the Best Hostels In Copenhagen
Copenhagen is a vibrant and welcoming city, offering a variety of hostels to cater to different traveler preferences.
From the stylish and modern Generator Copenhagen to the cozy, eco-friendly Woodah Boutique Hostel, there's something for everyone.
When selecting a hostel, consider factors such as location, atmosphere, and amenities to ensure you have the best possible experience in this beautiful capital city. If you are looking for a cheap hostel in Copenhagen, there are plenty of options for that too.
With this comprehensive guide to affordable hostels, you can confidently book your stay at one of the best hostels in Copenhagen and enjoy your trip to this amazing destination.
As usual, feel free to reach out if you have any additions, questions, or comments down below.
//Josephine
The article may include affiliate links, meaning that I may receive affiliate compensation at no cost to you if you decide to purchase. Read more in my
Affiliate Disclosure.
BEST TRAVEL RESOURCES
BOOK YOUR FLIGHT: Not sure how to get the best and cheapest flights? I always use Skyscanner for the best deals. The best tip is to be flexible with dates and destinations if you want the cheapest options.
Alternatively, for frequent travelers, get a membership with Wayaway and receive a cashback on cheap flights and hotels every time you book! Via the link, you even get a 10% discount on your membership.
BOOK GREAT ACCOMMODATION: Booking great accommodation is not difficult but it sucks paying too much. Use Booking.com for the greatest hotel deals and Hostelworld for amazing hostel stays. Alternatively, you can sign up for Worldpackers to get FREE accommodation in exchange for your work.
BEST TRAVEL INSURANCE: Traveling without insurance is a mistake that you don't want to make - trust me I've tried. I'd suggest SafetyWing as they offer great and flexible policies - especially if you are traveling for a long time or a digital nomad. World Nomads is another great insurance with extensive coverage.
NEED HELP WITH YOUR VISA? Figuring out how and when you need a visa can be a bit of a jungle. iVisa is a very handy and user-friendly service.
HAS YOUR EU FLIGHT BEEN DISRUPTED? Use AirHelp as a service to get flight compensation on your European flights in case your flight was delayed, canceled, or disrupted in other ways. More often than not you are actually entitled to compensation.