Argentina, a diverse and vibrant country in South America, has long captivated travelers with its stunning landscapes, rich culture, and delectable cuisine. One of the best ways to explore this incredible destination is by embarking on a road trip to Argentina.
In this comprehensive guide, I'll dive into some of the best routes you can take, as well as tips for planning and enjoying the entire route of your journey.
The road trip itinerary I took myself was a little less commercial. After my partner and I did our van conversion, we started in Buenos Aires, went down the coast of Argentina to Patagonia, and looped back up along the mountains. While an incredible trip, I know that most people do not have 3 months or more, and therefore I'll share the more famous ones below.
Take it all as inspiration and feel free to reach out for any more information!
Which is the Perfect Itinerary for a Road Trip in Argentina?
Patagonia Road Trip: Discover the Southern Wonders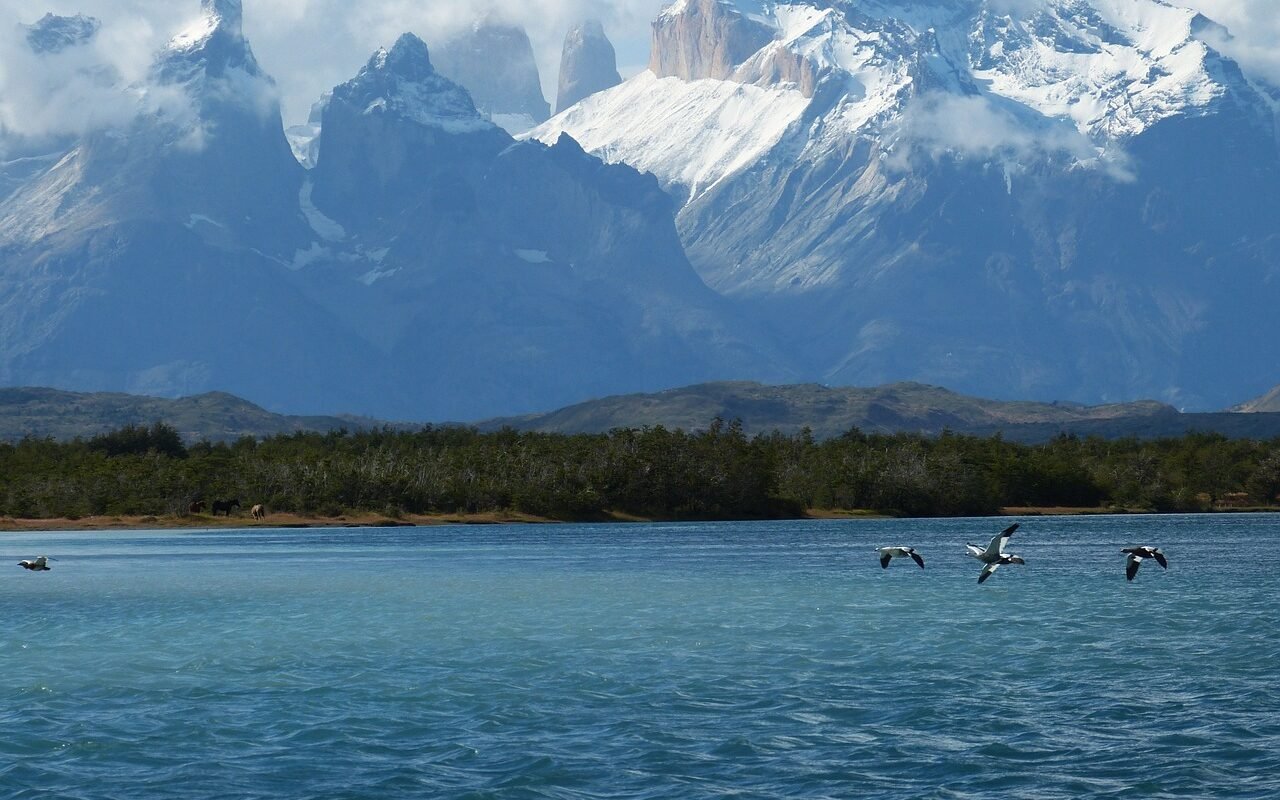 Embark on a journey through the awe-inspiring landscapes of Patagonia, a region known for its dramatic mountains, vast glaciers, and pristine lakes.
This road trip will take you to some of Argentina's most iconic destinations, where you'll experience the untamed beauty of the southern wilderness.
Road trip highlights:
San Martín de los Andes
Villa La Angostura
Bariloche
El Bolsón
El Chaltén
Fitz Roy Mountain Range
El Calafate
Perito Moreno Glacier
Torres del Paine National Park
Ushuaia
San Martín de los Andes
Begin your trip in San Martín de los Andes, a charming town located in the heart of the Andes.
Explore Lanín National Park, home to the striking Lanín Volcano, and enjoy the tranquil beauty of Lake Lácar.
Villa La Angostura
Next, visit Villa La Angostura, a picturesque small village known for its alpine-style architecture and enchanting Arrayanes Forest.
Bariloche
Afterward, continue your Argentina road trip and adventure in Bariloche, a picturesque city situated along the shores of Lake Nahuel Huapi.
Take in the stunning views from Cerro Campanario and explore the Swiss-style architecture in the city center.
El Bolsón
Head to El Bolsón, a bohemian town surrounded by lush forests and snow-capped peaks.
Visit the artisan market and explore the numerous hiking trails that lead to stunning vistas and crystal-clear lakes.
El Chaltén
Journey to El Chaltén, Argentina's trekking capital, and explore the numerous trails that lead to the iconic Mount Fitz Roy and Cerro Torre.
El Calafate
Visit El Calafate, the gateway to Los Glaciares National Park. Take a guided tour of the Perito Moreno Glacier, one of the most accessible and impressive glaciers in the world.
Torres del Paine National Park
Cross the border into Chile to experience the majestic beauty of Torres del Paine National Park, home to the famous granite towers and diverse wildlife.
Ushuaia
Conclude your road trip in Ushuaia, the southernmost city in the world. Discover the stunning landscapes of Tierra del Fuego National Park and embark on a cruise along the Beagle Channel to spot local wildlife.
Route 40: Explore the Legendary Argentine Highway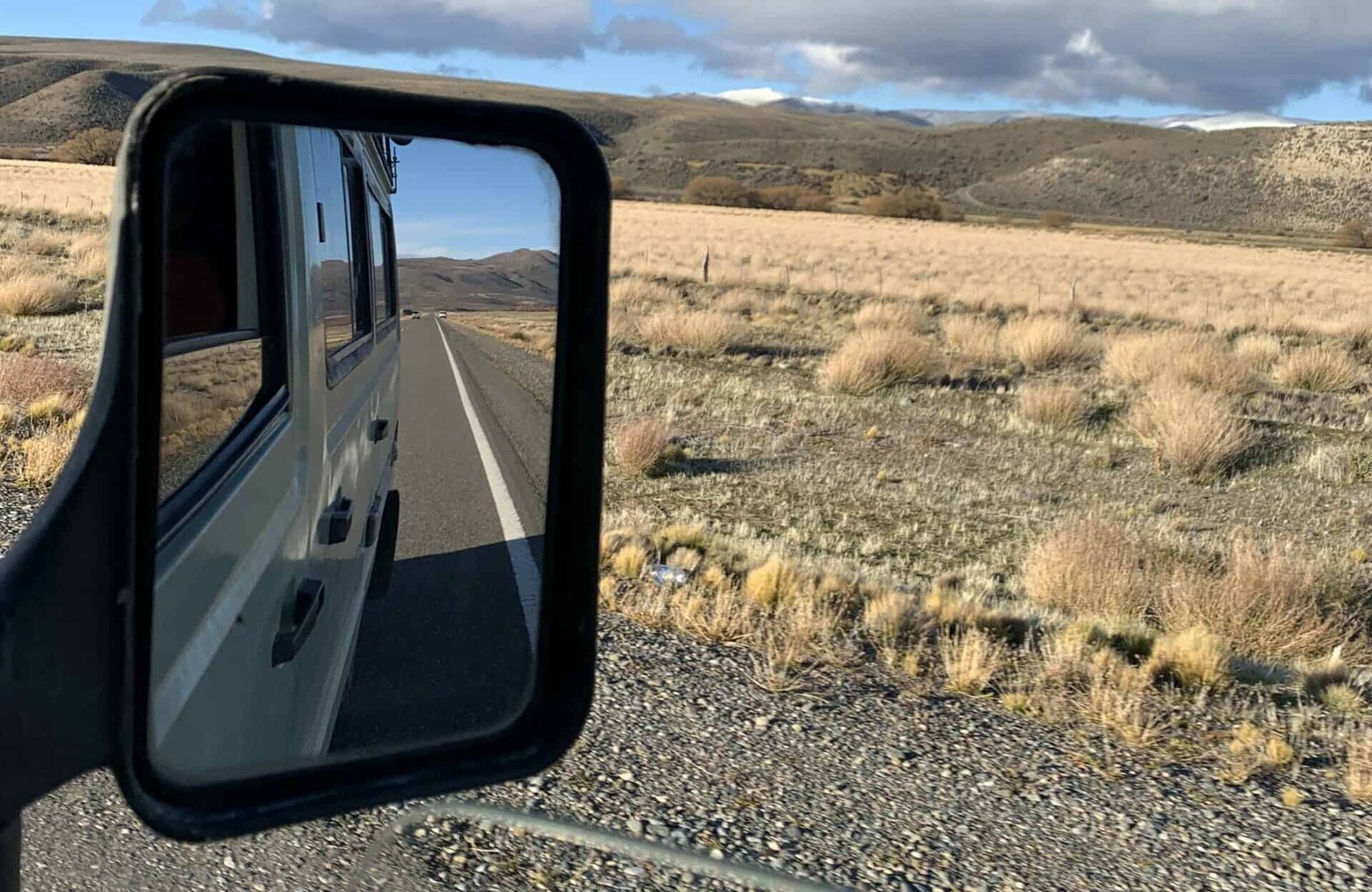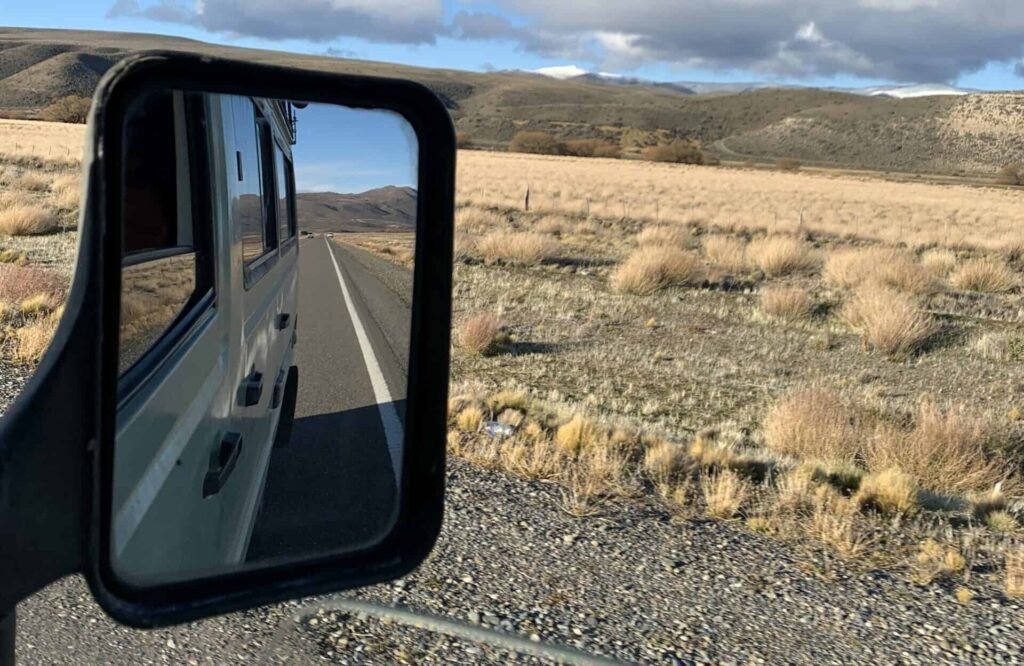 One of the longest and most famous highways in Argentina, Route 40 stretches over 5,000 kilometers from the northern border with Bolivia to the southern tip of Patagonia.
This epic road trip offers an incredible variety of landscapes, including deserts, salt flats, vineyards, and snow-capped mountains.
Road trip highlights:
La Quiaca
Cafayate
Cachi
Seclantás
Mendoza
San Juan
Bariloche
El Calafate
La Quiaca
Start your journey at the northern end of Route 40 in La Quiaca, a small town located near the Bolivian Border.
Cafayate
Travel to Cafayate, a picturesque town known for its high-altitude vineyards and unique rock formations, such as the Quebrada de las Conchas.
Cachi
Venture to Cachi, a quaint village nestled in the Calchaquí Valleys, and admire the striking views of the surrounding mountains.
Seclantás
Stop in Seclantás, a charming village known for its traditional weaving techniques and adobe houses.
Mendoza
Discover Mendoza, the heart of Argentina's wine country, and enjoy wine tastings and tours at the numerous vineyards and wineries.
San Juan
Continue to San Juan, a city surrounded by dramatic landscapes, such as the Ischigualasto Provincial Park, a UNESCO World Heritage Site.
Bariloche
Head two-half hours south to Bariloche, where you can explore the stunning Lake District and Nahuel Huapi National Park.
El Calafate
Conclude your Route 40 adventure in El Calafate, the gateway to the majestic Perito Moreno Glacier and Los Glaciares National Park.
The Pan-American Highway: A Transcontinental Adventure
The Pan-American Highway stretches from Alaska in the United States to Ushuaia in Argentina, making it the longest motorable road in the world.
The Argentina portion of this epic highway takes you through diverse landscapes, bustling cities, and charming towns.
Road trip highlights:
Buenos Aires
Rosario
Córdoba
Mendoza
San Carlos de Bariloche
El Bolsón
Ushuaia
Buenos Aires
Start your journey in Buenos Aires, the vibrant capital of Argentina. Explore the historic neighborhoods of San Telmo and La Boca, and take in the city's rich culture and art scene.
Rosario
Continue to Rosario, the birthplace of the Argentine flag and home to numerous museums and galleries, such as the Museo Histórico Provincial Dr. Julio Marc.
Córdoba
Venture to Córdoba, a city with a rich colonial history and stunning architecture, including the UNESCO World Heritage-listed Jesuit Block and Estancias.
Mendoza
Head to Mendoza, the heart of Argentina's wine country, and enjoy the region's world-renowned Malbec wines. Take a bike tour along the famous wine route and indulge in the incredible wine produced in this region before making your onward journey.
San Carlos de Bariloche
Discover the enchanting beauty of Bariloche and its surrounding lakes, mountains, and forests.
El Bolsón
Visit El Bolsón, a haven for artists, nature lovers, and outdoor enthusiasts.
Ushuaia
Conclude your Pan-American Highway adventure in Ushuaia, the southernmost major city anywhere in the world, and explore the rugged landscapes of Tierra del Fuego.
Cuesta del Obispo: A Scenic Drive Through the Andean Northwest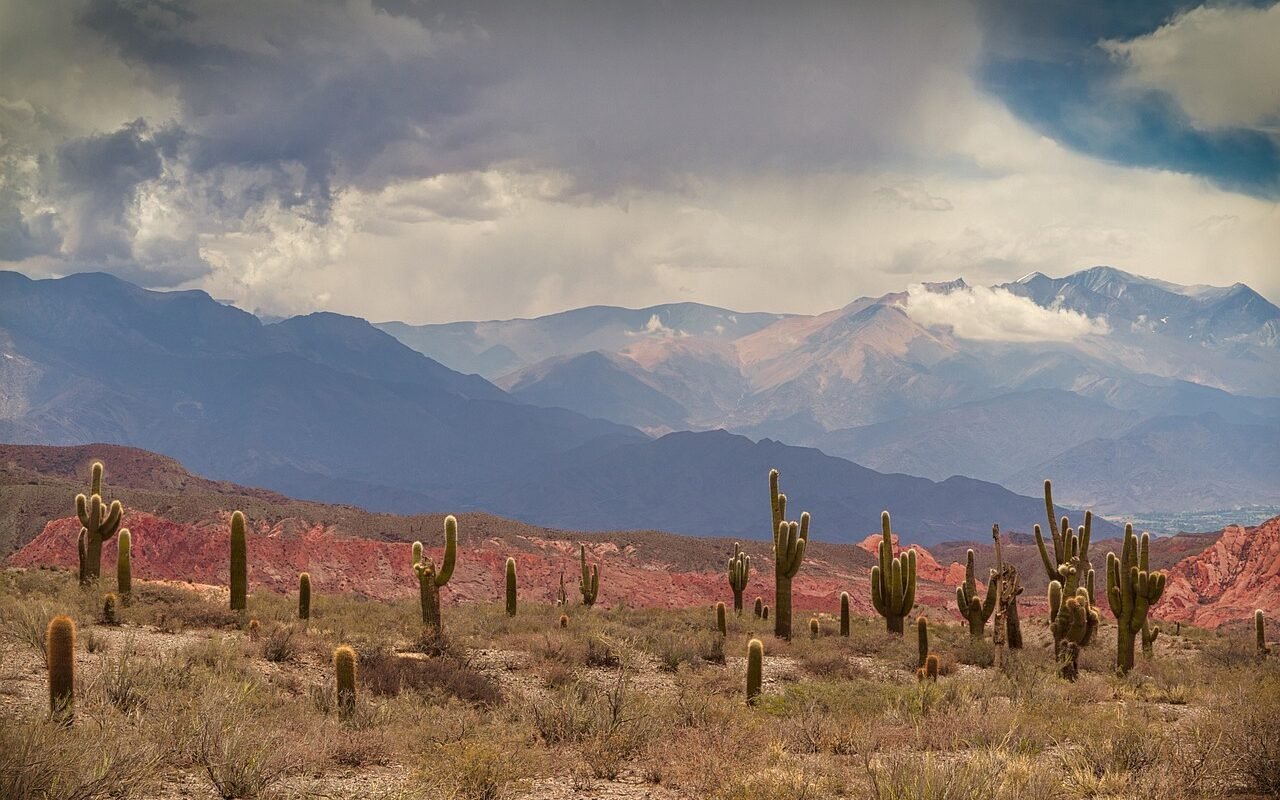 The Cuesta del Obispo route takes you on a winding journey through the dramatic landscapes of the Andean Northwest, offering breathtaking views of deep valleys, colorful mountains, rock formations, and high-altitude deserts. This is a shorter road trip, perfect for travelers with limited time.
Road trip highlights:
Salta
Quebrada de Escoipe
Valle Encantado
Recta del Tin Tin
Los Cardones National Park
Cachi
Seclantás
Salta
Begin your road trip in Salta, a city known for its well-preserved colonial architecture and vibrant local culture.
Quebrada de Escoipe
Venture into the Quebrada de Escoipe, a stunning gorge surrounded by lush vegetation and towering cliffs.
Valle Encantado
Discover the beauty of Valle Encantado, a picturesque valley with unique rock formations, and spectacular vistas on this Argentina road trip.
Recta del Tin Tin
Drive along the Recta del Tin Tin, a perfectly straight road that cuts through the high-altitude plains of the Los Cardones National Park.
Los Cardones National Park
Explore the striking landscapes of Los Cardones National Park, home to thousands of towering cacti and diverse wildlife.
Cachi
Visit Cachi, a charming village with well-preserved colonial architecture and stunning mountain views.
Seclantás
Conclude your journey in Seclantás, a quaint village known for its traditional weaving techniques and adobe houses.
Camino de la Historia: A Journey Through Argentina's Past
For a road trip to Argentina that combines history and natural beauty, embark on the Camino de la Historia route.
This scenic drive takes you through the heart of Argentina's colonial past, with stops at historic towns such as San Antonio de Areco, Tandil, and La Cumbrecita.
Along the way, you'll discover charming cobblestone streets, well-preserved architecture, and rich cultural heritage.
Road trip highlights:
Buenos Aires
San Antonio de Areco
Tandil
Alta Gracia
Jesuit Estancias
Colonia Caroya
Capilla del Monte
La Cumbrecita
Buenos Aires
Begin your adventure by exploring the Argentinean capital of Buenos Aires. Spend a few days enjoying the city, dancing tango, and eating delicious empanadas. Buenos Aires is a vibrant capital full of history and magnificent sights.
San Antonio de Areco
Visit this picturesque town, known for its vibrant gaucho culture and historic estancias.
Visit the Draghi Silver Museum, dedicated to the art of silversmithing, and stroll along the charming streets lined with colonial-era buildings.
Tandil
Next, head to Tandil, a charming city nestled in the hills of Buenos Aires Province.
Explore the impressive rock formations at Parque Independencia and visit the historic downtown area, home to the Museo Histórico Fuerte Independencia, which showcases the colonial city and its rich past.
Alta Gracia
Continue your journey to Alta Gracia, a city steeped in history and surrounded by stunning landscapes.
Here, you can explore the UNESCO World Heritage-listed Jesuit Estancias, which date back to the 17th century, and visit the childhood home of revolutionary leader Che Guevara, now a museum.
Colonia Caroya
In Colonia Caroya, a small town founded by Italian immigrants, you'll find the Estancia Jesuítica Caroya, another UNESCO World Heritage Site.
The estancia played a significant role in the Jesuits' agricultural and cattle-raising activities during the 17th and 18th centuries.
Capilla del Monte
As you venture further along the Camino de la Historia, don't miss Capilla del Monte, a mystical town nestled at the foot of Uritorco Mountain.
This area is well-known for its UFO sightings and unique energy, attracting spiritual seekers and curious travelers alike.
La Cumbrecita
Conclude your journey in the charming village of La Cumbrecita, a pedestrian-only town with strong European influences.
Wander the car-free streets, savor traditional German cuisine, and enjoy the surrounding natural beauty of waterfalls, forests, and hiking trails.
By following the Camino de la Historia route, you'll not only immerse yourself in Argentina's rich history but also experience the breathtaking landscapes that make this country such a unique and captivating destination.
Ruta de los Siete Lagos: A Picturesque Journey Through Argentina's Lake District
The Ruta de los Siete Lagos, or the Seven Lakes Route, is a scenic drive that takes you through the heart of Argentina's Lake District, showcasing stunning glacial lakes, lush forests, and majestic mountains.
This road trip offers a perfect blend of natural beauty and charming small towns throughout while visiting the lakes of seven colors.
Road trip highlights:
San Martín de los Andes
Lake Lácar
Lake Machónico
Lake Falkner
Lake Espejo
Villa La Angostura
Lake Nahuel Huapi
San Martín de los Andes
Begin your journey in San Martín de los Andes, a picturesque town surrounded by the Andes Mountains. Stroll along the shores of Lake Lácar and explore the quaint shops and restaurants in the town center.
Lake Machónico
Stop at Lake Machónico, a tranquil lake surrounded by dense forests and mountain peaks.
Lake Falkner
Visit Lake Falkner, known for its crystal-clear waters and the striking Vulture's Point viewpoint, offering panoramic views of the surrounding landscape.
Lake Villarino
Admire the beauty of Lake Villarino, a peaceful spot perfect for a picnic and taking in the surrounding scenery.
Lake Espejo
Discover the enchanting Lake Espejo, aptly named "Mirror Lake" for its reflective surface.
Lake Correntoso
Continue to Lake Correntoso, a popular destination for fishing enthusiasts and nature lovers alike. This is also a great beach alternative in Argentina, for anyone looking to swim and relax in the sun.
Lake Escondido
Venture off the beaten path to visit the secluded Lake Escondido, a hidden gem nestled within lush forests.
Villa La Angostura
Conclude your Ruta de los Siete Lagos adventure in Villa La Angostura, a charming village with alpine-style architecture and easy access to the Arrayanes Forest.
Quebrada de las Conchas: A Colorful Road Trip Through Argentina's Northwest
The Quebrada de las Conchas, or the Shell Gorge, is a stunning drive through the arid landscapes of Argentina's northwest, showcasing incredible geological formations, vibrant red cliffs, and vast valleys.
This road trip is a must for those seeking to experience the unique beauty of this region.
Road trip highlights:
Salta
Alemanía
Garganta del Diablo (Devil's Throat)
El Anfiteatro (The Amphitheater)
El Sapo (The Toad)
Los Castillos (The Castles)
La Yesera
Cafayate
Start your journey in Cafayate, a charming town known for its high-altitude vineyards and breathtaking surroundings.
Take the time to explore the local wineries and sample the region's renowned Torrontés wines.
Garganta del Diablo
Visit the Garganta del Diablo, or Devil's Throat, a narrow canyon with towering red walls and a striking waterfall.
El Anfiteatro
Stop at El Anfiteatro, a natural amphitheater with incredible acoustics and a unique, curved rock formation.
Los Castillos
Admire the impressive rock formations of Los Castillos, resembling ancient castles rising from the desert landscape.
Las Ventanas
Explore Las Ventanas, or the Windows, a series of natural arches and openings carved into the rock walls by centuries of erosion.
La Yesera
Discover the geological wonder of La Yesera, an area with multicolored rock layers and striking formations.
Tres Cruces
Conclude your Quebrada de las Conchas adventure at Tres Cruces, a viewpoint offering panoramic vistas of the stunning valley and surrounding rock formations.
Tips for Planning Your Road Trip Argentina Adventure
Renting a Vehicle in Argentina
To make the most of your Argentina road trip, you'll need a reliable vehicle. Choose from various rental options, including cars, vans, and RVs, depending on your preferences and the size of your group.
Make sure to book a car rental company in advance and research the specific driving requirements in Argentina, such as insurance and international driving permits. There are several car rental companies so it is a good idea to do some research for your Argentina road trip.
Finally, if you are not planning to get a rental car but have a van at your disposal, know that you will need specific camper van insurance or self-converted camper van insurance for your vehicle.
Accommodation Options Along the Way
Argentina offers a wide range of accommodation options for road trippers, from budget-friendly hostels and guesthouses to luxury hotels and resorts.
For a more authentic experience, consider staying in locally-owned estancias or boutique hotels.
Camping is also a popular option, especially in the Patagonia region, where you'll find numerous campsites and national parks.
Navigating Argentina's Road Conditions
While many of Argentina's main roads are well-maintained, some rural routes can be challenging for a small rental car due to rough terrain or inclement weather.
In addition, often the landscape inclines high above sea level and might only provide a small gravel road. For this reason, you might want to consider a four-wheel drive vehicle.
Be prepared for occasional gravel or dirt roads and always carry a detailed map or GPS device. Google Maps will be your best friend and be sure to study the suggested route so you know what you are getting into.
Also, keep in mind that distances between destinations can be significant, so plan your itinerary accordingly.
Essential Items to Pack for Your Road Trip
When packing your rental car for your road trip to Argentina, consider the diverse weather conditions you may encounter, from the chilly temperatures of Patagonia to the heat of the northern provinces.
Bring layers, a waterproof jacket, comfortable walking shoes, and any necessary outdoor gear.
Don't forget essentials like sunscreen, insect repellent, a first-aid kit, and a reusable water bottle.
Staying Safe and Healthy on Your Adventure
To ensure a safe and enjoyable road trip in Argentina, take precautions such as staying up-to-date on local news and weather, driving cautiously, and adhering to road rules.
Although Argentina is one of the safest countries in Latin America, you do have to be careful. Keep your valuables secure and know your surroundings, especially in busy tourist areas.
Unfortunately, we had our camper van robbed in a parking lot while we were exploring the city we were in and catching some fresh air. This can be avoided by being a bit smarter than me.
What does this mean?
Do not leave your valuables unattended in your car, use a car alarm and a safe box, and avoid leaving your hire car for longer periods of time.
In addition, make sure that you have a good spare tire and bring some additional safety equipment.
Finally, make sure to stay hydrated and protect yourself from the sun, particularly at high altitudes.
Planning the Duration of Your Road Trip in Argentina
The length of your road trip will depend on the routes you choose, the time you have available, and your personal preferences.
In this section, I'll provide some guidance on how to plan the duration of your road trip in Argentina.
Short Road Trips (3-7 days): If you have a limited amount of time, consider focusing on one specific region or route, such as the Ruta de los Siete Lagos or Quebrada de las Conchas. These shorter road trips will allow you to explore the highlights of a particular area without feeling rushed.
Medium-Length Road Trips (1-2 weeks): For those with more time to spare, a 1-2 week road trip can cover multiple regions or routes, such as combining the Patagonia Road Trip with the Ruta de los Siete Lagos. This timeframe provides a good balance between exploration and relaxation, allowing you to fully experience Argentina's diverse landscapes and attractions.
Long Road Trips (4 weeks or more): If you have the luxury of an extended vacation, a 4-week road trip will allow you to explore Argentina in depth. Consider tackling the legendary Route 40 or the Pan-American Highway, which offers an incredible variety of landscapes and experiences. With more time, you can also take detours to lesser-known destinations and truly immerse yourself in the country's culture and natural beauty.
Factors to Consider: When planning the duration of your road trip, consider factors such as driving distances, the number of stops you want to make, and the time you'll need for activities and relaxation. Remember that Argentina is a large country, so driving times can be lengthy. Additionally, consider the season and weather conditions, as some routes may be more challenging or inaccessible during certain times of the year.
Camping in Argentina: Embrace Nature and Unwind Under the Stars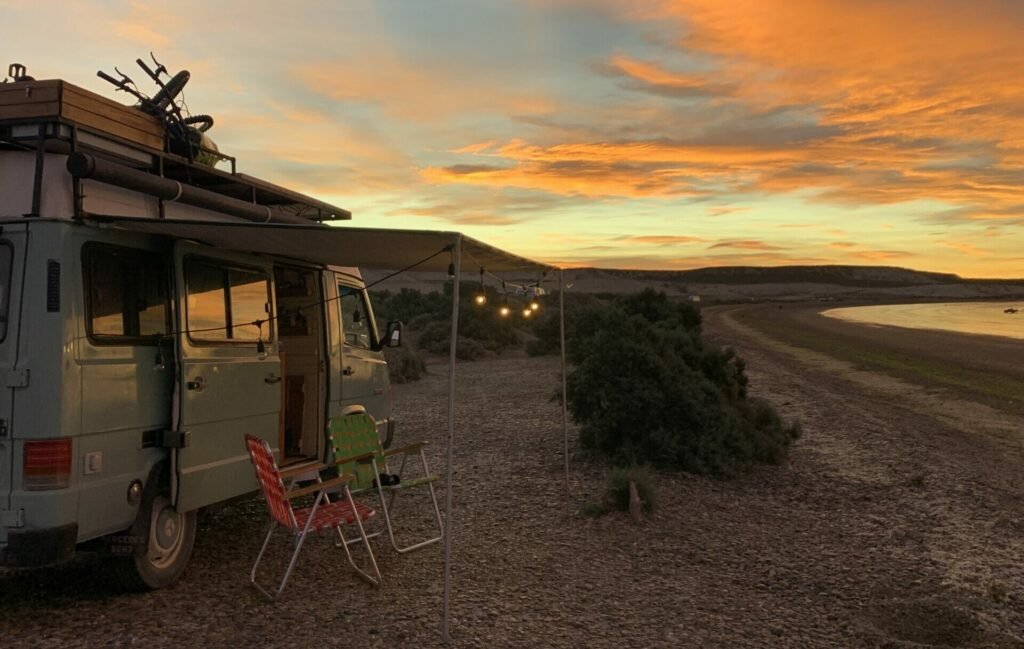 Argentina's diverse landscapes, from the snow-capped Andes to the lush forests of Patagonia, make it an ideal destination for camping enthusiasts.
Whether you're looking for a tranquil retreat or an adventurous getaway, Argentina offers various camping options to suit every traveler's needs.
In this section, I will discuss the different types of camping available, top camping destinations, and essential tips for a memorable camping experience in Argentina.
Types of Camping in Argentina
National Park Camping: Argentina's national parks often have designated camping areas, ranging from basic sites with minimal facilities to more developed campgrounds with amenities such as restrooms, showers, and picnic areas. Camping fees are usually modest and can be paid on-site or in advance, depending on the park.
Private Campgrounds: These campgrounds, operated by private owners, offer various services and facilities, such as electricity, water, restrooms, showers, and sometimes even swimming pools, Wi-Fi, and on-site restaurants. Prices for private campgrounds vary depending on the facilities and location.
Wild Camping: For a more off-the-beaten-path experience, wild camping is an option in some remote areas of Argentina. Be sure to research local regulations, obtain any necessary permits, and practice Leave No Trace principles to minimize your impact on the environment.
Top Camping Destinations in Argentina
Patagonia: With its pristine lakes, towering mountains, and vast forests, Patagonia is a camper's paradise. Top spots include Nahuel Huapi National Park, Los Alerces National Park, and Los Glaciares National Park.
Iguazu Falls: Camp near the awe-inspiring Iguazu Falls, one of the world's most spectacular natural wonders, and immerse yourself in the surrounding subtropical rainforest.
The Andean Northwest: Explore the dramatic landscapes of Salta and Jujuy provinces, home to colorful rock formations, deep canyons, and high-altitude deserts. Popular camping destinations include Quebrada de Humahuaca and Los Cardones National Park.
The Pampas: Experience the Argentine countryside by camping in the Pampas, known for its vast grasslands, traditional estancias, and abundant wildlife.
Essential Camping Tips for Argentina
Plan Ahead: Research your desired camping destinations, available facilities, and any necessary permits or fees. Reserve spots in advance, especially during peak travel seasons.
Be Prepared for Changing Weather: Argentina's diverse climate means you may experience varying weather conditions during your camping trip. Bring appropriate gear, such as warm clothing, a waterproof tent, and a quality sleeping bag.
Stay Safe: Follow basic safety precautions, such as storing food securely, practicing fire safety, and familiarizing yourself with local wildlife. Be prepared for emergencies with a first-aid kit, a reliable communication device, and knowledge of the nearest medical facilities. Lastly, download the iOverlander app as it provides camping recommendations and alerts from other campers.
Leave No Trace: Respect the environment by minimizing your impact on nature. Carry out all trash, use biodegradable soap, and avoid disturbing wildlife and plants.
Bring some camping essentials: Be prepared to have one of the best camping experiences of your life and bring some essentials in order to make the most of it.
By exploring Argentina's stunning landscapes through camping, you'll create lasting memories and gain a deeper appreciation for the country's natural beauty.
Whether you choose to pitch your tent in the heart of Patagonia or beneath the starry skies of the Andean Northwest, your Argentine camping adventure is sure to be an unforgettable experience.
Road Trip in Argentina FAQs:
What is the best time of year for a road trip to Argentina?
Generally, spring (September to November) and fall (March to May) are the most pleasant seasons, with mild temperatures and fewer crowds. However, for those looking to explore Patagonia, the summer months (December to February) offer the best weather conditions.
Do I need an International Driving Permit (IDP) to rent a car in Argentina?
Although not always required, obtaining an International Driving Permit (IDP) is highly recommended for foreign drivers in Argentina. An IDP, along with your valid driver's license from your home country, will help facilitate the car rental process and serve as an additional form of identification.
Is it safe to drive in Argentina?
Driving in Argentina is generally safe, but it's essential to be cautious and follow local traffic rules. Be prepared for varying road conditions, especially in rural areas, and always carry a map or GPS device. Additionally, be vigilant when driving in unfamiliar areas, particularly at night or in heavy traffic.
What type of vehicle should I rent for my road trip to Argentina?
For most road trips in Argentina, a standard car should be sufficient. However, if you plan to explore more remote areas or travel during the rainy season, a 4×4 vehicle may be necessary. Finally, if you wish to camp then renting a camper van is ideal.
Can I camp in Argentina's national parks?
Camping is allowed in many of Argentina's national parks, and it's a popular option for travelers looking to immerse themselves in the country's natural beauty. Always check the specific regulations and facilities available at each park before your visit, and remember to practice responsible camping etiquette by leaving no trace.
A Final Note on Doing a Road Trip Itinerary in Argentina
Embarking on an Argentina road trip is an unforgettable adventure that allows you to explore the country's beautiful stretches, diverse landscape, rich history, and unique culture at your own pace.
Whether you choose to traverse the iconic Route 40, discover the breathtaking beauty of Patagonia, or journey through Argentina's past on the Camino de la Historia, there's no shortage of incredible experiences to be had.
With careful planning, the right vehicle, and a spirit of adventure, your Argentine road trip will surely be the journey of a lifetime.
While there are many routes and several other countries to experience on your road trip, I can guarantee that you will experience beautiful routes and otherworldly landscapes no matter which route you choose. Finally, I want to add that the weather changes frequently in Argentina. Pick exactly when to visit Argentina, so your trip does not get compromised.
Be sure to take many photos and share them with me when you are done!
As usual, feel free to comment below with any additions or questions.
//Josephine
The article may include affiliate links, meaning that I may receive affiliate compensation at no cost to you if you decide to purchase. Read more in my
Affiliate Disclosure.
BEST TRAVEL RESOURCES
BOOK YOUR FLIGHT: Not sure how to get the best and cheapest flights? I always use Skyscanner for the best deals. The best tip is to be flexible with dates and destinations if you want the cheapest options.
Alternatively, for frequent travelers, get a membership with Wayaway and receive a cashback on cheap flights and hotels every time you book! Via the link, you even get a 10% discount on your membership.
BOOK GREAT ACCOMMODATION: Booking great accommodation is not difficult but it sucks paying too much. Use Booking.com for the greatest hotel deals and Hostelworld for amazing hostel stays. Alternatively, you can sign up for Worldpackers to get FREE accommodation in exchange for your work.
BEST TRAVEL INSURANCE: Traveling without insurance is a mistake that you don't want to make - trust me I've tried. I'd suggest SafetyWing as they offer great and flexible policies - especially if you are traveling for a long time or a digital nomad. World Nomads is another great insurance with extensive coverage.
NEED HELP WITH YOUR VISA? Figuring out how and when you need a visa can be a bit of a jungle. iVisa is a very handy and user-friendly service.
HAS YOUR EU FLIGHT BEEN DISRUPTED? Use AirHelp as a service to get flight compensation on your European flights in case your flight was delayed, canceled, or disrupted in other ways. More often than not you are actually entitled to compensation.