Want to know the ultimate activities and things to do when visiting Normandy in France?
You are in the right place!
This unique and beautiful destination has something to offer visitors of all ages. Located in northwest France, this incredible region is famous for its stunning coastline and white-chalk cliffs.
But there's much more to Normandy than just breathtaking beauty. Normandy boasts some of the most fascinating attractions in Europe too.
From exploring medieval towns to hiking along rugged trails and learning about the history surrounding The Second World War, endless exciting activities are waiting to be discovered.
Whether you're interested in exploring ancient castles or taking part in indulgent culinary experiences, you will find plenty to do during your trip to Normandy.
To help you have the best holiday and discover what makes Normandy such an incredible place, this guide explores the very best things to do when visiting this amazing French region.
What are the best things to do in Normandy?
Normandy is full of some of France's best-kept secrets for visitors to explore. From historic sites to incredible culinary experiences, it promises something for everyone!
But what are the best things to do in Normandy?
To help you have the ultimate getaway and decide what to do in Normandy during your trip, here are the top activities to do when visiting here:
Visit the Normandy Landing Beaches
Normandy played a pretty big role during World War II. For this, there are many sites around the region you can visit today. The most well-known are the landing beaches.
These historic sites include Omaha Beach, Pointe du Hoc, and Arromanches-Les-Bains.
Visiting the landing beaches in Normandy is a must-see experience that offers something truly special. Not only can you walk the same stretch of sand and sea where Allied forces made history, but you can also pay your respects to those who found their final resting place after being here during WWII.
In addition, for anyone interested, the Caen Memorial Museum is a great place to deep dive into the history of the war and this beach stretch. The museum even has a room specifically dedicated to the day-landing beaches in Normandy. Though it is one of the darker tourist attractions in Normandy, it is still worth a visit. 
You can do a guided tour of these day beaches. This is attractive if you want to learn more about them during your trip. However, you can also visit them yourself for free.
Doing a self-guided tour is a great way to explore if you are on a budget. However, nothing beats a guided tour with a knowledgeable guide who can answer all your questions.
Explore Mont Saint Michel
Taking a day trip to this iconic and stunningly beautiful island abbey is a must!
Visiting Mont Saint Michel is an amazing experience that you'll never forget. Nestled in the beautiful Bay of St. Malo, this ancient and awe-inspiring abbey has been a major pilgrimage destination for centuries.
Whether you want to explore its incredible architecture, take in the stunning views from its ramparts, or just wander around the cobbled streets and enjoy the atmosphere, a visit to Mont Saint Michel is a must-do for all.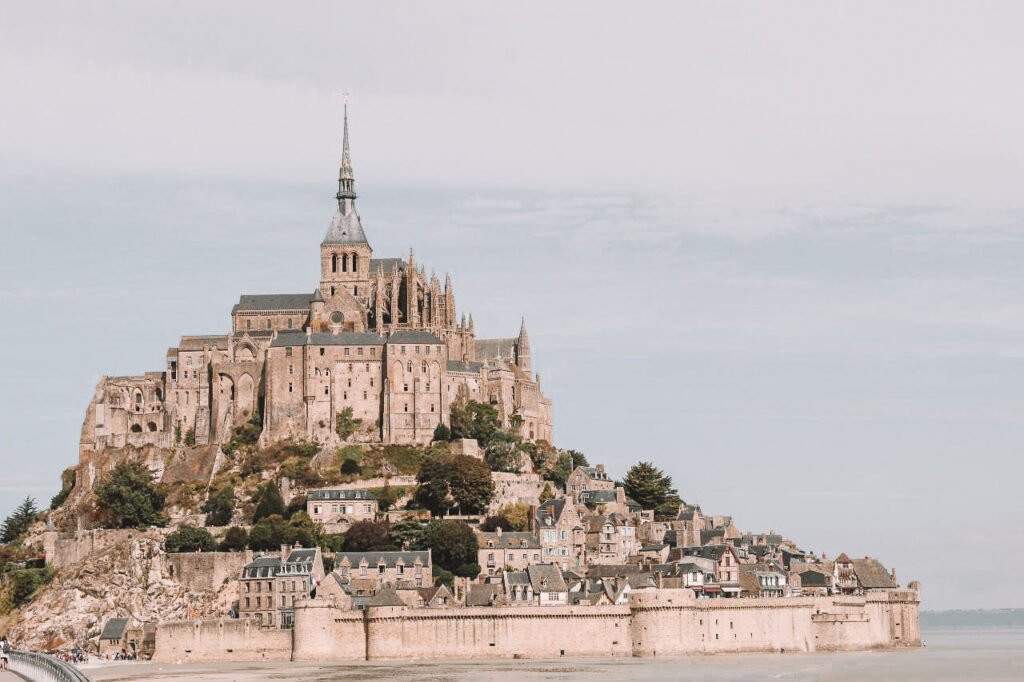 You can do a self-guided tour around this Unesco World Heritage site for free. This is great if you are traveling on a budget!
However, if you want to visit the Abbey itself the price is € 11. Visiting the Abbey is a great way to learn more about the area where you will get familiar with the history of the castles built many hundred years ago. 
If you want to avoid the crowds and take the most amazing photos of the Abbey, it's recommended to explore the fields just in front of it. Here you will get to take in the most incredible views of the area which you cannot get anywhere else!
A trip to Mont Saint Michel is one of the most popular places to visit in Normandy and France so make sure you add it to your itinerary.
Regardless of how long you spend at the Abbey, this site guarantees the most amazing day out here. But for the best visit, try and spend at least 3-4 hours here.
Visit Bayeux Tapestry Museum
No matter if you are traveling alone or with the family, make sure you add the Bayeux Tapestry Museum to your itinerary!
This museum holds the famous Bayeux Tapestry, an immense 230-foot-long embroidered cloth depicting William the Conqueror's victory at the Battle of Hastings. It also features many other historical artifacts and documents from this period of time.
A visit here costs around 12 euros per adult and 6 euros per child. Making it an affordable experience for all!
You'll be able to explore the Bayeux Tapestry in detail and learn about its interesting history. All thanks to the headset they provide you in multiple languages.
If you are planning on visiting during the summer months, try and book your visit early in the day as it can get pretty crowded here! On top, if visiting during high season it's a good idea to travel with an anti-theft travel bag.
The museum is also conveniently located near other historical sites like the Bayeux Cathedral and the British War Cemetery. After your visit to the Bayeux Tapestry Museum, you can easily explore these sites and learn even more about the fascinating history of Normandy.
Without a doubt, spending a few hours exploring the incredible work at the Bayeux Tapestry Museum is a must-see when visiting France!
Tour Chateau de Caen
If you're looking for an exciting and unique place to explore in France, then a visit to Chateau de Caen is certainly worth considering! During the 11th century, Caen grew into a great city that now pulls many yearly visitors who wish to come to experience the history, beauty, and culture.
Located in the city of Caen, this beautiful castle is full of history and charm. It was originally built by William the Conqueror as his principal residence. Now it's open to visitors to explore for free.
The castle grounds offer plenty of space to wander around and take in the sights. Its architecture features a variety of towers, walls, and courtyards that you can walk around. This is one of the most popular activities to do in Normandy all year round. For this reason, expect crowds during summer.
To try and avoid the crowds you can try and visit during the week and earlier in the day. Not only will it mean you can explore the grounds at your own pace, but it is much more enjoyable when the temperatures are cooler.
With so much to explore, it's easy to spend an entire day here – so make sure you wear comfortable shoes!
Wander the streets of Rouen
Visiting Rouen in Normandy is a great way to experience the beauty of Northern France. In fact, it is one of the most beautiful cities in France to visit!
From stunning countryside views and historic monuments to vibrant city life and delicious local cuisine, there's something for everyone in this charming destination. Truly, Roun should be included in any French travel itinerary!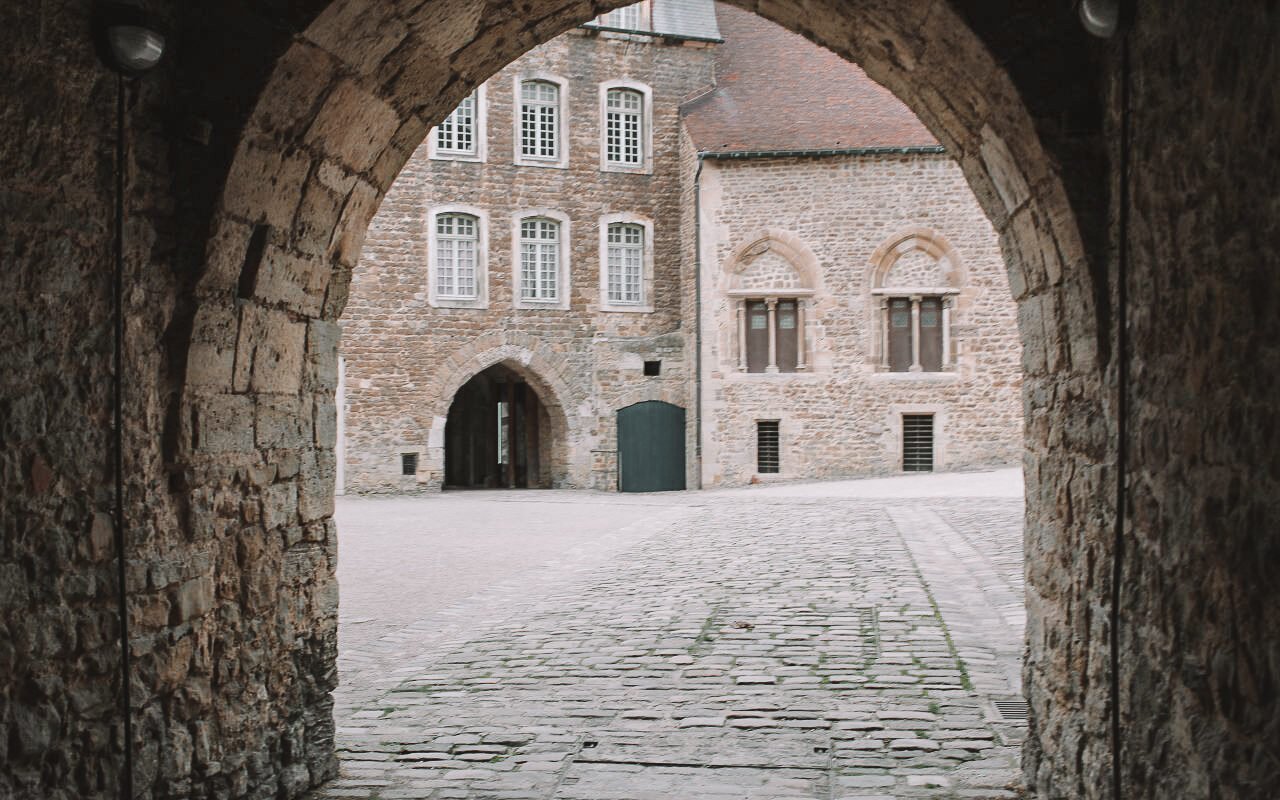 This is one of the most popular places to visit in Normandy as it has to offer. Whether you're looking to take in some of the area's rich history, visit some of its famed attractions, or just relax and take in the scenery.
No matter what time of year you plan your trip, Rouen offers plenty to do throughout the year. You can explore its many medieval streets, wander through its well-preserved churches, and sample so many local delights.
One of the best things to do is to take a boat ride along the Seine River. There are plenty of tours available but they are all more enjoyable after spring when the weather is warmer.
Rouen is also one of the most popular locations for visitors to stay when visiting Normandy. The area has the most stunning hotels and apartments so you are guaranteed to find the perfect one for your holiday!
Visit Honfleur
Visiting Honfleur in Normandy is a must-do for anyone who loves stunning European destinations!
Located on the Seine estuary, this charming little port town offers something for everyone. With beautiful architecture and cobblestone streets, lively art galleries and boutiques, delicious seafood restaurants, and plenty of outdoor activities.
The iconic Le Vieux Bassin is a great place to start exploring. This is because it's lined with colorful buildings and plenty of boats to watch.
From there, you can wander the streets and explore the shops and galleries. In addition, you can take a boat tour around the harbor. The nearby beaches of Deauville and Trouville are also worth a visit for those looking for some sand and sea to cool off.
Normandy is full of stunning towns and cities to explore. However, if you want to see one of the most beautiful, Honfleur should be at the top of your list!
Sample Calvados
No trip to Normandy is complete without sampling some of the region's famous spirits, including Calvados.
The region is famous for its production of high-quality Calvados. This is a type of brandy made from apples or pears and aged in oak barrels. For this, it's no surprise that there are many great places in Normandy to try it!
If you want to sample Normandy Calvados one of the best places to stop by is Calvados Pierre Huet in Cambremer.
This is one of the best places to visit in Normandy to learn about Calvados. Simply because the tour is so fantastic. For around 12 euros you will receive a tour of the press, cellars, and distillery. Your ticket also includes a tasting of the amazing products they produce!
Even if you are not a lover of Calvados, going to a distillery is a great day out to learn more about Normandy and its history.
Rent a car
Renting a car In France is the perfect way to experience all that Normandy has to offer!
With miles of coastline and rolling countryside, it's easy to see why having your own transport is essential for getting around.
From touring the D-Day beaches and war memorials in the north to exploring the picturesque villages and nature trails in the south, a rental car gives you the freedom to explore this region at your own pace.
Plus, with so many companies offering competitive rates on long-term rentals, it's an affordable way to get around. Just make sure your rental company provides you with a kit for driving around France!
Not only that but having your own car allows you to discover some of Normandy's hidden gems that you might otherwise miss out on. There's plenty to discover – all without the need for a tour guide or public transport timetables.
And if you want to explore other areas of France during your getaway, you can drive to destinations like Paris very easily!
Remember to get good travel insurance that covers you in case of any problems.
Go hiking
Spend a few hours on foot in Normandy and you'll be rewarded with some of the most spectacular and diverse hiking trails in Europe!
Normandy and France are home to an array of natural wonders. This ranges from craggy cliffs to scenic beaches, picturesque valleys, and lush forests. Whether you prefer a leisurely stroll through coastal towns or a challenging trek up rocky mountain peaks, there's something for everyone
For those looking for an easy-going hike, the Mont Saint Michel area is a must-visit.
Here you'll find miles of walking paths and easy trails that take you around the iconic island monastery and up to its spectacular summit with views over the bay below.
The Semaphore de la Manche is another great area for an easy walk. This stunning coastal path follows the banks of the English Channel and offers fantastic views out to sea.
For more experienced hikers, Normandy has plenty of challenging trails too. The Sentier des Douaniers is a popular route with its rugged coastline and abundant wildlife. You can also head inland to the Parc Naturel de la Vallee de Seine for an epic stretch through lush forests and rolling hills.
For more experienced hikers, Normandy has plenty of challenging trails too. The Sentier des Douaniers is a popular route with its rugged coastline and abundant wildlife. You can also head inland to the Parc Naturel de la Vallee de Seine for an epic stretch through lush forests and rolling hills. Remember to pack a good hiking lunch and your favorite hiking essentials.
No matter your hiking level, Normandy is sure to provide an unforgettable experience!
And even if you are not a huge fan of hiking, Normandy will change your mind. With its scenic routes overlooking the English Channel to views of rolling hills, wildflowers, and even the occasional castle, you will not get bored exploring the gorgeous landscape of Northern France.
Visit Cider Farms
If you are wondering what to do in Normandy on a sunny afternoon, go and explore some of Normandy's cider farms.
Visiting a cider farm guarantees a true taste of France. You will get the chance to indulge in the delicious local cuisine, and take part in fascinating tours and cider tastings. In addition, you will learn about the region's rich history and culture. Lastly, you will enjoy some of the most breathtaking views of the countryside.
And for the ultimate French cider experience, make sure to check out The Normandy Cider Route!
This 25-mile signposted trail takes you through some of the most beautiful landscapes in the region. You'll travel east of Caen and along the way, you'll discover 22 cider farms. These are marked by signs featuring "Cru de Cambremer".
Not only will you get to explore the stunning scenery, but you'll also be able to try out some delicious local cider. On top, you can take in an incredible picture-postcard journey through Normandy.
Plus, you can even meet the farmers and learn all about how they make their incredible cider! By taking The Normandy Cider Route, you'll get to experience the best of both worlds – stunning scenery and local delicacies.
This is a great day out for all as you get to learn about their production process and sample some of their delicious ciders.
Is Normandy France worth visiting?
With a resounding yes!
This beautiful region of France is ideal for everyone. No matter if you want a holiday with the whole family or a solo city break.
Normandy is one of the most picturesque regions in France. This is because it is filled with charming medieval villages, beautiful beaches, and of course, historical monuments.
There's something for everyone to enjoy. Whether you're looking to explore the famous D-Day Beaches or take in the stunning views along the Calvados Coastline.
And let's not forget the food – Normandy is famous for its delicious seafood, cheeses, and cider!
What is the best way to get to Normandy?
The best way to get to Normandy depends on where you're starting from. The most popular way is to fly to Paris Charles de Gaulle Airport or Orly Airport in Paris.
If you're coming from Paris, one option is to take the train.
The journey takes just under two hours in total. On the way, there are frequent services that go directly from major stations like Gare Saint-Lazare and Montparnasse. Thanks to how close Normandy and Paris are, you can even do day trips here!
However, renting a car is the best way to get to Normandy from Paris. This especially applies if you want to see the very best sites. There are plenty of rental options you can get from the airport as soon as you land.
This is a great way to spend less on travel costs. This way you can start your journey as soon as you arrive in France!
Best things to do in Normandy frequently asked questions
I'm sure you have a few more questions about this beautiful region of France before booking your trip. To help you out, here are the most frequently asked questions visitors to Normandy have:
What things do people do in Normandy?
Normandy offers a variety of experiences that no other region in France can match!
Whether you're looking to explore the storied history of World War II at the landing beaches, relax on a beachfront or simply enjoy the beauty of nature, there's something for everyone.
If you are a lover of history you will find so many activities around the region like Mont Saint Michel, the Bayeux tapestry, and Omaha beach.
There are also so many other Normandy activities to do such as fishing, hiking, and biking to make the most of this scenic part of France. Combined with art galleries, cathedrals, and museums offering a peek into Normandy's history and culture, there are endless things for people to do here.
How many days do you need to see Normandy?
It depends on what kind of itinerary you're hoping to follow. If you want to get a real feel for the region, with lots of sightseeing and activities, then it's recommended to spend at least 3-4 days—especially if you're traveling from beyond Europe.
You could also just spend one day in each city/town—which might be more doable if you're pressed for time. If you only have much time and want to get the utmost out of your visit, many guided tours can help ensure that you don't miss a single spot!
What is the best time to visit Normandy?
The peak season in Normandy is from June through August when temperatures are warm and pleasant. However, if you're looking for a more affordable trip, you'll find cheaper prices and smaller crowds in the spring and autumn months.
What is famous in Normandy?
Normandy is best known for its beautiful coastline and spectacular views, as well as its historical sites like the D-Day beaches. The region is also celebrated for its delicious cuisine featuring regional specialties such as crepes, cider, and seafood dishes.
This is a very popular place to visit in France thanks to its landmarks and activities. From being home to the Bayeux tapestry and the stunning Mont Saint Michel, this area offers its visitors endless things to do.
What are the main attractions in Normandy?
The region is full of stunning natural beauty, iconic landmarks, and historical sites.
Visitors to Normandy will find a wide range of attractions including the beaches at Omaha and Utah, the cliffs of Etretat, Mont-Saint-Michel Abbey, the historic city of Caen and Bayeux Tapestry, Giverny, the D-Day Landing Beaches, and many more. On top, the gardens of Claude Monet near Caen are beautiful to experience.
Conclusion
Hopefully, this guide has shown you what to do in Normandy for your next unforgettable trip to France!
When it comes to a destination that offers something for everyone, Normandy is the place to be.
This beautiful region of France has it all. From its incredible beaches, spectacular cliffs, and lush green countryside to its rich history and cultural attractions. And that's why you'll want to plan your next trip here.
Whether you're looking for a romantic getaway or a fun family outing, Normandy is sure to be the perfect destination. With plenty of restaurants and activities to explore, you'll find something to do no matter what you're looking for.
Author Bio:
Lowri is the creator of the European road trip blog, Many Other Roads. Originally from Wales, you will now find Lowri exploring Europe with her border collie Scout, sharing in-depth knowledge and tips for those wanting to hit the road!
The article may include affiliate links, meaning that I may receive affiliate compensation at no cost to you if you decide to purchase. Read more in my
Affiliate Disclosure.
BEST TRAVEL RESOURCES
BOOK YOUR FLIGHT: Not sure how to get the best and cheapest flights? I always use Skyscanner for the best deals. The best tip is to be flexible with dates and destinations if you want the cheapest options.
Alternatively, for frequent travelers, get a membership with Wayaway and receive a cashback on cheap flights and hotels every time you book! Via the link, you even get a 10% discount on your membership.
BOOK GREAT ACCOMMODATION: Booking great accommodation is not difficult but it sucks paying too much. Use Booking.com for the greatest hotel deals and Hostelworld for amazing hostel stays. Alternatively, you can sign up for Worldpackers to get FREE accommodation in exchange for your work.
BEST TRAVEL INSURANCE: Traveling without insurance is a mistake that you don't want to make - trust me I've tried. I'd suggest SafetyWing as they offer great and flexible policies - especially if you are traveling for a long time or a digital nomad. World Nomads is another great insurance with extensive coverage.
NEED HELP WITH YOUR VISA? Figuring out how and when you need a visa can be a bit of a jungle. iVisa is a very handy and user-friendly service.
HAS YOUR EU FLIGHT BEEN DISRUPTED? Use AirHelp as a service to get flight compensation on your European flights in case your flight was delayed, canceled, or disrupted in other ways. More often than not you are actually entitled to compensation.